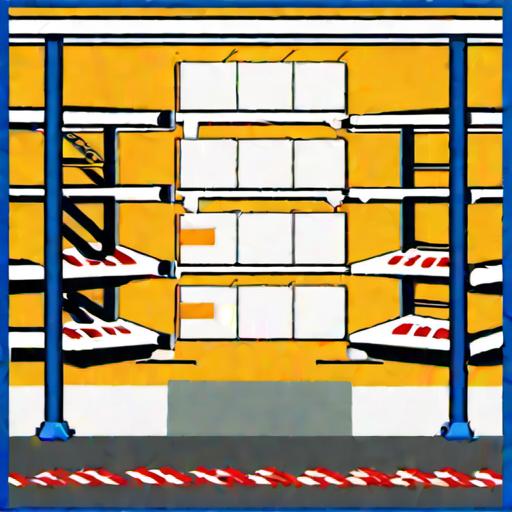 A Guide to FBA Prep Warehouses for Beginners
I. Introduction
If you're an eCommerce business owner, especially one that mainly sells on Amazon, you've likely heard of FBA (Fulfillment by Amazon). However, you may still be new to the concept of FBA prep warehouses. In today's highly competitive online marketplace, an efficient supply chain is critically important for your business success, whether you're a small or medium-sized eCommerce company. Here is where partnering with a quality FBA prep warehouse, such as FBA Prep Logistics, comes into play.
In this introduction, we'll give you a brief overview of FBA prep warehouses and their importance in helping your eCommerce business thrive on platforms like Amazon. So, let's dive right in and explore how partnering with a top-notch FBA prep warehouse can revolutionize your business operations.
What Are FBA Prep Warehouses?
Simply put, FBA prep warehouses are specialized third-party logistics (3PL) providers that offer a wide range of services tailor-made for eCommerce businesses selling on Amazon. These services include inventory management, labeling, packaging, and shipment consolidation. By partnering with a reliable FBA prep warehouse, you can streamline your supply chain management and focus more on the core aspects of your business, such as product development and marketing.
Why Are FBA Prep Warehouses Important?
One of the biggest challenges eCommerce business owners face is managing their supply chain efficiently. As your business scales up, the intricacies and complexities involved in warehousing, inventory control, product preparation, and shipping magnify exponentially. This is where an FBA prep warehouse really shines. By outsourcing these crucial tasks to a trusted partner like FBA Prep Logistics, you can free up time, resources, and energy, allowing you to concentrate on other aspects of your business that demand your attention.
Now that you have a better understanding of FBA prep warehouses and the critical role they play in your eCommerce success, let's explore the various services and benefits you can expect from a top-tier FBA prep warehouse, such as FBA Prep Logistics.
What to Expect from a Quality FBA Prep Warehouse
As you embark on your journey as an e-commerce entrepreneur, it's essential to understand the value of partnering with a top-notch fba prep warehouse like FBA Prep Logistics. A high-quality fba prep warehouse can not only save you time but also boost your business's profitability by efficiently managing your inventory, packaging, labeling, and shipment preparation. In this section, we'll delve into the various services and benefits that a reliable fba prep warehouse like FBA Prep Logistics offers.
1. Comprehensive Inventory Management
Running an e-commerce business, especially on Amazon, requires you to maintain at all times an accurate account of your inventory levels. A reliable fba prep warehouse should provide a comprehensive inventory management system that tracks your stock and helps you avoid stockouts or overstocking. With FBA Prep Logistics, your inventory management process becomes seamless as they provide a state-of-the-art system that effectively tracks your inventory, monitors stock levels, and sends you timely alerts whenever action is needed.
2. Efficient Labeling and Packaging Services
Labeling and packaging are crucial elements of your product's presentation, and they can significantly impact your customers' satisfaction. FBA Prep Logistics understands the importance of proper labeling and packaging and offers efficient services to ensure your products are presented professionally. They have a team of skilled experts who handle labeling, bagging, and packaging according to Amazon's stringent FBA guidelines, eliminating the risk of non-compliance penalties.
3. Shipment Consolidation and Cost Savings
Shipping expenses can quickly add up and significantly impact your business's bottom line. A reliable fba prep warehouse, like FBA Prep Logistics, can help you reduce shipping costs by consolidating multiple shipments into one. By leveraging their expertise in shipment consolidation, they can effectively minimize the total shipping volume, thereby reducing overall costs.
4. Detail-Oriented Quality Control
Quality control is an essential aspect of any e-commerce business's success, as it directly affects customer satisfaction and, ultimately, your brand's reputation. FBA Prep Logistics offers meticulous quality control services, ensuring that every product shipped from their warehouse meets the highest standards. Their team checks products for potential issues such as damaged packaging, incorrect labels, or missing items, ensuring that your customers receive perfectly presented products.
5. Expert Prepping Services for Various Product Categories
Different product categories have unique requirements when it comes to fba prep and fulfillment. At FBA Prep Logistics, they have specialized expertise in handling a wide range of product categories, including electronics, clothing, toys, and more. Their team is well-versed in the specific regulations and requirements associated with different product types, enabling you to rest assured that your items are correctly prepared for Amazon FBA.
6. Customization and Personalization Options
A great fba prep warehouse should offer customization and personalization services to help your brand stand out from the competition. FBA Prep Logistics provides various options for custom packaging, inserts, and other specialized services to enhance your customers' unboxing experience and strengthen brand loyalty.
7. Transparent Communication and Client Support
Last but not least, excellent communication is crucial when partnering with an fba prep warehouse. FBA Prep Logistics prides itself on being consistently transparent and responsive, ensuring you stay informed about your inventory status and any potential issues. Their dedicated client support team is always available to assist you with any inquiries or concerns, making your experience as smooth as possible.
In conclusion, partnering with a reputable fba prep warehouse, like FBA Prep Logistics, can significantly enhance your e-commerce business's efficiency and profitability by providing top-quality services across inventory management, labeling, packaging, and shipment preparation. With their comprehensive service offering, focus on customer satisfaction, and unmatched expertise, FBA Prep Logistics is undoubtedly the go-to fba prep warehouse for beginner e-commerce entrepreneurs looking to dominate the Amazon marketplace.
How FBA Prep Logistics Streamlines Your Supply Chain
Why Streamlining Matters in Supply Chain Management
Streamlining your supply chain is essential for any eCommerce business, especially if you're selling on platforms like Amazon. With an efficient supply chain, you can minimize costs, reduce the chances of errors, and ultimately maintain a competitive edge in the e-commerce space. In this regard, FBA Prep Logistics is here to help you achieve these goals. Let's dive into how partnering with FBA Prep Logistics' 3PL warehouse can optimize your supply chain.
Boost Efficiency with Expert Inventory Management
One of the most crucial aspects of streamlining your supply chain is effective inventory management. As a beginner in eCommerce, it's easy to get overwhelmed with the complexities of inventory tracking and management. FBA Prep Logistics takes this burden off your shoulders by offering top-notch inventory management services designed to keep your stock in check and updated. By enlisting the help of our fba prep warehouse, you can focus on other aspects of your business, such as marketing and sales, while we handle the nitty-gritty of inventory control. Want to learn more? Check out our guide, How FBA Prep Logistics Takes Your E-commerce Business to the Next Level.
Spend Less Time on Labeling and Packaging
Proper product labeling and packaging not only save you time but also protect you from costly Amazon penalties for non-compliant items. By outsourcing these tasks to FBA Prep Logistics, you can ensure that your products meet Amazon's stringent requirements. Our team of experts know the ins and outs of packaging and labeling regulations for a wide range of products. With that level of expertise, you can rest assured that your products will arrive at Amazon fulfillment centers in perfect condition, ready for expedited shipment to your customers.
Make Shipping and Consolidation a Breeze with 3PL Expertise
Managing multiple shipments can be a logistical nightmare for anyone new to eCommerce. Fortunately, FBA Prep Logistics specializes in shipment consolidation, allowing you to combine your products in our warehouse before sending them off as a single shipment. This streamlined process not only saves you valuable time but also drastically reduces your shipping costs. Are you unsure how to best consolidate your shipments? Don't worry—we'll guide you through the process. We cover all the details in our Ultimate Guide to 3PL Pricing for E-commerce.
Gain Access to Expert Guidance
Throughout your partnership with FBA Prep Logistics, our skilled team of professionals will always be on hand to provide expert advice and guidance. As our client, you'll have access to a wealth of knowledge in supply chain management, allowing you to continuously improve and optimize your operations. With our hands-on approach, you can expect personalized support tailored to your specific business needs.
React Quickly to Changing Market Demands
In the fast-paced world of eCommerce, being able to adapt swiftly to changing market demands is a must. With FBA Prep Logistics by your side, you'll gain the flexibility and agility needed to capitalize on new sales opportunities as they arise. Our fba prep warehouse is equipped to scale up or down depending on your current inventory levels, ensuring that your supply chain keeps up with your business's growth. Want to learn more about scalability? Check out our article on Scaling Your E-commerce with FBA Prep.
Get Real-Time Visibility Into Your Inventory and Shipments
An optimized supply chain requires complete transparency and access to critical data. At FBA Prep Logistics, our advanced warehouse management system grants you real-time visibility into your inventory and shipping activities. With the ability to monitor stock levels, track shipments, and generate detailed reports, you'll have all the tools you need to make informed decisions about your supply chain operations.
Keep Your Amazon Performance Metrics Intact
Amazon tracks seller performance closely, and discrepancies in their metrics can hurt your Amazon account's standing. At FBA Prep Logistics, we understand the importance of maintaining high performance metrics and work diligently to ensure your products are shipped quickly and accurately. By outsourcing your supply chain management to our team of experts, you can focus on what you do best—growing your sales and delighting your customers.
Conclusion:
In conclusion, partnering with FBA Prep Logistics' 3PL warehouse is a smart move for any eCommerce business looking to streamline its supply chain and optimize operations. Our range of services—from inventory management to shipment consolidation—helps you maximize efficiency, cost savings, and adaptability in this highly competitive e-commerce landscape. Let our experienced team of professionals guide you every step of the way, enabling your business to reap the benefits of a seamless supply chain and a successful Amazon selling experience. Choose FBA Prep Logistics and take the first step towards a better eCommerce future.
The Importance of Location: Why Bristol, PA is an Ideal Hub
A strategic location is crucial for any successful FBA prep warehouse. In this section, we'll discuss why FBA Prep Logistics chose Bristol, Pennsylvania, as the site for their 3PL warehouse and outline how its prime location significantly benefits eCommerce businesses.
Strategic Location in the Northeast
Proximity to Major Markets and Transportation Hubs
Bristol, PA lies between two significant metropolitan areas, Philadelphia and New York City, making it an ideal location for accessing substantial consumer markets. With easy access to these major hubs, FBA Prep Logistics can efficiently serve millions of potential customers on the East Coast.
Easy Access to Interstate Highways
One of the primary factors in choosing Bristol, PA, as the home of our FBA prep warehouse is its excellent access to major interstate highways. I-95, which covers the entire East Coast, is mere minutes from our warehouse. This easy access enables us to streamline the transportation process, ensuring quicker and more cost-effective shipping to various Fulfillment by Amazon warehouses and ultimately, your customers.
Cost-Efficient Infrastructure
Lower Operating Costs
The cost of running a business in Bristol, PA, is lower as compared to other more expensive urban areas in the Northeast. This allows FBA Prep Logistics to offer competitive pricing on our services without compromising the quality. As a result, eCommerce businesses partnering with us can expect the best possible service at a reasonable price.
State-of-the-art Warehouse Facilities
Our FBA prep warehouse in Bristol, PA, is well-equipped with modern technology, ensuring efficient inventory management, seamless integration with your existing systems, and top-notch security. By investing in high-quality equipment and facilities, we minimize common issues that may delay fulfillment and hurt your brand reputation.
A Growing eCommerce Hub
Flourishing Local Support for eCommerce Businesses
The Bristol, PA area is known for being supportive of eCommerce businesses, with local infrastructure and initiatives designed to accommodate the needs of this burgeoning industry. Therefore, working with FBA Prep Logistics connects you to a network of like-minded professional partners who can help you grow your business.
Accommodating Workforce
FBA Prep Logistics can tap into a local workforce experienced in warehousing, fulfillment, and customer service, providing you with a level of expertise and reliability that's hard to match. When it comes to client satisfaction, our team knows the ins and outs of 3PL fulfillment and will prioritize your needs.
An Environmentally Conscious Choice
Reduced Carbon Footprint
Bristol's central location leads to reduced transit times, enabling your eCommerce business to minimize its carbon footprint. By consolidating shipments and using our FBA prep warehouse in Bristol, PA, you can do your part in reducing greenhouse gas emissions associated with transportation.
Emphasis on Sustainability
FBA Prep Logistics is dedicated to incorporating eco-friendly practices at our warehousing facility. By choosing to work with us, your business becomes part of this conscious effort to minimize the environmental impact of eCommerce operations.
Conclusion
In summary, Bristol, PA is an ideal location for FBA Prep Logistics' 3PL warehouse. Its strategic position in the Northeast, cost-efficient infrastructure, and growing reputation as an eCommerce hub make it a prime choice for businesses looking to optimize their supply chain. Furthermore, the emphasis on sustainability ensures that you're making an environmentally responsible decision by working with us.
By partnering with FBA Prep Logistics, your eCommerce business is well-positioned to experience smooth operations, cost-effective shipping, and excellent customer satisfaction. If you're looking to take advantage of this prime location and enhance your eCommerce efforts, check out the Ultimate Guide to 3PL Pricing for E-commerce and learn how FBA Prep Logistics can be a game-changer for your business.
Getting Started with FBA Prep Logistics: A Hassle-Free Experience
So, you're convinced that FBA Prep Logistics is the fba prep warehouse partner for your eCommerce business, and you're ready to jump on board? We're delighted to have you! Our onboarding process is designed to be simple, transparent, and tailored to your unique needs. In this section of the guide, we'll outline the steps you'll need to take to get started with us and make this transition a breeze.
5.1. Reach Out to Our Friendly Team
Our team at FBA Prep Logistics is always excited to support new eCommerce businesses. Reach out to us via phone, email or through our website. We'll be eager to learn about your products, needs, and goals, and from there, we'll discuss the ideal services and pricing plan to suit your business. Remember, understanding your requirements is key to providing you a customized solution.
5.2. Sign on the Dotted Line
Once we agree on the terms and services, we'll provide you with a straightforward contract that's easy to understand. This contract outlines the services we'll provide and the terms of our partnership. We strongly believe in transparency, so feel free to clarify any doubts or questions before signing. Your business is important to us, and we want to make sure you're completely confident with your decision to work with FBA Prep Logistics.
5.3. Integrate Your Sales Channels
With FBA Prep Logistics' powerful software tools, integrating your various sales channels into our system has never been more convenient. We can seamlessly connect with popular eCommerce platforms like Amazon, Shopify, Walmart, and eBay. This integration ensures all your order data flows smoothly from your sales channels to our warehouse. You don't have to worry about manual data input, which saves you time and mitigates potential errors!
5.4. Send Us Your Inventory
Now it's time to ship your inventory to our fba prep warehouse in Bristol, PA. We recommend sending it in bulk to optimize your shipping costs and maximize efficiency. Once it's on its way, notify us with the tracking information, estimated arrival date, and SKU list. This helps us prepare in advance for the arrival of your products and expedite the receiving process.
5.5. Inventory Management and Product Preparation
As soon as your inventory reaches our warehouse, we'll promptly unload, count, and inspect all your items. Then, we'll store them safely and securely in our facility. If you require services like labeling, packaging, or kitting, we'll attend to these tasks with impeccable attention to detail. FBA Prep Logistics has procedures in place to ensure your products are prepared and shipped according to both your specifications and Amazon's requirements. This eliminates the chances of costly mistakes and reduces the risk of potential returns.
5.6. Order Processing and Shipping
With our seamless sales channel integration, we'll receive your orders automatically in real-time. Our team will then pick, pack, and ship your items to their respective destinations with our reliable shipping partners. In addition, we offer shipment consolidation, saving you money and ensuring your products reach your customers on time – every time!
5.7. Communicate and Collaborate
At FBA Prep Logistics, we value open communication and collaboration with our partners. We provide insightful reports to help you keep a close eye on your inventory levels, order history, and shipment tracking data. Plus, our friendly, dedicated account managers will always be at your disposal, ready to assist with any questions, concerns or adjustments along the way.
Trust the Process and Reap the Benefits
Getting started with FBA Prep Logistics is a hassle-free experience. By following these straightforward steps, you'll soon be experiencing the numerous advantages that come with a streamlined supply chain, expert fba prep warehouse services, and a strong partnership with an industry-leading provider. All this, so you can focus on growing your eCommerce business and delighting your customers.
The future is bright with FBA Prep Logistics in your corner! So, are you ready to take the next step towards greater success in the world of eCommerce? Contact us today and let's embark on this journey together.
Frequently Asked Questions
What is an FBA Prep Warehouse and why is it important for my eCommerce business?

An FBA Prep Warehouse, such as FBA Prep Logistics, is a third-party logistics (3PL) provider that specializes in handling the preparation and shipment of your products to Amazon fulfillment centers. They manage crucial tasks such as inventory management, labeling, packaging, and shipment consolidation. Partnering with a reliable FBA prep warehouse helps optimize your supply chain and streamlines your operations for a better sales performance on Amazon.

What kind of services can I expect from FBA Prep Logistics?

At FBA Prep Logistics, we offer a comprehensive suite of services, including inventory management, labeling, packaging, kitting, bundling, and shipment consolidation. Our expert team ensures that your products meet Amazon's strict guidelines, removing the operational burden from your shoulders and allowing you to focus on growing your eCommerce business.

Why should I choose FBA Prep Logistics over other 3PL warehouses?

FBA Prep Logistics differentiates itself from other 3PL warehouses through our commitment to impeccable service, tailored solutions, and our strategic location in Bristol, PA. Our experienced team specializes in managing the supply chain process for Amazon sellers, and our warehouse is optimally located for faster and more cost-effective shipping to various marketplaces, including Amazon fulfillment centers.

How does the onboarding process work with FBA Prep Logistics?

Getting started with FBA Prep Logistics is a seamless experience designed to make your life easier. Our onboarding process begins with a consultation to understand your business requirements. Next, we provide a transparent pricing model and help you set up your account. Our team then handles the integration of your shopping cart and shipping platforms to our system, allowing for smooth, hassle-free operations.

How can FBA Prep Logistics' warehouse location in Bristol, PA benefit my eCommerce business?

Our strategic location in Bristol, PA, offers quick access to major highways, ports, and airports, making it an ideal hub for efficient shipping. Choosing a 3PL warehouse like FBA Prep Logistics with a prime location ensures faster transit times, reduced shipping costs, and a competitive edge in meeting customers' delivery expectations on platforms such as Amazon.