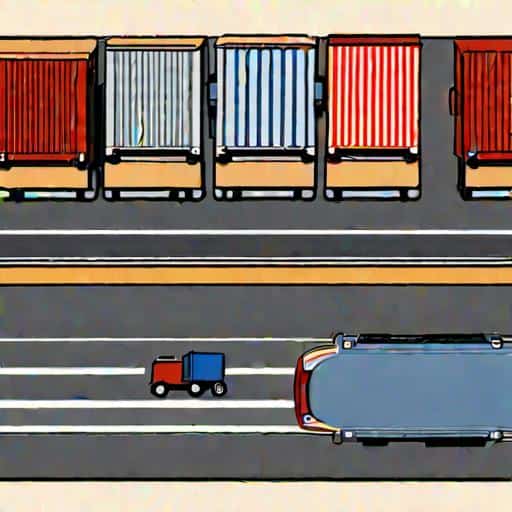 Introduction to 3PL Centers
E-commerce has revolutionized the way businesses sell and manage their products, but with these advancements comes new challenges. One such challenge is handling the complex and ever-changing world of supply chain management. Third-Party Logistics (3PL) centers have emerged as essential partners for e-commerce businesses, taking care of these logistical needs and ensuring a seamless supply chain for their clients.
What are 3PL Centers?
3PL centers are businesses that specialize in providing a wide range of logistics services to e-commerce businesses, allowing them to focus on their core activities like marketing and product development. They typically assist with various aspects of supply chain management, such as:
Warehousing and storage
Picking, packing, and shipping of orders
Inventory management
Returns management
Labeling and barcode creation
By outsourcing these critical tasks to a 3PL center, e-commerce businesses can focus on what they do best – selling products and expanding their brand.
Why are 3PL Centers Important?
The increasing competition in the e-commerce space, particularly on platforms like Amazon, has made it essential for businesses to optimize their supply chain management. Poor logistical operations can result in slower delivery times, frequent stockouts, and dissatisfied customers, which can negatively impact the business's growth and profitability.
This is where 3PL centers play a critical role. By partnering with a reliable and experienced 3PL center, e-commerce businesses can gain several benefits:
Cost savings: Outsourcing logistics to a 3PL center can help reduce costs associated with warehouse rental, staffing, and transportation.
Increased efficiency: 3PL centers have the knowledge, infrastructure, and technology to ensure that your products are stored, managed, and shipped in the most efficient and cost-effective manner.
Scalability: With a 3PL center taking care of logistics, e-commerce businesses can quickly scale their operations to meet increasing customer demand without worrying about added logistical complexity.
Expertise: 3PL centers are well-versed in the nuances of different e-commerce platforms (particularly Amazon) and can help businesses navigate the complex world of seller requirements, compliance, and best practices.
Now that we've established the importance of 3PL centers, let's delve deeper into the advantages they can provide to e-commerce businesses, especially those selling on Amazon. We'll also introduce you to FBA Prep Logistics, a 3PL warehouse located in Bristol PA, and discuss how it stands out as the perfect logistics partner for your business.
2. Advantages of Using 3PL Centers
When it comes to the fast-paced world of e-commerce, streamlining your operations is crucial for success. One of the best ways to achieve this is by partnering with a reliable 3PL center. In this section, we'll discuss the various benefits that 3PL centers can provide to e-commerce businesses, especially those selling on Amazon.
2.1. Inventory Management
One of the major concerns for any e-commerce business is inventory management. Thankfully, when you work with a 3PL center like FBA Prep Logistics, you can leave this aspect of your operation to the experts. Our advanced inventory management systems help track and maintain accurate inventory levels, ensuring your products are well-stocked and ready for shipment as soon as an order comes in. This translates to fewer stockouts, happier customers, and increased sales for your business.
2.2. Picking and Packing Services
Efficient product picking and packing play a pivotal role in fulfilling customer orders and maintaining their satisfaction. With FBA Prep Logistics, you get access to top-notch picking and packing services that minimize errors and speed up the order fulfillment process. Our experienced staff will handle your products with care, ensuring they arrive in perfect condition to your customers.
2.3. Storage Solutions
As your e-commerce business grows, so do your storage needs. At FBA Prep Logistics, we understand this and provide flexible storage solutions that accommodate your ever-changing inventory requirements. No longer will you need to worry about securing additional warehouse space or managing multiple storage facilities – our 3PL center in Bristol, PA, is equipped to handle all your storage needs.
2.4. Shipment and Delivery
Shipping is an inevitable aspect of e-commerce, but it's also one of the most complex and time-consuming. With the help of a trusted 3PL center, shipping logistics become a breeze. FBA Prep Logistics ensures your orders are dispatched quickly and accurately, utilizing a vast network of carriers to provide the most cost-effective and efficient shipping solutions. This means faster delivery times and increased customer satisfaction, which leads to repeat business and a boost in revenue.
2.5. Reduced Overhead Costs
Partnering with a 3PL center like FBA Prep Logistics allows you to delegate all of your logistical operations, resulting in significant cost savings. By outsourcing logistics, you can save on warehouse rent, labor, and shipping costs, which in turn leads to improved profit margins and increased revenue.
2.6. Scalability
E-commerce businesses often experience rapid growth, and it's crucial to be prepared for this. When you work with FBA Prep Logistics, you gain access to a flexible infrastructure that can easily adapt to your business growth. Our expert team will support you as you expand, making it easier to manage peak seasons and sales surges.
2.7. Focus on Core Business
Delegating your logistical responsibilities to a 3PL center like FBA Prep Logistics allows you to focus on what's most important – growing your business. With our team of experts taking care of your supply chain needs, you can concentrate on improving your products, marketing strategies, and customer relationships.
2.8. Compliance with Amazon Requirements
Selling on Amazon is a great opportunity, but it comes with strict rules and regulations for sellers to adhere to. As an Amazon seller, it's imperative that you're aware of and compliant with these requirements. FBA Prep Logistics excels in navigating the complexities of Amazon's guidelines, ensuring your products meet their standards and helping to prevent issues that could negatively impact your seller account.
2.9. Enhanced Customer Service
The customer experience is vital in e-commerce and can significantly impact your bottom line. With FBA Prep Logistics as your 3PL partner, you can rest easy knowing that we're dedicated to providing outstanding service. From order processing to shipment, your customers receive efficient and professional support every step of the way.
In conclusion, partnering with a 3PL center like FBA Prep Logistics offers an array of advantages for e-commerce businesses, particularly those selling on Amazon. From improved inventory management to reduced overhead costs, working with a trusted 3PL center enables you to focus on what truly matters – growing your business and ensuring the satisfaction of your customers.
Section 3: FBA Prep Logistics: The Ideal 3PL Solution for Amazon Sellers
Have you ever wished to have a dedicated logistics partner that understands the ins and outs of selling on Amazon? One that could handle your inventory, packaging, shipping, and returns, allowing you to focus on growing your business? Look no further than FBA Prep Logistics – the ultimate 3PL solution that caters specifically to your needs as an Amazon seller.
Expertise in Amazon's Marketplace
At FBA Prep Logistics, we don't just offer standard 3PL services. Instead, we specialize in providing efficient logistics solutions tailored exclusively to cater to Amazon sellers like you. With years of experience in the marketplace, our team of experts is well-versed in the ever-evolving policies and requirements set by Amazon. This makes us the ideal choice for handling your logistical needs, giving you an edge over the competition.
Customer-Centric Approach
What truly sets us apart from other 3PL centers is our focus on customer satisfaction. We realize that your success is our success, which is why we go the extra mile to ensure that your products are shipped promptly and securely. Our dedicated account managers will keep you in the loop throughout the entire process, addressing your concerns and ensuring that your unique requirements are met.
Positive Feedback and Reviews
As a 3PL partner predominantly focused on Amazon sellers, we understand the importance of positive customer feedback, as well as how a single negative review can impact your overall sales and rankings. That's why we prioritize accuracy and efficiency in our services, leading to satisfied customers who provide rave reviews about your products.
Scalability for your Growing Business
One of the challenges faced by Amazon sellers is keeping up with the growth of their e-commerce business. With FBA Prep Logistics as your 3PL partner, you no longer have to worry about meeting increased demands, as we have the capacity to handle a high volume of orders. Our state-of-the-art facilities along with our expert personnel ensure that your operations continue to run effectively and smoothly, helping your business scale seamlessly.
Compliance with Amazon's Requirements
When you choose FBA Prep Logistics, you can rest assured that your products are properly prepared and packaged according to Amazon's stringent requirements. Our team is well-versed in Amazon's rules and guidelines, ensuring that you remain compliant and avoid costly penalties, account suspension, or delays in your product listings.
Cost-Effective Solutions
An efficient logistics solution shouldn't break the bank. At FBA Prep Logistics, our goal is to provide competitive pricing, which enables you to save on overhead costs and invest more in marketing, product development, or other aspects of your business. By outsourcing your logistics needs to us, you can minimize your storage fees, reduce shipping costs, and ultimately, increase your bottom line.
Strong, Data-driven Decisions
FBA Prep Logistics leverages cutting-edge technology to track your inventory levels, shipment times, and other relevant data. Access to such valuable analytics helps you make smart and informed decisions about your e-commerce operation, foresee potential issues, and implement strategies to optimize your sales performance.
In conclusion, the key to scaling and maintaining a successful e-commerce business on Amazon lies in partnering with a reliable and experienced 3PL provider like FBA Prep Logistics. We cater specifically to Amazon sellers, bringing a unique blend of specialized expertise, unmatched customer service, and scalable solutions that will undoubtedly help you reach new heights in your online business. Make the switch to FBA Prep Logistics today and experience the difference for yourself.
Personalized Services Offered by FBA Prep Logistics
FBA Prep Logistics sets itself apart from other 3PL centers by offering a wide range of personalized services to cater to the unique needs of e-commerce businesses. Our focus is on making your logistical experience as seamless as possible, ensuring your operations run smoothly, and your customers receive their orders on time. Here are some of the key services that make us the ideal 3PL warehouse for Amazon sellers:
Customized Packaging Solutions
Quality packaging is essential for protecting your products during transportation, storage, and delivery. At FBA Prep Logistics, we understand that every product is different, which is why we offer customized packaging services to suit your unique needs. From simple solutions like adding extra padding or creating custom inserts to more complex branded packaging designs, our team works closely with you to create an optimal packaging solution for your products.
Product Bundling and Kit Assembly
Are you planning on offering product bundles or selling items in sets? FBA Prep Logistics provides product bundling and kit assembly services, allowing you to sell more products and increase your average order value. We ensure that your products are properly bundled, packaged, and labeled to meet Amazon's standards, which can be quite strict. Our team's expertise and experience in dealing with Amazon's guidelines mean you can focus on growing your sales while we handle the intricacies of bundling and kit assembly.
Label and Barcode Creation
One of the most important aspects of selling on Amazon is having the correct barcodes and labels for your products. We provide reliable label and barcode creation services, helping you stay compliant with Amazon's labeling requirements. Our team will create and apply scannable barcode labels, making it easy for Amazon to process and ship your orders. With our label services, you avoid costly mistakes and the risk of your items being delayed or rejected due to inadequate labeling.
Rapid Inventory Turnover
Amazon sellers need a 3PL partner who can manage their inventory swiftly and efficiently. FBA Prep Logistics prides itself on our rapid inventory turnover capabilities, minimizing warehousing costs while ensuring your products reach your customers as quickly as possible. With our state-of-the-art inventory management system, we track and manage your products in real-time, ensuring efficient picking and packing processes that minimize errors and delays.
Order Consolidation and Shipment Optimization
Shipping costs can quickly eat into your profit margins, especially if you're managing multiple suppliers or selling a variety of products. FBA Prep Logistics offers order consolidation services to help you save on shipping expenses while ensuring your products are optimally packed for safe and efficient delivery. By combining shipments and optimizing the packing process, we help you reduce overall shipping costs and maintain a more sustainable supply chain.
Returns Management
Handling returns is an inevitable part of selling on Amazon, but it doesn't have to be a headache. FBA Prep Logistics offers comprehensive returns management services, including receiving, inspecting, and processing customer returns. Our team will help you determine the best course of action for each return, whether it needs repackaging, refurbishing, or disposal. This simplifies the returns process and ensures customer satisfaction while saving you time and resources.
In conclusion, FBA Prep Logistics is the warehouse to choose for your Amazon business because of our tailored, customer-centric approach and our commitment to providing exceptional personalized services. By partnering with us, you'll have a dedicated 3PL center that understands your unique needs and works tirelessly to ensure the successful management of your e-commerce supply chain. So, why wait? Join our growing family of satisfied customers and experience the difference that FBA Prep Logistics can make for your business.
5. Making the Switch: How to Choose FBA Prep Logistics as Your 3PL Partner
So you've learned about the numerous benefits of using a 3PL center like FBA Prep Logistics to streamline your e-commerce operations. Now, let's dive into the easy and simple process of making the transition to working with us as your dedicated and trusted 3PL partner.
5.1. Assess Your Business Needs
The first step in choosing any 3PL partner is understanding your specific business needs. Evaluate your current operations and identify areas where you require assistance. Are you struggling with inventory management, packing and shipping orders, or creating custom labels and barcodes? FBA Prep Logistics provides all of these services and more, making us the ideal solution for your Amazon-based e-commerce business.
5.2. Conduct Your Research
Once you have a clear understanding of what services you need, research different 3PL centers and compare their offerings. We're confident that FBA Prep Logistics will stand out from the crowd due to our extensive knowledge of the Amazon marketplace, tailored solutions, and a strong commitment to customer satisfaction. You can learn more about our services and view our guide on 3PL pricing for e-commerce, to ensure you're making an informed decision.
5.3. Pick the Right 3PL Partner
Choosing the right 3PL partner is crucial to the success of your e-commerce business. Look for a company that offers personalized services, understands the Amazon marketplace, and has a proven track record like FBA Prep Logistics. To find out more about what makes us the best choice, read our blog post on how FBA Prep Logistics takes your e-commerce business to the next level.
5.4. Make the Transition Smoothly
Once you've selected FBA Prep Logistics as your 3PL partner, it's time to transition your logistics operations to our capable hands. Discuss your requirements, timelines, and expectations with our team to ensure a seamless integration. Our experts can help you navigate any challenges and make the move as simple as possible.
5.5. Monitor Performance and Continuously Improve
The key to a successful long-term partnership with your 3PL center is ongoing communication and evaluation of performance. Regularly monitor and review the services provided by FBA Prep Logistics to ensure we're consistently meeting and exceeding your expectations. If you encounter any issues, don't hesitate to let us know. We highly value your feedback and are committed to continuous improvement.
5.6. Enjoy the Benefits of Your New 3PL Partnership
By partnering with FBA Prep Logistics, you can breathe a sigh of relief knowing that your e-commerce business is running smoothly and efficiently. With our exceptional 3PL services, you can now focus on growing your brand, expanding your product range, and reaching new heights in the Amazon marketplace.
In conclusion, choosing FBA Prep Logistics as your dedicated 3PL provider will help you alleviate the stress of managing logistics, let you focus on your core business, and ultimately contribute to your e-commerce success. With our tailored solutions, expertise in the Amazon marketplace, and commitment to customer satisfaction, FBA Prep Logistics is the perfect partner for any e-commerce business looking to thrive on the Amazon platform. Don't wait any longer, make the switch today and experience the difference a trusted 3PL partner can make!
Frequently Asked Questions</h2>
<!– FAQ 1 –>
<h3>What is a 3PL center and why is it necessary for my e-commerce business?</h3>
<p>A 3PL, or Third-Party Logistics center, is an external service provider that takes care of all your e-commerce supply chain management needs. This includes inventory management, storage, picking and packing, and shipping services. With the increasingly competitive e-commerce landscape, using a 3PL center like <a href="https://www.example.com/fba-prep-logistics">FBA Prep Logistics</a> will help your business stay efficient, organized, and focused on growth.</p>
<!– FAQ 2 –>
<h3>How can FBA Prep Logistics specifically help my Amazon e-commerce business?</h3>
<p>FBA Prep Logistics is tailormade for Amazon sellers, with a deep understanding of the marketplace and its specific requirements. We offer specialized services such as customized packaging, product bundling, label and barcode creation, and rapid inventory turnover that caters to your business needs. Partnering with us ensures a smooth and streamlined logistics process, contributing to your success on Amazon.</p>
<!– FAQ 3 –>
<h3>What sets FBA Prep Logistics apart from other 3PL providers?</h3>
<p>FBA Prep Logistics is dedicated to providing personalized services that cater specifically to Amazon e-commerce businesses. Our expert team works closely with clients to ensure all operations are performed with accuracy, efficiency, and care. Our goal is to provide seamless logistics support, allowing your business to flourish without the stress of handling the entire supply chain process.</p>
<!– FAQ 4 –>
<h3>How do I make the switch to FBA Prep Logistics as my 3PL partner?</h3>
<p>Switching to FBA Prep Logistics is simple and stress-free. Our team will work with you to understand your specific needs and guide you through establishing the partnership. You can focus on growing your business while we handle everything, including storage, order processing, and shipping, to ensure a seamless transition.<br>Contact us through our <a href="https://www.example.com/contact">contact page</a> or give us a call to begin the process.</p>
<!– FAQ 5 –>
<h3>What kind of support can I expect from FBA Prep Logistics after partnering with them?</h3>
<p>At FBA Prep Logistics, customer satisfaction is our top priority. As our partner, you can expect dedicated support from our team and a collaborative approach to managing your logistics. We are always available to discuss your needs, collaborate on problem-solving, and ensure the success of your e-commerce business.</p>
<script type="application/ld+json">
{
"@context": "https://schema.org",
"@type": "FAQPage",
"mainEntity": [
{
"@type": "Question",
"name": "What is a 3PL center and why is it necessary for my e-commerce business?",
"acceptedAnswer": {
"@type": "Answer",
"text": "A 3PL, or Third-Party Logistics center, is an external service provider that takes care of all your e-commerce supply chain management needs. This includes inventory management, storage, picking and packing, and shipping services. With the increasingly competitive e-commerce landscape, using a 3PL center like FBA Prep Logistics will help your business stay efficient, organized, and focused on growth."
}
},
{
"@type": "Question",
"name": "How can FBA Prep Logistics specifically help my Amazon e-commerce business?",
"acceptedAnswer": {
"@type": "Answer",
"text": "FBA Prep Logistics is tailormade for Amazon sellers, with a deep understanding of the marketplace and its specific requirements. We offer specialized services such as customized packaging, product bundling, label and barcode creation, and rapid inventory turnover that caters to your business needs. Partnering with us ensures a smooth and streamlined logistics process, contributing to your success on Amazon."
}
},
{
"@type": "Question",
"name": "What sets FBA Prep Logistics apart from other 3PL providers?",
"acceptedAnswer": {
"@type": "Answer",
"text": "FBA Prep Logistics is dedicated to providing personalized services that cater specifically to Amazon e-commerce businesses. Our expert team works closely with clients to ensure all operations are performed with accuracy, efficiency, and care. Our goal is to provide seamless logistics support, allowing your business to flourish without the stress of handling the entire supply chain process."
}
},
{
"@type": "Question",
"name": "How do I make the switch to FBA Prep Logistics as my 3PL partner?",
"acceptedAnswer": {
"@type": "Answer",
"text": "Switching to FBA Prep Logistics is simple and stress-free. Our team will work with you to understand your specific needs and guide you through establishing the partnership. You can focus on growing your business while we handle everything, including storage, order processing, and shipping, to ensure a seamless transition. Contact us through our contact page or give us a call to begin the process."
}
},
{
"@type": "Question",
"name": "What kind of support can I expect from FBA Prep Logistics after partnering with them?",
"acceptedAnswer": {
"@type": "Answer",
"text": "At FBA Prep Logistics, customer satisfaction is our top priority. As our partner, you can expect dedicated support from our team and a collaborative approach to managing your logistics. We are always available to discuss your needs, collaborate on problem-solving, and ensure the success of your e-commerce business."
}
}
] }
</script>