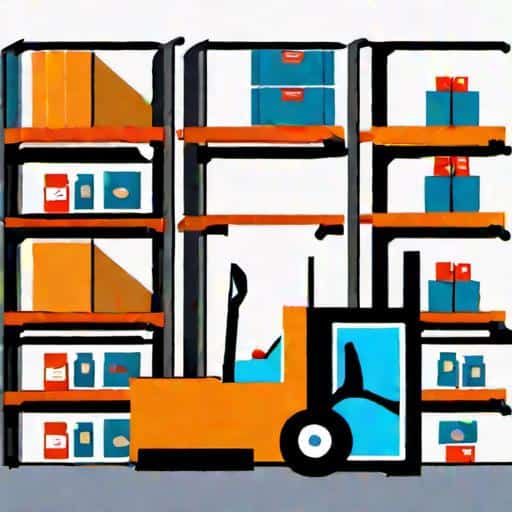 Introduction: Welcome to the World of 3PL Fulfillment
Hey there, e-commerce business owner! Are you tired of grappling with the complexities of supply chain management, especially for your Amazon.com sales? If so, you're in the right place. In this article, we will introduce you to the magic of 3PL fulfillment and explore how partnering with a top-notch 3PL Fulfillment Company like FBA Prep Logistics can revolutionize your e-commerce business operations.
What is 3PL Fulfillment?
3PL, or third-party logistics, refers to the outsourcing of a company's warehousing, order fulfillment, and shipping processes to a specialized provider. A 3PL Fulfillment Company can manage your inventory, pick and pack orders, handle shipping logistics, and much more. All this allows you to focus on your core business activities, such as product development and marketing, while your 3PL partner takes care of getting your products to your customers promptly and efficiently.
Why Should E-Commerce Businesses Consider 3PL Fulfillment?
In today's fast-paced e-commerce landscape, businesses need to be agile and adaptable to succeed. One of the key challenges in scaling an e-commerce operation is managing a flawless supply chain, particularly for businesses that primarily sell on Amazon.com. Amazon's strict rules and tight deadlines make it essential to find reliable solutions that ensure smooth product delivery.
This is where 3PL fulfillment comes in. A partnership with an experienced 3PL Fulfillment Company offers a range of benefits, including:
Access to specialized warehousing and fulfillment expertise
Saving time and effort on logistics management
Improved efficiency and reliability in order delivery
Scalability of fulfillment operations to match business growth
With these benefits in mind, it's no wonder that many e-commerce businesses are turning to 3PL providers to help optimize their supply chain management. So, what makes FBA Prep Logistics the best choice for your 3PL fulfillment needs? Read on, and we'll show you why we're the ultimate partner to help you transform your e-commerce operations.
In the next section: Why FBA Prep Logistics is Your Ultimate 3PL Partner
As we proceed, you'll learn about our strategic location in Bristol, PA, and how our expertise in supply chain management makes us the perfect match for e-commerce businesses selling on Amazon.com. Stay tuned!
Section 2: Why FBA Prep Logistics is Your Ultimate 3PL Partner
Choosing the right 3PL fulfillment company is essential for the success of your ecommerce business. At FBA Prep Logistics, we understand the concerns and challenges faced by businesses, especially those new to supply chain management and selling on Amazon. That's why we've tailored our services to provide the support and solution you need. Here's what sets us apart from the rest:
A Prime Location: Bristol, PA
Our Bristol, PA, warehouse is strategically located near major shipping hubs, which ensures faster, more efficient, and cost-effective transportation of your products. This translates to quicker turnaround times for your Amazon shipments and an increased likelihood of meeting Amazon's strict requirements.
Proximity to Major Cities
Bristol is conveniently situated near major cities, such as Philadelphia and New York City. This means your products can reach a significant portion of the US population in a short time, helping you gain a competitive advantage.
Easy Access to Major Transportation Routes
Our warehouse is located near major transportation routes, including the Pennsylvania Turnpike and Route 1. This prime location offers easy access to shipping terminals, simplifying the logistics of getting your products to Amazon fulfillment centers.
Unmatched Expertise in Supply Chain Management
We pride ourselves on our deep understanding of supply chain management and our ability to provide customized solutions that cater to the unique needs and requirements of ecommerce businesses, particularly those selling on Amazon. Our services are designed to optimize your supply chain operations and ensure your products always reach Amazon fulfillment centers on time.
Holistic Approach to Inventory Management
Inventory management is the backbone of any ecommerce business. At FBA Prep Logistics, we understand this fact and take a holistic approach to manage your stock efficiently. Our warehouse management system integrates with your Amazon Seller Central account, allowing for smooth inventory tracking and ensuring your stock levels are always updated in real-time.
Knowledge of Amazon-Specific Requirements
Selling on Amazon comes with its own set of strict fulfillment requirements, which can be challenging for new sellers to navigate. Our team of experts are well-versed in Amazon's rules and regulations, ensuring that your products are prepped, packaged, and shipped according to Amazon's standards. This compliance helps you avoid costly penalties and delays.
Constantly Innovating to Serve You Better
Ecommerce is a constantly evolving industry, and to stay ahead, you need a 3PL partner who can adapt and grow with your business. At FBA Prep Logistics, we believe in staying informed and adopting the latest industry trends to provide you with the most innovative solutions and services.
Continuous Improvement in Efficiency
Our commitment to staying ahead means we're always looking for ways to streamline our processes and enhance our services. This focus on efficiency ensures that your business can quickly grow and scale within the fast-paced ecommerce landscape.
Top-Notch Customer Support
At the heart of our innovation is our dedication to providing exceptional customer service. Our team of experts are committed to supporting your business every step of the way, from onboarding to order fulfillment. We believe in fostering long-term relationships that help you succeed in the competitive ecommerce market.
Customizable Solutions Tailored to Your Business Needs
No two businesses are identical – that's why we create bespoke solutions designed to meet your specific requirements and goals. We're with you every step of the way, providing personalized services that help optimize your supply chain and ensure smooth, seamless operations.
In conclusion, when it comes to choosing a 3PL partner, FBA Prep Logistics offers a winning combination of strategic location, unmatched expertise, constant innovation, and tailored solutions to help your ecommerce business scale and achieve success. Let us be your trusted partner in unlocking your business's full potential.
Comprehensive Services for Total Supply Chain Management
At FBA Prep Logistics, we understand that managing your e-commerce business can be a complex and time-consuming process. That's why we offer a wide range of services to help you optimize every aspect of your supply chain. With our expertise in all things related to 3PL fulfillment, your e-commerce business is in good hands. So, let's dive in and explore the various services we offer, and how they can help streamline your supply chain management.
Inventory Management
A well-organized inventory is the backbone of any successful e-commerce business. Our 3PL fulfillment company offers comprehensive inventory management services that expertly handle every stage of the process, including:
Receiving
Storage
Organization
Tracking
Replenishment
Our dedicated team of professionals keeps track of your inventory levels, ensuring that your products are always organized and readily available for order processing. We also manage the storage of your inventory, keeping it safe and secure in our Bristol, PA warehouse.
Pick and Pack Services
Picking and packing your orders is an essential part of the order fulfillment process. We take great pride in our ability to expertly pick and pack your products, ensuring they arrive at your customers' doorsteps in perfect condition. Our pick and pack services include:
Order Picking
Order Packaging
Quality Control
Labeling & Documentation
Sorting & Consolidation
By leveraging our pick and pack services, your business can benefit from efficient workflows, faster deliveries, and increased customer satisfaction rates.
Shipping Services
FBA Prep Logistics' shipping services are designed to transport your products to their final destination both quickly and efficiently. Our fulfillment center is just a short drive from major carriers' hubs, which allows us to process and ship your orders faster than ever. Our shipping services include:
Domestic and International Shipping
Expedited Shipping Options
Calculating and Comparing Carrier Rates
Tracking and Reporting
We work with a variety of shipping carriers, including USPS, FedEx, UPS, and DHL, giving you the flexibility to choose the best option for your business needs.
Return Management
Dealing with returns can be a headache for many e-commerce businesses. At FBA Prep Logistics, we handle everything related to the return process, including:
Receiving and Inspecting Returns
Evaluating Product Condition
Processing Refunds or Exchanges
Restocking Inventory
Managing Customer Inquiries
Our return management services help you minimize financial losses by ensuring that your returned products are either refunded or restocked efficiently.
Customized Solutions
In addition to our standard 3PL services, FBA Prep Logistics offers customized solutions tailored to your specific business needs. Whether your products require special handling, kitting, or assembly services, our team has the experience and expertise to accommodate your unique requirements. Our customized solutions include:
Kitting and Assembly
Custom Labeling and Branding
Personalized Packaging
Product Bundling
Subscriptions and Special Programs
Through our kitting and assembly solutions, we can help you create bundled offers, subscription boxes, or other value-added propositions to enhance customer satisfaction and boost sales.
Expertise in Amazon.com Requirements
Our team at FBA Prep Logistics is well-versed in the specific requirements that come with selling on Amazon.com, including Fulfilled by Amazon (FBA) compliance. We are here to ensure that your products are prepared and shipped according to Amazon's strict guidelines, making your life easier. Our Amazon.com expertise includes:
FBA Prep Services and Labeling
Amazon-Specific Shipping and Delivery Requirements
Amazon Return Management
Navigating Amazon's Complex Policies and Procedures
Keeping Up-to-Date with Amazon's Changing Regulations
You can trust our comprehensive guide to Amazon prep services to ensure that your inventory is compliant with Amazon's requirements.
Conclusion: Comprehensive 3PL Services at Your Disposal
With FBA Prep Logistics as your trusted 3PL fulfillment partner, you can rely on our wide array of services to expertly manage your supply chain. Our comprehensive offerings are designed to make your life easier, allowing you to focus on growing your e-commerce business. Are you ready to optimize your supply chain management and take your business to new heights? Contact us today and let's discuss how our 3PL fulfillment company can best serve your needs.
Helping Your E-Commerce Business Scale through 3PL Fulfillment
When it comes to growing your e-commerce business, focusing solely on sales and marketing won't get you very far. As a business owner, you need to invest in optimizing and streamlining your supply chain operations to achieve long-term success. That's where partnering with a reliable 3PL fulfillment company, like FBA Prep Logistics, can make all the difference. In this section, we will discuss how our team can help your business scale and grow, ensuring that your products always reach your customers promptly and without any roadblocks.
4.1. Streamlining Supply Chain Operations
Running a successful e-commerce business isn't just about selling a great product; it's about ensuring that your product reaches your customers. Working with a professional 3PL fulfillment company like FBA Prep Logistics ensures that your supply chain operations are optimized, saving you valuable time and resources in the process. We take care of inventory management, pick and pack services, shipping, and much more, so you can focus on what really matters: growing your business.
4.2. Enhanced Order Processing and Shipping
As an e-commerce business owner, you can't afford to be slowed down by inefficient order processing or delayed shipping times. FBA Prep Logistics specializes in handling Amazon.com requirements and provides swift and efficient shipping services that help keep customers satisfied and encourage repeat business. Whether your business is just starting out or is already established, our expertise in 3PL fulfillment ensures that your products reach your customers as quickly as possible.
4.3. Advanced Inventory Management
Keeping track of inventory is a crucial aspect of operating a successful e-commerce business. That's why FBA Prep Logistics offers state-of-the-art inventory management services, ensuring that your products are always available when customers need them. Our system automates the inventory management process, making it easy for you to monitor stock levels, reorder products when necessary, and avoid costly stockouts.
4.4. Seamless Integration with Your E-Commerce Platform
Integrating your e-commerce platform with a 3PL fulfillment company can seem like a daunting task. However, FBA Prep Logistics simplifies this process by offering seamless integration with popular e-commerce platforms like Amazon.com. Our team works tirelessly to provide a smooth transition to our 3PL services, so you can start enjoying the benefits of an optimized supply chain as soon as possible.
4.5. Reduced Operating Costs
Running an e-commerce business can be expensive, especially when it comes to warehousing, order processing, and shipping. By outsourcing these elements to a reliable 3PL fulfillment company like FBA Prep Logistics, you can significantly reduce your operational costs. With our efficient order processing and cost-effective shipping solutions, you can save money that can be reinvested into your business, helping you scale up and expand.
4.6. Enhanced Customer Service
When your customers are happy, your business thrives. Partnering with FBA Prep Logistics means you can trust that your products will be delivered on time and in perfect condition, ensuring a great experience for your customers. Our team's dedication to customer service means we are always available to address any concerns or issues that may arise, providing peace of mind for you and your customers.
4.7. Access to Expertise and Industry Knowledge
Navigating the world of e-commerce can be overwhelming, especially if you're new to supply chain management. Thankfully, when you work with FBA Prep Logistics, you gain access to a wealth of knowledge and expertise. Our team has years of experience working with e-commerce sellers, which means you can avoid common pitfalls and enjoy a smooth road to success.
4.8. Growth Through Data and Insights
Understanding how your supply chain operations impact your business's growth is essential for making the right choices. Our team at FBA Prep Logistics provides you with valuable data and insights that can help you make informed decisions regarding your business's future. By understanding your supply chain's strengths and weaknesses, you can implement strategies that maximize efficiency and fuel growth.
Your e-commerce business has unlimited potential, but reaching that potential requires the right partnerships and support. FBA Prep Logistics is dedicated to providing exceptional 3PL fulfillment services that help your business thrive. By outsourcing your supply chain management to our team of experts, you can enjoy increased efficiency, cost savings, and enhanced customer satisfaction, ultimately leading to growth and long-term success. Don't let supply chain challenges hold you back–experience the FBA Prep Logistics difference and watch your business soar.
5. Ready to Experience the FBA Prep Logistics Difference?
By now, you must have a good understanding of how a 3PL fulfillment company can revolutionize your e-commerce business operations. If you're still wondering whether FBA Prep Logistics is the right fit for you, we want to give you a brief overview of some key aspects that make us stand out as the top choice for your Amazon.com business. So, are you ready to take a step towards streamlined supply chain management and a more efficient e-commerce operation?
5.1 Flexible Plans Tailored to Your Needs
First and foremost, we understand that each business is unique and requires tailored solutions. As we strive to be the best 3PL fulfillment company, FBA Prep Logistics offers flexible plans designed around your specific needs. Our cost-effective and scalable solutions cater to businesses of all sizes to make sure you have the right plan in place for your growth and success. You can easily upgrade your plan as your business expands without any hassles.
5.2 Uncompromised Customer Satisfaction
At FBA Prep Logistics, customer satisfaction is at the heart of our operations. We take pride in providing top-notch services to our clients, keeping in mind the importance of delivering their products to their customers efficiently and on time. Our expert team is dedicated to making sure your supply chain runs smoothly, focusing on each step of the process. Need assistance? Our knowledgeable and friendly customer support team is always happy to help.
5.3 Amazon.com Expertise
With years of experience in the field, we have gained unrivaled expertise in handling Amazon.com requirements. We understand the complexities and challenges that come with selling on this platform, which is why our bespoke solutions are designed specifically with your Amazon.com business in mind. Our comprehensive services ensure that all your products are prepped, labeled, packaged, and shipped as per Amazon's guidelines. You can trust our expertise to make your Amazon.com selling experience hassle-free.
5.4 Advanced Technology for Seamless Operations
FBA Prep Logistics boasts cutting-edge technology to optimize your e-commerce supply chain. Our warehouse management system enables seamless inventory tracking, supports customized label printing, and provides real-time data on inventory levels. This advanced technology helps us achieve high levels of accuracy, efficiency, and agility, giving you peace of mind knowing that your supply chain is in good hands.
5.5 Strategic Location for Faster Fulfillment
From our strategic location in Bristol, PA, we offer exceptional accessibility to several major markets along the East Coast. Our conveniently situated warehouse facilities allow for expedited shipping and delivery to your customers, ensuring that they receive their orders on time, every time. With FBA Prep Logistics, geographic barriers will never hold your business back.
5.6 Experience the FBA Prep Logistics Advantage
So, what are you waiting for? It's time to join the growing list of e-commerce businesses that have chosen FBA Prep Logistics as their trusted 3PL fulfillment partner. By entrusting us with your supply chain management, you can save time, money, and resources – all while watching your Amazon.com business soar to greater heights.
Give our Ultimate Guide to Amazon Prep Services a read for a detailed understanding of how we can help you. If you're eager to take the next step, get in touch with us to discuss your requirements and find the perfect plan for your e-commerce business. We look forward to becoming a significant part of your success story!
Frequently Asked Questions about FBA Prep Logistics
What is 3PL fulfillment and why do e-commerce businesses need it?
3PL fulfillment, or third-party logistics fulfillment, refers to the process of outsourcing key supply chain operations to a specialized provider, like FBA Prep Logistics. E-commerce businesses, especially those selling on Amazon.com, can benefit from our expertise in managing inventory, packing and shipping products efficiently, and ensuring seamless deliveries to your customers.
Why should I choose FBA Prep Logistics over other 3PL warehouses?
When you partner with FBA Prep Logistics, you're choosing a team of experts committed to your business's success. Our strategic location in Bristol, PA allows us to provide fast and cost-effective shipping services. Moreover, we offer comprehensive supply chain management solutions tailored to your specific needs, ensuring smooth and seamless operations for your e-commerce business.
What services does FBA Prep Logistics offer?
FBA Prep Logistics is a full-service 3PL provider, offering a wide range of services, such as:
Inventory management
Pick and pack services
Shipping and fulfillment
Customized packaging solutions
And more!
Our goal is to help you optimize your supply chain, saving time, and ensuring efficient product deliveries to your clients.
How can FBA Prep Logistics help my e-commerce business scale?
Working with FBA Prep Logistics allows you to focus on growing your business while we handle your supply chain operations. Our expertise in inventory and order management eliminates the need for you to invest in costly warehouses and workforce. Moreover, our tried-and-tested processes guarantee quick and efficient product deliveries, ensuring customer satisfaction and fostering your e-commerce business's growth.
Do you offer flexible plans tailored to our business needs?
Yes! At FBA Prep Logistics, we understand that every e-commerce business has unique needs. That's why we offer flexible plans designed to cater to businesses of different sizes and requirements. We are committed to providing exceptional customer service and helping our clients optimize their supply chain operations.