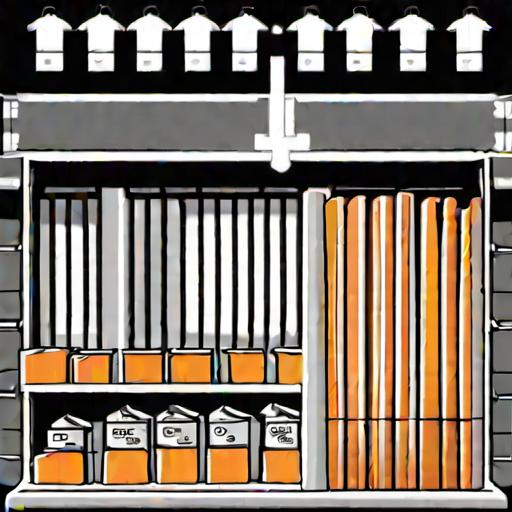 Introduction to FBA Prep Centers
If you're an e-commerce business owner, particularly one who primarily sells on Amazon, you've probably already realized the importance of a seamless supply chain. In today's competitive market, it's critical to stay ahead of the competition and ensure that your customers are satisfied with their shopping experience. That's where FBA Prep Centers come into play. They make the fulfillment process not only smoother but also more efficient, especially for business owners new to supply chain management. So, let's dive into the world of FBA Prep Centers and explore how they can be an invaluable asset to your business.
What are FBA Prep Centers?
Fulfillment By Amazon (FBA) is a service provided by Amazon that allows sellers to store their products in Amazon's warehouses and have Amazon handle the shipping, customer service, and returns processes. In essence, Amazon becomes the backend for your business, making it easier for you to focus on growing your product line and generating sales.
However, before you can send your products to Amazon's warehouses, you need to ensure that they meet Amazon's strict requirements for packaging, labeling, and overall presentation. This is where FBA Prep Centers come in. They are third-party logistics (3PL) providers who specialize in preparing your products for shipment to Amazon FBA warehouses.
The Vital Role of FBA Prep Centers in Your Business
For those new to supply chain management, partnering with an FBA Prep Center can be a game changer for your e-commerce business. Not only do they handle the entire product preparation process for you, but they also enable you to:
Ensure compliance with Amazon's stringent guidelines
Streamline your supply chain operations
Save time and money on storage, shipping, and labor costs
Reduce the risk of penalties, fines, and rejected shipments from Amazon
Provide a more professional and polished product presentation to your customers
Now that you have a basic understanding of FBA Prep Centers and their benefits, it's time to explore one of the industry's leading providers: FBA Prep Logistics.
FBA Prep Logistics: Your Partner for Success
Located in Bristol, PA, FBA Prep Logistics is a 3PL warehouse dedicated to helping medium-sized e-commerce businesses thrive on the world's largest online marketplace. Our mission is to take the hassle out of supply chain management for sellers who have limited experience in the field and provide a smooth and transparent process from start to finish. By offering a comprehensive range of services at competitive prices, we give you the tools and support necessary for your business to grow and succeed on Amazon. Learn more about our offerings by visiting our website, where you'll find articles like How 3PL Fulfillment Can Revolutionize Your Supply Chain Management and A Guide to FBA Prep Warehouses for Beginners.
In the upcoming sections, we will discuss the various services we provide at FBA Prep Logistics, as well as the time and cost savings your business can enjoy by partnering with us. Stay tuned to find out how FBA Prep Logistics can help you stand out from the competition and make your Amazon sales journey a breeze!
Ready to start your journey with an FBA Prep Center and propel your Amazon business to new heights? Let FBA Prep Logistics be your partner for success! Reach out to us today to discuss your unique needs and discover a range of solutions that will help you streamline your operations, save time and money, and stand out from the competition. Don't wait – your journey to Amazon success starts now.
2. Comprehensive Services for a Seamless Experience
When it comes to operating a successful e-commerce business, especially on Amazon, partnering with an experienced and reliable FBA prep center is essential. FBA Prep Logistics is committed to providing top-notch service that enables businesses to grow and maintain a strong presence on the platform. In this section, we'll delve into the extensive range of services offered by FBA Prep Logistics, covering everything from storage and inventory management to labeling and packaging.
2.1 Storage Solutions Tailored to Your Business Needs
At FBA Prep Logistics, we understand that every business has unique storage requirements. That's why we offer flexible storage solutions that cater to the needs of your e-commerce venture. Whether you require short-term or long-term storage for your products, our state-of-the-art facility located in Bristol, PA, has got you covered. With a secure warehouse and 24/7 monitoring, you can trust that your inventory will be well-protected during its stay with us.
2.2 Inventory Management for Real-Time Visibility
Efficient inventory management is a critical factor in the success of your Amazon business. Our FBA prep center has integrated advanced inventory management systems that provide real-time visibility into your inventory levels. This helps you ensure your products are always stocked and available to customers Streamline Your E-commerce.
2.3 Product Inspection & Quality Control
Nothing is more frustrating for a customer than receiving a faulty or damaged product. At FBA Prep Logistics, we prioritize quality control and inspection to minimize the risk of customer dissatisfaction. Our experienced team thoroughly inspects your products upon arrival at our facility, ensuring that they meet defined quality standards before they are shipped off to Amazon fulfillment centers.
2.4 Labeling & Packaging Compliance
To comply with Amazon's stringent guidelines, proper labeling and packaging are essential. Our knowledgeable team at FBA Prep Logistics stays up-to-date with the ever-changing Amazon FBA regulations, guaranteeing that your products are properly packaged and labeled. This attention to detail helps Boost Your Amazon Sales With FBA Prep and prevents delays caused by non-compliant items.
2.5 Customized Kitting and Bundling Services
Offering multi-packs, kits, or bundles on Amazon can be a game-changing strategy for boosting sales and increasing average order value. FBA Prep Logistics offers flexible and customizable kitting and bundling services that enable you to create unique product combinations that appeal to your target audiences. Learn more about kitting with our guide on how to Improve the Efficiency of Your Supply Chain with Kitting and Assembly Solutions.
2.6 Efficient Shipping & Transportation Solutions
Getting your products to Amazon fulfillment centers in a timely and cost-effective manner is imperative for any successful e-commerce venture. At FBA Prep Logistics, we have cultivated strategic partnerships with major freight carriers to secure you the best shipping rates and fastest delivery times. You can rely on our logistics expertise to ensure that your inventory reaches its intended destination without any hiccups.
2.7 Returns Processing
Managing returns can be a time-consuming and challenging process for online sellers. FBA Prep Logistics takes this burden off your shoulders by skillfully handling your returns and providing a comprehensive report on the returned items. We assess each returned product for usability and either restock them in your inventory or dispose of them according to your preferences.
2.8 Dedicated Customer Support
At FBA Prep Logistics, we pride ourselves on exceptional customer support that caters to your unique needs. Our team of experts is always available to provide guidance, answer any questions, and address any issues you may encounter throughout the fulfillment process. Discover more about the Importance of Exceptional 3PL Customer Support to help your e-commerce business thrive.
By offering an extensive range of services, FBA Prep Logistics ensures a seamless experience for e-commerce businesses looking to expand their presence on Amazon. From quality control and compliance to efficient shipping and proactive customer support, FBA Prep Logistics has everything you need to succeed in the competitive online marketplace. Let our expertise in supply chain management propel your business to new heights, while you focus on other crucial aspects of your operations.
3. Time Savings: Streamline Your Business Operations
As an e-commerce business owner, especially if you're selling on Amazon, it can be challenging to juggle all the various tasks that come with running your store. With FBA Prep Centers, like FBA Prep Logistics, you can save significant time by outsourcing several daunting processes, allowing you to focus on the more critical aspects of your business. In this section, we will examine the various ways FBA Prep Logistics can help streamline your operations and boost efficiency.
3.1. Delegate Store Management Tasks
One of the biggest challenges faced by online sellers is keeping up with the day-to-day tasks required to keep their stores running smoothly. By partnering with FBA Prep Logistics, you can delegate essential tasks like inventory management, order fulfillment, and returns handling, freeing up more time for you to focus on product sourcing, marketing, and customer engagement. Streamline Your E-commerce by outsourcing these tasks, saving you time and effort.
3.2. Faster Order Processing Time
FBA Prep Centers like FBA Prep Logistics have the resources and expertise to process orders quickly and efficiently. This ensures prompt order processing, shipping, and delivery, resulting in satisfied customers who are more likely to revisit your store and leave positive reviews. Moreover, faster order processing increases the chances of winning the Amazon Buy Box, which can significantly boost your sales and visibility on the platform.
3.3. Inventory Management Efficiency
Inefficient inventory management can lead to stockouts, excess inventory, and high storage fees, negatively impacting your business's cash flow and profit margins. FBA Prep Logistics uses advanced inventory management systems that allow them to monitor and manage your stock efficiently, preventing such issues while helping you maintain optimal inventory levels. Learn How 3PL Fulfillment Can Revolutionize Your Supply Chain Management by optimizing your inventory management process.
3.4. Returns Processing Simplified
Handling returns can be a time-consuming and challenging process, especially for sellers new to supply chain management. FBA Prep Logistics simplifies this process by handling returns on your behalf. They will inspect returned items, determine their eligibility for resale, and either return them to your inventory or dispose of them as per your instructions, reducing the time and effort you would otherwise have to dedicate to this task.
3.5. Scaling Your Business Made Easy
Growing your e-commerce business can be demanding, but with FBA Prep Logistics' support, you can scale your operations seamlessly. By outsourcing tasks to them, you can expand your product catalog, explore new markets, and focus on strategies for growth without worrying about the logistical challenges that come with scaling. Read The Ultimate Guide to Finding Your Perfect 3PL Location to help you decide where to expand your operations.
3.6. Improved Customer Service
With FBA Prep Logistics taking care of your business's logistical needs, you can devote more time and energy to improving customer service. This could include answering customer inquiries, addressing concerns, and developing new ways to enhance your buyers' shopping experience. Better customer service often leads to repeat business and positive feedback on Amazon, helping you stand out from the competition.
3.7. Accelerate Your Learning Curve
As a new online seller or a seasoned business owner venturing into Amazon FBA for the first time, you might have questions or concerns about navigating the platform. FBA Prep Logistics' seasoned experts can guide you through the process, offering valuable insights and advice based on their extensive experience. They can help you avoid common pitfalls and simplify your learning curve, enabling you to run your business more effectively from the get-go.
In conclusion, working with FBA Prep Logistics can significantly save time and streamline your business operations. By outsourcing tasks like inventory management, order fulfillment, and returns handling to a reliable FBA Prep Center, you can focus on what truly matters – growing and expanding your e-commerce business. Partnering with FBA Prep Logistics not only ensures a seamless experience for your customers but also a stress-free and efficient operation for you as a seller.
Cost Savings: Reducing Overheads and Increasing Margins
A major concern for any e-commerce business owner, especially those looking to grow and scale their operations, is how to reduce costs while maximizing profit margins. FBA Prep Centers like ours at FBA Prep Logistics offer an excellent solution to help lower overheads and increase your profits. In this section, we'll delve into the key cost-saving benefits of partnering with FBA Prep Logistics.
4.1 Reduced Storage Fees
Fulfillment by Amazon (FBA) may offer comprehensive services, but it comes with substantial storage fees, especially for long-term inventory. FBA Prep Centers, conversely, offer significantly lower storage fees – allowing you to save and allocate a larger portion of your resources for strategic business investments.
By utilizing the cost-effective storage spaces at FBA Prep Logistics, you can maintain a lean inventory at your Amazon fulfillment centers. This results in lower long-term storage fees, and ultimately higher profits for your e-commerce store.
4.2 Lower Shipping Costs
Shipping products to Amazon fulfillment centers can be expensive, especially when shipping from different parts of the country or internationally. However, partnering with FBA Prep Logistics can help you lower your shipping costs.
With our strategically located warehouse in Bristol, PA, you can ship your goods directly from your supplier to our FBA Prep Center, reducing the amount of intermediate shipping steps that often incur additional costs. This streamlined process can result in substantial savings on your shipping expenses.
Furthermore, our experience and relationships with major shipping carriers enable us to offer competitive shipping rates. This, coupled with the consolidation of shipments and attention to packaging efficiency, can substantially reduce shipping-related costs for your business.
4.3 Improved Inventory Management
A well-managed inventory is key to avoiding losses due to stock-outs and minimizing storage costs. By using FBA Prep Logistics' comprehensive inventory management services, you can effectively track your stock levels and replenish inventory at the optimal time.
Our team of experts will closely monitor your inventory and help you make data-driven predictions about when to restock, preventing costly last-minute shipments or excess inventory storage fees.
4.4 Labor Cost Savings
Handling the various logistical tasks related to your Amazon business in-house can be time-consuming and costly in terms of labor expenses. Outsourcing these tasks to FBA Prep Logistics allows you to save on labor costs.
Our team of professionals is trained in all aspects of FBA logistics; from receiving, labeling, packaging, and shipping. We can manage these tasks efficiently and at a lower cost as compared to hiring and training a dedicated in-house team.
4.5 Enhanced Scalability
As your e-commerce business grows, so do the challenges of managing increased volumes of inventory, fulfilling orders, and ensuring optimal customer satisfaction. Partnering with FBA Prep Logistics enables you to handle increased demand seamlessly.
We have the infrastructure and expertise in place to accommodate your growth and scale our services in line with your business needs. This level of scalability would be hard to achieve without significant investment in resources, facilities, and labor when managing these tasks in-house.
4.6 Reduced Risk of FBA Errors
Non-compliance with Amazon's strict FBA requirements may result in additional fees, inventory delays, account suspension, or even complete loss of inventory. Outsourcing your FBA preparation and logistics to FBA Prep Logistics minimizes the risk of errors, ensures full compliance, and prevents costly consequences.
Our experienced team is well-versed in Amazon's guidelines and requirements, providing you with peace of mind knowing your products will be prepared and delivered to Amazon without issues.
In Conclusion
Choosing FBA Prep Logistics as your partner in handling the complexities of your Amazon business logistics offers not only expert services but also significant cost savings. These savings are crucial for small to medium-sized businesses like yours, aiming to remain competitive in the constantly evolving e-commerce landscape.
By partnering with FBA Prep Logistics, you can take advantage of reduced storage fees, lower shipping costs, improved inventory management, labor cost savings, enhanced scalability, and reduced risk of FBA errors, all leading to increased profit margins for your business. Let us help you grow and succeed in the world of Amazon e-commerce.
Stand Out from the Competition with FBA Prep Logistics
In the ever-growing and competitive Amazon marketplace, it has become imperative for online sellers to distinguish themselves from their competitors. FBA Prep Logistics is here to ensure that your e-commerce business exceeds customer expectations and has a seamless and stress-free supply chain experience. Here's how working with us can help your business stand out:
1. Leverage Expert Knowledge and Tailored Solutions
FBA Prep Logistics has a deep understanding of the Amazon marketplace and its algorithms. Our team of professionals is committed to providing you with customized solutions that cater to the unique needs of your business, allowing you to focus on your core competencies.
Rather than navigating the complexities of the FBA process on your own, partnering with FBA Prep Logistics can help you save time and resources while leveraging our expertise and state-of-the-art technology.
2. Maintain High-Quality Standards Consistently
Customers are more likely to leave positive reviews and become returning customers if their orders are processed and shipped efficiently. At FBA Prep Logistics, we help businesses like yours maintain consistent high-quality standards, whether through proper product labeling, packaging, or storage. Our dedicated QA process identifies issues promptly, ensuring prompt resolution and maintaining a high level of customer satisfaction.
An outstanding track record of customer satisfaction can contribute to your Amazon search ranking, giving you a competitive edge in the marketplace.
3. Scale Your Business Efficiently
Whether you're a new Amazon seller or an established player looking to grow, FBA Prep Logistics can help you scale up your operations without incurring exorbitant costs. By optimizing your storage needs, managing your inventory, and providing timely fulfillment services, we enable your business to progress while avoiding common pitfalls.
4. Gain Access to a Network of Carriers
One of the most significant benefits our clients enjoy is access to a vast network of carriers at competitive rates. By partnering with FBA Prep Logistics, you can ensure that your products reach their destination swiftly and safely, improving your overall customer experience.
5. Improve Customer Experience with Faster Delivery Times
In today's fast-paced online shopping environment, quick delivery times are crucial in retaining customers. By working with FBA Prep Logistics, you can improve your fulfillment process, resulting in faster delivery times and increased customer satisfaction.
6. Stay up-to-date with Amazon Policy Changes
As an FBA seller, it's crucial to constantly adapt to Amazon's ever-changing policies. At FBA Prep Logistics, we stay on top of these policy updates, making sure your business remains compliant and avoiding potential penalties or suspensions.
7. Comprehensive Reporting and Analytics
FBA Prep Logistics provides you with comprehensive reporting and analytics tools that offer insights into your sales, order processing, and inventory management. By understanding these metrics and implementing data-driven strategies, you can further differentiate yourself from the competition and make informed decisions to grow your business.
In conclusion, partnering with FBA Prep Logistics can offer your e-commerce business a competitive edge in the Amazon marketplace. Our expert knowledge, tailored solutions, and dedication to customer success ensure that your business enjoys a seamless, stress-free experience while standing out from the competition. So, why not join FBA Prep Logistics and elevate your Amazon selling game to new heights?
Frequently Asked Questions</h2>
<details>
<summary><h3>1. What services does FBA Prep Logistics provide?</h3></summary>
<p>FBA Prep Logistics offers a wide range of comprehensive services to support e-commerce businesses in their Amazon journey, including storage, inventory management, labeling, packaging, and more.</p>
</details>
<details>
<summary><h3>2. How can FBA Prep Logistics save my business time?</h3></summary>
<p>By outsourcing tedious and cumbersome tasks to us, such as inventory management, labeling, and packaging, you can streamline your operations and focus on more crucial aspects of your business, boosting overall efficiency and productivity.</p>
</details>
<details>
<summary><h3>3. How can FBA Prep Logistics help me reduce costs?</h3></summary>
<p>Working with FBA Prep Logistics leads to significant cost savings, including reduced storage fees, lower shipping costs, and improved inventory management. All these factors contribute to increased profit margins for your business.</p>
</details>
<details>
<summary><h3>4. What makes FBA Prep Logistics stand out from other 3PL providers?</h3></summary>
<p>Our dedication to customer success and deep expertise in the Amazon marketplace set us apart from the competition. We tailor our services to your needs, ensuring a seamless and stress-free experience for both sellers and customers.</p>
</details>
<details>
<summary><h3>5. Do I need prior supply chain management experience to work with FBA Prep Logistics?</h3></summary>
<p>No, you don't need previous supply chain management experience to partner with us. FBA Prep Logistics is designed to cater to businesses of all sizes and stages, including those new to supply chain management and Amazon selling.</p>
</details>
<script type="application/ld+json">
{
"@context": "https://schema.org",
"@type": "FAQPage",
"mainEntity": [
{
"@type": "Question",
"name": "1. What services does FBA Prep Logistics provide?",
"acceptedAnswer": {
"@type": "Answer",
"text": "FBA Prep Logistics offers a wide range of comprehensive services to support e-commerce businesses in their Amazon journey, including storage, inventory management, labeling, packaging, and more."
}
},
{
"@type": "Question",
"name": "2. How can FBA Prep Logistics save my business time?",
"acceptedAnswer": {
"@type": "Answer",
"text": "By outsourcing tedious and cumbersome tasks to us, such as inventory management, labeling, and packaging, you can streamline your operations and focus on more crucial aspects of your business, boosting overall efficiency and productivity."
}
},
{
"@type": "Question",
"name": "3. How can FBA Prep Logistics help me reduce costs?",
"acceptedAnswer": {
"@type": "Answer",
"text": "Working with FBA Prep Logistics leads to significant cost savings, including reduced storage fees, lower shipping costs, and improved inventory management. All these factors contribute to increased profit margins for your business."
}
},
{
"@type": "Question",
"name": "4. What makes FBA Prep Logistics stand out from other 3PL providers?",
"acceptedAnswer": {
"@type": "Answer",
"text": "Our dedication to customer success and deep expertise in the Amazon marketplace set us apart from the competition. We tailor our services to your needs, ensuring a seamless and stress-free experience for both sellers and customers."
}
},
{
"@type": "Question",
"name": "5. Do I need prior supply chain management experience to work with FBA Prep Logistics?",
"acceptedAnswer": {
"@type": "Answer",
"text": "No, you don't need previous supply chain management experience to partner with us. FBA Prep Logistics is designed to cater to businesses of all sizes and stages, including those new to supply chain management and Amazon selling."
}
}
] }
</script>