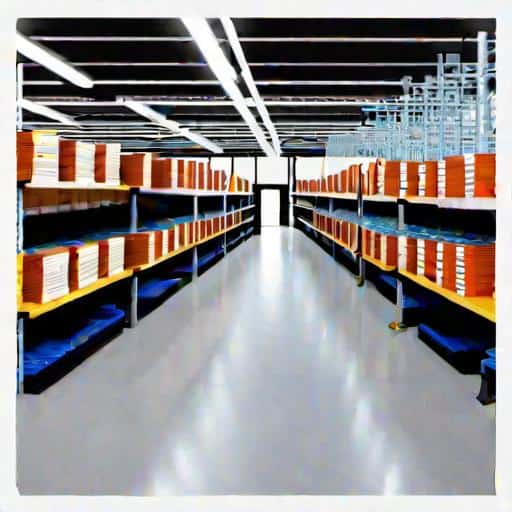 Introduction to 3PL Fulfillment Centers: The Essential Piece to E-Commerce Success
E-commerce has grown exponentially in recent years, and it shows no signs of slowing down. With more businesses pivoting to online sales and millions of customers making purchases from the comfort of their homes, it's no surprise that e-commerce is thriving. One of the crucial aspects of e-commerce success is fast and efficient order fulfillment, and that's where a 3PL Fulfillment Center (Third-Party Logistics) comes into play.
What is a 3PL Fulfillment Center?
A 3PL Fulfillment Center is a third-party warehouse that takes care of the storage, picking, packing, and shipping of your products to your customers. These centers also handle returns and inventory management, allowing e-commerce businesses and retailers to concentrate on their core competencies – creating and selling products.
For Amazon sellers and other e-commerce businesses, the importance of outsourcing to a 3PL Fulfillment center can't be overstated. Let's dive into the reasons why.
Efficient Order Fulfillment: Saving Time and Resources
Outsourcing order fulfillment to a 3PL Fulfillment center greatly reduces workload and accelerates delivery times. As a business owner, you can now focus on expanding your product range, optimizing your marketing strategies, and enhancing your customer service experience. Meanwhile, your chosen 3PL provider will seamlessly handle order fulfillment and ensure your customers are satisfied.
Amazon's Heavy Requirements: How a 3PL Can Help
Several Amazon sellers opt for Fulfillment by Amazon (FBA), but to remain compliant with Amazon's strict requirements, having a dedicated 3PL Fulfillment center becomes essential. Reputable 3PL providers, such as FBA Prep Logistics, have mastered compliance with Amazon's policies, ensuring your Amazon FBA business continually meets expectations.
The Growing Importance of 3PL Fulfillment Centers: Adapting to E-Commerce Evolution
To stay successful in the rapidly-evolving e-commerce landscape, businesses must keep up with the latest trends, technological advancements, and customer expectations. Partnering with an experienced 3PL Fulfillment center like FBA Prep Logistics enhances your business adaptability and future-proofs your e-commerce operations.
The essential role of 3PL Fulfillment centers in e-commerce success is undeniable. As a new e-commerce business owner or an Amazon seller, outsourcing your order fulfillment to a competent 3PL provider is in your best interest. From efficient order processing to expert handling of Amazon FBA requirements, 3PL Fulfillment centers can bring significant benefits to your business.
Read on as we explore how FBA Prep Logistics, a trusted 3PL provider, offers streamlined inventory management, cost savings, expertise in Amazon FBA, and much more, making it the reliable choice for your e-commerce business.
Streamlined Inventory Management: Dealing with the What, When & How of Your Stock
As an e-commerce business owner, you know how crucial it is to keep your inventory management flawless and efficient. Your customers expect their orders to be fulfilled quickly and accurately, which can be overwhelming if you're doing it all by yourself. That's where FBA Prep Logistics, a top-rated 3PL fulfillment center, makes all the difference! The following sections outline some of the primary benefits of leaving your inventory management woes to the experienced professionals at FBA Prep Logistics:
2.1 Automated and Optimized Processes – No More Spreadsheet Nightmares!
Remember the hours spent grappling with spreadsheets, trying (and sometimes failing) to keep your inventory system organized and up-to-date? With FBA Prep Logistics, those days are behind you. Our team employs state-of-the-art software and technology to bring you real-time inventory tracking and automated systems that save you both time and hassle. Plus, our technology integrates with popular e-commerce platforms like Amazon to ensure seamless order fulfillment from start to finish.
2.2 Proper Stocking Levels – No More Stockouts or Overstocks
Managing your inventory also means making sure you always have the right amount of stock for your customers. That's where FBA Prep Logistics has you covered. Our team closely monitors your inventory levels and uses advanced forecasting tools to help you maintain the right balance between having too little or too much stock. This means you can avoid the dreaded stockouts and costly overstock situations while focusing on growing your business.
2.3 Efficient Pick and Pack – Accuracy and Speed Guaranteed
Nothing spells frustration for online shoppers like receiving the wrong item or waiting too long for delivery. To prevent this, FBA Prep Logistics' 3PL fulfillment center follows streamlined and efficient pick and pack processes that prioritize both accuracy and speed. Our trained staff uses barcode scanning technology and a highly organized warehouse layout to reduce the chance of errors and expedite your order fulfillment. Plus, our team ensures that your orders are packaged neatly and securely so that they reach your customers in perfect condition.
2.4 Real-time Inventory Updates and Reporting – Stay Informed, Always
At FBA Prep Logistics, we understand the importance of keeping you, the business owner, in the loop. That's why our 3PL fulfillment center provides real-time inventory updates and comprehensive reporting, so you never have to worry about being left in the dark. Our system seamlessly integrates with your existing e-commerce platform, giving you 24/7 access to your inventory data, tracking information, and order status. Additionally, our support team is always ready to provide tailored assistance or answer any questions you may have.
2.5 Expert Kitting and Bundling Services – Drive Sales with Unique Product Offerings
FBA Prep Logistics offers expert kitting and bundling services that help increase your average order values by allowing customers to purchase multiple products in a single order. Our team can assemble pre-packaged bundles, mix-and-match deals, gift sets, and even customize product packaging to match your branding. These value-added services help you stand out from the competition and keep your customers coming back for more.
2.6 Scalable Solutions – Expand Your Business Without a Hitch
One of the critical aspects of a successful e-commerce business is the ability to scale up seamlessly when demand increases. FBA Prep Logistics' 3PL fulfillment center provides just that! We have the capacity and expertise to accommodate both temporary spikes in demand (think holiday rushes) and long-term growth. As a result, you can focus on expanding your business without worrying about how to handle the influx of new orders.
In conclusion, outsourcing your inventory management to FBA Prep Logistics puts you in the best position to grow and thrive in the competitive e-commerce landscape. Our 3PL fulfillment center takes care of the what, when, and how of inventory management, ensuring your customers receive their orders accurately and on time, boosting customer satisfaction and loyalty. By partnering with FBA Prep Logistics, you can focus on what truly matters – cultivating your brand and increasing your profits.
3. Cost Savings: Scaling up Your Business without Scaling up Your Headaches
Outsourcing to a 3PL fulfillment center like FBA Prep Logistics can do wonders for your bottom line. By utilizing our services, you'll be able to focus on growing your e-commerce business without worrying about increasing overhead and other operational costs. In this section, we'll dive into the various ways in which outsourcing to FBA Prep Logistics can lead to cost savings, such as reducing overhead, lowering shipping costs, and minimizing errors and return rates.
3.1 Reduced Overhead Expenses
Running your own warehouse means dealing with a multitude of expenses, from rent and utilities to equipment maintenance and staff salaries. By outsourcing to a 3PL fulfillment center like FBA Prep Logistics, you can save time and money by eliminating these costs. We take care of all warehousing and logistics needs, allowing you to invest in other areas of your business, such as marketing and product development.
3.2 Lower Shipping Costs
Another major advantage of partnering with FBA Prep Logistics is our ability to lower shipping costs. As a 3PL fulfillment center with an extensive network of shipping partners, we're able to negotiate better rates and pass those savings onto you. Additionally, we optimize order routing and utilize our strategically located warehouse in Bristol, PA, ensuring that your products reach customers quickly and cost-effectively.
3.3 Minimized Errors and Return Rates
Mistakes in order processing can lead to unsatisfied customers, increased return rates, and ultimately, higher costs. At FBA Prep Logistics, our experienced team and streamlined processes help minimize errors in picking, packing, and shipping, ensuring that customers receive the right items on time. This not only improves customer satisfaction but also reduces associated costs such as reverse logistics and refunds.
3.4 No Need for Additional Staff
As your e-commerce business grows, so does the workload involved in managing inventory, packing and shipping orders, and handling customer service issues related to fulfillment. By outsourcing to FBA Prep Logistics, you won't need to hire and train additional staff, leading to significant cost savings in the form of reduced payroll and employee benefits.
3.5 Efficient Space Utilization
Many e-commerce businesses struggle with finding enough space for their growing inventory. With FBA Prep Logistics as your 3PL partner, you won't have to worry about leasing additional warehouse space or investing in costly storage solutions. Our warehouse is specifically designed to accommodate e-commerce inventory of various sizes, ensuring efficient space utilization and reducing storage costs.
3.6 Economies of Scale
Last but not least, partnering with a 3PL fulfillment center like FBA Prep Logistics provides the advantage of economies of scale. As your business grows and shipping volume increases, you'll be able to achieve even greater cost savings through more favorable shipping rates, bulk discounts on packaging materials, and lower per-unit costs for other warehousing services.
3.7 Conclusion: The Smart Choice for E-Commerce Cost Savings
By outsourcing your e-commerce fulfillment to FBA Prep Logistics, you'll be making a smart decision that will lead to significant cost savings in several areas. Reduced overhead, lower shipping costs, minimized errors and return rates, and access to economies of scale make us the perfect 3PL partner to help you scale your e-commerce business without the added headaches. So, are you ready to take your business to new heights by focusing on what you do best – selling great products – while leaving the fulfillment side of things to the pros at FBA Prep Logistics? Let's get started.
Expertise in Amazon FBA: Let the Pros Handle Your Amazon Business Operations
As a business owner, dealing with Amazon and navigating their complex processes can be time-consuming and confusing. Partnering with a 3PL fulfillment center that is specialized in Amazon FBA ensures your products are prepared, packed, and shipped by experts. FBA Prep Logistics' experience and expertise in the Amazon ecosystem equate to a hassle-free and efficient way of doing business.
4.1 Know the Ins and Outs of Amazon FBA
At FBA Prep Logistics, our team of professionals are well-versed in Amazon FBA. Our years of experience have helped us identify and understand key components that contribute to our clients' success. We have a deep knowledge of the following processes crucial to the Amazon FBA business:
Product listing optimization
Inventory management
Returns processing
Navigating Amazon fees and charges
Complying with Amazon's packaging and labeling requirements
Having a specialized team means we can swiftly tackle any challenges or changes that arise within the Amazon FBA process, giving you a competitive edge.
4.2 Compliance and Prevention of Common Pitfalls
Avoiding mistakes in compliance with Amazon's policies is crucial to maintain your account's standing and avoid suspensions. As a 3PL fulfillment center, FBA Prep Logistics ensures that your inventory is compliant with Amazon's FBA guidelines and helps safeguard you from undesirable consequences. We prioritize the following tasks:
Adhering to packaging requirements
Meeting shipping deadlines
Proper labeling of products
Resolving issues with returned items
By entrusting your inventory to a 3PL fulfillment center like FBA Prep Logistics, you reduce the risk of common pitfalls associated with Amazon FBA operations, thus ensuring smooth transactions and compliance.
4.3 Support and Scaling Opportunities for Other E-Commerce Platforms
While our expertise is rooted in Amazon FBA operations, we can also support and scale your business to other e-commerce platforms. Our versatility comes from a deep understanding of various e-commerce platforms and a commitment to stay updated with the latest trends and processes. Some popular platforms we work with are:
By expanding your reach beyond Amazon and adapting to multiple platforms like those mentioned above, you can diversify your sales channels and unlock new opportunities for growth.
4.4 Manage Efficient Returns Processing
Returns handling is an inevitable part of e-commerce. To maintain a positive reputation and prevent disruptions in the Amazon marketplace, it is crucial to manage returns efficiently. FBA Prep Logistics offers comprehensive returns management, processing items quickly by:
Inspecting returned products
Identifying and resolving the root cause of returns
Processing refunds or restocking items as necessary
Ensuring customers' satisfaction with prompt resolution
An efficient returns process is vital in maintaining customer loyalty and preserving your brand image within the competitive Amazon marketplace.
4.5 Continual Improvement and Expert Insights
Our team at FBA Prep Logistics is dedicated to continuous learning and staying updated on the latest Amazon FBA processes and industry trends. Partnering with us means you'll benefit from our ongoing growth, expert insights, and actionable advice tailored to your business.
With our specialized knowledge and proactive approach, we help you:
Optimize product listings for maximum visibility
Adapt to Amazon policy changes
Implement best practices for inventory management
Employ effective marketing strategies for e-commerce growth
By outsourcing your Amazon FBA operations to an expert 3PL fulfillment center, you have more time to focus on your core business functions and drive long-term success.
Conclusion: The Route to E-Commerce Success Starts at FBA Prep Logistics
In summary, partnering with FBA Prep Logistics for your Amazon FBA operations provides you with extensive expertise, compliance assurance, and support to grow and adapt your e-commerce business to other platforms. With efficient returns processing and continual improvement, we enable optimized business operations and long-term success. Handing over the reins to FBA Prep Logistics ensures that you can focus on what you do best and rest easy knowing that your fulfillment operations are in capable hands.
Flexibility and Adaptability: Meeting the Demands of an Ever-Changing Marketplace
The world of e-commerce is in a constant state of flux, and to stay competitive, businesses need to be adaptable and flexible in their operations. Outsourcing your logistics to a 3PL Fulfillment Center like FBA Prep Logistics equips your business with the agility to navigate the unpredictable e-commerce landscape with ease. Let's dive into how our services ensure that you're always one step ahead of the market trends.
5.1 Stay Ahead of Seasonal Fluctuations and Market Trends
E-commerce businesses experience varying demand during different seasons and holidays throughout the year. FBA Prep Logistics understands these fluctuations and offers customized solutions to handle changes in sales volumes. By leveraging our knowledge and expertise, you can stay prepared for the increased demand during peak seasons without any hassle.
5.2 FBA Prep Logistics' Evolving Systems and Processes
At FBA Prep Logistics, we're always striving to improve our systems and processes to better serve our clients. Our team is committed to staying up-to-date with the latest industry developments, such as advances in warehouse technology, automation, and software systems. This ongoing commitment to excellence ensures that your e-commerce business benefits from the most efficient and effective 3PL Fulfillment Center services possible.
5.3 Adapting to Changing Shipping Requirements
One of the many challenges that e-commerce businesses face is keeping up with the ever-evolving shipping guidelines imposed by various carriers. FBA Prep Logistics maintains close relationships with major carriers, enabling us to stay informed about the latest regulations and updates. This proactive approach allows us to adapt our shipping process promptly, so your business doesn't miss a beat.
5.4 Scalability: Catering to Your Business Growth
As your e-commerce business grows, so do your logistical requirements. By partnering with FBA Prep Logistics, you'll benefit from a 3PL Fulfillment Center that is equipped to scale with your company. Our infrastructure and expertise enable us to accommodate your growth, providing seamless service regardless of your evolving logistical needs.
5.5 Embracing New Markets and Platforms
E-commerce businesses need to have a finger on the pulse of new markets, platforms, and opportunities to stay competitive in the industry. Not only can FBA Prep Logistics quickly adapt to these new developments, but we also can help you take advantage of emerging growth opportunities. We're here to support you every step of the way as you explore new avenues for expansion.
5.6 Customized Fulfillment Services to Meet Your Unique Needs
FBA Prep Logistics understands that every e-commerce business has its own unique set of requirements. That's why we've designed our services to be versatile and customizable, ensuring that your supply chain operations are tailored to suit your specifics needs and preferences.
5.7 Adapting to Customer Expectations
Today's online shoppers have high expectations when it comes to fast delivery, seamless customer service, and easy returns. By trusting FBA Prep Logistics as your 3PL Fulfillment Center, you can rest assured that we'll stay on top of these ever-changing expectations and provide a first-rate customer experience that enhances your brand's reputation.
In conclusion, choosing FBA Prep Logistics as your 3PL Fulfillment Center partner means embracing flexibility and adaptability in your e-commerce operations. We're committed to keeping your business at the forefront of industry trends and best practices, so you can focus on what you do best – growing your brand and serving your customers. Why not check out our other articles on the benefits of outsourcing to a 3PL Fulfillment Center and how we can optimize your e-commerce business for more in-depth information on the many reasons to trust FBA Prep Logistics with your logistics needs?
Frequently Asked Questions
How does FBA Prep Logistics streamline inventory management?
FBA Prep Logistics streamlines inventory management by maintaining proper stock levels, implementing efficient pick and pack processes, and ensuring timely delivery to customers. This helps maintain order accuracy, minimize errors, and optimize the entire supply chain for your e-commerce business.
What cost savings can I expect when outsourcing to FBA Prep Logistics?
Outsourcing to FBA Prep Logistics can lead to significant cost savings in various ways, including reduced overhead, lower shipping costs, and minimized errors and return rates. By handling your fulfillment needs, FBA Prep Logistics allows you to focus on other aspects of your business, leading to increased efficiency and profitability.
How does FBA Prep Logistics provide expertise in Amazon FBA?
FBA Prep Logistics has specialized knowledge and expertise in Amazon FBA processes, compliance, and best practices. Our team stays updated on the latest changes and requirements, ensuring that your Amazon business operations run smoothly and effectively, while mitigating the risk of penalties or suspensions.
How does FBA Prep Logistics adapt to changes in the e-commerce marketplace?
FBA Prep Logistics continuously improves its systems and processes by staying informed about market trends, incorporating the latest technology and resources, and adapting to changes in e-commerce platforms. This allows your business to remain competitive, agile, and profitable in a constantly evolving marketplace.
Why should I choose FBA Prep Logistics for my e-commerce business?
FBA Prep Logistics offers a comprehensive suite of 3PL services tailored for e-commerce businesses selling primarily on Amazon. Our expert team, streamlined processes, and cost-saving strategies enable you to grow your business efficiently, ensuring customer satisfaction and long-term success. Trust FBA Prep Logistics to handle your fulfillment needs so you can focus on other aspects of your e-commerce empire.