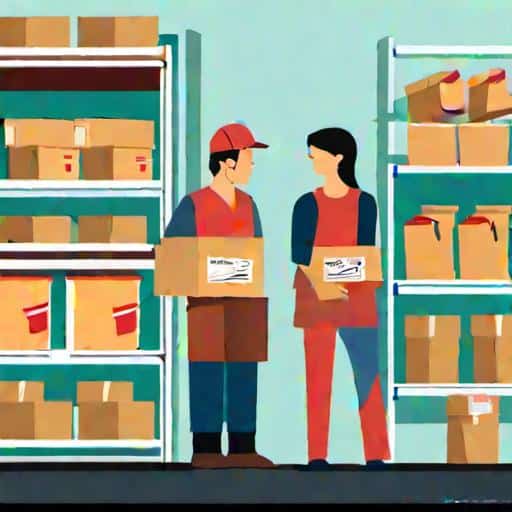 Find the Best FBA Prep Center Near You: FBA Prep Logistics
Introduction
If you're an e-commerce business owner selling on Amazon, you already know the value of using Fulfillment by Amazon (FBA) services. They essentially handle the heavy lifting, from storing to shipping, enabling you to focus on your core business. But, as the realm of online selling continues to evolve, the need for an efficient and reliable FBA Prep Center becomes more vital than ever.
Enter FBA Prep Logistics, your go-to FBA prep center near you. This Pennsylvania-based 3PL provider is perfect for those entering the world of supply chain management and third-party logistics (3PL) services for the first time. It's an ideal choice for helping you streamline your business operations so you can grow and thrive as an e-commerce entrepreneur.
In this comprehensive guide, we'll discuss the fantastic benefits of partnering with FBA Prep Logistics to help you make an informed decision. So let's dive in and explore all you need to know about this top-rated FBA prep center!
The Importance of Selecting the Right FBA Prep Center
As you search for an "FBA Prep Center Near Me," it's crucial to choose a facility that covers all the bases. From a comprehensive range of services to unmatched customer support, finding the right FBA prep center can play a pivotal role in your business's success. That's where FBA Prep Logistics enters the equation, dedicated to offering top-tier service and expertise in logistics while maintaining a close partnership with clients.
Finding the best FBA Prep Center near you is all about optimizing your e-commerce business by saving resources, time, and money. In the following sections, you'll discover why FBA Prep Logistics is the premier choice for up-and-coming e-commerce entrepreneurs.
Stay tuned as we discuss services, location advantages, transparent pricing, and customer satisfaction. By the end of this guide, you'll see that FBA Prep Logistics is a winning choice for your e-commerce business's logistics needs.
Discover how a prep center can save your Amazon business
Comprehensive Services Offered by FBA Prep Logistics
As a business owner, it's essential to find an FBA Prep Center Near Me that offers a comprehensive range of services tailored to your specific needs. FBA Prep Logistics is your one-stop-shop for all your e-commerce fulfillment requirements. Let's dive into the extensive services provided by FBA Prep Logistics, which sets us apart from other FBA prep centers.
Receiving
Our experienced team handles the seamless reception of your stock from suppliers, whether from domestic or international locations. Once your inventory arrives at our Bristol, PA facility, we diligently verify and reconcile the shipments against your purchase orders.
Storage
FBA Prep Logistics offers secure, clean, and organized storage solutions for your products. Our spacious warehouse ensures that your inventory remains safe and easily accessible, with state-of-the-art monitoring systems and climate control options for sensitive items.
Flexible storage options
We understand that businesses evolve and grow, which is why we provide flexible storage options that cater to your needs. From short-term to long-term storage plans, FBA Prep Logistics ensures that your inventory management is always aligned with your business objectives.
Inventory Management
With our real-time inventory management system, you can effortlessly monitor stock levels and receive updates on order fulfillment. This transparency keeps you informed about any potential stock gaps while enabling you to make informed decisions for replenishment.
Inspection
Our trained staff conducts thorough inspections of your products to ensure that they meet Amazon's strict quality standards and requirements. This attention to detail drastically reduces the risk of returns, damaged items, and negative reviews, ultimately enhancing your brand reputation and customer satisfaction.
Labeling
We offer precise labeling services which adhere to Amazon's guidelines, including FNSKU (Fulfillment Network Stock Keeping Unit) and UPC (Universal Product Code) labeling. Proper labeling helps to streamline the shipping process and prevents delays, lost or mispicked items, as well as additional fees.
Bundling and Packaging
Our experienced team offers bundling and packaging services tailored to your specific product requirements. We're skilled in handling various packaging techniques such as polybagging, shrink wrapping, and bubble wrapping. Additionally, we can help create attractive multipack or gift sets to boost your sales opportunities on Amazon.
Customized packaging solutions
FBA Prep Logistics understands the importance of branding and customer experience. We provide customized packaging solutions that make your products stand out and enhance the unboxing experience for your customers, ultimately leading to increased brand loyalty and repeat sales.
Prepping for Amazon FBA
As an expert in FBA Prep Center Near Me, our team at FBA Prep Logistics ensures that your products are prepped in compliance with Amazon's FBA requirements. We manage everything from labeling, polybagging, and bubble wrapping to placing proper warning stickers. Our meticulous approach reduces the risk of shipment rejections and additional fees.
Expedited shipment processing
At FBA Prep Logistics, we prioritize swift and efficient shipment processing. We understand the importance of maintaining a rapid inventory turnover to stay competitive in the fast-paced e-commerce environment. Therefore, we collaborate closely with our clients to ensure that their shipments get prepped and sent to Amazon's warehouses in a timely manner.
In summary, FBA Prep Logistics is your go-to FBA Prep Center Near Me for comprehensive, reliable, and professional services, allowing you to focus on scaling your e-commerce ventures while we take care of the tedious logistics tasks. With our experienced team, top-notch facilities, and specialization in everything from receiving to packaging, FBA Prep Logistics is well-equipped to elevate your e-commerce business to new heights.
Location Advantages of our Bristol, PA Facility
Finding the perfect FBA Prep Center Near Me could be a challenging task, but if you're on the East Coast and relying on Amazon's warehouses, choosing FBA Prep Logistics is your ideal option. Our strategically chosen location in Bristol, PA offers numerous advantages for e-commerce businesses, from proximity to major transportation hubs to quick deliveries to Amazon warehouses. In this section, we'll delve into the benefits of working with our Bristol, PA facility.
Prime Location in the Heart of the East Coast
Located conveniently on the East Coast, our FBA prep center in Bristol, PA offers easy access to major cities such as New York, Philadelphia, and Washington DC. This means that your products are strategically placed to reach millions of potential customers in no time.
Close Proximity to Major Transportation Networks
Being situated near major transportation networks undoubtedly offers countless advantages. For starters, our FBA Prep Logistics facility is located:
Near I-95: This major interstate highway enables seamless transport to cities up and down the East Coast
Close to the Pennsylvania Turnpike: This key route connects major metropolitan areas in Pennsylvania and neighboring states, ensuring efficient movement of goods
In the vicinity of major airports: Philadelphia and Newark airports, two important international air hubs, are within close reach, enabling speedy deliveries even for international shipments
These factors combined achieve faster deliveries and a competitive edge over FBA prep centers situated farther from these vital transportation hubs.
Efficient Delivery to Amazon Warehouses
Our location in Bristol, PA, is incredibly beneficial when it comes to delivering your products to Amazon's warehouses. The close proximity to major highways and an extensive network of domestic, as well as international shipping routes, enables reduced transit times for your products. This ultimately translates to faster processing and availability of your items on Amazon's platform, ensuring satisfied customers and potentially higher sales.
Cost Savings Through Strategic Location
Choosing FBA Prep Logistics as your FBA Prep Center Near Me offers significant cost savings for your e-commerce business. Due to its prime location on the East Coast, you can enjoy reduced shipping costs for both inbound and outbound shipments. This allows you to allocate resources more effectively to other aspects of your business, such as marketing and product development.
Tapping Into a Vast Market
By partnering with FBA Prep Logistics in Bristol, PA, your products will be situated right at the doorstep of the ever-expanding East Coast market. This opens up opportunities for:
Serving millions of potential customers living in New York, Philadelphia, and Washington DC
Expanding your e-commerce business to additional marketplaces, leveraging the extensive transportation network available
Taking advantage of same-day and next-day shipping options to reach your customers faster
In conclusion, the strategic location of FBA Prep Logistics in Bristol, PA, offers considerable advantages for e-commerce businesses seeking an FBA Prep Center Near Me. From efficient deliveries to Amazon's warehouses to proximity to major transportation networks, our facility ensures you stay ahead of the competition. Take the first step in elevating your e-commerce business by choosing FBA Prep Logistics as your partner.
Feel free to contact us and discuss how we can help your e-commerce business thrive.
4. Transparent Pricing and Flexibility: The FBA Prep Logistics Advantage
One of the key aspects that sets FBA Prep Logistics apart from others is our commitment to transparent pricing and flexibility for our clients. We understand that as an e-commerce business owner, especially if you're new to the world of supply chain management and 3PL services, you need a partner who's upfront with their costs and can tailor their offerings to suit your requirements. Here's how FBA Prep Logistics got your back:
You will never find yourself scratching your head while trying to figure out unexpected charges when working with FBA Prep Logistics. Our "FBA Prep Center Near Me" commitment ensures that all costs involved are clearly laid out from the beginning. We provide a detailed breakdown of our pricing structure, which includes all applicable fees for services such as receiving, storage, inventory management, labeling, bundling, and packaging.
We believe that trust and complete understanding of the costs are crucial for a successful partnership. Therefore, we've eliminated any hidden fees that could be an unpleasant surprise down the road, ensuring maximum transparency and customer satisfaction.
Moreover, our pricing model isn't restricted by long-term contracts. We offer flexible, month-to-month plans that can be adjusted to meet your changing needs. As your business evolves, so can your partnership with us.
4.2 Customized Pricing Plans for All Business Sizes
At FBA Prep Logistics, we cater to businesses of all sizes, whether you're just starting or have been selling on Amazon for years. Our customized pricing plans are designed to suit your specific needs, keeping your operational costs manageable and under control.
We take the time to understand each client's requirements and develop individual proposals that deliver the most value to their business – whether you need full-service 3PL assistance, or just a few specific services. The flexible pricing enables you to choose options that best fit your circumstances, assuring you only pay for what you actually need.
4.3 Monthly Review and Consultation
Understanding that your business needs may change over time, we schedule regular monthly reviews of your services and pricing. This allows you to assess how our services are fitting into your evolving business strategy and make any necessary adjustments.
During these consultations, FBA Prep Logistics remains fully transparent. We provide reports on inventory management, order processing, shipping times, and any other relevant KPIs. These frequent reviews serve to maintain a strong relationship and ensure you remain satisfied with our FBA Prep Center Near Me commitment.
4.4 Quick Scaling to Meet Your Business Growth
As your e-commerce business grows, your needs may change, and FBA Prep Logistics is fully equipped to scale with you. Our flexible services and pricing plans enable you to add or remove services as needed. With no long-term contracts, you maintain the freedom to modify your business plan as required, having the reassurance that we will adapt to support you.
4.5 Fostering a Trust-based Relationship
Transparency in our pricing and flexibility in our offerings are what make FBA Prep Logistics a reliable 3PL partner. Trust is built on a foundation of clear communication and understanding of the customer's needs. Therefore, we strive to be your go-to choice when searching for an "FBA Prep Center Near Me."
In Summary
FBA Prep Logistics is committed to offering the best experience when it comes to transparent pricing and flexibility in services. With no hidden fees, long-term contracts, and customized pricing plans tailored to your business needs, partnering with us is a sound choice for your e-commerce venture.
Take the first step towards a hassle-free, growth-oriented journey with FBA Prep Logistics and let us help you make the most of your e-commerce business. Don't forget to explore our comprehensive range of services here and learn what sets us apart.
Unmatched Customer Service and Support
When searching for an "FBA Prep Center Near Me," one of the most vital factors you should consider is the quality of customer service and support offered by the 3PL warehouse. At FBA Prep Logistics, our unparalleled commitment to providing exceptional customer care sets us apart from others in the industry.
Personalized Attention and Assistance
At FBA Prep Logistics, we understand that each e-commerce business is unique, and their specific logistics needs may differ. That's why we offer personalized attention aimed at understanding your business requirements and tailoring solutions that fit your needs seamlessly. As newcomers to supply chain management and 3PL services, you can rely on our dedicated team of professionals who are always available to guide you, tackle issues that arise, and offer help every step of the way.
Open Communication Channels
FBA Prep Logistics excels at keeping communication lines open with every client, recognizing the importance of maintaining relationships built on trust and transparency. Clients receive regular updates about their shipments, inventory levels, and other crucial information to ensure there's no room for misunderstandings or confusion. Our responsive team is available via phone, email, or chat, ensuring you receive the necessary support when you need it the most.
Quick Problem Resolution
We know how crucial it is for e-commerce entrepreneurs to have a smooth and efficient supply chain. Our dedicated customer support team at FBA Prep Logistics ensures the swift resolution of any issues that may arise during the handling, storage, or shipping of your products. Regardless of the problem, you can count on our team to find a solution quickly, minimizing potential disruptions in your business operations.
A Rich Collection of Happy Client Stories
Don't just take our word for it; our numerous satisfied customers serve as living testimonials to the top-notch services we provide. These success stories paint a picture of an FBA prep center partner that strives to consistently exceed client expectations, providing services that help e-commerce entrepreneurs grow their businesses and achieve their goals.
Expert Guidance and Training for Newcomers
As a first-timer in the 3PL world, navigating the complexities of supply chain management can be quite challenging. FBA Prep Logistics, however, makes transitioning into this space a breeze. We provide expert advice and training resources to help you understand various aspects of 3PL services and ensure that you make informed decisions.
Empowering You to Scale-Up
Our customer-centric approach ensures we understand the needs of your growing e-commerce business. By providing the right guidance and resources, we empower you to scale your business to new heights. With FBA Prep Logistics by your side, you'll be well-equipped to overcome hurdles and achieve success in your entrepreneurial journey.
Continuous Improvement and Commitment to Excellence
At FBA Prep Logistics, we constantly seek ways to refine our processes and service offerings. Analyzing customer feedback and proactively addressing concerns are integral components of our continuous improvement strategy. By taking our clients' inputs seriously, we demonstrate our unwavering commitment to excellence, ensuring that FBA Prep Logistics remains the preferred "FBA Prep Center Near Me" for businesses searching for unparalleled customer service and support.
To experience our unmatched customer service firsthand and learn how FBA Prep Logistics can elevate your e-commerce business, reach out to us today. Let's work together to create success stories that last a lifetime.
Find the Best FBA Prep Center Near You: FBA Prep Logistics
Fulfillment by Amazon (FBA) is an integral part of your e-commerce business success, but what if you're new to the whole concept of 3PL (Third-Party Logistics) and supply chain management? Don't worry, we're here to help! At FBA Prep Logistics, we're the ideal choice for newcomers and growing businesses because of our comprehensive services, prime location, transparent pricing, and unmatched client support. Let us guide you through the process and elevate your business to the next level. But first, let's address your burning questions:
Frequently Asked Questions:
What are the services offered by FBA Prep Logistics?

We provide a wide array of services, such as receiving, storage, inventory management, inspection, labeling, bundling, and packaging. Whether you're an online seller looking for a comprehensive solution or simply want help with specific tasks, we've got you covered!

What are the benefits of your Bristol, PA location?

Our Bristol, PA warehouse is a prime location near major transportation hubs, ensuring efficient delivery to Amazon FBA warehouses. This strategic position enables e-commerce sellers to get their products to customers quickly and cost-effectively.

How does FBA Prep Logistics maintain fair and transparent pricing?

We believe in honest business practices. That's why our pricing plans are designed to cater to businesses of all sizes, without hidden fees or long-term contracts. You can trust FBA Prep Logistics to provide truly transparent 3PL services for your e-commerce store.

Can you describe your commitment to excellent customer service?

At FBA Prep Logistics, we put our customers first. We focus on communication, always striving to exceed expectations while guiding newcomers through the process. Our satisfied clients can vouch for our unwavering dedication to providing top-notch service and support.

How does FBA Prep Logistics make the transition to 3PL services smoother?

If you're new to the world of supply chain management and 3PL, we're here to ease your transition. We walk you through the process step-by-step, making it accessible, hassle-free, and efficient. With the help of our expert team, you'll feel like a 3PL pro in no time!
In conclusion, choosing FBA Prep Logistics as your FBA prep center partner brings numerous benefits to your e-commerce operation. Discover the advantages of convenience, expertise, and reliable services close to you. Don't hesitate to get in touch, and let's start growing your e-commerce business together!