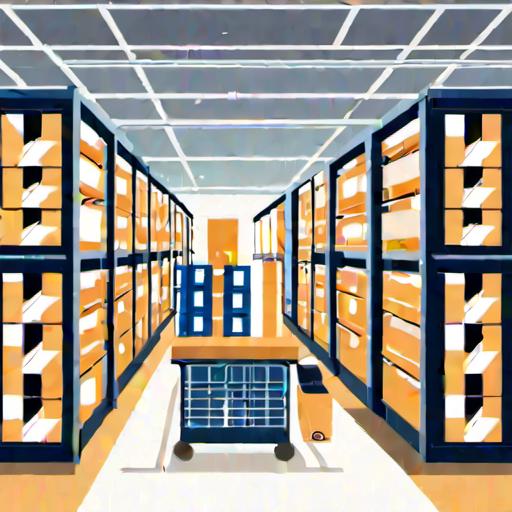 Introduction to E-commerce Order Fulfillment
Welcome to the exciting world of e-commerce, where businesses are flourishing, and customers are enjoying the convenience of online shopping. In today's increasingly digital world, the success of an e-commerce business depends heavily on an efficient order fulfillment process. This is where E-commerce Fulfillment comes in, a crucial aspect all online businesses must perfect to thrive.
The Importance of E-commerce Fulfillment
A streamlined E-commerce Fulfillment process is essential to any successful online store. It involves everything from receiving orders, picking and packing items, to shipping them out to customers. Effective fulfillment ensures that the customer experience remains positive, which in turn leads to repeat business, glowing reviews, and more recommendations.
But let's be honest here, managing the entire E-commerce Fulfillment process on your own can be quite overwhelming, especially when your business starts growing at a rapid pace. That's where partnering with a reliable third-party logistics (3PL) company like FBA Prep Logistics comes in handy.
FBA Prep Logistics: Your Trusted 3PL Partner
Why FBA Prep Logistics? The answer is simple; we focus on providing the best possible E-commerce Fulfillment services to support the growth and success of your online business. Our team at FBA Prep Logistics boasts industry expertise, a flexible approach, and unmatched professionalism to cater to your e-commerce needs.
When you choose FBA Prep Logistics, you're choosing a partner who prioritizes your business's unique goals and growth. We specialize in assisting online businesses that primarily sell on amazon.com while navigating the complicated world of supply chain management, even if you've never used a 3PL before.
Customized Solutions for Your Business
Each e-commerce business is different, which is why we customize our E-commerce Fulfillment solutions to cater specifically to your unique needs. Whether it's handling varying order volumes, offering specialized packaging, or working within specific delivery timeframes, we've got you covered.
Professional, Efficient E-commerce Fulfillment Services
At FBA Prep Logistics, we take pride in delivering professional, efficient services that meet and exceed your expectations. From order placement to delivery, our team ensures a seamless E-commerce Fulfillment process that boosts customer satisfaction and fosters loyalty.
Scale Your Business with Confidence
Growth is the ultimate goal for any e-commerce business. As you expand, it's crucial to partner with a 3PL warehouse that can support your scalability. FBA Prep Logistics is here to help you manage the increasing demands of your business, without any hassle or stress.
Lay the Foundation for Success with FBA Prep Logistics
Don't let the complexities of E-commerce Fulfillment hold you back. As a trusted and professional 3PL warehouse, FBA Prep Logistics is here to assist you throughout every step of your e-commerce journey.
In the following sections, we'll explore several factors to consider when selecting a 3PL partner and the advantages of partnering with us. We'll also dive into the various services and solutions we offer, while highlighting the ways we can optimize your e-commerce supply chain, reduce costs, and improve customer satisfaction. By the end of this article, you'll feel empowered and inspired to take your e-commerce business to new heights.
So, are you ready to unlock the full potential of your e-commerce business? Let FBA Prep Logistics be the backbone of your E-commerce Fulfillment processes, allowing you to focus on what truly matters – growing your online empire.
2. Choosing the Right 3PL Partner for Your Business
Selecting the right 3PL partner is crucial to the success and growth of your e-commerce business. With so many options out there, it's essential to consider various factors to find the perfect third-party logistics provider who will cater to your unique needs. To make an informed decision, let's discuss the crucial aspects to consider and the advantages of partnering with FBA Prep Logistics.
2.1 Customization
Every e-commerce business is unique, and so are their requirements. Your 3PL partner should be flexible enough to offer customized solutions tailored to your specific needs. FBA Prep Logistics prides itself on delivering personalized services, ensuring that your business receives the utmost care and attention.
2.2 Scalability
As your business grows, your fulfillment needs will change. A reliable 3PL partner should have the ability to scale up or down to accommodate your growth. FBA Prep Logistics provides scalable solutions that can effortlessly adapt to your expanding business, ensuring a seamless transition as your customer base increases.
2.3 Experience and Expertise
The right 3PL partner should possess extensive experience and expertise in the e-commerce fulfillment industry. With years of experience, FBA Prep Logistics has honed its skills and knowledge to become a trusted player in the market. Our dedicated team of professionals has a deep understanding of the industry, ensuring the best solutions for your business.
2.4 Technology Integration
An efficient 3PL partner will have advanced technology integrated into its services. FBA Prep Logistics utilizes cutting-edge technology for improved inventory management, tracking, and automation. Our technology integration allows for seamless communication between your e-commerce platform and our logistics operations, resulting in smoother processes for your customers.
2.5 Reliable Customer Support
Robust customer support is the backbone of any successful 3PL partnership. FBA Prep Logistics offers exceptional customer support, ensuring that you always have someone to turn to for help or advice. Our dedicated support team is equipped to provide timely and accurate assistance in all aspects of your e-commerce fulfillment journey.
2.6 Transparent Pricing
Transparency in pricing is essential while selecting a 3PL partner. FBA Prep Logistics is committed to offering transparent pricing, free from hidden charges and additional costs. Our pricing structure is designed to provide maximum value for your investment, allowing you to focus on growing your e-commerce business.
2.7 Centralized Location
Choosing a 3PL partner with a strategic location is vital for efficient shipping and quick delivery. FBA Prep Logistics is conveniently located in Bristol, PA, ensuring easy access to major shipping routes and fast turnaround times for your orders. Our prime location helps reduce transit times and shipping costs for your domestic and international customers.
2.8 Seamless Returns Processing
Dealing with product returns can be a daunting task for e-commerce businesses. When choosing a 3PL partner, it's important to evaluate their returns processing capabilities. FBA Prep Logistics offers hassle-free returns processing, ensuring that your customers have a smooth experience while returning products, thus building trust and loyalty towards your brand.
2.9 Client Testimonials
An excellent way to gauge the credibility of a 3PL partner is to review client testimonials. FBA Prep Logistics has an impressive track record of satisfied clients who have experienced significant growth with the help of our tailor-made services. Explore some of their success stories to gain insights into our commitment to delivering exceptional results.
2.10 Insights and Analytics
FBA Prep Logistics understands the value of data in driving e-commerce growth. We provide valuable insights and analytics to help you make informed decisions about your supply chain management and identify areas of improvement.
In Conclusion
Choosing the right 3PL partner is a crucial step in the growth of your e-commerce business. By evaluating the essential aspects mentioned above and selecting FBA Prep Logistics as your partner, you get the advantage of cutting-edge technology, customized solutions, and outstanding professionalism that will catapult your online business to new heights. So, what are you waiting for? Get lean with 3PL Prep and give your e-commerce fulfillment process the boost it deserves!
Understanding FBA Prep Logistics' Services and Solutions
As a leading 3PL warehouse in Bristol, PA, FBA Prep Logistics provides comprehensive, tailored e-commerce fulfillment solutions designed to meet the unique needs of your online business. Our wide range of services ensure your products are stored, processed, and shipped efficiently, taking the pressure off your business operations, so you can focus on growing and succeeding in the competitive e-commerce landscape. Let's dive into the various services and solutions that FBA Prep Logistics offers to cater to your e-commerce fulfillment needs.
3.1 Inventory Management
Properly managing your inventory is critical to the success of any e-commerce business. FBA Prep Logistics offers robust inventory management services to help you keep track of your products, monitor stock levels, and efficiently replenish stocks when needed. With our state-of-the-art warehouse management system (WMS), you can be confident that your inventory is in safe hands and always up-to-date.
3.2 Receiving and Inspection
Upon arrival at our warehouse, your products are carefully inspected before being added to your inventory. This process involves checking for damaged or missing items, ensuring your products comply with Amazon's requirements (if applicable), and performing a general quality review. Partnering with FBA Prep Logistics ensures your products are always handled with care, protecting your brand reputation and keeping your customers satisfied.
3.3 Kitting and Assembly Solutions
Kitting and assembly services can simplify your e-commerce operations and boost your customers' experience. At FBA Prep Logistics, we offer customized kitting and assembly solutions, ranging from bundling products to building custom packages and gift sets, ensuring your products are presented in the best possible manner and driving positive customer feedback.
3.4 Pick and Pack Services
Our pick and pack services are streamlined and efficient, ensuring fast order processing and accurate shipping. Once an order is received, our professional team locates the items in our warehouse, carefully packages them, and prepares them for shipment, minimizing errors and providing a smooth buying experience for your customers.
3.5 Shipping and Returns Management
Ensuring your products are shipped promptly and accurately is vital to maintaining customer satisfaction and repeat business. FBA Prep Logistics partners with reliable carriers to provide timely, cost-effective shipping solutions tailored to your specific needs. Moreover, we handle the return process as smoothly as possible, managing the entire returns lifecycle from receiving returned products, inspecting their condition, restocking, and processing refunds.
3.6 Labeling and Compliance
Navigating the complex world of e-commerce regulations and seller requirements can be daunting. FBA Prep Logistics' experienced team is here to help you with labeling and compliance activities, ensuring your products meet the necessary requirements for your chosen marketplace, including Amazon FBA. With our careful attention to detail, you can be confident that your products are accurately labeled and compliant.
3.7 Real-Time Reporting and Analytics
At FBA Prep Logistics, we believe in full transparency and providing you with the data you need to make informed decisions. Our warehouse management system offers real-time reporting and analytics, allowing you to track order fulfillment, inventory levels, and other performance metrics anytime, anywhere. Stay connected and in control of your e-commerce operations with FBA Prep Logistics' advanced reporting solutions.
3.8 Expert Consultation and Support
Our team of experienced professionals is dedicated to forming strong partnerships with our clients, providing expert consultation and support throughout the e-commerce fulfillment process. We pride ourselves on being approachable and hands-on, helping you tackle challenges, optimize your supply chain, and ultimately, grow your e-commerce business.
3.9 Seamless Integration with Major E-commerce Platforms
FBA Prep Logistics offers seamless integration with popular e-commerce platforms like Amazon, Shopify, eBay, and more. This streamlined process allows you to effortlessly manage orders, inventory, and fulfillment, directly from your preferred platform. Manage your e-commerce operations with ease and let FBA Prep Logistics handle the rest.
3.10 Scalability and Flexibility
No matter the size or complexity of your business, FBA Prep Logistics is prepared to handle your growth and change with ease. Our customizable services and flexible storage options enable us to adapt to your evolving needs, so you can focus on expanding your e-commerce sales without worrying about operational constraints.
In conclusion, FBA Prep Logistics offers a comprehensive suite of e-commerce fulfillment services designed to make your business operations as seamless and efficient as possible. By partnering with us, you'll gain access to a trusted 3PL partner committed to helping your online business flourish. Together, we'll tackle the challenges of e-commerce and take your business to new heights.
Streamlining Your E-commerce Supply Chain with FBA Prep Logistics
As your e-commerce business continues to grow, having an optimized supply chain in place is vital for maintaining excellent customer satisfaction and a competitive edge. FBA Prep Logistics offers a range of services that are geared towards streamlining all aspects of your e-commerce supply chain. In this section, we will delve into the various ways FBA Prep Logistics assists you in optimizing your e-commerce supply chain, reducing costs, and improving overall customer satisfaction.
FBA Prep Logistics' Customized Approach to E-commerce Fulfillment
No two e-commerce businesses are the same, which is why at FBA Prep Logistics, we offer tailor-made solutions that are designed specifically to fit your unique requirements. By customizing our services to your needs, we are able to ensure that your inventory is managed efficiently, orders are shipped on time, and you gain valuable insights into your supply chain.
Efficient Inventory Management
Inventory management plays a crucial role in your e-commerce supply chain, and FBA Prep Logistics offers a multifaceted approach to help you manage your stock. Our services include:
Real-time inventory tracking: Always stay in-the-know about your inventory levels, helping you make informed decisions on reordering and reducing the risk of stockouts.
Accurate demand forecasting: Gain access to advanced analytics and sales data to anticipate market demands and purchasing trends, allowing you to maintain the right amount of inventory.
By working with FBA Prep Logistics, you can ensure your inventory is managed efficiently and economically.
Accelerated Order Processing and Shipping
A quick and seamless order fulfillment process is a key component of satisfying customer expectations and maintaining a competitive advantage in the e-commerce landscape. At FBA Prep Logistics, we provide:
Automated order processing: Our integrated technology speeds up the order processing time, allowing us to meet tight shipping deadlines and bolster customer satisfaction.
Multiple shipping options: We offer a wide range of shipping options, catering to the different preferences and needs of your customers. Our robust logistics network and partnerships with leading carriers ensure timely and cost-effective shipping.
Streamlining order processing and shipping with FBA Prep Logistics ultimately leads to an enhanced customer experience, increased repeat purchases, and positive word-of-mouth.
Simplified Returns Management
Handling returns is an inevitable part of the e-commerce business. FBA Prep Logistics' comprehensive returns management system is designed to make this process as smooth and efficient as possible. Our services encompass:
Streamlined reverse logistics: We handle the entire process of receiving, inspecting, and restocking returned products, ensuring minimal disruption to your operations.
Data analysis of returns: Gain valuable insights into the reasons behind product returns, allowing you to identify problematic products or trends, and make informed decisions on how to improve your offerings.
Working with FBA Prep Logistics mitigates the challenges involved in returns management, enabling you to focus on growing your e-commerce brand.
Seamless Integration with E-commerce Platforms
FBA Prep Logistics understands that e-commerce businesses operate across multiple platforms and marketplaces, such as Amazon, Shopify, and eBay, to name a few. Our technology is designed to seamlessly integrate with these platforms, allowing for streamlined inventory, order, and data management. This integration not only simplifies your daily operations but also enhances efficiency across your entire e-commerce supply chain.
Focus on Your Core Business Activities
Outsourcing your e-commerce fulfillment process to FBA Prep Logistics allows you to allocate your valuable time and resources to aspects of your business that drive growth and profitability. By partnering with us, you can focus on expanding your product range, improving your marketing strategies, and strengthening customer relationships, while we take care of your supply chain management.
In conclusion, streamlining your e-commerce supply chain with FBA Prep Logistics translates to reduced costs, improved customer satisfaction, and increased opportunities for growth. With our customized approach, efficient inventory management, accelerated order processing, simplified returns management, and seamless integration with e-commerce platforms, FBA Prep Logistics is the ideal partner to help you optimize your e-commerce supply chain and take your business to new heights.
Taking Your E-commerce Business to New Heights with FBA Prep Logistics
Just like our business's name suggests, FBA Prep Logistics is here to support your e-commerce journey on Amazon. Partnering with our 3PL warehouse will provide you with exceptional services that ultimately play a pivotal role in elevating your online business and achieving the success you envision. So, how can FBA Prep Logistics take your e-commerce business to new heights?
5.1 Providing a Reliable Fulfillment Infrastructure
Hitching your e-commerce wagon to the FBA Prep Logistics' horse comes with the guarantee of a tried, tested, and proven 3PL infrastructure. From inventory management to shipping and returns, our reliable services ensure that your customers receive their products quickly and in a hassle-free manner. Our foundation in the e-commerce sector primarily services Amazon sellers, meaning that your business will benefit from our well-established systems and processes.
5.2 Enhancing Customer Satisfaction and Loyalty
When your business's e-commerce fulfillment is optimized, your customers are bound to be happier. FBA Prep Logistics takes pride in helping you improve customer satisfaction, resulting in greater brand loyalty. We provide a consistent, efficient, and user-friendly shopping experience for your customers. The positive impact on your business is immeasurable, with satisfied customers translating to repeat business and glowing reviews!
5.3 Offering Scalability and Flexibility
Going hand-in-hand with our article Scaling Your E-commerce with FBA Prep, we emphasize our commitment to helping your business grow and adapt to changing circumstances. E-commerce markets can be volatile, with unpredictable swings in demand that require a flexible and scalable 3PL partner. FBA Prep Logistics is designed to cater to these fluctuations seamlessly, enabling you to capitalize on peaks and avoid pitfalls.
5.4 Saving Time and Effort in Operations
It's no secret that running an e-commerce business involves wearing multiple hats. There are innumerable responsibilities and tasks for you to juggle daily. The good news is that with FBA Prep Logistics by your side, you can delegate a significant portion of your workload to us. This frees you to focus on other vital aspects of your online business, like marketing strategies, customer relations, and product development.
5.5 Leveraging Expertise for Streamlined Processes
Your partnership with FBA Prep Logistics comes with the advantage of tapping into our team's valuable expertise and know-how. We have extensive experience catering to the needs of e-commerce businesses, specifically Amazon sellers. Therefore, we can help streamline your processes with best practices derived from years of servicing a wide range of online stores. This will inevitably save you time, energy, and unnecessary trial-and-error.
5.6 Providing Advanced Technology and Data-Driven Decision-Making
When you work with FBA Prep Logistics, our advanced technology and innovative solutions are at your disposal. Our sophisticated systems are designed to collect and analyze data related to your supply chain and fulfillment processes. This invaluable information empowers you to make data-driven decisions to accurately refine and optimize your e-commerce operations.
5.7 Sharing Success Stories: Businesses Benefitting from FBA Prep Logistics
While it's essential for us to describe our services and the benefits they offer, we invite you to read How FBA Prep Logistics Takes Your E-Commerce Business to the Next Level. This article highlights actual success stories of businesses that have experienced remarkable growth and achieved their goals thanks to their partnership with FBA Prep Logistics. Don't just take our word for it – see the results for yourself!
As we bring this article to an end, remember that navigating the e-commerce landscape can be a challenging and daunting endeavor. But with the right 3PL partner by your side, you'll find your footing and ultimately reach new heights. FBA Prep Logistics is excited to support your business as it soars to unprecedented success in the world of Amazon e-commerce!
As a digital marketing assistant for FBA Prep Logistics, I am excited to share our expert knowledge and answer common questions related to e-commerce order fulfillment and our exceptional services. The following FAQs will provide in-depth and valuable insights to help you better understand the advantages of partnering with our 3PL warehouse.
Frequently Asked Questions
What is the role of a 3PL warehouse in e-commerce order fulfillment?
A 3PL, or third-party logistics warehouse, supports e-commerce businesses by handling all essential backend tasks of the order fulfillment process. This includes inventory management, picking and packing orders, shipping, and returns management. By outsourcing these tasks to a professional 3PL warehouse like FBA Prep Logistics, online businesses can focus on their core competencies and driving growth.
Why should I choose FBA Prep Logistics as my 3PL partner?
At FBA Prep Logistics, we pride ourselves on delivering tailored, efficient, and dependable services for your e-commerce business. Our unique blend of customizable solutions, scalability, and unmatched professionalism sets us apart in the industry. We are committed to helping you streamline your e-commerce operations, reduce costs, and ultimately enhance customer satisfaction.
What services does FBA Prep Logistics provide for e-commerce businesses?
We offer a comprehensive range of services to cater to your specific e-commerce fulfillment needs. Our solutions include inventory management, pick and pack, shipping, and returns management. Our advanced technology and reliable team ensure a seamless and efficient process, allowing you to confidently entrust your order fulfillment to our skilled hands.
How can FBA Prep Logistics optimize my e-commerce supply chain?
Our team of experts at FBA Prep Logistics works diligently to streamline your e-commerce supply chain by utilizing data-driven strategies, automation, and efficient logistics solutions. By partnering with us, you can benefit from reduced shipping costs, improved order accuracy, faster delivery times, and enhanced customer satisfaction. Our goal is to empower your business to thrive in a competitive online market.
What benefits can I expect by integrating FBA Prep Logistics into my e-commerce operations?
Integrating FBA Prep Logistics into your e-commerce operations can bring numerous benefits to your online business. By entrusting us with your order fulfillment needs, you can focus on marketing, product development, and expanding your online presence. Moreover, our services enable you to scale your operations more easily, ensuring that you can keep up with customer demands even during peak sales periods.
Now that you have a clearer understanding of the advantages we offer, FBA Prep Logistics is ready to take your e-commerce business to new heights. As your trusted 3PL partner, we look forward to growing together and achieving remarkable success!