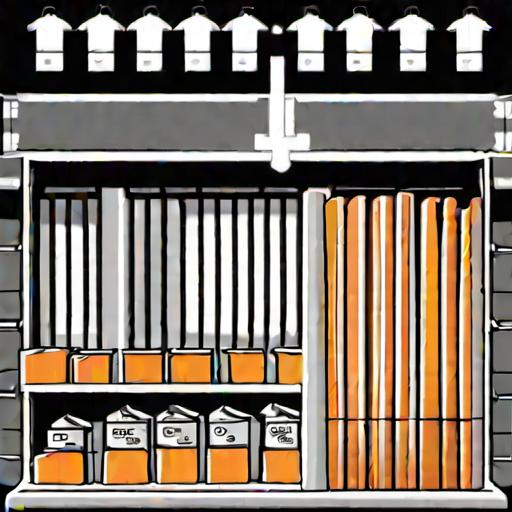 Introduction: The Importance of FBA Prep Centers for Amazon Sellers
As an Amazon seller, you are always on the lookout for ways to enhance your online business's efficiency and profitability. One crucial aspect of managing your e-commerce venture is ensuring that your products are properly prepped and sent to Amazon fulfillment centers, ready to be shipped to your customers. This is where FBA Prep Centers come into play. But what exactly are they, and why are they so essential for Amazon sellers? Let's break it down!
What are FBA Prep Centers?
Fulfillment by Amazon (FBA) Prep Centers are specialized warehouses that handle product preparation and shipment logistics for Amazon sellers. They ensure that your inventory is accurately inspected, packaged, and labeled according to Amazon's strict guidelines, so you don't have to worry about non-compliance issues or delays in getting your products to customers.
Why are FBA Prep Centers important?
Here are four critical reasons why FBA Prep Centers are indispensable for Amazon sellers:
A. Saves Time and Effort
Running an e-commerce business, especially on platforms like Amazon, takes up a considerable amount of time and effort. By outsourcing your product preparation and shipping needs to an FBA Prep Center, you can focus on other aspects of your business, such as marketing, product development, or customer service.
B. Ensures Compliance with Amazon's Guidelines
As mentioned earlier, Amazon has stringent requirements for packaging and labeling products. Failure to meet these guidelines could lead to delays, additional costs, or even account suspension. By partnering with a reputable FBA Prep Center, you can rest assured that your products will be prepared and shipped according to Amazon's guidelines, reducing the risk of any compliance issues.
C. Improved Inventory Management
FBA Prep Centers are not just responsible for product preparation; they also help you manage your inventory. Accurate inventory tracking ensures that you maintain optimal stock levels, avoiding costly stockouts or surplus inventory issues.
D. Enhanced Customer Experience
When your products reach Amazon's fulfillment centers promptly and in good condition, they are more likely to get to your customers on time and without any damage. This leads to a better overall customer experience, which could translate into positive product reviews, better seller ratings, and increased sales.
In summary, FBA Prep Centers play a vital role in the success of Amazon sellers. They help streamline your business operations, ensure compliance with Amazon's guidelines, and contribute to enhanced customer satisfaction. The next logical question is, how do you choose the right FBA Prep Center for your needs? In the following sections, we'll dive into the benefits of using a reliable 3PL warehouse like FBA Prep Logistics and why partnering with us is the key to unlocking your e-commerce business's potential. So, stay tuned!
Outsourcing Your Inventory Management: The Benefits of Using a 3PL Warehouse like FBA Prep Logistics
Many small and medium-sized e-commerce businesses face the challenge of keeping up with their supply chain management and inventory warehousing needs. As a result, these companies often end up using valuable time and resources that could be better spent on growing and marketing their businesses, rather than dealing with complex logistical tasks. This is where a third-party logistics provider, or 3PL, like FBA Prep Logistics comes into play, providing an all-in-one solution for e-commerce businesses selling on Amazon.
In this section, we will go over the numerous benefits of partnering with FBA Prep Logistics as your 3PL warehouse, including reduced operational costs, streamlined processes, increased scalability, and the ability to focus on what truly matters: the growth and success of your e-commerce business.
Reduced Operational Costs
One of the most significant advantages of working with a 3PL warehouse like FBA Prep Logistics is the reduction of operational costs. By outsourcing your inventory management and warehousing needs to our team of experts, you can avoid the expenses associated with running your own storage facility, such as rent, utilities, and maintenance. Additionally, FBA Prep Logistics leverages its relationships with carriers to negotiate favorable shipping rates, providing considerable savings on transportation costs for your products.
Streamlined Processes
Partnering with FBA Prep Logistics means entrusting your inventory management and logistical operations to a team with years of experience. Our comprehensive services include receiving, storage, packing, labeling, and shipping your products directly to Amazon FBA centers, all executed with the utmost precision and efficiency. This streamlined approach ensures that your products are always in compliance with Amazon's requirements, minimizing the risk of fines and other costly errors. Furthermore, you can rest assured that our team of professionals will stay up-to-date with Amazon's ever-changing policies, saving you valuable time and effort.
Increased Scalability and Flexibility
As your e-commerce business grows, so does the demand for an efficient and reliable supply chain. With FBA Prep Logistics as your 3PL partner, you can easily scale your operations to meet the increasing needs of your business. Our extensive warehousing capacity allows us to accommodate fluctuating inventory levels, ensuring that you always have sufficient space for your expanding product range. Whether you're gearing up for a busy holiday season or adjusting to a sudden surge in demand, FBA Prep Logistics offers the flexibility needed to adapt to your business's evolving needs.
Focus on Growing Your Business
By outsourcing your inventory management and logistical operations to FBA Prep Logistics, you free up valuable time and resources that can be strategically invested in the growth of your e-commerce business. Our team takes care of the day-to-day tasks associated with supply chain management, allowing you to concentrate on essential aspects of your business like product development, marketing, and customer service. With the peace of mind that your logistical processes are in expert hands, you can focus on what you do best: driving sales and profits for your business.
Global Reach and Expansion Opportunities
FBA Prep Logistics empowers you to reach a global customer base, thanks to our strategic warehouse location in Bristol, PA, and robust transportation network. Our comprehensive services make it easy for you to expand your e-commerce business beyond the United States, providing seamless shipping solutions to customers around the world. Aspiring to become a global brand? FBA Prep Logistics can help you get there!
Access to Cutting-Edge Technology and Expert Support
At FBA Prep Logistics, we leverage state-of-the-art technology and systems to provide seamless integration with your e-commerce platform. Our advanced inventory and order management tools allow for real-time tracking and updates, giving you complete visibility and control over your supply chain. Should you have questions or require assistance, our dedicated customer support team is readily available to provide expert guidance and ensure the smooth operation of your business.
In conclusion, partnering with a 3PL warehouse like FBA Prep Logistics offers a multitude of benefits for any e-commerce business selling on Amazon. From reduced operational costs and streamlined processes to increased scalability and focus on growth, FBA Prep Logistics is the ideal partner to help your business thrive in the competitive world of online retail. So, why wait? Take the next step and entrust your supply chain management to the experts at FBA Prep Logistics!
3. Comprehensive Services Offered by FBA Prep Logistics
As a growing Amazon seller, choosing a reliable and efficient 3PL partner like FBA Prep Logistics is crucial for your e-commerce success. Our all-in-one solution ensures that your products are properly prepared, packaged, and delivered to Amazon's Fulfillment Centers in a timely and cost-effective manner. In this section, we will explore the broad range of services offered by FBA Prep Logistics, designed to fulfill the unique needs of Amazon sellers.
3.1. Product Inspection and Quality Control
At FBA Prep Logistics, we understand the importance of maintaining high-quality products for your online store. Our team of experts meticulously inspects each inbound shipment to ensure that your products meet Amazon's stringent requirements. We spot any issues, damages, or inconsistencies and provide comprehensive feedback, enabling you to address and resolve quality concerns before they reach your customers.
3.2. Labeling and Barcoding
Accurate labeling and barcoding are critical for smooth product tracking and inventory management within Amazon's warehouses. Our team at FBA Prep Logistics is well-versed in Amazon's labeling guidelines and handles this process efficiently, ensuring your products are instantly recognizable and eligible for sale. With our accurate labeling services, you can avoid costly errors and the frustration of non-compliant inventory.
3.3. Kitting and Bundling
To boost your sales potential, creating kits or bundles is a popular strategy among Amazon sellers. FBA Prep Logistics offers professional kitting and assembly solutions to help you enhance the appeal of your products, increase the average order value, and ultimately improve your bottom line. Our team will expertly compile, package, and label your kits or bundles in accordance with Amazon's guidelines, giving you a competitive edge in your niche.
3.4. Polybagging and Shrink Wrapping
Proper packaging is essential for product protection and professionalism. At FBA Prep Logistics, our skilled team provides polybagging and shrink wrapping services, ensuring that your products are well-protected during handling, storage, and shipping. By investing in high-quality packaging services, you can prevent unnecessary returns and negative customer feedback due to damaged or dirty products.
3.5. Storage Solutions
Efficient inventory storage is crucial for a scalable e-commerce business. Our spacious, secure, and climate-controlled warehouse at FBA Prep Logistics is designed to accommodate your growing inventory, eliminating the need for expensive and crowded off-site storage facilities. With our flexible storage solutions, you can trust that your inventory is well-maintained and accessible when it's time for fulfillment.
3.6. Return Management
Handling product returns is an inevitable aspect of e-commerce. FBA Prep Logistics provides seamless return management solutions, carefully inspecting and processing your returns in compliance with Amazon's requirements. Our team will assess each returned product's condition, decide whether it can be resold, and restock it accordingly, saving you time and minimizing the impact on your business.
3.7. Expert Knowledge and Guidance
Partnering with FBA Prep Logistics means gaining access to a team of experienced professionals with in-depth knowledge of Amazon's marketplace requirements and best practices. Our experts will guide you through every stage of the 3PL process, ensuring that you stay compliant, efficient, and competitive. As a take-your-business-to-the-next-level-with-logistics-service-maximize-your-e-commerce-potential-and-profit-with-our-essential-guide-to-outsourcing-your-supply-chain-management-17 partner, you can rely on our expertise to maximize your e-commerce potential and profit.
3.8. Customized Solutions
At FBA Prep Logistics, we understand that each Amazon seller has unique needs and preferences. That's why we offer tailored solutions to suit your specific business requirements, from package customization and branding to advanced inventory management strategies. Our goal is to help you streamline your operations, reduce costs, and enhance your online store's overall efficiency.
In conclusion, FBA Prep Logistics is your one-stop solution for all your 3PL needs, offering comprehensive services designed specifically for Amazon sellers. By partnering with us, you can focus on what matters most: growing your e-commerce business and creating long-lasting relationships with satisfied customers. With our expertise and commitment to your success, you'll gain a trusted partner to help you navigate the complex world of supply chain management.
Navigating the Complexities of Supply Chain Management
Understanding the Significance of Supply Chain Management in Amazon Selling
The world of e-commerce, particularly Amazon selling, is filled with challenges and intricacies. One vital aspect that sellers should not overlook is supply chain management (SCM). This plays a crucial role in your business's success, as efficient processes help maximize profits, maintain customer satisfaction, and ensure that your products get to Amazon's warehouses timely. Amazon sellers face numerous challenges in SCM, which range from finding reliable suppliers to managing inventories, transportation, and compliance with Amazon's ever-changing requirements. That's where FBA Prep Logistics comes in—a trusted partner that helps you navigate the complexities of supply chain management and ensures seamless operations.
How FBA Prep Logistics Expertise Helps Your Business Overcome SCM Hurdles
Comprehensive Knowledge of Amazon's Requirements
Amazon's strict guidelines and expectations can prove to be daunting, especially for new sellers. Every product entering Amazon's fulfillment centers should strictly adhere to their requirements in aspects like packaging, labeling, and bundling. FBA Prep Logistics' team ensures that your products are prepped, labeled, and aligned with Amazon's guidelines, allowing you to avoid costly mistakes, delayed shipments, and even account suspensions.
Strategic Sourcing and Supplier Selection
In the e-commerce landscape, working with the right suppliers is crucial in ensuring that your products are of high quality, competitively priced, and available when needed. FBA Prep Logistics leverages its connections and experience to help you identify the most reliable and cost-effective suppliers across the globe, so that you can deliver top-notch products to your customers and maintain a competitive edge in the market.
Optimized Inventory Management
Balancing inventory levels is critical to your Amazon selling success. Having too much inventory leads to increased storage costs, while too little may result in stockouts, lost sales opportunities, and poor customer satisfaction. FBA Prep Logistics assists you in optimizing your inventory levels by providing accurate forecasting, data-driven insights, and strategic storage solutions, ensuring that your products are always readily available to fulfill customer orders.
Seamless Freight and Transportation Management
Coordinating shipments from suppliers to Amazon's warehouses can be complex and time-consuming. FBA Prep Logistics offers end-to-end freight and transportation management solutions—from cargo consolidation and customs clearance to coordination with carriers and tracking of shipments. This enables you to save time, minimize transportation costs, and ensure that your products reach Amazon's fulfillment centers on time, every time.
Compliance with Government Regulations and Trade Laws
Navigating international trade laws and government regulations can be a daunting task. With FBA Prep Logistics, your business benefits from a dedicated team well-versed in global regulations and customs requirements. Our expertise ensures that your shipments are compliant, helping you avoid penalties, delays, and even seizures by customs authorities.
Utilizing Advanced Technologies for a Competitive Edge in Supply Chain Management
In the ever-evolving world of e-commerce, staying ahead of the competition involves embracing emerging technologies in supply chain management. FBA Prep Logistics uses advanced inventory management software, which enables real-time visibility and efficient tracking. Additionally, our cutting-edge forecasting tools allow you to make data-driven decisions in inventory management, ensuring your products are always available when needed.
Conclusion: Trust FBA Prep Logistics to Navigate the SCM Challenges for Your E-commerce Business
In conclusion, a solid understanding of supply chain management is vital in ensuring your e-commerce success on Amazon. Navigating the complexities of SCM requires expertise, advanced technologies, and strategic partnerships. Choose FBA Prep Logistics as your partner in e-commerce success and benefit from our comprehensive services—from inventory management and freight forwarding to strategic sourcing and compliance. Create a partnership with our specialized team and start simplifying your supply chain management today.
The FBA Prep Logistics Advantage: Your Partner in E-commerce Success
Commitment to Ensuring Business Success
In today's competitive e-commerce landscape, it's not enough to just list your products on Amazon and hope for the best. You need a solid partner who can navigate the complexities of the increasingly competitive Amazon marketplace. That's where FBA Prep Logistics comes in. We're more than just a 3PL warehouse; we're a dedicated partner committed to helping your business succeed. Through our efficient and reliable services, we ensure that your products are always ready to go, allowing you to focus on growing your business. By partnering with us, you can enjoy peace of mind knowing that your inventory management and fulfillment are in good hands.
Valuable Experience and Expertise in the Amazon Marketplace
Not every 3PL provider can truly understand the unique challenges that Amazon sellers face, but at FBA Prep Logistics, our team boasts extensive experience and expertise in navigating the Amazon marketplace. This vast knowledge enables us to provide invaluable guidance, support, and practical solutions tailored specifically for Amazon sellers looking to scale their business.
Customized Solutions for Your Business
One size doesn't fit all in the world of e-commerce. We recognize that each Amazon seller has unique requirements in terms of warehousing, logistics, and supply chain management. That's why FBA Prep Logistics offers a range of customizable services designed to meet your specific needs. Our services are tailored to help Amazon sellers achieve maximum efficiency, minimize costs and ensure a seamless fulfillment process.
Top-notch Customer Support
It's not easy to trust another company with your inventory, but rest assured that FBA Prep Logistics is committed to providing exceptional customer support. We are always available to answer any questions and address any concerns you may have. By building a strong working relationship with our clients, we ensure that our services are both proactive and responsive to your needs.
Cutting-edge Technology and Tracking
When you work with FBA Prep Logistics, you'll have full visibility and control over your inventory. Our state-of-the-art warehouse and inventory management systems ensure accuracy and efficiency in fulfilling your orders. You'll have real-time access to inventory levels, order processing, and tracking information, enabling you to make informed decisions and stay ahead of the game.
Seamless Integration with Amazon Systems
At FBA Prep Logistics, we've made it our mission to ensure seamless cooperation between your business and Amazon systems. Our warehouse and fulfillment processes are engineered to integrate perfectly with Amazon's requirements, minimizing the risk of errors and maximizing efficiency. This ensures a smoother experience for your customers and guarantees that your products are always available for sale.
Strategic Location
Florida is one of the largest distribution hubs in the United States. FBA Prep Logistics operates from a strategic location in the state, which enables us to offer fast and cost-effective delivery services all over the country. This ensures that your products reach your customers as quickly as possible and helps you maintain a stellar customer experience.
Scalability and Flexibility
As your e-commerce business grows, your logistical needs will undoubtedly evolve. FBA Prep Logistics offers a flexible and scalable solution that allows you to easily adapt to changes in your product range, sales volume, and market trends. Our infrastructure is designed to grow with your business, helping you to stay competitive and capitalize on opportunities as they arise.
Positive Impact on Your Amazon Seller Performance Metrics
At FBA Prep Logistics, we understand the importance of maintaining high seller performance metrics on Amazon. That's why our services are designed to have a direct impact on your metrics, from improving order processing times to reducing returns due to shipping-related issues. By partnering with us, you can count on a consistent, reliable service that will enhance your standing in the Amazon community and help you create a loyal customer base.
In summary, partnering with FBA Prep Logistics is a smart decision for any Amazon seller looking to streamline their inventory management and fulfillment processes. With our extensive experience, customized solutions, and unwavering commitment to your success, we are confident that we can support your e-commerce journey and help take your business to new heights. Don't wait any longer—reach out to us today and experience the unparalleled difference of working with FBA Prep Logistics.
<strong>FAQs</strong></p>
<h3>1. What services does FBA Prep Logistics offer to Amazon sellers?</h3>
<p>FBA Prep Logistics provides a wide range of services for Amazon sellers, including product inspection, labeling, kitting, and storage. We strive to cater to your unique business needs, ensuring efficiency and compliance with Amazon's guidelines.</p>
<h3>2. How does FBA Prep Logistics help me save on operational costs?</h3>
<p>By outsourcing your inventory management to FBA Prep Logistics, you can reduce the expenses associated with running a warehouse, hiring staff, and managing day-to-day operations. This allows you to allocate more resources towards growing your e-commerce business.</p>
<h3>3. Can FBA Prep Logistics handle my supply chain management?</h3>
<p>Yes! We understand the complexities of supply chain management and offer expert guidance and support to help you navigate the process. Our team at FBA Prep Logistics is committed to making supply chain management more manageable for your Amazon business.</p>
<h3>4. What makes FBA Prep Logistics stand out from other 3PL warehouses?</h3>
<p>FBA Prep Logistics focuses on building long-term partnerships with our clients and ensuring your e-commerce success. Our comprehensive services, industry expertise, and commitment to efficiency and reliability set us apart from other 3PL warehouses.</p>
<h3>5. How do I get started with FBA Prep Logistics?</h3>
<p>Getting started with FBA Prep Logistics is simple. Contact us today for a consultation and let us discuss how we can partner with you to help your Amazon business reach new heights with our specialized 3PL services.</p>
<script type="application/ld+json">
{
"@context": "https://schema.org",
"@type": "FAQPage",
"mainEntity": [{
"@type": "Question",
"name": "What services does FBA Prep Logistics offer to Amazon sellers?",
"acceptedAnswer": {
"@type": "Answer",
"text": "FBA Prep Logistics provides a wide range of services for Amazon sellers, including product inspection, labeling, kitting, and storage. We strive to cater to your unique business needs, ensuring efficiency and compliance with Amazon's guidelines."
}},
{
"@type": "Question",
"name": "How does FBA Prep Logistics help me save on operational costs?",
"acceptedAnswer": {
"@type": "Answer",
"text": "By outsourcing your inventory management to FBA Prep Logistics, you can reduce the expenses associated with running a warehouse, hiring staff, and managing day-to-day operations. This allows you to allocate more resources towards growing your e-commerce business."
}},
{
"@type": "Question",
"name": "Can FBA Prep Logistics handle my supply chain management?",
"acceptedAnswer": {
"@type": "Answer",
"text": "Yes! We understand the complexities of supply chain management and offer expert guidance and support to help you navigate the process. Our team at FBA Prep Logistics is committed to making supply chain management more manageable for your Amazon business."
}},
{
"@type": "Question",
"name": "What makes FBA Prep Logistics stand out from other 3PL warehouses?",
"acceptedAnswer": {
"@type": "Answer",
"text": "FBA Prep Logistics focuses on building long-term partnerships with our clients and ensuring your e-commerce success. Our comprehensive services, industry expertise, and commitment to efficiency and reliability set us apart from other 3PL warehouses."
}},
{
"@type": "Question",
"name": "How do I get started with FBA Prep Logistics?",
"acceptedAnswer": {
"@type": "Answer",
"text": "Getting started with FBA Prep Logistics is simple. Contact us today for a consultation and let us discuss how we can partner with you to help your Amazon business reach new heights with our specialized 3PL services."
}}
] }
</script>