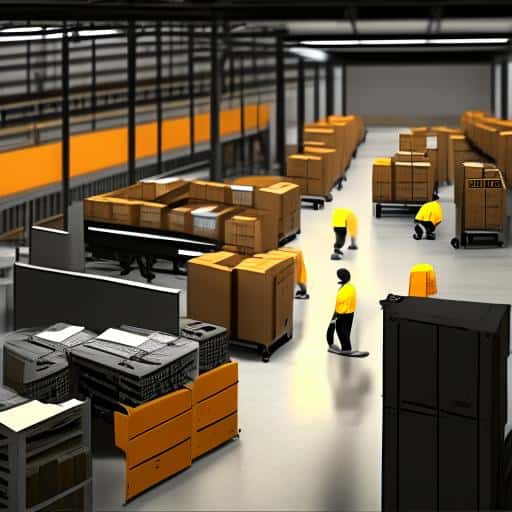 Welcome to the world of order fulfillment centers – an essential component of e-commerce businesses, ensuring that your products reach your customers efficiently and on time. If you're a medium-sized e-commerce business primarily selling on amazon.com and searching for a reliable 3PL warehouse in or around New Jersey, look no further than FBA Prep Logistics.
Located in Bristol, PA, FBA Prep Logistics is a state-of-the-art order fulfillment center dedicated to providing exceptional services to e-commerce businesses like yours. If you're new to supply chain management or have never used a 3PL warehouse before, we are here to simplify and streamline your operations.
In this article, we will discuss the importance of a strategic location close to your target market, dive deep into the comprehensive services we offer, highlight what sets us apart from other 3PL warehouses, and guide you through the process of transitioning your fulfillment operations to FBA Prep Logistics, ensuring a seamless experience for your e-commerce business. Our ultimate goal is to demonstrate why we are your perfect order fulfillment partner in the NJ area.
By making use of our expertise in various aspects of order fulfillment, such as efficient inventory control, Amazon supply chain optimization, and Shopify distribution, we can assure you of a smooth and hassle-free experience that will help you grow your business and satisfy your customers in no time.
The Importance of a Strategic Location
When it comes to choosing the right order fulfillment center, one of the most critical factors to consider is its location. Picking a strategically placed warehouse, such as FBA Prep Logistics, close to your target market and transportation hubs can have a significant impact on your e-commerce business's success. In this section, we'll dive into the benefits of FBA Prep Logistics' strategic location near the New Jersey area and how this advantage can help elevate your e-commerce business.
2.1 Proximity to Your Target Market
FBA Prep Logistics fully understands that being close to your customer base results in faster delivery times and increased customer satisfaction. Our Bristol, PA-based warehouse is in close proximity to the bustling New Jersey market, allowing you to quickly reach a large percentage of your customers within one or two-day shipping windows. Being near your target market will not only enhance the overall shopping experience for your customers but also secure potential repeat business, boosting your brand reputation.
2.2 Access to Major Transportation Hubs
Our 3PL warehouse location proves advantageous as it closely borders New Jersey and Pennsylvania, providing easy access to major transportation hubs such as Philadelphia International Airport and nearby interstate highways. This ultimately leads to reduced transit times that support quicker and more efficient delivery to your customers. Furthermore, it saves on transportation costs, which can positively affect your bottom line.
2.3 Lower Shipping Costs
An added benefit of FBA Prep Logistics being located near your target market is the significant reduction in shipping costs. Shorter shipping distances mean lower freight charges, allowing you to either increase profit margins or offer your customers competitive shipping rates, further enhancing the customers' shopping experience.
2.4 Enhanced Visibility and Control
Our strategic location allows for increased visibility and control over your supply chain. As your e-commerce business grows, having a reliable fulfillment partner like FBA Prep Logistics close to your target market becomes increasingly vital for inventory management, addressing customer concerns, and resolving any potential issues promptly.
In conclusion, FBA Prep Logistics' strategic location near the New Jersey area offers numerous benefits to e-commerce businesses, including faster delivery times, reduced shipping expenses, and increased customer satisfaction. By partnering with a 3PL warehouse like FBA Prep Logistics, you'll have the necessary competitive edge to stand out in the ever-evolving world of e-commerce. Moreover, you'll have the time and resources to focus on the core aspects of your business, ensuring its long-term success.
Comprehensive Services offered by FBA Prep Logistics
At FBA Prep Logistics, we understand the importance of providing a wide range of services that cater to all aspects of your e-commerce business. Our 3PL warehouse offers businesses comprehensive solutions to streamline operations and improve efficiency while maintaining a high level of customer satisfaction. Below, we outline the services we provide and explain how they contribute to your business's growth and success.
Receiving: Properly handling the receipt of your inventory is crucial for ensuring accurate stock levels and well-maintained items. Upon arrival at our warehouse, we carefully inspect and verify your products, keeping you updated on the entire process. By efficiently managing the receiving stage, we help avoid delays in processing, picking, and ultimately shipping your orders.
Inventory Management: Keeping a close eye on your inventory levels is essential to avoid stockouts or overstocking. With our advanced inventory management system, we help you track your products in real-time, managing storage and replenishment efficiently. Our Shopify Inventory App is a valuable tool for keeping your storage costs low and ensuring product availability for your customers.
Pick & Pack: As part of our commitment to providing fast and accurate order fulfillment, our skilled team follows a meticulous process when picking and packing your orders. Using a combination of advanced technology and trained professionals, we ensure each order is handled seamlessly. We also pride ourselves on offering Same-Day Shipping for all your NJ Shopify Orders, helping you keep your customers happy and maintain a competitive edge.
Kitting: Our kitting services allow you to offer bundles and special promotions with ease. By combining multiple SKUs into a single unit, you can potentially increase your sales, reduce shipping costs, and improve your customers' shopping experience.
Shipping: Our strategic location close to transportation hubs enables us to offer East Coast Shipping Made Easy for Your Shopify Store. Additionally, our strong relationships with carriers ensure that your orders reach their destination promptly and safely. We offer a variety of shipping options, including express and eco-friendly solutions, to cater to your business needs and your customers' preferences.
By partnering with FBA Prep Logistics, our comprehensive services ensure that your e-commerce business enjoys smooth operations, improved efficiency, and excellent customer experience. From managing your inventory to delivering your products flawlessly, our 3PL warehouse has got you covered.
Why Choose FBA Prep Logistics as your NJ Order Fulfillment Center?
In this section, we will explore the various factors that make FBA Prep Logistics the ideal choice for a New Jersey order fulfillment center. We will showcase the value-added features and benefits that distinguish us from our competitors, ensuring that e-commerce businesses can fully optimize their operations while partnering with us.
A. Experienced and Dedicated Team
At FBA Prep Logistics, our team is our strength. Our skilled staff, with years of experience in the supply chain management and e-commerce industries, understand the intricacies of order fulfillment and inventory management. By working with FBA Prep Logistics, you will have access to our experts who are dedicated to ensuring that your operations run smoothly, efficiently, and cost-effectively.
B. Advanced Technological Infrastructure
Utilizing the latest technology is essential for streamlining operations and increasing profitability. FBA Prep Logistics invests heavily in developing and maintaining cutting-edge infrastructure that supports our services. We use advanced inventory management systems like the one mentioned in our article, "The Best Shopify Inventory App for Efficient Inventory Control and Optimization in NJ", which allows us to optimize our warehouse operations and provide accurate, real-time information to our clients.
C. Scalable Storage Solutions
Our 3PL warehouse in Bristol, PA, provides scalable storage solutions that cater to e-commerce businesses of all sizes. Our flexible warehousing options allow your business to grow and expand without having to worry about space constraints or high overhead costs. We offer short-term, long-term, and seasonal storage solutions to accommodate your inventory needs efficiently.
D. Personalized Customer Support
At FBA Prep Logistics, we understand that every e-commerce business is unique, and so are its specific requirements. That is why we strive to offer personalized customer support to ensure that our services align with your business goals and objectives. Whether you seek advice on streamlining your order fulfillment process, as mentioned in the article "Streamline Your Shopify Order Fulfillment with These Easy Tips", or guidance on simplifying warehouse management, our team of specialists is always available to assist you.
E. Fast Shipping and Fulfillment Services
FBA Prep Logistics is committed to providing fast, efficient, and accurate order fulfillment services to your e-commerce business. Our location in Bristol, PA, near New Jersey, ensures that we can offer same-day shipping services for your NJ Shopify orders, as detailed in the article "Get Same-Day Shipping for Your NJ Shopify Orders". With our extensive network and strategic partnerships, we guarantee on-time deliveries and customer satisfaction.
In conclusion, partnering with FBA Prep Logistics for your NJ order fulfillment needs ensures that you receive a comprehensive solution that incorporates an experienced team, advanced technology, scalable storage options, personalized customer support, and fast shipping services. By opting to work with our 3PL warehouse, you can focus on growing your e-commerce business while leaving the complexities of order fulfillment and inventory management to the experts.
Making the Switch: Transitioning to FBA Prep Logistics
Considering a switch to a new fulfillment center can seem challenging, but we assure you that transitioning to FBA Prep Logistics is a smooth and hassle-free process. Our team is committed to helping you every step of the way, ensuring your e-commerce business continues to thrive. Here's an outline of the steps involved in making the switch:
Step 1: Preliminary Consultation
First, get in touch with our team to discuss your specific e-commerce business needs. We will walk you through our wide range of services, offer tailored recommendations, and answer any questions you might have. Check out some insightful articles on our website, such as the Ultimate Guide to Amazon Shipping for PA Sellers and Hassle-Free Order Fulfillment with East Coast Fulfillment Centers to help you make an informed decision.
Step 2: Create a Customized Plan
Upon understanding your specific requirements, we will collaborate with you to create a tailored plan, outline our services, and provide cost estimates. Our goal is to establish the most efficient and cost-effective fulfillment strategy for your e-commerce business.
Step 3: Inventory Transfer
Once you're pleased with the plan, we will assist you in transferring your current inventory to our Bristol PA warehouse. We will work with you to ensure a seamless and efficient transition, updating your Shopify store stock levels, and ensuring the readiness of your inventory for fast shipping.
Step 4: Integration and Training
We will help you integrate your e-commerce platform with our warehouse management system, enabling real-time updates on inventory levels and order statuses. Our team will also provide training on our system, allowing you to monitor all aspects of your order fulfillment process comfortably. You can further improve your inventory control and optimization by checking out our article on The Best Shopify Inventory App for Efficient Inventory Control and Optimization in NJ.
Step 5: Launch Your New Fulfillment Solution
With everything set up and ready to go, it's time to sit back and watch your e-commerce business thrive as we take care of your inventory management and order fulfillment. FBA Prep Logistics ensures fast, efficient, and accurate pick, pack, and shipping services, elevating your customer experience and streamlining your operations.
In conclusion, making the switch to FBA Prep Logistics is a reliable and strategic decision to optimize your e-commerce supply chain. Our seamless transition process, comprehensive services, state-of-the-art infrastructure, and location in Bristol PA make us the perfect partner for your New Jersey order fulfillment needs. Your success is our success, and we are excited to embark on this journey with you.
Frequently Asked Questions
What is a 3PL warehouse, and how can it benefit my e-commerce business?
A 3PL (Third-Party Logistics) warehouse is a facility that offers comprehensive logistics and order fulfillment services to e-commerce businesses. By partnering with a 3PL warehouse like FBA Prep Logistics, you can delegate tasks such as receiving, inventory management, pick & pack, kitting, and shipping, allowing you to focus on your core business operations and growth.
Why should I consider FBA Prep Logistics for my order fulfillment needs in the New Jersey area?
FBA Prep Logistics is strategically located in Bristol PA, which is close to New Jersey, allowing easy access to transportation hubs and a broad customer base. Our proximity to the target market ensures faster delivery times and reduced expenses for your business. Furthermore, our comprehensive services, advanced infrastructure, and personalized support set us apart from other 3PL providers.
Which services does FBA Prep Logistics offer to e-commerce businesses?
Our 3PL warehouse provides a complete range of order fulfillment services that include receiving, inventory management, pick & pack, kitting, and shipping. These essential services help optimize the efficiency and accuracy of your operations, ensuring a seamless experience for your customers.
How does FBA Prep Logistics ensure exceptional customer service?
Our dedicated and experienced team at FBA Prep Logistics prioritizes client satisfaction. By leveraging advanced technologies and scalable storage solutions, we offer personalized support that caters to your specific requirements, ensuring a hassle-free partnership and exceptional customer service for your e-commerce business.
What is the process for transitioning to FBA Prep Logistics for my order fulfillment needs?
Switching to FBA Prep Logistics is a straightforward process. Our team will guide you through the necessary steps to ensure a seamless transition. Don't hesitate to get in touch with us to discuss your needs and learn more about the benefits of partnering with our reliable, experienced, and efficient order fulfillment center.