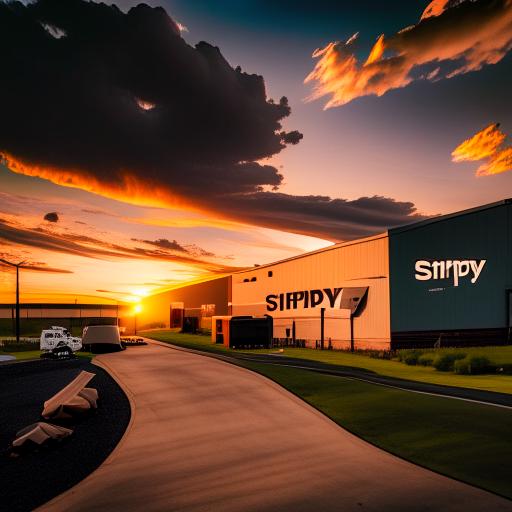 Introduction to Shopify Distribution in PA
If you're an e-commerce business based in Pennsylvania and selling on Shopify, one of the keys to long-term success and growth is efficient Shopify distribution. Good distribution practices not only ensure that your end customers receive their orders in a timely manner but also traffic is quickly and effectively driven toward your online store.
Shopify distribution involves the storage, packing, and shipping of your products to your customers. It is an integral part of your supply chain management process and has a direct impact on customer satisfaction, repeat business, and, ultimately, your bottom line profit margins. In this introductory section, we will dive into the reasons why efficient Shopify distribution is critical to your business and how FBA Prep Logistics can help you not just meet, but exceed, the expectations of the fast-growing e-commerce market in PA.
Proper distribution is more important than ever with the competitiveness of e-commerce. By choosing the right distribution partner, you have an opportunity to excel in this sphere and surpass the competition. FBA Prep Logistics offers this competitive edge, giving your business an opportunity to leverage a seamless and efficient solution to meet your customers' needs. So, let's explore how FBA Prep Logistics can be your one-stop solution for Shopify distribution in PA!
Why FBA Prep Logistics is the Ideal 3PL Warehouse for Your Shopify Distribution Needs
The e-commerce landscape is growing exponentially, and with it comes the need for efficient and reliable logistics solutions. FBA Prep Logistics stands out as the ideal 3PL warehouse for your Shopify distribution needs in Pennsylvania. Here's why:
Strategic Location: Our facility in Bristol, PA, puts us in the perfect position to offer efficient shipping solutions to prime east coast markets. This strategic location ensures quick and easy access to major transportation hubs, allowing us to offer same-day shipping for your NJ Shopify orders (URL:/1803/get-same-day-shipping-for-your-nj-shopify-orders/).
Advanced Technology: We utilize state-of-the-art technology to provide accurate inventory tracking and the most efficient order fulfillment processes. Our best-in-class Shopify inventory app (URL:/1805/the-best-shopify-inventory-app-for-efficient-inventory-control-and-optimization-in-nj/) will enable seamless inventory control and optimization for your e-commerce business.
Flexible Services: As a growing e-commerce business, you need a 3PL partner that offers a range of services to cater to your unique needs. With FBA Prep Logistics, you get access to a wide variety of solutions, including efficient Amazon distribution (URL:/1797/efficient-amazon-distribution-for-pennsylvania-sellers/) and hassle-free order fulfillment with our east coast fulfillment centers (URL:/1712/hassle-free-order-fulfillment-with-east-coast-fulfillment-centers/).
Expertise in Cross-docking: Our commitment to offering comprehensive logistics solutions includes following the top 5 cross-docking best practices for your Shopify store (URL:/1784/top-5-cross-docking-best-practices-for-your-shopify-store/). By incorporating efficient cross-docking strategies, we help you cut down your shipping costs and reduce delivery times.
Reverse Logistics Support: Dealing with returns can be a hassle for e-commerce businesses. That's where FBA Prep Logistics steps in, simplifying returns for your east coast Shopify customers with our reverse logistics services (URL:/1693/simplify-returns-for-your-east-coast-shopify-customers-with-reverse-logistics/). Our tailored approach helps you maintain customer satisfaction while minimizing returns-related costs.
By partnering with FBA Prep Logistics for your Shopify distribution needs in Pennsylvania, you can focus on growing your brand and maximizing sales while we take care of your supply chain challenges.
Streamlining Your Order Fulfillment Process with FBA Prep Logistics
Efficiency and accuracy are crucial when it comes to order fulfillment for your e-commerce business. In this section, we will show you how FBA Prep Logistics helps to streamline your order fulfillment process, ensuring faster and more accurate deliveries for your customers.
a. Centralized Inventory Management
FBA Prep Logistics offers centralized inventory management, making it easier to keep track of your products and maintain optimal inventory levels. Our state-of-the-art warehouse facility in Bristol, PA, ensures your inventory is securely stored and easily accessible. In addition, our efficient Shopify Inventory Control in PA service ensures that your stock levels are always up to date, preventing stockouts or overstock issues.
b. Accurate Order Picking and Packing
Our experienced team of warehouse professionals excels in accurate order picking and packing, ensuring that your customer orders are fulfilled promptly and accurately. By implementing best practices such as batch picking and zone picking, we ensure your orders are processed quickly, reducing processing time and boosting customer satisfaction. Moreover, you can also benefit from our top 5 cross-docking best practices for your Shopify store to further enhance your order processing efficiency.
c. Fast Order Processing and Same-Day Shipping
Through our partnership with major carriers, FBA Prep Logistics is able to offer fast order processing and same-day shipping for your NJ Shopify orders as well as other orders serviced in the East Coast region. This enables your e-commerce business to provide a premium shopping experience for your customers, leading to higher repeat business and positive reviews.
d. Streamlined Returns and Reverse Logistics
Efficiently managing returns is just as important as fulfilling orders, and that's where FBA Prep Logistics' reverse logistics services come into play. We simplify returns for your East Coast Shopify customers by handling all aspects of the return process, including receiving, inspecting, and processing returned items. This enables you to focus on growing your e-commerce business while ensuring customer satisfaction remains a top priority.
In conclusion, FBA Prep Logistics is committed to streamlining your order fulfillment process and driving your e-commerce business to success. With our expert team and advanced technologies, you can trust us to provide efficient, accurate, and timely deliveries to your customers, ensuring their satisfaction and your continued growth.
Seamless Integration with Your Shopify Store
One of the most significant benefits of partnering with FBA Prep Logistics for your Shopify distribution in PA is our seamless integration with your Shopify store. This feature allows you to manage your inventory, orders, and shipping – all from one convenient platform. By using our integration, you can effortlessly connect your store to our warehouse system, enabling real-time updates on stock levels, order status, and shipment tracking.
Our Shopify integration not only saves you time and effort but also eliminates the risk of errors that may occur when manually transferring data between platforms. Our system automatically synchronizes all necessary data, ensuring your inventory stays accurate and updated as you process orders.
Additionally, our integration enables you to enjoy added benefits of our warehouse solutions, such as the ability to "Discover the Most Effective e-Commerce Solutions," as mentioned in one of our articles. With an efficient inventory control system like "The Best Shopify Inventory App for Efficient Inventory Control and Optimization in NJ," you can rest assured that your stock levels are always accurate.
We also understand that speedy order fulfillment is essential for customer satisfaction and maintaining your reputation as an e-commerce seller. That's why we offer "Get Same-Day Shipping for Your NJ Shopify Orders" to ensure your products reach their destinations as quickly as possible.
In conclusion, FBA Prep Logistics' seamless integration with your Shopify store streamlines your entire e-commerce operation, allowing you to focus on growing your business. By choosing us as your 3PL provider, you're investing in a future of hassle-free order management and a successful e-commerce venture.
Expert Guidance and Support for New E-Commerce Businesses
Entering the world of e-commerce can be a challenging endeavor, especially for those who are new to supply chain management and have never worked with a third-party logistics (3PL) provider before. At FBA Prep Logistics, we understand the challenges of navigating this new landscape, and we are committed to providing expert guidance and support to help kickstart your journey towards success.
As your partner in Shopify distribution, we share our wealth of experience and industry knowledge to help you make informed decisions about your supply chain strategy. We know that each e-commerce business is unique, with its distinctive goals and needs. That's why our team of experts takes the time to understand your business operations and tailor our services to fit your specific requirements.
Some of the ways FBA Prep Logistics supports your e-commerce growth include:
Personalized Onboarding: We guide you through the entire onboarding process, walking you through the steps required to integrate your Shopify store with our platform and familiarizing you with our warehouse procedures and best practices.
Dedicated Account Manager: As your go-to contact, our dedicated account managers ensure that all your questions and concerns are addressed promptly and efficiently, providing consistent communication and support.
Comprehensive Resources: We offer a rich collection of educational resources, including blog articles like How to Analyze Your Data for Greater Success as an Amazon Seller in Pennsylvania and Efficient Shopify Inventory Control in PA, which are designed to help you continuously improve your e-commerce operations.
Continuous Improvement: Our team regularly reviews your fulfillment process and identifies areas of improvement to help minimize costs, optimize inventory, and streamline shipping, ensuring that your business remains competitive and successful.
Trust FBA Prep Logistics to be the partner you deserve, guiding and supporting you every step of the way as your e-commerce business grows. Choose us for your Shopify distribution in PA and experience the unparalleled service, expertise, and commitment our team brings to the table.
Frequently Asked Questions
Q: What is Shopify distribution?
A: Shopify distribution is the process of storing, managing, and shipping products for online retailers that operate on the Shopify platform. A 3PL warehouse, like FBA Prep Logistics, can handle this distribution process on behalf of a Shopify store, saving time and effort for the business owner.
Q: How does FBA Prep Logistics streamline the order fulfillment process?
A: FBA Prep Logistics simplifies the order fulfillment process by handling everything from inventory management to packaging and shipping. We ensure that orders are processed quickly and accurately, resulting in faster deliveries and increased customer satisfaction.
Q: What is the advantage of choosing FBA Prep Logistics for my Shopify distribution in PA?
A: FBA Prep Logistics is located in Bristol, PA, making it a convenient choice for e-commerce businesses operating in Pennsylvania and the surrounding region. Our warehouse offers a range of services tailored to the unique needs of Shopify businesses, along with expert guidance and support for new e-commerce entrepreneurs.
Q: How does FBA Prep Logistics integrate with my Shopify store?
A: Our 3PL warehouse easily connects with your Shopify store, allowing you to view and manage your inventory, orders, and shipping information all in one place. This seamless integration makes it simple to monitor your e-commerce business and track order fulfillment from start to finish.
Q: What support does FBA Prep Logistics offer to new e-commerce businesses?
A: FBA Prep Logistics is committed to helping new e-commerce businesses succeed. We provide personalized assistance and expert guidance on supply chain management, helping you navigate the complexities of working with a 3PL warehouse for the first time.