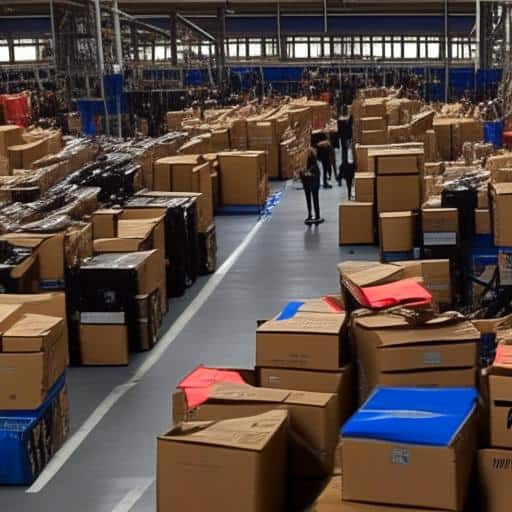 Introduction to Order Fulfillment for NJ Amazon Sellers
Order fulfillment is one of the most critical aspects of any e-commerce business, and this holds especially true for New Jersey-based Amazon sellers. In this fast-paced world of online shopping, customers expect quick, seamless, and hassle-free delivery. To meet these expectations and stay competitive, merchants need to ensure that they have an efficient and reliable order fulfillment process in place.
What is Order Fulfillment?
In simple terms, order fulfillment refers to the entire process of receiving, processing, and delivering customer orders. This process starts when a customer places an order for a product and ends when the customer receives their package. For New Jersey-based Amazon sellers, having an efficient order fulfillment process means ensuring customers receive their items quickly and accurately, which boosts customer satisfaction and, in turn, helps improve sales performance.
Importance of Order Fulfillment for NJ Amazon Sellers
Optimizing the order fulfillment process is vital for several reasons:
Customer satisfaction: Fast and accurate deliveries have become the norm for online shoppers. Delivering an exceptional customer experience is crucial to building loyal customers and gaining new ones.
Sales performance: A streamlined order fulfillment process can translate into increased sales. Efficient management of orders, inventory levels, and shipping speeds means you'll be able to handle higher volumes and scale your business quickly.
Reduced operational costs: A well-optimized order fulfillment system minimizes errors and redundancies, ultimately saving valuable resources, including time and money.
Higher seller ratings: Amazon uses seller performance metrics to rate your business. Better ratings mean higher visibility in search results and gaining the trust of potential customers.
Fulfillment by Amazon (FBA) eligibility: If you decide to use FBA, where Amazon takes care of storage, packing, and shipping, you need a reliable fulfillment system in place to ensure that your products are prepared and shipped to Amazon warehouses on time.
Now that we've covered the importance of efficient order fulfillment for New Jersey-based Amazon sellers, let's delve into the challenges faced during this process and how a 3PL warehouse like FBA Prep Logistics can help optimize your order fulfillment process in the next sections.
Challenges Faced by NJ Amazon Sellers in Order Fulfillment
As a New Jersey-based Amazon seller, you're no stranger to the unique set of challenges that arise in the world of e-commerce. From inventory management and storage space to shipping and handling returns, Amazon order fulfillment can be quite a daunting task. In this section, we will discuss some of the most common obstacles you might face as a NJ Amazon seller and highlight the need for a reliable and efficient 3PL partner, like FBA Prep Logistics, to help streamline your order fulfillment process and improve customer satisfaction.
Inventory Management
Effective inventory management is crucial for any e-commerce business owner, as it can directly impact your profit margins and customer satisfaction levels. NJ Amazon sellers often find it challenging to forecast product demand, maintain accurate stock quantities, and implement proper quality control. Additionally, with the sheer volume of orders that Amazon receives, it can be quite difficult to keep track of everything without robust software or an efficient order fulfillment partner. Inefficient inventory management can lead to stockouts, overstock, and poor cash flow, which could severely impact your Amazon business.
Storage Space
Finding the right warehousing solution for your products could be another reason that makes order fulfillment a challenge. New Jersey Amazon sellers might need to find a suitable secure warehouse close to the east coast, equipped with inventory management software and capable of handling high order volumes, especially during peak seasons. With the cost of storage space on the rise, finding an affordable and scalable solution can be tough, motivating sellers to seek out alternative options like partnering with an established 3PL warehouse.
Shipping Complications
In an era where customers expect fast and free shipping, ensuring seamless delivery execution is crucial for your Amazon business to maintain a competitive edge. However, many NJ Amazon sellers often struggle to find cost-effective shipping solutions, reducing their ability to offer free or expedited shipping options. Moreover, shipping delays, misrouted packages, and damaged items can lead to negative customer experiences and impact your seller rating.
Handling Amazon Returns
Amazon has a customer-centric return policy, which puts pressure on sellers to manage returns effectively. However, return management can be an arduous process for NJ Amazon sellers. Dealing with returns entails thorough inspections, verifying each item's condition, updating inventory, processing refunds, or preparing items for resale. All this can be time-consuming, labor-intensive, and may strain your resources, affecting your overall business efficiency.
Regulatory Compliance
Amazon sellers based in New Jersey might face additional challenges concerning state and federal regulations while managing their order fulfillment process. Being compliant with tax regulations for online sales, meeting Amazon-specific requirements like Amazon FBA labeling, and adhering to safety regulations for storage and shipping are all essential aspects of a successful Amazon business. Failure to comply with these regulations could result in fines and penalties, suspension of your Amazon seller account, or even business closure.
In conclusion, running a successful Amazon business in New Jersey comes with its fair share of challenges. To overcome these obstacles and focus on growing your business, partnering with a reliable, experienced 3PL provider like FBA Prep Logistics will become essential for streamlining your order fulfillment process and boosting customer satisfaction. In the next section, we will discuss how FBA Prep Logistics can optimize your Amazon order fulfillment process, offering a range of services tailored to your business needs. So why wait? Get in touch with our experts today and unlock your full e-commerce potential!
How FBA Prep Logistics Can Optimize Your Amazon Order Fulfillment
As a New Jersey-based Amazon seller, one of the critical aspects of running a successful online store is to have an efficient and seamless Amazon order fulfillment process. This is where FBA Prep Logistics comes into play. With a combination of top-notch services and a strong commitment to helping New Jersey sellers grow their businesses, we are your ideal 3PL partner. In this section, let's delve deeper into how FBA Prep Logistics can optimize your Amazon order fulfillment process and contribute positively to your business.
FBA Prep Logistics' Comprehensive Range of Services
At FBA Prep Logistics, we offer a wide array of services designed to optimize your Amazon order fulfillment process:
Inventory Management: Streamline your inventory management with our advanced warehouse management software that offers real-time updates, low stock alerts, and seamless integration with various marketplaces.

Pick, Pack, and Ship: Eliminate order fulfillment delays with our efficient pick, pack, and ship process and enjoy reduced processing times.

Kitting and Bundling: Maximize your sales with our customized kitting and bundling services, ensuring your products are presented attractively and efficiently.
Returns Management: Navigate the complexities of Amazon returns with our hassle-free, full-service returns management solution.

Amazon FBA Prep: Fulfill Amazon's strict packaging and labeling requirements with our expert FBA prep services.

Freight and Shipping Solutions: Simplify your shipping with our tailored freight solutions, providing you with access to discounted carrier rates and a wide array of shipping options.
Customized Solutions Tailored To Your Business Needs
At FBA Prep Logistics, we understand that no two Amazon sellers are the same. That's why we go above and beyond to provide customized solutions tailored to your unique business needs, ensuring that your Amazon order fulfillment process is fully optimized to generate maximum revenue. Our team of experts will work closely with you to identify your pain points, develop the right solution, and see it through to implementation.
Cutting-Edge Technology for Seamless Order Fulfillment
One of our primary goals at FBA Prep Logistics is to leverage state-of-the-art technology to streamline and optimize your Amazon order fulfillment process. Our advanced warehouse management system offers seamless integration with your Amazon store, allowing for real-time inventory tracking, accurate stock updates, and efficient order processing. With our cutting-edge technology on your side, you can focus on growing your business while we take care of the nitty-gritty aspects of order fulfillment.
Strategically Located Warehouse in Bristol, PA
Another key advantage of partnering with FBA Prep Logistics for your Amazon order fulfillment is our strategically located warehouse in Bristol, PA. Situated close to major shipping routes and just a short distance from New Jersey, our warehouse ensures fast and reliable delivery to your customers. By reducing shipping and transit times, you can enhance customer satisfaction levels and contribute positively to customer reviews – driving more sales in the long run.
Unbeatable Customer Service Support
At FBA Prep Logistics, we're not just a 3PL provider – we're a partner in your business growth. Our dedicated customer service team is on hand to help you navigate any challenges and ensure a seamless Amazon order fulfillment process. Whether you need guidance on FBA requirements or assistance managing your inventory, our team is more than happy to help. We pride ourselves on delivering the best possible experience for our clients, and our customer service commitment is just one way we do that.
In conclusion, FBA Prep Logistics is the perfect partner for optimizing your order fulfillment process as a New Jersey Amazon seller. Our comprehensive service offerings, customized solutions, cutting-edge technology, strategic warehouse location, and exceptional customer support all come together to create a seamless and efficient Amazon order fulfillment experience. Choose FBA Prep Logistics as your 3PL partner and take the first step towards streamlining your e-commerce operations and driving further growth for your business.
4. Benefits of Choosing FBA Prep Logistics for Your Amazon Order Fulfillment
As a New Jersey Amazon seller, partnering with FBA Prep Logistics for your Amazon order fulfillment can provide numerous advantages that will help your business flourish. In this section, we will outline a few key reasons why teaming up with us can be a game-changer for your e-commerce endeavors.
4.1. Strategically Located Warehouse in Bristol, PA
One of the main selling points of FBA Prep Logistics is our strategically located warehouse in Bristol, Pennsylvania. Situated close to major highway access points, our warehouse offers easy connections to New Jersey, New York, and other East Coast states. This prime location allows us to provide fast and efficient shipping solutions, ensuring that your orders are delivered to your customers in no time.
4.2. Expertise in E-commerce and Amazon Order Fulfillment
Our team at FBA Prep Logistics possesses extensive experience in the world of e-commerce, particularly when it comes to Amazon order fulfillment. Over the years, we have honed our skills and knowledge of best practices for sellers like you. Our in-depth understanding of Amazon FBA requirements and common pain points for Amazon sellers enables us to provide a seamless end-to-end service that caters specifically to your needs.
4.3. Customizable Solutions for Your Business
At FBA Prep Logistics, we recognize that no two businesses are the same. That's why we offer flexible, scalable, and customizable solutions to accommodate your unique requirements. Whether you're a small-time seller just starting or an established e-commerce powerhouse, our 3PL services can adapt to best support your growth and expansion. We work closely with you to understand your individual needs and design a tailored plan that optimizes your order fulfillment process.
4.4. Dedicated Customer Service Support
A strong focus on customer service is at the heart of our Amazon order fulfillment services. Our friendly and knowledgeable team is always on hand to assist you with any questions or concerns you might have. To ensure the highest levels of customer satisfaction, we maintain transparent and open communication channels at all times. With FBA Prep Logistics, expect a true partnership that fosters the success of your e-commerce business.
4.5. Streamlined Inventory Management and Order Processing
Inventory management and order processing are crucial components of a successful e-commerce business. As a client of FBA Prep Logistics, you'll benefit from expert handling of these tasks, as we utilize state-of-the-art warehouse management software. Our system streamlines the entire process, from receiving and storing your inventory to packing and shipping your customers' orders – all with lightning speed and precision. This results in reduced order processing times, minimized errors, and increased customer satisfaction.
4.6. Cost-effective Services that Save You Time and Money
By embracing our 3PL services, you can enjoy the benefits of outsourcing your Amazon order fulfillment tasks and focusing on what truly matters – growing your business. Our professional team takes care of the day-to-day responsibilities that come with order fulfillment, freeing up your valuable time and resources. Best of all, we offer cost-effective solutions that save you money on storage, labor, and shipping. Why get bogged down with logistics when FBA Prep Logistics can help you reach new heights in sales and customer satisfaction?
4.7. Seamless Integration with Your Existing Systems
Our top priority is to ensure smooth and hassle-free integration with your current e-commerce operations. To achieve this, FBA Prep Logistics makes it easy to connect your Amazon account with our state-of-the-art warehouse management system. This integration streamlines order processing, inventory management, and shipping, making it a breeze for you to stay updated on the status of your orders and inventory at all times.
In conclusion, FBA Prep Logistics is the ideal 3PL partner for New Jersey Amazon sellers who want to take their order fulfillment process to the next level. With our strategically located warehouse, e-commerce expertise, customizable solutions, and industry-leading customer service, we have what it takes to elevate your business to new heights. Don't hesitate to reach out to our team and start reaping the benefits that come with partnering with FBA Prep Logistics for your Amazon order fulfillment needs.
5. Getting Started with FBA Prep Logistics: A Seamless Integration
Starting the journey of improving your Amazon order fulfillment with FBA Prep Logistics has never been easier. Our team of professionals ensures a smooth transition, allowing NJ Amazon sellers to enjoy our top-of-the-line 3PL services with minimal effort. Follow these simple steps to get your business on the path to success:
5.1. Reach Out to Our Team
We pride ourselves on being user-friendly and easily accessible. Get in touch with our expert team by visiting our contact page and filling out the inquiry form. We are here to answer any questions or concerns you might have regarding our service offerings. You can also call or email us to discuss your specific needs, and we will gladly assist you in finding the perfect solution for your business.
5.2. Create an Account with FBA Prep Logistics
To take full advantage of our services, sign up for an account with FBA Prep Logistics. Our easy-to-use registration process enables you to quickly provide your business information and choose a customizable service plan that suits your company's needs. With secure systems in place, you can trust that your information will be handled with the utmost care and confidentiality.
5.3. Leverage Our User-Friendly Integration Process
Our team understands that you need a hassle-free integration to keep your business running smoothly. That's why we have developed a straightforward onboarding process that makes Amazon order fulfillment a breeze for our New Jersey clients. Our compatibility with leading e-commerce platforms ensures seamless integration with your current systems.
5.4. Customized Solutions Tailored to Your Business
With FBA Prep Logistics, you can rest assured that your business's unique needs will be met. We offer personalized solutions, taking the time to understand your Amazon order fulfillment requirements. Let us know about your inventory needs, shipping requests, and any other specifications – we will make sure that your experience is nothing short of exceptional.
5.5. Capitalize on Our Dedicated Customer Support
We're not just a warehouse – we're your partner and support system. Our team of customer service representatives is available to guide you every step of the way. Whether you have questions about our services, need assistance with integrating third-party software or even require help navigating your Amazon returns in NJ – we are always here to have your back.
5.6. Track Your Success with Advanced Reporting Tools
FBA Prep Logistics offers advanced reporting tools that allow you to monitor and measure your Amazon order fulfillment success. Gain access to real-time data, giving you insight into your inventory levels, shipping performance, and customer satisfaction metrics, enabling you to make informed decisions and optimize your business operations.
In conclusion, FBA Prep Logistics strives to provide NJ Amazon sellers with the most efficient and effective solutions for their order fulfillment needs. By following these simple steps, you can unlock the benefits of partnering with us and watch your e-commerce business grow. Don't let order fulfillment challenges hold you back – reach out to FBA Prep Logistics today and optimize the way you run your business.
FAQs on FBA Prep Logistics for New Jersey Amazon Sellers</h2>
<h3>1. What is order fulfillment and why is it crucial for my NJ-based Amazon business?</h3>
<p>Order fulfillment is the process of storing, packing, and shipping products to your end customers. It is essential because efficient and reliable fulfillment directly impacts customer satisfaction, encouraging repeat business and improved sales performance.</p>
<h3>2. What challenges do Amazon sellers in New Jersey face with regards to order fulfillment?</h3>
<p>NJ Amazon sellers often struggle with inventory management, limited storage space, and shipping complications, among others. These challenges can negatively affect sales performance and customer satisfaction if not addressed.</p>
<h3>3. How can FBA Prep Logistics help me optimize my order fulfillment process?</h3>
<p>As a 3PL partner, FBA Prep Logistics offers a range of services tailored to your Amazon business needs. We help you manage inventory, streamline packing and shipping, and provide dedicated customer service support to enhance your overall fulfillment process.</p>
<h3>4. What sets FBA Prep Logistics apart from other warehousing and fulfillment services?</h3>
<p>FBA Prep Logistics focuses on e-commerce businesses like yours that sell on Amazon. Our strategically located warehouse, in-depth knowledge of e-commerce, and dedicated customer service support allow us to provide tailored solutions for every unique business situation.</p>
<h3>5. How do I get started with FBA Prep Logistics?</h3>
<p>To begin partnering with FBA Prep Logistics, reach out to our team, set up an account, and follow our simple integration process. We will ensure a seamless transition to our 3PL services, helping you improve your order fulfillment, and ultimately, grow your Amazon business.</p>
<script type="application/ld+json">
{
"@context": "https://schema.org",
"@type": "FAQPage",
"mainEntity": [
{
"@type": "Question",
"name": "What is order fulfillment and why is it crucial for my NJ-based Amazon business?",
"acceptedAnswer": {
"@type": "Answer",
"text": "Order fulfillment is the process of storing, packing, and shipping products to your end customers. It is essential because efficient and reliable fulfillment directly impacts customer satisfaction, encouraging repeat business and improved sales performance."
}
},
{
"@type": "Question",
"name": "What challenges do Amazon sellers in New Jersey face with regards to order fulfillment?",
"acceptedAnswer": {
"@type": "Answer",
"text": "NJ Amazon sellers often struggle with inventory management, limited storage space, and shipping complications, among others. These challenges can negatively affect sales performance and customer satisfaction if not addressed."
}
},
{
"@type": "Question",
"name": "How can FBA Prep Logistics help me optimize my order fulfillment process?",
"acceptedAnswer": {
"@type": "Answer",
"text": "As a 3PL partner, FBA Prep Logistics offers a range of services tailored to your Amazon business needs. We help you manage inventory, streamline packing and shipping, and provide dedicated customer service support to enhance your overall fulfillment process."
}
},
{
"@type": "Question",
"name": "What sets FBA Prep Logistics apart from other warehousing and fulfillment services?",
"acceptedAnswer": {
"@type": "Answer",
"text": "FBA Prep Logistics focuses on e-commerce businesses like yours that sell on Amazon. Our strategically located warehouse, in-depth knowledge of e-commerce, and dedicated customer service support allow us to provide tailored solutions for every unique business situation."
}
},
{
"@type": "Question",
"name": "How do I get started with FBA Prep Logistics?",
"acceptedAnswer": {
"@type": "Answer",
"text": "To begin partnering with FBA Prep Logistics, reach out to our team, set up an account, and follow our simple integration process. We will ensure a seamless transition to our 3PL services, helping you improve your order fulfillment, and ultimately, grow your Amazon business."
}
}
] }
</script>