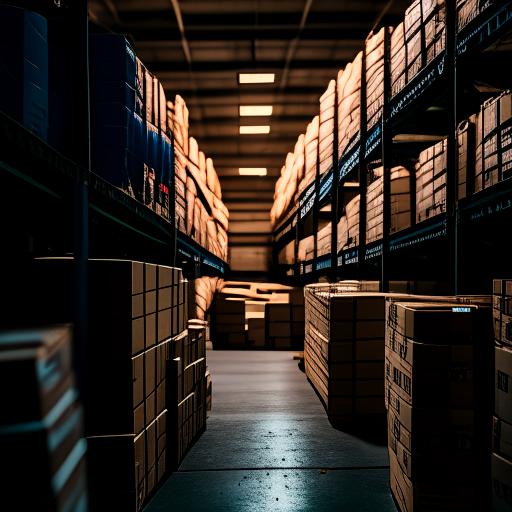 Introduction to Hassle-Free East Coast Order Fulfillment for Shopify
Welcome to FBA Prep Logistics, your one-stop solution for seamless, hassle-free East Coast order fulfillment for your Shopify store. As a professional third-party logistics (3PL) partner, we're here to ensure that your e-commerce business thrives on the East Coast, all while saving you precious time and money.
FBA Prep Logistics specializes in meeting the unique requirements of small to medium-sized e-commerce businesses that mainly sell on Amazon.com. With our vast experience in supply chain management, we pride ourselves on our ability to provide top-notch logistics services to those who might not have prior experience with 3PL providers.
Let's dive into the world of FBA Prep Logistics and explore the benefits our company can bring to your Shopify store.
FBA Prep Logistics: Your East Coast Order Fulfillment Experts
As a digital marketing assistant at FBA Prep Logistics, my goal is to help you understand how our order fulfillment services can transform your operations on the East Coast. With our state-of-the-art warehouse located in Bristol, PA, we're strategically positioned to facilitate shipping and inventory management, ensuring a smooth and efficient end-to-end process for your e-commerce business.
Simplifying Your E-Commerce Operations
Our services are designed to streamline your operations from start to finish. By outsourcing your order fulfillment to FBA Prep Logistics, you can focus on growing your business and expanding your product offerings. We take care of everything from inventory management to shipping and returns, so you can provide a seamless customer experience without worrying about the logistical side of things.
Keeping Your Customers Satisfied
A key factor in the success of any e-commerce business is customer satisfaction. That's where FBA Prep Logistics shines. With our end-to-end services, we handle customer queries, shipping concerns, and returns in a professional and efficient manner. This ensures that your customers receive their orders on time and have a positive shopping experience with your brand.
East Coast Order Fulfillment: Faster Shipping Times
One of the major benefits of partnering with FBA Prep Logistics is our strategic location on the East Coast. This not only ensures faster shipping times for your customers but also reduces shipping costs for your business. By leveraging our logistics expertise and resources, we're able to deliver your products quickly and efficiently throughout the East Coast.
Whether you're just starting out or looking to grow your existing e-commerce business, FBA Prep Logistics is the perfect partner to help you succeed on the East Coast. In the following sections, we'll explore the many advantages of choosing FBA Prep Logistics as your 3PL provider, including our innovative warehouse facility, streamlined supply chain management, and exceptional customer support. So stay tuned to learn more about how FBA Prep Logistics can elevate your e-commerce business and guarantee a smooth order fulfillment experience for your Shopify store on the East Coast.
Section 2: Why Choose FBA Prep Logistics for East Coast Order Fulfillment?
As a growing e-commerce business, it's essential to have a reliable 3PL partner that can cater to your specific needs and provide top-notch order fulfillment services. There are numerous reasons why FBA Prep Logistics is the go-to choice for Shopify sellers on the East Coast, and we're here to break it down for you. We'll highlight some of the most compelling advantages of partnering with FBA Prep Logistics, including:
2.1 Fast and Efficient Shipping
By choosing FBA Prep Logistics for your East Coast order fulfillment, you'll benefit from an optimized shipping process designed to deliver your products to your customers as quickly as possible. Our warehouse is strategically located in Bristol, PA, enabling us to provide expedited shipping services to major cities and key markets throughout the East Coast region, saving you both time and money.
2.2 Cost-Effectiveness
FBA Prep Logistics understands that minimizing costs is crucial for the success of any e-commerce business. We provide affordable and transparent pricing plans, ensuring you get the best value without any unexpected surprises. By offering volume discounts and customizable service options, we can help you lower your operational expenses and maximize your profits.
2.3 Exceptional Customer Support
When it comes to your business, peace of mind is just as important as efficiency. At FBA Prep Logistics, we take pride in our exceptional customer support team. From addressing your Shopify inventory tracking concerns to assisting with returns management, our experienced professionals are always available to guide and support you, ensuring you have a hassle-free experience throughout the entire process.
2.4 Expertise in Shopify Fulfillment
As a Shopify-focused 3PL, we know the ins and outs of optimizing your Shopify shipping and fulfillment process. Our years of experience working with Shopify merchants means we're well-versed in the unique challenges e-commerce businesses face and can offer tailored solutions to help you succeed.
2.5 Advanced Technology and Integration Capabilities
At FBA Prep Logistics, we leverage cutting-edge technology to streamline your order fulfillment process. Our advanced warehouse management systems (WMS) are designed to integrate seamlessly with your Shopify platform, allowing for accurate, real-time inventory management and tracking. This integration allows you to focus on other aspects of your business, knowing your logistics are well-handled.
2.6 Scalability and Flexibility
As your e-commerce business grows, you need a 3PL partner that can scale with you. FBA Prep Logistics offers flexible solutions, adaptable to your changing business needs. Whether you're experiencing a sudden surge in order volumes or need help mastering Shopify inventory management in NJ, our scalable services ensure your operations continue to run smoothly without any hiccups.
2.7 Comprehensive E-commerce Solutions
Not only do we excel in order fulfillment, but FBA Prep Logistics also provides a suite of comprehensive e-commerce solutions to further streamline your business operations. From product kitting to reverse logistics and Amazon cross-docking services, our wide range of offerings helps you reduce costs, boost efficiency, and enhance your customers' overall shopping experience.
In conclusion, FBA Prep Logistics is committed to delivering exceptional East Coast order fulfillment services tailored to your Shopify business needs. By partnering with us, you can expect fast, efficient shipping, cost-effective solutions, and unwavering customer support that sets your e-commerce venture on a path to success. Don't settle for anything less than the best – choose FBA Prep Logistics for your order fulfillment needs.
Streamlining Your Supply Chain Management with FBA Prep Logistics
As an e-commerce business owner, you're already well-aware of how crucial an efficient supply chain management strategy is to the overall success of your online store. After all, the ability to handle inventory, shipping, and returns effectively can make or break your reputation with customers. FBA Prep Logistics understands this and strives to offer you the perfect solution for streamlining your supply chain operations. When you choose to partner with us for East Coast Order Fulfillment, you'll benefit from our unrivaled expertise in supply chain management, backed by our robust warehouse and shipping infrastructure. Let's dive into how we can help simplify this complex process for you.
Full-Service Order Management
Our comprehensive set of services ensures that every aspect of your supply chain is covered, from initial order placement to the final delivery and beyond. Our team will handle inventory tracking, order picking, packaging, labeling, shipping, tracking, and even returns. By allowing FBA Prep Logistics to manage these tasks, you'll free up valuable time and resources to focus on the core aspects of your business – growing your brand and increasing sales.
Real-Time Inventory Tracking and Reporting
Keeping tabs on your inventory levels is crucial to prevent stockouts and overstocking of your products. Our cutting-edge technology tracks every single item within our warehouse, providing you with up-to-the-minute data on your inventory, as well as detailed reports on stock movements, sales trends, and potential issues. With this information, you'll be better equipped to make data-driven decisions when it comes to restocking and forecasting demand, ultimately leading to a more efficient and profitable business.
Scalability and Flexibility
Whether you're a small business owner just starting out or an established brand looking to expand, FBA Prep Logistics has the capacity and expertise to scale alongside your business. Our warehouse facility can handle fluctuations in order volume, product range, or seasonal demand with ease. We are always ready to adjust our services to meet your changing requirements, allowing you to focus on growth without constantly worrying about logistics constraints.
Seamless Integration with Shopify and Other Platforms
FBA Prep Logistics provides a fast, secure, and easy-to-use integration with Shopify, and other major e-commerce platforms, making it a breeze to sync your store's data with our system. This seamless connection ensures that all the necessary information is promptly shared, allowing us to quickly process and fulfill your orders while keeping you informed at every step.
Cost Savings through Competitive Rates and Discounts
An optimized supply chain means reduced costs, and we at FBA Prep Logistics strive to provide you with the most cost-effective solutions for your East Coast Order Fulfillment. Our competitive rates, coupled with the discounts we have negotiated with major shipping carriers, enable us to pass these savings on to you. By cutting down on logistics expenses, you'll increase your overall profit margin without sacrificing speed, efficiency, or customer satisfaction.
Continuous Process Improvement
Our team is committed to monitoring and analyzing the performance of your supply chain, identifying potential areas for improvement, and implementing data-driven solutions to enhance efficiency. This commitment to innovation sets us apart from other 3PL providers, as we're always pushing the boundaries to help you achieve maximum success in your e-commerce venture.
In conclusion, as an e-commerce business owner, embracing efficient supply chain management is vital to your success. FBA Prep Logistics is here to be your trusted partner on this journey, providing you with a streamlined and highly effective solution for East Coast Order Fulfillment. With our extensive experience, cutting-edge technology, and customer-centric approach, we'll help take the hassle out of managing your supply chain, allowing you to fully focus on growing your online empire.
FBA Prep Logistics' State-of-the-Art Warehouse Facility in Bristol, PA
When it comes to fulfilling your East Coast order fulfillment needs, choosing a reliable and technologically-advanced warehouse is crucial. FBA Prep Logistics proudly operates a state-of-the-art facility in Bristol, PA, equipped with the latest technology and security measures. This warehouse is designed to streamline the order fulfillment process, ensuring that your e-commerce business can seamlessly serve its customers, and that your Shopify store operations run smoothly. In this section, we will delve into:
* Warehouse security features
* Technological advancements
* Inventory management capabilities

Warehouse Security Features
The security of your inventory is of utmost importance to us at FBA Prep Logistics. We take pride in offering a secure and well-monitored warehouse facility that ensures your products are protected at all times. Some of the security features we offer include:
1. 24/7 surveillance cameras
2. Controlled access with key card entry
3. Security staff on premises around the clock
4. Fire alarm and suppression systems
5. Strict storage protocols to minimize any damage or loss

These top-notch security measures not only keep your valuable inventory safe but also give you peace of mind, allowing you to focus on growing your online business.
Technological Advancements
FBA Prep Logistics believes in staying ahead of the curve, and our Bristol warehouse is no exception. By leveraging the latest technology, we can provide efficient, accurate, and rapid order fulfillment for your East Coast customers. Some of the technological features we utilize include:
* Advanced inventory tracking and management software
* Automated communication between our systems and your Shopify store
* Real-time monitoring and reporting of inventory levels and order fulfillment
* Label printing and scanning devices for precise packing and shipping
* Integration with [Amazon Prime Transportation](/1880/get-your-products-delivered-fast-with-nj-amazon-prime-transportation/ "Get Your Products Delivered Fast with NJ Amazon Prime Transportation")

Incorporating these technological advancements enables us to fulfill orders accurately and rapidly, reducing the risk of errors and ensuring customer satisfaction.
Inventory Management Capabilities
Managing inventory is one of the most critical aspects of an e-commerce business. FBA Prep Logistics' warehouse facility is optimized to provide seamless and efficient inventory management, which includes services such as Shopify inventory tracking, Amazon inventory control, and more. Our top-notch inventory management capabilities ensure that you can meet the demands of your customers quickly and efficiently. Highlights include:
* Real-time inventory updates and notifications to help prevent stockouts
* Automated order routing to optimize the order fulfillment process
* Detailed tracking information for both you and your customers
* Pallet storage and inventory organization techniques for efficient use of space
* Customizable storage options for unique product requirements

Overall, our state-of-the-art warehouse facility in Bristol, PA, is built to handle East Coast order fulfillment efficiently and effectively, ensuring smooth operations for your Shopify store. With a focus on security, technology, and inventory management capabilities, FBA Prep Logistics is your go-to partner for hassle-free e-commerce order fulfillment on the East Coast.
Making the Transition to FBA Prep Logistics: Smooth and Stress-Free
Switching to a new order fulfillment provider can seem like a daunting task. However, with FBA Prep Logistics, we make the transition to our East Coast Order Fulfillment services as smooth and stress-free as possible. In this section, we will outline the steps e-commerce businesses can take to seamlessly transfer their order fulfillment operations to FBA Prep Logistics, along with the ongoing support available to help ensure a positive experience for both merchants and their customers.
Step 1: Introduction to FBA Prep Logistics' Services
To start, familiarize yourself with the various e-commerce solutions and Shopify services available from FBA Prep Logistics. This will give you a better understanding of how our East Coast Order Fulfillment services can benefit your business and lead to increased efficiency and cost savings.
Step 2: Consultation with our Experts
Once you have a basic understanding of our services, schedule a consultation to discuss your business's unique needs and goals. Our team of experts will work with you to develop a customized fulfillment plan that aligns with your objectives and ensures a smooth transition.
Step 3: Inventory Transfer and Management
After agreeing on a tailored fulfillment plan, it's time to transfer your inventory to our state-of-the-art warehouse facility in Bristol, PA. Our team will guide you through the process and help you manage your Shopify inventory, ensuring a seamless transition with minimal disruption to your business.
Step 4: Order and Shipping Integration
We understand that fast, efficient shipping is critical for e-commerce businesses. That's why we offer faster shipping solutions for your Shopify store. Our team will help you integrate your order and shipping systems, ensuring accurate and timely order fulfillment.
Step 5: Ongoing Support and Optimization
At FBA Prep Logistics, our relationship with clients doesn't end once their inventory is transferred. We provide ongoing support to help you optimize your supply chain, streamline your operations, and achieve greater efficiency and profitability. You may even find additional services offered, such as reverse logistics solutions, that can help your business grow.
Step 6: Analyzing Your Success
Tracking your success is essential to ensuring that our East Coast order fulfillment services are meeting your expectations. We provide comprehensive reporting and analytics, allowing you to monitor your progress, identify areas for improvement, and make data-driven decisions for your business.
Step 7: Continuous Improvement
We're committed to your success and are always looking for ways to improve. We continually invest in advanced technology, processes, and personnel to enhance our service offerings and help our clients stay ahead of the competition.
In conclusion, switching to FBA Prep Logistics for your East Coast Order Fulfillment needs doesn't have to be a complex and time-consuming process. With our dedicated team of experts and efficient processes, we ensure a smooth and stress-free transition for your e-commerce business. Partnering with FBA Prep Logistics not only helps streamline your supply chain management but also allows you to focus on what matters most: growing your business. So, why wait? Reach out to FBA Prep Logistics today to experience the difference.
Frequently Asked Questions</h2>
<h3>1. Why should I choose FBA Prep Logistics over other 3PL providers for my East Coast order fulfillment?</h3>
<p>FBA Prep Logistics offers a unique combination of fast and efficient shipping, cost-effectiveness, and exceptional customer support. Our state-of-the-art warehouse in Bristol, PA, is specifically designed to handle Shopify order fulfillment, ensuring that your e-commerce business runs smoothly and efficiently.</p>
<h3>2. How can FBA Prep Logistics help streamline my supply chain management?</h3>
<p>By partnering with FBA Prep Logistics, you can simplify your supply chain management processes. We offer a comprehensive range of services, including inventory management and order fulfillment, which can be customized to meet the specific needs of your e-commerce business. This allows you to focus on more critical aspects of your business, such as marketing and product development.</p>
<h3>3. What makes FBA Prep Logistics' warehouse facility in Bristol, PA, the ideal choice for Shopify order fulfillment?</h3>
<p>Our warehouse facility is equipped with advanced security measures, the latest technology, and efficient inventory management systems. These features enable us to handle high volumes of Shopify orders with speed and accuracy, ensuring that your customers receive their orders on time and in perfect condition.</p>
<h3>4. How can I transition my order fulfillment operations to FBA Prep Logistics?</h3>
<p>The transition process is smooth and stress-free. Upon partnering with FBA Prep Logistics, our team of experts will guide you through the onboarding process and help set up your inventory in our warehouse. We provide ongoing support to help ensure a positive experience for both you and your customers.</p>
<h3>5. What kind of customer support can I expect from FBA Prep Logistics?</h3>
<p>At FBA Prep Logistics, we pride ourselves on offering exceptional customer support. Our team is readily available to assist you with any questions or concerns you may have, ensuring that your order fulfillment operations run smoothly and efficiently at all times.</p>
<script type="application/ld+json">
{
"@context": "https://schema.org",
"@type": "FAQPage",
"mainEntity": [
{
"@type": "Question",
"name": "1. Why should I choose FBA Prep Logistics over other 3PL providers for my East Coast order fulfillment?",
"acceptedAnswer": {
"@type": "Answer",
"text": "FBA Prep Logistics offers a unique combination of fast and efficient shipping, cost-effectiveness, and exceptional customer support. Our state-of-the-art warehouse in Bristol, PA, is specifically designed to handle Shopify order fulfillment, ensuring that your e-commerce business runs smoothly and efficiently."
}
},
{
"@type": "Question",
"name": "2. How can FBA Prep Logistics help streamline my supply chain management?",
"acceptedAnswer": {
"@type": "Answer",
"text": "By partnering with FBA Prep Logistics, you can simplify your supply chain management processes. We offer a comprehensive range of services, including inventory management and order fulfillment, which can be customized to meet the specific needs of your e-commerce business. This allows you to focus on more critical aspects of your business, such as marketing and product development."
}
},
{
"@type": "Question",
"name": "3. What makes FBA Prep Logistics' warehouse facility in Bristol, PA, the ideal choice for Shopify order fulfillment?",
"acceptedAnswer": {
"@type": "Answer",
"text": "Our warehouse facility is equipped with advanced security measures, the latest technology, and efficient inventory management systems. These features enable us to handle high volumes of Shopify orders with speed and accuracy, ensuring that your customers receive their orders on time and in perfect condition."
}
},
{
"@type": "Question",
"name": "4. How can I transition my order fulfillment operations to FBA Prep Logistics?",
"acceptedAnswer": {
"@type": "Answer",
"text": "The transition process is smooth and stress-free. Upon partnering with FBA Prep Logistics, our team of experts will guide you through the onboarding process and help set up your inventory in our warehouse. We provide ongoing support to help ensure a positive experience for both you and your customers."
}
},
{
"@type": "Question",
"name": "5. What kind of customer support can I expect from FBA Prep Logistics?",
"acceptedAnswer": {
"@type": "Answer",
"text": "At FBA Prep Logistics, we pride ourselves on offering exceptional customer support. Our team is readily available to assist you with any questions or concerns you may have, ensuring that your order fulfillment operations run smoothly and efficiently at all times."
}
}
] }
</script>