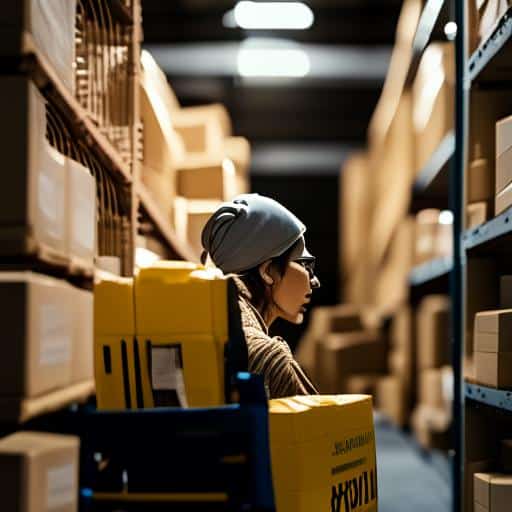 The Ultimate Guide to Amazon Reverse Logistics for East Coast Sellers
Introduction to Amazon Reverse Logistics
As an e-commerce seller, you must have encountered product returns from customers for various reasons such as wrong items, defective products, or simply a change of mind. Managing these returns effectively is crucial for the business's success, and this is where Amazon Reverse Logistics comes into play. Amazon Reverse Logistics refers to the process of managing and optimizing the flow of returned goods from the customer back to your inventory. It is an integral part of supply chain management, ensuring customer satisfaction, and maintaining the efficiency of your e-commerce operations.
The Importance of Efficient Reverse Logistics Management
In today's competitive e-commerce landscape, excellent customer service, alongside quality products, is the key to achieving customer loyalty and attracting new buyers. This includes handling returns effectively and efficiently, as it has a direct impact on customer satisfaction. Ignoring the importance of reverse logistics can lead to increased costs, poor customer experience, and a negative impact on your brand's reputation. Amazon sellers should, therefore, prioritize managing their return logistics for continued success.
Regardless of the reason behind a product return, efficient management of reverse logistics can transform a potentially negative experience into an opportunity to strengthen the customer relationship. A well-organized return process allows you to:
Minimize impact on profit margins by reducing logistical costs
Enhance customers' trust in your brand by offering a hassle-free return experience
Maintain a healthy inventory by restocking returned items sooner, allowing you to resell them quickly
For Amazon Sellers, carrying out reverse logistics can be a daunting task, especially if they lack the infrastructure, resources, or expertise needed to manage it effectively. That's why partnering with an experienced 3PL warehouse like FBA Prep Logistics becomes essential for streamlining this process.
In the sections that follow, we will explore the challenges faced by Amazon sellers in reverse logistics, how partnering with FBA Prep Logistics can help simplify these challenges, and the key benefits of working with us for your Amazon reverse logistics operations.
Challenges Faced by Amazon Sellers in Reverse Logistics
When it comes to selling on Amazon, success is about more than just having a great product and marketing strategy. You'll also need to understand and manage the reverse logistics process effectively. In this section, we'll explore some of the most common and significant challenges that Amazon sellers face in reverse logistics.
High Volume of Customer Returns
As an Amazon seller, you're bound to deal with customer returns. In fact, the e-commerce industry is notorious for its high return rates, with some sources estimating that around 30% of all online purchases are returned. This can be a major issue for any online business, as managing returns can be time-consuming and costly.
Impact on Seller Reputation
When customer returns aren't managed effectively, they can lead to negative customer reviews and impact your seller reputation. This, in turn, can hurt your Amazon ranking and sales. To avoid this, you need to have a robust Amazon reverse logistics strategy in place.
Unexpected Freight Costs
Shipping costs are one of the most significant expenses in e-commerce. But, as an Amazon seller, you're not just responsible for shipping products to your customers – you also need to handle returns, which can result in additional freight costs. These unexpected costs can eat into your profit margins and make it harder for you to maintain a viable business.
Challenges in Estimating Freight Costs
Estimating freight costs accurately can be challenging, especially if you're new to shipping or selling internationally. Misjudging these costs can lead to significant budgetary issues, putting pressure on your business's resources and bottom line.
Restocking Fees
Amazon imposes restocking fees on sellers for items returned by customers. These fees are based on the item's category, condition, and the reason for the return. While restocking fees are generally low, they can add up if you have a high rate of returns.
Negative Impact on Profit Margins
As mentioned earlier, restocking fees can add up quickly and reduce your profit margin. Therefore, it's essential to factor these costs into your pricing strategy and return policy to minimize their impact on your business's finances.
Managing Returned Inventory
Managing your returned inventory is just as important as handling new inventory. This includes tasks like inspecting returned products, determining their eligibility for resale, and finding ways to put unsellable items to good use.
Inefficient Handling of Returned Items
If you don't handle returns efficiently, you can end up with a backlog of unsellable inventory. This not only takes up valuable warehouse space but can also lead to hidden costs, such as increased storage fees and inventory write-offs.
Limited Expertise in Handling Returns
As an Amazon seller, you might lack the expertise and resources required to manage your returns effectively. This can result in frequent errors, slow processing times, and dissatisfaction among your customers.
Compliance with Amazon's Return Policy
To maintain a successful online business, you need to comply with Amazon's return policy. This includes accepting returns within specified timeframes, meeting refund deadlines, and adhering to other guidelines designed to protect customers. Failing to adhere to these policies can result in penalties, suspension, or even banning your seller account.
In summary, as an Amazon seller, you'll face several challenges in managing reverse logistics, including high return rates, unexpected freight costs, restocking fees, and challenges in managing returned inventory. To overcome these hurdles, it's crucial to have a solid Amazon reverse logistics strategy. In the next section, we'll discuss how FBA Prep Logistics can simplify your reverse logistics process and help you manage returns more efficiently.
3. How FBA Prep Logistics Simplifies Your Reverse Logistics Process
As you've seen, dealing with Amazon reverse logistics can be a daunting task for e-commerce sellers. That's where FBA Prep Logistics steps in to save the day! Our expert team specializes in simplifying the reverse logistics process for East Coast sellers, allowing you to focus on growing your business. We understand the intricacies of Amazon's requirements and processes, which enables us to provide top-notch, reliable services that will save you time, money, and energy. Let's dive into how FBA Prep Logistics can make managing your Amazon reverse logistics a breeze.
3.1. Exceptional Location and Infrastructure
Strategically located in Bristol, PA, our state-of-the-art warehouse is within close proximity to Amazon fulfillment centers and transportation hubs. This prime location translates to reduced shipping costs and faster processing times—two things every Amazon seller can appreciate. Additionally, our facility is designed to handle the unique demands of e-commerce, ensuring smooth and efficient operations for all aspects of your reverse logistics needs.
3.2. Expertise in Amazon Returns Management
FBA Prep Logistics is well-versed in handling customer returns, restocking fees, and managing returned inventory for Amazon sellers. Our experienced team will effectively handle the entire return process, from receiving and inspecting returned products to processing refunds and handling restocking fees. We'll also work closely with Amazon to ensure compliance with their policies, minimizing the risk of additional fees or penalties.
3.3. Accurate and Efficient Inventory Management
With our comprehensive inventory management system, you'll have real-time insights into your product stock levels, ensuring you always know exactly where your returned inventory stands. Furthermore, our team follows Amazon's precise guidelines for relabeling, repackaging, and restocking inventory to get your products back into circulation quickly and efficiently.
3.4. Streamlined Transportation and Freight Coordination
Our established relationships with transportation providers and extensive knowledge of Amazon's requirements mean that we'll manage all aspects of shipping your returned inventory, eliminating any guesswork. Alongside this, we'll negotiate the best possible freight rates and ensure that accurate documentation is prepared and submitted, saving you both time and money.
3.5. Dedicated Account Managers
At FBA Prep Logistics, you'll be assigned a dedicated Account Manager who will be your go-to person for all things related to Amazon reverse logistics. Your Account Manager will work closely with you to understand your specific needs, preferences, and requirements, ensuring a seamless and personalized service across the board.
3.6. Data-Driven Decision-Making Support
Our team will provide you with detailed reports and analyses of your Amazon reverse logistics performance, enabling you to make informed decisions to optimize and grow your business. Using robust analytics, we'll help you identify patterns and trends in your returns, allowing you to make data-driven adjustments to your e-commerce strategies.
3.7. Scalable Solutions
As your business grows and evolves, so do your reverse logistics needs. FBA Prep Logistics is committed to providing a seamless, scalable solution that easily adjusts to your changing requirements, ensuring your operation runs smoothly at all times.
3.8. Transparent Pricing and Cost Savings
Our transparent pricing model ensures you know exactly what you're paying for, with no hidden fees or surprise costs. Plus, our strategic location, efficient inventory management, and reliable transportation services mean that you'll save on shipping costs, restocking fees, and other Amazon-related expenses.
In summary, FBA Prep Logistics is your one-stop-shop for handling all aspects of Amazon reverse logistics. Our unique blend of expertise, strategic location, and scalable solutions ensures that your e-commerce business runs smoothly and efficiently, allowing you to focus on what matters most: running your business and maximizing profits. Now that you know how we can simplify your reverse logistics process, let's explore the key benefits of partnering with FBA Prep Logistics for your Amazon reverse logistics needs.
Key Benefits of Partnering with FBA Prep Logistics for Your Amazon Reverse Logistics
If you're an East Coast Amazon seller looking for a solution to the challenges associated with reverse logistics, look no further! Partnering with FBA Prep Logistics offers a host of benefits that can help you overcome those hurdles with ease. In this section, we'll dive into the advantages of working with us, such as our strategic location, professional team, comprehensive services, fast turnaround times, and cost-saving measures. Keep reading to find out how FBA Prep Logistics can revolutionize your Amazon reverse logistics process!
4.1 Strategic Location in Bristol, PA
Why is FBA Prep Logistics the perfect 3PL partner for East Coast Amazon sellers, you ask? One key reason is our strategic location in Bristol, PA. By leveraging our convenient positioning between Philadelphia and New York City, we ensure your returned items are processed quickly and efficiently. Fast processing times mean you can get your products back onto the virtual shelves, helping you maintain a high inventory turnover ratio and reduce storage costs.
4.2 Professional and Experienced Team
At FBA Prep Logistics, we pride ourselves on our skilled, dedicated team. Our seasoned professionals have been in the logistics game for years and know the ins and outs of navigating Amazon's complex return system. We'll handle the nitty-gritty details of your Amazon reverse logistics, enabling you to focus on other crucial aspects of your growing e-commerce business. Trust in our team's ability to manage your returns with accuracy and efficiency!
4.3 Comprehensive Services for Amazon Sellers
When it comes to reverse logistics, FBA Prep Logistics has got you covered. Our wide range of e-commerce solutions for Amazon sellers include managing customer returns, inspecting and repackaging items, restocking inventory, and even handling the occasional pesky chargeback. By providing all of these services under one roof, we streamline your reverse logistics, save you time, and minimize the risk of mistakes due to miscommunication between multiple service providers.
4.4 Fast Turnaround Times
Speed is of the essence when it comes to reverse logistics. The faster you can process a return, the sooner your customer is satisfied and the quicker your product can be resold. That's why we're focused on providing rapid turnaround times for our Amazon reverse logistics services. When you work with FBA Prep Logistics, rest assured that your returns will be processed quickly and efficiently, maximizing your profit potential and leaving your customers with smiles on their faces.
4.5 Cost-saving Measures
Working with FBA Prep Logistics can help you significantly reduce your reverse logistics costs. Our advanced technology and well-coordinated operations allow us to process high volumes of returns with minimal error rates. This efficiency, in turn, translates into cost savings for you. Furthermore, our strategic location in Bristol, PA, enables us to offer competitive shipping rates for navigating freight shipping for Amazon sellers on the East Coast. By partnering with FBA Prep Logistics, you can expect a seamless, cost-effective reverse logistics experience.
4.6 Seamless Integration with Amazon Systems
FBA Prep Logistics isn't just a 3PL warehouse – we're experts in Amazon's specific requirements and infrastructure. We provide seamless integration with Amazon's systems, ensuring your reverse logistics process is entirely aligned with the marketplace's policies and guidelines. In short, we don't just work with Amazon – we work for your Amazon business!
4.7 Scalability for Growing Businesses
As an ambitious Amazon seller, you're undoubtedly looking toward the future. We understand the importance of scalability as your business continues to grow, and we're here to help you every step of the way. Our scalable solutions are designed to grow with your business, making FBA Prep Logistics the perfect 3PL partner for both small start-ups and expanding enterprises alike.
In conclusion, FBA Prep Logistics offers an unmatched level of support and services tailored to the unique needs of Amazon sellers on the East Coast. By partnering with us, you can expect unbeatable cost savings, quick turnaround times, and a professional team dedicated to simplifying your Amazon reverse logistics process. So why wait? Let FBA Prep Logistics be your go-to partner for all things Amazon reverse logistics!
Taking the Next Step: Trust FBA Prep Logistics to Manage Your Amazon Reverse Logistics
Now that you're aware of the challenges that come with Amazon reverse logistics and the importance of addressing them proactively, it's time to take the next step. Trusting FBA Prep Logistics as your go-to 3PL warehouse can alleviate your worries regarding returns and help your business reach its full potential for growth. So, why delay? Here are some compelling reasons to choose FBA Prep Logistics to manage your Amazon reverse logistics needs.
5.1 Eliminating the Hassles Associated with Returns
Partnering with FBA Prep Logistics means reduced stress for you and your business. Our team will manage all aspects of your return process, ensuring efficient handling, inspection, and restocking of returned products. You can focus on growing your business while we take care of the hurdles that come with returns. Check out our blog on how to manage Amazon seller returns in Pennsylvania to gain more insights into our process.
5.2 Customized Solutions for Your Business
We understand that no two businesses are alike, and your reverse logistics requirements are unique to your company. FBA Prep Logistics offers tailored solutions, considering your specific needs, and generating a customized strategy that best suits your business.
5.3 Streamlined Return Process with Enhanced Customer Satisfaction
FBA Prep Logistics takes pride in our fast turnaround times and efficient processes. By entrusting us with your reverse logistics, you'll enjoy a streamlined returns process, which will translate into increased customer satisfaction. Happy customers mean better reviews and a higher seller ranking on Amazon.
5.4 Cutting Costs and Increasing Profit Margins
We are committed to helping you save money without compromising on service quality. Our professional team, modern facilities, and advanced technologies allow us to minimize operational costs. You'll benefit from cost-effective solutions that aid your bottom line.
5.5 Expert Support
At FBA Prep Logistics, we have a dedicated team of professionals who specialize in Amazon reverse logistics. Our team stays up-to-date on the latest Amazon policies and trends, ensuring that your return process complies with all requirements. This reduces potential issues with Amazon and helps maintain your seller reputation.
5.6 Empowering Your Business
By choosing FBA Prep Logistics, you'll enhance your business's efficiency and resilience. With a trusted partner like us, your team can focus on mission-critical tasks such as product sourcing, marketing, and diversifying your sales channels. You'll gain peace of mind knowing that your reverse logistics challenges are in good hands.
5.7 Seamless Integration with Your E-commerce Platform
At FBA Prep Logistics, we strive to make our services hassle-free and easily accessible to all our clients. This means ensuring our systems integrate well with your e-commerce platforms, such as Amazon, Shopify, or WooCommerce. Our seamless integration will make managing your inventory and returns even more manageable.
5.8 Scalability
As your business grows, FBA Prep Logistics will grow with you. We have the capability and expertise to accommodate increasing returns and logistical requirements that come with business expansion. Our scalable solutions ensure that you can continue to focus on your business goals with FBA Prep Logistics by your side.
5.9 Taking the First Step
Getting started with FBA Prep Logistics is a breeze! You can reach out to our team here to discuss your business's needs and how we can help you excel in your Amazon reverse logistics. We're more than happy to provide a personalized proposal to suit your requirements better.
In conclusion, partnering with FBA Prep Logistics for your Amazon reverse logistics will enable you to focus on what you do best – growing your business. By offloading the complexities of return management to us, you can cut costs, enhance customer satisfaction, and remove all the headaches associated with returns. Don't wait! Get in touch with our team today to explore how FBA Prep Logistics can contribute to your business's success.
Amazon Reverse Logistics FAQ</h2>
<dl>
<dt><strong>1. What is Amazon reverse logistics?</strong></dt>
<dd>Amazon reverse logistics refers to the process of managing returns and exchanges of products sold through the Amazon platform. This includes handling customer returns, repairing or repurposing returned items, and reintegrating them back into the inventory.</dd>
<dt><strong>2. Why is efficient reverse logistics management crucial for Amazon sellers?</strong></dt>
<dd>Efficient reverse logistics management is vital for Amazon sellers to minimize financial losses, maintain a healthy inventory, and ensure customer satisfaction. Mishandling returns could lead to negative reviews, increased costs, and a decline in sales.</dd>
<dt><strong>3. How can FBA Prep Logistics help with my Amazon reverse logistics?</strong></dt>
<dd>FBA Prep Logistics simplifies your reverse logistics process by taking care of customer returns, managing returned inventory, and providing cost-effective solutions to help you save time and money. Our experienced team and strategic location in Bristol, PA, ensure smooth operations and fast turnaround times.</dd>
<dt><strong>4. What are the benefits of partnering with FBA Prep Logistics for reverse logistics?</strong></dt>
<dd>By partnering with FBA Prep Logistics, you gain access to our professional team, comprehensive services, and strategic location, which translates to fast turnaround times and cost-saving measures. We handle the complexities of reverse logistics, allowing you to focus on growing your business.</dd>
<dt><strong>5. How do I get started with FBA Prep Logistics for my reverse logistics needs?</strong></dt>
<dd>Getting started with FBA Prep Logistics is simple. Visit our website to learn more about our services and contact us directly to discuss your specific needs. Together, we'll create a tailored reverse logistics management plan to help your business thrive.</dd>
</dl>
<script type="application/ld+json">
{
"@context": "https://schema.org",
"@type": "FAQPage",
"mainEntity": [
{
"@type": "Question",
"name": "What is Amazon reverse logistics?",
"acceptedAnswer": {
"@type": "Answer",
"text": "Amazon reverse logistics refers to the process of managing returns and exchanges of products sold through the Amazon platform. This includes handling customer returns, repairing or repurposing returned items, and reintegrating them back into the inventory."
}
},
{
"@type": "Question",
"name": "Why is efficient reverse logistics management crucial for Amazon sellers?",
"acceptedAnswer": {
"@type": "Answer",
"text": "Efficient reverse logistics management is vital for Amazon sellers to minimize financial losses, maintain a healthy inventory, and ensure customer satisfaction. Mishandling returns could lead to negative reviews, increased costs, and a decline in sales."
}
},
{
"@type": "Question",
"name": "How can FBA Prep Logistics help with my Amazon reverse logistics?",
"acceptedAnswer": {
"@type": "Answer",
"text": "FBA Prep Logistics simplifies your reverse logistics process by taking care of customer returns, managing returned inventory, and providing cost-effective solutions to help you save time and money. Our experienced team and strategic location in Bristol, PA, ensure smooth operations and fast turnaround times."
}
},
{
"@type": "Question",
"name": "What are the benefits of partnering with FBA Prep Logistics for reverse logistics?",
"acceptedAnswer": {
"@type": "Answer",
"text": "By partnering with FBA Prep Logistics, you gain access to our professional team, comprehensive services, and strategic location, which translates to fast turnaround times and cost-saving measures. We handle the complexities of reverse logistics, allowing you to focus on growing your business."
}
},
{
"@type": "Question",
"name": "How do I get started with FBA Prep Logistics for my reverse logistics needs?",
"acceptedAnswer": {
"@type": "Answer",
"text": "Getting started with FBA Prep Logistics is simple. Visit our website to learn more about our services and contact us directly to discuss your specific needs. Together, we'll create a tailored reverse logistics management plan to help your business thrive."
}
}
] }
</script>