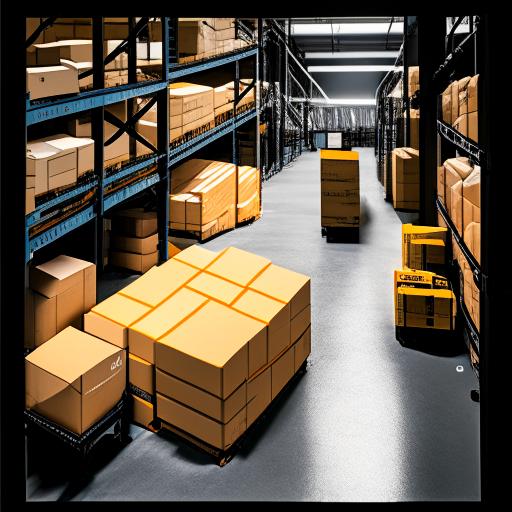 Maximizing Efficiency: The Best Logistics Services for Amazon Sellers on the East Coast
I. Introduction
Welcome to FBA Prep Logistics, your go-to third-party logistics (3PL) warehouse based in Bristol, PA! We know the success of your e-commerce business depends on reliable logistics services that can cater to your needs. Partnering with us can help you streamline your supply chain and take your Amazon selling game to the next level. In this article, we'll unveil why FBA Prep Logistics is the best choice for e-commerce businesses, especially those flourishing on Amazon.
A. Customized Services for Growing Businesses
There's no one-size-fits-all solution when it comes to logistics. That's why we offer tailored services to mid-size e-commerce companies, taking their unique requirements and preferences into account.
Ever wondered how efficient logistics solutions can revolutionize your business? Sit tight, as we'll explain in detail the benefits you can gain by partnering with FBA Prep Logistics.
B. Our Commitment to Understanding Amazon FBA
Have you ever longed for a logistics partner who understands the complexities of Amazon's operations and requirements? Look no further! FBA Prep Logistics has built a team of experts who are well-versed in Amazon FBA (Fulfillment by Amazon) and can provide valuable insights and support to help your business thrive.
C. We've Got Your Back
At FBA Prep Logistics, we know transparency and exceptional customer support are vital for the success of your business. Our dedicated customer service representatives go the extra mile to address your concerns and requirements promptly and efficiently.
Ready to discover more about how FBA Prep Logistics can help your Amazon business scale new heights? Keep reading to learn about our exclusive services, strategic location, and advanced inventory management system.
Customized Services for Amazon FBA Sellers
When it comes to e-commerce, Amazon is undoubtedly the dominant force, and many businesses strive to succeed on this platform. With this in mind, partnering with a logistics provider that offers efficient logistics solutions tailored to the needs of Amazon sellers is imperative.
Expertise in Amazon FBA
FBA Prep Logistics prides itself on being an Amazon FBA specialist. This means that we have extensive knowledge and experience in dealing with the specific requirements of Amazon sellers and can provide the necessary support that your business needs. For example, our team is well-versed with Amazon's packaging and labeling requirements, ensuring that your shipments are always compliant and avoiding any costly fees or delays. Optimize Your Shopify Shipping and Fulfillment Process
Streamlining Processes for Enhanced Efficiency
Time is everything in the world of e-commerce, and the quicker you can fulfill orders, the happier your customers will be. The team at FBA Prep Logistics is dedicated to optimizing your supply chain processes to maximize efficiency and boost profitability. For instance, we provide Reverse Logistics Solutions to manage returns and refunds seamlessly and efficiently.
Product Kitting and Bundling Services
In addition to offering expert solutions for Amazon FBA sellers, FBA Prep Logistics also provides Product Kitting Services that can help reduce shipping costs and boost efficiency. By combining multiple products into a single SKU, you can simplify your inventory management and fulfillment process. This will not only save you time but also help you stand out in the competitive Amazon marketplace.
Comprehensive Solutions for Multiple E-commerce Platforms
We understand that many e-commerce businesses operate across different platforms. Therefore, FBA Prep Logistics offers comprehensive solutions tailored not only to Amazon sellers but also to those operating on platforms like Shopify. Our Top Shopify Solutions are designed to provide seamless integration between your platform and our logistics services, ensuring smooth operations regardless of the marketplace you choose.
Scaling Your Business
One of the most significant advantages of partnering with FBA Prep Logistics is our ability to support the growth of your business. Whether you are expanding your product range, increasing your sales volume, or venturing into new markets, our efficient logistics solutions can cater to your evolving needs. Our flexible services ensure you can adapt quickly to changes in consumer preferences or market trends. Mastering Shopify Inventory Management in NJ
Risk Management and Compliance
As an Amazon seller, it is crucial to stay compliant with Amazon's ever-changing regulations. The consequences of not adhering to these rules can be costly, including account suspensions or loss of seller privileges. At FBA Prep Logistics, our team stays up-to-date on all Amazon policy changes, ensuring that we provide guidance accordingly and help your business stay compliant in all aspects.
In conclusion, FBA Prep Logistics is committed to offering customized services specific to the needs of Amazon FBA sellers. Our expertise in Amazon's requirements, efficient logistics solutions, and ability to support business growth make us the go-to choice for e-commerce businesses seeking a reliable 3PL partner. Connect with us today to find out how we can take your Amazon business to new heights.
Strategic East Coast Location
When searching for efficient logistics solutions, location is a crucial factor that should not be overlooked. FBA Prep Logistics has strategically established its warehouse in Bristol, PA, placing them in an optimal position to benefit Amazon sellers on the East Coast. Here's why this strategic East Coast location should matter to e-commerce businesses looking to thrive in the competitive market space.
Proximity to Major Transportation Hubs
FBA Prep Logistics' warehouse is conveniently situated close to several major transportation hubs, such as airports, seaports, and major interstate highways. This advantageous position enables the swift transport of goods via land, sea, and air. With easier access to transport networks, you can feel confident knowing that your customers will receive their orders promptly and efficiently.
Boost your E-commerce with Our Top Shopify Solutions to take full advantage of our strategic location.
Reduced Shipping and Delivery Times
You know that the key to keeping customers happy lies in timely and reliable deliveries. With FBA Prep Logistics operating from the East Coast, you can reduce shipping and delivery times significantly. By cutting down on long cross-country journeys, your products can get to their destination with greater speed and efficiency.
Check out our Top NJ Warehouses for Amazon Seller Storage and see how our location can help you stay ahead in the Amazon marketplace.
Cost-Saving Benefits of an East Coast Logistics Partner
One of the most rewarding aspects of working with FBA Prep Logistics is the potential for cost-savings. Our location offers the following financial benefits for your business:
Lower Shipping Costs
By operating closer to the epicenter of your customer base, you can save on shipping costs, which typically increase with distance. FBA Prep Logistics' proximity to major East Coast cities, such as New York City, Philadelphia, and Washington D.C., makes for more cost-effective shipping rates.
Maximize your savings while increasing your efficiency with our Reduce Costs & Boost Efficiency with Product Kitting Services.
Smaller Carbon Footprint
Shorter shipping routes not only save you money but also contribute positively to the environment. Through reduced fuel consumption and greenhouse gas emissions, your e-commerce business can take pride in leaving a smaller carbon footprint, a factor that can be appealing to eco-conscious customers.
Learn more about how you can Streamline your Supply Chain with Amazon Cross-Docking Services and make your business more sustainable.
Time Zone Advantages
With our East Coast location, you can easily coordinate with FBA Prep Logistics' customer support team as there are no major time zone differences, depending on your location. This convenience eliminates communication barriers and ensures that your business can run seamlessly at all times.
Conclusion
FBA Prep Logistics' strategic East Coast location offers various benefits that can help take your e-commerce business to new heights. By partnering with us, you can take advantage of shorter shipping distances and delivery times, lower shipping costs, and a smaller carbon footprint.
Experience these benefits first-hand by partnering with FBA Prep Logistics, the premier choice for Amazon sellers on the East Coast. Reach out to our team and discover how our efficient logistics solutions can transform your operations and drive your success.
Advanced Inventory Management System and Fulfillment
At FBA Prep Logistics, we understand the importance of staying organized, which is why we have implemented an advanced inventory management system to keep your inventory accurate and up-to-date. This section will detail the comprehensive features of our inventory management system and the efficient pick, pack, and ship processes that help Amazon sellers save valuable time and resources.
State-of-the-art Inventory Management
Offering efficient logistics solutions means keeping a close eye on your inventory. Our state-of-the-art inventory management system allows us to keep track of every item in our warehouse and ensures your products are accounted for. With features such as real-time tracking, barcoding, and systematic storage, you can trust that your inventory is secure and organized.
Real-Time Tracking
We monitor and update your inventory in real-time, providing you with the most current information regarding stock levels and sales. This feature allows you to make informed decisions about restocking and production, preventing stock shortages or overstocking issues.
Barcoding for Accuracy
All inventory items are barcoded and scanned upon arrival at our warehouse. This ensures that every product is accurately tracked, prevents critical mistakes that could lead to lost sales or unhappy customers, and helps maintain an optimal turnover rate for your goods.
Systematic Storage
Our warehouse is meticulously organized to ensure that every item is stored in the most efficient manner possible. With systematic storage procedures, we can process your orders quickly, seamlessly fulfill them, and avoid any delays or issues that may arise due to disorganization or misplaced products.
Efficient Pick, Pack, and Ship Processes
Beyond just tracking your inventory, FBA Prep Logistics also excels in managing the entire order fulfillment process. Our pick, pack, and ship system is designed to minimize any room for error and save you both time and resources.
Streamlined Picking
Once an order is placed, our warehouse staff begins the picking process using advanced technologies and techniques to locate the items quickly. By avoiding manual processes and utilizing our innovative inventory management system, the risk of error is reduced, ensuring accurate and timely order fulfillment.
Precision Packing
Careful and precise packing is crucial when it comes to delivering your products to customers without damage. FBA Prep Logistics staff use appropriate packaging materials and methods to protect your items throughout the shipping process, significantly reducing the likelihood of returns or damaged goods.
Speedy Shipping
Fast shipping times are vital to maintaining a strong seller reputation on Amazon. With our strategic location in Bristol, PA, and our logistics partnerships, we are able to provide expedited shipping options to get your products in the hands of your customers in the shortest time possible.
Smoother and Hassle-Free Supply Chain Process
Partnering with FBA Prep Logistics ensures a smoother and hassle-free supply chain process for your e-commerce business. With our advanced inventory management and efficient fulfillment system, sellers can focus on other crucial aspects of their business, such as marketing and product development.
In summary, FBA Prep Logistics' advanced inventory management and fulfillment processes make it the go-to solution for Amazon sellers seeking efficient logistics solutions. By carefully managing your inventory and providing swift fulfillment services, we help e-commerce businesses streamline their supply chain processes and reduce the risk of costly errors and delays. Experience the difference for yourself by partnering with FBA Prep Logistics and taking your online business to new heights.
V. Exceptional Customer Support and Transparency
The foundation of any successful business relationship lies in exceptional customer support and unwavering transparency. At FBA Prep Logistics, we take this very seriously and give utmost priority to building lasting and fruitful partnerships with our clients. In this section, we detail the reasons why prioritizing customer satisfaction and maintaining transparent operations are key to offering efficient logistics solutions and ensuring sustainable business growth.
5.1 Importance of a Responsive Logistics Partner
To build a well-oiled logistics process, it's crucial to have an agile logistics partner that responds promptly to your needs and solves problems efficiently. A sluggish and unresponsive partner can quickly become a bottleneck, leading to slow resolution of concerns, growth complications, and loss of valuable time and resources. We, at FBA Prep Logistics, fully understand this, and make sure our clients receive quick assistance and support in all their logistics-related matters.
5.2 Diligent and Dedicated Support Team
FBA Prep Logistics boasts a diligent and dedicated support team that goes above and beyond to accommodate our clients' needs and swiftly address any concerns or issues. Our team is not only trained in handling logistics-related queries but also relishes tackling roadblocks and ensuring smooth operations. This goes a long way in ensuring better cooperation and fostering strong relationships with our clients.
5.3 Transparent Communications and Accountability
Openness in communication and a high level of transparency are crucial in any partnership, especially when it comes to logistics. At FBA Prep Logistics, from initial onboarding and personalized consultations to our reliable customer service, we maintain crystal-clear lines of communication and full accountability for our actions. We believe in fostering a culture of trust, where clients always know the status of their inventory, shipments, and other aspects of their supply chain.
5.4 Monitoring and Reporting
One of the most important ways we differentiate ourselves from other logistics providers is by offering our clients regular performance updates and detailed reports. An user-friendly tracking system is also implemented in order to offer complete visibility into the shipping processes. This empowers our clients with real-time data, helping them make better decisions, and allows them to focus on their core business activities while ensuring the logistics side is well taken care of.
5.5 In-depth Analysis and Continuous Improvement
Learning from our experiences is the cornerstone of our exceptional customer support. By consistently analyzing our performance and client feedback, we are able to identify areas that need improvement and implement the necessary changes. This culture of continuous improvement not only allows for better efficiency in our logistics solutions but also contributes significantly to keeping our clients satisfied with the service they receive.
5.6 Reliable and Timely Issue Resolution
Another component of our remarkable customer support is our commitment to resolving any concerns in a timely and effective manner. Be it a minor issue of mislabeled inventory, or needing help to resolve a complex situation, our team of experts ensures that concerns are addressed in the shortest duration possible, providing uninterrupted service and total peace of mind.
To conclude, a strong customer-centric approach and maintaining consistent transparency in our operations makes FBA Prep Logistics an ideal partner for any e-commerce business looking to streamline their logistics processes. By choosing us as their logistics provider, Amazon sellers on the East Coast can rest assured that they have made the right decision to grow and bolster their business in the best possible manner. We invite you to reach out to our team and experience firsthand how FBA Prep Logistics can help elevate your e-commerce venture to new heights of success.
Frequently Asked Questions