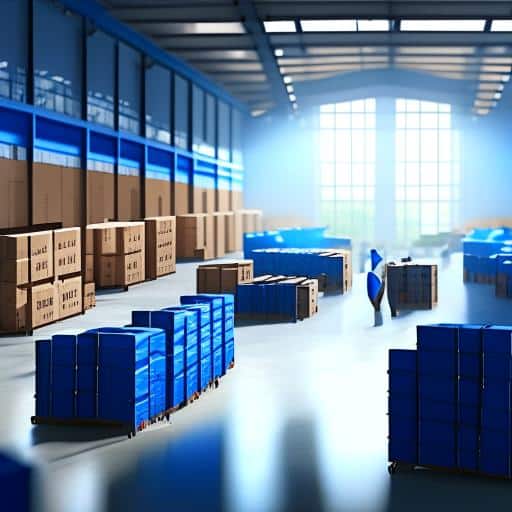 Outsource Your Fulfillment Needs and Grow Your Amazon Business
I. Introduction
Selling on Amazon has revolutionized the e-commerce landscape, providing a platform for businesses of all sizes to grow and succeed. However, one of the critical aspects of maintaining a successful Amazon business is handling the order fulfillment process as efficiently as possible. For many business owners, the time-consuming and resource-intensive nature of this process can become a major stumbling block. That's where Amazon FBA (Fulfillment By Amazon) comes into play, and outsourcing this task to experienced professionals can make a world of difference.
As a digital marketing assistant at FBA Prep Logistics, a 3PL warehouse located in Bristol, PA, let me introduce you to our comprehensive range of services designed to take care of all your Amazon FBA fulfillment needs, allowing you to focus on growing and expanding your business. In this article, we will showcase how our expertise and services not only save you time and resources but also position your business for long-term success in the highly competitive e-commerce marketplace.
Top Shipping Methods and Best Practices for Amazon Sellers in Pennsylvania
II. Advantages of Outsourcing Fulfillment to FBA Prep Logistics
The decision to outsource your Amazon FBA fulfillment needs to a 3PL warehouse like FBA Prep Logistics can have a significant impact on your e-commerce business. Here are some compelling benefits to consider:
1. Focus on Core Competencies and Growing Your E-commerce Business
When you delegate the fulfillment tasks to FBA Prep Logistics, you free up time and energy to concentrate on what you do best – running your business and expanding it. By outsourcing your Amazon FBA fulfillment, you can dedicate more resources to marketing, product development, and improving customer service. This enables you to provide a better customer experience and ultimately grow your business.
2. Save Time and Resources on Warehouse Management and Personnel Training
Managing your own warehouse and fulfillment operation requires significant investment in time, money, and expertise. By partnering with FBA Prep Logistics, you can eliminate the need to hire and train staff, as well as maintain and manage a physical warehouse. This allows you to allocate your resources more strategically and better manage your overall expenses. Our expert team comes with an in-depth understanding of Amazon's requirements and standards, ensuring a seamless fulfillment process at all times.
3. Leverage Our Team's Expertise in Amazon Requirements and Standards
Amazon is known for its strict rules and regulations that can be tough to navigate for new and experienced sellers alike. By outsourcing your fulfillment needs to FBA Prep Logistics, you gain access to our team's knowledge and expertise. Not only will this ensure your business remains compliant with Amazon's guidelines, but we'll also help you discover opportunities for better efficiency and profitability.
4. Scale Quickly and Efficiently
Seasonal fluctuations in demand or rapid business growth can be challenging for many e-commerce companies. FBA Prep Logistics offers scalability, allowing you to quickly and seamlessly adjust your storage and fulfillment needs according to your sales volume. This partnership ensures that you're well-prepared for growth, and you can concentrate on fulfilling more orders and serving more customers.
5. Strategic Location in Bristol, PA
FBA Prep Logistics' warehouse is strategically located in Bristol, PA, enabling easy access to major cities and transportation hubs on the East Coast. This proximity to critical distribution points improves shipping efficiency and reduces shipping costs, resulting in reduced lead times and improved customer satisfaction.
6. Enhanced Customer Support
As a business owner, one of your top priorities should be providing exceptional customer support. By outsourcing your Amazon FBA fulfillment to FBA Prep Logistics, our team handles any potential fulfillment challenges, ensuring that your products reach your customers on time and in good condition. Our commitment to quality ensures that your customers receive the best possible experience, enhancing their likelihood of being repeat customers.
In conclusion, outsourcing your fulfillment needs to FBA Prep Logistics can provide numerous benefits, ultimately allowing you to excel in the highly competitive Amazon FBA marketplace. By partnering with us, you can focus on growing your business, improving customer satisfaction, and scaling up seamlessly. Are you ready to take the leap? Get in touch with FBA Prep Logistics and let us help you elevate your e-commerce business to new heights.
III. FBA Prep Logistics' Services and Solutions
When it comes to Amazon FBA fulfillment, you need a partner who understands the ins and outs of the e-commerce landscape, as well as the intricacies of Amazon's requirements. That's where FBA Prep Logistics comes in. With our comprehensive range of 3PL warehouse services, we are well-equipped to cater to the unique needs and goals of your e-commerce business.
Receiving and Storage

Our first order of business is to receive your inventory, ensuring that all items are properly accounted for and in excellent condition. We then store your products in our secure, climate-controlled warehouse, strategically located in Bristol, PA. This prime location is a key advantage, as it allows for faster transit times and cost-effective shipping options.

Inventory Management
At FBA Prep Logistics, we understand the importance of accurate, real-time inventory control. Our team leverages cutting-edge technology to track and manage your inventory, providing you with the data you need to make informed decisions and effectively plan your replenishment cycles.
Once an order is received, our skilled team jumps into action, picking the right products from your inventory and packing them with the utmost care. We utilize best practices for packing materials, ensuring that your products arrive at their destination in pristine condition and ready for your customers to enjoy.

At FBA Prep Logistics, we support a wide range of shipping options, tailored to the specific needs of your Amazon FBA business. Whether you require expedited shipping or want to minimize shipping costs while maintaining a high level of customer satisfaction, our logistics experts have you covered.
Handling returns can be a hassle, but not with FBA Prep Logistics. We take the burden off your shoulders by managing the entire returns process, from receiving and inspecting returned items to processing refunds and restocking your inventory.
Every e-commerce business is unique, and that's why we customize our services to suit your specific needs and goals. Whether you require additional support for peak seasons, special promotions, or bundled products, FBA Prep Logistics is fluid and adaptable to ensure maximum efficiency and a seamless experience for your customers.
In summary, FBA Prep Logistics offers an extensive range of Amazon FBA fulfillment services, all designed to optimize your e-commerce operations and drive growth. By partnering with us, your business can tap into our Bristol, PA location's strategic advantages for faster, more cost-effective shipping, along with a suite of tailored solutions to meet your unique challenges and objectives. With FBA Prep Logistics in your corner, the path to e-commerce success has never been more attainable.
IV. Streamlined Processes and Enhanced Efficiency
At FBA Prep Logistics, we understand the importance of smooth and efficient operations for Amazon FBA sellers. That's why we have developed and implemented cutting-edge technology and streamlined processes to enhance efficiency and provide the best fulfillment services. Let's delve into various factors that contribute to our competitive operations.
4.1 Optimized Warehouse Management System
Our state-of-the-art Warehouse Management System (WMS) allows us to automate and optimize essential processes such as inventory management, order picking, and shipping. This translates into minimized errors and faster order processing times, ensuring that your customers receive their orders promptly and accurately.
4.2 Advanced Order Tracking
As an Amazon FBA seller, you know how crucial it is to keep an eye on your orders to ensure they reach your customers precisely. That's why our WMS integrates with top e-commerce platforms, allowing you to track your orders in real-time. Our real-time inventory and order tracking enables you to have an up-to-date overview of your stock levels and order status, helping you make informed decisions about restocking and resource allocation.
4.3 Leveraging Technology for Error-free Picking and Packing
We employ technology and barcoding systems to minimize human errors during the pick-and-pack process. These technologies allow us to quickly locate and accurately pick items from our expansive warehouse before packing them for shipment. Our commitment to using technology effectively is evident in our reduction of picking and packing errors, translating into satisfied customers and fewer returns.
4.4 Improved Shipping Capabilities
Due to our strategic location in Bristol, PA, we can provide cost-effective and expedited shipping options to Amazon FBA sellers. Our established relationship with major carriers allows us to negotiate competitive shipping rates for our clients. In short, you can expect better shipping rates for your business, reducing overhead costs and improving your bottom line.
4.5 Transparent Communication
At FBA Prep Logistics, we place great emphasis on open and transparent communication with our clients. Our dedicated client support team keeps you updated on your inventory, order processing, and any issues that may arise. We consider ourselves an extension of your team and work closely with you to ensure that your Amazon FBA fulfillment runs as smoothly as possible.
4.6 Data-driven Decision Making
We understand the power of data in driving e-commerce success. Our advanced WMS provides you with valuable insights and reports on critical aspects of your business, such as inventory levels, order processing times, and shipping costs. These insights can guide your future decision-making and help you make data-driven choices to optimize and expand your Amazon FBA business.
In conclusion, outsourcing your Amazon FBA fulfillment needs to FBA Prep Logistics not only frees up time and resources for you to focus on growing your business but also ensures that your fulfillment processes are streamlined and efficient. Our advanced technology, optimized processes, and dedication to transparency enable us to offer unparalleled fulfillment services to our clients, ensuring your Amazon business thrives in the competitive e-commerce landscape. So go ahead, take the first step in transforming your Amazon FBA business by partnering with us at FBA Prep Logistics.
V. Getting Started with FBA Prep Logistics and Building a Partnership

Are you ready to make a shift towards streamlined and optimized Amazon FBA fulfillment? If so, getting started with FBA Prep Logistics is a breeze! By partnering up with our experienced team, you can unlock a whole new level of e-commerce success.
Simple Onboarding Process
Our onboarding process is straightforward and stress-free. We begin by understanding your business, product line, and specific Amazon FBA fulfillment requirements. This allows us to create a tailored solution that caters to your unique needs.

During the onboarding process, we'll guide you through all the necessary steps, from account setup and inventory management to shipping and returns handling. Our knowledgeable staff is always available to answer any questions and address concerns, ensuring a seamless transition to our 3PL services.

State-of-the-Art Technology
FBA Prep Logistics utilizes cutting-edge technology to manage and automate various aspects of the Amazon fulfillment process. By partnering with us, you'll be able to leverage these innovative tools for enhanced efficiency, transparency, and communication.

Our advanced warehouse management software (WMS) tracks and monitors your inventory in real-time, giving you complete visibility into your stock levels, order status, and more. Furthermore, you'll have access to an easy-to-use online portal where you can view important updates and data at any time.

Dedicated Support
Building strong relationships with our clients is a top priority at FBA Prep Logistics. That's why we offer dedicated support to assist you in every step of the process. Our expert team will work hand-in-hand with you to troubleshoot any issues, optimize operations, and ensure that you're getting the most out of our services.

Long-Term Partnership Vision
Our goal is to be more than just a service provider. We want to be a long-term partner that contributes to your e-commerce success. By choosing FBA Prep Logistics, you're joining a network of like-minded entrepreneurs and businesses who share a commitment to growth and continuous improvement.

Together, we'll tackle every challenge that comes our way, working collaboratively to develop innovative solutions that drive your Amazon business forward.
In conclusion, outsourcing your Amazon FBA fulfillment to FBA Prep Logistics is a strategic move that can unlock new potential for your e-commerce business. By leveraging our expert team, streamlined processes, and cutting-edge technology, you can focus on what you do best—growing your brand and taking your business to new heights.
Are you ready to take the leap and experience the FBA Prep Logistics difference? Get in touch with our team today and let us help you navigate the road to e-commerce success!
Here's the FAQ section in HTML:
Frequently Asked Questions
1. What is the advantage of using FBA Prep Logistics for my Amazon business?

FBA Prep Logistics helps you manage your e-commerce fulfillment needs, allowing you to focus on growing your business and letting us handle critical tasks such as receiving, storage, pick and pack, and shipping. Our expert team has experience with Amazon's requirements and standards, ensuring your products are shipped accurately and promptly.

2. How does FBA Prep Logistics save me time and resources?

By outsourcing your fulfillment tasks to FBA Prep Logistics, you don't need to invest in warehouse operations, hire and train staff, or navigate Amazon's complex fulfillment processes. You essentially save time and resources by leveraging our expertise and infrastructure.

3. I have unique business needs, can FBA Prep Logistics provide customized solutions?

Yes, FBA Prep Logistics tailors our services to fit the specific requirements of each client. We work together to create a flexible solution that aligns with your unique business goals and objectives.

4. How does FBA Prep Logistics ensure efficient and accurate order processing?

We utilize innovative technology to optimize and automate processes, resulting in improved order accuracy and faster turnaround times. We also maintain open communication with our clients, keeping them updated on the status of their inventory and order processing.

5. How do I get started with FBA Prep Logistics?

The onboarding process is simple: reach out to our team to discuss your business needs and we will work together to establish a customized fulfillment solution. Our dedicated support staff will assist you in transitioning seamlessly to our 3PL services and work towards building a long-term partnership.
Here's the JSON-LD code for your FAQs:
"`html

"`
Please note that both sets of HTML and JSON-LD codes should be placed within the appropriate sections of your webpage's body tag.