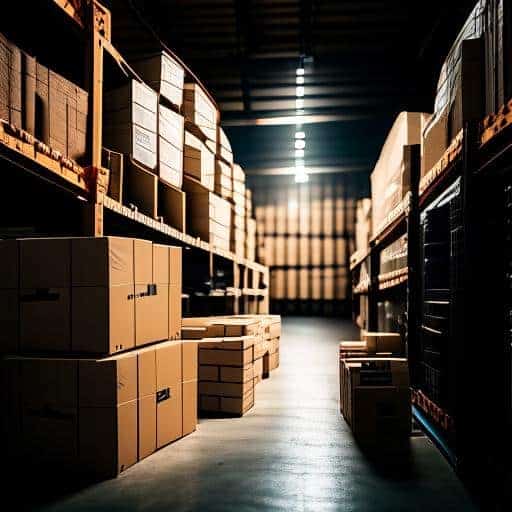 Introduction to Amazon FBA Warehouses in NJ
Welcome to the world of Amazon FBA Warehouses! If you're an e-commerce business owner who primarily sells on amazon.com, you already know that Fulfillment by Amazon (FBA) is an essential service to streamline your order fulfillment process. In short, Amazon FBA Warehouses are storage facilities where sellers can store their inventory, allowing Amazon to pick, pack, and ship their products to customers on their behalf. Partnering with reputable Amazon FBA Warehouses in NJ, like FBA Prep Logistics, can significantly impact the growth and efficiency of your business.
Why Choose New Jersey?
Now, you might wonder – why New Jersey? Well, New Jersey has a strategic geographical location that makes it an ideal choice for e-commerce businesses. Its proximity to major cities, airports, seaports, and numerous distribution hubs provides easy access to customers in densely populated areas. This means that choosing an Amazon FBA Warehouse in NJ will not only optimize your supply chain management but also ensures faster delivery times for your valuable customers, making them happier, and more likely to keep coming back.
Prime Location Near Major Shipping Routes
New Jersey boasts excellent transportation infrastructure, including the Port of New York and New Jersey, Newark Liberty International Airport, and various highways and rail networks. This allows Amazon FBA warehouses in NJ, such as FBA Prep Logistics, to offer efficient and cost-effective shipping solutions for your products.
Flourishing E-commerce Ecosystem
New Jersey is home to a thriving e-commerce industry, thanks to the availability of skilled workforce, tech-savvy consumers, and excellent digital infrastructure. By choosing an Amazon FBA warehouse in NJ, you can be a part of this ever-growing ecosystem and take advantage of new opportunities and trends as they emerge.
Sales Tax Advantage
Another reason why e-commerce businesses prefer Amazon FBA Warehouses in NJ is the potential sales tax advantage. New Jersey levies a lower sales tax on most e-commerce transactions compared to other states. This could translate to more competitive product prices for your customers and, ultimately, higher sales.
Now that you have a clear understanding of what Amazon FBA Warehouses are and the strategic benefits of opting for one in New Jersey, it's time to explore the advantages of partnering with a 3PL warehouse like FBA Prep Logistics. Stay tuned for our next section, where we'll discuss how FBA Prep Logistics can be your perfect partner in taking your e-commerce business to new heights.
2. Advantages of Using a 3PL Warehouse like FBA Prep Logistics in New Jersey
Choosing the right 3PL warehouse can be a game-changer for an e-commerce business, especially for those selling on amazon.com. With countless Amazon FBA Warehouses in NJ, many might wonder why FBA Prep Logistics stands out amongst the rest. In this section, we will discuss the advantages of partnering with FBA Prep Logistics and how our prime location in New Jersey, experienced workforce, affordable pricing, and customized services will help your business grow and succeed in the highly competitive Amazon marketplace.
2.1 Prime Location in New Jersey
FBA Prep Logistics' warehouse is strategically located in New Jersey, providing a central hub for businesses looking to sell their products on the East Coast. This prime location offers several key benefits:
Proximity to major shipping routes: FBA Prep Logistics is situated close to multiple major highways, providing easy access for transporting goods to and from the facility. This means faster transit times and lower shipping costs for your business.

Access to major metropolitan markets: The northeastern region of the United States is home to some of the country's largest and most densely populated areas, such as New York City, Philadelphia, and Washington, D.C. FBA Prep Logistics' location in New Jersey places your products within reach of millions of potential customers and enables quick delivery, giving your business a competitive edge.

Reduced shipping costs: Discover the Secret to a Faster and More Efficient Supply Chain by partnering with FBA Prep Logistics. By being strategically positioned near major metropolitan markets and shipping routes, we help you minimize shipping costs and maximize efficiency.
2.2 Experienced Workforce
With years of experience in the industry, our team at FBA Prep Logistics is well-equipped to handle your e-commerce business needs. Our knowledgeable staff specializes in managing inventory, labeling, pack solutions in NJ, and other essential services needed for Amazon FBA sellers. By relying on our skilled team, you can focus on growing your business while we take care of managing the complex logistics of fulfilling orders.
2.3 Affordable Pricing
We understand that every penny counts in the world of e-commerce. That's why we offer competitive pricing for our services. Our customized pricing plans are tailored to suit each client's unique needs and budget, ensuring cost-effectiveness without compromising on quality. FBA Prep Logistics also provides volume-based discounts, giving you even more savings as your business expands.
2.4 Customized Services Tailor-Made for Our Clients
At FBA Prep Logistics, we embrace the fact that no two businesses are alike. This is why we strive to provide customized solutions for every client and make it our mission to tailor our services to meet your specific requirements. Our versatile suite of services includes:
Pick and pack
Labelling
Kitting
With these comprehensive services, your e-commerce business can thrive and expand without getting bogged down by the complexities of supply chain management.
2.5 Close to Amazon FBA Warehouses in NJ
FBA Prep Logistics' proximity to Amazon FBA Warehouses in NJ ensures minimal delays when it comes to shipping your products to Amazon fulfillment centers. Our prime location near these warehouses translates to faster delivery times when your products are sold on amazon.com, further strengthening your company's logistics operations.
By choosing FBA Prep Logistics as your 3PL provider, your e-commerce business will benefit from our prime location in New Jersey, experienced workforce, competitive pricing, and customized services tailored to your individual needs. Partnering with us will enhance your supply chain operations, allowing you to streamline your processes, reduce costs, and ultimately, boost your sales on the Amazon marketplace.
FBA Prep Logistics' Outstanding Services for Amazon Sellers
Amazon FBA Warehouses in NJ are pivotal when it comes to the continued success of e-commerce businesses selling on amazon.com. However, partnering with the ideal warehouse can make or break your e-commerce venture. For businesses looking to optimize their operations, FBA Prep Logistics is the perfect choice.
Inventory Management
In the e-commerce industry, proper inventory management is essential. Our professional team at FBA Prep Logistics ensures your products are adequately organized and accounted for at all times. With our custom-built warehouse management system and seamless integration with Amazon, tracking your stock levels and reordering becomes incredibly easy. This means you can focus on growing your business without worrying about running out of stock or dealing with inventory discrepancies.
Pick and Pack Services
At FBA Prep Logistics, we pride ourselves on providing efficient and accurate pick and pack services for Amazon sellers. When an order is placed, our team ensures that the correct items are retrieved and packaged with care. This allows for accurate and timely fulfillment, resulting in increased customer satisfaction and positive reviews on your Amazon store.
Labeling Services
Meeting Amazon FBA's strict labeling requirements is no small feat. Our labeling services ensure that all items are compliant with Amazon's guidelines, consequently avoiding delays or penalties. From creating shipping labels, barcodes, or branding materials, trust FBA Prep Logistics to get it done right, so you don't have to worry about it.
Kitting and Bundling Services
Diversifying product offerings is critical for e-commerce businesses looking to stand out in a competitive market. Our kitting and bundling services make it simple for you to create new product combinations or promotional offers to entice customers and increase sales. Whether it's assembling gift sets or putting together subscription boxes, FBA Prep Logistics makes it a breeze.
Quality Control and Inspection
There's nothing worse than a customer receiving a defective product. Our quality control and inspection services ensure all items meet your standards and Amazon's requirements before shipping. We conduct thorough checks of your products and take corrective actions when needed, guaranteeing your customers receive items in excellent condition.
Returns Management
No seller enjoys dealing with returns, but they're an inevitable part of online retail. FBA Prep Logistics can help you manage your returns quickly and efficiently. Our team will inspect the returned items, process refunds or exchanges, and restock the items so you can focus on other aspects of your business.
Customized Solutions for Your Business
We understand that each e-commerce business is unique, with specific requirements and goals. FBA Prep Logistics goes above and beyond to tailor our services according to your needs. Whether it's providing storage solutions, handling international imports, or finding the best shipping rates, FBA Prep Logistics has got your back.
In conclusion, partnering with FBA Prep Logistics for your Amazon FBA Warehouses in NJ is a decision that will undoubtedly optimize your supply chain management and take your e-commerce business to the next level. From inventory management to kitting and bundling, our highly skilled team and top-notch services are designed to keep both you and your customers satisfied. So why wait? Get in touch with us today and unleash your business's potential with FBA Prep Logistics!
Smooth and Hassle-Free Transition to FBA Prep Logistics
Switching to a new 3PL provider or starting to work with one for the first time can seem like a daunting task, especially for business owners who are new to supply chain management. FBA Prep Logistics understands the challenges you may face and ensures that your transition to our Amazon FBA Warehouses in NJ is as smooth and hassle-free as possible. In this section, we will discuss the steps we take to guide you throughout the entire process and the constant support provided by our team to make your transition seamless.
Guiding You Step-by-Step
1. Initial Consultation
To begin the process, we conduct an in-depth consultation to understand your specific needs and requirements. Our team takes time to learn about your business, products, and challenges to customize a solution tailored to your objectives. We'll then work together to define a clear strategy that caters to the unique needs of your e-commerce business.
2. Onboarding and Integration
Next, we'll guide you through our seamless onboarding process, which includes integrating your e-commerce platform with our warehouse management system. This ensures that your orders and inventory information are fully synchronized, allowing for real-time tracking and efficient fulfillment. We support platforms like Shopify, ensuring easy integration and comprehensive support.
3. Inventory Receipt and Inspection
When your inventory arrives at our Amazon FBA Warehouses in NJ, our team conducts a thorough inspection to ensure that products are in good condition and accurately listed in our system. We take the extra precautions to verify that all inbound shipments meet the necessary requirements and are ready for storage or fulfillment.
4. Storage and Organization
Our experienced warehouse staff carefully stores and organizes your products, making sure they are easily accessible for efficient order fulfillment. We employ advanced inventory management techniques, such as barcode scanning and real-time updates, to maintain accurate inventory records and avoid stockouts.
5. Order Fulfillment and Shipping
Once everything is in place, we begin fulfilling your orders with precision and efficiency. Our team picks, packs, and ships your products using the most cost-effective and reliable shipping methods to ensure fast and accurate delivery. In addition, our automated fulfillment processes help save time and minimize errors.
Constant Customer Support
Our dedicated customer support team is available throughout the entire transition process, providing assistance and answering any questions you may have. They continue to be a valuable resource even after the onboarding is complete, offering ongoing support for all your logistics and supply chain needs. Whether you need help with returns, inventory management, shipping, or other challenges, our team has you covered.
Future-proofing Your Supply Chain
As your business grows and evolves, we're here to provide support every step of the way. We constantly strive to improve our services and stay up-to-date with the latest industry developments and challenges. This means that, as a partner with FBA Prep Logistics, you will always receive cutting-edge solutions and a proactive approach to your ever-changing needs.
Conclusion: Choose FBA Prep Logistics for a Seamless Transition
Transferring to or starting with a 3PL provider like FBA Prep Logistics for your Amazon FBA Warehouses in NJ no longer needs to be a challenging or stressful experience. With our step-by-step guidance, comprehensive support, and advanced operational capabilities, we make the entire process smooth and hassle-free. By choosing FBA Prep Logistics, you can trust that you are making the right choice for your e-commerce business and building a strong partnership for future growth.
Success Stories: How FBA Prep Logistics Has Boosted the Growth of E-commerce Businesses
In this competitive Amazon marketplace, success lies in having a strong, reliable, and efficient partner to help optimize your e-commerce business. At FBA Prep Logistics, we take pride in providing all of this to our clients and more! Let's take a closer look at some examples of how we've helped both small and medium-sized businesses, who rely on Amazon FBA Warehouses in NJ, thrive through our services.
From Local to National: Expanding the Reach of a Small Business
John's Handcrafted Goods had humble beginnings. Initially, this small company had only been catering to local customers, but soon, they decided to take the leap and expand their reach to become a best-seller on Amazon. By partnering with FBA Prep Logistics, John was able to put his products in front of millions of potential customers through our efficient pick and pack services. Our highly-trained warehouse staff ensured that every order was prepared quickly and accurately, leading to better customer satisfaction and more repeat business. As a result, John's business has grown exponentially!
Fulfillment Challenges Tackled Head-On: A Medium-Sized Business Story
When Jane's Fashion Boutique first ventured onto the Amazon platform with their stylish clothing and accessories line, they realized that the intricacies of order fulfillment were hampering their growth. Their need for a partner who could not only navigate the complexities of Amazon FBA Warehouses in NJ but also provide efficient logistics solutions, brought them to FBA Prep Logistics. After working with us, their customer satisfaction rates skyrocketed, thanks to quick and accurate order processing.
Our customized inventory management system also provided Jane's business with better control over their stock levels, so they were never left underselling or overselling products. This ultimately led to improved profitability and expansion of their product line.
Better Labeling, Happier Customers: A Kitting Service Success Story
A toy manufacturer named Joyful Playthings faced a unique challenge: bundling several sets of their toy line together into special combo packs. They reached out to FBA Prep Logistics for help with kitting services. Our team compiled the combo packs efficiently and accurately, resulting in seamless product presentation, which in turn, attracted more customers. Additionally, the labeling services we provide ensured that each order reached its correct destination. The entire process happened smoothly, and Joyful Playthings experienced a surge in sales and customer satisfaction!
A Smoother Supply Chain: Efficient Freight Management
Gourmet Delights, a specialized food retailer, was struggling with its supply chain and freight management. They wanted to ensure that their perishable products reached the end-customer quickly and in perfect condition. When they partnered with FBA Prep Logistics, we optimized their supply chain by providing efficient freight shipping solutions. This led to faster shipping times and a reduction in delays and damage to products, making their customers even more satisfied. Thus, Gourmet Delights witnessed increased customer retention and higher sales.
As these success stories show, FBA Prep Logistics has a long history of boosting the growth of businesses that are using Amazon FBA Warehouses in NJ, be it in terms of order fulfillment, inventory management, kitting, or freight management. By partnering with us, our clients have seen remarkable improvements in customer satisfaction, sales, and overall business growth. Whether you are a small start-up or an established company scaling to new heights, FBA Prep Logistics has the services and experience to help you succeed in this competitive e-commerce landscape!
Frequently Asked Questions</h2>
<h3 id="faq1″>1. Why should I choose FBA Prep Logistics as my Amazon FBA warehouse provider?</h3>
<p>FBA Prep Logistics offers a highly experienced workforce, prime location in NJ with proximity to major shipping routes, affordable pricing, and customized services tailored to the unique needs of your e-commerce business. Our exceptional customer service ensures a smooth and hassle-free transition to our 3PL services, making us the top choice for your Amazon FBA Warehousing needs.</p>
<h3 id="faq2″>2. What services can I expect from FBA Prep Logistics?</h3>
<p>We provide a comprehensive range of services to optimize your supply chain and order fulfillment process, including inventory management, pick and pack, labeling, kitting, and more. Our experienced team works closely with you to develop a customized solution that best fits your business.</p>
<h3 id="faq3″>3. How can FBA Prep Logistics help my e-commerce business grow?</h3>
<p>By partnering with us, you gain access to our expert knowledge of supply chain management and Amazon FBA operations. We continuously work to improve your order fulfillment efficiency, helping you save both time and money. These improvements ultimately contribute to the growth and success of your e-commerce business in the competitive Amazon marketplace.</p>
<h3 id="faq4″>4. I'm new to supply chain management. How easy is it to transition to FBA Prep Logistics?</h3>
<p>Switching to FBA Prep Logistics is a seamless experience, even for those who are new to supply chain management. Our dedicated customer support team will guide you through the entire process and remain available to assist with any questions or concerns you might have along the way.</p>
<h3 id="faq5″>5. How has FBA Prep Logistics helped other e-commerce businesses succeed?</h3>
<p>We have numerous success stories from small and medium-sized e-commerce businesses that have entrusted their Amazon FBA Warehousing needs to us. Our clients have experienced significant growth, streamlined operations, and improved overall order fulfillment efficiency as a result of partnering with FBA Prep Logistics.</p>
<h2>Get Started with FBA Prep Logistics</h2>
<p>Ready to make the right choice for your e-commerce business? Learn more about our services and start the journey to a successful partnership with FBA Prep Logistics. <a href="https://www.fbapreplogistics.com/contact">Contact us today</a>.</p>
<script type="application/ld+json">
{
"@context": "https://schema.org",
"@type": "FAQPage",
"mainEntity": [
{
"@type": "Question",
"name": "Why should I choose FBA Prep Logistics as my Amazon FBA warehouse provider?",
"acceptedAnswer": {
"@type": "Answer",
"text": "FBA Prep Logistics offers a highly experienced workforce, prime location in NJ with proximity to major shipping routes, affordable pricing, and customized services tailored to the unique needs of your e-commerce business. Our exceptional customer service ensures a smooth and hassle-free transition to our 3PL services, making us the top choice for your Amazon FBA Warehousing needs."
}
},
{
"@type": "Question",
"name": "What services can I expect from FBA Prep Logistics?",
"acceptedAnswer": {
"@type": "Answer",
"text": "We provide a comprehensive range of services to optimize your supply chain and order fulfillment process, including inventory management, pick and pack, labeling, kitting, and more. Our experienced team works closely with you to develop a customized solution that best fits your business."
}
},
{
"@type": "Question",
"name": "How can FBA Prep Logistics help my e-commerce business grow?",
"acceptedAnswer": {
"@type": "Answer",
"text": "By partnering with us, you gain access to our expert knowledge of supply chain management and Amazon FBA operations. We continuously work to improve your order fulfillment efficiency, helping you save both time and money. These improvements ultimately contribute to the growth and success of your e-commerce business in the competitive Amazon marketplace."
}
},
{
"@type": "Question",
"name": "I'm new to supply chain management. How easy is it to transition to FBA Prep Logistics?",
"acceptedAnswer": {
"@type": "Answer",
"text": "Switching to FBA Prep Logistics is a seamless experience, even for those who are new to supply chain management. Our dedicated customer support team will guide you through the entire process and remain available to assist with any questions or concerns you might have along the way."
}
},
{
"@type": "Question",
"name": "How has FBA Prep Logistics helped other e-commerce businesses succeed?",
"acceptedAnswer": {
"@type": "Answer",
"text": "We have numerous success stories from small and medium-sized e-commerce businesses that have entrusted their Amazon FBA Warehousing needs to us. Our clients have experienced significant growth, streamlined operations, and improved overall order fulfillment efficiency as a result of partnering with FBA Prep Logistics."
}
}
] }
</script>