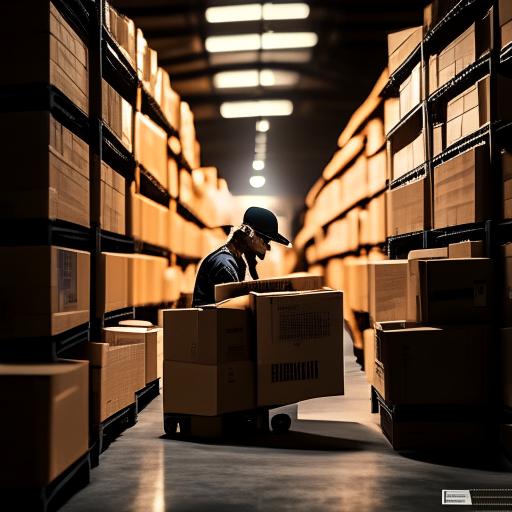 The Ultimate Guide to Amazon Inventory Control in NJ
I. Introduction
1. The Importance of Amazon Inventory Control
In today's fast-paced e-commerce environment, effective Amazon inventory control is more important than ever for online sellers. Making sure that your products are always available and in stock on Amazon is crucial for maintaining a positive customer experience and maximizing sales. In addition, efficient inventory control helps you avoid the dreaded "stockouts," which can lead to the suspension of your Amazon seller account.
In this guide, we'll discuss the importance of Amazon inventory control and how partnering with FBA Prep Logistics, a top-notch 3PL warehouse based in Bristol, PA, can help your e-commerce business thrive in the NJ area. Get ready to optimize your Amazon inventory control like never before!
2. Welcome to FBA Prep Logistics!
As an e-commerce business owner, managing your Amazon inventory can often be a daunting and time-consuming task. That's where FBA Prep Logistics comes in! Our team of dedicated professionals specializes in providing comprehensive inventory control solutions that are not only efficient but also cost-effective.
We understand the unique challenges faced by Amazon sellers in the NJ area and are committed to helping your business succeed through our personalized approach to inventory control. With FBA Prep Logistics as your partner, you can delegate the inventory management tasks and focus on growing your business to its fullest potential.
Discover the Secret to a Faster and More Efficient Supply Chain
Now that you have a brief overview of Amazon inventory control and how FBA Prep Logistics can optimize it for your e-commerce business, let's dive deeper into the details. In the following sections, we'll cover the benefits of outsourcing inventory control, the services we offer, expert tips for optimization, and how to get started with FBA Prep Logistics.
Stay tuned and get ready to unlock the true potential of your Amazon inventory management!
Benefits of Outsourcing Inventory Control
Managing your Amazon inventory can be a demanding and time-consuming task, especially in the fast-paced e-commerce environment. By outsourcing your Amazon inventory management to a reliable third-party logistics provider like FBA Prep Logistics, you can reap an array of benefits for your NJ-based e-commerce business. In this section, we'll discuss the key benefits of trusting FBA Prep Logistics with your inventory control, including cost savings, reduced errors, and improved order fulfillment.
Cost Savings
As an e-commerce business owner, you're likely always on the lookout for ways to cut costs and increase your profit margins. One of the most effective ways to achieve this is by outsourcing your Amazon inventory management. By partnering with FBA Prep Logistics for your inventory control, you can:
Avoid investing in expensive warehouse space, equipment, and staff
Reduce operational expenses, as we handle tasks like storage, organization, and monitoring
Benefit from our efficient processes and scalability, leading to overall cost savings for your business
To learn more about cost reduction strategies, check out our article on Top Cost Reduction Strategies for Amazon Sellers in PA.
Reduced Errors
Human error is inevitable, but it can be costly when it comes to your inventory management. Mismanaged inventory can lead to stockouts, overselling, or loss of customer trust. At FBA Prep Logistics, our experienced team of professionals uses state-of-the-art technology and proven processes to minimize errors, ensuring that your inventory is always accurate and well-maintained. This, in turn, reduces the likelihood of costly mistakes and keeps your Amazon business running smoothly and profitably.
Improved Order Fulfillment
When it comes to e-commerce success, fast and efficient order fulfillment is crucial. Accurate and speedy order processing can be the difference between a one-time buyer and a loyal, repeat customer. By partnering with FBA Prep Logistics, you'll benefit from our top-notch order fulfillment process, including:
Efficient picking and packing, thanks to our well-organized warehouse and expert staff
Access to our vast network of shipping partners, ensuring timely and cost-effective delivery
Real-time inventory tracking and monitoring, so you're always informed of your stock levels
By choosing FBA Prep Logistics to manage your Amazon inventory, you'll not only improve the efficiency of your order fulfillment process but also enhance the overall customer experience.
Greater Focus on Core Business Activities
As an e-commerce entrepreneur, you likely have numerous responsibilities. By outsourcing your Amazon inventory management to FBA Prep Logistics, you can free up valuable time and resources to focus on other crucial aspects of your business, such as marketing, customer service, or product development. Trusting us with your inventory control allows you to invest more energy into growing your Amazon business and improving your bottom line.
Access to Industry Expertise
When you work with FBA Prep Logistics, you're not just outsourcing your inventory management; you're also tapping into a wealth of industry knowledge and expertise. Our seasoned team stays up-to-date with the latest trends, technology, and best practices in the Amazon inventory control sphere. This ensures that your e-commerce business receives top-quality service and advice at all times.
In conclusion, outsourcing your Amazon inventory management to FBA Prep Logistics offers a myriad of benefits for your NJ-based e-commerce business, including cost savings, reduced errors, improved order fulfillment, and access to our expert guidance. Partnering with us allows you to focus on other critical aspects of your Amazon business while ensuring seamless inventory control at all times. Don't miss out on the advantages of working with FBA Prep Logistics – reach out to us today to optimize your Amazon inventory control in NJ.
III. FBA Prep Logistics' Amazon Inventory Control Services
At FBA Prep Logistics, we understand that efficient Amazon inventory management is at the core of every successful e-commerce operation. Our state-of-the-art warehouse located in Bristol, PA is fully equipped to handle every aspect of your inventory control needs. Below, we've outlined the comprehensive range of Amazon inventory control services that we offer. Partnering with us ensures an organized and optimized approach to managing your inventory, which ultimately leads to enhanced customer satisfaction and increased profitability.
1. Secure and Spacious Storage Solutions
Our warehouse is designed to provide ample storage space for your products, whether you're a small business starting out or an established seller with a vast product line. Our facility is climate-controlled, secured with advanced surveillance, and monitored 24/7 to ensure your inventory is always kept safe and in optimal condition.
2. Inventory Organization and Labeling
A well-organized inventory system is crucial for efficient product retrieval and order fulfillment. At FBA Prep Logistics, we create a custom organization plan for your inventory, using advanced labeling techniques that align with Amazon's requirements. This ensures your products are easily identifiable and accessible, helping to streamline your inventory management process.
3. Real-Time Inventory Monitoring and Tracking
Real-time inventory monitoring is essential for making informed decisions about your Amazon stock levels and reordering needs. Our Amazon inventory management system provides you with real-time data on your stock levels and sales performance, allowing you to make strategic decisions to optimize your e-commerce business. Our team diligently tracks and records all product movements within the warehouse to ensure your inventory data remains accurate and up-to-date.
4. Inventory Forecasting and Replenishment
In addition to real-time monitoring, we also utilize inventory forecasting techniques that help anticipate future sales trends and stock demands. Based on this data, we can advise you on the ideal time to reorder products and the optimal quantity to stock, ensuring you maintain a perfect balance between customer demand and inventory availability.
5. Customized Reporting and Analytics
At FBA Prep Logistics, we strive to empower business owners with data-driven insights. Our customized reporting and analytics tools allow you to track your inventory performance, identify trends, and recognize areas for improvement. Armed with this data, you can make informed decisions to optimize your Amazon inventory control strategy and enhance your business performance.
6. Returns Management and Processing
Returns are an inevitable part of the e-commerce landscape, but managing them effectively is critical for maintaining excellent customer service and minimizing losses. Our experienced team handles all aspects of returns management, including product inspection, processing, and restocking according to Amazon's guidelines. This ensures your returned products can quickly be made available for resale and helps maintain a streamlined inventory system.
7. Seamless Integration with Amazon Seller Central
Our Amazon inventory control services are designed to integrate seamlessly with Amazon Seller Central, making it easy for you to manage your inventory without having to juggle multiple platforms and accounts. By centralizing your inventory management and order fulfillment processes in one place, you can save time and resources while maintaining full visibility and control.
In conclusion, partnering with FBA Prep Logistics for your Amazon inventory management needs can free up valuable time and resources for your e-commerce business. As your dedicated 3PL partner, we're committed to providing you with an unparalleled level of expertise and support that will help you stay ahead in the competitive world of Amazon selling. We invite you to reach out to our team to learn more about our services or request a quote today.
Expert Tips for Optimizing Amazon Inventory Control
Managing your inventory is a critical aspect of running a successful e-commerce business. At FBA Prep Logistics, we're committed to helping our clients optimize their Amazon inventory control to improve their overall efficiency and profitability. In this section, we'll share some expert tips and best practices that we recommend to our clients to streamline their inventory control processes.
4.1 Utilize Inventory Forecasting
Inventory forecasting is crucial for ensuring that your business has the right amount of stock on hand at all times. By carefully analyzing historical sales data and accounting for seasonal demand fluctuations, you can make informed decisions about how much of each product to stock in your warehouse. Look for patterns in your past sales data to help you predict future trends, and consider using inventory forecasting software to help automate this process.
4.2 Set Re-order Points
Setting re-order points for each of your products will help you avoid running out of stock and prevent lost sales. A re-order point is a predetermined stock level at which you should place a new order for more inventory. Calculate your re-order points by factoring in your lead time (the amount of time it takes to receive new inventory from your supplier) and your desired safety stock level (extra inventory kept on hand to buffer against unexpected demand spikes).
4.3 Adopt Just-in-Time (JIT) Inventory
Just-in-time inventory management is a strategy aimed at minimizing warehouse costs by only ordering stock when it's needed. By implementing JIT inventory, you can reduce the amount of capital tied up in inventory and free up storage space in your warehouse. Coordinate closely with your suppliers to ensure that they can meet your delivery schedules, and establish a clear communication channel to quickly respond to any changes in demand.
4.4 Implement Effective Storage and Organization Practices
An organized warehouse makes it easier to monitor and track your inventory, leading to fewer errors and faster order fulfillment. Implement a warehouse management system (WMS) to help automate your storage and tracking, and establish a clear labeling system for your products. Group similar items together, and place high-demand products in easily accessible locations.
4.5 Maintain Accurate Inventory Records
Regularly updating your inventory records ensures that your Amazon listings accurately reflect the stock levels in your warehouse. Implement a cycle counting system, where you count a portion of your inventory regularly instead of doing a full inventory count at once. This helps keep your records up-to-date and allows you to identify and correct discrepancies as they arise.
4.6 Monitor Key Inventory Metrics
Tracking key inventory metrics can help you identify areas for improvement and make data-driven decisions to optimize your inventory control processes. Some important metrics to monitor include inventory turnover (the number of times a product is sold and replaced in a given time period), average days to sell (the average time it takes for a product to sell once it's been listed), and gross margin return on investment (GMROI), which measures the profitability of your inventory.
4.7 Utilize FBA Prep Logistics' Amazon Inventory Control Services
By partnering with a 3PL like FBA Prep Logistics, you can unlock additional optimization strategies and techniques. We offer comprehensive inventory control services that include storage, organization, monitoring, and tracking. Our team of experts will work closely with your business to develop a customized solution based on your unique needs, helping you stay ahead of the competition and maximize your profits.
Don't Miss Out on the Benefits of Optimized Amazon Inventory Control
With these expert tips, you can take control of your Amazon inventory management and propel your e-commerce business to new heights. By implementing best practices and working alongside FBA Prep Logistics, you'll see improvements in efficiency, profitability, and overall customer satisfaction. Don't wait any longer to start optimizing your Amazon inventory control. Reach out to our team of experts today and let us help you unlock the full potential of your e-commerce business.
Getting Started with FBA Prep Logistics
Ready to revolutionize your Amazon inventory management? Partnering with FBA Prep Logistics is a piece of cake. Here's a step-by-step guide to help you collaborate with us and reap the benefits of our cutting-edge inventory control services that cater specifically to e-commerce businesses in NJ.
1. Reach Out to Us
To kick things off, contact our team and let us know about your business, its pain points, and your Amazon inventory management goals. We're eager to learn about your unique needs and challenges.
2. Schedule a Consultation
Once we've received your inquiry, we'll set up a consultation to discuss your business requirements in detail. During this time, we'll get to know you better, determine the best way to work together, and find out how we can help optimize your Amazon inventory control processes.
3. Receive a Customized Inventory Control Solution
Our experienced team will create a comprehensive inventory control proposal tailored to your business needs and goals. This plan will include details on our storage solutions, tracking, monitoring, and other inventory control services specifically designed to help you achieve your objectives.
4. Implement Your Inventory Control Plan
Once the plan is approved, we'll start implementing the strategies and techniques outlined in our customized solution. Our team will monitor and track your inventory, ensuring seamless integration into your existing processes and fulfilling your orders effectively and efficiently.
5. Enjoy Ongoing Support and Optimization
Our commitment to your success doesn't end with the initial implementation. We'll remain by your side, providing ongoing support and fine-tuning your inventory control processes to ensure maximum efficiency. With our commitment to delivering your products fast, you can sit back and watch your e-commerce business in NJ grow rapidly.
Is your e-commerce business in NJ looking for the ultimate solution to Amazon inventory management? What are you waiting for! Now is the perfect time to partner with FBA Prep Logistics and optimize your operations. We're confident that our services will substantially improve your supply chain management, enabling your Amazon venture to soar to new heights. Don't hesitate — get in touch today to schedule a consultation and start reaping the benefits of collaboration with FBA Prep Logistics. Together, we'll bring an unparalleled level of efficiency to your Amazon inventory control strategy!
Frequently Asked Questions</h2>
<h3>1. Why is Amazon inventory control crucial for e-commerce businesses?</h3>
<p>Amazon inventory control is vital because it ensures that businesses always have the right amount of stock on hand to fulfill customer orders promptly. Efficient inventory management helps reduce storage expenses, prevent stockouts, and maintain customer satisfaction.</p>
<h3>2. How can FBA Prep Logistics benefit my Amazon business?</h3>
<p>FBA Prep Logistics, a 3PL warehouse, offers comprehensive inventory control services designed to enhance your Amazon business performance. By outsourcing inventory management to a trusted partner, you can enjoy cost savings, reduced errors, and improved order fulfillment.</p>
<h3>3. What services does FBA Prep Logistics offer for Amazon Inventory Control?</h3>
<p>FBA Prep Logistics provides a range of inventory control services for Amazon sellers, including storage, organization, monitoring, and tracking. These services help ensure that your inventory is well-maintained, reducing operational costs and increasing efficiency.</p>
<h3>4. What tips do you recommend for optimizing Amazon Inventory Control?</h3>
<p>Implementing inventory control best practices such as inventory forecasting, setting re-order points, and adopting just-in-time inventory are excellent strategies for enhancing Amazon business performance. FBA Prep Logistics' team of experts can provide further guidance on specific tactics for your e-commerce business.</p>
<h3>5. How do I get started with FBA Prep Logistics?</h3>
<p>To begin collaborating with FBA Prep Logistics, simply reach out for a consultation or request a quote for our services. Our dedicated team will work closely with your e-commerce business to develop a customized inventory control solution that meets your unique needs.</p>
<script type="application/ld+json">
{
"@context": "https://schema.org",
"@type": "FAQPage",
"mainEntity": [
{
"@type": "Question",
"name": "Why is Amazon inventory control crucial for e-commerce businesses?",
"acceptedAnswer": {
"@type": "Answer",
"text": "Amazon inventory control is vital because it ensures that businesses always have the right amount of stock on hand to fulfill customer orders promptly. Efficient inventory management helps reduce storage expenses, prevent stockouts, and maintain customer satisfaction."
}
},
{
"@type": "Question",
"name": "How can FBA Prep Logistics benefit my Amazon business?",
"acceptedAnswer": {
"@type": "Answer",
"text": "FBA Prep Logistics, a 3PL warehouse, offers comprehensive inventory control services designed to enhance your Amazon business performance. By outsourcing inventory management to a trusted partner, you can enjoy cost savings, reduced errors, and improved order fulfillment."
}
},
{
"@type": "Question",
"name": "What services does FBA Prep Logistics offer for Amazon Inventory Control?",
"acceptedAnswer": {
"@type": "Answer",
"text": "FBA Prep Logistics provides a range of inventory control services for Amazon sellers, including storage, organization, monitoring, and tracking. These services help ensure that your inventory is well-maintained, reducing operational costs and increasing efficiency."
}
},
{
"@type": "Question",
"name": "What tips do you recommend for optimizing Amazon Inventory Control?",
"acceptedAnswer": {
"@type": "Answer",
"text": "Implementing inventory control best practices such as inventory forecasting, setting re-order points, and adopting just-in-time inventory are excellent strategies for enhancing Amazon business performance. FBA Prep Logistics' team of experts can provide further guidance on specific tactics for your e-commerce business."
}
},
{
"@type": "Question",
"name": "How do I get started with FBA Prep Logistics?",
"acceptedAnswer": {
"@type": "Answer",
"text": "To begin collaborating with FBA Prep Logistics, simply reach out for a consultation or request a quote for our services. Our dedicated team will work closely with your e-commerce business to develop a customized inventory control solution that meets your unique needs."
}
}
] }
</script>