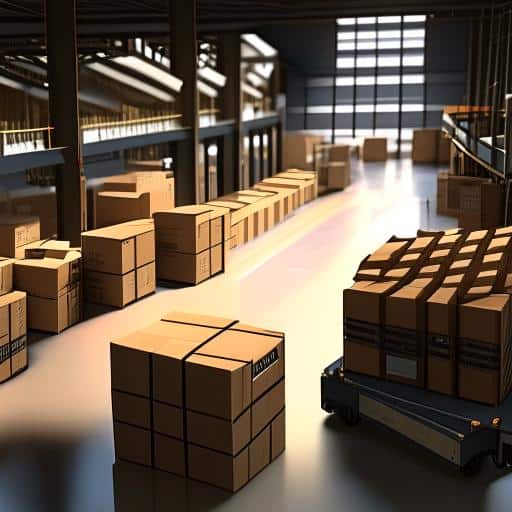 Unlock Amazon Shipping Secrets in PA
A Comprehensive Guide to Making Amazon Shipping Easy and Efficient in Pennsylvania
Table of Contents:
Introduction
Understanding Amazon's Shipping Process for your E-commerce Business
Benefits of Partnering with a 3PL Warehouse like FBA Prep Logistics for your E-commerce Business
Services Offered by FBA Prep Logistics for Seamless Amazon Shipping in PA
Taking the Next Step: Choosing FBA Prep Logistics as your Amazon Shipping Partner in PA
1. Introduction
Welcome to the world of Amazon Shipping in PA! If you're an e-commerce business in need of proficiency and expert knowledge, this article is just for you. The significance of efficiency and understanding the Amazon shipping process is vital in today's fast-paced market, and our goal is to help you uncover the secrets you need to succeed.
We'll briefly discuss each aspect and provide a comprehensive guide to making Amazon Shipping in Pennsylvania not only easy but efficient. By the conclusion of this article, you'll be an expert on Amazon Shipping in PA, ready to take on all the challenges that come your way. Let's dive in!
Did you know that your e-commerce business can dramatically improve its profit margins and customer satisfaction by mastering the Amazon shipping process? It's true, and we are here to help you unlock all the secrets to providing a seamless experience for your customers. The journey starts with understanding the ins and outs of the Amazon shipping process, and we've got the perfect resource with our Step-By-Step Guide that will walk you through each aspect.
As an e-commerce business owner who primarily sells on Amazon, maximizing efficiency and ensuring expert knowledge is a top priority. Exploring the benefits of partnering with a 3PL warehouse like FBA Prep Logistics in Bristol, PA, could be a game-changer for your business operations.
Stay tuned for the upcoming sections on understanding Amazon's shipping process, the benefits of partnering with a 3PL like FBA Prep Logistics, and how we can help elevate your e-commerce business to new heights with our cutting-edge services tailored specifically for Amazon sellers.
Remember, knowledge is power. Let's unlock the secrets to Amazon Shipping in PA together!
Section 2: Understanding Amazon's Shipping Process for your E-commerce Business
A crucial aspect of growing your e-commerce business is having a firm grasp on the Amazon shipping process. To stay competitive in the vast online market, mastering the shipping side of your business is a must. It can largely impact customer satisfaction and, eventually, enhance your rankings on Amazon Marketplace. In this section, we'll break down Amazon Shipping PA and help you understand the process so that your business can thrive.
2.1. Prepping and Labeling
Before you ship your items to Amazon Fulfillment Centers, it's essential to ensure that your products are adequately prepped and labeled, in compliance with Amazon's requirements. The five main steps involved in this process are:
Inspection: Thoroughly inspect your items for any damage or defects. Damaged products can lead to lower customer satisfaction and returns, negatively affecting your seller ratings.

Preparation: Prepare your items according to their specific category and condition guidelines to avoid delays or additional fees from Amazon. Items must be packaged securely to reach their destination in good condition. For instance, fragile items must have ample cushioning for protection.

Labeling: Barcodes and product labels have to be affixed to each individual product. Make sure you label the items clearly and follow Amazon's guidelines and requirements for labeling. It's critical to double-check the accuracy of product labels since incorrect or missing barcodes could cause your products to be misrepresented.
Bundling: If your items are sold in sets or bundles, ensure that they are packaged and labeled properly to avoid confusion during the shipping process.

Boxing: Securely box your items to comply with Amazon's box requirements. Keep in mind the weight limits of specific boxes and avoid overloading, as it might lead to damages and additional fees.
2.2. Creating Shipments
Once your products are prepped, labeled, and ready to go, the next step is creating shipments in Amazon Shipping PA. Follow these essential steps to ensure a seamless process:
Select Shipping Plan: Choose a suitable shipping plan within the Amazon Seller Central platform based on the items you wish to ship and their final destination(s).

Enter Destination: Determine the destination fulfillment center(s) for your products, as assigned by Amazon. This is vital because sending your items to the wrong fulfillment center could lead to additional fees.

Choose Shipping Carrier: Select a shipping carrier that complies with Amazon's partnered carrier program. This will help you take advantage of discounted shipping rates.
Input Shipment Details: Provide accurate shipment details such as weights, dimensions, and the number of boxes in your shipment. Also, don't forget to provide the estimated shipping date.

Calculate and Pay For shipping costs: Assess and pay for the shipping costs according to the selected shipping method.
2.3. Shipping Products To Amazon
Finally, it's time to ship your items to Amazon's fulfillment center(s). Follow the steps provided by your chosen carrier to ensure a smooth process. Some tips to consider here are:
Packing List: Double-check your packing list to ensure that all items are accounted for before shipping.

Carrier Pick-up: Schedule a pick-up with your selected carrier, if available, to avoid delays and ensure a prompt delivery.

Track Shipment: Regularly track your shipment and monitor its progress until it reaches the Amazon fulfillment center. This will help in identifying any possible issues early on and allow for timely resolutions.
Monitor Amazon Updates: Keep an eye on your Amazon Seller Central account to stay informed about the arrival and processing of your shipment.
Understanding the Amazon Shipping PA process is vital in ensuring customer satisfaction and compliance with Amazon's guidelines. By mastering this aspect, you'll position your e-commerce business for long-term success and growth. Now that you have a better understanding of the shipping process, let's move on to the benefits of partnering with a 3PL warehouse like FBA Prep Logistics to enhance your e-commerce journey.
3. Benefits of Partnering with a 3PL Warehouse like FBA Prep Logistics for your E-commerce Business
As an e-commerce business owner, especially one utilizing Amazon's platform, you should never underestimate the impact of a seamless supply chain management solution on your online store's growth. To achieve that level of efficiency, partnering with a 3PL warehouse like FBA Prep Logistics greatly elevates your business potential. Here are some key benefits of collaborating with FBA Prep Logistics for Amazon Shipping in PA.
3.1 Convenience
Your e-commerce business needs to run flawlessly, and that becomes possible with the expertise of FBA Prep Logistics. We take care of all the critical steps in the shipping process, such as product inspection, packaging, labeling, and Amazon Shipping PA. By outsourcing these time-consuming tasks to us, you can focus on managing and expanding your online store, strengthening supplier relationships, and optimizing your marketing strategies.
3.2 Time-saving
In a highly competitive e-commerce landscape, time is of the essence. By partnering with FBA Prep Logistics, you leverage our expertise and dedicated workforce who understand the intricate dynamics of Amazon Shipping PA. This partnership allows you to maximize efficiency in your supply chain, streamlining processes, increasing shipping speed, and ultimately benefitting with happier customers and better reviews.
3.3 Cost-effectiveness
Outsourcing Amazon Shipping PA tasks to a 3PL warehouse like FBA Prep Logistics comes with the added benefit of cost reduction. With our specialized personnel and logistical infrastructure, you no longer need to invest in additional resources and labor for managing the shipping process in-house. Also, as your business scales, we adapt to the increased demands, seamlessly handling larger order volumes without any unexpected or unreasonable cost hikes.
3.4 Increased Sales and Customer Satisfaction
At FBA Prep Logistics, we understand the importance of delivering shipments on time to your customers. Meeting and exceeding your customer's expectations directly correlates to increased sales and positive reviews. Our efficient and reliable Amazon Shipping PA services ensure that your products reach their destinations according to the expected timeline, thus boosting customer satisfaction and driving more sales for your online store.
3.5 Compliance and Support
Amazon has stringent seller guidelines, and non-compliance can result in penalties, delayed shipments, and account suspension. FBA Prep Logistics makes sure that your products and shipments adhere to Amazon's guidelines. Our skilled team of experts closely monitors the process, updating you with any changes in the guidelines, and handling issues before they escalate. This level of support enables you to focus on growing your business while we ensure compliance with the platform's requirements.
3.6 Scalability
As your business grows and witnesses fluctuations in product demands, a 3PL warehouse like FBA Prep Logistics provides your business with the flexibility to adapt. We accommodate varying order volumes and adjust flexibly, especially during peak seasons or sales events, ensuring that your business continues running smoothly without disruptions.
Services Offered by FBA Prep Logistics for Seamless Amazon Shipping in PA
FBA Prep Logistics, a top-notch 3PL warehouse provider in Bristol PA, is your go-to partner for streamlined and hassle-free Amazon shipping. We understand that e-commerce businesses like yours need reliable support to ensure efficiency and profitability. That's why we offer a wide range of services tailor-made to cater to Amazon sellers' specific needs. This part of the guide will discuss the various services provided by FBA Prep Logistics, which you can leverage for smooth Amazon shipping in your PA-based e-commerce enterprise.
Product Inspection and Quality Control
When it comes to Amazon shipping, maintaining quality control is crucial for your customer's satisfaction and overall business reputation. FBA Prep Logistics offers meticulous product inspection services that ensure your products are in top-notch condition before being shipped to Amazon warehouses. Our keen-eyed experts ensure that:
Your products meet Amazon's standards.
Damaged and defective items are detected and removed.
Necessary corrective actions to fix issues are taken, saving you precious time and resources.
By providing thorough quality control, FBA Prep Logistics helps prevent costly returns, preserves your brand image, and paves the way for positive customer reviews.
Repackaging and Bundle Packaging
Need your products repackaged or bundled? FBA Prep Logistics has got you covered! Our team has extensive experience handling a wide variety of packaging requirements, adhering to Amazon's guidelines. Our repackaging services include:
Product repackaging to Amazon's FBA requirements.
Bundle and multi-pack creation to help maximize sales and value.
Proper packaging materials that protect your products during shipping.
With FBA Prep Logistics, you can ensure your packages meet Amazon Shipping PA requirements and reach your customers in prime condition.
Labeling and Barcoding
Correct labeling and barcoding are essential for inventory management, error-free shipments, and compliance with Amazon's FBA labeling requirements. Our labeling and barcoding services offer:
Accurate and clear labeling of your products with barcodes and ASINs.
Proper placement of labels in accordance with Amazon guidelines to avoid shipment issues.
Assistance in generating UPCs or EANs if needed.
With our foolproof labeling and barcoding services, FBA Prep Logistics eliminates the risk of costly Amazon FBA penalties and off-target shipments, allowing you to track your inventory seamlessly.
Preparing and Palletizing Shipments
Proper shipment preparation and palletization are integral parts of the Amazon Shipping PA process. Our skilled team at FBA Prep Logistics expertly consolidates and prepares your items for shipment, ensuring:
Correct products are picked, packed, and palletized as per Amazon's requirements.
Efficient warehouse space utilization, which reduces overall shipping costs.
Clear communication with Amazon's shipping partners to avoid any shipping delays.
By professionally managing shipment preparation and palletizing, FBA Prep Logistics guarantees smooth and cost-efficient shipment of your goods to Amazon's fulfillment centers.
Shipment Consultation and Planning
With the intricacies of the Amazon Shipping PA process in mind, FBA Prep Logistics provides comprehensive shipping consultation and planning services. Our experienced team helps you navigate Amazon's fulfillment network by:
Assisting with the selection of the most cost-effective shipping options.
Offering guidance on inventory forecasting and demand planning.
Navigating through changes in Amazon's policies and shipping procedures.
By partnering with FBA Prep Logistics, you'll have continuous support throughout your Amazon shipping journey in PA, ensuring you make informed decisions that drive your business forward.
Comprehensive Reports and Analytics
Monitoring your supply chain performance is vital for continuous improvement. FBA Prep Logistics provides you with detailed reports and analytics, enabling you to:
Track your inventory movement and identify patterns.
Make data-driven decisions for faster and more efficient shipping methods.
Measure the effectiveness of your supply chain strategies and adjust as needed.
Armed with insightful analytics provided by FBA Prep Logistics, you'll have a better understanding of your supply chain, empowering you to optimize your Amazon Shipping PA strategy.
To further enhance your e-commerce business, FBA Prep Logistics also provides additional services that can help streamline other aspects of your operation. For more information on these services, check our helpful guides like Master Your Order Fulfillment Process in NJ: A Step-by-Step Guide or Discover the Secret to a Faster and More Efficient Supply Chain.
In a nutshell, FBA Prep Logistics is your one-stop solution for all Amazon Shipping PA needs. By availing our professional and reliable services, you can rest assured knowing your business is in good hands. With our expertise in handling all aspects of Amazon shipping, you can focus on growing your e-commerce business while we take care of the rest.
Taking the Next Step: Choosing FBA Prep Logistics as your Amazon Shipping Partner in PA
Congratulations! You've successfully decided to simplify your e-commerce business in Pennsylvania by partnering with a 3PL warehouse for your Amazon shipments. Don't worry, you're not alone; many Amazon sellers like you have turned to FBA Prep Logistics to streamline their operations and boost their bottom line. So, why FBA Prep Logistics? Let's dive into the specific reasons and benefits of choosing us as your go-to Amazon Shipping partner in PA.
5.1: Simplifying Complex Shipping Processes
Navigating the intricacies of Amazon's shipping policies, processes, and regulations can be a daunting task for any e-commerce business owner. However, with FBA Prep Logistics, everything becomes a breeze. Our wealth of experience in dealing with Amazon Shipping in PA ensures that you don't have to worry about troublesome shipping intricacies again. We take charge of the details like product inspection, repackaging, labeling, and shipment planning so you can focus on what truly matters: growing your business.
5.2: Compliance with Amazon's Requirements
Complying with the specific requirements and guidelines set by Amazon is crucial to avoid any surprise fees, penalties, or shipment delays. With FBA Prep Logistics as your trusted partner, you need not fret about such issues. Our extensive knowledge of Amazon's rules and regulations ensures adherence to their strict standards. Consequently, we minimize the risk of any shipping-related issues that could negatively impact your e-commerce business.
5.3: Expertise Tailored to Amazon Sellers
Shipping and logistics can be a complex endeavor for new and experienced sellers alike. Leveraging the industry expertise and experienced team at FBA Prep Logistics allows you and your business to excel in the competitive Amazon marketplace. Our specialized services cater specifically to Amazon sellers, ensuring that your shipments are managed with the utmost care, efficiency, and professionalism.
5.4: Comprehensive Support for Your E-commerce Business
At FBA Prep Logistics, we believe in providing comprehensive support beyond just shipping and logistics. As your Amazon Shipping partner in PA, we offer a range of value-added services that help your e-commerce business thrive. Whether you need assistance with inventory management, supply chain optimization, or even reverse logistics, we're here to help. Our team is dedicated to ensuring your success in the fast-paced world of e-commerce.
5.5: Join the Growing Community of Satisfied Amazon Sellers
Partnering with FBA Prep Logistics means you're joining an ever-growing group of satisfied Amazon sellers who have entrusted their crucial shipping and logistics needs to us. Our commitment to delivering top-notch services is symbolized by the positive feedback from our clients. Don't just take our word for it, discover how we've made a difference in the lives of e-commerce business owners in PA and beyond.
5.6: Unleashing Your E-commerce Business's Full Potential
The decision to partner with FBA Prep Logistics for your Amazon Shipping in PA is a monumental step in unleashing your e-commerce business's full potential. By relieving you of the tedious shipping and logistics processes, we allow you to focus on developing new strategies, marketing efforts, and product offerings that can lead to even greater success in the Amazon marketplace.
There you have it – FBA Prep Logistics is the ultimate Amazon Shipping partner you need in PA to streamline your operations, accelerate growth, and optimize your e-commerce business. Don't wait any longer, reach out to us today to discover firsthand how we can support your success in the world of Amazon selling.
Frequently Asked Questions (FAQs)
1. How does FBA Prep Logistics help my e-commerce business with Amazon shipping?

FBA Prep Logistics streamlines the entire shipping process, offering services like product inspection, repackaging, labeling, and shipment planning. By partnering with us, you'll save time, cut costs, and ensure compliance with Amazon's shipping requirements, ultimately boosting sales and customer satisfaction.

2. What services does FBA Prep Logistics provide for Amazon sellers?

Our comprehensive suite of services includes product inspection, repackaging, labeling, and shipment planning. We tailor our offerings to cater specifically to Amazon sellers' needs, ensuring a seamless Amazon shipping experience in PA.

3. How can partnering with FBA Prep Logistics improve my e-commerce business's efficiency?

By taking on the complex tasks associated with Amazon shipping, FBA Prep Logistics allows you to focus on other aspects of growing your business, such as product development, marketing initiatives, and customer support. This frees up valuable time, enabling you to pursue new opportunities and scale your operations effectively.

4. Why should I choose FBA Prep Logistics over other 3PL warehouses?

With our extensive expertise in Amazon shipping and thorough understanding of their requirements, FBA Prep Logistics stands out from other 3PL warehouses. Our tailored services, focus on customer satisfaction, and commitment to helping your e-commerce business grow make us the ideal partner for all your Amazon shipping needs.

5. How do I get started with FBA Prep Logistics for my Amazon shipping in PA?

Simply reach out to our expert team, and we'll discuss your specific needs in detail. We'll then tailor a comprehensive program to address those needs, ensuring smooth and efficient Amazon shipping in PA. Don't hesitate to contact us today!
This FAQ sample includes both the HTML format for placing the FAQ section's content on your webpage, as well as the JSON-LD format to be used within the head of the HTML document. This example demonstrates how to structure and format FAQs within your content, using headings and subheadings where appropriate and complying with SEO best practices.