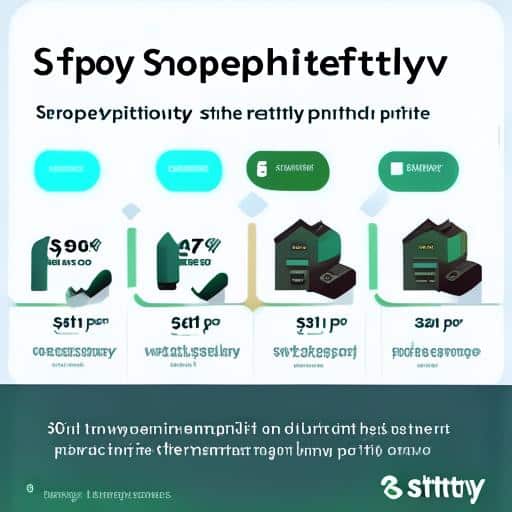 Optimize Shopify Inventory with Top-Rated Services in PA
1. Introduction: The Importance of Shopify Inventory Optimization
As an e-commerce business owner using the Shopify platform, you know that maintaining a streamlined and efficient inventory process is vital to maximizing productivity and increasing sales. The world of e-commerce is ever-evolving, and staying ahead of your competitors requires not only an excellent product lineup but also a highly optimized supply chain to ensure your products reach their customers quickly and efficiently. That's where the importance of Shopify Inventory Optimization comes in.
But how can you optimize your inventory without getting lost in the complex world of supply chain management? Well, that's where we, at FBA Prep Logistics, step in. Our top-rated services in Bristol, PA, cover everything you need to succeed in the vital aspect of e-commerce that is inventory optimization.
In this article, we will guide you through the essential aspects of optimizing your Shopify inventory with the help of FBA Prep Logistics. By the end of it, you'll have a better understanding of why effective inventory management is crucial to your business and how our top-rated services can help you achieve those often-elusive e-commerce goals.
A. The Connection Between Optimized Inventory and Increased Sales
Optimizing your inventory directly translates to increased sales by ensuring that your products are in stock and available for customers to purchase. When your inventory is optimized, you can also prevent the dreaded stockouts and overstocking scenarios that could negatively impact your business's bottom line.
B. Making Data-Driven Decisions for Superior Management
An optimized inventory enables you to make data-driven decisions based on real-time analytics and insights. Accessing accurate data helps you streamline your purchasing process and identify fast-moving products and seasonal trends. This knowledge gives you an edge over your competitors, allowing you to make timely decisions that keep your e-commerce store stocked with products your customers want.
C. Reducing Costs and Enhancing Customer Satisfaction
Shopify Inventory Optimization goes beyond improving sales; it also positively impacts your cost management and ultimately enhances customer satisfaction. By optimizing your inventory, you can minimize warehousing costs, avoid costly expedited shipping fees, and reduce the risks associated with returned products. Moreover, having the right products in stock and ensuring timely delivery will lead to satisfied, repeat customers.
Now that you understand why inventory optimization is vital for your e-commerce business let's introduce you to the top-rated services offered by FBA Prep Logistics and how they can help you tackle this essential aspect of business management.
An Overview of FBA Prep Logistics
FBA Prep Logistics is a top-rated third-party logistics (3PL) warehouse provider, located right in the heart of Bristol, PA. Our prime focus is on simplifying the logistics process for e-commerce businesses using Shopify, providing a comprehensive suite of services for the seamless management of your inventory. So, why partner with us to optimize your Shopify inventory? Below, we've broken down the top reasons you should trust FBA Prep Logistics as your go-to 3PL warehouse provider.
2.1. Years of Experience and a Dedicated Team
We've got years of experience when it comes to e-commerce logistics, especially in dealing with inventory optimization for Shopify store owners. Our team consists of highly skilled and experienced professionals who understand the complexities and nuances of inventory management in the e-commerce space. We're committed to providing the best solutions customized to your unique business needs. After all, your Shopify inventory optimization is our top priority.
2.2. State-of-the-Art Warehouse Facilities
Our modern warehouse facilities in Bristol, PA are strategically located to ensure lightning-fast shipping to your customers. We're constantly upgrading our warehouse systems and smart technologies to make Shopify inventory management more efficient and cost-effective, giving you the competitive advantage over other businesses in the e-commerce marketplace.
2.3. Comprehensive Services Tailored to Your Needs
From streamlining your order fulfillment process to maintaining high levels of accuracy when it comes to picking, packing, and shipping, FBA Prep Logistics has got your back. We offer a complete range of customizable logistics services, so you can rely on us to take care of everything from storage solutions to transit and delivery.
2.4. Real-Time Inventory Management and Analytics
We understand that data is crucial when it comes to managing your inventory effectively. That's why FBA Prep Logistics offers real-time inventory management and analytics. With the help of our advanced tools, you'll benefit from fast and efficient supply chain management, helping you to minimize the risk of stockouts and overstocking.
2.5. Flexible Pricing Plans
As a Shopify store owner, you want the best value when it comes to logistics services. At FBA Prep Logistics, we offer flexible and competitive pricing plans that suit your business needs, no matter how big or small your operation may be. Our transparent pricing structure makes it easy for you to estimate costs and make informed decisions in regards to your Shopify inventory optimization.
2.6. Scalability for Your Growing Business
Growing your e-commerce business means a continuous increase in the volume of orders and inventory that needs managing. FBA Prep Logistics has the capacity and scalability to handle your increasing shipments as you expand your Shopify store, giving you the peace of mind that, as your business grows, your logistics infrastructure will adapt accordingly.
In summary, FBA Prep Logistics is the go-to warehouse for your Shopify inventory optimization needs. Our industry expertise, dedicated team, state-of-the-art warehouse facilities, comprehensive services, real-time inventory management, flexible pricing, and scalability make us the optimal choice for any e-commerce business owner. Partner with us, and watch your Shopify store soar to new heights!
Streamlined Warehousing and Order Fulfillment for Your Shopify Store
Optimizing your Shopify inventory is crucial for your online store's growth and success. FBA Prep Logistics, a top-rated 3PL warehouse in Bristol, PA, offers streamlined warehousing and order fulfillment that saves you time and money, enhancing your e-commerce business's performance. Shop owners who partner with FBA Prep Logistics benefit from the following services:
3.1 Focused on E-commerce
With deep expertise in serving e-commerce businesses, FBA Prep Logistics has fine-tuned its warehousing and order fulfillment systems specifically for the Shopify platform. This enables your online store to maintain a competitive edge by always keeping inventory up-to-date and orders efficiently processed.
3.2 Advanced Order Fulfillment Systems
Partnering with FBA Prep Logistics means your business will utilize state-of-the-art order fulfillment systems. This allows for the automation of crucial elements such as order receiving, processing, packaging, and shipping. They'll handle everything from Effortless Packing to Getting Your Products Delivered Fast so you can focus on growing your business.
3.3 Customized Warehousing Solutions
FBA Prep Logistics understands that every Shopify store is unique, and tailored approaches are necessary to ensure success. By collaborating with you to create customized warehousing solutions, they can cater to your specific inventory optimization needs, such as Cross-Docking Best Practices or Shopify Distribution in PA.
3.4 Fast and Accurate Order Turnaround
FBA Prep Logistics values punctuality and precision, ensuring fast and accurate order turnaround times. This means your customers receive their orders on time, positioning your business as reliable and trustworthy in the e-commerce space.
3.5 Pick and Pack Services
Utilizing FBA Prep Logistics' pick and pack services, your online store will enjoy a seamless order fulfillment process. With skilled staff members who prioritize accuracy, you can rely on these services to reduce the risk of fulfillment errors, leading to increased customer satisfaction.
3.6 Returns Management
Mastering e-commerce returns is integral to the success of your Shopify store. FBA Prep Logistics offers comprehensive returns management solutions that help maintain a seamless returns process, which ultimately enhances the Shopping Experience.
3.7 Real-Time Stock Updates
Reducing stock discrepancies is vital for your Shopify store's inventory management workflow. FBA Prep Logistics streamlines this process by providing real-time stock updates, ensuring your business has accurate and up-to-date information on product availability.
3.8 Integrated Shipping Services
FBA Prep Logistics offers hassle-free Freight Management for your Shopify store through its integrated shipping services. By working closely with top carriers, they provide cost-effective shipping options and efficient Freight Shipping on the East Coast.
3.9 Scalability to Match Your Growth
As your Shopify store grows, FBA Prep Logistics will be there to support you every step of the way. Their adaptable warehousing and order fulfillment solutions are designed to scale effortlessly with your business, ensuring your supply chain remains efficient and robust in the face of growth.
3.10 Commitment to Excellence
Your Shopify store deserves the best, and FBA Prep Logistics is committed to delivering top-notch services across the board. Their commitment to excellence means your online store will enjoy reliable, highly-effective warehousing and order fulfillment solutions that optimize your Shopify inventory.
By partnering with FBA Prep Logistics, your Shopify store will see measurable improvements in its inventory optimization efforts. Enhance your e-commerce brand's productivity, efficiency, and customer satisfaction with the streamlined warehousing and order fulfillment services offered by FBA Prep Logistics — the ultimate solution for any Shopify store.
4. Advanced Inventory Management and Real-Time Analytics
FBA Prep Logistics takes pride in offering top-notch services that go beyond traditional warehousing and order fulfillment. One of the standout features we provide to Shopify store owners is our advanced inventory management system, combined with real-time analytics. This powerful combination enables us to help our clients stay ahead of the curve by making well-informed decisions at every step of their supply chain.
4.1. Advanced Inventory Management System
Our state-of-the-art inventory management system is tailored to the unique needs of every Shopify store. We prioritize delivering a seamless experience to our customers, and that starts with a smooth and efficient inventory management process. Some of the benefits our advanced inventory management system offers include:
Automated tracking – Our system automates the tracking of every item in your inventory from the moment it enters our warehouse until it reaches your customer's doorstep.

Reduced human errors – By automating the inventory management process, we reduce the chances of human error that may lead to miscalculations and incorrect stock levels.

Efficient restocking – Our system will monitor stock levels and even notify you when it's time to restock, ensuring that your Shopify store never runs out of product.
Custom reporting – Receive up-to-date and in-depth reports about your inventory levels, allowing you to make data-driven decisions that can boost the efficiency of your supply chain.

Integration with Shopify – Our advanced system integrates seamlessly with your Shopify store, providing a harmonious and smooth e-commerce experience.
4.2. Real-Time Analytics: Stay Ahead of the Competition
In the fast-paced world of e-commerce, having real-time information at your fingertips is crucial. FBA Prep Logistics recognizes the significance and provides real-time analytics to help you stay ahead of the game. Here's how our real-time analytics can benefit your Shopify store:
Identify trends – Spot sales trends that impact your inventory levels, helping to make better decisions about which products to prioritize, stock levels, and promotional strategies.

Forecast demand – Use historical sales and inventory data to forecast future demand and stay one step ahead of customer needs.

Monitor product performance – Track the performance of each product in your Shopify store in real-time, allowing you to make adjustments in pricing and marketing efforts.
Optimal inventory levels – By analyzing real-time data on inventory and sales, we can help you maintain optimal inventory levels, reducing the risk of stockouts or excess inventory.

Data visualization – Our analytics tool presents data in an easy-to-understand visual format, making it simple for you to identify trends, challenges, and opportunities.
Learn everything you need to know about Freight Management for Shopify in the East Coast
4.3. Stay Agile and Efficient: The FBA Prep Logistics Advantage
E-commerce businesses need to be agile and quick to respond to changes in market trends, customer preferences, and competition. Our advanced inventory management and real-time analytics empower Shopify store owners to make informed decisions based on data, allowing for swift and strategic responses. What sets FBA Prep Logistics apart from other 3PL providers is our ability to adapt to the unique requirements of Shopify businesses, providing unmatched support in managing inventory effectively.
By partnering with FBA Prep Logistics, your Shopify store can enjoy the benefits of a well-optimized inventory setup, reducing costs, and making smarter business decisions. Discover how our advanced inventory management system and real-time analytics can propel your Shopify Inventory Optimization efforts, setting you on the path to e-commerce success.
Stay ahead in the competitive e-commerce landscape and take full advantage of our Shopify Inventory Optimization services at FBA Prep Logistics. With our advanced inventory management and real-time analytics, you can focus on growing your business while we handle the back-end work. Are you ready to optimize your supply chain? Get started with FBA Prep Logistics today.
Satisfied Customers with 24/7 Support
Top-notch Customer Service You Can Count On
At FBA Prep Logistics, we take pride in our unwavering commitment to customer satisfaction. We understand that e-commerce businesses – especially new ones – may face various challenges when navigating the world of supply chain management. Our dedicated team is here to support you every step of the way as your partner in Shopify inventory optimization.
A Reliable Partner Who Understands Your Business
Our specialists have hands-on experience in handling the unique needs of e-commerce businesses, particularly those selling on Amazon.com. This in-depth understanding allows us to provide tailor-made solutions that effectively address your specific requirements and concerns. As a result, you can rest assured that you're in good hands with a trusted partner that genuinely cares about your success.
Stay Connected Around-the-Clock
Be it day or night, you can count on seamless communication with our team of experts. We offer 24/7 customer support to promptly address any questions, concerns, or issues that may arise, ensuring smooth business operations. Our commitment to being always available when you need us is what makes FBA Prep Logistics stand out as a top-rated 3PL warehouse provider in PA.
Proactive Issue Resolution
When it comes to supply chain management, proactive problem-solving can make all the difference in the world. We continuously monitor your Shopify inventory, actively identifying potential snags and bottlenecks before they escalate into major issues. Our proactive approach saves you time and money by avoiding disruptions and keeping your entire process running smoothly.
Keeping You Informed
With FBA Prep Logistics, you'll never be left in the dark regarding your inventory. Our user-friendly online portal provides real-time updates on your stock levels, order status, and more. This crucial information is available at your fingertips, empowering you to make informed decisions regarding your Shopify store's operations.
Adapting to Your Changing Needs
Our team of experts is skilled at adjusting and adapting to the ever-changing world of e-commerce. As your business grows and evolves, we'll work alongside you to ensure that your Shopify inventory optimization continues to meet your needs. This dedication to flexibility and adaptability is essential in maintaining the efficiency and cost-effectiveness of your supply chain.
Customer Testimonials Speak for Themselves
We have built a strong reputation among our clients as the go-to provider for Shopify inventory optimization. Browse through our testimonials and case studies to see how we've helped e-commerce businesses – just like yours – stay ahead of the competition while maximizing their productivity and sales.
The Secret to Success Lies in Satisfaction
In short, partnering with FBA Prep Logistics means benefiting from a top-rated 3PL warehouse provider in PA, dedicated to customer satisfaction through reliable, high-quality service and round-the-clock support. Our ultimate goal is to make the supply chain management process as smooth and efficient as possible, enabling you to focus on expanding your business, attracting new customers, and increasing your profits.
Remember, your Shopify inventory optimization is crucial in maintaining and growing a successful e-commerce business. By choosing FBA Prep Logistics as your trusted partner, you'll experience unparalleled support and seamless collaboration to ensure the smooth operation of your store – and ultimately, your satisfaction.
With our broad range of expertise and commitment to excellence, we make it easy for you to optimize your Shopify inventory management. So, why wait? Get in touch with us today, and let's start working together to build a brighter future for your e-commerce business!
FAQs about FBA Prep Logistics and Shopify Inventory Optimization
1. Why is inventory optimization important for my Shopify store?

Inventory optimization plays a crucial role in maximizing productivity and increasing sales for e-commerce businesses. By efficiently managing your inventory and avoiding stockouts or excess inventory, you can ensure smooth operations and a better shopping experience for your customers.

2. What services does FBA Prep Logistics provide to optimize my Shopify inventory?

FBA Prep Logistics offers a comprehensive range of services, including streamlined warehousing and order fulfillment, advanced inventory management with real-time analytics, and 24/7 customer support to help e-commerce businesses run smoothly and efficiently.

3. How can FBA Prep Logistics help simplify my order fulfillment process?

With their state-of-the-art facilities and skilled staff, FBA Prep Logistics can handle all aspects of your order fulfillment process, from receiving inventory and packing orders to shipping products directly to your customers. This allows e-commerce owners to focus on growing their business without worrying about supply chain management.

4. What advanced inventory management features does FBA Prep Logistics offer?

FBA Prep Logistics uses advanced software to provide real-time analytics, trend identification, and demand forecasting for your Shopify inventory. These features help e-commerce businesses maintain an agile and efficient supply chain, making it easier to plan and avoid stock issues.

5. How does FBA Prep Logistics ensure customer satisfaction?

Customer satisfaction is at the core of FBA Prep Logistics' values. They provide reliable, high-quality services and round-the-clock support to ensure smooth operations for your e-commerce business. Their commitment to excellence helps you maintain customer loyalty and grow your business.