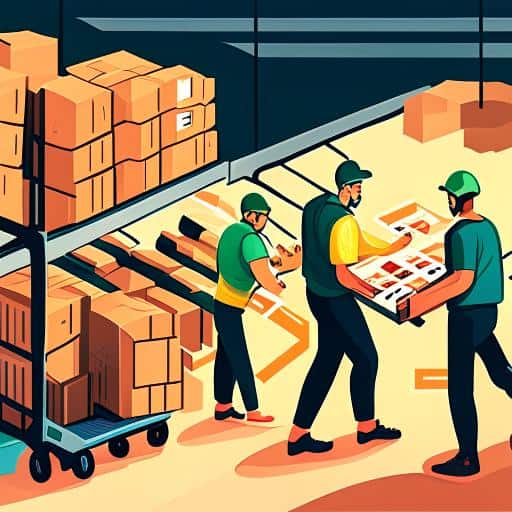 Introduction to Inventory Management and Shopify
Welcome, online entrepreneurs! If you're here looking for ways to master Inventory Management for E-commerce, then you are in the right place. As an e-commerce business owner, one of the critical factors that determine your success is how well you manage your inventory. Your journey will involve many challenges and rewards, and at FBA Prep Logistics, we're here to help you resolve some of those difficulties.
But first, let's talk about why inventory management matters for a Shopify store owner.
Inventory management is the backbone of any successful e-commerce business. With effective inventory management in place, you can keep track of your stock, avoid overselling, and always have the right stock levels for optimal sales performance. As a Shopify store owner, you're undoubtedly busy juggling multiple tasks at once, from marketing your products to servicing customers. That's where FBA Prep Logistics comes in – we're here to help streamline your inventory management process, allowing you to focus on what you do best: growing your business.
Understanding the Connection Between Inventory Management and Shopify
Shopify is a popular e-commerce platform that allows individuals and businesses to create online stores, offering customizable templates, seamless payment gateways, and a suite of marketing tools. As a Shopify user, you'll find managing your inventory an incredibly important part of maintaining a user-friendly storefront and keeping customers happy. Succeeding in this endeavor means getting a grip on your inventory management, and that's where we can help.
As a 3PL warehouse located in Bristol PA, FBA Prep Logistics specializes in providing comprehensive e-commerce fulfillment services, including storage, picking, packing, and shipping. Partnering with us will not only help you maintain your online inventory effectively, but also ensure your customers receive their orders promptly and accurately.
FBA Prep Logistics: A Trusted Partner for Your E-commerce Journey
At FBA Prep Logistics, our priority is ensuring the success of our clients. Our team of professionals is committed to helping your Shopify store excel by offering seamless integration with your platform, top-notch customer service, and cutting-edge inventory management techniques. Here's a glimpse of what you can expect when you partner with FBA Prep Logistics:
Comprehensive inventory management solutions tailored for Shopify users
Seamless integration with your Shopify store for real-time stock updates
Experts in handling the entire fulfillment process, including picking, packing, and shipping
Access to sophisticated, state-of-the-art technology for efficient inventory management
Exceptional customer service to help you grow your business and resolve any issues
To sum it up, managing inventory for your Shopify store is crucial to the overall success of your e-commerce business. With FBA Prep Logistics by your side, you can be confident that your store is running on a robust and dependable system, ensuring customer satisfaction and smooth business operations. Read on as we delve deeper into the importance of accurate inventory tracking for e-commerce stores and how FBA Prep Logistics can elevate your inventory management experience on the Shopify platform.
Importance of Accurate Inventory Tracking for E-commerce Stores
Running an e-commerce store requires an entrepreneur or business owner to juggle many tasks simultaneously. One key aspect that plays a pivotal role in a store's success is efficient inventory management. In this section, we will delve into the challenges e-commerce businesses face when it comes to maintaining accurate inventory records and how our services at FBA Prep Logistics can help you in this regard. By the end of this section, you will have a clear understanding of why accurate inventory tracking is essential and how our 3PL warehouse services can help you avoid stockouts, overstocking, negative customer experiences, and unnecessary operational costs.
Challenges in E-commerce Inventory Tracking
A rise in online shopping has led to increased consumer demands and changes in consumer behavior. These shifts in buying patterns have caused a need for accurate and real-time inventory management for e-commerce stores. However, several challenges come into play when you try to manage your inventory efficiently, such as:
Manual errors: Maintaining an inventory through a manual process is not only time-consuming, but it also increases the chances of human error. Incorrect data entry can have detrimental effects on inventory levels and order fulfillment.

Multi-channel sales: E-commerce businesses that sell products through multiple sales platforms may struggle to keep an accurate record of inventory levels across different channels. An improper tracking system can lead to stockouts on one platform, while the other platform might still have products in stock.

Seasonal fluctuations: Seasonal changes in demand can be challenging to forecast and manage. If a business is unable to track inventory levels effectively, it can face stockouts or overstocking during periods of high or low demand.
Scalability: As an e-commerce business grows, managing inventory can become increasingly complex. Accurate inventory tracking becomes crucial in ensuring that the growth of the business is not hampered due to inefficient inventory management.
Benefits of Accurate Inventory Tracking with FBA Prep Logistics
Partnering with FBA Prep Logistics can address the aforementioned challenges and provide several advantages for your e-commerce business. Here are some key benefits of our accurate inventory tracking services:
Streamlined order management: Our integrated inventory management for e-commerce businesses using Shopify helps you easily track your inventory levels. This integration ensures your stocks are updated in real-time, enabling a smooth order management process.

Reduced stockouts and overstocking: With precise inventory tracking offered by FBA Prep Logistics, you can avoid the risks associated with stockouts and overstocking. Our efficient inventory management system helps maintain optimal stock levels, ensuring that you neither lose valuable customers due to stockouts nor incur carrying costs for holding excessive inventory.

Improved customer experience: A well-managed inventory results in faster order processing and delivery times. Faster deliveries translate to satisfied customers, leading to increased brand loyalty, positive reviews, and repeat business.
Data-driven decision making: Inventory data can provide valuable insights for e-commerce businesses. With access to accurate inventory information, you can make better decisions related to promotions, pricing, and inventory replenishment.

Increased operational efficiency: Outsourcing your inventory management to FBA Prep Logistics allows you to focus on other aspects of growing your e-commerce business. We ensure your inventory is in check, orders are fulfilled promptly, and your customers are happy, providing you ample time to concentrate on sales, marketing, and innovation.
In conclusion, inventory management for e-commerce businesses is an essential aspect that demands attention. Understanding its importance and leveraging the services of a 3PL provider like FBA Prep Logistics can be a game-changer for Shopify store owners. By delegating your inventory management to us, you can focus on scaling and growing your business, while we ensure that your inventory is always up-to-date, preventing stockouts, overstocking, and facilitating an exceptional customer experience.
3. How FBA Prep Logistics Enhances Inventory Management for Shopify Users
As an e-commerce seller, it's crucial to have an efficient inventory management system in place – and that's where FBA Prep Logistics comes in. We offer top-notch services that cater specifically to Shopify users, streamlining inventory management like never before. In this section, we will cover the various aspects of our services that make us the go-to 3PL warehouse for e-commerce businesses:
3.1 Seamless Integration with Shopify
One of the major advantages of using FBA Prep Logistics is that our system integrates seamlessly with your Shopify platform. This integration enables automatic synchronization of order and inventory data between your Shopify store and our warehouse, making order processing and inventory management a breeze. Streamline Your Freight Shipping in the East Coast with These Quick and Easy Tips can provide you with more information on optimizing your shipping process.
3.2 Warehousing Services
We offer secure and organized warehousing services that ensure efficient storage of your products. Our modern facilities are designed to accommodate a variety of inventory types, including palletized products and individual items. We understand the importance of proper inventory organization, and our team of experts maintains a clean and orderly environment to guarantee easy access to your items when needed. Learn more about our warehousing solutions in Discover the Most Effective e-Commerce Solutions.
3.3 Picking and Packing Services
Our highly trained staff excels in picking and packing orders with remarkable accuracy and speed. Using advanced systems and processes, we ensure each order is assembled as per the information received from your Shopify store. This not only saves time but also helps maintain customer satisfaction by minimizing errors and delays in order fulfillment. For tips on ensuring a smooth packing process, check out our guide on Effortless Packing.
3.4 Shipping Services
At FBA Prep Logistics, we take pride in offering cost-effective and timely shipping solutions. We collaborate with reputable carriers to ensure your products reach their destination safely and on schedule. By handling everything from carrier label generation to shipping documentation, we take the weight off your shoulders and enable you to focus on growing your business. Take a look at Master Your Order Fulfillment Process in NJ: A Step-by-Step Guide for a comprehensive understanding of our shipping process.
3.5 Real-Time Inventory Tracking
Our inventory management system provides real-time tracking and visibility of your products. This allows you to monitor stock levels, identify trends, and make informed decisions about re-ordering products. With easy access to up-to-date information, you'll be better prepared to avoid stockouts and overstocking, ensuring efficient inventory management for your Shopify store.
3.6 Customized Reporting
One size does not fit all when it comes to inventory management – that's why FBA Prep Logistics offers customized reporting to meet your specific business needs. Our comprehensive reports provide valuable insights into various aspects of your inventory management, including sales trends, order fulfillment, and shipping performance. These insights help you optimize your operations and make data-driven decisions for the growth of your e-commerce business.
3.7 Excellent Customer Support
At FBA Prep Logistics, we're not just a 3PL provider – we're your reliable business partner, committed to supporting you every step of the way. Our dedicated team of experts is always available to assist you with any questions or concerns, ensuring that your Shopify inventory management runs smoothly and efficiently. As a result, partnering with us will give you the confidence and peace of mind to focus on what truly matters – growing your Shopify business.
In conclusion, FBA Prep Logistics is your one-stop solution for effective inventory management for e-commerce businesses, especially for Shopify users. By choosing us as your 3PL partner, you can be confident that we'll streamline your inventory management process, ensuring that your business stays ahead of the competition. Implementing our innovative inventory management techniques will not only save you time and resources but also have a positive long-term impact on the success of your Shopify store. So, why not take the first step towards e-commerce success by partnering with FBA Prep Logistics today?
Innovative Inventory Management Techniques Used by FBA Prep Logistics
At FBA Prep Logistics, we are constantly improving and innovating our inventory management techniques to ensure that our e-commerce clients always stay ahead of the competition. For Shopify store owners who partner with us, we have implemented a range of advanced solutions tailored to meet the unique needs of their businesses. In this section, we will discuss some of the innovative techniques we use to help you master your inventory and keep your operations running smoothly.
4.1 Real-Time Inventory Tracking and Visibility
By utilizing advanced inventory management software integrated with Shopify, FBA Prep Logistics provides real-time inventory tracking and visibility to our clients. This feature allows you to monitor stock levels, receive low stock alerts, and make data-driven decisions about when to reorder products. With improved visibility, you can prevent stockouts and excess inventory costs, ensuring a positive customer experience on your online store.
4.2 Automated Reordering System
Having an automated reordering system in place is essential for inventory management for e-commerce. Our team at FBA Prep Logistics incorporates an automated reorder point system to maintain optimal stock levels at all times. Based on your historical sales data, product lead times, and inventory holding costs, the system sends automatic notifications when it's time to reorder, helping you make informed purchasing decisions.
4.3 Demand Forecasting and Sales Analytics
Inventory management is all about meeting customer demand without overstocking or running out of items. To achieve this, FBA Prep Logistics leverages demand forecasting and sales analytics to predict future sales trends. By analyzing historical sales data, seasonality, and promotional events, we can accurately forecast the demand and optimal stock levels for each product in your store, ensuring you always have the right inventory levels.
4.4 Cycle Counting and Auditing
Regular inventory audits are crucial for accurate inventory management, but they can be time-consuming and costly. At FBA Prep Logistics, we utilize a technique called cycle counting to audit your inventory more efficiently. Instead of conducting a full inventory audit, we perform smaller, more frequent audits on a rotating schedule. This method allows us to detect and rectify discrepancies in your stock levels, helping you maintain accurate inventory records on your Shopify store. Learn more about how we can help you streamline your inventory practices.
4.5 Batch Tracking for Perishable Items
If you sell perishable items or products with an expiration date, proper inventory management is crucial to avoid waste and customer dissatisfaction. FBA Prep Logistics implements batch tracking for perishable items, allowing us to monitor their expiration dates and prioritize them accordingly during the picking and packing process. This technique ensures products with a shorter shelf life are shipped first, preventing waste and maintaining the quality of your products.
4.6 Kitting and Bundling Services
Kitting and bundling involve combining individual products into pre-packaged sets to sell as a single unit on your Shopify store. By offering product kits and bundles, you can boost your average order value, improve customer satisfaction, and manage your inventory more efficiently. FBA Prep Logistics provides kitting and bundling services to help you optimize your product offerings and stay one step ahead of your competitors. Discover our range of e-commerce solutions here.
4.7 Returns Management and Reverse Logistics
Efficient returns management is a crucial aspect of inventory management for e-commerce. FBA Prep Logistics handles your returns seamlessly and ensures that returned stock is inspected, refurbished if necessary, and returned to your available inventory swiftly. Our reverse logistics services minimize the time and resources spent on returns while maintaining a positive customer experience. Master your ecommerce returns for Shopify with us.
In conclusion, FBA Prep Logistics is dedicated to providing our clients with the best inventory management solutions, ensuring their Shopify stores thrive in a competitive e-commerce landscape. By implementing these innovative techniques and working closely with our clients, we are confident that you can realize significant growth and success with our services.
5. Success Stories and Testimonials from FBA Prep Logistics Clients
At FBA Prep Logistics, we take immense pride in our ability to enhance inventory management for e-commerce businesses, especially those using Shopify. In this section, we'll share some success stories and testimonials from FBA Prep Logistics clients who have successfully optimized their inventory management with our help.
5.1 Client Success Story: The Seller's Journey to Efficiency
A mid-sized e-commerce company approached FBA Prep Logistics to enhance their inventory management practices. They were struggling with stockouts, overselling, and inefficiencies in their order fulfillment process. The disparity between their Shopify inventory and actual stocks was causing them to lose customers and revenue.
After partnering with FBA Prep Logistics, they saw significant improvements in their inventory management process. Our seamless integration with their Shopify platform allowed them to have real-time visibility into their inventory levels, resulting in a 60% reduction in stockouts. Furthermore, our efficient picking, packing, and shipping process increased their on-time deliveries by 45%. The client attributes this positive change to our innovative inventory management techniques and exceptional service.
5.2 Client Testimonial: A Happy E-commerce Entrepreneur
One Shopify store owner had this to say about their experience with FBA Prep Logistics:
"I was overwhelmed with the challenges of managing my growing e-commerce business. The process of tracking inventory, packing orders, and shipping products felt like a full-time job in itself. FBA Prep Logistics understood my struggles and took on the responsibility of managing my inventory with their remarkable services. I must say, I am now able to focus on the growth and marketing aspects of my business, and my customer satisfaction ratings have never been better! FBA Prep Logistics has been a game-changer for my Shopify store."
5.3 Inspiring Success Story: The Rapid Growth of a Small E-commerce Store
A small e-commerce business turned to FBA Prep Logistics when they were trying to scale up their operations. The company was experiencing rapid growth in sales, but their in-house inventory management process could not keep up.
After consulting with FBA Prep Logistics, the e-commerce store leveraged our warehousing, picking, packing, and shipping services to streamline their fulfillment process. Our innovative inventory management techniques played a critical role in helping them stay ahead of their increasing order volumes. Their collaboration with FBA Prep Logistics not only improved the efficiency of their operations but also resulted in a notable 30% increase in sales within the first six months.
5.4 Grateful Testimonial: A Business Owner's Transformation
Another satisfied FBA Prep Logistics client had this to say about working with us:
"FBA Prep Logistics has transformed my inventory management process. They make it easy for me to keep track of my stock levels and stay in control of my e-commerce store. Thanks to their automated Shopify supply chain solutions, I have streamlined my operations and can now focus on growing my business. I highly recommend FBA Prep Logistics for anyone using Shopify as their e-commerce platform. You won't be disappointed!"
In conclusion, efficient inventory management is crucial for e-commerce businesses looking to succeed in a competitive landscape. By partnering with FBA Prep Logistics, our clients have experienced the benefits of our tailored solutions and innovative techniques, which have significantly improved their inventory management processes, customer satisfaction, and bottom line. If you're ready to take your Shopify store to the next level with efficient inventory management, consider FBA Prep Logistics as your trusted 3PL partner.
Frequently Asked Questions
Why is inventory management important for my Shopify store?

Inventory management is crucial to the success of your e-commerce store. Proper inventory management helps avoid stockouts, prevents overstocking, and ensures positive customer experiences. It also helps keep operational costs in check, contributing to the overall growth and profitability of your business.

How does FBA Prep Logistics help with my Shopify inventory management?

FBA Prep Logistics helps Shopify store owners by providing comprehensive third-party logistics (3PL) services, including warehousing, picking, packing, and shipping. We also integrate directly with your Shopify platform, allowing you to streamline your inventory management process and keep your store up-to-date with accurate stock levels.

What innovative techniques does FBA Prep Logistics use for inventory management?

At FBA Prep Logistics, we continuously invest in advanced inventory management techniques and technologies. Our focus on providing tailored solutions for each e-commerce business allows us to maintain efficient and accurate inventory management. Some of our innovations include real-time inventory updates, data-driven forecasting, and advanced order fulfillment processes.

Can FBA Prep Logistics handle my store's fulfillment if I'm not selling exclusively on Amazon?

Yes, FBA Prep Logistics is designed to cater to businesses across a wide range of e-commerce platforms, including Shopify. Whether you are selling on Amazon, Shopify, or any other platform, our 3PL services can support your fulfillment needs effectively and efficiently.

Are there any success stories from clients who have used FBA Prep Logistics for their Shopify stores?

Yes, several Shopify store owners have successfully optimized their inventory management with the help of FBA Prep Logistics' services. By partnering with us, they have experienced increased sales, improved order accuracy, and more satisfied customers. Check out our website for client testimonials and success stories.