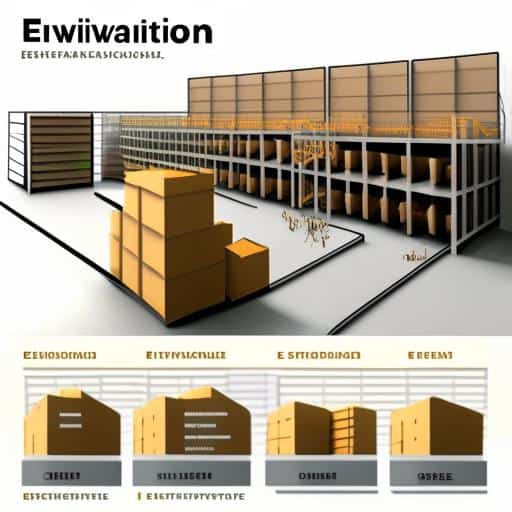 Scaling Your Business: The Best Fulfillment Solutions for Amazon Sellers on the East Coast
I. Introduction
In today's fast-paced and rapidly evolving e-commerce landscape, finding a scalable and efficient fulfillment solution has become increasingly crucial to the growth and success of Amazon sellers. No matter how innovative or high-quality your products may be, efficiently managing inventory and quickly shipping orders to customers can make or break your online business. As a result, savvy e-commerce entrepreneurs are turning to scalable fulfillment solutions to keep up with their expanding customer base and maintain a competitive edge in a highly demanding industry.
Why is scalable fulfillment so essential? Let's start by examining what happens when your order volume begins to soar. As your business flourishes and sales skyrocket, manually handling order fulfillment can become time-consuming, labor-intensive, and prone to errors. In addition, managing inventory across multiple sales channels can turn into a logistical nightmare, complete with long lead times, stockouts, and lost revenue opportunities.
That's where partnering with a reliable third-party logistics (3PL) warehouse, like FBA Prep Logistics, can make all the difference. This article will explore the importance of East Coast 3PL facilities, how FBA Prep Logistics is the perfect partner for your Amazon business, and how our services can help you grow your e-commerce empire with confidence.
Ready to embark on a journey towards hassle-free and efficient order fulfillment? Read on to discover our top fulfillment solutions designed specifically for ambitious Amazon sellers like you!
The Importance of East Coast 3PL Facilities
As an Amazon seller, it's essential to choose the right location for your fulfillment center. This is where East Coast based 3PL providers like FBA Prep Logistics come into play, offering ideal scalable fulfillment solutions for growing e-commerce businesses. In this section, we'll explore the advantages of partnering with an East Coast 3PL warehouse for your fulfillment needs.
Concentrated Customer Base
One of the primary reasons the East Coast is a strategic location for Amazon sellers is the large population density. With a high concentration of customers in the eastern part of the United States, it's crucial to have a fulfillment provider that can effectively cater to these clients. Partnering with East Coast 3PL facilities helps ensure faster delivery times and increased customer satisfaction.
Time Is Money: Faster Shipping Times
Most online shoppers expect speedy order fulfillment and delivery. Connect to your East Coast customers quickly and efficiently with a strategically-located 3PL provider. FBA Prep Logistics offers optimized shipping networks and experienced staff to navigate local logistics, ultimately reducing transit times and getting your products to your customers even faster.
Yet another perk of time-saving that East Coast 3PL providers offer is time zone alignment with customer support services. This ensures better responsiveness and synergy between your team and the 3PL provider, leading to a more streamlined communication process.
Cost-Effective Shipping Solutions
Shipping costs are a major concern for e-commerce businesses, but partnering with a 3PL company located on the East Coast can help reduce these expenses. With a well-designed logistical network and a strong focus on efficient shipping, companies like FBA Prep Logistics can offer reduced shipping rates and shared warehousing resources. Opting for an East Coast partner ensures minimized shipping costs and maximized profits.
Geographical Advantage for International Sellers
The East Coast boasts strong maritime infrastructure, with major ports such as New York, New Jersey, and Philadelphia providing access to global markets. This translates to more accessible shipping options for international sellers. Positioning your inventory closer to international ports can save you both time and money.
Scalable Solutions for Your Expanding Business
As your business continues to flourish, you'll need a 3PL partner that can adapt and grow alongside you. East Coast 3PL providers like FBA Prep Logistics offer scalable fulfillment solutions customized to the evolving needs of your company. This ensures a seamless transition as your company expands into new territories or adds new product lines.
Disaster Risk Management
Partnering with an East Coast 3PL provider adds an extra layer of risk management to your supply chain operations. Having a distribution center in a different geographical region minimizes the risk of a single disruptive event, such as extreme weather or a natural disaster halting your operations. This drastically reduces potential downtime and loss of income.
Streamlines Your Returns Process
A 3PL partner located on the East Coast can also help manage returns more efficiently. With an East Coast facility, returned products are closer to the majority of your customer base, which means faster processing times and less customs-related headaches.
In conclusion, partnering with an East Coast, 3PL facilities like FBA Prep Logistics offers an array of benefits to Amazon sellers looking for scalable fulfillment solutions. Harness the power of geographical advantage, reduced shipping costs, and custom-tailored strategies to pave the way for your e-commerce venture's success. Give your customers the speedy, efficient, and exceptional service they expect, all while maximizing your profits. Now is the perfect time to embrace the opportunities provided by an East Coast-based 3PL partner and watch your business thrive.
III. Why FBA Prep Logistics is the Perfect Partner for Your Amazon Business
As an Amazon seller looking for scalable fulfillment solutions, partnering with FBA Prep Logistics can make all the difference in your business growth. Hailing from Bristol, PA, FBA Prep Logistics specializes in offering a comprehensive set of services tailored to the unique needs of e-commerce businesses, particularly those selling on Amazon. Here's why we're the perfect fit for you:
1. Expertise in Amazon Fulfillment Requirements
We understand the intricacies and complexities of Amazon's fulfillment requirements, ensuring your products adhere to the necessary standards. This means your items are always eligible for Prime shipping, third-party shipping, and, most importantly, keep you in good standing with Amazon.
2. Wide Range of Services
Our scalable fulfillment solutions cover the entire spectrum of services required to sustain and grow your Amazon business. Some of the key services we offer include:
Inventory management
Labeling
Kitting
Order fulfillment
Returns management
These services allow you to streamline your operations, minimize errors, and maximize efficiency, all while saving time and resources.
3. Focus on East Coast Market
As a 3PL warehouse situated in Bristol, PA, we're strategically located in the heart of the East Coast market. This not only facilitates faster shipping times but also helps you benefit from reduced shipping costs and a high concentration of potential customers.
4. Advanced Warehouse Management Systems
We utilize state-of-the-art warehouse management systems to keep track of your inventory in real-time. This ensures accurate, up-to-date information at all times, allowing you to effectively manage your stock levels and avoid costly stockouts or overstocking.
5. Customized Scaling Solutions
Our scalable fulfillment solutions are customized to meet the unique needs of every Amazon seller. As your business expands, we adjust and continually optimize our services to ensure a seamless transition at every stage of growth.
6. Competitive Pricing
Our cost-effective service offerings are designed to help you save money without compromising on quality. With FBA Prep Logistics, you never have to worry about hidden fees or unreasonable charges – we strive for complete transparency in our pricing structure.
7. Dedicated Support
Customer satisfaction is at the core of our service philosophy. Our team of experienced professionals is committed to providing exceptional support to every client. From addressing inquiries to resolving issues, we're always at your service.
8. Seamless Integration with E-Commerce Platforms
FBA Prep Logistics easily integrates with your existing e-commerce platforms, be it Shopify or others, simplifying the order management process and automating much of the labor-intensive work.
9. Secure and Well-Maintained Facilities
Security and cleanliness are indispensable aspects of our warehouse operations. We take pride in providing a safe and well-maintained environment for your products. You can rest assured that your inventory is in good hands.
10. Efficient Returns Management
Handling returns can be a hassle, but with FBA Prep Logistics, you don't have to worry about it. Our team will manage the entire returns process on your behalf, ensuring your customers receive timely and accurate refunds while efficiently restocking returned items.
In conclusion, FBA Prep Logistics offers the ideal combination of industry expertise, end-to-end fulfillment solutions, and a strategic East Coast location to help your Amazon business grow. By partnering with us, you can focus on what matters most – expanding your e-commerce presence and maximizing your profits. So why wait? Make the move towards a seamless fulfillment process with FBA Prep Logistics today.
Growing Your E-Commerce Business with Confidence
As an e-commerce seller, you understand the importance of meeting the demands of your growing customer base. And when it comes to Amazon, those demands are often significant. To stay ahead of your competition and ensure you can scale your business effectively, it's crucial to have a solid, reliable partner on your side. By working with FBA Prep Logistics as your 3PL provider, you'll be able to grow your business with confidence, knowing that you have the best scalable fulfillment solutions in place.
Unlocking New Growth Opportunities
One of the key benefits of partnering with FBA Prep Logistics is the opportunity to tap into new markets. With our expertise in inventory management, kitting, order fulfillment services, and the benefits of an East Coast-based facility, you'll be positioned to reach new customers and scale your business effectively.
Learn everything you need to know about Freight Management for Shopify in the East Coast and discover how our customized e-commerce solutions help you unlock new growth possibilities for your Amazon business.
Seamless Inventory Management
Have you ever experienced stockouts or struggled to keep track of your inventory levels? In a rapidly growing e-commerce business, these issues can arise far too often. Our scalable fulfillment solutions are designed to tackle these problems head-on, providing you with a comprehensive approach to inventory management.
By entrusting your inventory management to FBA Prep Logistics, you'll gain access to real-time data, automated inventory monitoring, and detailed reporting on your stock levels. This information will be invaluable as you identify which products are in high demand and plan your inventory restocking accordingly. Say goodbye to the days of stockouts and customer frustration!
Effortless Order Fulfillment
As your Amazon business grows, the volume of orders you receive will also increase. It can be incredibly time-consuming and resource-intensive to manage this process in-house. By partnering with FBA Prep Logistics, you'll benefit from our highly efficient order fulfillment process, freeing up your time to focus on other crucial aspects of your e-commerce business.
From Effortless Packing to Get Your Products Delivered Fast, we handle every step of the order fulfillment journey. You can rest assured that your packages will be appropriately labeled, kitted, and shipped to your customers in a timely manner, enabling you to maintain a high level of customer satisfaction.
Simplifying Returns
Returns are an inevitable part of e-commerce, and handling them can be a major headache. At FBA Prep Logistics, we understand the importance of offering smooth returns processing for your customers to keep them satisfied and coming back for more. Our team will handle the return process for you, inspecting returned items and restocking them as necessary.
You can Master Ecommerce Returns for Shopify in NJ by leveraging our years of experience in returns management, ensuring a streamlined process that benefits both you and your customers.
Embracing Scale
Business growth is something every e-commerce seller aspires to achieve. With FBA Prep Logistics on your side, you'll have a partner that truly understands the challenges of scaling a business and will work tirelessly to provide you with tailored, scalable fulfillment solutions that grow with you. You won't have to fret about facing increased demand or managing higher volumes of orders – we'll have your back every step of the way.
It's time to embrace the potential that comes with scaling your e-commerce business. By partnering with FBA Prep Logistics for your fulfillment solutions, you'll have the tools, expertise, and support needed to reach new heights in the Amazon marketplace. And as the demand for your products increases, you can have complete confidence knowing that our scalable fulfillment solutions will continue to meet your needs and exceed your expectations.
V. Getting Started with FBA Prep Logistics
Are you ready to take the leap and partner with FBA Prep Logistics for scalable fulfillment solutions that will help grow your Amazon business? If so, you're in the right place! We understand that transitioning to a new 3PL provider or moving away from in-house fulfillment can be daunting. That's why we've created a simple onboarding process designed to help new clients like you get started quickly and easily. Follow the steps below to get your Amazon business on track with our state-of-the-art fulfillment services.
Initial Consultation: Reach out to our team for an initial consultation to discuss your specific needs and requirements. We'll work with you to create a personalized plan that caters to your business goals. You can contact us to schedule a consultation or request a quote.

Inventory Assessment: We'll conduct a thorough assessment of your inventory to determine the most efficient and cost-effective storage options, while ensuring your products comply with Amazon's requirements. This step also includes analyzing your current supply chain for potential improvements and cost-saving opportunities.

Onboarding Support: Our team of experts will guide you through each step of the onboarding process, from importing your existing inventory data to setting up seamless integrations with your preferred e-commerce platforms, such as Amazon and Shopify. We'll also help you seamlessly transition from your current 3PL provider or in-house fulfillment center, minimizing any disruption to your operations.
Training and Knowledge Transfer: To ensure a smooth, successful partnership, we provide comprehensive training and support materials for both you and your team. Learn the ins and outs of our fulfillment dashboard, inventory management system, and other essential tools through easy-to-follow guides and tutorials.

Kick-Off and Ongoing Support: Once your account is set up and your inventory is in place, we'll officially kick off your partnership with FBA Prep Logistics. Our dedicated account managers and customer support team will be there every step of the way to answer questions, address any issues, and ensure your fulfillment process runs smoothly.
At FBA Prep Logistics, we're committed to offering not just scalable fulfillment solutions but also unmatched customer support and a top-notch experience for our clients. By streamlining and optimizing your Amazon business's supply chain, you can focus on what really matters—what you do best, which is driving sales and growing your e-commerce empire.
Are you ready to get started? Check out our recent article on the Shipping Cost Breakdown for Amazon Sellers on the East Coast to gain further insight into the benefits of partnering with a trusted 3PL provider like FBA Prep Logistics. Don't wait any longer—contact us today to begin your journey toward a more efficient and profitable fulfillment process!
Here's the FAQ section in HTML format:
Frequently Asked Questions
1. How does FBA Prep Logistics help with faster shipping times?

Our state-of-the-art East Coast facilities allow us to ensure quick and efficient delivery to your customers. Being located close to major transportation hubs and densely populated areas means we can significantly reduce shipping times, resulting in happier customers and more positive reviews for your Amazon store.

2. How does FBA Prep Logistics make the shipping process more cost-effective?

By partnering with us, you'll benefit from our negotiated shipping rates and reliable network of carriers. This allows us to pass on cost savings to you, helping you optimize your shipping costs without compromising on quality and delivery times.

3. Can FBA Prep Logistics handle a wide variety of products and storage requirements?

Yes, our facilities are equipped to handle a diverse range of products, from small and fragile items to oversized and heavy ones. We also offer climate-controlled and secure storage options to accommodate any unique requirements your products may have.

4. How does FBA Prep Logistics ensure seamless inventory management?

We utilize advanced inventory management systems and a highly trained team to monitor and track your products, ensuring they are always ready for efficient and accurate fulfillment. Our real-time reporting tools give you instant insights and full control over your inventory, reducing errors and stockouts.

5. How do I begin my partnership with FBA Prep Logistics?

Getting started is easy! Simply contact our team, and we will guide you through the onboarding process, whether you're transitioning from another 3PL provider or managing fulfillment in-house. We'll work with you to develop a tailor-made fulfillment solution, optimized to meet your business needs.
Here's the JSON-LD format for the FAQs:
"`html

"`