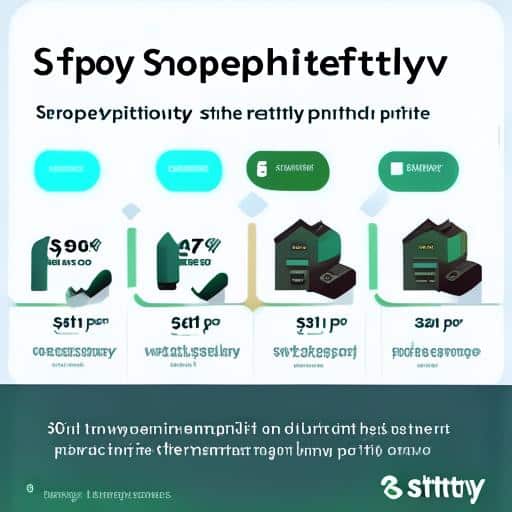 Introduction to Shopify Inventory Management
Managing inventory is a critical aspect of operating a successful e-commerce business. Regardless of your size or industry, efficiently managing your inventory can make or break your business. That's where the importance of Shopify inventory management comes into play. By effectively managing your inventory, you can ensure that your business runs smoothly, minimize stockouts and overstocking, and maximize your profits. In this section, we will provide an overview of the importance of inventory management for e-commerce businesses and how it can impact their success on platforms such as Shopify.
The Significance of Efficient Inventory Management
Shopify inventory management involves tracking your stock levels, setting reorder points and minimizing lead times, and balancing storage costs. Effective inventory management is essential for the following reasons:
Avoid Stockouts: Insufficient stock levels can lead to lost sales and unhappy customers. Tracking your inventory constantly helps you anticipate and react to demand fluctuations, ensuring that you always have enough stock to meet your customer's needs.

Optimize Storage Costs: Effective inventory management helps you avoid overstocking and carrying too much stock in your warehouse, thereby reducing storage costs. This, in turn, can lead to improved margins and a healthier bottom line.

Enhance Customer Satisfaction: By ensuring that you have the right products in stock at the right time, you can fulfill orders promptly and accurately. This results in higher customer satisfaction, increased customer loyalty, and positive word of mouth.
Gain Better Visibility: Monitoring and managing your inventory gives you a clear understanding of your products' performances, highlighting those in high demand and others that aren't selling as expected. This information can help you make data-driven decisions for inventory optimization, marketing strategies, and pricing.
The Role of Shopify in Inventory Management
Shopify is an e-commerce platform that enables business owners to create, manage, and expand their online stores. It offers several built-in inventory management tools and integration options for third-party systems. Here's how Shopify supports inventory management:
Inventory Tracking: Shopify allows you to track inventory levels for individual products and variants, keeping you informed of how much stock you have at any given time.

Reorder Points and Alerts: Within Shopify, you can set reorder points and receive notifications when stock levels fall below the threshold, ensuring that you can restock items in time.

Order Management: You can efficiently manage incoming orders, issue refunds, and quickly update order statuses, streamlining your overall order fulfillment process.
Integration with 3PL Providers: Shopify supports integration with several third-party logistics (3PL) providers like FBA Prep Logistics. This can help you outsource your inventory and order fulfillment processes, freeing up your time to focus on other aspects of your business.
Upon understanding the importance of inventory management for e-commerce businesses and how it impacts their success on platforms like Shopify, let's explore inventory optimization fundamentals in the next section. By gaining insights into essential inventory optimization concepts, e-commerce businesses can maximize their profits while minimizing storage costs.
2. Understanding the Basics of Inventory Optimization
In this section, we will dive into the essential concepts of inventory optimization, focusing on determining the proper stock levels, setting reorder points, and utilizing just-in-time inventory to maximize profits and reduce storage costs. Implementing these optimization techniques can lead to increased efficiency and success for your e-commerce business, especially on a platform like Shopify. So, let's get started!
2.1 Determining the Proper Stock Levels
To begin with, let's discuss the importance of maintaining the right stock levels for your Shopify store. Proper stock levels are crucial for meeting customer demand while minimizing the costs associated with storing excess inventory. To determine the ideal stock levels for your store, you should consider the following factors:
2.1.1 Sales Velocity
Sales velocity refers to the rate at which your products are sold over time. By analyzing historical sales data, you can predict future sales and adjust stock levels accordingly to meet the anticipated demand. This helps you avoid stockouts and enables you to capitalize on sales opportunities.
2.1.2 Lead Time
Lead time is the period it takes for your inventory to be replenished once a new order is placed with your supplier. Calculating the lead time accurately allows you to time inventory replenishments, ensuring you have enough stock on hand to cater to customer needs while minimizing storage costs.
2.1.3 Buffer Stock
A buffer stock is an amount of additional inventory held as a safety net to mitigate the risks of stockouts due to unforeseen variations in demand or delays in lead time. Determining the optimal buffer stock involves striking a balance between carrying costs and the potential lost sales from stockouts.
2.2 Setting Reorder Points
A reorder point is the inventory level at which new stock should be ordered to meet future demand without running out of stock. It is calculated using factors such as lead time, average daily sales, and buffer stock. Setting accurate reorder points helps you maintain a healthy balance between inventory holdings and customer demand.
2.2.1 Reorder Point Formula
Reorder Point = (Average Daily Sales * Lead Time) + Buffer Stock

Utilizing this formula will ensure that your Shopify store maintains an adequate stock level to fulfill orders without overspending on inventory.
2.3 Just-In-Time Inventory
Just-in-time (JIT) inventory is an inventory management approach that focuses on minimizing inventory storage costs by ordering and receiving stock only when it's needed. This approach requires accurate demand forecasting, supplier reliability, and efficient order fulfillment to be effective. Implementing JIT inventory management in your Shopify store can lead to several benefits, including the following:
2.3.1 Reduced Storage Costs
By only holding the necessary stock levels for your store, you can reduce the storage costs associated with large inventory holdings.
2.3.2 Improved Cash Flow
With lower inventory levels, you can invest your capital in other areas of your business, promoting growth and increasing profitability.
2.3.3 Minimized Obsolescence
JIT inventory management helps you avoid overstocking items that may become obsolete, ensuring that your products remain current and appealing to customers.
2.3.4 Increased Flexibility
By maintaining lower stock levels, your Shopify store can quickly adapt to changes in market trends or customer preferences, allowing you to stay ahead of the competition.
2.4 Shopify Inventory Optimization: The Benefits
By implementing these inventory optimization techniques, your Shopify store can experience numerous benefits, such as:
Improved order fulfillment rates, leading to enhanced customer satisfaction.
Reduced storage costs, boosting your store's profitability.
Enabled data-driven decision-making, allowing for more accurate inventory management.
Increased operational efficiency, resulting in a more streamlined supply chain.
Leveraging these inventory optimization strategies with the help of a 3PL warehouse, like FBA Prep Logistics, can take your Shopify-based e-commerce business to new heights of success.
In the next section, we will discuss how partnering with FBA Prep Logistics, a 3PL warehouse, can help you achieve efficient inventory management for your Shopify store. Stay tuned!
FBA Prep Logistics' Role in Streamlining Your Shopify Inventory
In this section, we'll discuss how by partnering with FBA Prep Logistics, a trusted 3PL warehouse located in Bristol, PA, you can achieve efficient inventory management for your Shopify store. We fully understand the challenges that e-commerce businesses, particularly those selling on Amazon, face when it comes to effectively managing their inventory. That's why we're committed to providing top-notch services and expertise to ensure the success of our clients.
Our Expertise in Warehouse Management
At FBA Prep Logistics, we pride ourselves on our extensive knowledge and experience in warehouse management. This enables us to provide best-in-class services for managing your Shopify inventory. Our team of professionals is well-versed in all aspects of warehouse operations, from receiving and stocking products to monitoring inventory levels and handling order fulfillment.
Furthermore, our warehouse facility is designed to accommodate various types of inventory, no matter the size or nature of your business. We place a strong emphasis on creating an organized environment that facilitates effective inventory management and keeps costs in check.
Proactive Supply Chain Management
Efficient inventory management goes hand in hand with a streamlined supply chain. FBA Prep Logistics can help you optimize your supply chain by providing strategies like cross-docking and freight management, ultimately improving your order fulfillment process.
By leveraging our expertise in supply chain management, you can expect reduced lead times, enhanced inventory turnover, and minimized carrying costs. With our data-driven approach, you can optimize your supply chain operations and position your Shopify store for success.
Commitment to Customer Success
Our primary goal at FBA Prep Logistics is to ensure the success of our clients. We believe that providing exceptional service is crucial to the growth and prosperity of your e-commerce business on Shopify.
In order to achieve this, we focus on offering customized solutions tailored to your specific needs. This includes order fulfillment and automating your Shopify supply chain, and we strive to adapt our services as your business evolves. We're committed to working closely with you, offering support, and helping you overcome any challenges related to inventory management.
Transparent Communication and Real-Time Reporting
One of the key aspects of effective Shopify inventory optimization is having clear and regular communication with your 3PL partner. At FBA Prep Logistics, we prioritize transparency and ensure that you're well-informed about your inventory status.
We provide real-time reporting on inventory levels, order status, and other critical data that can help you make informed decisions about your Shopify store's operations. Our sophisticated reporting system allows you to stay up-to-date on the performance of your supply chain and quickly identify areas that may need improvement.
Scalability and Flexibility
As your e-commerce business grows, it's crucial to work with a 3PL partner that can scale with you. At FBA Prep Logistics, our services are designed to accommodate the ever-changing demands of the e-commerce landscape.
By partnering with us, you'll have access to the crucial resources and expertise needed to adapt and flourish as your Shopify store expands. Be it a sudden increase in order volume or the need to manage seasonal fluctuations, we're prepared to handle the challenges that come with growth and ensure the continued efficiency of your Shopify inventory optimization efforts.
In conclusion, partnering with FBA Prep Logistics is a smart investment for your e-commerce business on Shopify. Our expertise in warehouse management, supply chain management, and commitment to customer success will enable you to achieve top-notch inventory optimization. With the support of our scalable and adaptable services, you can confidently grow your Shopify store and enjoy continued success in the ever-evolving world of e-commerce.
4. Integrating FBA Prep Logistics with Your Shopify Store
In this section, we will walk you through the process of integrating FBA Prep Logistics with your Shopify store to enable seamless inventory management and order fulfillment. Integrating our 3PL warehouse services with your Shopify store will provide you with the benefits of real-time inventory updates, automated order processing, and access to valuable data to optimize your supply chain. Let's dive into the details on how to set up this integration.
4.1 Real-Time Inventory Updates
One of the main advantages of integrating FBA Prep Logistics with your Shopify store is real-time inventory updates. This will ensure you always have accurate stock levels across all your sales channels and help avoid overselling or stockouts. Moreover, constant updates on your inventory allow you, as an e-commerce business owner, to make informed decisions when it comes to replenishment and managing your stock effectively.
4.2 Automated Order Processing
Another significant benefit that comes with integrating FBA Prep Logistics into your Shopify store is automated order processing. Once an order is placed, our system will automatically receive and process it. This eliminates the need for manual data entry, reduces human errors, and ensures your customer orders are fulfilled accurately and promptly.
4.3 Access to Valuable Data and Insights
By integrating FBA Prep Logistics with your Shopify store, you'll gain access to valuable data and insights that can help you optimize your supply chain further. This can include inventory levels, order history, shipping costs, and more, enabling you to make informed decisions for effective Shopify inventory optimization.
4.4 Steps to Integrate FBA Prep Logistics with Shopify
To begin the integration process, follow these steps:
Connect with FBA Prep Logistics: Get in touch with our team to discuss your specific requirements, and we will tailor our services accordingly.
Account setup: Our team will help you set up your account with FBA Prep Logistics, providing you with login details and access to your dedicated dashboard.
API integration: We will guide you through the process of connecting your Shopify store to our API, ensuring a seamless link between your e-commerce platform and our warehouse management system.
Import products and inventory: After successful integration, you'll be able to import your product listings and inventory data into the FBA Prep Logistics system.
Configure shipping settings: Set up your shipping preferences and rules within the FBA Prep Logistics dashboard, allowing you to specify the shipping options and rates offered for every product you sell on your Shopify store.
Test and go live: We will run tests to ensure the integration is working correctly, and once everything checks out, your Shopify store will be fully integrated with FBA Prep Logistics for seamless inventory management and order fulfillment.
Check out our step-by-step guide on simplifying your order management with our Shopify fulfillment services for more information.
4.5 Streamline Multi-channel Sales with Shopify Inventory Optimization
Once you've integrated FBA Prep Logistics with your Shopify store, you will be able to streamline inventory management across all your sales channels. By having a single system managing your inventory levels across multiple platforms, you can simplify your operations, reduce the chances of stockouts, and improve customer satisfaction.
In conclusion, integrating FBA Prep Logistics with your Shopify store is a game-changer when it comes to Shopify inventory optimization. By providing real-time inventory updates, automated order processing, and access to valuable data, you can make informed decisions about your stock levels and streamline your supply chain. With our 3PL warehouse services, you will be able to focus on growing your e-commerce business while we take care of all your inventory management and fulfillment needs.
5. Tips and Best Practices for Optimizing Your Shopify Inventory
Improper inventory management can lead to overstocking, stockouts, and increased storage costs. The right inventory optimization techniques can help you navigate these challenges and better manage your Shopify store's supply chain. In this section, we'll share some practical tips and best practices for optimizing your Shopify inventory.
5.1. Set Up Demand Forecasting
Accurate demand forecasting is crucial for determining the right stock levels and order quantities. Use historical sales data, industry trends, and seasonality to make reliable predictions for future demand. By integrating FBA Prep Logistics with your Shopify store, you can access valuable insights that help you optimize your supply chain.
5.2. Establish Reorder Points and Safety Stock Levels
Reorder points indicate when you need to restock your inventory to avoid stockouts and maximize sales. Calculate ideal reorder points by considering lead times, demand forecasts, and safety stock levels. For added efficiency, set up automatic reordering with FBA Prep Logistics' fulfillment integration.
5.3. Leverage Just-In-Time (JIT) Inventory Management
Just-in-time inventory management means stocking only the inventory needed to fulfill immediate orders. This strategy reduces storage costs and eliminates overstocking risks. Implement demand forecasting and reorder point calculations to adopt JIT management for your Shopify store, and trust FBA Prep Logistics to handle fast product deliveries.
5.4. Monitor Inventory Performance Metrics
Regularly track inventory turnover, stockout rates, and carrying costs to evaluate your Shopify inventory optimization's effectiveness. FBA Prep Logistics integration with Shopify provides real-time inventory updates and powerful analytics tools that help you monitor and track these critical metrics.
5.5. Optimize Storage and Warehouse Management
Efficient storage and warehouse management can minimize storage costs and improve order fulfillment speed. Implement strategies like cross-docking, first-in-first-out (FIFO), and zone picking to streamline your warehouse operations. FBA Prep Logistics, as a specialized 3PL provider, can help you achieve these optimizations and more.
5.6. Regularly Audit Your Inventory
Inventory discrepancies can lead to overselling, stockouts, and lost revenue. Regularly auditing your stock helps you identify and rectify discrepancies. Use barcode scanners and inventory management software to perform consistent audits and maintain accurate inventory records.
5.7. Simplify Returns Management
A smooth returns process is essential for maintaining customer satisfaction and managing your Shopify store's inventory. Develop a clear returns policy and work with FBA Prep Logistics to handle ecommerce returns efficiently.
5.8. Diversify Your Suppliers
Having multiple suppliers can reduce the risk of stockouts and ensure order fulfillment continuity. Diversify your supplier base to minimize dependencies and improve your supply chain's resilience to disruptions.
5.9. Embrace Automation
Automating your inventory management tasks can save time, reduce errors, and enable data-driven decision-making. Take advantage of FBA Prep Logistics' Shopify fulfillment integration to manage your store's inventory accurately and efficiently.
5.10. Continuously Monitor and Optimize
Your Shopify inventory optimization is an ongoing process. Continuously evaluate your strategies, learn from performance metrics, and adapt to new trends in customer preferences and market conditions. Keep fine-tuning your inventory management practices to achieve maximum efficiency and profitability.
By implementing these tips and best practices, you can optimize your Shopify inventory and ensure smooth operations for your e-commerce business. Partnering with FBA Prep Logistics, a reliable 3PL provider, will enable you to focus on growing your business while we handle your inventory, order fulfillment, and supply chain management efficiently. Enjoy the benefits of our expertise and commitment to customer success as we work together to grow your Shopify store and elevate your e-commerce business.




  <h2>Frequently Asked Questions</h2>
  <dl>
    <dt><h3>1. How can FBA Prep Logistics help with my Shopify inventory management?</h3></dt>
    <dd>FBA Prep Logistics streamlines your Shopify inventory management by offering a seamless integration, efficient warehouse management, automated order processing, and real-time inventory updates. Our team of expert professionals ensures timely receiving, storage, and dispatch of your inventory, thereby optimizing your supply chain.</dd>

    <dt><h3>2. What is inventory optimization, and why is it important for my e-commerce business?</h3></dt>
    <dd>Inventory optimization refers to managing stock levels efficiently to meet customer demand while minimizing storage costs. It involves determining appropriate stock levels, setting reorder points, and utilizing just-in-time inventory strategies. Effective inventory optimization is crucial for reducing excess inventory, avoiding stockouts, and maximizing profits for your e-commerce business.</dd>

    <dt><h3>3. How do I integrate FBA Prep Logistics with my Shopify store?</h3></dt>
    <dd>Integrating FBA Prep Logistics with your Shopify store is simple and quick. You just need to connect your store to our system through an API, and that's it! Our team will guide you through the entire process. This integration enables seamless inventory management and order fulfillment, along with real-time inventory updates, automated order processing, and access to valuable data.</dd>

    <dt><h3>4. How can I maximize profits and reduce storage costs for my Shopify inventory?</h3></dt>
    <dd>By partnering with FBA Prep Logistics and implementing effective inventory optimization strategies, you can maximize your e-commerce profits and reduce storage costs. Utilize just-in-time inventory, set appropriate reorder points, manage stock levels, and leverage our efficient warehouse management and 3PL services to achieve these outcomes.</dd>

    <dt><h3>5. Can FBA Prep Logistics help improve my supply chain efficiency?</h3></dt>
    <dd>Absolutely! FBA Prep Logistics specializes in supply chain management and can optimize your supply chain efficiency. Our team of experts will work closely with you to identify improvement opportunities, manage demand forecasting, optimize stock levels, and reduce overall supply chain costs for your e-commerce business.</dd>
  </dl>
</section>

<script type="application/ld+json">
{
  "@context": "https://schema.org",
  "@type": "FAQPage",
  "mainEntity": [
    {
      "@type": "Question",
      "name": "How can FBA Prep Logistics help with my Shopify inventory management?",
      "acceptedAnswer": {
        "@type": "Answer",
        "text": "FBA Prep Logistics streamlines your Shopify inventory management by offering a seamless integration, efficient warehouse management, automated order processing, and real-time inventory updates. Our team of expert professionals ensures timely receiving, storage, and dispatch of your inventory, thereby optimizing your supply chain."
      }
    },
    {
      "@type": "Question",
      "name": "What is inventory optimization, and why is it important for my e-commerce business?",
      "acceptedAnswer": {
        "@type": "Answer",
        "text": "Inventory optimization refers to managing stock levels efficiently to meet customer demand while minimizing storage costs. It involves determining appropriate stock levels, setting reorder points, and utilizing just-in-time inventory strategies. Effective inventory optimization is crucial for reducing excess inventory, avoiding stockouts, and maximizing profits for your e-commerce business."
      }
    },
    {
      "@type": "Question",
      "name": "How do I integrate FBA Prep Logistics with my Shopify store?",
      "acceptedAnswer": {
        "@type": "Answer",
        "text": "Integrating FBA Prep Logistics with your Shopify store is simple and quick. You just need to connect your store to our system through an API, and that's it! Our team will guide you through the entire process. This integration enables seamless inventory management and order fulfillment, along with real-time inventory updates, automated order processing, and access to valuable data."
      }
    },
    {
      "@type": "Question",
      "name": "How can I maximize profits and reduce storage costs for my Shopify inventory?",
      "acceptedAnswer": {
        "@type": "Answer",
        "text": "By partnering with FBA Prep Logistics and implementing effective inventory optimization strategies, you can maximize your e-commerce profits and reduce storage costs. Utilize just-in-time inventory, set appropriate reorder points, manage stock levels, and leverage our efficient warehouse management and 3PL services to achieve these outcomes."
      }
    },
    {
      "@type": "Question",
      "name": "Can FBA Prep Logistics help improve my supply chain efficiency?",
      "acceptedAnswer": {
        "@type": "Answer",
        "text": "Absolutely! FBA Prep Logistics specializes in supply chain management and can optimize your supply chain efficiency. Our team of experts will work closely with you to identify improvement opportunities, manage demand forecasting, optimize stock levels, and reduce overall supply chain costs for your e-commerce business."
      }
    }
  ]
}
</script>