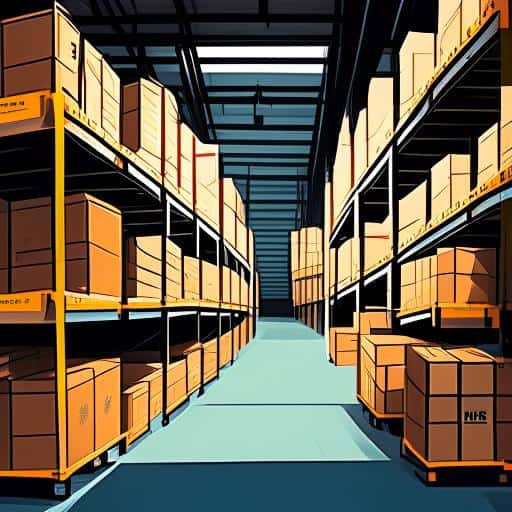 Clever Storage Solutions for the Amazon Seller Warehouse in PA
1. Introduction: Amazon Warehouse Storage Challenges
E-commerce has experienced unprecedented growth in recent years, and Amazon sellers are always on the lookout for efficient and cost-effective ways to manage their inventory. As an Amazon seller, you may have faced numerous challenges related to warehouse storage, which can directly impact your business operations and bottom line. Storage challenges may include:
Limited storage space, which can result in an overcrowded and disorganized warehouse.
Difficulty in managing the inventory and keeping track of stock levels.
Struggles with meeting stringent Amazon FBA requirements.
Increased operational costs because of the storage, labor, and fulfillment aspects.
Balancing between overstocking and stock-outs, which can affect your sales revenue and customer loyalty.
Amazon warehouse storage challenges can be overwhelming for any seller, especially for those new to the realm of e-commerce and supply chain management. These complexities highlight the importance of finding the right Amazon warehouse storage solutions, tailored to meet the unique needs of your business. After all, effective inventory and warehouse management are essential to driving your business's growth and success.
In the following sections, we'll explore how FBA Prep Logistics, a 3PL warehouse service provider based in Bristol, PA, can serve as an integral part of your business, providing comprehensive solutions for your Amazon warehouse storage needs. With FBA Prep Logistics, you will be equipped to overcome the warehouse storage challenges and focus on growing and scaling your Amazon business. Keep reading for insightful details on FBA Prep Logistics' specialized services, optimized storage spaces, and expertise in Amazon FBA requirements, which have been curated to help you make the right decision for your e-commerce venture.
Comprehensive FBA Prep Logistics Services: Your One-Stop Solution
As an Amazon seller, you've probably faced a range of storage challenges. From inventory management to finding the perfect warehouse, getting it all right can seem overwhelming. This is where FBA Prep Logistics comes into play. We provide a comprehensive range of Amazon warehouse storage solutions designed specifically to cater to your business needs. Let us explore the benefits of partnering with FBA Prep Logistics for your storage requirements.
Tailor-Made Services for Your Amazon Business
At FBA Prep Logistics, we understand that every Amazon business is unique. We offer a diverse range of services covering the entire spectrum from storage and prep services to inventory management and shipping. This allows you to focus on what you do best – growing your business – while leaving the logistics to us. No matter the scale of your operation, be it a small start-up or an established online retailer, we've got you covered.
Completely Integrated End-to-End Solutions
Our services are not limited to just storage. We pride ourselves on being your one-stop solution for all Amazon-related logistics needs. Our capabilities include:
Storage: Our warehouse facility in Bristol, PA, is optimized for Amazon sellers, providing ample space to manage your inventory efficiently.
Inventory Management: We use cutting-edge technology to streamline your inventory management process, giving you total control over your stock. Our solution ensures accurate tracking, minimizes stockouts, and prevents overselling. Check out The Ultimate Guide to Inventory Management for East Coast Shopify Owners for more insight.
Prep Services: We follow Amazon's strict FBA requirements, meticulously preparing your items for shipment. Our prep services include labeling, bundling, and poly bagging, among other tasks.
Shipping: We handle the process from start to finish, including picking orders, packaging items, and shipping directly to Amazon's FBA warehouses.
Returns Management: When it comes to returning orders, we efficiently process returns, ensuring customers are satisfied while you maintain your seller ratings.
For a more detailed view of our services, read about Effortless Packing that expedites your order fulfillment process.
Technology-Driven Approach for Maximum Efficiency
Embracing the latest technology is crucial in today's fast-paced e-commerce world. That's why we employ state-of-the-art systems for inventory management and order fulfillment. Our API integration with Amazon ensures seamless communication between the marketplace and our warehouse management system. This enables us to provide real-time updates on your inventory, orders, and shipments, ensuring a smooth and timely process.
Competitive Pricing That Fits Your Budget
Outsourcing your storage and fulfillment tasks to a 3PL can be more cost-effective than you might expect. At FBA Prep Logistics, we offer competitive prices for our Amazon warehouse storage solutions, ensuring that you can maintain healthy profit margins for your business. In addition, our flexible pricing structure accommodates fluctuations in your business, allowing you to scale up or down as needed.
Want to know more about reducing costs? Explore our Top Cost Reduction Strategies for Amazon Sellers in PA.
To sum up, FBA Prep Logistics is the ideal partner for your Amazon business, offering a comprehensive suite of services tailored to your unique requirements. By choosing us as your 3PL warehouse, you can focus on growing your business while we handle the time-consuming yet crucial tasks. It's time to invest in your business growth with a partner who knows Amazon inside and out – trust FBA Prep Logistics as your go-to solution for all your Amazon warehouse storage needs. So what are you waiting for? Get your products prepped and shipped with ease today!
3. Optimized Storage Spaces: Maximize Your Inventory Efficiency
As an Amazon seller, having an efficient warehouse storage solution is crucial for the success of your business. FBA Prep Logistics recognizes this need and provides optimized storage spaces designed to maximize your inventory efficiency. In this section, we will delve into how FBA Prep Logistics offers flexible, scalable, and tailored storage solutions for your Amazon business, ensuring smooth inventory management and reducing operational costs.
3.1. Flexible Storage Solutions: Adapting to Your Needs
At FBA Prep Logistics, we know that every business has unique requirements when it comes to storage. That's why we offer flexible storage solutions that adapt to your specific needs. Our customizable storage options accommodate various types of products, including perishable goods, fragile items, and bulky merchandise. This approach enables your business to operate more efficiently and ensures that your products are stored safely and appropriately.
3.2. Scalable Storage Spaces: Accommodating Growth
Being able to scale your storage space is essential for a growing Amazon business. FBA Prep Logistics understands the importance of this, so our warehouse storage solutions are designed to be scalable. As your business expands, our storage spaces can easily be adjusted to accommodate your increasing inventory levels. With our adaptable storage solutions, you can focus on growing your business without worrying about running out of space at your warehouse.
3.3. Organized Inventory Management: Streamlining Your Operations
Efficient inventory management is a fundamental aspect of running a successful Amazon business. FBA Prep Logistics employs state-of-the-art inventory management technology that allows you to track your products throughout the entire storage and fulfillment process. Our specialized software offers real-time updates on your inventory levels, allowing you to react to changing market demands and make better-informed business decisions. This streamlined approach significantly reduces human error and increases overall efficiency, ultimately saving you time and money.
3.4. Cost-Effective Storage Options: Reducing Operational Expenses
High operational costs can significantly impact your Amazon business's profit margins. At FBA Prep Logistics, we offer cost-effective storage options tailored to your specific needs. Our competitive pricing ensures that you can maintain a healthy profit margin while still benefiting from our state-of-the-art storage facilities. By partnering with FBA Prep Logistics, you can reduce your operational costs and allocate your resources more effectively, allowing your business to thrive.
3.5. Secure and Compliant Storage: High-Quality Storage Environment
Maintaining the highest level of security and compliance is a priority at FBA Prep Logistics. Our warehouse storage facilities are equipped with advanced security systems, including 24/7 surveillance cameras and controlled access points, ensuring the safety of your valuable inventory. Additionally, our storage spaces comply with all relevant regulations and guidelines to guarantee that your products are stored correctly and in accordance with Amazon's requirements. By choosing FBA Prep Logistics for your Amazon warehouse storage solutions, you can confidently store your products while focusing on other aspects of your business.
In Summary: Optimized Storage Solutions for Your Amazon Business
In conclusion, FBA Prep Logistics' optimized storage spaces offer a comprehensive solution for your Amazon business, addressing various challenges associated with inventory management and reducing operational costs. Our adaptable storage options cater to your unique requirements, while our scalable storage spaces facilitate business growth. Furthermore, our advanced inventory management technology streamlines your operations while ensuring security and compliance. By partnering with FBA Prep Logistics, you can maximize your inventory efficiency and focus on driving your Amazon business forward.
What are you waiting for? Discover how FBA Prep Logistics can revolutionize your Amazon warehouse storage solutions here and start optimizing your storage capabilities today.
Expertise in Amazon FBA Requirements: Store Your Products with Confidence
As an Amazon seller, navigating the complex and ever-changing world of Fulfillment by Amazon (FBA) requirements can be daunting. However, with the right Amazon warehouse storage solutions, such as those provided by FBA Prep Logistics, you can trust that your products will be handled in compliance from storage to shipment. Here's how our expertise can help you store your products with confidence.
Deep Understanding of FBA Guidelines
Our dedicated team at FBA Prep Logistics has a thorough knowledge of Amazon FBA guidelines to ensure that your products are stored, packaged, and shipped according to the platform's rules and regulations. By following these guidelines diligently, our FBA Prep Logistics team helps you avoid costly mistakes and penalties, such as receiving additional fees or having your products deemed unsalable.
Specialized Storage for Specific Product Categories
With years of experience in dealing with Amazon inventory, FBA Prep Logistics understands the unique storage requirements for different product categories. Our specialized storage spaces ensure that items requiring specific conditions or climate controls, such as perishable goods or electronics, are stored appropriately and in compliance with applicable FBA requirements.
Labelling and Packaging Precision
Amazon emphasizes proper labelling and packaging as a crucial aspect of FBA compliance. By selecting FBA Prep Logistics as your Amazon warehouse storage solution, you can breathe easy knowing that our skilled team will properly label and package your items according to Amazon's guidelines, thus preventing errors and delays in the order fulfillment process.
Expertise in Product Preparation Requirements
Preparing your products to be shipped to customers is an essential step on your journey as an Amazon seller. At FBA Prep Logistics, our team members are well-versed in Amazon's product preparation requirements. From poly bagging and bubble-wrapping to applying barcode labels and shrink-wrapping, we ensure that your products are prepped and ready for FBA fulfillment and to delight your customers.
Up-to-Date with Amazon Policy Changes
Amazon's FBA requirements are regularly subject to change to optimize the fulfillment process and user experience. FBA Prep Logistics stays ahead of the curve, consistently updating our service offerings in line with new regulations and best practices. When you choose us as your 3PL warehouse partner, you can rest assured that our team is well-informed and ready to adapt to the evolving Amazon landscape.
Collaboration with Sellers for Successful Compliance
At FBA Prep Logistics, we are committed to partnering with you on your Amazon seller journey. We actively communicate with you as the seller to address any questions or concerns regarding FBA requirements. This two-way communication ensures your products are properly stored and prepared within Amazon's guidelines, reducing the risk of non-compliance, delays, and penalties.
There's no reason for struggling with the intricate maze of FBA compliance. Choose FBA Prep Logistics as your Amazon warehouse storage solution, and let our expertise guide you and your business to success. Discover our wide range of services dedicated to Amazon sellers and take the first steps towards a more efficient and worry-free FBA experience today.
5. Invest in Your Business Growth with FBA Prep Logistics
If you are finding yourself navigating the Amazon seller landscape and are looking for an Amazon warehouse storage solution that can not only support your growing business but actively contribute to its success, look no further than FBA Prep Logistics. Our comprehensive service offering is aimed at providing you, the Amazon seller, with everything you need to take your business to the next level.
5.1 Time Savings
One of the major hurdles for many Amazon sellers is the time-consuming nature of managing inventory, packaging, and shipping. Partnering with a 3PL warehouse like FBA Prep Logistics frees up your valuable time, allowing you to focus on tasks such as product sourcing, marketing, and growing your business. Our team handles the end-to-end process for you, ensuring your products are stored, prepped, and shipped quickly and efficiently.
5.2 Scalability and Adaptability
As your Amazon business grows, so does the demand for efficient and adaptable storage solutions. FBA Prep Logistics offers scalable storage spaces that can accommodate your inventory as it expands. This means that you can easily adjust your storage requirements without the need to invest in a larger warehouse or facility. Our team also understands the Amazon FBA landscape, allowing us to adapt and grow alongside your business as it evolves.
5.3 Consistent Compliance with Amazon FBA Guidelines
Amazon is known for its strict guidelines when it comes to product storage, packaging, and shipment. FBA Prep Logistics has extensive knowledge of these guidelines and ensures that your products are not only stored and prepped according to Amazon's requirements but also shipped out in a timely and compliant manner. This can save you time, money, and potential penalties for non-compliant packages.
5.4 Cost-effective Management
Handling inventory and shipping in-house can become quite costly, especially when you consider the space, labor, and resources required to manage it all. By partnering with FBA Prep Logistics for your warehouse storage solutions, you can significantly reduce these costs and optimize your supply chain, leading to higher profits and business growth.
5.5 Expert Help at Every Step
Our team's expertise goes far beyond just storage solutions. We are committed to providing you with the knowledge, support, and guidance needed to master every aspect of your Amazon business. From inventory management and order fulfillment to handling returns, we're here to help your business thrive in the competitive Amazon marketplace.
5.6 A Strong Partner in Your Supply Chain
Choosing FBA Prep Logistics as your Amazon warehouse storage provider means that you are not only investing in an efficient storage solution but also aligning your business with a seasoned partner in the supply chain industry. Our experience and expertise can be valuable assets to help your business grow and improve customer satisfaction.
5.7 Peace of Mind
Perhaps the greatest advantage of partnering with FBA Prep Logistics is the peace of mind that comes with knowing that your Amazon business is in good hands. Our comprehensive storage, prep, inventory, and shipping services help to protect your investment and ensure that your products arrive in Amazon's warehouses in pristine condition, ready for sale.
In summary, FBA Prep Logistics is your ultimate partner in Amazon warehouse storage solutions to overcome every obstacle you face in your Amazon business journey. Our end-to-end service offering can save you time, reduce costs, and help you scale your business effectively. With our knowledgeable team by your side, you can confidently navigate the Amazon marketplace and achieve new heights of success.
Frequently Asked Questions
What makes FBA Prep Logistics the ideal 3PL warehouse for Amazon sellers?

FBA Prep Logistics offers a comprehensive range of services, tailored storage solutions, and expert knowledge of Amazon FBA requirements, making it the perfect partner for your Amazon business. Our team is dedicated to helping you streamline your supply chain, optimize inventory management, and meet strict compliance guidelines to ensure smooth operations and business growth.

How does FBA Prep Logistics help with inventory efficiency and management?

Our optimized storage spaces are designed to maximize inventory efficiency by offering scalable and customizable solutions that adapt to your business needs. Additionally, our in-house inventory management system helps keep track of your stock, monitors product movement, and ensures seamless integration with your Amazon seller account.

What types of storage solutions does FBA Prep Logistics provide?

FBA Prep Logistics offers a wide variety of storage solutions, including pallet racks, shelving units, and bins, tailored to suit your specific requirements. Our flexible storage options can accommodate different product sizes, shapes, and quantities, ensuring efficient use of warehouse space and easy accessibility for order fulfillment.

How does FBA Prep Logistics ensure compliance with Amazon FBA requirements?

With extensive knowledge of Amazon's FBA guidelines, our team ensures that your products are stored, packaged, and shipped in compliance with their strict requirements. From proper labeling to secure packaging, we make sure your products meet Amazon's standards to prevent delays, penalties, or account suspension.

Can FBA Prep Logistics accommodate my business as it grows?

Yes! FBA Prep Logistics' scalable storage solutions and comprehensive services allow us to support your business growth. As your inventory expands and your order volume increases, our warehouse can adapt to meet your needs, ensuring you continue to operate efficiently and effectively.