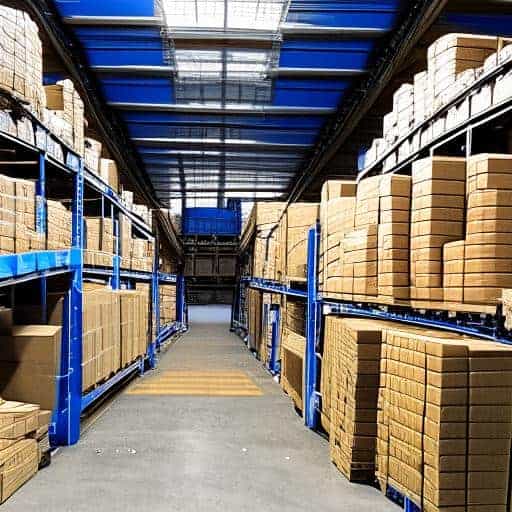 Introduction: Why a 3PL Fulfillment Warehouse is Essential for E-Commerce Success
In the fast-paced world of e-commerce, on-time delivery, efficient inventory management, and seamless supply chain processes are critical for ensuring customer satisfaction and business success. This is where the concept of a 3PL fulfillment warehouse comes into play. A 3PL, or third-party logistics provider, offers services that bridge the gap between an e-commerce merchant and their end customers, facilitating efficient handling, storage, and shipping of products. Specifically, a 3PL fulfillment warehouse is an essential partner for businesses selling on platforms like Amazon, where high demand and competitive markets necessitate top-notch logistics.
If you're an e-commerce business owner, especially one that's new to supply chain management and the world of Amazon selling, you might be wondering why a 3PL fulfillment warehouse matters. In this article, we will illustrate the many benefits of partnering with a reputable 3PL fulfillment warehouse, like FBA Prep Logistics, so you can reap the rewards of a smooth, efficient supply chain and watch your e-commerce business thrive.
Rise of E-Commerce and the Need for 3PLs
As e-commerce continues to grow exponentially, businesses face an increasing need for streamlined logistics. Whether you're a small start-up or a medium-sized company, you must find efficient, cost-effective ways to store and deliver your products to keep up with demand. This is where a 3PL fulfillment warehouse comes in. Partnering with a reliable 3PL, like FBA Prep Logistics, can help e-commerce businesses reduce shipping time, optimize inventory management, and enhance customer satisfaction.
Navigating Amazon's Complex World
Navigating the labyrinthine world of Amazon's fulfillment and supply chain requirements can be daunting for new sellers, and that's where a 3PL fulfillment warehouse truly shines. By providing comprehensive services and support tailored to the unique demands and challenges of Amazon's marketplace, FBA Prep Logistics ensures that your products reach your customers as efficiently and quickly as possible.
In the following sections, we will delve deeper into how FBA Prep Logistics can provide invaluable insights to e-commerce businesses, offer customized solutions to meet your specific needs, and streamline your fulfillment process to save you time and money. In short, partnering with a 3PL fulfillment warehouse like FBA Prep Logistics is a surefire way to achieve e-commerce success and stay ahead of the competition.
Expertise and Knowledge: How FBA Prep Logistics Provides Invaluable Insights to E-Commerce Businesses (Your ticket to e-commerce success!)
At FBA Prep Logistics, our team of professionals has honed in on the art and science of 3PL fulfillment warehouse operations. Our collective experience spans many years, giving us the unique ability to offer our clients valuable insights, strategies, and guidance to boost their e-commerce business to new heights.
In this section, we will explore the various aspects of FBA Prep Logistics' expertise and knowledge, highlighting why partnering with us would be a game-changer for your e-commerce business.
A Seasoned Team with Diverse Skillsets
Our 3PL fulfillment warehouse team comprises highly skilled, passionate, and dedicated professionals with backgrounds in supply chain management, logistics, information technology, and customer service, among other areas. Our seasoned team ensures that you receive the expert guidance and efficient services you need to succeed in the highly competitive e-commerce landscape.
Comprehensive Understanding of Amazon
As a 3PL provider that specializes in e-commerce businesses selling on Amazon, FBA Prep Logistics has a deep understanding of Amazon's platform and requirements. We are well-versed with their Fulfillment by Amazon (FBA) service, which allows us to provide you with tailored strategies that maximize your chances of success on the platform.
Staying Up-to-Date with Industry Trends and Technology
At FBA Prep Logistics, we continually invest in staying current with industry trends, technology, and best practices. Our team regularly participates in conferences, seminars, and workshops that focus on e-commerce, logistics, and supply chain management to ensure our knowledge is up-to-date and relevant. This approach enables us to offer best-in-class services and help you stay one step ahead of your competitors.
Efficient PA Order Fulfillment Services
One focal area of our expertise at FBA Prep Logistics is providing efficient order fulfillment services in Pennsylvania. Order fulfillment plays a crucial role in your e-commerce business's overall success, and we have developed best practices, processes, and systems to ensure your orders are fulfilled quickly, accurately, and in a cost-effective manner.
In-depth E-commerce Logistics Knowledge
We go beyond simple order fulfillment at FBA Prep Logistics, providing you with a comprehensive understanding of e-commerce logistics. Our services extend to packaging, shipping, inventory management, and more. This all-encompassing knowledge enables us to craft the perfect logistics solution for your business.
Data Driven Decision-Making
Data is the backbone of effective decision-making in the e-commerce industry. We believe in using data-driven insights to optimize your supply chain operations and drive growth. Our team closely monitors detailed analytics and KPIs and uses this information to identify areas of improvement and opportunity, ultimately helping your business thrive.
Benefit from Our Wealth of Experience
When you partner with FBA Prep Logistics as your 3PL fulfillment warehouse provider, you benefit from the vast wealth of experience and knowledge our team brings to the table. We aim to act as an extension of your business, working hand-in-hand with you to streamline your supply chain and maximize your potential for success in the e-commerce space.
In summary, FBA Prep Logistics offers a combination of expertise, knowledge, and industry insights that is hard to match. Whether you are starting your e-commerce business or looking to scale, our team is here to support your journey and help you achieve your goals. Don't miss out on the opportunity to turn your e-commerce venture into a success story – partner with FBA Prep Logistics today!
Customized Solutions: Tailoring Services to Meet Your E-Commerce Business Needs
At FBA Prep Logistics, we understand that the needs of each e-commerce business are unique. This is why we focus on providing customized solutions that cater specifically to your business requirements. With our comprehensive range of services, we ensure a smooth supply chain experience for you, regardless of your size or the products you sell on Amazon. In this section, we will discuss the various services that we offer and how they can be adapted to suit the specific needs of your business.
Comprehensive Range of Services
Our 3PL fulfillment warehouse offers a vast array of services, including:
Inventory Management and Storage: Proper inventory management is essential for the success of any e-commerce business. Our services include real-time tracking and management of your inventory. Additionally, through our secure and well-maintained storage facilities, we ensure the safekeeping of your products until they are ready for shipment.

Pick and Pack Services: Our expert team at FBA Prep Logistics ensures that your orders are accurately picked and packed, with the utmost care and attention to detail. This not only results in minimal order errors but also helps maintain a positive reputation for your business.

Shipping and Order Fulfillment: Utilizing our efficient shipping partners, we ensure timely delivery of your products to customers. We also handle order processing and fulfillment, taking the burden off your shoulders so that you can focus on growing your business.
Custom Packaging: Presentation is key when it comes to e-commerce sales. We offer custom packaging solutions that not only protect your products during transit but also make them stand out and create a memorable unboxing experience for your customers.

Reverse Logistics and Returns Management: Returns can be a hassle for any online business. We manage the entire returns process, ensuring that returned items are handled efficiently and restocked appropriately. This enables you to provide excellent customer service and maintain a high level of customer satisfaction.

Integration with Amazon and Other Platforms: We provide seamless integration with Amazon and other e-commerce platforms, making it easier for you to manage your products and orders across various sales channels.
Customizing Services to Suit Your Business
Now that you are aware of the array of services offered by FBA Prep Logistics, let's understand how these can be customized to cater to the specific needs of your e-commerce business:
Small to Medium-Sized Businesses
If you are just starting out or have a medium-sized e-commerce business, you may require a more hands-on approach with inventory management and storage. Our team works closely with you to understand your inventory needs and provides tailored solutions to ensure that your products are stored safely and efficiently.
Our customized pick and pack services also help smaller businesses maintain their brand identity with personalized packaging options. Additionally, we can help you reduce shipping costs by optimizing your shipment methods and weights.
Large E-Commerce Businesses
For larger e-commerce businesses with a more extensive product range and higher order volumes, FBA Prep Logistics offers scalable solutions that can adapt to your growing needs. With our advanced warehouse management system, we can handle increased volumes efficiently and ensure a seamless transition during periods of growth. We can also optimize your shipping processes to ensure faster and cost-effective deliveries.
##Streamlining Your E-commerce Business with Customized Solutions
In conclusion, the right 3PL fulfillment warehouse can significantly impact the success of your e-commerce business. By partnering with FBA Prep Logistics, you gain access to our extensive industry expertise and tailored solutions to meet your unique business needs. No matter the size of your business or the complexities of your supply chain, we are here to help you streamline your operations and grow your e-commerce presence on Amazon.
Choose FBA Prep Logistics as your 3PL fulfillment warehouse partner and take advantage of our customized solutions to reach new heights in your e-commerce journey.
Time and Cost Savings: Streamlining Your Fulfillment Process with FBA Prep Logistics
In the highly competitive world of e-commerce, time is money. Every minute you spend managing fulfillment tasks, such as packaging, shipping, and inventory management, takes away from the valuable time you could use to grow your business. Partnering with a 3PL fulfillment warehouse like FBA Prep Logistics can free up your time while simultaneously saving you money through efficient and cost-effective solutions. In this section, we will discuss the various ways FBA Prep Logistics can save you both time and money, ensuring your e-commerce business flourishes to its full potential.
Quick and Reliable Delivery Times
One of the essential factors for success in online retail is fast and reliable delivery. Customers have come to expect fast shipping on their orders, and FBA Prep Logistics delivers (literally) on this front. Our strategically located warehouse in Bristol, PA allows us to effectively reach a large portion of the US population within just a few days. This means your customers receive their orders quickly, leading to positive reviews and repeat business. Our expertise in efficient PA order fulfillment services ensures an optimal shipping experience for you and your customers.
Expert Inventory Management
Managing your inventory can be a complex process, especially as your business grows. FBA Prep Logistics offers expert inventory management solutions that keep your stock levels accurate and up-to-date, ensuring your customers receive their desired products and preventing costly stockouts or overstocking situations. By working with a 3PL like FBA Prep Logistics, you will have more time to focus on expanding your product range and reaching wider audiences.
Discounted Shipping Rates
As an e-commerce business, shipping costs can account for a significant portion of your expenses. FBA Prep Logistics, with its vast shipping volume, has access to discounted shipping rates that are typically reserved for high-volume shippers. We pass these savings on to you, the client, which means lower overall shipping costs and higher profit margins. Take advantage of the benefits of using Shopify shipping on the east coast by partnering with FBA Prep Logistics.
Seamless Amazon Integration
FBA Prep Logistics understands the challenges of selling on Amazon, and our expert team has streamlined the process for seamless integration with the platform. This means less time spent troubleshooting and managing the technicalities of selling on Amazon, and more time for you to concentrate on expanding your business and driving sales. Visit our guide on how to integrate technology into your Amazon seller workflow in Pennsylvania to learn more.
Efficient Pick and Pack Services
An essential aspect of managing your e-commerce business is the proper handling of orders as they come in. At FBA Prep Logistics, we use state-of-the-art pick and pack processes designed to boost efficiency and minimize errors. By entrusting your fulfillment needs to our team, you can rest assured that orders will be quickly and accurately prepared for shipment, enhancing customer satisfaction and boosting your reputation as a reliable seller. Check out our secure pick and pack service for Shopify stores in NJ for more details.
Scalable Solutions for Business Growth
As your business grows, so does the need for efficient fulfillment solutions that can keep up with increasing order volumes. By partnering with FBA Prep Logistics, you have access to a scalable fulfillment infrastructure that can adapt and expand to meet your ever-growing need. Our team of experienced professionals is always prepared to support the growth and evolving requirements of your e-commerce business.
Environmentally Friendly Practices
In today's environmentally conscious world, consumers appreciate businesses that take steps to reduce their ecological footprint. At FBA Prep Logistics, we adopt sustainable practices like using eco-friendly packaging materials and implementing energy-efficient warehouse operations. By working with us, you not only fulfill customer orders efficiently but also demonstrate your commitment to environmental responsibility, which can help attract more customers and boost your brand's reputation.
In conclusion, partnering with FBA Prep Logistics as your 3PL fulfillment warehouse can help your e-commerce business save time and money through efficient and cost-effective solutions. From quick delivery times and expert inventory management to discounted shipping rates and seamless Amazon integration, FBA Prep Logistics has everything you need for a streamlined fulfillment process. So why wait? Partner with FBA Prep Logistics today, and watch your e-commerce business soar to new heights!
Getting Started with FBA Prep Logistics: Your Partner in Growing Your E-Commerce Business
By now, you might be wondering how to begin your partnership with FBA Prep Logistics to reap the numerous benefits of a 3PL fulfillment warehouse. We've got you covered! In this section, we'll walk you through the steps involved in getting started with FBA Prep Logistics and detail the exceptional customer support that our team offers. And remember, as a strategic partner in your e-commerce journey, our mission is to help your business reach greater heights on affordable terms.
##5.1 Step 1: Understanding Your Business Needs
To begin, we first need to understand your e-commerce business's specific needs and requirements. Our in-depth Ultimate Guide to E-commerce Logistics in East Coast is a fantastic resource that can help you determine the services your business may require. Feel free to reach out to our friendly customer support team to discuss any concerns or questions you may have.
##5.2 Step 2: Choosing the Right Services
Once you have a clear idea of your business's needs, it's time to choose the appropriate services offered by FBA Prep Logistics. As previously mentioned, we offer a wide array of customizable solutions, ranging from inventory management, packaging, and shipping, to seamless integration with Amazon's platform. Learn more about our Efficient PA Order Fulfillment Services for Your E-commerce Store and build a custom package tailored to your particular objectives.
##5.3 Step 3: Seamless Integration and Transition
We understand that shifting your operations to a new 3PL fulfillment warehouse can be a daunting prospect. However, FBA Prep Logistics prioritizes an easy and smooth integration process. We ensure minimal disruption to your e-commerce operations as we work closely with you to transition your business to our services. For Amazon sellers, our guide on Top Cost Reduction Strategies for Amazon Sellers in PA provides valuable insights into making this switch as seamless as possible.
##5.4 Step 4: Ongoing Support and Collaboration
Once you've successfully partnered with FBA Prep Logistics, you can expect our dedicated team to provide ongoing support and guidance throughout your e-commerce journey. We're always available to address any concerns or queries you may have, and we're committed to helping your business achieve success. In fact, our Definitive Guide to Amazon PPC Advertising for NJ Sellers offers practical tips and strategies to maximize your online visibility on Amazon.
##5.5 Step 5: Continuous Improvement
At FBA Prep Logistics, we believe in the power of continuous improvement. As your business grows, so will our partnership evolve to help you adapt and navigate changes in the e-commerce landscape. Trust that our support and services will always be tailored to your business's evolving needs, ensuring a long-lasting and successful relationship.
In conclusion, your journey toward e-commerce success starts by partnering with FBA Prep Logistics, an experienced 3PL fulfillment warehouse committed to providing customized, time-saving, and cost-effective solutions that cater to your business's specific needs. With our team's expertise and customer-centric approach, there's no doubt FBA Prep Logistics is the ideal choice to drive your e-commerce business forward. So why wait? Reach out to us today and embark on a new phase of growth and prosperity for your online venture!
3PL Fulfillment Warehouse & E-Commerce: FBA Prep Logistics FAQ
1. How does a 3PL fulfillment warehouse ensure e-commerce success?
A 3PL fulfillment warehouse is essential for e-commerce businesses as it streamlines storage, packaging, and
shipping of products. By partnering with a reliable provider like FBA Prep Logistics, you can benefit from
expert insights and customized solutions that improve your efficiency and lead to increased customer
satisfaction.
2. What kind of expertise and knowledge does FBA Prep Logistics have?
FBA Prep Logistics prides itself on its comprehensive understanding of supply chain management, e-commerce
fulfillment, and Amazon integration. This knowledge, combined with extensive experience, enables us to
provide invaluable strategies and insights that drive improvements in your e-commerce business performance.
3. How does FBA Prep Logistics provide customized solutions to my e-commerce business?
At FBA Prep Logistics, we offer a wide range of services, from inventory management to packaging and shipping.
These services can be tailored to meet your e-commerce business's specific needs, ensuring a smooth and
effective supply chain experience tailored to your unique requirements.
4. How can FBA Prep Logistics help me save time and money?
FBA Prep Logistics streamlines your fulfillment process by managing inventory, packaging, shipping, and Amazon
integration. This optimized approach reduces time spent on repetitive tasks and minimizes errors, resulting
in significant cost savings. The efficient organization of your supply chain allows you to focus on growing
your e-commerce business.
5. How do I start working with FBA Prep Logistics?
Getting started with FBA Prep Logistics is hassle-free. Simply reach out to our team, and we'll guide you
through the process of establishing your account and handling the transition. Our customer support is always
on hand to offer assistance and answer any questions you may have.