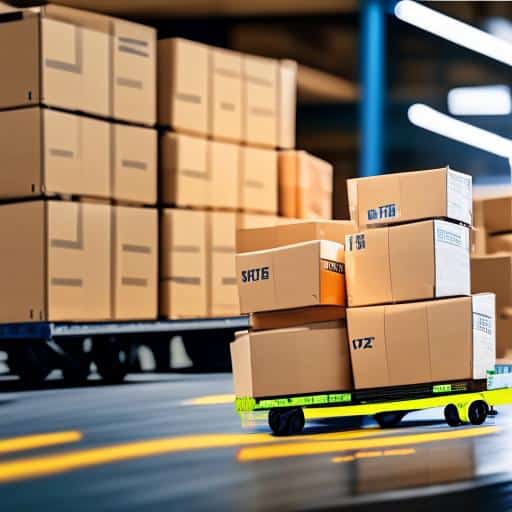 Introduction to 3PLs and Amazon FBA in the USA
As a new or growing e-commerce business owner selling on amazon.com, you may have come across terms like "3PL" (Third-Party Logistics) and "Amazon FBA" (Fulfillment by Amazon). At this point, you might be wondering how these concepts fit into your business and whether they can help you scale effectively. In this section, we will briefly explain what 3PLs are, how they tie into Amazon FBA, and what this means for your e-commerce business in the US.
What Are Third-Party Logistics (3PL) Providers?
Third-Party Logistics providers, or 3PLs, are essential partners for e-commerce businesses that take care of the management and execution of various supply chain operations. 3PLs can handle tasks such as warehousing, inventory management, order fulfillment, and shipping, enabling a seamless and efficient experience for your customers.
By outsourcing these critical aspects of your business, you can focus on other important tasks such as marketing, product development, and customer service. Plus, you'll be able to leverage the expertise and resources of established 3PLs to ensure customer satisfaction and achieve long-term growth.
So, What's Amazon FBA?
Fulfillment by Amazon (FBA) is a service offered by Amazon that enables you to store your inventory in their fulfillment centers. When a customer places an order, Amazon takes care of picking, packing, shipping, and providing customer support related to the product on your behalf.
Amazon FBA helps streamline the logistics side of your business, so you can focus on selling and growing your sales without worrying about fulfillment. However, FBA comes with specific requirements for packaging, labeling, and storage that sellers must adhere to.
Where Does FBA Prep Logistics Come In?
At FBA Prep Logistics, we bridge the gap between 3PL services and Amazon FBA by providing comprehensive support tailored to e-commerce businesses selling on amazon.com. As your 3PL partner, we ensure your products are prepared, stored, and shipped according to Amazon's strict guidelines, so you can reap the benefits of Amazon FBA without any added stress.
Our team of experts has extensive knowledge and experience in supply chain management, and our state-of-the-art warehousing and fulfillment center in Bristol, PA, is designed to offer the best possible support for your Amazon FBA business.
In the subsequent sections, we'll dive deeper into the key benefits of partnering with FBA Prep Logistics, including simplifying your supply chain management, ensuring compliance, saving time, and providing a competitive edge over DIY FBA solutions.
So, are you ready to learn how FBA Prep Logistics can revolutionize your e-commerce business and optimize your Amazon FBA operations? Let's get started!
Key Benefits of Partnering with FBA Prep Logistics for Your Amazon FBA Business
With so many 3PL Amazon FBA USA providers in the market, it might seem challenging to settle for the one that fits your business needs perfectly. However, we are confident that FBA Prep Logistics should be your top choice, and we are here to convince you why. In this section, we'll guide you through various advantages and benefits of working with our team to ensure your Amazon FBA business flourishes.
2.1 Expert Staff and Guidance
Our staff at FBA Prep Logistics are well-trained and highly skilled professionals who have extensive experience in the world of e-commerce and Amazon FBA. We provide guidance and support with every step of the process to ensure your business runs smoothly. Need help navigating Amazon's Seller Central or inventory management? Don't worry, our team has you covered.
2.2 Tailored Services for Every Business Size
At FBA Prep Logistics, we understand that every business is unique. That's why we offer flexible solutions to cater to the distinct needs of businesses of all sizes. Whether you're a small business owner branching out to Amazon FBA or a large-scale e-commerce company, our services can be customized according to your specific requirements.
2.3 Easy-to-use Platform and Integration
Our user-friendly platform lets you manage all aspects of your Amazon FBA business in one efficient, easy-to-use interface. From inventory management, order tracking to shipping and returns, you can access everything in one central location. Moreover, our platform easily integrates with leading e-commerce platforms such as Shopify to ensure seamless order processing and data sharing.
2.4 Efficient Order Fulfillment
Our top-notch order fulfillment services guarantee that customer orders are accurately picked, packed, and shipped promptly every time. We pride ourselves on delivering high-quality, error-free service to ensure customer satisfaction and increase your positive seller ratings on Amazon.
2.5 Strategic East Coast Location
With our warehouse strategically located in Bristol, PA, we provide fast andeconomical order fulfillment for e-commerce businesses serving customers along the East Coast. Our location ensures quick transit times and reduced shipping costs, ultimately bringing more profit to your business.
2.6 Comprehensive Inventory Management
An organized, efficient inventory management system is crucial to your e-commerce business's success. At FBA Prep Logistics, we provide real-time inventory tracking and stock level updates to help you make informed decisions regarding your inventory. Our system also helps to streamline the process of handling returns and effectively manage your stock.
2.7 Dedicated Customer Support
We believe in developing long-lasting relationships with our clients, which is why we offer dedicated customer support to address your concerns and inquiries. Our team is available to assist you with any questions you may have regarding our services, allowing you to focus on growing your business.
2.8 Secure Warehousing
FBA Prep Logistics is committed to providing a secure environment for your inventory. Our warehouse is equipped with advanced security systems to protect your products from theft, damage, or loss, giving you peace of mind.
2.9 Flexible Scalability
One of the primary challenges in e-commerce is handling sudden spikes in sales or demand. Our 3PL services offer the adaptability to scale your operations, whether it's a seasonal rush or an unexpected surge in orders. We can quickly ramp up or scale back resources to ensure you continue to meet customer expectations without any setbacks.
2.10 Cost-effective Solutions
By partnering with FBA Prep Logistics, you can effectively reduce your operational costs. Our cost reduction strategies for Amazon Sellers involve optimizing shipping rates, minimizing storage costs, and managing labor efficiently. We help to streamline your Amazon FBA business while letting you control your expenses.
With numerous benefits, FBA Prep Logistics is the perfect partner to boost your Amazon FBA growth. By managing your supply chain and order fulfillment processes, we take the stress and complexity out of running your e-commerce business. As your trusted 3PL Amazon FBA USA provider, our primary goal is to help you succeed and scale new heights. Are you ready to take your Amazon FBA business to the next level? Your journey starts right here at FBA Prep Logistics.
How FBA Prep Logistics Simplifies your Supply Chain Management
3PL Amazon FBA USA services provided by FBA Prep Logistics are designed to simplify supply chain management for e-commerce businesses. In this section, we will walk you through the steps of streamlining your supply chain management process to make your e-commerce business more efficient and profitable.
Inventory Management Made Easy
FBA Prep Logistics' inventory management services ensure your stock levels are always optimal. Our advanced software and warehousing solutions allow you to track your products in real-time, saving you from potential stockouts or excessive inventory.
Accurate Stock Forecasting
Our 3PL Amazon FBA USA solutions provide accurate stock forecasting, which helps you make informed decisions regarding product replenishment or discontinuation. This ultimately leads to increased efficiency and reduced costs associated with overstocking or understocking.
Product Kitting and Bundling
FBA Prep Logistics offers product kitting and bundling services, creating new selling opportunities on Amazon. Our expert team will handle the assembly and packaging of bundled products, improving sales potential while minimizing additional labor costs for your business.
Inventory Segmentation
Our 3PL Amazon FBA USA services allow for inventory segmentation, categorizing products based on demand, sales velocity, and other essential factors. This enables you to optimize your inventory management processes, reducing costs while enhancing customer satisfaction.
Seamless Order Fulfillment
By partnering with FBA Prep Logistics, you benefit from our expertise in order fulfillment and shipping. We ensure that orders are accurately picked, packed, and shipped to customers on time while reducing shipping costs through strategic carrier negotiation and consolidation.
Expedited Shipping Services
With our extensive network and proven strategies, FBA Prep Logistics can provide expedited shipping options for your e-commerce business, meeting customer expectations and improving overall satisfaction.
Customized Packaging Solutions
Our 3PL Amazon FBA USA services also include tailored packaging solutions, reflecting your brand's identity and ensuring a unique unboxing experience for your customers. This helps create a lasting impression, boosting customer loyalty and driving long-term sales success.
Streamlined Returns Management
FBA Prep Logistics understands that returns are an unavoidable aspect of e-commerce, and we have developed a comprehensive system to simplify returns management for your business.
Efficient Returns Processing
Our team handles the entire returns process for your 3PL Amazon FBA USA business, from receiving returned items to inspecting, refurbishing, and restocking or disposing of them per your guidelines. This takes the burden off your shoulders, allowing you to focus on core business activities.
Returns Analysis and Prevention
FBA Prep Logistics conducts detailed returns analysis, identifying the root causes of product returns and suggesting improvements to minimize future occurrences. This proactive approach helps to reduce overall return rates and associated costs.
Exceptional Customer Service Support
At FBA Prep Logistics, we are dedicated to providing top-notch customer service for your e-commerce business. Our support team is available to address any questions or concerns you or your customers may have, ensuring frictionless interactions and fostering strong relationships between you and your customers.
Dedicated Account Manager
When you partner with FBA Prep Logistics for your 3PL Amazon FBA USA needs, you receive a dedicated account manager who understands your business and works closely with you to ensure your expectations are met and your needs are addressed promptly.
Multilingual Support
Our customer service team is fluent in multiple languages, catering to the diverse needs of your customer base. This enhances customer experience, leading to increased loyalty and repeat sales.
Cutting-Edge Technology at Your Service
FBA Prep Logistics uses the latest technology to support your e-commerce business, including a state-of-the-art management system that integrates seamlessly with your existing sales channels, ensuring smooth operation and real-time synchronization of data.
Easy Integration with E-commerce Platforms
Our 3PL Amazon FBA USA service is compatible with various e-commerce platforms, providing you with a flexible and efficient solution to grow your business. You can easily integrate your existing store with our system, benefitting from streamlined operations and centralized data management.
Advanced Reporting and Analytics
FBA Prep Logistics offers advanced reporting and analytics features, enabling you to access real-time data on your inventory, sales, and more. This empowers you to make data-driven decisions, optimizing your e-commerce business for increased success.
In conclusion, FBA Prep Logistics simplifies your supply chain management processes through professional inventory management, seamless order fulfillment, streamlined returns management, exceptional customer service, and cutting-edge technology. By partnering with us, you can focus on growing your business while we take care of the complex logistics, ensuring your success in the competitive world of Amazon FBA.
Ensuring Compliance and Saving Time with FBA Prep Logistics
4.1 Navigating the Complex World of Amazon FBA Rules and Regulations
Amazon FBA has strict guidelines and requirements when it comes to compliance. One of the primary challenges faced by e-commerce businesses new to supply chain management is keeping up with these constantly changing rules. By partnering with FBA Prep Logistics, you can leave the hassle of Amazon FBA compliance to our expert team. We ensure that your shipments meet all the necessary criteria, such as packaging, labelling, and handling guidelines. This way, you can focus on growing your business without worrying about compliance issues.
4.2 Streamlining Your Import/Export Management
Managing import and export processes can be a time-consuming task, especially with the numerous variables involved, such as customs clearance, shipping costs, and proper documentation. By choosing FBA Prep Logistics as your dedicated 3PL Amazon FBA USA partner, you can rely on our experienced team to handle these complex logistics tasks on your behalf. We possess the expertise to navigate import/export processes efficiently, ensuring your shipments reach Amazon's fulfillment centers without any hitches.
No need for in-house logistics expertise
4.3 Timely Inventory Reporting and Expert Analysis
One of the core responsibilities of a 3PL is to provide consistent inventory updates to their clients. FBA Prep Logistics excels in this, by offering real-time inventory reports and insightful analysis, enabling you to make informed decisions based on accurate data. Our platform streamlines inventory tracking, enabling you to monitor stock levels, shipment status, and fulfillment speed with ease.
4.4 Cut Down on Errors and Maximize Efficiency
Partnering with FBA Prep Logistics can significantly reduce the number of errors in your supply chain, particularly when it comes to packaging and shipping procedures. Mistakes can lead to costly chargebacks, not to mention damage to your business reputation. Our team's expertise in Amazon FBA protocol and best practices will ensure your orders are prepared and shipped with accuracy, resulting in satisfied customers and a more efficient supply chain.
Minimize errors for maximum growth
4.5 Save Time and Focus on Your Core Business
As a business owner, your time is precious. Partnering with FBA Prep Logistics means delegating the time-consuming tasks of supply chain management to our capable team. By doing so, you can focus on your core business responsibilities, such as product development and marketing strategies. Let us handle the complex world of 3PL Amazon FBA in the USA so you can devote your energy to what you do best – growing your e-commerce enterprise.
Start saving time and growing your business
4.6 Conclusion
In a competitive e-commerce landscape, ensuring compliance and saving time are paramount to your business's success. By partnering with FBA Prep Logistics, you gain a dedicated team of experts committed to managing the ins and outs of Amazon FBA requirements, allowing you to focus on your core business. Our services not only simplify import/export processes but also provide real-time inventory reporting, reduce errors, and optimize your supply chain efficiency. The decision is clear – trust FBA Prep Logistics with your 3PL Amazon FBA USA needs, and watch your e-commerce business flourish.
Why FBA Prep Logistics Offers a Competitive Edge Over DIY FBA Solutions
If you're an e-commerce business owner, it's essential to understand the importance of selecting the right 3PL provider for optimizing your Amazon FBA operations. In this section, we'll break down the benefits of partnering with FBA Prep Logistics over handling FBA processes in-house. Let's dig deep into the key reasons why you should prefer our services to give your business that competitive edge.
1. Cost-Effective Solution to Your FBA Needs
When it comes to scaling your e-commerce business, every dollar saved matters. With a 3PL Amazon FBA USA provider like FBA Prep Logistics, you'll be able to cut back on costs connected to:
Warehousing and storage
Shipping and handling
Staffing
Equipment maintenance
Rather than investing in infrastructure and equipment to fulfill orders internally, let us handle those responsibilities for you. Our economies of scale directly translate to cost savings for your business, which enables you to allocate more resources to other aspects of your operations.
2. Time Savings – Focus on Your Core Business
As an e-commerce business owner, your primary goals should revolve around product development, sales, and customer satisfaction. When you partner with FBA Prep Logistics, you're effectively outsourcing all Amazon FBA-related operations to a team of experts, leaving you with more time to concentrate on your core business activities and strategies.
Consider the time it takes to learn the ins and outs of FBA processes, manage inventory, handle order fulfillment, and navigate the complexities of FBA fees – all those hours that would be spent on trial and error can now be spent on improving your offerings and enhancing your customers' experience.
3. Expertise in Supply Chain Management and Amazon Regulations
FBA Prep Logistics specializes in all things Amazon FBA, which means that we can easily help you navigate any Amazon regulations and best practices. Our team is well-versed in the ever-changing landscape of Amazon's ecosystem and can help your business stay ahead of the curve, ensuring your products are always in compliance with Amazon requirements.
Moreover, our expertise extends to the broader supply chain management, helping you optimize your entire process from importing products to post-sale logistics.
4. Improved Customer Satisfaction
When you partner with FBA Prep Logistics, your customers will also benefit from our professionalism and efficiency. With our streamlined processes, reliable order fulfillment, and a commitment to timely deliveries, your customers will enjoy a higher level of satisfaction, leading to positive reviews and repeat business.
Additionally, we'll also handle returns and exchanges on your behalf, further contributing to a hassle-free experience for your buyers, which ultimately results in better customer retention and business growth.
5. Access to Cutting-Edge Technology
Integrating your e-commerce store with advanced technologies can significantly enhance the efficiency of your operations. However, implementing this technology in-house can be an expensive and time-consuming process. FBA Prep Logistics has invested in the latest supply chain management technology that enables us to keep track of your inventory levels, shipments, and returns seamlessly, offering you a smooth and transparent service experience.
By partnering with us, you gain access to our cutting-edge technology without having to invest in it yourself, giving you a competitive advantage at a fraction of the cost.
6. Scalable Operational Support
A critical aspect of any successful e-commerce business is its ability to scale as the business grows. FBA Prep Logistics provides scalable solutions designed to grow with your needs. Whether your sales volume expects a significant uptick during peak seasons and holidays or you're releasing a new product line, our services will ensure that your operations continue to run smoothly without any hiccups, allowing your business to thrive regardless of its size or sales volume.
7. Expertise in International Shipping and Customs
Dealing with international shipping and customs can be a challenge for any business. With FBA Prep Logistics, you can rely on our expertise in global logistics and customs compliance to ensure a seamless experience for both you and your customers. Our team will guide you through the process of shipping your products across borders, streamlining the entire operation and ensuring you avoid any common pitfalls.
Final Thoughts
In conclusion, partnering with a 3PL Amazon FBA USA provider such as FBA Prep Logistics brings numerous benefits that far outweigh the advantages of managing your FBA operations in-house. From cost savings and time management to expert services, our team at FBA Prep Logistics is here to help you navigate the Amazon FBA landscape and position your business for growth. So, let's embark on your e-commerce journey together and watch your business thrive!
FAQs about FBA Prep Logistics, Your Ideal 3PL Partner for Amazon FBA
What is a 3PL, and how does it support my Amazon FBA business?

A 3PL, or third-party logistics provider, is a company that offers services related to the storage, handling, and shipping of your products. By partnering with a 3PL like FBA Prep Logistics, you can focus on growing your e-commerce business while we take care of the complexities of supply chain management, order fulfillment, and Amazon FBA compliance.

Why should I choose FBA Prep Logistics as my 3PL provider?

FBA Prep Logistics offers numerous benefits such as an easy-to-use platform, expert staff, and flexible services catered to all sizes of e-commerce businesses. By simplifying your supply chain management and providing complete regulatory compliance, we save you time and resources and help you achieve a competitive edge in the market.

How does FBA Prep Logistics simplify my supply chain management?

We streamline various aspects of your supply chain management, including inventory management, order fulfillment, customer service, and more. By handling these tasks efficiently, we can help you save time and boost your overall e-commerce business performance.

Can FBA Prep Logistics help me with compliance and save time?

Yes, we ensure your business complies with Amazon FBA requirements and other regulations. Our experienced team handles complex tasks such as import/export management, allowing you to save time and energy.

What gives FBA Prep Logistics a competitive edge over DIY FBA solutions?

Partnering with FBA Prep Logistics offers numerous advantages over in-house FBA processes. These include time savings, cost-effectiveness, and overall ease of managing your e-commerce operations. By choosing FBA Prep Logistics, you're investing in a reliable 3PL that supports and grows your business success.