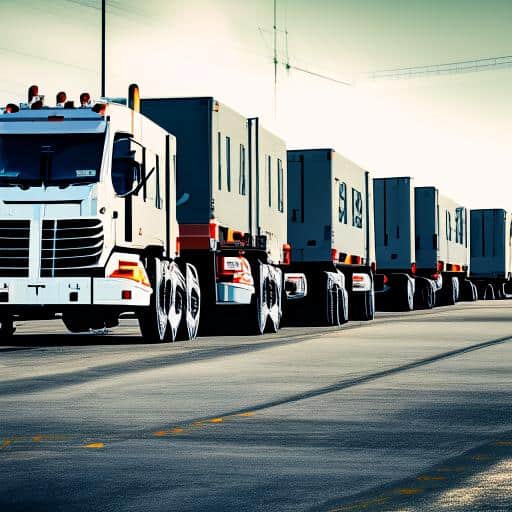 Introduction: Welcome to FBA Prep Logistics – Your Reliable Logistic Partner
Are you a growing e-commerce business owner, looking for a logistic service in NY NJ area, primarily selling on amazon.com? Look no further! We at FBA Prep Logistics understand the importance of seamless and efficient supply chain management for selling on Amazon and other e-commerce platforms. As a result, we are here to offer you our expertise and services as a reliable 3PL warehouse located in Bristol, PA.
Running an e-commerce business demands constant attention to detail, and we know that managing your supply chain might be overwhelming, especially if you're new to this industry. That's why our team at FBA Prep Logistics is committed to providing top-notch, customized logistic services tailored for medium-sized businesses like yours.
Why FBA Prep Logistics?
Our strategic location in Bristol, PA, ensures that we can provide you with unrivaled logistics services in the broader NY/NJ area. Whether you need help with inventory management, packing and shipping, or integration of your e-commerce platform, we have the experience and technology required to save you time and money, so you can focus on growing your business.
Our Commitment to Your Success
We believe in building strong and lasting partnerships with our clients. That's why we place a strong emphasis on proactive communication, innovative solutions, and high-quality service. No two businesses are the same, which is why our approach is always customized to cater to your unique needs and challenges.
Our Expertise in the E-commerce Industry
As a logistic service NY NJ area provider, we understand the complexities of selling on Amazon and other platforms. Our team has been carefully selected to bring you the knowledge, expertise, and experience necessary to deliver the best logistic and supply chain solutions.
Reputation and Trust
We have built a solid reputation among our clients as a trustworthy and dependable logistics partner. Our dedication to accuracy, efficiency, and timely delivery speaks volumes about our commitment to helping your business succeed.
In conclusion, partnering with FBA Prep Logistics means that your e-commerce business is in safe and capable hands. As experts in logistics services in the NY/NJ area, we are here to help you streamline your supply chain, save time and money, and ultimately grow your business. Get ready to embark on a journey of success with FBA Prep Logistics, as your reliable and trusted logistic partner.
Why Choose FBA Prep Logistics: The Benefits of Partnering with Us
As a digital marketing assistant, I know how essential a reliable and efficient logistics service is to the success of any e-commerce business. That's why I'm here to tell you why FBA Prep Logistics should be your go-to logistic service NY NJ provider. Our team at FBA Prep Logistics is dedicated to simplifying your supply chain management and helping your e-commerce business reach new heights, especially if you operate on Amazon.com and other similar platforms.
Customized Solutions Tailored to Your Business
At FBA Prep Logistics, we understand that no two businesses are alike. That's why we offer customized solutions that cater to your unique e-commerce needs. From inventory management to order fulfillment, our team works closely with you to develop a logistics strategy that aligns with your business's goals, requirements, and budget.
Extensive Experience in E-commerce Logistics
As a logistics service provider specifically designed for e-commerce and Amazon.com sellers, we have extensive experience in addressing the unique logistics challenges faced by businesses in this growing industry. This experience allows our team to provide unparalleled service and support in managing your supply chain, streamlining your processes, and helping you navigate the ever-changing landscape of e-commerce logistics.
State-of-the-Art Facilities and Technology
To ensure that your products are always stored securely and efficiently, FBA Prep Logistics operates from state-of-the-art facilities designed to meet the highest industry standards. Our warehouse in Bristol, PA is equipped with the latest technology and tools to help us manage and track your inventory to ensure optimal results. This commitment to providing top-quality facilities means that you can focus on growing your business while we handle your logistics needs.
Exceptional Customer Service and Support
At FBA Prep Logistics, we pride ourselves on our commitment to providing outstanding customer service and support. Our team of skilled professionals is available to answer any questions, address any concerns, and provide guidance every step of the way. Should any issues arise, you can trust that we will work diligently to resolve them quickly and efficiently, ensuring your business remains on track and thriving.
Competitive Pricing and Cost-Effective Solutions
Partnering with FBA Prep Logistics doesn't just mean exceptional service and support; it also means cost-effective solutions tailored to your budget. We offer competitive pricing on all our services, which allows your business to benefit from top-quality logistics management without breaking the bank. With FBA Prep Logistics, you can feel confident knowing you're getting the best value for your investment.
Seamless Integration with E-commerce Platforms
One of the outstanding features of our logistic service NY NJ is the seamless integration with leading e-commerce platforms, such as Shopify and Amazon.com. This allows for a streamlined and efficient order management process and makes it easier for you to manage your business's logistics aspects.
Strategic Location: Serving the NY/NJ Area
Located in Bristol, PA, our warehouse is strategically positioned to serve e-commerce businesses in the NY/NJ area. This location allows for faster and more efficient order fulfillment, reducing shipping times and costs for your business. In addition, our East Coast location enables us to offer improved shipping options for your customers, ensuring they receive their orders quickly and without any hiccups.
Accelerate Your E-commerce Growth
At FBA Prep Logistics, our primary goal is to help your e-commerce business grow and thrive. By partnering with us, you gain access to expert solutions, cutting-edge technology, and an experienced team focused on your success. Let us take care of the logistics so you can focus on expanding your business and providing the best products and services to your customers.
In conclusion, FBA Prep Logistics is the ideal logistic service NY NJ provider for any e-commerce business seeking to improve its supply chain management and grow its operations. Our warehouse in Bristol, PA offers the perfect solution for those selling on Amazon.com or other platforms, ensuring that your inventory is managed effectively, orders are fulfilled promptly, and your customers are left satisfied. Don't wait any longer – begin your journey to success by partnering with FBA Prep Logistics today!
3. Our Services: Simplifying Your Supply Chain Management
At FBA Prep Logistics, we understand the unique supply chain requirements of e-commerce businesses, especially those selling on Amazon.com. Our commitment to streamlining logistics for businesses in the NY/NJ area is evident in the wide range of customized logistics services we offer. Let's explore how our expertise simplifies your supply chain management:
3.1. Inventory Management: Organizing Your Stock
Did you know that managing your inventory effectively is crucial in maintaining healthy profit margins? Our Inventory Tracking on Shopify service focuses on organizing, storing, and tracking your stock in a meticulous manner. We use advanced inventory management software to monitor your stock in real-time, ensuring seamless inventory control and minimizing the risk of stockouts or overstocking.
3.2. Order Fulfillment: Ensuring Flawless Delivery
A critical aspect of any e-commerce business is providing a superior customer experience, which includes efficient order fulfillment. Our Efficient PA Order Fulfillment Services for Your E-commerce Store strive towards timely and precise packing and shipping, thus, ensuring customer satisfaction. Whether you run a niche store or cater to a mass audience, our flexible order fulfillment service is designed to scale with your business, effectively handling both low and high order volumes.
3.3. Shipping: Fast and Reliable Delivery
As a top-notch Logistic Service NY NJ provider, we understand the importance of fast, safe, and reliable shipping for e-commerce businesses. Our specialized shipping solutions help you meet customers' increasingly high expectations when it comes to speedy deliveries. By leveraging our well-established shipping network, we ensure that your orders reach their destination on time, without compromising on the quality of packaging. Need more information? Check out our article on The Benefits of Using Shopify Shipping on the East Coast!
3.4. Returns Management: Streamlining Customer Returns
Dealing with customer returns can be a daunting task. But worry not! FBA Prep Logistics' Hassle-free Shopify Returns in NJ service is specifically designed to take the stress out of managing returns. Our dedicated returns management team ensures smooth processing, inspection, and restocking of returned products, allowing you to stay focused on growing your business.
3.5. Cross-Docking: Improving Efficiency
Do you want to increase the proficiency of your shipping process? Our Why Cross-Docking is the Key Element to your Amazon Business service is the answer. Cross-docking involves the transfer of products from the inbound trucks to the outbound trucks with little or no storage in between. By opting for cross-docking, you'll save time, reduce transportation costs, and minimize inventory levels – all of which translate into improved overall efficiency.
3.6. Amazon FBA Prep Services: Prepare Your Inventory Like A Pro
A vital part of selling on Amazon.com is ensuring that your inventory is prepped based on their FBA requirements. Our How Amazon FBA Prep Services Can Help You Scale Your Business service takes care of inspecting, labeling, bundling, and packing your products in compliance with Amazon's guidelines. By relying on our expert FBA prep services, you can avoid costly mistakes and ensure that your inventory is ready to be shipped to Amazon fulfillment centers without any hiccups.
3.7. Technology Integration: Streamlining Operations
By incorporating cutting-edge technology into your supply chain management, you can optimize your e-commerce operations with ease. Our How to Integrate Technology into Your Amazon Seller Workflow in Pennsylvania discusses various solutions such as warehouse management software, data analytics tools, and automation to maximize efficiency, accuracy, and scalability.
As you can see, FBA Prep Logistics is truly dedicated to simplifying your supply chain management. With a comprehensive set of tailor-made services addressing every aspect of the logistics process, we're proud to be the go-to Logistic Service NY NJ provider for countless e-commerce businesses in the area. Partner with us and experience the benefits of streamlined logistics today!
4. Making the Transition: How FBA Prep Logistics Guides New 3PL Clients through the Process
We understand that the idea of adopting Logistic Service NY NJ solutions might be a bit intimidating for businesses new to supply chain management and 3PL services. FBA Prep Logistics is here to make this process as smooth as possible. We work closely with our clients to understand their needs, customize the solutions, and help them make the most of our comprehensive logistic services. Here's how we guide new businesses just like yours through the 3PL transition process:
4.1. Initial Consultation: Understanding Your Business Needs
Our first step is setting up an initial consultation to understand the unique requirements of your business. This process involves a thorough review of your current e-commerce operations, identifying your strengths, weaknesses, and areas where logistic support is needed. We consider factors like your target market, product range, sales channels, and desired growth trajectory. During the consultation, you can expect open and honest communication about your expectations and desired outcomes.
4.2. Customizing Solutions: Mapping Out the Perfect Supply Chain Game Plan
Once we have a clear understanding of your needs, we'll work with you to create a customized supply chain solution tailored specifically for your business. This involves selecting the right combination of our comprehensive logistics services that cater to your unique requirements. From inventory management and order fulfillment to shipping and delivery, we'll help you streamline your operations and maximize efficiency, making it easier for you to do business in the NY/NJ area.
4.3. Implementation: Integrating Our Services into Your Operations
After your customized logistics solution is approved, our expert team at FBA Prep Logistics will guide you through the implementation process. We'll provide support, resources, and clear communication, ensuring our sophisticated, technology-driven logistics services integrate seamlessly into your operations. We'll be right there with you, every step of the way, so you're never left in the dark.
4.4. Continuous Support: Helping You Grow and Scale Your E-commerce Venture
At FBA Prep Logistics, we don't just set you up with our amazing Logistic Service NY NJ options and then leave you to figure things out on your own. We offer continuous support to help your business grow, adapt, and succeed in the NY/NJ e-commerce landscape. We'll be right by your side, with ongoing advice, industry insights, and the hands-on, personalized support you need to navigate the ever-evolving world of online sales.
4.5. Periodic Reviews and Adjustments: Ensuring Ongoing Success
E-commerce businesses evolve, and so should their logistic services. We believe in proactively identifying opportunities to make your supply chain more efficient, so we'll conduct periodic reviews and suggest adjustments that cater to your evolving business needs. Think of FBA Prep Logistics not just as a 3PL provider but as a forward-thinking partner committed to your continuous growth and success.
4.6. Leverage Our Expertise: Why Reinvent the Wheel?
If you're wondering how Amazon FBA Prep Services can help you scale your business, or want to explore The Ultimate Guide to E-commerce Logistics in East Coast, you're not alone. Our expertise in these areas can save you time, money, and headache by tapping into our years of experience serving e-commerce businesses of all sizes.
In summary, FBA Prep Logistics is committed to ensuring a smooth and seamless transition for your business to integrate our comprehensive suite of 3PL services that cater to every aspect of your e-commerce operations. With open communication channels, personalized expertise, and cutting-edge technology, we're well-equipped to carry your business beyond today's boundaries and into tomorrow's potential. Ready to get started? Reach out to us and we'll be eager to discuss your unique needs as we journey together toward e-commerce success.
5. Ready to Partner with FBA Prep Logistics? Get Started Today
So, you've learned about the outstanding Logistic Service NY NJ that FBA Prep Logistics offers and how we can simplify and streamline your supply chain management. What's next? The question now is, are you ready to partner with a reliable team and take advantage of our exceptional services? If you've made up your mind, we're here to help you get started in your journey towards e-commerce success. Let us walk you through the easy steps of getting on board with the outstanding FBA Prep Logistics services.
5.1. Reach Out To Our Expert Team
The first step in partnering with FBA Prep Logistics is to reach out to our expert team of logistics professionals. With our extensive experience and knowledge in working with e-commerce businesses, we're always ready to address your concerns and provide personalized solutions to meet your business needs. We also provide a dedicated account manager who will work closely with you to tailor a comprehensive supply chain solution that fits your unique requirements.
5.2. Seamless Integration with Your E-commerce Platform
No matter which e-commerce platform you use, whether it's Amazon.com, Shopify, or any other, our Logistic Service NY NJ system seamlessly integrates with your store, allowing you to effortlessly manage, track, and monitor your inventory, orders, and shipments. Additionally, our The Ultimate Guide to E-commerce Logistics in East Coast provides step-by-step instructions on how to set up this integration and get your store running with our efficient logistics services.
5.3. Customized Solutions Tailored to Your Business Needs
FBA Prep Logistics takes pride in crafting customized logistic solutions tailored to your unique business requirements. Whether you're looking for specialized order fulfillment services, personalized pick and pack processes, or efficient inventory management, we've got you covered. Our team will take the time to understand your business model and collaborate closely with you to create a tailored logistics plan that best meets your specific needs.
5.4. Streamlined Onboarding Process
We know that transitioning to a new logistics partner can be daunting, especially for businesses new to the world of 3PL services. That's why we've streamlined our onboarding process, ensuring a smooth and hassle-free experience for our new clients. Our dedicated team will guide you through the entire process, from initial setup and integration to optimizing your logistics operations and beyond. With FBA Prep Logistics by your side, you can be sure that your business is in good hands.
5.5. Unparalleled Customer Support
Your success is our success. That's why FBA Prep Logistics ensures top-notch customer support to all our partners. Our skilled team is always ready to assist with any questions, concerns, or challenges that may arise in managing your supply chain. You can trust our wealth of experience in providing Logistic Service NY NJ to help you overcome any obstacles and grow your business to its full potential.
5.6. Access to Valuable Resources
When you partner with FBA Prep Logistics, you're not just getting a 3PL warehouse service provider but also access to a treasure trove of valuable resources that will help your business thrive. Check out our Choosing the Best Amazon FBA Warehouses in NJ for Your Business and How Amazon FBA Prep Services Can Help You Scale Your Business articles to gain insights on how you can optimize your supply chain management and effectively scale your e-commerce operation.
In conclusion, partnering with FBA Prep Logistics is a smart choice for businesses seeking to streamline and optimize their supply chain management in the NY/NJ area. With our extensive expertise, comprehensive services, and dedicated support, we are committed to helping e-commerce businesses flourish. Don't hesitate – now is the right time to team up with FBA Prep Logistics and start your journey to growth and success in today's competitive e-commerce market.
Frequently Asked Questions
1. Why should I choose FBA Prep Logistics among other 3PL warehouses?
FBA Prep Logistics offers customized solutions tailored to the specific needs of your e-commerce business. Our expertise in Amazon.com-related supply chain management makes us a reliable partner in the NY/NJ area, enabling your business to scale up without worrying about the logistics aspects.
2. What services does FBA Prep Logistics provide?
FBA Prep Logistics offers a wide range of services, including inventory management, order fulfillment, and shipping. Our solutions are specifically designed to cater to e-commerce businesses selling on Amazon.com and other platforms, ensuring a seamless supply chain process.
3. I've never used a 3PL before. How can FBA Prep Logistics help my business transition?
We work closely with businesses new to 3PL services, offering support and guidance throughout the transition process. We provide resources to educate your team about 3PL operations and make sure there is a smooth transfer to our logistics solutions.
4. What advantages do I get when partnering with FBA Prep Logistics?
By partnering with FBA Prep Logistics, your e-commerce business can benefit from our expertise in supply chain management, our tailored solutions, and our commitment to delivering superior service. We help you streamline your supply chain, improve efficiency, and ultimately grow your operations.
5. How do I get started with FBA Prep Logistics?
To get started with FBA Prep Logistics, simply reach out to our team in Bristol, PA. We are ready to help businesses located in the NY/NJ area optimize their supply chain, manage their logistics, and boost e-commerce performance across various platforms.