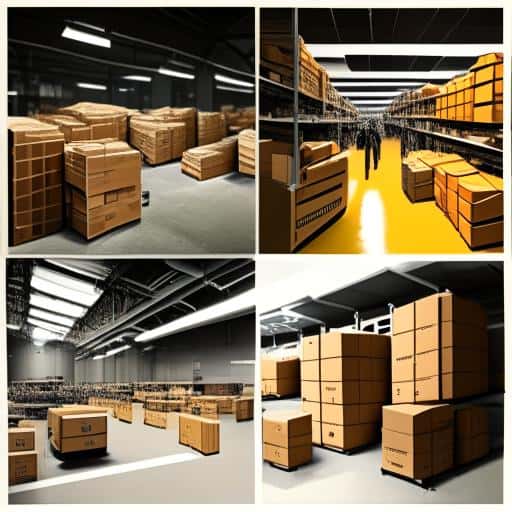 Introduction to Amazon FBA and the Importance of a Prep Center
Welcome to the world of e-commerce! Are you looking for an efficient way to manage your inventory, fulfill orders and scale your online business? If so, Amazon's Fulfillment by Amazon (FBA) service might be the solution you need. In this article, we will provide a brief overview of Amazon FBA, discuss the importance of an FBA prep center, and show why partnering with a local FBA prep center like FBA Prep Logistics can help streamline your operations and elevate your online business to new heights.
What is Amazon FBA?
Fulfillment by Amazon (FBA) is a service offered by Amazon that allows online sellers like yourself to outsource their product storage, order fulfillment, and customer returns management. Essentially, you send your products to Amazon's fulfillment centers, and when customers place orders, Amazon takes care of picking, packing, shipping, and providing customer service. This allows you to focus on growing your business while Amazon handles the logistical complexities.
The Role of an Amazon FBA Prep Center
So, where does an Amazon FBA prep center near me fit into the equation? Before you can ship your products to Amazon's fulfillment centers, they need to be properly prepared in accordance with Amazon's guidelines, which include labeling, bundling, poly bagging, and other requirements. While you can choose to handle these tasks in-house, doing so can be time-consuming and detract from your focus on growing your business.
This is where an FBA prep center comes in. An Amazon FBA prep center is a third-party service provider that specializes in preparing your inventory to meet Amazon's stringent requirements. By outsourcing your prep tasks to a professional, experienced prep center, you can save time, reduce errors, and ensure a seamless flow of products from your supplier to Amazon's fulfillment centers.
Why FBA Prep Logistics is the Ideal Partner for Your E-commerce Business
Now that you understand the basics of Amazon FBA and the crucial role played by FBA prep centers, let's take a moment to introduce ourselves. FBA Prep Logistics is a leading Amazon FBA prep center located in Bristol, PA, offering a comprehensive range of services to make your e-commerce journey as smooth as possible. We pride ourselves on our commitment to quality, efficiency, and customer satisfaction, leaving you with peace of mind and more time to invest in growing your online empire.
Looking for more information on how FBA Prep Logistics can help your business? Check out our informative guide on How Amazon FBA Prep Services Can Help You Scale Your Business. Read on to learn more about the benefits of choosing a local FBA prep center, the key features to look for when selecting a prep center, and how to get started with FBA Prep Logistics today!
2. The Benefits of Choosing a Local FBA Prep Center
When searching for the perfect Amazon FBA prep center, one of the main factors to consider is its geographical location. If you're an e-commerce business owner, it's important to have a prep center that's easily accessible and nearby to your customer base. Having an Amazon FBA Prep Center Near Me offers undeniable advantages that will significantly impact your business operations. In this section, we'll delve into the top benefits of selecting a local FBA prep center for your e-commerce store.
2.1. Faster Turnaround Times
One of the primary advantages of choosing an Amazon FBA prep center that's close to your business is the shorter turnaround times for your products. When your inventory is managed by a nearby warehouse, it's more likely that your products will be processed more quickly and efficiently. This means that your customers will receive their orders faster, leading to improved customer satisfaction and, ultimately, increased sales for your e-commerce business.
2.2. Lower Shipping Costs
Selecting a local FBA prep center can help you cut down on shipping costs. The closer the warehouse is to your primary customer base, the less distance your products need to travel, thus reducing the shipping costs for both you and your customers. This is especially crucial when it comes to fulfilling large volumes of orders or shipping bulky items. The cost savings can be quite significant and should not be overlooked when considering which Amazon FBA prep center to use.
2.3. Easier Communication with the Warehouse
Having a local FBA prep center provides the convenience of easier communication with the warehouse team. This is particularly beneficial if you have any specific requirements or unique business needs. Being able to communicate directly with the warehouse personnel who are handling your inventory can help ensure that your products are being processed accurately and efficiently. This close communication can also help resolve any issues or concerns that arise quickly, reducing any potential downtime or delays in the fulfillment process.
2.4. Greater Flexibility and Control
When your FBA prep center is nearby, you gain a greater level of flexibility and control over your inventory. You have the option to visit the warehouse in person, providing you with a firsthand look at the operations and procedures in place. This knowledge can offer valuable insights into ways to further improve your fulfillment processes and adapt to any business changes swiftly.
2.5. Supporting Local Businesses
Another advantage of choosing a local FBA prep center is the opportunity to support local businesses. By trusting a local warehouse to handle all of your fulfillment needs, you're investing in your community and helping to create local jobs. This fosters a sense of partnership among local businesses and can lead to valuable connections and relationships that may prove beneficial in the long run.
2.6. Better Understanding of Regional Market Trends
A local FBA prep center is more likely to have a better understanding of the regional market trends and needs. They know the customer preferences, the latest trends in the area, and can help you tailor your offerings to cater to local demands. Additionally, these insights may lead to more successful marketing strategies and increased sales.
In conclusion, choosing a local Amazon FBA prep center offers numerous benefits that can significantly impact your e-commerce business's operations and profitability. From the faster turnaround times to the lower shipping costs and easier communication, having an Amazon FBA Prep Center Near Me is a wise decision that you definitely should consider. With FBA Prep Logistics, located in Bristol, PA, you'll find the ideal local solution for all your fulfillment needs. In the next section, we'll discuss the essential features to look for in an Amazon FBA prep center to help you make an informed decision.
Key Features to Look for in an Amazon FBA Prep Center Near Me
When deciding on the best local Amazon FBA prep center for your business, there are several crucial factors to consider. The following features are essential to help your e-commerce operation run smoothly, boost efficiency, and ultimately save time and money.
Expertise in Amazon FBA Requirements
Amazon FBA has its own strict set of guidelines and regulations when it comes to packaging, labeling, and shipping products. It's essential to choose a prep center that fully understands these requirements and adheres to them during the entire prep and shipping process. This will save you from potential additional costs or delays due to non-compliance.
A Variety of Services Offered
E-commerce companies have different needs, and the ideal prep center should cater to most, if not all, of these needs. Look for a prep center that offers various services such as:
Inspection: Ensuring that the products are in good condition and meet Amazon's requirements.
Labeling: Adding barcodes and labels as per Amazon's guidelines.
Packaging: Safely and securely packaging products in compliance with Amazon's packing guidelines.
Bundling and Kitting: Combining and assembling multiple products into sets and creating multi-packs.
Storage: Providing secure storage facilities for your inventory.
Shipping: Ensuring that packages are shipped to Amazon fulfillment centers within the stipulated timeframe.
Transparency in Pricing
Pricing transparency in an Amazon FBA prep center is crucial for your budgeting and financial planning. A reputable prep center should provide a clear breakdown of their pricing structure and any additional fees associated with their services. Make sure to inquire about any potential hidden charges, and compare costs between different prep centers near you.
Scalability and Flexibility
Your e-commerce business may experience seasonal fluctuations, or rapid growth as it expands. It's essential to choose an Amazon FBA prep center that can adapt to these changes and accommodate your requirements during both peak and slow seasons. A flexible prep center can grow with your business, offering additional services or resources when needed, ensuring that you don't outgrow their capabilities.
Stellar Communication and Customer Support
In the fast-paced world of e-commerce, effective communication and customer support are vital. Choose a prep center that is responsive and provides proactive updates on the status of your inventory and shipments. A dedicated account manager can be an invaluable resource in resolving issues and streamlining the entire process.
Positive Reviews and Proven Track Record
Word-of-mouth recommendations from fellow e-commerce sellers and testimonials from clients are beneficial when choosing an Amazon FBA prep center near you. Their experiences can help you gauge the quality of services offered and the reliability of the prep center. It also isn't a bad idea to check online for reviews or forum discussions to gather insights from others in the industry.
Location and Accessibility
As highlighted by 3 Benefits of E-commerce Fulfillment on the East Coast, having a local prep center within close proximity to your business, or to Amazon Fulfillment Centers, is a significant advantage. This can not only save on shipping costs but also enable face-to-face communication and warehouse visits if necessary.
Finding the right Amazon FBA prep center near you need not be a daunting task if you know exactly what to look for. By considering the essential features discussed above, you can confidently choose a local Amazon FBA prep center that will provide the expertise, flexibility, and support required for your business's growth and success.
4. Why FBA Prep Logistics is Your Best Local Choice for Amazon FBA Prep Services
Discovering an Amazon FBA Prep Center near me seemed almost unachievable. Thankfully, FBA Prep Logistics has made all the difference. As a digital marketing assistant with our 3PL warehouse in Bristol, PA, I have seen firsthand just how incredible our warehouse is. FBA Prep Logistics is the ideal local choice when looking for an outstanding Amazon FBA Prep Center. Here's why:
4.1. Expert Knowledge of Amazon FBA Requirements
FBA Prep Logistics has a deep understanding of Amazon FBA requirements, making us the best choice for your e-commerce business. Our team of experts ensures that your inventory is prepped, labeled, and packaged according to Amazon's strict guidelines, thereby reducing the risk of any issues with your shipments.
4.2. Comprehensive Services Tailored to Your Needs
Needing a full range of services is common in the e-commerce industry, and FBA Prep Logistics has a solution for every aspect of your supply chain management. Our services include receiving shipments, inspecting products, labeling and packaging, storage, and shipping out to Amazon fulfillment centers.
Moreover, FBA Prep Logistics is renowned for its efficient PA order fulfillment services, saving you time and effort while getting your products to customers faster. Along with that, we specialize in hassle-free Shopify returns and simplifying inventory tracking for e-commerce businesses.
Transparency is fundamental to building trust, and at FBA Prep Logistics, we maintain a transparent pricing structure without any hidden fees. You can easily understand the costs associated with our services and make informed decisions about whether to partner with us. We are committed to providing the best possible services without breaking the bank.
4.4. Faster Turnaround Times for Improved Efficiency
FBA Prep Logistics understands the value of time in e-commerce. Being a local Amazon FBA Prep Center near me, our warehouse ensures faster turnaround times and helps you streamline your Amazon operations. Our agile processes enable us to receive, prep, and ship inventory quickly and efficiently, allowing for maximum speed and reliability across your supply chain.
4.5. Superior Customer Support
FBA Prep Logistics takes pride in our ability to provide top-notch customer support. Our dedicated team is always ready to assist you with any questions or concerns you may have. We believe in forming long-lasting relationships with our clients, and this is only possible through consistent, excellent customer service.
4.6. Reputable E-commerce Fulfillment Services
Our experience and reputation speak volumes about our dedication to e-commerce fulfillment. As a 3PL provider, FBA Prep Logistics offers 3 benefits of e-commerce fulfillment on the East Coast. Through our work, we have earned the trust of e-commerce businesses who have never used a 3PL before, making us an ideal choice for new e-commerce entrepreneurs.
4.7. Continued Improvement and Growth
At FBA Prep Logistics, we believe that growth and improvement is a continuous process. We make it our priority to stay updated with industry trends and frequently enhance our services to better cater to your needs. Our commitment to being the best choice of an Amazon FBA Prep Center near me drives our team to consistently enhance their skills, upgrade our warehouse operations, and better serve our clients.
4.8. A Proven Track Record in Delivering Results
Our clients have experienced tremendous growth and success by partnering with FBA Prep Logistics. Our attention to detail, comprehensive services, and commitment to delivering results have allowed e-commerce businesses to scale rapidly and efficiently.
To sum it up, FBA Prep Logistics packs the perfect combination of expertise, services, and customer-centric approaches. As an Amazon FBA Prep Center near me, we are the ultimate choice for e-commerce businesses that desire streamlined supply chain management and predictable results. Your search for the best local FBA prep services ends here – choose FBA Prep Logistics!
5. How to Get Started with FBA Prep Logistics for a Seamless Amazon FBA Experience
If you're convinced that the right choice for your Amazon FBA business is having a trustworthy and professional local partner, look no further than FBA Prep Logistics. To ensure you have a seamless experience with our services, follow these simple steps on how to get started with FBA Prep Logistics.
5.1. Visit our Website and Get to Know Our Services
The first step in partnering with a dependable Amazon FBA prep center near me is to visit the FBA Prep Logistics website. Learn about our wide range of services, including order fulfillment, inventory management, and Amazon FBA prep, which are all designed with your e-commerce business's specific needs in mind.
5.2. Talk to the FBA Prep Logistics Team
It's essential to speak directly with the team that will handle your Amazon FBA needs. Contact the experts at FBA Prep Logistics to discuss your requirements, ask any questions, or address any concerns you may have about our services.
5.3. Take a Tour of the FBA Prep Logistics Warehouse
At FBA Prep Logistics, we believe that transparency is key to a successful partnership. Schedule a time to visit our facility in Bristol, PA, to see firsthand how our warehouse operates and get a better understanding of our capabilities.
5.4. Evaluate Our Service Packages and Pricing
Understanding costs is crucial when partnering with any Amazon FBA prep center near me, including FBA Prep Logistics. Our pricing is transparent and easy to understand, and we can tailor solutions to suit your unique business needs. Visit our pricing page to learn more about our different options.
5.5. Sign up for an FBA Prep Logistics Account
Create an account with FBA Prep Logistics to get started with our services. Signing up is quick and straightforward, ensuring you can begin enjoying our benefits sooner.
5.6. Ship Your Inventory to Our Warehouse
Once your account is set up, send us your inventory. We'll handle the process of receiving, storing, preparing, and shipping your Amazon FBA orders efficiently and professionally.
5.7. Monitor Your Fulfillment with Real-Time Tracking
Another advantage of working with us is our commitment to transparency through the entire fulfillment process. With real-time tracking, you can always know the status of your inventory and shipments – helping you stay in control of your supply chain.
5.8. Partner with an Amazon FBA Prep Center Near Me
One thing you'll quickly discover when working with FBA Prep Logistics is how our team's combined expertise offers significant advantages for your e-commerce operations. Bring your business to new heights by partnering with seasoned professionals who understand the ins and outs of Amazon FBA and provide valuable guidance in tackling complex challenges like inventory management and reverse logistics.
5.9. Focus on Growing Your Business
Outsourcing your Amazon FBA fulfillment needs to FBA Prep Logistics allows you to concentrate on what truly matters – scaling your e-commerce business. With a reliable and experienced partner managing your Amazon FBA needs, you will achieve faster growth and increased profitability.
5.10. Enjoy Continuous Support from FBA Prep Logistics
Our commitment to your success doesn't end after signing up for our services; the FBA Prep Logistics team offers continuous support and guidance throughout your partnership with us. We take pride in providing great customer satisfaction and building long-lasting relationships with our clients.
In summary, starting with FBA Prep Logistics is a simple and straightforward process. Sign up for our services and experience the benefits of having an expert Amazon FBA prep center near me handle all your logistics needs, while you can focus on expanding your e-commerce business.
Top 5 FAQs About FBA Prep Logistics</h1>
<h2>1. What is Amazon FBA and how does a prep center like FBA Prep Logistics help streamline the process?</h2>
<p>Amazon FBA (Fulfillment by Amazon) is a service provided by Amazon that allows sellers to store their products in Amazon's fulfillment centers. Amazon takes care of storage, packaging, shipping, and customer service. <strong>FBA Prep Logistics</strong> is a specialty warehouse that handles all the necessary preparations, like inspection, labeling, and packaging, ensuring your products meet Amazon's strict guidelines and requirements.</p>
<h2>2. What are the benefits of choosing a local FBA prep center like FBA Prep Logistics?</h2>
<p>Choosing a local FBA prep center like <strong>FBA Prep Logistics</strong> offers several advantages, including faster turnaround times, lower shipping costs, and more convenient communication with the warehouse. This translates into a smoother, more efficient experience for your e-commerce business.</p>
<h2>3. What key features should I look for when selecting an Amazon FBA prep center?</h2>
<p>It's crucial to choose an FBA prep center with expertise in Amazon FBA requirements, a range of services offered, and transparent pricing. Additionally, look for a facility with a strong reputation for customer service and reliability, like <strong>FBA Prep Logistics</strong>.</p>
<h2>4. Why should I choose FBA Prep Logistics as my Amazon FBA prep service provider?</h2>
<p><strong>FBA Prep Logistics</strong> stands out with their extensive experience in the e-commerce industry, comprehensive services, and a solid reputation for customer satisfaction. Located in Bristol, PA, they are dedicated to providing efficient, high-quality prep services for Amazon sellers of all sizes.</p>
<h2>5. How do I get started with FBA Prep Logistics for a seamless Amazon FBA experience?</h2>
<p>Getting started with <strong>FBA Prep Logistics</strong> is easy! Reach out to their team to discuss your specific needs and they'll guide you through the process of setting up your account, creating shipping plans, and sending your inventory to their facility for stress-free Amazon FBA management.</p>
<script type="application/ld+json">
{
"@context": "https://schema.org",
"@type": "FAQPage",
"mainEntity": [
{
"@type": "Question",
"name": "1. What is Amazon FBA and how does a prep center like FBA Prep Logistics help streamline the process?",
"acceptedAnswer": {
"@type": "Answer",
"text": "Amazon FBA (Fulfillment by Amazon) is a service provided by Amazon that allows sellers to store their products in Amazon's fulfillment centers. Amazon takes care of storage, packaging, shipping, and customer service. FBA Prep Logistics is a specialty warehouse that handles all the necessary preparations, like inspection, labeling, and packaging, ensuring your products meet Amazon's strict guidelines and requirements."
}
},
{
"@type": "Question",
"name": "2. What are the benefits of choosing a local FBA prep center like FBA Prep Logistics?",
"acceptedAnswer": {
"@type": "Answer",
"text": "Choosing a local FBA prep center like FBA Prep Logistics offers several advantages, including faster turnaround times, lower shipping costs, and more convenient communication with the warehouse. This translates into a smoother, more efficient experience for your e-commerce business."
}
},
{
"@type": "Question",
"name": "3. What key features should I look for when selecting an Amazon FBA prep center?",
"acceptedAnswer": {
"@type": "Answer",
"text": "It's crucial to choose an FBA prep center with expertise in Amazon FBA requirements, a range of services offered, and transparent pricing. Additionally, look for a facility with a strong reputation for customer service and reliability, like FBA Prep Logistics."
}
},
{
"@type": "Question",
"name": "4. Why should I choose FBA Prep Logistics as my Amazon FBA prep service provider?",
"acceptedAnswer": {
"@type": "Answer",
"text": "FBA Prep Logistics stands out with their extensive experience in the e-commerce industry, comprehensive services, and a solid reputation for customer satisfaction. Located in Bristol, PA, they are dedicated to providing efficient, high-quality prep services for Amazon sellers of all sizes."
}
},
{
"@type": "Question",
"name": "5. How do I get started with FBA Prep Logistics for a seamless Amazon FBA experience?",
"acceptedAnswer": {
"@type": "Answer",
"text": "Getting started with FBA Prep Logistics is easy! Reach out to their team to discuss your specific needs and they'll guide you through the process of setting up your account, creating shipping plans, and sending your inventory to their facility for stress-free Amazon FBA management."
}
}
] }
</script>