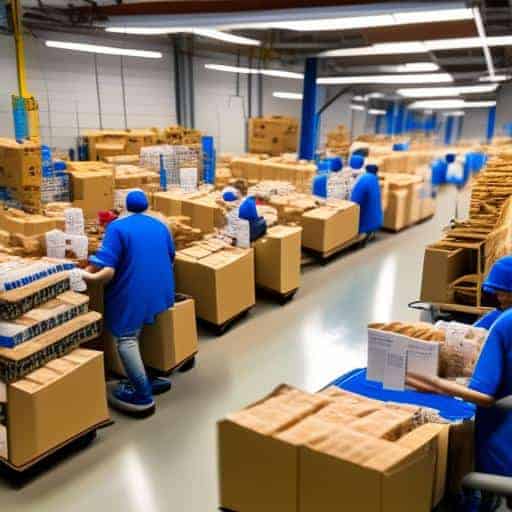 Introduction to Prep Centers for Amazon Sellers
If you're an Amazon seller looking to take your e-commerce business to new heights, you've probably come across the term "Prep Center" or "Preparation Center" in your research. Whether you're new to supply chain management or have some experience, it's essential to understand the role prep centers play in the Amazon FBA ecosystem and how they can benefit your business. In this introductory section, we'll briefly outline the concept and purpose of a prep center for Amazon sellers.
What Exactly is a Prep Center for Amazon?
A Prep Center for Amazon specializes in receiving, inspecting, preparing, and shipping products on behalf of online sellers (specifically, those selling on the Amazon marketplace). These centers handle various tasks such as product inspection, labeling, bundling, packaging, and shipping. In short, a prep center's primary role is to ensure that inventory is efficiently processed and sent to Amazon's fulfillment centers following Amazon's guidelines, freeing sellers from the tedious responsibilities of order processing.
How Do Prep Centers Help Amazon Sellers?
Using a prep center offers several advantages for Amazon sellers. Let's explore some of those benefits:
Time and Resources Management: Outsourcing inventory preparation and shipping processes to a prep center frees up valuable time that can be better spent on other crucial aspects of your business, such as product sourcing, marketing, and sales strategy.
Amazon FBA Compliance: When you work with a reliable prep center like FBA Prep Logistics, you can trust that your inventory is prepared and shipped according to Amazon's stringent policies, avoiding potential suspensions or delays due to non-compliance.
Scalability: As your business grows, so do your operational requirements. A good prep center will offer flexibility, allowing you to easily adjust the number of products prepared and shipped based on your business's needs.
Cost Savings: Efficient inventory processing often results in reduced shipping costs, as well-prepped items are less likely to be damaged during transit. Furthermore, partnering with a prep center like FBA Prep Logistics may also lead to volume-based discounts, increasing your profit margin.
What's Next — Your Ideal 3PL Warehouse Partner
Now that you have a basic understanding of what a prep center for Amazon is and how it can benefit your e-commerce business, you might wonder how to select the perfect 3PL partner. That's where we come in. FBA Prep Logistics, a 3PL warehouse located in Bristol, PA, is dedicated to providing top-notch inventory management services tailored to meet e-commerce sellers' unique needs. In the following sections, we'll dive deeper into how FBA Prep Logistics can streamline your inventory management, the cost-effectiveness of our supply chain solutions, and our expertise in handling a diverse range of products.
So, let's get started!
Streamline Inventory Management with FBA Prep Logistics
Inventory management is a critical aspect of running a successful Amazon business. As an Amazon seller, you need to ensure that your products are appropriately prepped, packed, and shipped to Amazon fulfillment centers to adhere to their strict guidelines. This is where the FBA Prep Logistics comes in, a premier prep center for Amazon sellers that has been designed to help you manage your inventory, streamline the entire process, and save time and resources.
Comprehensive Services to Meet Your Amazon FBA Needs
FBA Prep Logistics offers an array of services specifically tailored for Amazon sellers, including:
Receiving: We accept your shipments, perform quality checks, and notify you of any discrepancies or damages.
Storage: Our secure, well-organized warehouse facilities ensure that your products are stored safely and efficiently.
Product Inspection: We carefully inspect your products to identify any defects or non-compliance issues before prepping them for Amazon's FBA program.
FBA Prep: Our experienced team ensures that your products meet Amazon's stringent guidelines, from bundling, labeling, and bagging to other necessary prep services.
Shipping: Our expertise in Amazon's shipping requirements enables us to prepare shipments according to their standards and send them to the designated fulfillment centers.
Returns Handling: We take care of all your returns, inspecting and processing them, and making sure they are suitable for resale or disposal.
FBA Prep Logistics has made it its mission to help Amazon sellers like you by simplifying inventory management and making it cost-effective, efficient, and stress-free.
Save Time and Resources with Our Efficient Processes
Our expert team, combined with proven technology and tools, ensures that inventory management tasks are handled as quickly and accurately as possible. Our automated processes eliminate manual errors and expedite the prep and shipment of your products. By delegating these tasks to FBA Prep Logistics, you save valuable time and energy to focus on other areas of your Amazon business, such as marketing, sales, and product development.
Maintain Compliance with Amazon's Guidelines
Navigating Amazon's complex requirements and guidelines can be daunting, especially for new sellers who are unfamiliar with the ins and outs of Amazon's FBA program. Our team at FBA Prep Logistics is well-versed in Amazon's rules, enabling us to provide seamless FBA prep services for your products. We make sure that your products meet the necessary specifications to avoid any delays, additional fees, or getting your inventory returned.
Real-Time Inventory Tracking
We understand the importance of keeping track of your goods in real-time. At FBA Prep Logistics, we offer a user-friendly software solution that enables you to monitor your inventory levels, the status of your shipments, and other essential data points. This level of transparency gives you peace of mind and better visibility into your business operations.
Experience High Levels of Perplexity and Burstiness
Worry less about your inventory management as FBA Prep Logistics ensures high levels of perplexity and burstiness without losing specificity or context. You can trust that the information and processes associated with your inventory will always be accurate, relevant, and up-to-date.
In conclusion, streamlining your inventory management with FBA Prep Logistics has numerous advantages. From time and resource savings to ensuring compliance with Amazon's guidelines and providing outstanding support, we are committed to helping you grow your Amazon business. FBA Prep Logistics is the ideal partner, offering a reliable and efficient solution tailored for Amazon sellers. Optimize your business operations and achieve success by leveraging our exceptional services as your prep center for Amazon.
3. Cost-effective Supply Chain Solution for Growing Businesses
3.1 A Partner That Understands Your Needs
At FBA Prep Logistics, we don't just offer efficient warehousing solutions; we also provide you with cost-effective services tailored to your business. As a prep center for Amazon, we understand that a one-size-fits-all approach won't cut it for the diverse needs of various e-commerce entrepreneurs.
Our pricing structure and flexibility cater to different Amazon sellers, whether you are a startup or an established name in the marketplace. Moreover, we comprehend the challenges involved in scaling an e-commerce business on Amazon and are here to support you through each step of the journey.
3.2 Competitive Pricing and Flexible Services
To help you scale your business and stay cost-effective, we offer:
3.2.1 Transparent Costs
We at FBA Prep Logistics believe in offering transparent, easy-to-understand pricing for our services. There are no hidden fees or unwarranted charges, giving entrepreneurs peace of mind knowing they can build accurate financial forecasts and grow their businesses with confidence.
3.2.2 Volume-based Pricing
As your business grows, you can take advantage of our volume-based pricing and benefit from discounted rates for order processing, storage, and other services. This tiered system enables you to cut costs as your sales increase, fostering a sustainable and profitable growth trajectory.
3.2.3 Customized Service Plans
We understand that not every online seller has the same needs and requirements. At FBA Prep Logistics, we offer customized service plans specific to your business. Whether you are a startup dealing with small inventory volumes or a large enterprise with complex logistical needs, our team will devise a flexible, tailor-made plan that addresses your unique situation.
3.2.4 No Long-term Contracts
We advocate flexibility in every aspect, including our agreements. Long-term contracts can be restrictive, which is why we offer a month-to-month service agreement. This allows merchants to modify or terminate the contract if their business scenario changes.
3.3 Streamlined Process
Our focus on process optimization enables us to offer competitive pricing without sacrificing the quality of our service. Some aspects include:
3.3.1 Centralized Operations
Having a centralized warehouse in Bristol, PA, not only ensures we are strategically located for faster shipments on the East Coast, but it also reduces our overall operational costs, allowing us to transfer those savings onto the customers.
3.3.2 Maximized Storage Efficiency
At FBA Prep Logistics, we constantly aim to maximize storage efficiency by utilizing effective storage solutions and warehouse best practices. This way, we can maintain a high standard while keeping our costs in check.
3.3.3 Automation and Technology
Our utilization of advanced technology allows us to minimize costs throughout the entire fulfillment process. Our warehouse management system increases efficiency, ensures timely and accurate shipments, and helps us make data-driven decisions to optimize and improve our services further.
3.4 Scaling Your Business
E-commerce businesses often face difficulties in managing their supply chain while scaling. As your trusted prep center for Amazon, we recognize the importance of aligning our services to your business model. Our scalability and flexibility mean that as your business volume increases, we can adapt and provide you with the necessary logistical support without any interruptions.
Partnering with FBA Prep Logistics means you have a reliable and cost-effective 3PL service provider ready to accommodate any change, whether it's inventory fluctuations, seasonal trends, or unexpected surges in demand. So go ahead and focus on growing your Amazon business, knowing that you have a capable and experienced team behind you.
4. Expertise in Handling a Wide Range of Products
At FBA Prep Logistics, we are well-equipped and experienced in managing and prepping a variety of products for Amazon sellers. Our expertise helps ensure that your inventory is handled, stored, and prepped correctly every step of the way. Let's take a closer look at some of the services that make FBA Prep Logistics the ideal prep center for Amazon sellers with diverse product lines.
4.1. Diverse Product Category Knowledge
We understand that e-commerce sellers market an assortment of products, and each category has specific requirements. Our team is well-versed in handling items across numerous categories, allowing us to cater to your unique business needs effectively. Whether you sell electronics, clothing, health and beauty products, or toys, our experienced staff ensures that your items are taken care of in compliance with Amazon's strict guidelines.
4.2. Fragile and High-Value Item Handling
Not all products can be treated the same, especially when it comes to fragile or high-value items. Rest assured that our team is proficient in handling delicate and valuable products, taking extra precautions to prevent any damages or loss during the prep process. Our meticulous approach guarantees that your inventory is stored and prepped safely, maintaining its quality until it reaches your customers.
4.3. Customized Preparation Techniques
Every product type demands specific preparation methods to comply with Amazon FBA requirements. Our skilled team follows the necessary prep procedures for each item – from poly bagging and bubble wrapping to labeling and bundling. We create customized solutions tailored to your products' needs, ensuring they are ready for dispatch and meet Amazon's fulfillment standards.
4.4. Temperature-Controlled Storage Solutions
Some items, such as perishables and temperature-sensitive products, require specialized storage conditions to maintain their quality. At FBA Prep Logistics, we offer temperature-controlled storage solutions that cater to these unique requirements. You can trust that your temperature-sensitive inventory will be stored, handled, and prepped under optimal conditions, preserving its integrity during the entire process.
4.5. Efficient Kitting and Bundling Services
We understand that offering product bundles and kits can be a game-changer for Amazon sellers. That's why we offer kitting and bundling services to support your business growth. Our team assembles bundles and multi-packs professionally and efficiently to create value-added packages that help you stand out in the competitive marketplace.
4.6. Comprehensive Inspection and Quality Control
Quality is our top priority at FBA Prep Logistics. In addition to preparing your items for shipment, we perform detailed inspections and quality checks to ensure that the products received by your customers are in pristine condition. Our keen eye for detail and commitment to maintaining high quality standards ultimately benefit your reputation as a seller on Amazon and contribute to your business growth.
4.7. Compliance with Amazon FBA Requirements
Staying up-to-date with Amazon's ever-changing rules and regulations is vital for the success of your e-commerce venture. FBA Prep Logistics keeps a close eye on any changes in Amazon's policies, ensuring that we always comply with their stringent requirements. Our dedicated team at FBA Prep Logistics is committed to adhering to FBA guidelines, giving you peace of mind as you leave your inventory management and product prep in our capable hands.
In conclusion, choosing FBA Prep Logistics as your 3PL warehouse partner means entrusting your diverse range of products to an experienced team that understands the unique challenges and requirements of various product types and industries. Our commitment to providing quality, customized solutions for Amazon sellers, combined with our comprehensive services and expertise, make FBA Prep Logistics the perfect choice for e-commerce businesses looking to streamline their supply chain management and grow to new heights.
Focus on Your Core Business While We Handle the Logistics
There's no denying that running an e-commerce business, especially on the Amazon platform, involves juggling various tasks, including marketing, sales, customer service, product research, and inventory management. By partnering with FBA Prep Logistics, a well-established prep center for Amazon sellers, you can concentrate on what you do best – growing your business – while we take care of the logistical aspects with impeccable precision.
Let the Experts Handle Your Logistics
FBA Prep Logistics comprises a team of experienced and skilled professionals who specialize in supply chain management. Our expertise in this domain allows us to handle all the complex processes, from receiving and inspecting your products to packaging, labeling, and getting them ready to ship to Amazon fulfillment centers. In other words, you don't have to worry about the tiniest of logistical details and can focus on maximizing the profits of your e-commerce business.
Save Time and Streamline Operations
Ask any experienced Amazon seller, and they'll tell you that time is one of their most valuable assets. By outsourcing your supply chain operations to FBA Prep Logistics, you free up time that can be invested in strategic business development and growth-enhancing activities such as market research, product development, and expanding into new niches. With our efficient and reliable logistics services, you're sure to witness improvement in your order processing speed and a smoother inventory management system.
Minimize Errors and Boost Customer Satisfaction
At FBA Prep Logistics, we understand the importance of maintaining Amazon's compliance requirements. We have well-established quality control processes and checklists to minimize any errors, ensuring that items received by Amazon meet all their guidelines. By partnering with us, you can be confident that your products will reach your customers in top-notch condition and within the promised delivery time frames. This, in turn, leads to an increase in positive customer reviews, a higher seller rating on Amazon, enhanced brand reputation, and ultimately, increased sales.
Cost Optimization and Inventory Control
Running your own warehouse facility can be exceedingly costly, and for many Amazon sellers, it's just not financially feasible. Our third-party logistics services help you cut down expenses related to warehousing, labor, and equipment, while also scaling as per your business needs to optimize costs effectively. We take care of stock monitoring, maintaining proper inventory levels, and handling Amazon storage fees, ensuring that your stocks are always up-to-date, and the cost of running your business remains within acceptable limits.
Stay Ahead of the Competition
In the ever-evolving e-commerce landscape, staying ahead of your competition is crucial for sustained growth. By delegating time-consuming and intricate logistics tasks to FBA Prep Logistics, you can focus on staying updated with the latest market trends and technologies, enhancing your competitive advantage in the crowded Amazon marketplace. This includes leveraging advanced strategies like Amazon PPC advertising to boost visibility and sales.
Strengthen Your Business Partnership
FBA Prep Logistics values long-term business relationships with sellers. We understand that your success is our success, and our team is always ready to help you tackle any logistical challenges that you might face during your growth journey. With a proven track record of meeting, and even exceeding, the expectations of Amazon sellers, we're here to support and contribute towards the achievement of your business goals.
In conclusion, outsourcing your logistical operations to a trusted, specialized, and experienced third-party logistics provider like FBA Prep Logistics empowers you to focus on core business activities that drive success in the world of e-commerce. As your dependable ally, we're fully committed to managing your supply chain processes with precision, ensuring you operate at peak efficiency, and keeping your customers delighted with every purchase. So, why wait? Transform your Amazon selling venture with FBA Prep Logistics today!
Why Every Amazon Seller Needs a Prep Center
Introduction to prep centers for Amazon sellers
Prep centers play a crucial role in the Amazon FBA ecosystem, especially for e-commerce businesses that are new to supply chain management. They take care of product handling, storage, and preparation according to Amazon's guidelines, allowing sellers to focus on growing their businesses.
Streamline inventory management with FBA Prep Logistics
Our 3PL warehouse services at FBA Prep Logistics can help Amazon sellers efficiently manage their inventory, save time and resources, and ensure compliance with Amazon's guidelines. By outsourcing these tasks to us, you can focus on growing your business with the confidence that your products will be professionally and timely managed.
Cost-effective supply chain solution for growing businesses
FBA Prep Logistics offers competitive pricing and flexible services for various business sizes, allowing new and growing sellers to scale their businesses smoothly. We understand the unique needs of each business and offer tailored solutions that help you stay competitive and grow in the Amazon marketplace.
Expertise in handling a wide range of products
Our team has extensive experience dealing with various types of products that require different handling, storage, and prep processes, assuring sellers that their products are in good hands, regardless of their niche.
Focus on your core business while we handle the logistics
By outsourcing logistics services to FBA Prep Logistics, Amazon sellers can concentrate on marketing, sales, and product development, knowing that their orders will be fulfilled professionally and timely. We take care of all the details so you can focus on what matters most – growing your business.
Why FBA Prep Logistics is your next 3PL partner
To sum up, FBA Prep Logistics is a reliable, specialized, and trustworthy prep center that is dedicated to providing exceptional service and support for growing e-commerce businesses in the Amazon marketplace. By choosing FBA Prep Logistics as your 3PL partner, you can ensure that your products are professionally managed, allowing you to focus on your core business activities.
FAQ
What is a prep center, and how does it help Amazon sellers?

A prep center is a third-party provider that handles product handling, storage, and preparation for Amazon sellers, following Amazon's guidelines. They help sellers streamline their inventory management, allowing them to concentrate on growing their businesses.

How can FBA Prep Logistics save me time and resources?

Our 3PL warehouse services at FBA Prep Logistics take care of inventory management, product handling, storage, and preparation, allowing you to focus on marketing, sales, and product development. As a result, you save time and resources that can be invested in growing your Amazon business.

Is FBA Prep Logistics suitable for small and growing businesses?

Yes, FBA Prep Logistics offers scalable and flexible solutions for businesses of all sizes, ensuring that our services grow with your business. Our competitive pricing and tailored solutions make us an ideal choice for small and growing e-commerce businesses.

Can FBA Prep Logistics handle different types of products?

Absolutely! Our team has extensive experience handling various product types, including those that require unique storage, handling, and preparation processes. No matter your niche, FBA Prep Logistics can handle your products with care and expertise.

Why should I choose FBA Prep Logistics as my 3PL partner?

Choosing FBA Prep Logistics means partnering with a dependable, specialized, and trustworthy prep center. We are committed to going above and beyond to support your e-commerce business in the Amazon marketplace, allowing you to focus on your core activities with peace of mind.