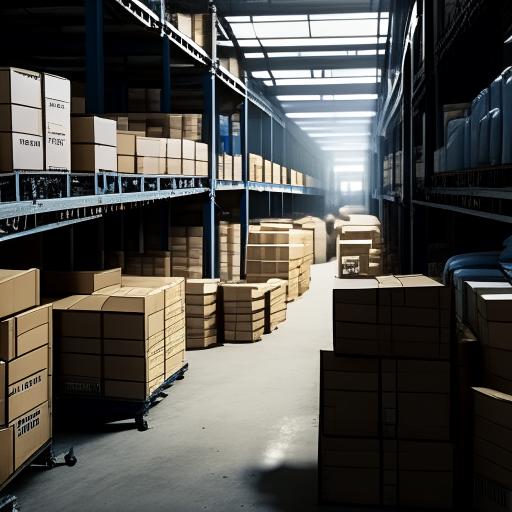 Streamline Your E-commerce with FBA Prep Logistics – The Ultimate 3PL Solution
1. Introduction
In today's fast-paced e-commerce world, outsourcing your supply chain management to a 3PL Prep provider like FBA Prep Logistics can make all the difference in your success. Our tailored solutions help you focus on growing your business while we take care of the nuts and bolts of inventory management, order fulfillment, and more. So, whether you're a median-sized e-commerce business primarily selling on Amazon or just beginning to step into the world of supply chain management, we're here to help.
In this article, we'll discuss how partnering with FBA Prep Logistics, a 3PL warehouse located in Bristol, PA, can not only save you time and resources but also provide the crucial edge you need in a competitive e-commerce market. Let's dive into our world of incredible 3PL services and discover how we can revolutionize your supply chain management journey.
1.1. Transforming Your Business
With the continuous growth in e-commerce sales and increasing competition in the Amazon marketplace, it's important now more than ever to optimize your supply chain to meet customer demands and stay ahead of the game. That's where FBA Prep Logistics comes in: we offer a wide range of services designed to enhance your operations, making us the perfect 3PL partner for your e-commerce needs.
1.2. Customer-Centric Approach
At FBA Prep Logistics, we understand that every e-commerce business is unique, and our services are customized to match your individual requirements. With dedicated customer support and a commitment to understanding your goals, we can ensure a seamless experience that supports your continued growth and success.
1.3. Efficiency and Expertise
As innovative leaders in the world of 3PL Prep, we know how vital it is to have efficient and reliable supply chain processes in place. FBA Prep Logistics offers a powerful combination of technical expertise, industry knowledge, and state-of-the-art facilities to provide you with the very best e-commerce solutions available.
1.4. Say Goodbye to Logistics Headaches
One of the greatest advantages of working with a 3PL provider like FBA Prep Logistics is the ability to free up your valuable time and resources for other critical aspects of your business. Our team of logistics experts is here to eliminate any supply chain management headaches, leaving you to concentrate on what you do best: growing your e-commerce empire.
The journey to streamlined supply chain management and improved e-commerce operations begins now. Ready to take the next step? Keep reading to discover how FBA Prep Logistics can work wonders for your business and transform your e-commerce experience for the better.
2. Understanding 3PL and Its Benefits
So, you might be asking yourself: what is 3PL and why should you consider it for your e-commerce business? Third-party logistics (3PL) refers to the outsourcing of key logistics functions to an external company, like FBA Prep Logistics. By partnering with a reliable 3PL provider, businesses can focus on their core competencies and let logistics experts handle tasks like shipping, warehousing, and inventory management.
2.1 Streamlining Your E-commerce Operations
One of the main reasons e-commerce businesses turn to 3PL providers such as FBA Prep Logistics is to streamline their operations. As your business grows, so does the complexity of the supply chain. This can make it more difficult to stay on top of everything manually, leading to errors, delays, and inefficiencies. By outsourcing your logistics tasks, you can free up time and valuable resources, allowing your team to focus on growth and other essential business aspects.
2.2 Reducing Costs and Improving Efficiency
In addition to streamlining your operations, partnering with a 3PL provider can help you cut costs. Instead of investing heavily in logistics infrastructure, like warehouses and a distribution network, you can outsource these tasks to a 3PL. This can result in substantial cost savings since you don't have to pay for warehouse space, equipment, or employees. Moreover, FBA Prep Logistics is well-versed with e-commerce operations, and our expertise can greatly improve the efficiency of your shipping and inventory management processes.
2.3 Enhanced Customer Satisfaction
Another vital benefit of working with a 3PL is the potential to significantly enhance customer satisfaction. FBA Prep Logistics excels at order fulfillment and handling returns efficiently, resulting in responsive shipping times and a user-friendly return experience. This can help you build trust with your customers and lead to lasting relationships.
2.4 Scalability for Long-term Success
A major advantage of partnering with a 3PL like FBA Prep Logistics is the inherent scalability of their services. As your e-commerce business grows in size, we can effortlessly scale our services to meet your ever-evolving needs. This adaptable setup can future-proof your supply chain management and ensure that our partnership contributes to the long-term success of your business.
2.5 Access to Advanced Technology and Systems
Modern 3PL providers, including FBA Prep Logistics, leverage cutting-edge technology and systems to optimize your e-commerce operations. From advanced inventory management software to sophisticated tracking systems, we employ these tools to ensure a seamless and efficient experience for both you and your end customer.
2.6 Maximum Reach and Coverage
FBA Prep Logistics specializes in providing e-commerce fulfillment services on the East Coast. Our strategic location allows us to quickly ship your products to key markets, reducing delivery times, and keeping your customers happy. Moreover, our regional knowledge and established networks make it easy for us to respond to shipping challenges, such as dealing with weather disruptions or unforeseen logistics issues.
In conclusion, outsourcing your logistics processes to a reliable 3PL provider like FBA Prep Logistics can significantly benefit your e-commerce business. With tailored solutions to match your unique needs, FBA Prep Logistics can streamline your operations, reduce costs, improve customer satisfaction, and prepare your business for long-term success.
FBA Prep Logistics – Customized Services for Your Unique Needs
The e-commerce landscape is highly competitive, and at FBA Prep Logistics, we understand that every business has its own unique requirements and goals. That's why we offer a diverse range of 3PL Prep services that are specifically tailored to your e-commerce needs. In this section, we will delve into the primary services that FBA Prep Logistics offers to help you streamline your operations, improve customer satisfaction, and ultimately, enhance your business performance.
Comprehensive Amazon FBA Prep Services
Our top-notch Amazon FBA Prep services aim to make your selling on Amazon a breeze. With extensive experience in handling Amazon's specific logistics requirements, we help you save time and reduce the risk of non-compliance. Our services include:
Product Inspection: We perform thorough inspections to ensure all items are in pristine condition, meeting Amazon's strict guidelines.
Labeling: We handle the hassle of labeling your products to comply with Amazon's FBA requirements, eliminating costly errors.
Kitting and Bundling: Increase your sales potential by creating custom product bundles and kits with our expert assistance.
Poly Bagging: We'll ensure your products are individually protected and professionally packaged, adhering to Amazon's packaging standards.
Repacking: If your items need repackaging, we're here to help – ensuring every package meets Amazon's specific requirements.
Find out more in our Ultimate Guide to Amazon Reverse Logistics for East Coast Sellers.
Efficient Inventory Management
We understand that managing inventory can be a challenge for e-commerce businesses. That's why FBA Prep Logistics offers expert inventory management services to help keep your stock organized, accessible, and ready for fast shipping. Our inventory management solutions include:
Real-Time Inventory Visibility: Access up-to-date information about your stock levels and track every item through our advanced inventory management system.
SKU Management: We handle the complexities of SKU creation and management, ensuring your products are accurately listed and organized.
Shelf Life Monitoring: Avoid spoilage or expiration issues by leveraging our proactive monitoring of product shelf life.
Returns Management: We efficiently process and handle product returns, providing your customers with a seamless return experience.
Discover how to Simplify Inventory Tracking on Shopify with our inventory management services.
Flexible and Scalable Warehousing Solutions
Our versatile warehousing solutions are designed to adapt to your business's needs, whether you're a new start-up or a seasoned e-commerce enterprise. With FBA Prep Logistics, you can rest assured that your inventory is stored securely and managed efficiently. You'll enjoy:
Customizable Storage Space: Opt for the storage space that best suits your needs, with the flexibility to scale up or down as your business evolves.
Organized and Efficient Warehousing: Maximize your warehousing efficiency through our streamlined storage practices and advanced warehouse management technology.
Product Safety and Security: Keep your valuable stock protected with round-the-clock security measures and robust damage prevention policies.
Learn more about Choosing the Best Amazon FBA Warehouses in NJ for Your Business.
Streamlined Order Fulfillment
Fulfill your customers' orders quickly and accurately with our exceptional order fulfillment services. We offer:
Fast and Accurate Order Picking: Our dedicated team picks your customer's orders with precision, ensuring the right items are selected every time.
Swift Packing and Shipping: We pack and ship orders with efficiency, providing your customers with a professional and timely delivery experience.
Shipping Optimization: Our expertise in shipping carriers and methods guarantees cost-effective shipping solutions without compromising delivery times.
Check out our Efficient PA Order Fulfillment Services for Your E-commerce Store for more details.
Value-Added Services for Your Business Growth
We're committed to providing 3PL Prep solutions that cater to all aspects of your e-commerce needs. That's why we also offer these value-added services:
Product Photography: Boost your listings with high-quality, professional product images that help showcase your products in the best possible light.
Custom Shipping Solutions: Tailor your shipping methods to suit your customer's preferences, from expedited shipping to carbon-neutral options.
Carrier Negotiation: Leverage our industry relationships to negotiate better shipping rates and terms with carriers, saving you money in the long run.
FBA Prep Logistics is here to offer you the ultimate 3PL Prep solutions designed specifically to help your e-commerce business thrive. Whether you're new to the world of third-party logistics or you're looking to find a more reliable partner, we've got you covered with our tailored services and unbeatable expertise.
4. Why Choose FBA Prep Logistics for Your 3PL Needs
When it comes to selecting a 3PL provider, you want a partner who understands your business and can deliver exceptional results. FBA Prep Logistics, a 3PL warehouse based in Bristol, PA, is dedicated to helping e-commerce businesses streamline their supply chain management.
In this section, we will outline the key reasons why FBA Prep Logistics is the ideal partner for your 3PL needs.
4.1 Responsive and Dedicated Customer Support
When you work with FBA Prep Logistics, you'll benefit from our top-notch customer support. Our team is always ready to answer your questions and provide guidance on your 3PL needs. Here are a few ways we ensure exceptional customer service:
4.1.1 Personalized Attention
We understand that every business is unique and requires customized solutions. Our team takes the time to get to know your company and tailor our services to meet your specific needs. This personal touch sets us apart and ensures our clients get the best possible experience.
4.1.2 Swift Response Times
We never keep our clients waiting. Our team consistently responds to inquiries within a reasonable timeframe. This commitment to efficient communication allows us to keep operations running smoothly and saves you valuable time.
4.1.3 Expert Knowledge
Our staff is knowledgeable in the world of e-commerce and 3PL services. We constantly stay up-to-date on industry trends, ensuring that our clients are well-informed and making the best decisions for their businesses.
4.2 Affordable Pricing
As a mid-sized e-commerce business, finding cost-effective solutions is crucial. FBA Prep Logistics offers a competitive and transparent pricing structure to meet your budgetary requirements. Our pricing model is flexible, accommodating both short-term and long-term engagements. We believe in eliminating surprises, so you'll never encounter hidden fees or unexpected charges.
4.3 Expertise in E-commerce
FBA Prep Logistics specializes in catering to e-commerce businesses, particularly those selling on Amazon.com. Our team understands the unique challenges faced by e-commerce companies, and we have tailored our services accordingly. Some examples of our e-commerce-specific solutions include:
4.3.1 Efficient PA Order Fulfillment Services for Your E-commerce Store[/2195/efficient-pa-order-fulfillment-services-for-your-e-commerce-store-3/]
We offer customized order fulfillment services, ensuring speedy and accurate delivery to your customers. Our state-of-the-art warehouse can handle a wide range of products, allowing us to accommodate your ever-evolving inventory.
4.3.2 Simplify Inventory Tracking on Shopify[/2153/simplify-inventory-tracking-on-shopify/]
Using our advanced technology, we help incorporate seamless inventory tracking into your Shopify store. This integration eliminates the need for manual inventory updates and provides accurate real-time data, allowing you to make informed decisions quickly.
4.3.3 The Ultimate Guide to Amazon Reverse Logistics for East Coast Sellers[/2163/the-ultimate-guide-to-amazon-reverse-logistics-for-east-coast-sellers-2/]
Navigating the complexities of reverse logistics for Amazon FBA is no easy task. Our team offers comprehensive guidance, helping you manage your returns and exchanges with minimal hassle.
4.4 Commitment to Your Business Goals
At FBA Prep Logistics, our priority is your success. We forge strong partnerships with our clients, working closely to develop strategies that target your specific goals. Whether it's lowering costs, improving customer satisfaction, or increasing sales, our team is dedicated to helping you achieve your objectives.
4.5 Seamless Integration with Your Existing Operations
Our team is experienced in integrating with various e-commerce platforms, like Shopify and Amazon FBA. This means that partnering with FBA Prep Logistics will not disrupt your current operations. Instead, our services will enhance and streamline your supply chain management, allowing you to concentrate on growing your business.
In Conclusion
FBA Prep Logistics is the ideal choice for e-commerce businesses looking to improve their supply chain management. Our responsive customer support, affordable pricing, e-commerce expertise, commitment to your goals, and seamless integration make us stand out from the competition. By choosing FBA Prep Logistics for your 3PL needs, you'll be taking an essential step towards long-term success in the world of e-commerce!
5. How to Get Started with FBA Prep Logistics
Blurb: Explain the seamless onboarding process to start working with FBA Prep Logistics, ensuring a transparent and efficient start to your partnership, ultimately boosting your e-commerce success and growth.
Embarking on your journey with FBA Prep Logistics as your go-to 3PL Prep provider is easy and hassle-free. Our onboarding process has been designed to cover everything you need to know and execute, ensuring a smooth start to a fruitful partnership. Follow these steps to begin experiencing the benefits of working with us:
5.1. Reach Out and Connect with Our Team
Your first step to working with FBA Prep Logistics is to get in touch with our team. You can visit the Efficient PA Order Fulfillment Services for Your E-commerce Store page to learn more about what we offer and fill out the contact form with your details. Alternatively, you can email or call us; our dedicated customer support team is always ready to assist and provide answers to any inquiries you have.
5.2. Discuss Your Business Goals and Requirements
Next, we'll schedule a consultation call or meeting to better understand your e-commerce business, your goals, and requirements. Our team members will walk you through the various service offerings and help determine the ideal solutions that cater specifically to your needs. Be it inventory management, FBA prep, or any of our other services, we have you covered.
5.3. Customize Your 3PL Prep Services
At FBA Prep Logistics, we believe in offering tailored solutions to suit your unique business needs. Our team will work closely with you to create a customized action plan for your 3PL Prep requirements. This may include selecting specific services such as Amazon FBA Prep and Shopify inventory control among others.
5.4. Sign the Agreement and Set Up Your Account
With a clear understanding of your 3PL Prep needs and a customized plan in place, the next step is to sign a formal service agreement. This agreement outlines the terms, conditions, and pricing, ensuring complete transparency. Once the agreement is signed, our team will set up your FBA Prep Logistics account, granting you access to our efficient order management system and ensuring seamless integration with your existing e-commerce platform.
5.5. Send Us Your Inventory
Now that your account is set up and integrated, you can begin sending your inventory to our 3PL warehouse located in Bristol, PA. We'll provide you with clear instructions and shipping labels for a hassle-free delivery. Our team will then manage the receiving, processing, and inventory stocking as per the agreed-upon service plan.
5.6. Monitor and Optimize Your Fulfillment Process
With your inventory safely in our hands, you can now start monitoring your e-commerce fulfillment process using our user-friendly and intuitive system. FBA Prep Logistics ensures real-time tracking, accurate order processing, and efficient shipping. We encourage regular communication, feedback, and collaboration, as we continuously optimize our services for your ongoing success.
5.7. Enjoy the Growth and Success of Your E-commerce Business
By entrusting your 3PL Prep needs to FBA Prep Logistics, you can now focus on what you do best – managing and growing your e-commerce business. Our dedicated team, customized services, and cutting-edge technology will help you save time, minimize costs, and stay ahead of the ever-evolving e-commerce landscape. When your business thrives, so do we!
In conclusion, choosing FBA Prep Logistics as your 3PL partner is a smart choice that can greatly benefit your e-commerce business. With our seamless onboarding process, tailored solutions, and commitment to excellence, you can be confident that we'll help you overcome any logistical challenges and achieve long-term growth and success. Get started with FBA Prep Logistics today and unlock the full potential of your e-commerce endeavors.
Frequently Asked Questions
What exactly is a 3PL service and how can it help my e-commerce business?

A 3PL (Third-Party Logistics) service is a solution that takes care of crucial logistics functions such as warehousing, inventory management, order fulfillment, and shipping on behalf of your e-commerce business. By partnering with a 3PL provider like FBA Prep Logistics, you can save time, resources, and focus on other aspects of your business while ensuring efficient supply chain management.

What kind of services does FBA Prep Logistics offer for growing e-commerce businesses?

FBA Prep Logistics provides a wide array of tailored services specific to e-commerce needs, including Amazon FBA prep, inventory management, and flexible, scalable solutions that adapt as your business grows. Our expertise in e-commerce and commitment to your goals allow us to provide the best possible support for your ongoing success.

Why should I choose FBA Prep Logistics over other 3PL providers?

At FBA Prep Logistics, we pride ourselves on our responsive customer support, competitive pricing, and in-depth knowledge of the e-commerce sector. Our dedicated team invests in understanding your business's unique needs, and works hard to develop customized logistics solutions that help you achieve your goals with efficiency and ease.

How do I start working with FBA Prep Logistics?

Getting started with FBA Prep Logistics is a smooth and effortless process. Just reach out to our team, and we'll guide you through the onboarding steps, ensuring a transparent and efficient start to our partnership that will ultimately boost your e-commerce success and growth.

Can FBA Prep Logistics support my e-commerce business as it grows and expands?

Definitely! Our services and solutions are designed to be flexible, scalable, and adaptable to suit your evolving needs. As your e-commerce business grows, FBA Prep Logistics will continue to provide the necessary support for efficient supply chain management, allowing you to focus on other priorities while we handle the logistics.