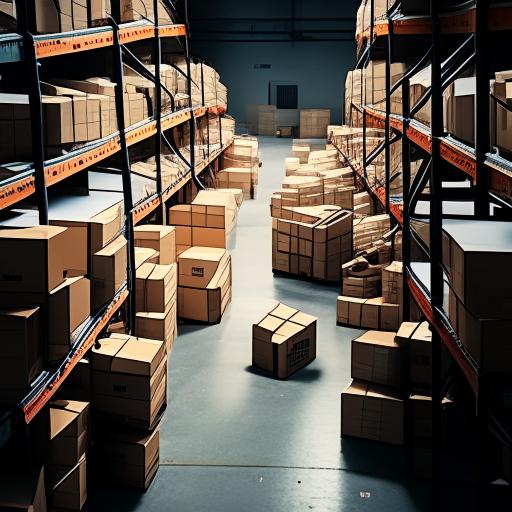 Amazon 3PL for Beginners – Choosing FBA Prep Logistics as Your 3PL Warehouse Solution
1. Introduction: Why Amazon 3PL?
The world of e-commerce is rapidly growing, and with this consistent growth comes the need for efficient and dependable logistics solutions. For small to medium-sized e-commerce businesses, especially those who mainly sell their products on amazon.com, managing their supply chain can be quite challenging. This is where Amazon 3PL services step in, providing a much-needed helping hand to such businesses.
Third-party logistics, or 3PL, refers to the outsourcing of various supply chain and logistics tasks to an external provider. In the context of Amazon, a 3PL warehouse service provider like FBA (Fulfillment by Amazon) Prep Logistics can help manage the essential aspects of your business, from inventory management to order fulfillment. This can result in significant cost savings, time efficiency, and helps you focus on what you do best – growing your e-commerce business on Amazon.
For those who are new to the world of supply chain management, we understand that opting for a reliable Amazon 3PL can be a daunting experience, especially when it comes to navigating this dynamic and ever-evolving landscape. That's why FBA Prep Logistics strives to make this process as smooth as possible for your business, while offering top-quality services tailored specifically to your unique needs.
In this introductory guide, we will walk you through the benefits of partnering with FBA Prep Logistics as your trusted 3PL warehouse provider, the range of services we offer, and the simple onboarding process that is specifically designed to cater to businesses new to supply chain management. So sit back, relax, and let's explore why FBA Prep Logistics is the perfect partner for your Amazon 3PL needs.
FBA Prep Logistics: Your Trusted 3PL Warehouse Partner
As the owner of a growing e-commerce business on Amazon, you've likely realized that there's more to it than simply selling products. You need a holistic approach to supply chain management. That's where FBA Prep Logistics comes in – your partner for not just warehousing but a complete Amazon 3PL solution. Located in Bristol, PA, our warehouse facility is designed to cater specifically to the unique needs of small to medium-sized e-commerce businesses that sell primarily on amazon.com.
Strategic Location: Bristol, PA
Our strategic location in Bristol, PA, offers a competitive advantage to e-commerce businesses selling on Amazon. Being situated near important transportation hubs on the East Coast, we can ensure efficient and timely order fulfillment that leads to satisfied customers. You'll benefit from reduced transit times and shipping costs, and, ultimately, improved customer experiences.
Personalized Approach: Tailored to Your Business Needs
One of the key challenges of managing an e-commerce business new to supply chain management is understanding the complex processes involved in warehousing, order fulfillment, and inventory management. At FBA Prep Logistics, we understand that every business is unique, and that's why we offer a personalized approach to understanding and addressing your specific Amazon 3PL needs. Our experienced team works closely with you to develop customized solutions that best fit the requirements of your business.
Dedicated Support: A Relationship That Matters
At FBA Prep Logistics, we believe in forming long-term, meaningful relationships with our clients. This means that we don't just provide a service; we offer you a partnership and dedicated support to help your e-commerce business grow and thrive on Amazon. As a digital marketing assistant and content writer, you can trust that our team is current with industry trends and developments to offer you the best possible guidance and support.
Expertise in E-commerce and Supply Chain Management
Our team of experts has extensive experience in e-commerce logistics on the East Coast and supply chain management. With this wealth of knowledge and expertise, we can address the challenges faced by Amazon sellers and provide the most efficient solutions for your 3PL needs. With FBA Prep Logistics, you can rest assured that you're working with a partner who has your best interests in mind.
Commitment to Transparency and Accountability
As your trusted 3PL warehouse partner, we believe in maintaining transparency and accountability at every stage of the supply chain. Our advanced warehouse management system ensures real-time tracking of inventory, orders, and shipments. This allows you, as an Amazon seller, to maintain complete oversight of your supply chain and make better-informed decisions regarding inventory management and order fulfillment.
In summary, FBA Prep Logistics distinguishes itself as a reliable choice for your Amazon 3PL partner by prioritizing personalized approach, dedicated support, expertise in e-commerce and supply chain management, and commitment to transparency. By choosing us as your 3PL warehouse solution, you'll gain a partner who's genuinely invested in your business success, allowing you to focus on what you do best: growing your e-commerce business on Amazon.
3. Benefits of Choosing FBA Prep Logistics for Your Amazon 3PL Needs
Choosing the right Amazon 3PL partner is crucial for your e-commerce business's success. At FBA Prep Logistics, we go the extra mile to ensure your supply chain experience is seamless. Here are some key advantages of partnering with us as your trusted 3PL warehouse solution.
3.1 Personalized Approach to Your Business Needs
At FBA Prep Logistics, we understand that every business is unique, and their needs differ. This is why we tailor our services to suit your specific requirements. Our dedicated and seasoned professionals work closely with you, ensuring that all your Amazon 3PL needs are met efficiently and effectively. Your business's success is our priority.
3.2 Efficient Inventory Management
One major challenge faced by e-commerce businesses is managing inventory effectively. Our state-of-the-art inventory management system ensures that your products are always accounted for, reducing the risk of errors and delays. Our system also helps you maintain optimal stock levels, reducing holding costs, and ensuring timely order fulfillment. Learn more about efficient inventory management in our article on simplifying inventory tracking on Shopify.
3.3 Cost-effectiveness
Choosing FBA Prep Logistics as your Amazon 3PL solution not only guarantees quality service but also saves you money. We strive to help you reduce your overall logistics costs, so your business grows and prospers. Our transparent pricing and efficient services ensure that you get the best value for your investment. Check out our top cost reduction strategies for Amazon sellers in PA for more information.
3.4 Seamless Integration with Your Amazon Store
We understand the importance of a streamlined and hassle-free 3PL experience, so we use cutting-edge technologies to ensure seamless integration with your Amazon store. This integration allows for smooth communication between your business and our warehouse, reducing discrepancies and errors, and ensuring your customers receive their orders on time and in perfect condition.
3.5 Transparency in Operations
We believe in building trust with our clients, which is why transparency is at the core of our operations. At FBA Prep Logistics, you can rest assured that every aspect of our service, from inventory management to shipping, is handled with the utmost professionalism. We provide regular updates and reports, ensuring you always have complete visibility into your supply chain operations.
3.6 Expertise in Amazon FBA Requirements
Navigating Amazon's FBA requirements can be challenging, especially for businesses new to supply chain management. At FBA Prep Logistics, our team is well-versed in Amazon's strict guidelines and regulations, ensuring your products are prepped, packaged, and shipped in compliance with their standards. This expertise helps you avoid Amazon penalties and delays, ensuring a smooth selling experience. Learn more about how we can help your business in our article on Amazon FBA prep services.
3.7 Strategic East Coast Location
Our 3PL warehouse is strategically located in Bristol, PA, giving your business access to some of the most densely populated areas in the US. This convenient East Coast location allows for faster shipping times, helping improve your customer satisfaction rates. Discover the 3 benefits of e-commerce fulfillment on the East Coast in our related article.
3.8 Scalability
As your e-commerce business grows, so do your Amazon 3PL needs. FBA Prep Logistics offers scalable solutions to accommodate your business as it expands. Our vast warehouse space and adaptable services ensure that we can handle any increase in orders or inventory, without skipping a beat.
3.9 Customized Shipping Solutions
We offer a range of shipping solutions to meet the unique needs of your e-commerce business. From domestic to international shipments, we strive to give you cost-effective and efficient shipping options. Our customized approach ensures that your customers get their products quickly and in pristine condition, maintaining your business's reputation for quality.
3.10 End-to-end 3PL Services
FBA Prep Logistics provides comprehensive 3PL services that cover every aspect of your supply chain needs. From product prepping, labeling, and packing, to shipping, and customs handling, our end-to-end solutions ensure a smooth order fulfillment experience for your customers on Amazon.
In conclusion, partnering with FBA Prep Logistics for your Amazon 3PL needs is a smart decision. Our personalized approach, expertise in Amazon FBA requirements, strategic East Coast location, and range of comprehensive services not only makes us your ideal 3PL partner but also helps your e-commerce business thrive. Experience the FBA Prep Logistics difference—get started with us today!
Comprehensive Services Offered by FBA Prep Logistics
As your trusted Amazon 3PL warehouse partner, FBA Prep Logistics doesn't just provide one or two services; we offer a complete suite of end-to-end solutions for your e-commerce business. Our comprehensive services are aimed at ensuring smooth order fulfillment and optimum customer satisfaction on Amazon. In this section, we'll delve into the wide range of services that FBA Prep Logistics has to offer.
4.1 Product Prepping Services
First impressions matter, and our product prepping services ensure that your products arrive at Amazon warehouses and your customers' doorsteps in pristine condition. Our product prepping services include:
Inspection: Our expert team thoroughly inspects each item to make sure it meets Amazon's strict requirements for packaging and presentation.
Labeling: We accurately apply all necessary barcode labels, making it easy for Amazon to track and process your inventory.
Polybagging: Our team places individual items in clear, sealed polybags to keep them clean and protected during transit.
Bubble Wrapping: Fragile items are securely wrapped in bubble wrap to prevent damage during shipping.
4.2 Efficient Inventory Management
Efficient inventory management is crucial for every Amazon seller. As part of our Amazon 3PL services, we provide smart inventory tracking on Shopify and other platforms that help you monitor stock levels, track sales trends, and plan replenishments accordingly. Our inventory management system seamlessly integrates with your Amazon Seller Central account, ensuring real-time inventory updates, and preventing stockouts and overstocking.
4.3 Customized Packing Services
Your products' presentation can significantly impact customer satisfaction and brand loyalty. That's why we offer secure pick and pack services, ensuring that your products are carefully packed to meet Amazon's guidelines and give the best possible unboxing experience for your customers. We can also accommodate specialized requirements, such as gift wrapping and custom packaging, to further elevate your brand.
4.4 Fast and Cost-effective Shipping Solutions
At FBA Prep Logistics, we understand that shipping speed and cost factor heavily into your customers' satisfaction and your business's profitability. As an Amazon 3PL partner, we employ efficient PA order fulfillment services to ship your products quickly and affordably. Due to our strategic location in Bristol, PA, we can leverage the advantages of e-commerce fulfillment on the East Coast for speedy deliveries.
4.5 Seamless Amazon FBA Integration
Transferring your inventory to Amazon warehouses has never been easier with our seamless FBA integration. Whether you're an Amazon PPC Advertising NJ seller or you operate across multiple states, FBA Prep Logistics coordinates every step of the process, ensuring that your inventory is accurately processed and sent to the correct Amazon fulfillment centers.
4.6 Cross Docking Services
Efficiency is key in supply chain operations, and our cross-docking services help your business save time and money by reducing warehouse storage and handling. By consolidating smaller shipments from multiple suppliers and sending them directly to Amazon fulfillment centers, cross-docking minimizes transportation costs and delivery times.
4.7 Customs Handling and Documentation
International sales offer tremendous opportunities for e-commerce growth. However, they come with their challenges, such as navigating complex customs regulations. FBA Prep Logistics manages Amazon reverse logistics and customs documentation to avoid costly delays, ensuring your products reach customers in a timely manner.
4.8 Real-Time Reporting and Analytics
Our Amazon 3PL services give you access to real-time reporting and analytics, delivering crucial insights into your order fulfillment and supply chain performance. With this data, you can make informed business decisions to improve your operations and maximize profitability.
4.9 Dedicated Customer Support
We pride ourselves on offering dedicated customer support – our team is always available to answer your questions, provide guidance, and ensure your business is on the path to success.
Choosing FBA Prep Logistics: A Wise Decision for Your Amazon Business
As we've seen, FBA Prep Logistics caters to your every need as an e-commerce business owner selling on Amazon. Our comprehensive services, dedicated support, and commitment to efficiency make us the perfect choice for your Amazon 3PL warehouse solutions. Partnering with FBA Prep Logistics will undoubtedly help your business grow and achieve long-term success.
Get Started with FBA Prep Logistics: The Simple Onboarding Process
The process of onboarding with FBA Prep Logistics, a trusted amazon 3pl, is designed to be as simple and hassle-free as possible. We understand that businesses new to supply chain management might feel overwhelmed, which is why we have streamlined our onboarding procedure, making it easy for you to transition into the world of 3PL. In this section, we will outline the straightforward steps to get started with FBA Prep Logistics.
Step 1: Initial Consultation
To kick off your journey with FBA Prep Logistics, our team will arrange an initial consultation to discuss your unique business needs and requirements. This is an opportunity for us to understand your expectations and address any concerns you may have regarding 3PL services. We believe that maintaining open communication channels is crucial to foster a strong business partnership.
Step 2: Custom-tailored Solutions
After understanding your business requirements, we create a custom plan to cater to your specific needs. Being a business centered on e-commerce and Amazon sales, we ensure that our solutions effectively integrate with your store and simplify your journey into supply chain management. Our custom-tailored solutions help us establish a strong foundation for successful and efficient order fulfillment.
Step 3: Warehouse Setup and Integration
Once the custom plan is agreed upon, our team will assist you in setting up your warehouse space within our Bristol PA facility. We seamlessly integrate our systems with your Amazon store to provide smooth and efficient inventory management. Our Easy and Reliable Shopify Transportation in Pennsylvania ensures that your products are safely transported to our warehouse and accounted for using our advanced inventory management system.
Step 4: Training and Support
FBA Prep Logistics is committed to providing support in every aspect of your business. We offer training sessions to ensure you are familiar with our systems and processes, making it easy for you to navigate the world of supply chain management and Amazon 3PL. Our knowledgeable support team is available to address any questions or concerns you may have throughout the process.
Step 5: Order Fulfillment
Once everything is set up and you're comfortable with our system, we begin managing your inventory and orders with our renowned Efficient PA Order Fulfillment Services for Your E-commerce Store. Our team of skilled professionals handles everything from prepping, labeling, and packing to shipping and customs handling, providing you with peace of mind while your Amazon orders are processed and delivered to your customers.
Step 6: Analyzing Results and Continuous Improvement
FBA Prep Logistics is committed to not only providing exceptional amazon 3pl services but also to constantly improve and optimize our processes. We analyze the results of our partnership and implement changes when necessary to ensure that your business continually benefits from efficient and cost-effective 3PL solutions. We strive to grow together with your business.
Begin Your Journey with FBA Prep Logistics
In conclusion, getting started with FBA Prep Logistics as your Amazon 3PL warehouse solution is as simple as following the steps outlined above. From the initial consultation to analyzing results and continuous improvement, we are dedicated to providing businesses, like yours, with the comprehensive services and support needed for seamless supply chain management. Partner with us and discover how our personalized approach, advanced systems, and expert team can help your e-commerce business reach new heights of success.
Frequently Asked Questions
What makes FBA Prep Logistics stand out as a 3PL warehouse solution for Amazon e-commerce businesses?
FBA Prep Logistics stands out due to its personalized approach, efficient inventory management, cost-effectiveness, seamless integration with the seller's Amazon store, and transparency in operations. We cater specifically to small to medium-sized e-commerce businesses new to supply chain management.
What services does FBA Prep Logistics offer to e-commerce businesses selling on Amazon?
We offer end-to-end 3PL services, including product prepping, labeling, packing, shipping, and customs handling. Our comprehensive range of services ensures smooth order fulfillment and enhanced customer satisfaction on Amazon.
What is involved in the onboarding process with FBA Prep Logistics?
The onboarding process with FBA Prep Logistics is hassle-free and includes initial consultations and warehouse setup. Our simple steps make it easy for businesses new to supply chain management to transition seamlessly into working with a 3PL warehouse.
Why should a small to medium-sized e-commerce business consider partnering with FBA Prep Logistics instead of handling logistics in-house?
Partnering with FBA Prep Logistics allows e-commerce businesses to focus on their core operations while we handle inventory management, shipping, and other aspects of the supply chain. Our expertise ensures efficient and cost-effective solutions, leading to better scalability and growth.
How does FBA Prep Logistics maintain transparency in its operations?
We maintain transparency through open communication, real-time inventory tracking, and regular progress reports. Our personalized approach ensures that you remain informed and in control of your inventory and supply chain management at all times.