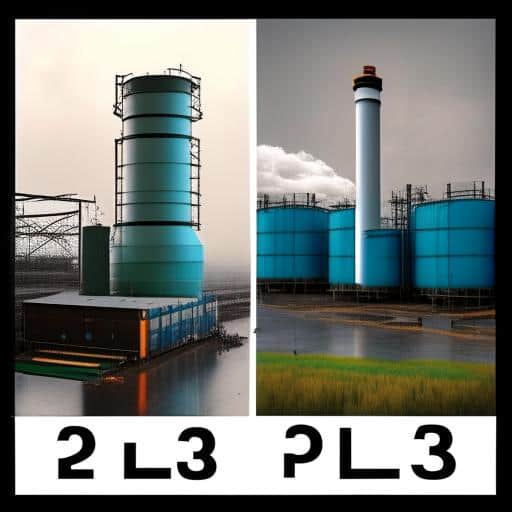 1. Introduction: Why New Jersey 3PL Companies Are Your Key to Business Success
In the ever-growing and competitive world of eCommerce, businesses depend on efficient and cost-effective supply chain management to thrive. Partnering with the right 3PL company can be a game-changer for your online store, streamlining operations, reducing costs, and improving customer satisfaction. One of the best decisions you can make as an eCommerce entrepreneur is to choose a 3PL company in New Jersey. Why? Let's dive into the reasons that make the Garden State an excellent choice for your supply chain needs.
1.1. Strategic Location
New Jersey's strategic location offers a competitive advantage for medium-sized eCommerce businesses selling through amazon.com. The state's proximity to major metropolitan areas, such as New York City and Philadelphia, provides easy access to countless potential customers. With convenient shipping channels to both domestic and international markets, and excellent transportation infrastructure, New Jersey-based 3PL companies can drastically reduce shipping times, cutting costs and keeping your customers happy.
1.2. Expertise in eCommerce and Amazon FBA
3PL companies in New Jersey have developed top-notch expertise in catering to the specific needs of eCommerce businesses, especially those selling on Amazon. They understand the unique challenges that come with managing Amazon FBA inventory and are well-equipped to handle the nuances of your eCommerce operations. By choosing a 3PL provider like FBA Prep Logistics, you can count on a partner that knows the ins-and-outs of Amazon FBA rules, regulations, and best practices, ensuring your business is poised for success.
1.3. Advanced Logistics Infrastructure
Another reason to choose New Jersey over other locations is the state's advanced logistics infrastructure. Along with state-of-the-art warehouse facilities, reliable transportation networks, and highly skilled labor force, New Jersey has a strong technological foundation. Partnering with a New Jersey 3PL company that leverages sophisticated warehouse management systems will help streamline your inventory management, leading to more efficient processes and ultimately, a better customer experience.
1.4. Personalized and Scalable Service
Medium-sized eCommerce businesses often struggle to receive personalized service from larger, global 3PL providers. However, New Jersey-based 3PL companies like FBA Prep Logistics specialize in providing customer-centric, tailored services that cater specifically to the needs of businesses like yours. As your eCommerce business grows, you need a 3PL partner that can scale with your operations, offering flexible solutions that keep pace with your evolving needs.
1.5. Cost-Effectiveness
Last but not least, partnering with a 3PL company in New Jersey can be an excellent way to reduce operational costs. Streamlined logistics, efficient warehousing, and decreased shipping times all translate to lower costs for your business. In addition, New Jersey-based 3PL providers are well-aware of the cost pressures faced by medium-sized eCommerce companies and work actively to provide cost-effective solutions that don't sacrifice quality.
With these compelling benefits, it's easy to understand why New Jersey 3PL companies should be your top choice for efficient, customer-focused supply chain management. By partnering with a trusted 3PL provider like FBA Prep Logistics, you're setting the foundation for a successful, scalable eCommerce venture. Now let's move on to the specific advantages you'll enjoy by choosing FBA Prep Logistics as your 3PL partner.
2. The Benefits of Partnering with FBA Prep Logistics in NJ
As your business continues to grow, partnering with the right 3PL company becomes essential. Among the many 3PL companies New Jersey has to offer, FBA Prep Logistics stands out in a league of its own. With our stellar reputation and customer-centric approach, we offer many benefits designed to help your e-commerce business thrive. Let's dive deeper into the many advantages of partnering with FBA Prep Logistics in NJ.
2.1. Strategic Geographic Location
Our warehouse is strategically located in New Jersey, right along the Eastern Seaboard. This prime location not only places your products closer to major hubs, but it also means faster shipping times and cost savings for you. Furthermore, being situated near well-known major ports and airports guarantees efficient deliveries and convenient access to international markets.
2.2. Reduced Shipping Costs
Our commitment to efficiency allows us to provide our clients with top cost reduction strategies for Amazon sellers in PA, and our New Jersey location is no exception. With our state-of-the-art warehouse management system, we streamline your supply chain by optimizing warehouse operations and reducing shipping costs, ensuring you save money without sacrificing quality.
2.3. Improved Shipping Times
In today's fast-paced e-commerce landscape, quick shipping times are essential for customer satisfaction and maintaining a competitive edge. FBA Prep Logistics' strategic East Coast location, coupled with our efficient warehouse management, allows for delivery of your products to customers in a timely manner, giving you an advantage over competitors.
2.4. Personalized Service for Medium-sized E-commerce Businesses
We understand that each e-commerce business has its unique set of challenges and needs. That's why at FBA Prep Logistics, we specialize in providing customized logistics solutions tailored to medium-sized businesses. By working closely with you, we ensure your supply chain is optimized, enabling you to focus on what you do best – growing your business.
2.5. Expertise in Amazon FBA and E-commerce Logistics
FBA Prep Logistics has extensive experience in managing logistics for Amazon FBA and e-commerce businesses. With our up-to-date knowledge of industry trends, guidelines, and best practices, we can navigate the complexities of the Amazon FBA ecosystem seamlessly, ensuring that your products reach your customers smoothly and efficiently.
2.6. Advanced Warehouse Management System (WMS)
Our state-of-the-art WMS ensures your inventory is managed with precision and care. From SKU tracking to efficient pick and pack processes, our advanced WMS guarantees accuracy, helping you avoid costly inventory discrepancies.
2.7. Simplified Returns Management
Returns are an inevitable part of e-commerce, but they don't have to be a headache. With FBA Prep Logistics' hassle-free Shopify returns management, we make it easy for you to handle product returns, maintain customer satisfaction, and protect your brand's reputation.
2.8. Scalable Solutions for Future Growth
Whether you're experiencing a sudden surge in sales or planning for long-term growth, FBA Prep Logistics can scale its services to meet your ever-changing needs. Our adaptable processes and infrastructure enable seamless expansion, ensuring you're prepared for any opportunities that may arise.
2.9. Transparent Pricing and Reporting
Transparency is at the core of our business values. We provide clear pricing structures with no hidden fees, so you know exactly what you're paying for. Furthermore, our regular reporting ensures you always have the data you need to make informed decisions regarding your supply chain management.
2.10. A Dedicated Account Manager
To provide a seamless experience, FBA Prep Logistics assigns you a dedicated account manager. This knowledgeable professional is your go-to contact for any questions, concerns, or coordination related to your logistics needs.
In conclusion, partnering with FBA Prep Logistics in New Jersey is a smart investment in your e-commerce business' growth and future success. Our exceptional services, strategic location, and customer-first approach make us the perfect ally to help your business thrive. Don't miss out on the benefits of working with the best in the industry. Reach out to FBA Prep Logistics and let's start your success story today!
Top Features of FBA Prep Logistics' Warehouse Management & Services
---
Efficient Warehouse Management System
When partnering with 3PL Companies New Jersey like FBA Prep Logistics, you're provided with an efficient warehouse management system that keeps things organized. Our advanced system allows for real-time inventory tracking, ensuring accurate stock levels are maintained. By adopting cutting-edge technology, we effectively reduce errors, streamline warehouse processes, and keep your products organized and ready for shipment.
Fast & Accurate Order Fulfillment
Our team at FBA Prep Logistics understands the importance of quick and accurate order fulfillment to keep your customers happy. We utilize state-of-the-art technology and a highly trained workforce to pick, pack, and ship your orders with precision. Our strategic location in New Jersey allows us to quickly reach major metropolitan areas on the East Coast, ensuring timely delivery of your products to customers.
Seamless Integration with eCommerce Platforms
Our top-notch warehouse management system can be easily integrated with popular eCommerce platforms such as Shopify and Amazon. This seamless integration allows for improved communication between your online store and our warehouse, so you can focus on growing your business while we handle the logistics.
Real-Time Inventory Management & Tracking
At FBA Prep Logistics, we provide you with real-time inventory management and tracking capabilities, so you precisely know the stock levels of your products. Our advanced technology ensures that you always have access to accurate and up-to-date inventory information. This feature not only enables better decision-making but also helps prevent stockouts and backorders.
Kitting & Assembly Services
FBA Prep Logistics offers kitting and assembly services for customers looking to bundle multiple items together or assemble components into a finished product. Our team ensures that your orders are accurately assembled and packaged according to your specifications, providing a professional and polished final product to your customers.
Secure Storage & Theft Prevention
We understand the importance of keeping your merchandise safe and secure. Our warehouse is equipped with advanced security systems, including 24/7 video surveillance and alarm systems, to protect your products from theft. High levels of security ensure that your inventory remains safe while in our care.
Quality Control & Inspection
Our team at FBA Prep Logistics is dedicated to maintaining the highest level of quality control throughout the warehousing process. We routinely inspect products upon arrival, during storage, and before shipping to ensure that only the highest quality items are sent to your customers.
Returns Management & Reverse Logistics
Managing returns can be a hassle, but with FBA Prep Logistics, we handle the entire process for you. Our team is experienced in managing reverse logistics and will efficiently process returns, inspect products for quality, and handle any necessary restocking or disposal. By the time we're done, you can get back to focusing on your business.
Cost-effective & Transparent Pricing
At FBA Prep Logistics, we pride ourselves on offering cost-effective and transparent pricing for our services. You can rest assured knowing that there are no hidden fees associated with your partnership with us. Our pricing structure is designed to save you money and give you control over your logistics expenses.
Dedicated Customer Support
As part of our commitment to providing top-notch services, FBA Prep Logistics offers dedicated customer support to answer any questions or address any concerns you may have. Our friendly and knowledgeable team is always available to ensure that your experience with us is seamless and stress-free. We work diligently to build lasting partnerships with our clients and provide them with the support they need to grow their businesses.
Eco-friendly Solutions
FBA Prep Logistics is committed to reducing its environmental impact by implementing eco-friendly solutions in our warehouse. We use energy-efficient lighting, minimize waste, and prioritize recycling to make our operations greener. By choosing our services, you can bolster your company's green initiatives and help protect the environment.
In conclusion, choosing FBA Prep Logistics, one of the top 3PL Companies New Jersey, will provide you with a suite of exceptional services tailored to your needs. Our top-notch warehouse management system, real-time inventory tracking, and integration with popular eCommerce platforms ensure seamless operations for your business. In addition, our dedication to quality control, theft prevention, return management, and providing cost-effective solutions sets us apart in the 3PL industry. Trust FBA Prep Logistics to help take your eCommerce business to new heights.
4. Customized Services for Amazon FBA Sellers at FBA Prep Logistics
As an eCommerce business owner selling on Amazon, you need a proficient and supportive partner that understands the intricacies of Amazon's marketplace. FBA Prep Logistics is the ideal choice among 3PL companies New Jersey has to offer for personalized and efficient solutions to help you thrive in the competitive Amazon landscape.
4.1 Expertise in Handling Amazon FBA Requirements
Managing your inventory for Fulfillment by Amazon (FBA) can be complex and time-consuming. But with FBA Prep Logistics, you get a team of seasoned professionals experienced in handling Amazon FBA inventory requirements. Our expertise in managing FBA products ensures that your shipments are quickly received, stored, and prepped according to Amazon's strict guidelines. This means fewer delays, fewer headaches for you, and increased seller performance.
4.2 Customized FBA Prep Services
Each Amazon seller has unique needs, and our approach is tailored to match those individual requirements. Our skilled team offers a comprehensive suite of FBA prep services such as labeling, packing, bundling, and more, to ensure that your products are ready for Amazon's fulfillment centers. We even handle any required inspections and kitting to save you time while ensuring your products meet Amazon's packaging and prep standards.
4.3 Efficient Inventory Management and Storage Solutions
Inventory management is critical for Amazon FBA sellers, and FBA Prep Logistics offers advanced, real-time inventory tracking and reporting to keep you informed about your stock levels. Our secure and organized warehouse facilities are adept at handling and storing your products efficiently, safeguarding your inventory until it's ready to be sent to Amazon's fulfillment centers.
Don't forget to learn more about our exceptional Amazon FBA Prep Services which will help you scale your business like never before.
4.4 Amazon FBA Returns Management
Handling Amazon FBA returns can be a complicated and resource-intensive process. At FBA Prep Logistics, we simplify returns management for you by efficiently handling product returns and restocking, ensuring compliance with Amazon's return policies. Our streamlined process results in minimal impact on your bottom line management and time, allowing you to focus on growing your business.
4.5 Seamless Amazon FBA Shipments
Our strategic location in New Jersey provides a considerable edge in shipping times, ensuring that your products are quickly dispatched to Amazon fulfillment centers across the country. Our Amazon FBA shipment process is smooth and reliable, with a focus on minimizing shipping costs and optimizing delivery routes.
4.6 Enhanced Amazon Seller Support
Our team at FBA Prep Logistics understands the challenges that Amazon sellers face daily. We offer personalized support and assistance to help you navigate the complexities of the Amazon marketplace. From staying updated with Amazon's ever-changing policies to helping you make data-driven decisions to boost your seller performance, our goal is to help you succeed.
Explore our Ultimate Guide to Amazon Reverse Logistics for East Coast Sellers, helping you master the ins and outs of FBA reverse logistics.
4.7 Competitive Pricing
Affordability is one of our core values at FBA Prep Logistics. We understand that as an eCommerce business owner, reducing costs is vital for growth and maximizing profits. That's why we offer competitive and transparent pricing for our services without compromising on the quality of service. With FBA Prep Logistics as your partner, you get customized e-commerce solutions designed specifically to meet your needs, all within your budget constraints.
In conclusion, partnering with FBA Prep Logistics provides Amazon FBA sellers with a competitive edge through our comprehensive and tailored solutions, expert support, and cost-effective pricing. Our dedicated team is focused on maximizing your success while simplifying your supply chain operations, setting you on the path to long-term growth in the Amazon marketplace.
How to Get Started with FBA Prep Logistics: Easy and Cost-Effective!

A step-by-step guide on how to begin utilizing FBA Prep Logistics' services to save time and money for your eCommerce business.
Step 1: Reach Out to FBA Prep Logistics for a Consultation
Before diving into a partnership with one of the best 3PL companies New Jersey has to offer, we recommend reaching out to our friendly team for a free consultation. We'll discuss in detail what your business needs are, your goals, and how FBA Prep Logistics can come to your rescue in managing your warehouse and fulfillment needs. You can contact us via our website or call us directly.
Step 2: Discuss Your Specific Business Needs With Our Experts
After contacting us, it's time to dig deeper into your eCommerce business's particular needs. Our team of experts will work closely with you to understand your product types, order volume, inventory management requirements, and shipping preferences. We'll learn as much as we can about your business to provide tailored solutions that cater to your exact needs.
Step 3: Customize a Service Plan that Fits Your Business Goals
Once we have an in-depth understanding of your requirements, we will help tailor a comprehensive service plan based on your budget and business goals. We'll walk you through the benefits of our various services: From efficient order fulfillment and time-saving cross-docking, to Amazon FBA Prep support; with FBA Prep Logistics as your 3PL partner, there's something for every eCommerce business.
Step 4: Seamless Integration with Your Existing eCommerce Platform
We understand that adopting a new service can seem daunting. That's why we ensure our system integrates seamlessly with popular eCommerce platforms like Shopify and Amazon. FBA Prep Logistics supports hassle-free Shopify returns, Shopify inventory control, and order fulfillment for both platforms. This integration guarantees a smooth transition, allowing you to maintain accurate inventory tracking and shipping management.
Step 5: Guided Onboarding and Training
At FBA Prep Logistics, we prioritize making the onboarding experience as smooth as possible. Our team will guide you through the entire onboarding process, ensuring you understand every feature we have to offer. Additionally, we'll provide training to help you efficiently manage your warehouse and shipping processes through our platform.
Step 6: Establish a Strategic East Coast Distribution Network
As a leading warehouse provider on the East Coast, FBA Prep Logistics will help your business tap into the benefits of efficient logistics, faster shipping times, and overall cost savings in your supply chain. We'll work hand-in-hand with you to establish a strategic distribution network that caters to your customers' needs, all while cutting costs and improving your bottom line.
Step 7: Enjoy the Benefits of Partnering with FBA Prep Logistics
After completing the onboarding process, you'll begin experiencing the numerous benefits of collaborating with FBA Prep Logistics. As one of the top 3PL companies New Jersey has to offer, we'll continually strive to support your growing eCommerce business. Our goal is to manage the behind-the-scenes logistics, so you can focus on marketing, customer service, and continuing to scale your business to new heights.
By choosing to partner with FBA Prep Logistics as your go-to 3PL company in New Jersey, you'll gain access to decades of experience, expert support, and customized services tailored to your unique business needs. We pride ourselves on being an essential key to your eCommerce success story. Let's embark on this journey together and unlock your full potential!
Frequently Asked Questions about FBA Prep Logistics
Why is choosing a New Jersey 3PL company crucial for my eCommerce business success?
New Jersey is an ideal location for 3PL companies due to its strategic position on the East Coast, proximity to major ports, airports, and transportation hubs, and its extensive infrastructure. Partnering with a New Jersey-based 3PL like FBA Prep Logistics can provide faster shipping times, reduced shipping costs, and improved logistical efficiency, all of which contribute to the overall success of your eCommerce business.
What benefits can I expect from partnering with FBA Prep Logistics in NJ?
By partnering with FBA Prep Logistics, you can enjoy a range of benefits, including reduced shipping costs, faster shipping times, better inventory management, personalized customer service, and tailored solutions designed for medium-sized eCommerce companies. Our services help streamline your supply chain, allowing you to focus more on growing and managing your business.
What are the top features of FBA Prep Logistics' Warehouse Management & Services?
FBA Prep Logistics offers a comprehensive warehouse management system, including real-time inventory tracking, automated order processing, state-of-the-art security, optimized order fulfillment, climate-controlled storage, and seamless integration with major eCommerce platforms. All of these features combine to create a seamless and efficient supply chain experience for our clients.
How does FBA Prep Logistics cater to Amazon FBA sellers specifically?
We understand the unique challenges faced by Amazon FBA sellers and offer customized services to help them succeed. These services include FBA prep and labeling, inventory storage, order fulfillment, returns management, and guidance on meeting Amazon's strict storage and shipping requirements. Our expertise in handling Amazon FBA logistics means you can trust us to optimize your entire process and maximize your sales potential.
How can I get started with FBA Prep Logistics and what are the costs involved?
Getting started with FBA Prep Logistics is simple and cost-effective! Just reach out to our team with details about your business and your specific logistical needs. We'll provide you with a customized quote based on your requirements, along with a detailed plan on how to streamline your supply chain. You'll be able to leverage the advantages of partnering with a New Jersey-based 3PL and watch your eCommerce business grow!