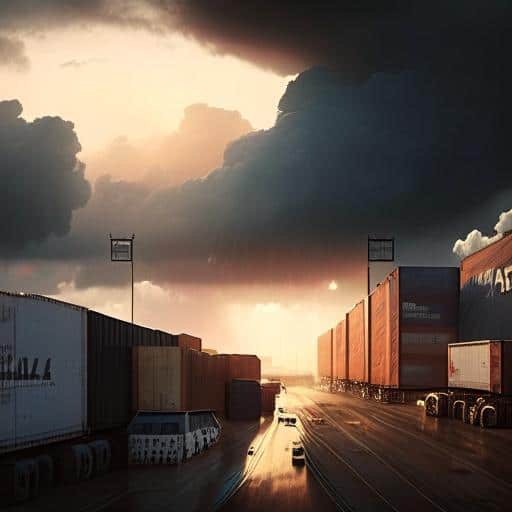 Introduction: The Importance of Choosing the Right 3PL Location
So you've started your own e-commerce business on Amazon, and things are going well. Congratulations! But now, you're faced with the task of managing your supply chain efficiently, ensuring that your products are delivered to Amazon's fulfillment centers, and subsequently, to your customers in a timely and cost-effective manner. The answer to this need? Partnering with a third-party logistics (3PL) provider like FBA Prep Logistics – a 3PL warehouse located in Bristol, PA that offers a complete suite of fulfillment services.
In this article, we'll discuss why choosing the right 3PL location is so crucial for your e-commerce business's success. From proximity to major shipping carriers and Amazon fulfillment centers to expertise in handling customs and tax clearance processes, there are several factors to consider when selecting your 3PL provider. And, as you'll soon find out, FBA Prep Logistics has all of these factors and more covered!
The Key Factors to Consider When Choosing a 3PL Location
The location you choose for your 3PL partner can make all the difference when it comes to the efficiency and cost-effectiveness of your supply chain operations. Here are some of the factors that make a location favorable for 3PL services:
Proximity to major shipping carriers – Choosing a 3PL provider located close to major shipping carriers, such as UPS, FedEx, and USPS, means faster shipping times and lower delivery costs for your business.
Proximity to Amazon fulfillment centers – Being near Amazon's centers ensures that your products are easily and quickly sent to Amazon for storage and distribution to customers.
Expertise in duties, tax clearance, and custom clearance procedures – A 3PL provider with a team of experts who can handle these processes will save your business time and money, making your international shipping process hassle-free.
Comprehensive services – The most effective 3PL providers offer a wide range of services to cater to the unique needs of your e-commerce business, from inventory management and order fulfillment to packaging and returns management.
With these key factors in mind, it's clear that FBA Prep Logistics is a perfect match for your e-commerce business!
Why FBA Prep Logistics Stands Out as the Perfect 3PL Partner
FBA Prep Logistics understands the challenges that new and growing e-commerce businesses face when it comes to supply chain management. That's why our team goes above and beyond to ensure that your products are stored, processed, and shipped efficiently and cost-effectively. Our strategic location and comprehensive suite of services allow us to help you seamlessly navigate the often complex world of e-commerce fulfillment, saving you time, stress, and money along the way.
In the following sections, we'll dive deeper into the many benefits of partnering with FBA Prep Logistics as your 3PL provider. We'll examine our strategically located facility near major shipping carriers and Amazon fulfillment centers, our expertise in handling duties and customs clearance processes, and our tailored services designed to meet your e-commerce business's specific needs. So, let's explore what sets FBA Prep Logistics apart as your go-to choice for all things 3PL!
2. Strategically Located Near Major Shipping Carriers
One of the most important factors to consider in choosing an ideal 3PL warehouse for your e-commerce business is its proximity to major shipping carriers. FBA Prep Logistics understands this significance, and that's why our warehouse is conveniently located in Bristol, PA, near well-established shipping carriers like UPS, FedEx, and USPS.
So, why exactly is our strategic location so essential for your business? Here are some of the benefits you can reap:
2.1 Faster Shipping Times
When your 3PL warehouse is near major shipping carriers, your products can be picked up and delivered more quickly. This translates into your customers receiving their orders faster, which leads to increased customer satisfaction and, ultimately, more positive reviews and repeat business on Amazon.
The location of FBA Prep Logistics ensures that your products get to these carriers more efficiently. By significantly reducing the time it takes for orders to be processed, your e-commerce business can stand out from the competition and provide a better shopping experience for your customers.
2.2 Lower Shipping Costs
Shipping costs are an essential factor to consider in your e-commerce business. The closer your 3PL warehouse is to major carriers, the lower the shipping costs for your business. FBA Prep Logistics' prime location in Bristol, PA, allows us to take advantage of the most competitive shipping rates from UPS, FedEx, and USPS, passing those savings on to you.
Lower shipping costs can have a substantial impact on your profit margins and help you stay competitive in the fast-paced world of e-commerce. By partnering with FBA Prep Logistics, you can be confident that our strategic location will translate into cost savings for your business.
2.3 Greater Flexibility in Order Processing
Our close proximity to major shipping carriers also gives FBA Prep Logistics a high degree of flexibility when it comes to order processing. If a shipping carrier is delayed or there's an unexpected surge in orders, our location allows us to quickly pivot and choose an alternative shipping carrier to get your products to your customers as quickly and efficiently as possible. This adaptability is crucial in meeting ever-changing customer expectations and staying ahead of evolving e-commerce trends.
2.4 Improved Inventory and Supply Chain Management
A primary concern for all e-commerce businesses is maintaining a smooth inventory and supply chain process. When your 3PL warehouse is near major shipping carriers, it becomes much easier to manage and replenish your stocks. The location of FBA Prep Logistics means we can keep a closer watch on your inventory levels and communicate with both suppliers and shipping carriers more effectively, leading to a more efficient supply chain and ensuring you never run out of stock.
2.5 Enhanced Trust and Reputation
An essential aspect of a successful e-commerce business is building trust and credibility with your customers. By using FBA Prep Logistics as your 3PL warehouse, our strategic location near major shipping carriers sends a strong signal to your customers that their orders are in good hands and will always be delivered quickly and reliably. This can enhance your reputation on Amazon and beyond, opening up more opportunities for your business to grow.
In summary, the strategic location of FBA Prep Logistics, situated in Bristol, PA near major shipping carriers like UPS, FedEx, and USPS, offers numerous advantages for your e-commerce business. From faster shipping times to lower costs and enhanced flexibility in order processing, there's no denying that our 3PL location plays a crucial role in supporting your business's growth and success on Amazon.
3. Proximity to Amazon Fulfillment Centers: Fueling Fast Deliveries and Streamlined Operations
One of the primary factors to consider when selecting the best 3PL location is its proximity to Amazon Fulfillment Centers. When your 3PL warehouse is situated close to these centers, it can significantly benefit your e-commerce business in several ways. At FBA Prep Logistics, we understand the importance of speedy deliveries and streamlined operations, which is why our strategic location near several Amazon Fulfillment Centers makes us the ideal choice for your e-commerce pursuits on Amazon.
3.1. Enhanced shipping efficiency
Being close to Amazon Fulfillment Centers means that we can get your products shipped and stocked in a shorter amount of time. When your container arrives at our warehouse, our team of seasoned professionals work around the clock to ensure efficient unpacking, sorting, and labeling of your products before dispatching them to Amazon. With reduced transit time, you can expect your inventory to be available on Amazon much sooner.
3.2. Lower shipping costs
As a growing e-commerce business, you are always looking for ways to cut costs without compromising on quality. When your 3PL warehouse is located near Amazon Fulfillment Centers, you save considerably on transportation expenses. Since our warehouse is strategically positioned in Bristol, PA, near various Amazon centers, we can help you reduce shipping expenses while maintaining a consistent delivery schedule.
3.3. Improved inventory management
Efficient inventory management is as crucial as timely deliveries for your e-commerce business. When you work with a 3PL location that is near Amazon Fulfillment Centers like FBA Prep Logistics, it becomes easier to manage your inventory more effectively. Our close proximity to the centers allows us to respond quickly to fluctuations in demand and stock levels, ensuring that you never run out of your best-selling products during peak seasons.
3.4. Expedited response to return requests
In a competitive marketplace like Amazon, keeping your customers satisfied is the key to maintaining your seller reputation. Our location near Amazon Fulfillment Centers enables us to handle your customers' return requests promptly. Whether it's an exchange, refund, or any other return-related issue, our efficient return processing can help you resolve the issue without any unnecessary delays, winning you rave reviews from grateful customers.
3.5. Knowledge and experience working with Amazon
Our expertise goes beyond a strategic location. The FBA Prep Logistics team has vast experience and knowledge about working with Amazon and its specific requirements. We understand how to integrate technology into your Amazon seller workflow and ensure that your shipments are compliant with their guidelines. By keeping abreast of the latest developments and updates, we help your e-commerce business stay compliant and competitive on Amazon.
3.6. Timely scaling for your growing business
As your e-commerce business grows and expands, you need a 3PL partner capable of scaling its services accordingly. With our proximity to Amazon Fulfillment Centers and a commitment to continuous improvement, FBA Prep Logistics can promptly adapt to your business's changing needs, resulting in seamless scalability, reduced costs, and increased profits.
3.7. Greater customer satisfaction and loyalty
Ultimately, partnering with a 3PL warehouse near Amazon Fulfillment Centers like FBA Prep Logistics can lead to an enhanced customer experience for your buyers. Faster product deliveries, timely resolution of return requests, and consistent inventory management all contribute to increased customer satisfaction and loyalty, vital attributes for long-term success on Amazon.
When choosing a 3PL warehouse for your e-commerce business on Amazon, understanding the significance of its location is crucial. FBA Prep Logistics, with its strategic location near multiple Amazon Fulfillment Centers, offers a host of advantages, including lower shipping costs, enhanced inventory management, and expedited response to return requests. All these factors make us the perfect partner to help your business thrive on Amazon.
4. Expertise in Duties, Tax Clearance, and Custom Clearance Procedures
As e-commerce businesses continue to expand their reach and cater to customers across the globe, it becomes increasingly essential to successfully navigate the complex landscape of duties, taxes, and customs clearances. At FBA Prep Logistics, we are proud to offer our expert services in handling these procedures, giving you a distinct advantage in the competitive world of online sales. Our unmatched skills ensure that your shipments are always compliant with local regulations, effectively reducing the risks of delays, extra costs, and penalties. This expertise is what sets our 3PL location apart and makes us the ideal choice for e-commerce sellers.
4.1. In-Depth Understanding of Customs Regulations
Our experienced team at FBA Prep Logistics has a deep understanding of customs regulations in various international destinations. We keep up-to-date with the latest changes in rules and tariffs to ensure streamlined and compliant shipments. Our proactive approach to research and staying informed guarantees that our customers are never caught off guard by sudden changes in international trade policies.
4.2. Accurate Documentation and Labelling
Preparing accurate and complete documents is a critical aspect of successful international shipping. Our 3PL location specialists are skilled at/documenting and labeling shipments with all the required information, enabling quick custom clearances and hassle-free shipments. This attention to detail eliminates any potential problems or misunderstandings with customs officials, saving you valuable time and resources.
4.3. Efficient Management of Duties and Taxes
FBA Prep Logistics is dedicated to helping you optimize and manage duties and taxes more efficiently. Our team works closely with clients to understand their products, target markets, and shipping requirements. Our expertise enables you to navigate the complexities of international tax laws and make informed decisions on optimizing your duties and taxes. This expertise can lead to potential cost savings, helping you maintain your competitive pricing advantage on Amazon.
4.4. Partnering with Reputable Customs Brokers
At FBA Prep Logistics, we understand the importance of working with trusted customs brokers. Our extensive network of reliable brokers ensures the smooth and timely clearance of your shipments across various regions. By collaborating with reputable partners, we deliver seamless, end-to-end logistics solutions tailored to your e-commerce business needs.
4.5. Timely Resolution of Customs Issues
Our 3PL professionals always keep a close eye on your shipments, actively monitoring customs clearance progress. In the unlikely event of an issue or delay with your shipment, our team works quickly and diligently to resolve the problem and expedite the clearance process. This proactive approach minimizes delays and ensures your inventory is moving swiftly through the supply chain.
4.6. Customized Support for Your Business Needs
Our commitment to excellent service extends to providing customized assistance to address your unique e-commerce business requirements. Whether you have specific shipping preferences or require guidance on navigating regulations, our team works to develop tailored solutions that cater to your individual needs. By understanding your brand, products, and goals, we become an extension of your business and a valuable partner in your international shipping efforts.
4.7. Compliance with Country-Specific Requirements
When shipping internationally, it's essential to understand and comply with each country's unique requirements, whether it's restricted items, labeling, or invoicing. Our team at FBA Prep Logistics is well-versed in meeting these country-specific demands, ensuring your shipments are compliant every step of the way.
In conclusion, choosing FBA Prep Logistics as your 3PL location translates to a stress-free and efficient experience in handling duties, tax clearance, and customs clearance procedures. Our unmatched expertise and commitment to delivering tailored solutions empower your e-commerce business to thrive in the competitive global marketplace, while simultaneously taking the uncertainty out of international shipping. Partner with FBA Prep Logistics and enjoy the benefits of a knowledgeable and trustworthy 3PL warehouse dedicated to your success.
5. Comprehensive Services Catered to Your E-commerce Needs
As an e-commerce business owner, we understand that you require more than just a strategic 3PL location. That's why at FBA Prep Logistics, we offer a wide range of comprehensive and tailored services designed to cater to your specific e-commerce needs and help your business reach new heights. In this section, we'll dive deep into various services that we excel in, making us the ideal 3PL partner for your Amazon store.
5.1. Inventory Management
Proper inventory management is the backbone of any successful e-commerce business. It is of vital importance that you have complete control over your inventory levels, monitoring stock, and managing timely reorders. At FBA Prep Logistics, we provide a best-in-class inventory management system that seamlessly integrates with your Amazon store. Our team keeps a close eye on your stock levels, ensuring that you never face shortages or overstocking issues.
Not only do we maintain the perfect inventory balance, but we also handle timely reorders and product inspections. As an integral part of building a thriving e-commerce business, our inventory management system keeps you ahead of the competition.
5.2. Order Fulfillment
The efficiency of your order fulfillment process has a significant impact on customer satisfaction and your business reputation. FBA Prep Logistics takes the burden of order fulfillment off your shoulders with our streamlined and efficient processes.
We handle everything from picking, packing, and shipping your orders to Amazon or directly to your customers. Our team ensures that every order is processed quickly and accurately, adhering to Amazon's specific guidelines and packaging requirements. With FBA Prep Logistics handling your order fulfillment, you can focus on other aspects of your business, like marketing and expanding your product catalog.
5.3. Packaging Solutions
A well-packaged product is not only a delight for your customers but also protects your items from in-transit damage. Our efficient PA order fulfillment services include top-notch packaging solutions that comply with Amazon's strict packaging requirements.
At FBA Prep Logistics, we offer various packaging options, ranging from standard boxes and polybags to customized packaging, tailored to suit your specific needs. We also follow eco-friendly practices, using sustainable packaging materials to minimize your business's environmental impact.
5.4. Customized Solutions for Your Unique Business Needs
No two e-commerce businesses are the same, and we understand that each business has its unique set of challenges and goals. That's why we take a personalized approach to each of our clients, offering customized solutions that cater to their specific needs and enable them to successfully navigate the Amazon marketplace.
Whether you're a small business owner just starting out or an established enterprise looking to scale, we have the right mix of services, expertise, and resources to become your trusted 3PL partner.
5.5. Exceptional Customer Support
At FBA Prep Logistics, we value our clients and their businesses, making it our mission to provide outstanding customer service. Our team of experienced professionals is available to address any concerns or questions that you may have related to inventory, shipments, or any other logistical matters.
As an ultimate guide to e-commerce logistics in the East Coast, we pride ourselves on offering exceptional customer support to our clients, helping them resolve any issues quickly and seamlessly, keeping their businesses running smoothly.
5.6. Returns Management
Customer returns can be a challenging aspect of any e-commerce business. However, FBA Prep Logistics simplifies the returns process by handling all the complexities, making it hassle-free for both you and your Amazon customers.
We take care of returns inspection, identification of the reason for the return, and sorting out the returned items based on their condition. By streamlining the returns process, we help you maintain a healthy seller performance rating on Amazon and keep your customer satisfaction levels high.
End of Section 5
Choosing the right 3PL warehouse plays a vital role in the success of your e-commerce business. With our strategically located warehouse in Bristol, PA, proximity to Amazon fulfillment centers, and a suite of comprehensive services catered to your business needs, FBA Prep Logistics is the perfect 3PL partner for your Amazon store.
Experience the advantages of our professional expertise, commitment to customer satisfaction, and tailored solutions designed to help your Amazon business thrive. Let FBA Prep Logistics become your go-to partner for all your 3PL needs, and watch your e-commerce business reach new heights and improve its profit margins.
Frequently Asked Questions</h2>
<h4>Q1: How does FBA Prep Logistics' location benefit my e-commerce business?</h4>
<p> A: Our warehouse, located in Bristol, PA, is strategically positioned near major shipping carriers such as UPS, FedEx, and USPS. This proximity allows faster shipping times and lower delivery costs, which ultimately benefits your business's bottom line. </p>
<h4>Q2: Why is FBA Prep Logistics' proximity to Amazon Fulfillment Centers important?</h4>
<p>A: Being located near Amazon Fulfillment Centers means that we can send products to Amazon quickly and efficiently. This advantage reduces transit times and ensures your inventory remains well-stocked at all times. </p>
<h4>Q3: What expertise does FBA Prep Logistics have in handling duties, tax clearance, and custom clearance procedures?</h4>
<p> A: Our team of experts is experienced in handling global shipping procedures, including duties, tax clearance, and custom clearance. We ensure your shipments are compliant with local regulations, which minimizes delays or penalties. </p>
<h4>Q4: What services does FBA Prep Logistics offer to cater to my e-commerce needs?</h4>
<p> A: We provide a comprehensive range of services, including inventory management, order fulfillment, and packaging. Our team has experience working with various e-commerce businesses, allowing us to tailor personalized solutions for your specific needs. </p>
<h4>Q5: How can I benefit from partnering with FBA Prep Logistics as my 3PL warehouse?</h4>
<p> A: Choosing FBA Prep Logistics as your 3PL warehouse means benefiting from our strategic location, expertise, and personalized services. We help streamline your supply chain management and improve your e-commerce business's overall efficiency on Amazon. </p>
<script type="application/ld+json">
{
"@context": "https://schema.org",
"@type": "FAQPage",
"mainEntity": [
{
"@type": "Question",
"name": "How does FBA Prep Logistics' location benefit my e-commerce business?",
"acceptedAnswer": {
"@type": "Answer",
"text": "Our warehouse, located in Bristol, PA, is strategically positioned near major shipping carriers such as UPS, FedEx, and USPS. This proximity allows faster shipping times and lower delivery costs, which ultimately benefits your business's bottom line."
}
},
{
"@type": "Question",
"name": "Why is FBA Prep Logistics' proximity to Amazon Fulfillment Centers important?",
"acceptedAnswer": {
"@type": "Answer",
"text": "Being located near Amazon Fulfillment Centers means that we can send products to Amazon quickly and efficiently. This advantage reduces transit times and ensures your inventory remains well-stocked at all times."
}
},
{
"@type": "Question",
"name": "What expertise does FBA Prep Logistics have in handling duties, tax clearance, and custom clearance procedures?",
"acceptedAnswer": {
"@type": "Answer",
"text": "Our team of experts is experienced in handling global shipping procedures, including duties, tax clearance, and custom clearance. We ensure your shipments are compliant with local regulations, which minimizes delays or penalties."
}
},
{
"@type": "Question",
"name": "What services does FBA Prep Logistics offer to cater to my e-commerce needs?",
"acceptedAnswer": {
"@type": "Answer",
"text": "We provide a comprehensive range of services, including inventory management, order fulfillment, and packaging. Our team has experience working with various e-commerce businesses, allowing us to tailor personalized solutions for your specific needs."
}
},
{
"@type": "Question",
"name": "How can I benefit from partnering with FBA Prep Logistics as my 3PL warehouse?",
"acceptedAnswer": {
"@type": "Answer",
"text": "Choosing FBA Prep Logistics as your 3PL warehouse means benefiting from our strategic location, expertise, and personalized services. We help streamline your supply chain management and improve your e-commerce business's overall efficiency on Amazon."
}
}
] }
</script>