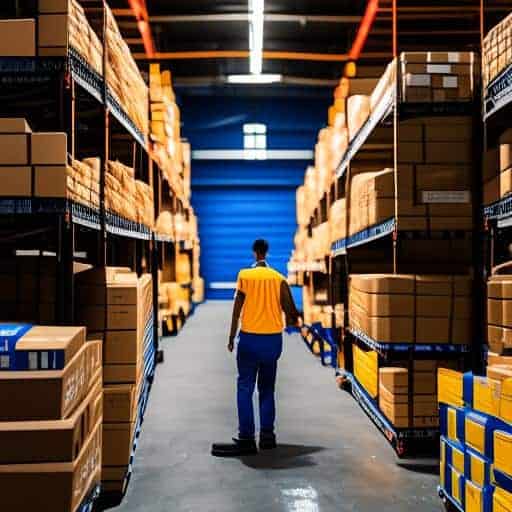 Introduction: What is an Amazon 3PL Warehouse?
If you are an e-commerce business owner, specifically selling on Amazon.com, you might be familiar with the terms third-party logistics (3PL) and Fulfillment by Amazon (FBA). But what exactly is an Amazon 3PL Warehouse, and how can it benefit your business? In this article, we'll dive into the world of 3PL warehouses and show you how partnering with FBA Prep Logistics, a top-notch Amazon 3PL Warehouse located in Bristol PA, can significantly impact your e-commerce success.
What is a Third-Party Logistics (3PL) Warehouse?
A Third-Party Logistics (3PL) warehouse is a company that offers outsourced logistics services, including storing, picking, packing, and shipping products on behalf of other businesses. With e-commerce growing rapidly, the importance of efficient logistics management has become incredibly important for business success.
For Amazon sellers, specifically, managing product storage, order fulfillment, and shipping can be a challenging and time-consuming task. Optimizing these processes can have a direct impact on the customer experience and, ultimately, your sales. That's where an Amazon 3PL warehouse like FBA Prep Logistics comes in.
The Role of an Amazon 3PL Warehouse
An Amazon 3PL warehouse is specialized in handling the warehousing and fulfillment needs of e-commerce businesses that sell on Amazon. These warehouses understand the stringent requirements and policies of the Amazon platform and have the knowledge and experience to help businesses navigate these rules seamlessly.
Partnering with a reliable Amazon 3PL warehouse, like FBA Prep Logistics, can streamline your supply chain management, allowing you to focus on other aspects of your business that drive growth, such as product research and marketing.
Now that we have a basic understanding of what an Amazon 3PL warehouse is, let's explore the benefits of partnering with FBA Prep Logistics and how it can help your business thrive in the competitive world of e-commerce.
Streamlined Order Fulfillment Process
An efficient order fulfillment process is crucial for any e-commerce business to succeed on Amazon. Partnering with FBA Prep Logistics, a top-rated Amazon 3PL warehouse, can bring a whole new level of optimization and simplicity to your fulfillment operations. In this section, we will discuss how FBA Prep Logistics streamlines the entire order fulfillment process so that you can focus on other key aspects of your business, such as marketing and product research.
Seamless Integration with Amazon and Other E-commerce Platforms
FBA Prep Logistics offers easy integration with Amazon and other popular e-commerce platforms, making it hassle-free for your business to connect its online store with our efficient PA order fulfillment services. With smooth integration, you can effortlessly manage your orders and inventory and improve your customer satisfaction ratings.
Agile Picking, Packing, and Shipping
Our skilled team members use advanced technology and refined processes to ensure that each order is picked, packed, and shipped quickly, accurately, and cost-effectively. We prioritize your business needs, making sure to fulfill your shipments within the given time frame.
Pick and Pack Services
FBA Prep Logistics offers state-of-the-art pick and pack services that ensure the accuracy of each order. Our team carefully selects the correct items for each order and packages them professionally, following Amazon's rigorous guidelines.
Fast Shipping Solutions
We understand that timely shipping is vital for maintaining a good seller rating on Amazon. Our efficient PA order fulfillment services guarantee fast turnaround times, helping you meet Amazon's shipping expectations and delight your customers with swift deliveries.
Inventory Storage and Organization
With our organized and secure warehouse facility, your products are carefully stored, ensuring easy access for efficient order fulfillment. Our Amazon 3PL warehouse services include real-time inventory updates and regular cycle counts to maintain accuracy and mitigate the risk of stockouts or overselling.
Scalable Storage Solutions
As your e-commerce business grows, so does your need for more storage space. FBA Prep Logistics offers scalable storage solutions, ensuring you always have enough space to accommodate your expanding inventory without incurring extra costs.
Improved Customer Satisfaction
Partnering with FBA Prep Logistics for your order fulfillment needs leads to improved customer satisfaction. Our streamlined procedures and quick turnaround times help you deliver a reliable shopping experience to your Amazon customers, earning their trust and positive reviews.
Flexibility to Focus on Core Business Functions
By outsourcing your order fulfillment process to FBA Prep Logistics, an experienced Amazon 3PL warehouse, you gain the flexibility to allocate more time and resources to other vital aspects of your business. This allows you to concentrate on marketing campaigns, customer support, and product research that can significantly boost your e-commerce sales.
In conclusion, partnering with FBA Prep Logistics can greatly enhance the overall efficiency and effectiveness of your order fulfillment process. Our seamless integration, agile processing, and dedicated customer support make us the go-to Amazon 3PL warehouse for e-commerce businesses looking to thrive on Amazon. By delegating your fulfillment responsibilities to us, you can focus on growing your business and reaching new heights in the competitive e-commerce landscape.
3. Cost and Time Savings
To truly understand the value FBA Prep Logistics brings to your business, let's dive into the cost and time savings you can achieve by partnering with an Amazon 3PL warehouse like ours.
3.1 Save on Storage Costs
One prominent advantage of using an Amazon 3PL Warehouse instead of doing fulfillment in-house is the reduction in storage costs. FBA Prep Logistics offers affordable storage rates, allowing you to store your products with ease, even during peak seasons. Additionally, our East Coast location enables you to save on shipping costs and deliver orders promptly to your customers.
3.2 Efficient Order Fulfillment
Our efficient PA order fulfillment services streamline the order management process. By focusing on managing and fulfilling your orders, our team frees up your time to concentrate on other essential business aspects such as growing your product selection, expanding your brand, and developing effective marketing strategies.
3.3 Optimized Packaging
With our trained and experienced staff, FBA Prep Logistics ensures your products are packaged and shipped to Amazon's requirements while minimizing costs. We optimize packaging materials according to your products' needs, reducing the overall weight and dimensions, which saves on shipping costs while ensuring your products arrive in excellent condition.
3.4 Volume Discounts on Shipping Rates
As an established Amazon 3PL Warehouse, we have strong relationships with leading shipping carriers. These partnerships enable us to secure competitive, volume-based discounts on shipping rates, which we pass on to you. This advantage reduces your overall shipping costs, further increasing your profit margins.
3.5 Focus on Growth and Expansion
Time is money, and spending your valuable time managing fulfillment aspects takes away time you could be using to grow your Amazon business. With FBA Prep Logistics handling your storage, packing, and shipping, you can dedicate more time to other critical business activities. These might include strategizing for growth, sourcing new suppliers, expanding your product range, or developing your marketing campaigns.
3.6 Streamlined Reverse Logistics
Returns are a common headache for e-commerce sellers. However, partnering with a 3PL like FBA Prep Logistics allows you to manage returns through a streamlined reverse logistics process. This efficient system not only saves you time and resources, but our ultimate guide on Amazon reverse logistics can help you make returns hassle-free for your customers and for yourself.
3.7 Improved Cash Flow
By investing in third-party logistics services with FBA Prep Logistics, you are effectively reducing expenses related to storage, packaging, and shipping. This reduction in operating costs, combined with the time savings, leads to improved cash flow, allowing you to allocate more resources to growth initiatives or other vital aspects of your Amazon business.
3.8 Flexibility and Scalability
Partnering with FBA Prep Logistics not only saves you time and money but also provides unmatched flexibility and scalability. Our Amazon 3PL Warehouse infrastructure lets you easily scale your storage and fulfillment needs with your business growth. This flexibility enables you to make necessary adjustments without incurring high costs or delays, supporting your business as it expands and evolves.
In Conclusion
As demonstrated, choosing FBA Prep Logistics as your Amazon 3PL Warehouse partner can bring about significant cost and time savings without compromising on quality or customer satisfaction. Our dedication to efficient, streamlined processes and our deep understanding of Amazon's requirements allows us to provide unmatched services that enable you to unlock business growth and achieve long-term success. So why wait any longer? Partner with FBA Prep Logistics today and watch your Amazon e-commerce business flourish.
4. Inventory Management Solutions
As a mid-size e-commerce business owner, you may find it challenging to stay on top of the inventory management process. This is where partnering with FBA Prep Logistics, a top-notch Amazon 3PL Warehouse, can immensely benefit your business. Let's discuss how our inventory management solutions can help streamline your operations, ensuring your focus remains on growing your e-commerce enterprise.
4.1 Accurate Real-Time Inventory Tracking
At FBA Prep Logistics, we understand the importance of accurate inventory tracking. To that end, we've developed a cutting-edge system that provides real-time updates on your stock levels. This insight prevents overselling, stockouts, and unhappy customers, while also making sure your business remains compliant with Amazon's inventory management policies.
4.2 Streamlined SKU Management
Managing product SKUs can be an administrative challenge, especially with a growing product catalog. We provide seamless SKU management services to help you categorize and track each unique product, which also helps with reconciling stock discrepancies and identifying potential issues early on. By partnering with FBA Prep Logistics, you can keep your SKU system organized, saving you time and minimizing errors.
4.3 Centralized Inventory Dashboard
With our centralized inventory dashboard, you will have instant access to all your e-commerce inventory data in one convenient location. You can easily monitor the movement of your products across multiple sales channels, ensuring timely reordering and preventing out-of-stock situations. This dashboard also offers customizable reporting functions, granting you insights into your inventory's performance and helping you make data-driven decisions.
4.4 Advanced Forecasting and Reordering Features
Avoid the stress of over or under-stocking with our advanced forecasting and reordering features. FBA Prep Logistics' sophisticated algorithms take into account factors such as seasonal demand fluctuation and overall sales trends so that you can make informed decisions about when and how much to order. This helps you fulfill customer orders more efficiently, and it reduces the risk of tying up cash in excess inventory.
4.5 Seamless Integration with Your E-commerce Platform
Our Amazon 3PL warehouse platform syncs seamlessly with your e-commerce sales channels. This means that as soon as a new inventory shipment arrives or an item sells through your Amazon store, your inventory levels will be updated accordingly. Say goodbye to manual stock updates and supply chain headaches!
4.6 Storage Optimization
FBA Prep Logistics offers optimized storage solutions to ensure that your products are stored efficiently in our warehouse. By closely monitoring storage utilization and implementing best practices, we can maximize available space, lowering your storage costs and enhancing order processing times.
4.7 Returns and Quality Control
In the e-commerce business, dealing with returns is inevitable. FBA Prep Logistics' Amazon 3PL warehouse offers hassle-free return services that maintain a high level of customer satisfaction. Additionally, we conduct quality control checks on returned items, ensuring that they meet Amazon's stringent guidelines before being restocked. This process not only establishes trust with your customers but also helps you maintain a positive reputation on Amazon as a reliable seller.
4.8 Expert Support
At FBA Prep Logistics, we recognize that no two e-commerce businesses are alike. That's why our dedicated team of experts is available to provide you with customized inventory management support tailored to your unique needs. Our goal is to help you overcome challenges and enable your Amazon business to thrive.
In Summary
Efficient inventory management is the foundation of a successful e-commerce business, and FBA Prep Logistics strives to provide the best solutions for managing your Amazon stock. From real-time inventory tracking to streamlined SKU management and advanced forecasting tools, we aim to make your inventory management experience stress-free and seamless. By partnering with our Amazon 3PL warehouse, you can focus on growing your business while we take care of the behind-the-scenes logistics. Choose FBA Prep Logistics for unmatched inventory solutions tailored to your needs as a mid-sized e-commerce seller on Amazon.
5. Navigating Amazon's Requirements and Policies
Selling on Amazon can be a rewarding experience, but it also comes with its fair share of complexities. One of the most significant challenges that e-commerce businesses face is staying compliant with Amazon's constantly changing requirements and policies. That's where an expert Amazon 3PL warehouse like FBA Prep Logistics comes in, providing comprehensive support to help you abide by these rules and maximize your sales potential on the platform.
5.1 Deep Understanding of Amazon's Policies
At FBA Prep Logistics, we pride ourselves on our in-depth knowledge of Amazon's requirements and policies. Our team is up-to-date with the latest guidelines to ensure that your e-commerce business operates within the platform's stipulations. We help you address and resolve potential issues that may arise due to:
Packaging and labeling requirements
Inventory storage limitations
Fulfillment fees and charges
Weight and size restrictions
Product categories and their specific requirements
Our expertise in these areas allows us to guide you through the process, minimizing the risk of errors that might lead to penalties or loss of sales.
5.2 Staying Compliant with Amazon FBA
As an Amazon seller, it is crucial to follow Amazon's Fulfilled by Amazon (FBA) requirements. With FBA Prep Logistics, you will receive expert assistance with tasks such as:
By working with us, you can have peace of mind knowing that your products will arrive at Amazon's fulfillment centers in compliance with their requirements, helping you prevent costly penalties and account suspensions.
5.3 Expert Guidance on Product Listings
Creating high-quality and compliant product listings is crucial for e-commerce businesses on Amazon. Our team at FBA Prep Logistics is well-versed in the best practices for listing optimization and can provide actionable advice on:
With our expertise, you can quickly improve your product listings' performance and boost your overall sales on the platform.
5.4 Handling Amazon Returns and Customer Support
Customer satisfaction is essential for success on Amazon, and effectively handling returns is a crucial component of this process. FBA Prep Logistics can assist you with:
Together, we can ensure that your Amazon customers have a positive shopping experience, helping you maintain your seller reputation and build long-term customer loyalty.
5.5 Staying Updated on Amazon's Evolving Landscape
Finally, it's important to remember that Amazon's policies and requirements can change frequently as a part of its ongoing efforts to improve the platform and provide the best experience for buyers and sellers. FBA Prep Logistics ensures that your e-commerce business stays agile and adapts quickly to these changes, safeguarding your sales and reputation in the Amazon marketplace.
In Conclusion: Master Amazon's Policies with FBA Prep Logistics
Navigating Amazon's requirements and policies can be a challenging task for e-commerce businesses, but with FBA Prep Logistics as your Amazon 3PL warehouse partner, you can rest assured that your company is in expert hands. Our comprehensive services will ensure that your products are prepared, packaged, and shipped according to Amazon's guidelines while helping you stay up-to-date with the latest platform policies. So why not let FBA Prep Logistics help you conquer Amazon's complex landscape and reach your full sales potential on the world's largest e-commerce platform?
FAQs on FBA Prep Logistics: Your Amazon 3PL Warehouse Partner
---
1. What is an Amazon 3PL Warehouse?

An Amazon 3PL (third-party logistics) warehouse is a service provider that assists e-commerce businesses, particularly Amazon sellers, in storing, packing, and shipping their products. They play a crucial role in handling supply chain management tasks, enabling businesses to focus on other areas like marketing and product research.

2. How does partnering with a 3PL like FBA Prep Logistics streamline the order fulfillment process?

By partnering with FBA Prep Logistics, e-commerce businesses can optimize their order fulfillment process as the 3PL takes care of storing, packing, and shipping their products to customers. This allows businesses to save time and resources that can be allocated towards growth and expansion.

3. How much can my business save on costs and time by using FBA Prep Logistics?

Using FBA Prep Logistics for storing, packing, and shipping your products can be significantly more cost-effective compared to handling these tasks in-house. The exact savings will depend on factors such as your business size and product categories, but the time savings are substantial, allowing you to focus on growth and expansion strategies.

4. Does FBA Prep Logistics offer inventory management services?

Yes, FBA Prep Logistics provides comprehensive inventory management solutions, enabling businesses to seamlessly track and monitor their product stock levels across multiple warehouses. This helps mitigate the risk of overselling or stockouts that can negatively impact customer satisfaction and sales.

5. How can FBA Prep Logistics help my e-commerce business navigate Amazon's requirements and policies?

FBA Prep Logistics has in-depth knowledge of Amazon's requirements and policies, allowing them to assist e-commerce businesses in adhering to these guidelines. Their expertise helps prevent potential penalties and ensures that your products are prepared and shipped in accordance with Amazon's standards, ultimately maximizing your sales potential on the platform.
---
Choose FBA Prep Logistics for Efficient Amazon 3PL Services
In conclusion, partnering with FBA Prep Logistics for your Amazon 3PL needs provides a multitude of benefits, including streamlined order fulfillment, cost and time savings, advanced inventory management, and expert navigation of Amazon's requirements. Trust FBA Prep Logistics to help grow your e-commerce business with ease and efficiency.