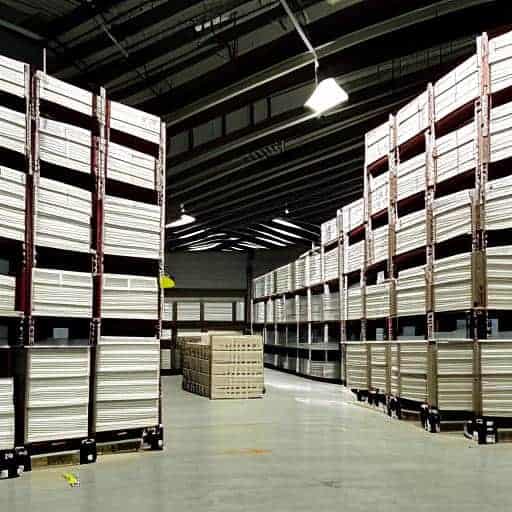 Introduction: Why FBA Prep Warehouses Matter in the eCommerce World
Welcome to the world of eCommerce – where the success of your business relies heavily on efficient and reliable fulfillment operations. If you're selling on Amazon.com, you're in the right place, and we're here to help! But first, allow us to introduce you to a significant player in the eCommerce realm, FBA Prep Warehouses.
In this article, we'll explore the reasons why FBA prep warehouses play such a crucial role in the success of online businesses, especially for those new to the world of supply chain management and have not yet used a 3PL before. So, let's dive in and find out how they can help your business soar!
What Are FBA Prep Warehouses?
Fulfillment by Amazon, or FBA, is an outstanding service offered by Amazon that allows sellers to leverage its vast warehouse infrastructure and efficient shipping services. FBA prep warehouses are specialized facilities that aid businesses in efficiently prepping, packaging, and shipping their products according to Amazon's strict guidelines.
Making Your eCommerce Business Efficient
Have you ever wondered how some eCommerce companies can effectively manage their inventory, orders, and shipments without losing their sanity? The answer lies in their choice of partnering with a reliable and dedicated FBA prep warehouse like ours, FBA Prep Logistics! Besides being an essential support system, we strive to streamline your operations and save you time, money, and effort during the entire process.
Rise Above Your Competitors
In the competitive world of eCommerce, having the most efficient and dependable fulfillment operations can make all the difference. By partnering with FBA Prep Logistics, you give your business the chance to stay one step ahead of your competitors and delight your customers with excellent service.
So, ready to dive deeper into the world of FBA prep warehouses? Keep reading to learn how FBA Prep Logistics can elevate your eCommerce business to new heights and make the entire process a breeze. Stay tuned for our comprehensive guide!
2. What Are FBA Prep Warehouses and What Do They Offer?
FBA prep warehouses are specialized third-party logistics (3PL) partners that help eCommerce businesses prepare their products for fulfillment by Amazon (FBA). By utilizing a fba prep warehouse, sellers can streamline their operations and ensure that their inventory is ready for shipment to Amazon's fulfillment centers, thereby meeting the strict requirements that the platform enforces. These warehouses offer a range of services that can elevate your eCommerce business to new heights, from inventory management to packaging and labeling. To provide a deeper understanding of their purpose and offerings, we will delve into the key services that FBA prep warehouses, such as FBA Prep Logistics, offer.
2.1 Receiving and Inspecting Shipments
One of the critical tasks that an FBA prep warehouse performs is receiving and inspecting shipments from your suppliers. When your goods arrive at the warehouse, the team will thoroughly inspect each item to ensure that it meets Amazon's quality standards. This includes checking for any damaged, defective, or incomplete products, which can result in significant delays or even account suspensions if not addressed.
2.2 Inventory Management
Once your products pass the inspection phase, the fba prep warehouse will manage your inventory and ensure that it's efficiently stored and accessible. This involves keeping track of stock levels and offering real-time updates on your inventory, allowing you to make informed decisions about your eCommerce business. Simplify Inventory Tracking on Shopify provides valuable insights into how FBA Prep Logistics manages your inventory in the most efficient manner.
2.3 Product Labeling
Amazon has specific labeling requirements for products that are sent to their fulfillment centers. FBA prep warehouses can help you meet these requirements by applying the necessary labels, such as barcodes and shipping labels, to your products. This ensures that Amazon can correctly identify and process your items when they arrive at their facilities.
2.4 Bundling and Kitting
Bundling and kitting refer to the process of combining multiple products into a single package or creating product sets. Offering bundles or kits can be an excellent marketing strategy for your eCommerce business. An fba prep warehouse can take care of this process for you, combining different items according to your specifications and packaging them in branded materials to create a unique and appealing product offering.
2.5 Repackaging and FBA Packaging Compliance
Because Amazon FBA has strict packaging guidelines, it's crucial to ensure that your products adhere to these standards before shipping them to the fulfillment centers. FBA prep warehouses help with this by repackaging products in FBA-compliant packaging, which decreases the risk of shipment delays or added fees due to non-compliance.
2.6 Preparing Shipments to Amazon Fulfillment Centers
Properly preparing the shipments to Amazon's fulfillment centers is essential for smooth logistics processes. FBA prep warehouses handle this aspect by creating shipping plans and preparing your products for transport in a way that adheres to Amazon's specific standards, ensuring that your products reach their destination without any issues.
2.7 Returns Management
Handling returns can be challenging for eCommerce businesses, especially when you sell on Amazon. FBA prep warehouses assist you with this process by managing your returned items, inspecting them, and restocking them if possible. Learn more about hassle-free returns by reading Hassle-free Shopify Returns in NJ.
By offering these vital services, FBA prep warehouses like FBA Prep Logistics can help streamline your operations, allowing you to focus on growing your eCommerce business. It's important to understand the value of partnering with a trusted fba prep warehouse, as it can save you valuable time and resources while ensuring that your products comply with Amazon's requirements. Armed with this knowledge, you can now begin to consider how FBA Prep Logistics can help your business thrive on Amazon.com.
3. Benefits of Using FBA Prep Logistics as Your 3PL Warehouse Partner
In the world of eCommerce, finding the right fba prep warehouse can make all the difference when it comes to streamlining your operations and driving business growth. With so many 3PL warehouses out there, it's essential to choose the one that can meet your business's unique needs and challenges. That's where FBA Prep Logistics comes in. In this section, we'll discuss the numerous benefits of choosing FBA Prep Logistics as your go-to 3PL warehouse partner.
3.1. Save Time by Outsourcing Your Inventory Management
As an e-commerce business owner, you have a lot on your plate, and managing your inventory can be extremely time-consuming. By partnering with a reliable fba prep warehouse like FBA Prep Logistics, you're outsourcing this vital task to a team of experts who know how to handle your inventory with care, allowing you to focus on more important aspects of your business.
3.2. Reduce Operating Costs
One of the key advantages of working with FBA Prep Logistics is the potential to reduce your operating costs. As a dedicated fba prep warehouse, we offer competitive pricing for our services. Furthermore, our strategic location in Bristol, PA, combined with our efficient order fulfillment services, means faster delivery times and lower shipping costs for your East Coast customers.
3.3. Expertise in Amazon FBA Requirements
Navigating the complex world of Amazon FBA can be daunting for sellers who are new to the platform. FBA Prep Logistics is well-versed in Amazon's specific guidelines and requirements, ensuring that your products are prepared and packaged correctly for Amazon's fulfillment centers. This expertise minimizes the risk of non-compliance issues, helping you to avoid costly penalties or delays in getting your products to your customers.
3.4. Scalable Solutions for Business Growth
When it comes to growth, flexibility is key. FBA Prep Logistics offers scalable solutions that can easily adapt to your ever-changing business needs. No matter your order volume or inventory size, we have the warehouse space, technology, and manpower to accommodate your growth. Plus, our cost reduction strategies will help you maintain your profit margins as you expand.
3.5. Increase Customer Satisfaction
Delivering excellent customer service is crucial when it comes to building a successful eCommerce business. Our prompt and accurate order fulfillment services ensure that your customers receive their packages on time and in perfect condition. This translates to positive reviews and repeat purchases, ultimately boosting your brand's reputation.
3.6. Enhanced Inventory Control and Visibility
With FBA Prep Logistics, you'll gain access to advanced inventory management software that provides real-time tracking and visibility into your stock levels. This valuable data can help you make informed decisions about inventory stocking and replenishment, reducing the risk of stockouts or overstocking issues.
3.7. Expertise in E-commerce Returns Management
Returns are an inevitable aspect of eCommerce. At FBA Prep Logistics, we understand the importance of a smooth returns process and have established a hassle-free Amazon reverse logistics system to handle returns quickly and efficiently. By partnering with us, your customers can enjoy a seamless returns experience, while you maintain optimal inventory flow and minimize losses.
3.8. Secure Storage and Handling of Your Products
At FBA Prep Logistics, the security of your products is our top priority. Our warehouse facilities are equipped with state-of-the-art security measures, including 24/7 surveillance and strict access controls, ensuring that your inventory is safe and secure. Plus, our trained warehouse staff are experts in handling various types of products, including fragile or high-value items, so you can rest easy knowing your products are in good hands.
3.9. Dedicated Customer Support
Working with FBA Prep Logistics means you'll have access to our dedicated customer support team. Our team of professionals is always ready to provide personalized assistance, addressing any concerns or questions you may have. This commitment to excellent customer service ensures a smooth and productive partnership, helping your business thrive in the competitive eCommerce landscape.
In conclusion, choosing FBA Prep Logistics as your 3PL warehouse partner presents numerous benefits for your eCommerce business. From our expertise in Amazon FBA requirements and inventory management to our commitment to customer support and scalable solutions for business growth, we're here to help you optimize your supply chain and streamline your operations. Let FBA Prep Logistics be the driving force behind your successful eCommerce venture.
4. How FBA Prep Logistics Simplifies Supply Chain Management for You
As a new e-commerce business owner, trying to handle and maneuver through the complexities of supply chain management while selling your products on Amazon can be overwhelming and time-consuming. But worry no more! FBA Prep Logistics is here to help you simplify your supply chain management. This section will delve into the many ways in which we can assist you in overcoming the challenges and uncertainties of managing your supply chain.
4.1. Comprehensive Services for Your eCommerce Business
Handling various aspects of your supply chain can be a daunting task, especially for newcomers in the industry. Our extensive range of services ensures that you do not miss out on any aspect of your supply chain, saving you the hassle of looking elsewhere. At FBA Prep Logistics, we cater to your e-commerce business's needs by offering services such as:
Inventory storage and management
Order processing and fulfillment
Shipping and transportation logistics
Reverse logistics and returns management
Customized packaging solutions
Kitting and bundling services
Product labeling and barcoding
4.2. Expert Knowledge and Experience
FBA Prep Logistics has a team of professionals with years of experience in the e-commerce and supply chain management industry. Our experts are well-versed in the intricacies of Amazon FBA requirements, ensuring that your products are always compliant with their guidelines. This invaluable knowledge and experience help us strategize and streamline the supply chain processes, allowing you to focus on growing your e-commerce business.
4.3. Agile Approach to Supply Chain Management
The dynamic nature of the e-commerce landscape calls for an agile and adaptable approach to supply chain management. As your dedicated fba prep warehouse, FBA Prep Logistics understands the importance of staying updated on the latest trends and technologies in the logistics and supply chain sector to cater to your business's needs.
Our team consistently researches and adopts the most effective strategies and technologies, ensuring the efficiency and scalability of your supply chain operations. This flexibility allows your business to grow and meet the evolving demands of the market.
4.4. Centralized and Efficient Inventory Management
Efficient inventory management is a crucial aspect of supply chain management that cannot be overlooked. At FBA Prep Logistics, we implement a centralized system to manage your inventory, streamlining the process and providing real-time visibility into stock levels.
This integration allows for accurate forecasting, helping you to avoid stockouts, manage inventory costs, and optimize the replenishment process. Our sophisticated inventory management system ensures the seamless and organized flow of your products in and out of the warehouse, guaranteeing customer satisfaction.
4.5. End-to-End Order Processing and Fulfillment
From receiving orders to shipping them to your customers, FBA Prep Logistics handles the entire order processing and fulfillment process. Our efficient order management system ensures your orders are accurately picked, packed, and shipped promptly, meeting Amazon's strict guidelines and avoiding costly penalties.
4.6. Enhanced Customer Experience
A satisfactory customer experience is paramount for the success of any e-commerce business. By choosing FBA Prep Logistics as your 3PL warehouse partner, you can be assured of a seamless, end-to-end customer experience. Our prompt order fulfillment and hassle-free returns management process ensure that your customers receive their orders on time and in perfect condition, contributing to positive reviews and improved sales.
4.7. Cost-Effective Solutions
One of the significant benefits of partnering with FBA Prep Logistics as your fba prep warehouse is access to cost-effective solutions. As a result of our efficient processes and bulk handling capabilities, you can save on costs related to storage, order fulfillment, and shipping. These cost reductions translate into competitive pricing for your products, creating an edge in the highly-competitive e-commerce market.
4.8 Personalized Support
FBA Prep Logistics goes beyond providing expert services; we also ensure personalized support and constant communication throughout our partnership. Our dedicated account managers are available to answer your queries, provide up-to-date information on your operations, and troubleshoot any issues that may arise. This emphasis on personalized support ensures a seamless and productive partnership, encouraging sustainable growth for your e-commerce business.
In conclusion, partnering with FBA Prep Logistics as your fba prep warehouse will unlock numerous benefits and simplify your supply chain management process. By leveraging our expertise, experience, and state-of-the-art facilities, you can focus on expanding your e-commerce business and achieving sustained success. Don't miss out on the opportunity to elevate your e-commerce operations; get in touch with FBA Prep Logistics today!
5. Getting Started with FBA Prep Logistics: A Step-By-Step Approach
Embarking on a partnership with FBA Prep Logistics is a seamless and effortless process. The following is a comprehensive step-by-step guide to getting started and ensuring your eCommerce business enjoys an efficient and effective supply chain management system.
5.1. Reach Out to FBA Prep Logistics
Begin by contacting the fba prep warehouse at FBA Prep Logistics. Our friendly and experienced team is eager to assist you with any inquiries and provide the necessary guidance to meet your eCommerce supply chain needs. Don't hesitate to reach out to us through our contact page or via email at [email protected].
5.2. Share Your Business Requirements
In order to better understand your specific needs and tailor our services accordingly, it's essential to provide FBA Prep Logistics with details about your eCommerce business and desired goals. This includes information on your SKU variety, sales volume, specialized packaging requirements (if any), and any unique shipping needs. Our team will review your requirements and come up with customized solutions that best accommodate your business objectives.
5.3. Review and Accept the Proposal
Once we've analyzed your business needs, FBA Prep Logistics will provide a comprehensive proposal highlighting our suite of services and pricing options. Carefully review and evaluate the proposal to ensure it meets your goals and budget. If you're satisfied with the offered services, proceed to accept the proposal and begin working with us.
5.4. Engage in Onboarding and Account Setup
At this stage, FBA Prep Logistics will guide you through our onboarding process in which we'll create your client account, provide you with access to our software platform, and assist you in integrating your eCommerce account (such as Amazon, Shopify, or others) with our system. This comprehensive integration ensures a smooth and efficient exchange of information between your online store and the fba prep warehouse.
5.5. Inventory Shipment and Management
With your account set up and integration complete, it's time to start preparing and shipping your inventory to the FBA Prep Logistics warehouse. Our team will provide you with detailed guidelines on shipping your inventory, labeling requirements, and necessary documentation. Once your products arrive, we'll inspect, categorize, and store your inventory for streamlined management and quick order fulfillment when sales come in.
5.6. FBA Prep Services Implementation
Leverage our top-notch fba prep services as your products are prepared for delivery to Amazon's fulfillment centers. FBA Prep Logistics handles product inspections, labeling, bundling, packaging, kitting, storage, and shipment for you. Our experienced warehouse staff complies with Amazon's stringent requirements, ensuring your products are sent to FBA centers promptly and accurately.
5.7. Continuous Communication and Reporting
At FBA Prep Logistics, we believe in maintaining open and clear communication channels with our clients. Through our innovative software platform, you'll have access to real-time data regarding your inventory levels, order fulfillment status, shipment tracking, returns processing, and more. Our team is also available to address any concerns or issues that may arise, ensuring our partnership maintains a smooth and efficient workflow.
5.8. Expanding and Scaling Your Business
As a reliable and experienced fba prep warehouse, FBA Prep Logistics is adept at handling your business's various growth stages. We work closely with our clients to scale up our services and accommodate increasing sales, inventory complexities, and new logistics challenges. Our flexible services empower your business as it reaches new heights and profitability.
In conclusion, partnering with FBA Prep Logistics is not just a smart move for your eCommerce business; it's a step in the right direction towards streamlining your supply chain management, ensuring customer satisfaction and propelling your business to new heights. Don't miss out on the myriad of benefits we offer; reach out to our team today to set the stage for a successful, long-lasting partnership.
Frequently Asked Questions about FBA Prep Logistics
1. What is FBA Prep Logistics and why are they important for my eCommerce business?
FBA Prep Logistics is a 3PL warehouse specializing in optimizing and streamlining supply chain management for eCommerce businesses selling on Amazon.com. By handling various aspects such as inventory storage, packaging, labeling, and shipping, FBA Prep Logistics plays a vital role in giving small to medium-sized eCommerce businesses the support needed to grow and succeed in the highly competitive online marketplace.
2. How does FBA Prep Logistics differ from other 3PL warehouses?
FBA Prep Logistics sets itself apart from other 3PL warehouses by providing seamless support tailored specifically to eCommerce businesses selling on Amazon. With a focus on streamlining your supply chain management process, we offer services such as inventory management, compliant packaging, and efficient shipping – all crucial elements to creating a successful online retail business. Our team of experienced professionals works tirelessly to ensure we deliver top-notch service and support you can rely on as your business grows.
3. What benefits can I expect when working with FBA Prep Logistics?
By partnering with FBA Prep Logistics, you can expect numerous benefits such as time-saving, reduced overhead costs, and access to a skilled team dedicated to optimizing your supply chain management process. Our specialized services will help you navigate the complexities of eCommerce, ensuring your business is poised for success while giving you more time to focus on other aspects of your enterprise.
4. I'm new to supply chain management. How can FBA Prep Logistics simplify this for me?
FBA Prep Logistics is designed to make supply chain management simple and stress-free for beginners. Our team will guide you through every step of the process, providing expert advice, support, and hands-on assistance at every stage. With our help, you can establish an efficient and cost-effective supply chain for your eCommerce business, allowing you to concentrate on growth and profitability.
5. How can I get started with FBA Prep Logistics?
Getting started with FBA Prep Logistics is simple. Contact us through our website or by phone to discuss your business requirements and objectives. Our team will work with you to develop a customized strategy designed to streamline your supply chain and boost your eCommerce success. From there, we'll establish a seamless working relationship built on communication, trust, and a shared commitment to helping your business thrive.
Here are the FAQs in raw HTML format, including the JSON-LD schema for FAQPage. The above code snippet is structured according to the microdata used for generating Rich Results in search engines, providing an optimized and engaging presentation of the content.