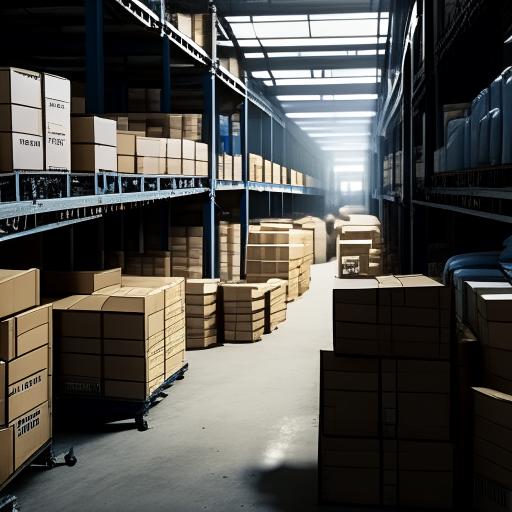 Get Lean with 3PL Prep
1. Introduction to 3PL Prep
In today's fast-paced e-commerce landscape, medium-sized businesses, especially those selling on Amazon, need reliable and efficient logistics partners to successfully manage their supply chains. The concept of 3PL Prep (Third-Party Logistics Preparation) addresses this need by offering businesses a comprehensive range of warehousing and fulfillment services. By outsourcing their supply chain operations to a 3PL service provider like FBA Prep Logistics, businesses can significantly enhance their efficiency, save time, and focus on growing their sales.
3PL Prep plays a crucial role in helping e-commerce enterprises streamline their supply chain processes and scale their operations. Partnering with a well-equipped 3PL provider like FBA Prep Logistics allows businesses to ensure their products meet Amazon's strict requirements and leverage the competitive advantages of Amazon's Fulfilled by Amazon (FBA) program.
FBA Prep Logistics is your go-to partner for efficient and reliable 3PL services. Our expert team, superior inventory management systems, and extensive network make us the perfect choice for medium-sized e-commerce businesses looking to optimize their logistics operations. In this article, we'll delve deeper into the benefits of choosing FBA Prep Logistics as your dedicated 3PL partner and guide you through the process of making a smooth transition from your current logistics management setup to partnering with us. So, let's dive in and discover the incredible potential of 3PL Prep with FBA Prep Logistics!
Advantages of Choosing FBA Prep Logistics for your 3PL Needs
As a medium-sized e-commerce business venturing into the world of 3PL Prep, it's crucial to partner with a reputable and reliable company that understands your unique needs. That's where FBA Prep Logistics comes in. As a leading 3PL service provider, we offer a wide range of benefits that cater to the specific requirements of e-commerce businesses selling on Amazon. In this section, we'll delve into the advantages of choosing FBA Prep Logistics for all your 3PL needs.
Expertise in Handling Amazon Fulfillment Processes
One of the main reasons why FBA Prep Logistics stands out from the competition is our vast experience in managing Amazon fulfillment processes. Our team of skilled professionals are well-versed with Amazon's requirements for packaging, labeling, and shipping, ensuring that your products are always in compliance and avoiding any costly mistakes or delays on your part.
Skilled Professionals at Your Service
At FBA Prep Logistics, we believe that our people are our greatest asset. Our team consists of talented professionals with years of experience in logistics and supply chain management. We provide a wide array of services tailored to match your business needs, ensuring that you can focus on your core operations while we handle the rest.
Reliable Customer Support
Our commitment to excellent customer service extends beyond just our 3PL Prep solutions. FBA Prep Logistics offers exceptional customer support to address any concerns or queries that may arise during the fulfillment process. By choosing us as your partner, you can rest assured that you'll always have a helping hand, ready to provide the assistance and guidance needed for your e-commerce venture to excel.
Customizable Services Catered to Your Business
We understand that no two e-commerce businesses are the same, and each comes with its own set of challenges and needs. That's why at FBA Prep Logistics, we offer customizable fulfillment services that adapt to your specific requirements. From order fulfillment and inventory management to returns processing and shipping solutions, our flexibility ensures that we can provide the exact services you need to optimize your Amazon operations.
State-of-the-Art Infrastructure and Technology
FBA Prep Logistics boasts an impressive infrastructure backed by advanced technology. By utilizing automated systems and innovative warehouse management software, we can efficiently handle your inventory and orders while minimizing the risk of errors or delays. This enhanced accuracy and efficiency can help your e-commerce business effortlessly meet customer expectations and excel in the competitive marketplace.
Cost-Effective Solutions
Partnering with FBA Prep Logistics means gaining access to cost-effective shipping and fulfillment solutions that help you save money and optimize your operations. Our strategic location in Bristol, PA, and expertise in efficient shipping methods allow us to offer you competitive rates on shipping and storage, saving you money in the long run.
Comprehensive Reporting and Analytics
Our in-depth reporting and analytics tools provide vital insights and information crucial to your e-commerce business's growth. By working with FBA Prep Logistics, you'll have access to valuable data that can help you make informed decisions on inventory management, sales strategies, and customer satisfaction.
Improved Customer Experience
A seamless, efficient fulfillment process directly translates into an enhanced customer experience. With FBA Prep Logistics taking care of your 3PL Prep needs, you can rest assured that your customers receive their orders promptly and in perfect condition. This outstanding reliability and consistency can help your business build a positive reputation, ensuring long-term success on Amazon.
In conclusion, choosing FBA Prep Logistics for your 3PL needs offers numerous benefits that can set your e-commerce business on a path to success. Our expertise in handling Amazon fulfillment processes, skilled professionals, reliable customer support, and customizable services provide the perfect foundation for your operations to thrive in the competitive world of e-commerce.
3. Seamless Inventory Management with FBA Prep Logistics
In today's highly competitive e-commerce landscape, having an efficient and effective inventory management system is crucial for the success of any online retailer. FBA Prep Logistics offers best-in-class inventory management solutions tailored to the unique needs of medium-sized e-commerce businesses selling on Amazon, allowing them to achieve operational efficiency and maintain a competitive edge. In this section, we'll delve deeper into how our sophisticated inventory management systems can help your business thrive.
3.1 Cutting-Edge Technology for Accurate Inventory Tracking
Our state-of-the-art inventory management system has been designed using cutting-edge technology to ensure you have the highest level of accuracy and control over your stock. This comprehensive approach reduces the risk of stock discrepancies and ensures you have a clear and accurate view of your inventory at all times. Furthermore, our system easily integrates with your Shopify store or Amazon Seller account, providing you with centralized inventory control and seamless connectivity.
3.2 Real-Time Visibility and Instant Updates
With FBA Prep Logistics' inventory management solutions, you have the advantage of real-time visibility into your stock levels, ensuring you can proactively manage your inventory and avoid stock shortages or overstock situations. Moreover, our platform is designed to provide instant updates on stock movements, enabling you to make informed decisions about re-ordering and inventory planning.
3.3 Streamlined Stock Management and Reduced Holding Costs
One of the most significant challenges faced by e-commerce businesses is effectively managing their stock and avoiding holding costs, including warehousing, insurance, and depreciation. Our advanced inventory management solutions help you minimize these costs by providing streamlined stock management processes, more precise forecasting, and assisting in efficient space utilization in our Amazon FBA warehouses in NJ.
3.4 Proactive Stock Replenishment and Demand Forecasting
Using data-driven analytics and insights, our inventory management platform helps e-commerce businesses proactively replenish their stock levels and forecast demand. Leveraging this information allows you to reduce the likelihood of stockouts, which can lead to lost sales and customer dissatisfaction. Additionally, accurate demand forecasting helps you optimize your inventory levels, leading to better cash flow management and improved profitability.
3.5 Enhanced Collaboration and Data-Driven Decisions
Collaborating with our team of skilled professionals, we work closely with you to identify the most effective inventory management strategies and solutions tailored to your business. By basing decisions on solid data and insights provided by our systems, you can optimize your inventory operations and better align with your customers' needs. Furthermore, our robust reporting tools provide valuable insights into the performance of your inventory and help identify potential areas of improvement.
3.6 Comprehensive Reporting and Analytics
Our inventory management platform offers comprehensive reporting and analytics features designed to empower e-commerce businesses with tangible insights into their inventory performance. These reports enable you to monitor critical aspects of your stock, such as sales trends, seasonal fluctuations, and re-ordering patterns. Consequently, you can make data-backed decisions about future inventory planning and operational efficiency.
3.7 Simplified Returns Management
Dealing with product returns is an inevitable part of e-commerce retail. Our inventory management system helps you simplify and streamline the returns process, ensuring hassle-free Shopify returns in NJ or efficient Amazon reverse logistics for East Coast sellers. This streamlined system reduces the time and effort required to process returns, allowing you to focus on sales and growth.
In conclusion, seamless inventory management is vital to the success of any e-commerce business. By partnering with FBA Prep Logistics, not only will you benefit from our sophisticated inventory management system, but also from our extensive experience, commitment to customer service, and ongoing support to ensure your business thrives in the competitive world of e-commerce.
Making the Most of FBA Prep Logistics' Network and Scalability
As a growth-oriented e-commerce business, it is essential that you opt for 3PL service providers that not only ensure the seamless functioning of your logistics but also have the necessary infrastructure to scale with your business. FBA Prep Logistics offers an extensive network and unparalleled scalability, ensuring that your business can expand and thrive without worrying about the limitations of your supply chain and logistics partner.
Strategic Location in Bristol, PA
FBA Prep Logistics' strategic location in Bristol, PA, plays a significant role in enhancing the efficiency of your e-commerce business operations. It serves as a centrally-located hub for logistics and ensures that your products are able to reach a vast majority of the population within a short period. Moreover, Pennsylvania's position on the East Coast enables faster and more cost-effective shipping to major metropolitan areas along the coast such as New York City.
Choosing a 3PL service provider with a strategic location, like FBA Prep Logistics, can help you save on shipping charges and enable more rapid delivery to your customers, thus ensuring a better overall customer experience.
Vast Network of Warehouses
Utilizing our expansive network of warehouses, our 3PL Prep services are able to store your inventory across multiple locations, optimizing logistics and transportation even further. This decentralized approach contributes to reduced shipping time, better inventory management, and increased customer satisfaction.
Our warehouses are equipped with the latest technology, and our skilled professionals follow industry best practices to ensure that your products are stored securely and picked, packed, and shipped meticulously. You can find more about our efficient PA order fulfillment services that cater specifically to e-commerce businesses, especially those operating on Amazon.
Customizable Scalability
At FBA Prep Logistics, we understand that every business has unique needs, and the requirement for scalability can differ significantly from one business to another. To address this, our 3PL services are designed to offer customizable scalability, allowing our clients to benefit from our services across a range of business sizes, from small Shopify stores to medium-sized Amazon businesses expanding their operation.
Our team closely works with our clients to understand their current logistical needs and future goals. As your business grows, we'll be able to provide the necessary support and adapt to the changing demands of your supply chain with ease. You can rest assured that our services will grow right alongside your e-commerce business, helping you maintain a seamless and efficient supply chain as you reach new heights.
Cost Optimization and Speedy Delivery
Efficient logistics and supply chain management are pivotal to the success of your e-commerce business. Our network and scalability ensure that we can offer cost-effective solutions, enabling you not only to save on operational expenses but also to pass those savings on to your customers.
By storing your inventory closer to your target market and optimizing shipping routes, FBA Prep Logistics helps you achieve speedy delivery and reduce shipping costs, exponentially increasing customer satisfaction and boosting your brand value.
In summary, FBA Prep Logistics' strategic location, vast network of warehouses, and adaptable scalability not only guarantee smooth and efficient operations for your e-commerce business but are also tailored specifically to grow with your company. So whether you are a Shopify seller looking to expand your customer base or an Amazon seller who is keen on improving operational efficiency, FBA Prep Logistics is the ideal 3PL partner to help you achieve these objectives while ensuring you remain lean, agile, and competitive in today's fast-paced e-commerce landscape.
Transitioning to FBA Prep Logistics – A Smooth and Hassle-Free Experience
Making the decision to trust an outside partner with your precious e-commerce business operations and inventory might seem like a daunting prospect. However, with FBA Prep Logistics, you won't have to worry about a thing. In this section, we'll walk you through the easy and seamless process of transitioning from your current setup to a worry-free partnership with FBA Prep Logistics – the ultimate 3PL Prep solution for medium-sized Amazon sellers.
Our Transparent Onboarding Process
Right from the start, we believe in transparency and clear communication with our clients. Our onboarding process is designed to make it as easy as possible for you to hand over the reins of your supply chain operations to our expert team. To give you an idea of what to expect, here's a walkthrough of our onboarding process for new clients:
Initial Consultation: During our first touchpoint, we'll take the time to understand your unique business needs, discuss pain points, and explore how our 3PL Prep services can best benefit your business.

Customized Solutions: Based on the insights we gather from the consultation, our team will put together a customized proposal for your Amazon business. We'll make sure to design our services around your specific needs to ensure a perfect fit.

Detailed Timeline and Action Plan: To keep you in the loop and ensure that we're meeting your expectations, we'll provide you with a detailed timeline and an action plan. This includes everything from the necessary paperwork to the logistical details of transitioning your inventory to our Bristol, PA facility.
Dedicated Onboarding Specialist: To make the process as smooth as possible, you'll be assigned a dedicated onboarding specialist. This person will be your main point of contact, keeping you informed and answering any questions you might have along the way.
Seamless Inventory Transfer
We understand that inventory management is crucial for your e-commerce business, so we go above and beyond to make sure that the inventory transfer process is accurate and efficient. Our team will work closely with you to ensure a seamless transfer, minimizing any potential downtime or disruptions to your Amazon operations.
Staff Training and Knowledge Transfer
Transitioning your operations to our 3PL Prep services won't just involve moving your inventory. We'll also take care of training our staff members to expertly manage your products according to your business's unique requirements. By working closely with you, we'll ensure that our team is well-equipped to handle every aspect of your operations, from efficient order fulfillment to handling returns and everything in between.
Ongoing Monitoring and Improvement
As part of our commitment to providing exceptional 3PL Prep services, we assess our performance on an ongoing basis. We'll monitor key performance indicators (KPIs) to ensure that we're meeting your needs and delivering on our service level agreements (SLAs). If there's ever an area that could be improved, we'll proactively address it and work with you to implement the necessary adjustments.
Personalized Customer Support
We believe that in order to provide an unbeatable 3PL Prep experience, personalized customer support is vital. Throughout the entire process, you'll have access to our friendly and knowledgeable support team – ready and eager to answer any questions, address concerns, and provide expert guidance. We understand the unique challenges faced by medium-sized Amazon sellers and are dedicated to helping you navigate them with ease.
Final Thoughts
Transitioning to FBA Prep Logistics for your 3PL Prep needs doesn't have to be a stressful experience. In fact, it can be downright exciting – a fresh start that paves the way for new growth and reduced stress. With our experienced team, customizable services, transparent onboarding process, and industry-leading solutions, you can trust that FBA Prep Logistics is the best 3PL partner for your Amazon e-commerce business. So, make the jump today and start optimizing your supply chain operations with FBA Prep Logistics!
FAQs – FBA Prep Logistics
Why are 3PL services important for medium-sized e-commerce businesses?
3PL services can significantly improve the efficiency of supply chain operations for e-commerce businesses. By outsourcing logistical tasks, such as inventory management and shipping, businesses can focus on growing and expanding their product offerings, rather than getting bogged down in operational tasks. Partnering with a 3PL service like FBA Prep Logistics ensures that these tasks are managed by experts, helping businesses save time and money in the process.
How does FBA Prep Logistics' expertise in Amazon fulfillment processes help businesses?
FBA Prep Logistics specializes in the unique requirements of selling on Amazon. Our understanding of Amazon's strict guidelines, rules, and shipping expectations translates into a seamless fulfillment experience for businesses. By partnering with us, sellers on Amazon can avoid costly mistakes and delays, ensuring a smooth and efficient fulfillment experience to their end customers.
What makes FBA Prep Logistics' inventory management stand out?
Our inventory management tools are designed to help businesses manage their stock efficiently and effectively. We provide real-time visibility on inventory levels, ensuring businesses always have enough stock on hand, while minimizing holding costs and avoiding stockouts. With FBA Prep Logistics, businesses can make data-driven decisions to optimize their inventory management, ensuring seamless operations on Amazon.
How can businesses benefit from the network and scalability offered by FBA Prep Logistics?
FBA Prep Logistics' strategic location in Bristol, PA, and our vast network of warehouses ensures cost-effective and reliable shipping solutions for businesses. Our 3PL services scale along with a business's growth, making it easy to adapt to changing needs and requirements without significant disruptions in their supply chain operations.
What should businesses expect during the transition to FBA Prep Logistics?
Transitioning to FBA Prep Logistics is a smooth and hassle-free process. Our team guides clients through each step of the onboarding process, addressing concerns and ensuring seamless integration into our systems. By partnering with FBA Prep Logistics, businesses can be confident that they have chosen the right 3PL partner to help them achieve their logistical goals.