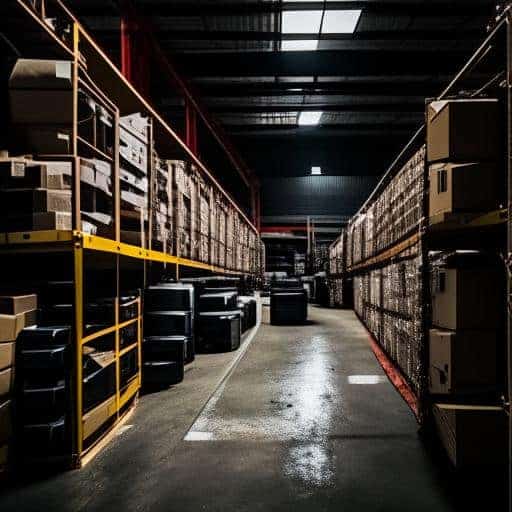 Why Choose FBA Prep Logistics for Your 3PL Warehouse USA?
Introduction
In today's fast-paced eCommerce landscape, efficient supply chain management is essential to ensure smooth operations and stay ahead of the competition. One way eCommerce entrepreneurs can do this is by partnering with a reliable and professional third-party logistics (3PL) service provider like FBA Prep Logistics. In this article, we will discuss what a 3PL warehouse service is and why FBA Prep Logistics is the ideal partner for your eCommerce business, primarily focusing on Amazon sellers. So sit back and let us guide you through the benefits and features of partnering with us at FBA Prep Logistics, the top choice for your 3PL Warehouse USA needs.
What is a 3PL warehouse service?
A 3PL warehouse service is a solution offered by logistics companies who manage the inventory, order fulfillment, and shipping processes for eCommerce businesses. This allows online store owners to concentrate more on other crucial aspects of their business, like marketing and product development, while the 3PL service provider takes care of the supply chain. Partnering with a 3PL comes with numerous benefits such as improved efficiency, cost-saving measures, and scalability as your business grows.
FBA Prep Logistics: Your trusted partner in 3PL Warehouse USA
FBA Prep Logistics is a leading 3PL provider specializing in catering to the unique needs of eCommerce businesses selling on Amazon. Our services include inbound shipment receiving, inventory management, pick and pack, order fulfillment, and more. We are committed to providing the best possible 3PL experience for our clients, ensuring a seamless and efficient supply chain operation that helps them achieve higher profits and better control over their business.
In the following sections of this article, we will walk you through the key advantages of partnering with FBA Prep Logistics as your 3PL Warehouse in the USA, including our strategic location, comprehensive services specifically designed for Amazon sellers, investment in cutting-edge technology, streamlined processes, and our unwavering commitment to providing dedicated support and expertise to help our clients scale their operations and optimize their supply chain management.
So, let's dive into the benefits of choosing FBA Prep Logistics for your 3PL Warehouse USA partner!
2. Strategic Location Advantage
Choosing the right 3PL Warehouse USA is crucial for your eCommerce business. At FBA Prep Logistics, our strategic location in Bristol, PA, offers unparalleled advantages for businesses operating within the USA. Our proximity to major transportation hubs equates to expedited shipping and reduced freight costs, ultimately improving your bottom line.
2.1. Proximity to Key Markets and Distribution Centers
FBA Prep Logistics boasts a prime location that ensures easy access to some of the country's largest markets, including New York City, Philadelphia, and Washington D.C. Additionally, our warehouse is situated within a few hours' drive from Amazon Fulfillment Centers, making it the ideal choice for Amazon sellers. This strategic location minimizes transit times and enables quicker delivery of your products to customers.
2.2. Reduced Shipping Costs and Transit Times
As an eCommerce business owner, reducing shipping costs and transit times is essential. By partnering with a 3PL warehouse USA like FBA Prep Logistics, you benefit from our strategic location in Bristol, PA. Our proximity to major cities and highways allows for cost-effective, fast, and efficient shipping, cutting down on both time and expenses.
2.3. Access to Major Transportation Routes and Hubs
FBA Prep Logistics is conveniently located near major highways, railways, and airports, ensuring seamless connectivity and access to vital transportation resources. This positioning allows us to serve a broader customer base, maintain low shipping costs, and ensure timely deliveries. When you work with us, you'll enjoy the benefits of our comprehensive coverage and reliable transportation services.
2.4. East Coast Fulfillment Advantages
With our warehouse situated on the East Coast, we capitalize on the benefits exclusive to this region. Our location offers efficient logistics and fulfillment solutions tailored to meet the distinct requirements of eCommerce operations on the East Coast. Not only can you expect reliable and streamlined order processing, but you will also enjoy excellent customer service and support, with the potential to scale your business with ease.
2.5. Expansive Storage Space
Our 3PL Warehouse USA facility in Bristol, PA, features expansive storage space, allowing us to accommodate a diverse range of products. Our secure and well-maintained warehouse ensures proper storage of your inventory, safekeeping it from damage, theft, or other potential hazards. With our ample storage capacity, we ensure your goods are always ready for shipment, and you'll never worry about running out of space or encountering inventory issues.
2.6. Regional Tax Benefits
Bristol, PA, offers many tax benefits for businesses, particularly those in the eCommerce industry. Our presence in this location allows us to extend these benefits, such as reduced taxes and regional incentives, to our clients. Partnering with us means you can capitalize on the advantages of our strategic location and subsequently improve your bottom line.
In conclusion, FBA Prep Logistics' strategic location in Bristol, PA, provides unparalleled benefits for businesses operating within the USA. Our proximity to major markets and transportation hubs ensures efficient shipping, reduced costs, and quicker delivery of your products. By choosing us as your 3PL Warehouse USA partner, you can take full advantage of these benefits while experiencing seamless order fulfillment and excellent customer support. Let us help you optimize your eCommerce operations and achieve ultimate success.
3. Comprehensive Services for Amazon Sellers
Blurb: A detailed account of FBA Prep Logistics' suite of expertise and services specifically tailored for Amazon sellers, from receiving shipments to storage, preparation, and shipment to Amazon FBA centers.
As a leading 3PL Warehouse USA, FBA Prep Logistics has devoted time and resources to develop an extensive range of services to cater to the specific needs of Amazon sellers. Our end-to-end solutions include inbound shipment management, inventory storage, product preparation, and hassle-free outbound shipping to Amazon Fulfillment Centers, ensuring streamlined processes that help you save time, money, and resources. The following sections provide a detailed account of the comprehensive services we offer our valued eCommerce clients.
3.1 Inbound Shipment Management
At FBA Prep Logistics, we offer full-service inbound shipment management to help you track and process your inventory with ease. We receive shipments from around the world, making us an ideal partner for both local and international sellers.
Here's what our inbound shipment management services include:
Cargo inspection and documentation
Container unloading and palletization
Inventory update and SKU labeling
Real-time inventory tracking through our user-friendly platform
3.2 Inventory Storage Solutions
One of the major advantages of partnering with a 3PL Warehouse USA like FBA Prep Logistics is our extensive inventory storage capabilities. Our state-of-the-art warehouse in Bristol, PA, offers secure, climate-controlled storage, ensuring that your inventory remains in pristine condition.
Our storage services also include:
Order consolidation and repackaging
Palletization and shrink wrapping
Customized storage solutions based on specific product requirements
Real-time inventory tracking and monitoring
3.3 Amazon FBA Product Preparation
The key to success on Amazon lies in effective preparation, and FBA Prep Logistics understands the intricacies involved. We offer comprehensive product preparation services tailored to meet Amazon's strict requirements. These services ensure that your products are FBA-ready, saving you time and resources while reducing the risk of penalties and rejected shipments.
Here are some of our product preparation services:
Product bundling and packaging
Bubble wrapping and fragile product protection
Labeling and barcoding
Quality control and inspection
3.4 Efficient Shipping to Amazon FBA Centers
Shipping your products to Amazon Fulfillment Centers doesn't have to be a logistical nightmare. FBA Prep Logistics ensures a seamless outbound shipping process, coordinating with both Amazon and your supplier to make sure your inventory arrives on time and in perfect condition.
Our shipping services include:
Creation of Amazon shipment plans
Scheduling and coordination with Amazon FBA centers
Labeling and packaging compliance checks
Real-time shipment tracking and status updates
Choose the Best Amazon FBA Warehouses in NJ for Your Business
3.5 End-to-End Account Management and Support
At FBA Prep Logistics, our commitment to excellence goes beyond just providing services. We also offer dedicated account management and support, ensuring that you have access to the right information and expertise at all times.
Our end-to-end account management includes:
Regular account reviews and performance analysis
Personalized consultation and strategy development
Proactive notifications regarding inventory levels, shipments, and other critical information
Fast and responsive customer service
By choosing FBA Prep Logistics as your 3PL Warehouse USA, you are not only choosing a service provider but also a reliable partner that shares your goals and commitment to success. Our comprehensive suite of services, specifically tailored to the needs of Amazon sellers, ensures that you can focus on growing your eCommerce business while we take care of the rest.
4. Cutting-edge Technology and Streamlined Processes
As a leading 3PL Warehouse USA, FBA Prep Logistics continuously strives to improve and adapt to the ever-changing landscape of eCommerce, specifically in the realm of Amazon selling. Utilizing cutting-edge technology and efficient processes, our aim is to provide a seamless experience to our clients, ensuring the success of their business ventures. In this section, we'll explore some of the standout features of our technology and data-driven approach.
4.1 Real-time Inventory Tracking and Visibility
Keeping track of your inventory is crucial for preventing stockouts and lost sales opportunities. Our Simplify Inventory Tracking on Shopify service offers a transparent, real-time view of your inventory levels, enabling you to make informed decisions while ensuring accurate fulfillment. Moreover, our warehouse management system (WMS) is integrated with popular platforms like Amazon and Shopify, which guarantees inventory data accuracy and consistency.
4.2 Data-Driven Decision Making
In today's competitive market, making informed business decisions is an absolute necessity. Data plays a vital role in understanding market trends, customer behavior, and operational efficiency. FBA Prep Logistics embraces a data-driven culture, leveraging data analysis and insights to streamline operations, optimize resource allocation, and enhance customer satisfaction.
4.3 Automated Warehouse Management System
A key component of our cutting-edge technology infrastructure is our automated warehouse management system (WMS). By leveraging the power of automation, our WMS streamlines the entire fulfillment process, from receiving products to storing, picking, packing, and shipping. This automation not only ensures greater accuracy and efficiency in operations but also reduces the risk of human error in handling your valuable inventory.
4.4 Integration with eCommerce Platforms and Marketplaces
Recognizing that eCommerce businesses rely on multiple platforms and marketplaces to manage their sales and operations, FBA Prep Logistics has developed seamless integration capabilities with popular services such as Amazon, Shopify, and others. This close integration enables streamlined workflows and communication, ensuring that your orders are fulfilled accurately, and your inventory levels are updated in real-time across all platforms.
4.5 State-of-the-art Security Measures
At FBA Prep Logistics, the security of your inventory and data is of paramount importance. Our state-of-the-art security measures include 24/7 surveillance, controlled access points, and rigorous safety protocols, ensuring that your inventory remains secure throughout the entire process. Moreover, our digital infrastructure is protected by advanced cybersecurity measures, ensuring the safety and privacy of all sensitive business information.
4.6 Smart Order Routing and Shipping Optimization
In the fast-paced world of eCommerce, efficient and cost-effective shipping is a critical aspect of ensuring customer satisfaction. Our smart order routing system helps determine the fastest and most cost-effective shipping methods based on the destination, package size, and other order details. This ultimately leads to time and money saved, while also benefiting from increased customer satisfaction The Benefits of Using Shopify Shipping on the East Coast.
4.7 Agile Fulfillment Solutions
FBA Prep Logistics understands that each business comes with its unique set of requirements and challenges. To cater to the diverse needs of our clients, we have incorporated agile methodologies into our processes, allowing us to provide flexible, customized fulfillment solutions that meet the ever-changing demands of the eCommerce market. By being adaptive and agile, we can accommodate both large and small businesses, effectively responding to fluctuating order volumes and seasonal trends.
In conclusion, FBA Prep Logistics is committed to leveraging cutting-edge technology and streamlined processes to ensure exceptional service and value to our clients. By investing in advanced systems and data-driven approaches, our aim is to help each client scale their eCommerce operations and achieve increased profitability. By partnering with us as your 3PL Warehouse USA, you'll be better positioned to stay ahead of the competition, with access to services and tools that are tailored to the unique needs of your business.
5. Dedicated Support and Expertise
In the fast-paced world of eCommerce, having personalized support and expertise from your chosen 3PL Warehouse USA can make all the difference in the success of your online business. At FBA Prep Logistics, we understand that every business is unique and requires tailored solutions to meet their specific needs and goals. That's why we go the extra mile for our clients by providing dedicated support and consultation services to help them scale up their operations and optimize their supply chain management.
In this section, we'll delve into the various ways FBA Prep Logistics supports our clients along their eCommerce journey, leaving no stone unturned in ensuring that each client gets the personalized attention they deserve.
5.1 Personalized Consultations
Running an eCommerce business can be challenging, especially for those who are new to the industry or lack experience in supply chain management. Our experienced professionals at FBA Prep Logistics can provide personalized consultations to help your business identify areas of growth, areas to improve, and strategies to optimize your logistics processes—from receiving shipments to preparing them for storage and ultimately delivering them to your customers. We help improve your Amazon listing performances by sharing our insights on Amazon PPC advertising and best practices for top-quality FBA prep.
5.2 Customized Solutions for Your Business Needs
At FBA Prep Logistics, we understand that every business is unique and that "one size doesn't fit all." This is why we work closely with our clients to analyze their specific needs and develop customized strategies to optimize their logistics operations. We evaluate your current processes and identify areas where improvements can be made in areas like inventory control, cross-docking, and reverse logistics. We then develop a plan to help you streamline your 3PL Warehouse USA operations and efficiently scale your business.
5.3 Priority Support
As an eCommerce seller, issues and questions are bound to arise. At FBA Prep Logistics, we believe that prompt and efficient support is crucial for successfully addressing any challenges you may face. We provide priority support to our clients to ensure that they always have someone to turn to when they need assistance—whether it's a simple question about our services or a complex issue that requires extensive analysis and problem-solving. Our dedicated team goes the extra mile to provide the help you need when you need it, so you can focus on growing your business.
5.4 Ongoing Account Management
Maintaining a healthy relationship with our clients is a key priority at FBA Prep Logistics, which is why we provide ongoing account management services to ensure that your needs are always met. Your dedicated account manager will work closely with you to manage your business's 3PL Warehouse USA needs and continuously monitor your operations to ensure that you're getting the most out of our partnership. From keeping track of your inventory to ensuring your products are shipped out on time, your account manager will be by your side, helping you scale your business on Amazon and other platforms, every step of the way.
5.5 Industry Expertise and Insights
FBA Prep Logistics has years of experience in the 3PL Warehouse USA industry, and our team of professionals is knowledgeable about all aspects of eCommerce logistics and supply chain management. We constantly stay up-to-date with the latest industry trends and best practices, allowing us to provide valuable insights and advice to our clients. You can also explore our resources to get in-depth information on topics related to eCommerce logistics, order fulfillment, and several other essential aspects of running an online business.
Achieving Success with FBA Prep Logistics
In conclusion, choosing FBA Prep Logistics as your 3PL Warehouse USA partner goes beyond simply outsourcing your logistics operations. With our strategic location, comprehensive services, cutting-edge technology, and dedicated support, we not only optimize your supply chain management but also provide unparalleled expertise and consultation to help your eCommerce business achieve new heights.
Your success is our success, and we're committed to helping you thrive in the competitive world of eCommerce. So why wait? Partner with FBA Prep Logistics today and enjoy the benefits of a dedicated 3PL Warehouse USA provider committed to helping your business scale, grow, and succeed.
Why Choose FBA Prep Logistics for Your 3PL Warehouse USA?</h1>
<h2>Table of Content</h2>
<ol>
<li>Introduction</li>
<li>Strategic Location Advantage</li>
<li>Comprehensive Services for Amazon Sellers</li>
<li>Cutting-edge Technology and Streamlined Processes</li>
<li>Dedicated Support and Expertise</li>
</ol>
<h2>Frequently Asked Questions</h2>
<h3>1. What is a 3PL warehouse and how does FBA Prep Logistics fit into this category?</h3>
<p>A 3PL (Third-Party Logistics) warehouse is a facility that provides logistics services like storage, order fulfillment, shipping, and more to businesses while integrating into their supply chain. FBA Prep Logistics is a 3PL warehouse specialized in catering to the unique needs of eCommerce businesses, primarily focusing on Amazon sellers.</p>
<h3>2. How does FBA Prep Logistics' location in Bristol, PA offer advantages to businesses selling online?</h3>
<p>Our strategic location in Bristol, PA, close to major transportation hubs, allows us to offer convenience and cost-saving benefits to eCommerce businesses operating within the USA. Faster order processing, reduced shipping costs, and proximity to both suppliers and customers make our location a great choice.</p>
<h3>3. What services does FBA Prep Logistics offer to support Amazon sellers?</h3>
<p>FBA Prep Logistics provides a comprehensive suite of services tailored to Amazon sellers. These include receiving shipments from suppliers, storage, inventory management, Amazon FBA preparation services (labeling, bundling, packaging, etc.), palletization, and shipping to Amazon fulfillment centers.</p>
<h3>4. How does FBA Prep Logistics leverage technology for better warehouse management and customer communication?</h3>
<p>We've made significant investments in cutting-edge technology to offer seamless communication, real-time tracking, and agile fulfillment solutions. Our data-driven approach and integrations with major eCommerce platforms ensure accurate inventory management, swift order processing, and timely updates to our clients.</p>
<h3>5. What type of support and expertise can I expect as a client of FBA Prep Logistics?</h3>
<p>At FBA Prep Logistics, we provide personalized support and consultation to help businesses scale their operations and optimize supply chain management. Our team consists of seasoned experts who understand the nuances of eCommerce and Amazon FBA, enabling us to go the extra mile for our clients and support their success.</p>
<p>Choose FBA Prep Logistics as your 3PL partner and experience the benefits of a strategic location, comprehensive services tailored for Amazon sellers, cutting-edge technology, and dedicated support. Let us help you grow your eCommerce business and improve your supply chain management efficiency.</p>
<script type="application/ld+json">
{
"@context": "https://schema.org",
"@type": "FAQPage",
"mainEntity": [{
"@type": "Question",
"name": "What is a 3PL warehouse and how does FBA Prep Logistics fit into this category?",
"acceptedAnswer": {
"@type": "Answer",
"text": "A 3PL (Third-Party Logistics) warehouse is a facility that provides logistics services like storage, order fulfillment, shipping, and more to businesses while integrating into their supply chain. FBA Prep Logistics is a 3PL warehouse specialized in catering to the unique needs of eCommerce businesses, primarily focusing on Amazon sellers."
}
}, {
"@type": "Question",
"name": "How does FBA Prep Logistics' location in Bristol, PA offer advantages to businesses selling online?",
"acceptedAnswer": {
"@type": "Answer",
"text": "Our strategic location in Bristol, PA, close to major transportation hubs, allows us to offer convenience and cost-saving benefits to eCommerce businesses operating within the USA. Faster order processing, reduced shipping costs, and proximity to both suppliers and customers make our location a great choice."
}
}, {
"@type": "Question",
"name": "What services does FBA Prep Logistics offer to support Amazon sellers?",
"acceptedAnswer": {
"@type": "Answer",
"text": "FBA Prep Logistics provides a comprehensive suite of services tailored to Amazon sellers. These include receiving shipments from suppliers, storage, inventory management, Amazon FBA preparation services (labeling, bundling, packaging, etc.), palletization, and shipping to Amazon fulfillment centers."
}
}, {
"@type": "Question",
"name": "How does FBA Prep Logistics leverage technology for better warehouse management and customer communication?",
"acceptedAnswer": {
"@type": "Answer",
"text": "We've made significant investments in cutting-edge technology to offer seamless communication, real-time tracking, and agile fulfillment solutions. Our data-driven approach and integrations with major eCommerce platforms ensure accurate inventory management, swift order processing, and timely updates to our clients."
}
}, {
"@type": "Question",
"name": "What type of support and expertise can I expect as a client of FBA Prep Logistics?",
"acceptedAnswer": {
"@type": "Answer",
"text": "At FBA Prep Logistics, we provide personalized support and consultation to help businesses scale their operations and optimize supply chain management. Our team consists of seasoned experts who understand the nuances of eCommerce and Amazon FBA, enabling us to go the extra mile for our clients and support their success."
}
}] }
</script>