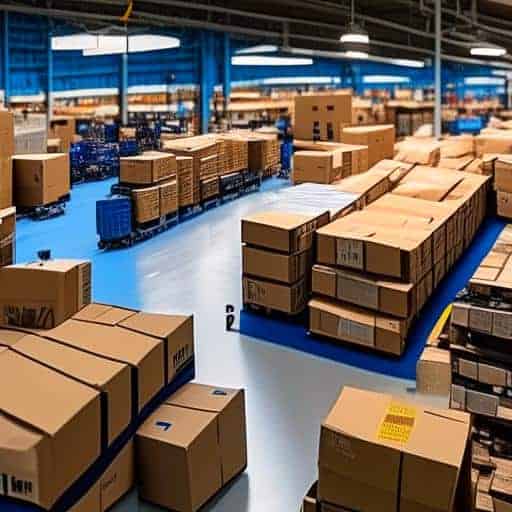 1. Introduction
Welcome to FBA Prep Logistics, your trusted 3PL Amazon FBA partner, located in Bristol, PA! Our mission is to provide top-tier warehousing and order fulfillment services tailored to the needs of Amazon FBA sellers. If you're new to the world of supply chain management and haven't used a 3PL before, you're in the right place.
In this article, we'll discuss how partnering with a 3PL like FBA Prep Logistics is essential for your Amazon FBA business. We will dive into five major benefits of outsourcing your logistics to a 3PL, designed to help your business grow, optimize operations, and stay competitive. So, let's get started!
Streamlined Inventory Management
If there's one thing all successful Amazon FBA sellers know, it's that efficient inventory management is crucial to their success. As a 3PL Amazon FBA service provider, we at FBA Prep Logistics understand the importance of keeping your inventory well-organized and easy to manage. That's why we offer streamlined inventory management services that not only save you time and stress but also help increase your profits.
Expert Inventory Management Services
Our team of experts is well-versed in the nuances of Amazon FBA inventory management. We use our knowledge and experience to help you:
Keep accurate track of your inventory levels;
Avoid stockouts, and the dreaded "Out of Stock" message on your Amazon store;
Manage inbound shipments to Amazon, ensuring they are correctly labeled and prepped;
Monitor inventory turnover to help you make informed purchasing decisions;
Replenish stock before it's too late;
Track and forecast demand trends using historical sales data;
We take the burden of inventory management off your shoulders, allowing you to focus on growing your business.
Easy Access to Your Inventory Data
With FBA Prep Logistics, you won't have to worry about missing out on crucial inventory information. Our advanced inventory management system, which seamlessly integrates with Amazon FBA, keeps you informed about your inventory levels in real-time. You always have access to up-to-date data, which enables you to make data-driven, intelligent decisions for your business.
Customized Storage Solutions
We understand that every business is unique, which is why we offer customized storage solutions that cater to your specific needs. Our warehouse in Bristol, PA, is equipped with cutting-edge technology and security measures to ensure your inventory is stored safely and efficiently.
Our storage solutions are designed to accommodate a wide range of products, including those with special handling requirements. We work closely with you to determine the best storage options for your inventory, whether that be pallet racks, shelves, or bins.
Reducing Human Error
Our team of experienced professionals works diligently to minimize the chance of errors in inventory management. We use advanced tools and technology like barcode scanners, RFID tags, and automated tracking systems to ensure accuracy throughout the entire process.
Plus, our ongoing training programs and a commitment to continuous improvement help us stay ahead of the curve when it comes to industry best practices.
FBA Labeling and Barcoding
We make sure your inventory complies with Amazon's strict labeling requirements, ensuring your products get accepted into their fulfillment centers without any hiccups. Our team will handle FNSKU labeling, UPC barcoding, and any other necessary labeling your products may require, ultimately helping you avoid costly mistakes and delays.
In conclusion, efficient inventory management is vital to the success of every Amazon FBA business. That's why partnering with a 3PL provider like FBA Prep Logistics can make all the difference. We take the stress of managing your inventory off your plate while maintaining accuracy, organization, and efficiency, allowing you to focus on what truly matters – growing your e-commerce business.
Cost Savings and Scalability: The Power of 3PL Amazon FBA
Why Cost Savings Matter for E-commerce Businesses
In the competitive world of e-commerce, businesses must find ways to maximize profit margins by reducing costs and increasing efficiency. That's where having a 3PL Amazon FBA partner like FBA Prep Logistics can make a huge difference. By outsourcing logistics operations to a company like ours, businesses can save on warehousing costs, as they only have to pay for storage and the services they use. Additionally, outsourcing eliminates the expenses related to maintaining a warehouse, staffing, and other overhead costs. In the end, these cost savings help improve a business's bottom line and promote growth.
Flexible Pricing Models to Suit Your Business Needs
At FBA Prep Logistics, we understand that e-commerce businesses come in all shapes and sizes, and we offer flexible pricing models to cater to the unique needs of each client. Our pay-as-you-go model means you only pay for the space you use and the services you need, ensuring you get the most bang for your buck. This flexibility enables businesses looking to scale up or down to adjust their warehousing expenditures effortlessly, depending on their current market.
Scalability Made Easy: How FBA Prep Logistics Helps You Grow
Scaling your e-commerce business is crucial to success, but managing growth can be challenging – particularly if you don't have the necessary infrastructure. That's where a 3PL Amazon FBA partner like FBA Prep Logistics comes in. We have the resources to grow with your business, offering scalability without investing in additional infrastructure or staffing. By accommodating your expanding inventory and order volume, we help you ensure a seamless transition as your business experiences growth spurts.
Expertise to Drive Efficient Warehousing and Fulfillment Operations
When it comes to navigating the complex world of e-commerce, the experience of a 3PL like FBA Prep Logistics is invaluable. Our team of logistics experts and skilled staff members work tirelessly to streamline the entire fulfillment process, from receiving inventory to packing orders for shipment. This expertise results in reduced order turnaround times and greater efficiency, allowing your business to handle increasing demand without sacrificing quality or speed.
Access to Advanced Technology for Streamlined Operations
With a 3PL Amazon FBA partner like FBA Prep Logistics, you'll have access to state-of-the-art technology that provides real-time inventory updates, order tracking, and more. Integrating your e-commerce platform with our cutting-edge systems allows for seamless communication and automated order processing, increasing accuracy and reducing the likelihood of costly errors. This access to advanced tools benefits businesses of all sizes, equipping them with the technological prowess needed to compete in today's rapidly changing e-commerce landscape.
Collaborating with a Network of Trusted Partners
When you choose FBA Prep Logistics as your 3PL Amazon FBA partner, you tap into our established network of trusted partners in freight, shipping, and other logistics services. This network provides a significant advantage in terms of cost competitiveness, as well as access to preferential shipping rates and reliable delivery services. By leveraging these established partnerships, businesses can benefit from increased reach and improved order fulfillment efficiency.
The Bottom Line: Cost Savings and Scalability with FBA Prep Logistics
In summary, outsourcing your e-commerce logistics operations to FBA Prep Logistics, a 3PL warehouse, offers numerous benefits in terms of cost savings and scalability. Our flexible pricing models, expertise, advanced technology, and network of trusted partners provide a competitive edge that enables businesses to grow and thrive in the Amazon FBA marketplace. So why wait? Discover more about how FBA Prep Logistics can help enhance your e-commerce business and join the ranks of successful Amazon FBA sellers today.
4. Improved Customer Experience
In today's fast-paced e-commerce environment, providing an exceptional customer experience is crucial for any business, especially when selling on Amazon. Partnering with a reliable and efficient 3PL Amazon FBA like FBA Prep Logistics can significantly improve the overall customer experience, leading to increased customer satisfaction, better reviews, and potentially higher sales. In this section, we'll detail how outsourcing your fulfillment services to FBA Prep Logistics can help enhance the shopping experience for your customers.
4.1 Faster Fulfillment Times
One of the primary reasons that you should choose FBA Prep Logistics is their ability to speed up fulfillment times. By having a dedicated team of experts handling your orders, they can ensure that your products are picked, packed, and shipped as quickly as possible. This means that your customers receive their orders in a timely manner, leading to positive feedback and improved seller ratings.
Faster fulfillment times not only keep your existing customers happy but also help attract new ones. With the growing demand for fast shipping in the e-commerce industry, customers expect their orders to be delivered promptly. By partnering with FBA Prep Logistics, you are positioning your business to exceed these expectations and provide a standout customer experience.
4.2 Reliable Shipping Services
Reliability is crucial when it comes to shipping products to your customers. FBA Prep Logistics understands the importance of delivering orders accurately and on time, and they have the infrastructure in place to make this happen. With their efficient logistics services, you can be confident that your products will be shipped quickly and securely, minimizing the risk of delays or lost packages.
In a competitive marketplace like Amazon, maintaining a high level of customer service is essential to stand out among competitors. With FBA Prep Logistics handling your shipping and logistics processes, you can rest assured that your customers will receive the exceptional shopping experience they expect in today's e-commerce landscape.
4.3 Improved Order Accuracy
Ensuring the accuracy of each order is critical for maintaining customer satisfaction. Mistakes such as incorrect items or missing components can lead to negative reviews and a loss of trust in your business. When you work with FBA Prep Logistics, their experienced team meticulously handles each order to ensure it is fulfilled accurately. Their attention to detail helps to minimize errors and maintain the quality of your brand's reputation on Amazon.
4.4 Enhanced Order Tracking and Communication
Customer communication is a vital aspect of providing an excellent customer experience. FBA Prep Logistics offers advanced order tracking services that keep both you and your customers informed about the status of each order. Transparent and prompt communication regarding order updates helps to build trust between your business and its customers. This level of transparency and communication helps to alleviate any potential concerns or anxieties that may arise while waiting for an order to be delivered.
4.5 Proactive Issue Resolution
In the event that any issues or complications arise during the fulfillment process, FBA Prep Logistics is well-equipped to handle them proactively. Their team of experts will work tirelessly to resolve problems in a timely manner, preventing any negative impact on the customer experience. By collaborating closely with your business, FBA Prep Logistics ensures that any concerns are addressed promptly and that customer satisfaction remains a top priority.
In Conclusion
Outsourcing your logistics tasks to a 3PL Amazon FBA like FBA Prep Logistics can significantly enhance the overall customer experience. By offering faster fulfillment times, reliable shipping services, improved order accuracy, enhanced order tracking, and proactive issue resolution, FBA Prep Logistics can help you meet and exceed customer expectations. This competitive edge in customer experience can translate into higher customer satisfaction, better reviews, and ultimately, increased sales for your business on the Amazon platform. So, make the smart choice and partner with FBA Prep Logistics to optimize your customer experience and thrive in the competitive world of e-commerce.
Enhanced Focus on Business Growth
A critical aspect of running a successful e-commerce business is the ability to focus on the right aspects at the right time. By partnering with FBA Prep Logistics, a top-notch 3PL Amazon FBA service provider, you can free up more of your valuable time and resources that were previously spent on managing the intricate logistics side of your business. So how exactly does outsourcing to FBA Prep Logistics help you concentrate more on growing your business? Let's explore!
5.1 Delegate Time-Consuming Logistics Tasks
When it comes to logistics and supply chain management, there are numerous responsibilities that can be quite time-consuming. Activities such as inventory storage, shipping and handling, order fulfillment, returns management, and much more require intense attention to detail and constant supervision. By delegating these tasks to FBA Prep Logistics, you save yourself valuable time, allowing you to invest that time in what really matters: growing your business.
5.2 Focus on Your Core Business Competencies
As an Amazon FBA seller, your core competency likely lies in selecting and marketing profitable products, not necessarily in managing your supply chain. FBA Prep Logistics not only excels in handling your logistics with efficiency and expertise but also allows you to sharpen your focus on your core business strengths.
By partnering with FBA Prep Logistics, you can allocate your resources to activities that directly impact your bottom line, such as marketing, customer service, strategic planning, research, and development, etc. This will undoubtedly boost your organization's productivity and elevate your business to new heights.
5.3 Strengthen Your Business Network
Working with an established 3PL Amazon FBA company like FBA Prep Logistics can improve your e-commerce business in multiple ways. For instance, this partnership can lead to better access to a broader network of suppliers, vendors, and shipping carriers. Having an extended network brings numerous advantages such as lower shipping costs, faster delivery times, and better access to emerging markets, allowing you to stay ahead in the competitive e-commerce landscape.
5.4 Leverage Industry Insights
FBA Prep Logistics has a wealth of experience in logistics and supply chain management, having dealt with a myriad of businesses and industries. Collaborating with us enables you to benefit from our in-depth industry know-how, market trends analysis, and best practices. By leveraging these insights, you can make more informed decisions for your e-commerce venture and fine-tune your strategies to achieve better results.
5.5 Drive Innovation and Creativity
Teams that are bogged down by the daily logistics grind often find it difficult to think out of the box and bring innovative ideas to the table. By unloading these operational tasks onto FBA Prep Logistics, you empower your team to be more creative, solution-oriented, and strategically focused. This fresh perspective can lead to developing new products, expanding your business reach, and enhancing your overall customer experience.
Light at the End of the Tunnel
As an Amazon seller, it's essential to make the most of your available time and resources. By partnering with FBA Prep Logistics, a 3PL Amazon FBA expert, you can significantly enhance your focus on business growth and profitability. Let us handle the logistics complexities while you invest your energy in marketing, customer service, and innovation. Remember, our success is your success, and we're committed to helping your e-commerce business thrive! So why wait? Embrace the benefits of outsourcing your logistics to FBA Prep Logistics and experience the competitive edge that comes with it.
Frequently Asked Questions</h2>
<h3>1. Why should I choose FBA Prep Logistics over other 3PL providers?</h3>
<p>Choosing FBA Prep Logistics means you're selecting a 3PL partner that understands the unique challenges of Amazon FBA sellers. With our expert inventory management, scalable services, and commitment to customer satisfaction, you'll be able to focus on growing your business while we handle the operational logistics.</p>
<h3>2. How can using FBA Prep Logistics save me money?</h3>
<p>By outsourcing to FBA Prep Logistics, you only pay for the warehousing and services you actually use. This means no upfront investment in infrastructure and reduced costs as your business grows. Our flexible and scalable solutions help you manage your budget effectively.</p>
<h3>3. How will FBA Prep Logistics help improve my customer experience and reviews?</h3>
<p>We ensure fast and accurate order fulfillment, which translates to quicker delivery times for your customers. As a result, you'll likely see an increase in positive reviews and higher customer satisfaction, giving your business a competitive edge in the Amazon Marketplace.</p>
<h3>4. Can FBA Prep Logistics help me scale my business?</h3>
<p>Absolutely! By outsourcing your logistics tasks to us, you can focus on strategic planning, marketing, and product development. We provide the infrastructure and services you need to grow smoothly and efficiently, so you can take your business to the next level without worrying about logistical constraints.</p>
<h3>5. What services does FBA Prep Logistics offer to Amazon FBA sellers?</h3>
<p>Our comprehensive 3PL services include inventory management, warehousing, order fulfillment, shipping, and returns handling. We cater specifically to Amazon FBA sellers, providing tailored solutions that help you succeed in the competitive online marketplace.</p>
<script type="application/ld+json">
{
"@context": "https://schema.org",
"@type": "FAQPage",
"mainEntity": [{
"@type": "Question",
"name": "Why should I choose FBA Prep Logistics over other 3PL providers?",
"acceptedAnswer": {
"@type": "Answer",
"text": "Choosing FBA Prep Logistics means you're selecting a 3PL partner that understands the unique challenges of Amazon FBA sellers. With our expert inventory management, scalable services, and commitment to customer satisfaction, you'll be able to focus on growing your business while we handle the operational logistics."
}
}, {
"@type": "Question",
"name": "How can using FBA Prep Logistics save me money?",
"acceptedAnswer": {
"@type": "Answer",
"text": "By outsourcing to FBA Prep Logistics, you only pay for the warehousing and services you actually use. This means no upfront investment in infrastructure and reduced costs as your business grows. Our flexible and scalable solutions help you manage your budget effectively."
}
}, {
"@type": "Question",
"name": "How will FBA Prep Logistics help improve my customer experience and reviews?",
"acceptedAnswer": {
"@type": "Answer",
"text": "We ensure fast and accurate order fulfillment, which translates to quicker delivery times for your customers. As a result, you'll likely see an increase in positive reviews and higher customer satisfaction, giving your business a competitive edge in the Amazon Marketplace."
}
}, {
"@type": "Question",
"name": "Can FBA Prep Logistics help me scale my business?",
"acceptedAnswer": {
"@type": "Answer",
"text": "Absolutely! By outsourcing your logistics tasks to us, you can focus on strategic planning, marketing, and product development. We provide the infrastructure and services you need to grow smoothly and efficiently, so you can take your business to the next level without worrying about logistical constraints."
}
}, {
"@type": "Question",
"name": "What services does FBA Prep Logistics offer to Amazon FBA sellers?",
"acceptedAnswer": {
"@type": "Answer",
"text": "Our comprehensive 3PL services include inventory management, warehousing, order fulfillment, shipping, and returns handling. We cater specifically to Amazon FBA sellers, providing tailored solutions that help you succeed in the competitive online marketplace."
}
}] }
</script>