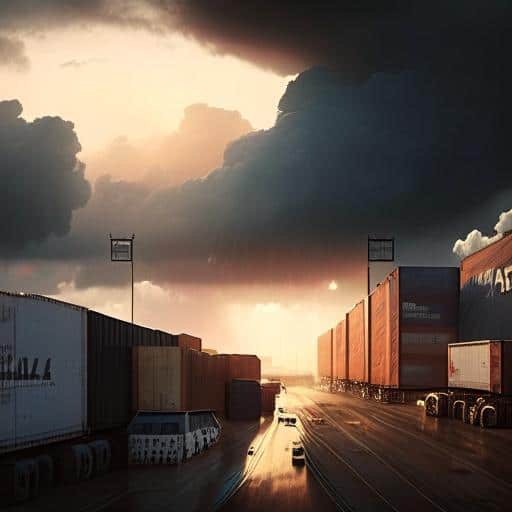 Introduction to 3PL Locations
Welcome to the world of FBA businesses! As someone who is venturing into e-commerce and selling products on Amazon, one of the most significant decisions you'll need to make is choosing the perfect third-party logistics (3PL) provider. The whole success of your FBA business can be heavily influenced by your choice of 3PL location. But don't worry, we're here to help! In this introductory section, we'll explain the importance of selecting the right 3PL location, and how teaming up with FBA Prep Logistics, located in the prime area of Bristol, PA, can skyrocket your e-commerce business.
Importance of Choosing the Ideal 3PL Location for a Successful FBA Business
Have you ever heard the saying, "Location, Location, Location"? Well, it applies to 3PL businesses too! Choosing the ideal 3PL location for your FBA business is crucial. It affects various factors such as shipping costs, delivery times, and overall customer satisfaction. When your 3PL provider has a strategically placed facility, it can directly improve your FBA business by efficiently fulfilling orders, reaching a broader customer base, and ensuring timely delivery. In short, having an optimally located 3PL partner can make or break your e-commerce business!
Brief Overview of FBA Prep Logistics as Your Preferred 3PL Partner
So, why should you choose FBA Prep Logistics as your go-to 3PL partner? First and foremost, our warehouse is located in Bristol, PA – a prime location for 3PL operations! Not only do we offer efficient services like efficient order fulfillment, but we also cater to various platforms like Shopify and Amazon. We understand that each e-commerce business has unique requirements, and we're equipped to customize our services to meet those needs. Our skilled workforce, top-notch resources, and excellent location make us the perfect 3PL partner to drive your online business to new heights!
Stay tuned for the upcoming sections where we'll dive deep into the strategic value of a prime 3PL location, the importance of a skilled workforce, and customized supply chain solutions that FBA Prep Logistics offers. You'll soon learn why partnering with us will be beneficial for your FBA business.
II. The Strategic Value of a Prime 3PL Location
1. Proximity to Major Transportation Hubs and Distribution Centers
The location of your 3PL partner is a significant factor to consider in achieving success as an FBA seller. Your business will benefit from partnering with a 3PL that is located close to major transportation hubs and distribution centers, such as FBA Prep Logistics' location in Bristol, PA. With our excellent location, we have easy access to different modes of transport, including road, air, and rail, ensuring that your goods can quickly reach their destination without delays.
2. Faster Fulfillment Times
Faster fulfillment times are crucial for maintaining customer satisfaction with your e-commerce store. By selecting FBA Prep Logistics as your 3PL partner, your products will have quicker access to Amazon warehouses, leading to faster shipping times. Check out our Efficient PA Order Fulfillment Services for Your E-commerce Store to learn how we streamline the fulfillment process and ensure timely deliveries.
3. Lower Shipping Costs
A prime location of your chosen 3PL warehouse can significantly reduce shipping costs. FBA Prep Logistics is strategically situated on the East Coast of the United States, providing a cost-effective shipping solution for e-commerce businesses. Read more about the 3 Benefits of E-commerce Fulfillment on the East Coast to get a better understanding of how our location can help you save on shipping charges.
4. Reduce Transit Time to Amazon Warehouses
Reducing transit time to Amazon warehouses ensures that your products can be instantly available to customers. FBA Prep Logistics' Bristol, PA location is strategically located near various Amazon Fulfillment Centers, significantly reducing the transit time and ensuring that your stock is replenished more quickly. Discover The Ultimate Guide to E-commerce Logistics in the East Coast for more information on how our location can be a game-changer for your business.
5. Minimize Your Carbon Footprint
By partnering with a 3PL provider like FBA Prep Logistics situated in a prime location, you can reduce your carbon footprint. Shorter transit distances not only help you save on shipping costs but also contribute to a healthier environment by minimizing greenhouse gas emissions generated during transport.
6. Access to a Robust Infrastructure
A strategic 3PL location includes access to a robust infrastructure that supports your business needs. With FBA Prep Logistics being located in Bristol, PA, we have access to reliable utilities, advanced telecommunications, and well-maintained roads, ensuring uninterrupted service for your growing e-commerce business.
7. Improved Inventory Management
By centralizing your inventory in a prime 3PL location, you can efficiently manage your stock levels and reduce the likelihood of stockouts. FBA Prep Logistics offers a seamless inventory management system that helps you avoid any complications arising from stock unavailability.
8. Leveraging Time Zones
Another advantage of our Bristol, PA location is that it is conveniently positioned, making it easy to cater to customers across different time zones in the United States. By choosing FBA Prep Logistics as your 3PL partner, you can provide outstanding service to your customers, irrespective of their geographical location.
9. Increased Market Reach
A prime 3PL location like Bristol, PA, offers increased market reach by providing faster access to densely populated urban centers and their surrounding areas. Partnering with FBA Prep Logistics means you can easily tap into major markets by ensuring quick deliveries and a positive customer experience.
10. Better Customer Service
Location plays a vital role in offering excellent customer service. FBA Prep Logistics' strategic location allows us to better support your e-commerce business by offering quicker order processing, faster shipping, and effective inventory management.
In conclusion, the strategic value of a prime 3PL location cannot be overstated. Choosing FBA Prep Logistics as your 3PL provider guarantees numerous benefits thanks to our ideal location in Bristol, PA. By partnering with us, your e-commerce business will benefit from faster fulfillment, reduced shipping costs, better inventory management, and an increased market reach, ensuring success in the competitive world of online retail.
III. Access to Skilled Workforce and Resources
One of the most crucial aspects for ensuring the smooth operations of your FBA business is having access to a skilled workforce and adequate resources. Being associated with a 3PL partner that can provide these essentials is vital for achieving success in the competitive e-commerce space. Let's dig into how 3PL locations contribute to this aspect and why Bristol, PA, home to FBA Prep Logistics, is a prime choice for your e-commerce business.
1. Impact of Workforce Quality on Efficient FBA Operations
A high-quality workforce is essential in maintaining efficient FBA operations. Skilled workers play a crucial role in managing various aspects of your supply chain, including inventory management, order fulfillment, packaging, and shipping. A competent workforce ensures that your products reach customers swiftly and in perfect condition, leading to higher satisfaction rates and, ultimately, more sales.
Furthermore, a skilled workforce adept in handling modern technologies and possessing a comprehensive understanding of inventory management techniques can significantly enhance your FBA business operations. This results in reduced error rates and increased productivity, both of which are vital to the success and growth of your e-commerce venture.
2. Bristol, PA's Skilled Workforce and Available Resources
Our strategic 3PL location in Bristol, PA, provides e-commerce businesses like yours access to a wealth of resources and a highly skilled workforce. The area is known for its strong labor pool, providing the quality human resources needed to efficiently manage and scale your FBA operations.
Additionally, Bristol, PA, benefits from being located in a region with a well-developed network of educational institutions and training programs. This ensures that the workforce is continuously upskilled, honing their already impressive knowledge and capabilities, ready to adapt to the ever-evolving e-commerce landscape.
3. Advantages of Utilizing FBA Prep Logistics' Well-Trained Staff for E-commerce Businesses
FBA Prep Logistics takes pride in recruiting and maintaining a highly skilled workforce, allowing us to provide top-tier 3PL services to your growing e-commerce business. Our professional team is trained to handle various aspects of your supply chain, ensuring that your FBA operations run smoothly at all times.
Some advantages of using FBA Prep Logistics' workforce include:
Reduced operational errors: Our skilled staff ensures that inventory is managed with the utmost care, reducing the likelihood of errors or delays in order fulfillment processes.
Increased productivity: By delegating essential supply chain tasks to our experienced team, your e-commerce business can focus on its core competencies, like product development and marketing, ultimately increasing productivity and sales.
Scalability: Our experienced workforce is capable of handling increased volume, allowing you to scale your FBA operations seamlessly as your business expands.
Adherence to FBA guidelines: Our experts stay up-to-date with the latest changes in FBA requirements, ensuring that your e-commerce business is always in compliance with Amazon's guidelines.
Technology integration: Our staff possesses the expertise to integrate advanced technologies into your supply chain processes, providing you with data-driven insights and enhanced efficiency.
Partnering with FBA Prep Logistics, with its skilled workforce and excellent resources, ensures that your e-commerce business is equipped with all the tools needed to succeed in the rapidly growing online market. Our 3PL location in Bristol, PA, puts your FBA operations in the best possible position to cater to customers on the East Coast and all across the country.
So, are you ready to take advantage of our skilled team and prime location to elevate your e-commerce business to new heights? Reach out to us at FBA Prep Logistics to explore how we can collaborate and help your business thrive. Remember, the right 3PL location and a dedicated team of professionals can make all the difference in the world when it comes to your FBA success.
IV. Tailor-made Supply Chain Solutions and Support
In the competitive world of e-commerce, businesses need more than just a 3PL partner with a great location. They require solutions that are customized to their unique needs, enabling them to optimize processes and stay ahead of the curve. That's where FBA Prep Logistics comes in. In this section, we'll discuss the importance of working with a 3PL provider like FBA Prep Logistics that offers tailor-made solutions to help businesses thrive.
1. The Importance of Customized Solutions for FBA Businesses
When it comes to 3PL locations, one size does not fit all. Different businesses have distinct requirements based on their products, target market, and growth trajectory. Choosing a 3PL that offers customizable solutions can have several benefits, including:
Ability to scale with your business as you grow
Access to a wide range of services that can be adjusted to fit your needs
Streamlined processes and faster turnaround times
Better communication and collaboration with your 3PL partner
To maximize your FBA business's success, it's essential to work with a 3PL like FBA Prep Logistics, which is equipped to provide tailored solutions to meet your unique needs.
2. How FBA Prep Logistics Caters to Unique Requirements of Different E-commerce Businesses
At FBA Prep Logistics, we understand that every business is unique. That's why we offer a wide range of services to cater to the diverse needs of our clients. Some of these services include:
With FBA Prep Logistics, you're not just getting a 3PL location, you're getting a partner that truly understands your business and is dedicated to helping you succeed.
3. Benefits of Working with a 3PL Provider Like FBA Prep Logistics That Understands Your Business Needs
Partnering with a 3PL like FBA Prep Logistics comes with several advantages that can have a significant impact on the success of your e-commerce business. Some of these benefits include:
Access to a team of experts who can provide valuable insights and advice to help you make informed decisions
Seamless integration with your existing systems and processes to ensure a smooth transition and collaboration
A flexible and adaptable approach to accommodate changes as your business evolves and grows
Quality, reliability, and trustworthiness that come from working with a 3PL partner who cares about your success
By choosing FBA Prep Logistics as your 3PL location, you're not just investing in a warehouse you're investing in a trusted partner with a shared goal of helping your business thrive.
In summary, the importance of tailor-made solutions in a 3PL provider cannot be overstated, especially when it comes to FBA businesses. Working with FBA Prep Logistics, you get the benefit of a strategic location along with customized services and support that cater to the unique requirements of your growing e-commerce business.
V. Conclusion: Why FBA Prep Logistics is the Ideal Choice for Your 3PL Location
We've covered a lot in this article, and now it's time to summarize the key factors that make FBA Prep Logistics the perfect 3PL partner for e-commerce businesses. From our strategic location to our outstanding services, we are here to support your growing business needs.
Prime Location: Our facility is strategically located in Bristol, PA, which is close to major transportation hubs and distribution centers. This ensures faster fulfillment times and lower shipping costs for your e-commerce business. It also means that you can deliver a better customer experience, which is key to your long-term success.

Skilled Workforce and Resources: The Bristol area is known for its skilled workforce and abundant resources. At FBA Prep Logistics, we have a well-trained staff that is dedicated to efficient FBA operations. With us, you can be sure that your e-commerce business is in capable hands, allowing you to focus on other aspects of your growth.

Tailor-made Supply Chain Solutions: Every e-commerce business has unique requirements, and we understand this well. That's why we offer customized solutions designed to cater to different e-commerce businesses and their distinct needs. If you have specific requirements that you would like us to handle, don't hesitate to reach out to us.
Expert Advice and Support: At FBA Prep Logistics, our team of professionals is always ready to provide expert advice and support to help you make the best decisions for your business. From navigating the complexities of supply chain management to finding ways to reduce costs, we've got you covered.

Proven Track Record: We have a long list of satisfied customers who vouch for our exceptional services. But don't just take our word for it; check out some of our testimonials to see what our customers have to say about working with us.

Advanced Technology: We understand that today's e-commerce landscape is driven by technology, and so are we. We utilize the latest innovations to streamline our processes and offer even more efficient services for our customers.
In the competitive world of e-commerce, choosing the right 3PL partner is crucial for your success. With FBA Prep Logistics as your chosen 3PL provider, you can rest assured that you are making a sound decision. Our strategic location, skilled workforce, tailor-made solutions, and commitment to excellence make us the ideal choice for your business.
Don't let logistics be a bottleneck in your growth journey. Get in touch with us today, and let's discuss how FBA Prep Logistics can help you achieve your e-commerce goals.
Frequently Asked Questions</h2>
<dl>
<dt><strong>1. Why is the location of a 3PL warehouse important for my FBA business?</strong></dt>
<dd>The location of a 3PL warehouse plays a crucial role in timely order fulfillment, reducing shipping costs, and improving customer satisfaction. A strategically located 3PL warehouse like FBA Prep Logistics in Bristol, PA can offer your e-commerce business numerous benefits including easy access to major transportation hubs and distribution centers.</dd>
<dt><strong>2. How does FBA Prep Logistics' location in Bristol, PA benefit my e-commerce business?</strong></dt>
<dd>FBA Prep Logistics' prime location in Bristol, PA is near major transportation hubs, allowing for faster fulfillment times and lower shipping expenses. Furthermore, the area has a skilled workforce and ample resources, ensuring the efficient handling and processing of your inventory.</dd>
<dt><strong>3. What customized supply chain solutions does FBA Prep Logistics offer?</strong></dt>
<dd>FBA Prep Logistics provides tailor-made supply chain solutions to cater to the unique requirements of e-commerce businesses. Our team works closely with you to develop customized plans, ensuring optimal results and smooth operations for your FBA business.</dd>
<dt><strong>4. How can FBA Prep Logistics help a small-to-medium-sized e-commerce business?</strong></dt>
<dd>With our expertise in supply chain management and focus on understanding your business needs, FBA Prep Logistics offers personalized support and resources to help small-to-medium-sized e-commerce businesses grow. Our strategic location, skilled workforce, and customized solutions make us the ideal 3PL partner for your FBA operations.</dd>
<dt><strong>5. What makes FBA Prep Logistics stand out among other 3PL providers?</strong></dt>
<dd>FBA Prep Logistics distinguishes itself from other 3PL providers with its strategic location, access to well-trained staff, and focus on personalized solutions for each client. Our experienced team understands the complexities of FBA operations and strives to provide the best possible support and services to grow your e-commerce business.</dd>
</dl>
<script type="application/ld+json">
{
"@context": "https://schema.org",
"@type": "FAQPage",
"mainEntity": [
{
"@type": "Question",
"name": "Why is the location of a 3PL warehouse important for my FBA business?",
"acceptedAnswer": {
"@type": "Answer",
"text": "The location of a 3PL warehouse plays a crucial role in timely order fulfillment, reducing shipping costs, and improving customer satisfaction. A strategically located 3PL warehouse like FBA Prep Logistics in Bristol, PA can offer your e-commerce business numerous benefits including easy access to major transportation hubs and distribution centers."
}
},
{
"@type": "Question",
"name": "How does FBA Prep Logistics' location in Bristol, PA benefit my e-commerce business?",
"acceptedAnswer": {
"@type": "Answer",
"text": "FBA Prep Logistics' prime location in Bristol, PA is near major transportation hubs, allowing for faster fulfillment times and lower shipping expenses. Furthermore, the area has a skilled workforce and ample resources, ensuring the efficient handling and processing of your inventory."
}
},
{
"@type": "Question",
"name": "What customized supply chain solutions does FBA Prep Logistics offer?",
"acceptedAnswer": {
"@type": "Answer",
"text": "FBA Prep Logistics provides tailor-made supply chain solutions to cater to the unique requirements of e-commerce businesses. Our team works closely with you to develop customized plans, ensuring optimal results and smooth operations for your FBA business."
}
},
{
"@type": "Question",
"name": "How can FBA Prep Logistics help a small-to-medium-sized e-commerce business?",
"acceptedAnswer": {
"@type": "Answer",
"text": "With our expertise in supply chain management and focus on understanding your business needs, FBA Prep Logistics offers personalized support and resources to help small-to-medium-sized e-commerce businesses grow. Our strategic location, skilled workforce, and customized solutions make us the ideal 3PL partner for your FBA operations."
}
},
{
"@type": "Question",
"name": "What makes FBA Prep Logistics stand out among other 3PL providers?",
"acceptedAnswer": {
"@type": "Answer",
"text": "FBA Prep Logistics distinguishes itself from other 3PL providers with its strategic location, access to well-trained staff, and focus on personalized solutions for each client. Our experienced team understands the complexities of FBA operations and strives to provide the best possible support and services to grow your e-commerce business."
}
}
] }
</script>