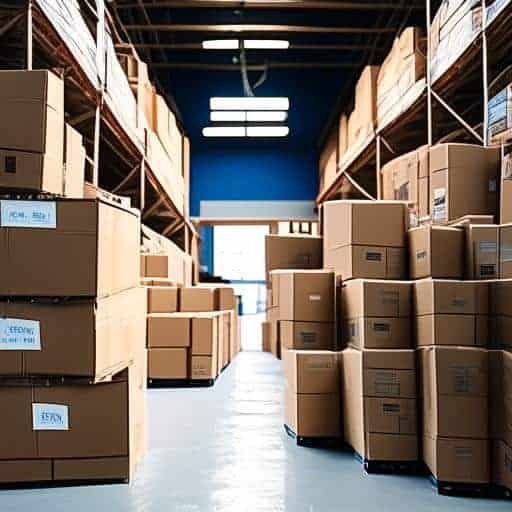 How a Prep Center Can Save Your Amazon Business
Introduction
As an Amazon seller, it's crucial to have an efficient and streamlined supply chain for a successful business. One of the key components to achieving this is outsourcing your inventory management to a reliable prep center like FBA Prep Logistics. In this article, you will gain a comprehensive understanding of prep centers and how they play a significant role in your Amazon supply chain. You will also learn about what makes FBA Prep Logistics an ideal solution for e-commerce businesses of all sizes – especially those that primarily sell on amazon.com.
A Brief Overview of the Importance of a Prep Center for Amazon Sellers
The e-commerce industry, particularly on Amazon, is incredibly competitive. That's why, as an Amazon seller, it's vital to optimize every aspect of your business to stay ahead. A prep center plays a critical role in streamlining your back-end operations, allowing you to focus solely on the growth of your business.
Prep centers are responsible for managing your inventory, packaging and labeling products, processing returns, and ensuring your items are compliant with Amazon's FBA guidelines. This expertise not only ensures a seamless selling experience on Amazon but also protects your business from costly penalties due to non-compliance with Amazon's policies.
Presenting FBA Prep Logistics as an Ideal Solution for E-commerce Businesses
FBA Prep Logistics, a 3PL warehouse located in Bristol, PA, is the ultimate partner for your e-commerce business. Our top priority is to make your inventory management and logistics as smooth as possible. With our experience and dedicated team of experts, FBA Prep Logistics simplifies the entire process for Amazon sellers – from receiving and storing your products to preparing them for shipment to Amazon's fulfillment centers.
You'll find that by entrusting your inventory management to FBA Prep Logistics, you'll not only save time and money, but also ensure the success and scalability of your Amazon business. In the sections that follow, we'll dive deeper into what sets FBA Prep Logistics apart from other prep centers and the various benefits you can expect from our partnership.
2. Understanding Prep Centers
2.1 Defining Prep Centers and Their Role in the Amazon Supply Chain
A prep center is a specialized third-party logistics (3PL) company that helps Amazon sellers with the process of preparing and shipping inventory to Amazon's Fulfillment Centers. These organizations play a crucial role in the Amazon supply chain by ensuring that products are accurately sorted, packaged, labeled, and shipped according to Amazon's strict guidelines. As sellers continue to focus on growing their businesses and expanding their product offerings, more demands are placed on their time and resources. That's where a service like FBA Prep Logistics can make a significant impact.
2.2 How FBA Prep Logistics Simplifies the Process for Sellers
FBA Prep Logistics not only offers simplified solutions to product preparation but also streamlines the entire supply chain experience for e-commerce businesses, particularly those specializing in Amazon sales. Here's a breakdown of how our prep center Amazon services can make things easier for sellers:
Product Receiving: Our secure facility offers a centralized location for sellers to send their inventory directly from manufacturers or suppliers. This eliminates the complexity of the logistics process and ensures a much more organized stock management experience.

Quality Control Inspections: We provide thorough inspections of your inventory to identify potential defects or damages before the items are sent to Amazon Fulfillment Centers. This helps prevent poor customer reviews and potential penalties arising from non-compliant items.

Product Preparation: Our expert team stays up-to-date with Amazon's ever-changing prep guidelines to ensure your products are accurately sorted, packaged, and labeled according to Amazon requirements. This reduces the risk of non-compliance and the potential for costly mistakes.
Inventory Storage: FBA Prep Logistics can safely store your inventory within our facility and coordinate the right time to ship it to Amazon's Fulfillment Centers. This ensures that sellers don't have to worry about arranging suitable storage or coordinating shipments themselves.

Shipping Coordination: We work closely with freight partners and Amazon to ensure your inventory is shipped efficiently, saving you time, effort, and shipping costs. Our state-of-the-art Amazon Prep Center streamlines this process even further by ensuring your shipments are organized and delivered according to Amazon's guidelines.
FBA Prep Logistics aims to simplify and optimize the entire Amazon inventory management process, providing a seamless experience for sellers as they continue to grow their e-commerce businesses.
2.3 Why Prep Centers are Essential for Amazon Sellers
Highly efficient Amazon prep centers like FBA Prep Logistics are becoming increasingly important within the e-commerce space. There are several reasons for this:
Increases Scalability: As a business grows, so do its inventory management and logistical demands. Partnering with a prep center Amazon service allows businesses to scale up their operations without being hindered by the complexities of managing their logistics.

Error Minimization: An experienced Amazon prep service knows how to prepare products to comply with Amazon's guidelines, which helps reduce errors that could result in costly penalties, negative customer feedback, and frustration.

Time Savings: Delegating e-commerce logistics to a dedicated team of experts gives sellers more time to focus on growing and expanding their businesses. It results in a massive reduction in time spent on tedious logistical tasks and frees sellers up to concentrate on areas that will generate a more substantial return on their investment.
Cost Reduction: Efficient logistics management can result in cost savings through more efficient inventory storage and organization, reduced wastage, and faster fulfillment.

Focus on Core Business Activities: Outsourcing the supply chain responsibilities to a specialized Amazon prep center services provider, like FBA Prep Logistics, enables Amazon sellers to focus on core activities like product research, marketing, and customer service.
In conclusion, an efficient Amazon prep center, like FBA Prep Logistics, can be a game-changer for your e-commerce business. It helps to simplify and optimize inventory management and logistics, allowing you to save time and effort, reduce costs, and enhance the overall performance of your Amazon store. Don't let the complexities of supply chain management hold your business back – partner with FBA Prep Logistics for a seamless Amazon selling experience.
3. Benefits of Using FBA Prep Logistics:
3.1. Time and Cost Savings Through Efficient Handling and Storage
As an online business owner, you probably understand the importance of time management and reducing costs. Our Prep Center Amazon services at FBA Prep Logistics are designed to save you both time and money. We achieve this through efficient handling and storage of your inventory. Our team of professionals are adept at receiving, inspecting, and prepping your products to meet Amazon's FBA requirements and your e-commerce business's needs.
By outsourcing these tasks to FBA Prep Logistics, you free up valuable time, allowing you to focus on other essential elements like marketing, customer service, and driving sales. When it comes to costs, we save you money through reduced labor, packaging materials, and warehouse overheads, thanks to our streamlined operations and economies of scale. You'll find that the money saved in using our services contributes significantly to your long-term growth and profitability.
3.2. Professional Quality Control and Enhanced Packaging Services
One of the main reasons to choose FBA Prep Logistics as your Prep Center Amazon solution is our commitment to professional quality control and packaging services. Our team of experts thoroughly inspects every product to ensure they meet Amazon's FBA rules as well as your specific requirements. We understand how vital top-quality packaging is to protect your products and prevent returns due to damages during shipment. The added layer of quality control reduces the risk of sending out damaged or incorrect products and the likelihood of facing negative customer reviews.
Moreover, our experienced packaging team makes sure that your items are securely packed and properly labeled, meeting the brand guidelines. This not only promotes a positive customer experience but also increases your brand's reputation and trust among buyers. When you partner with FBA Prep Logistics, you can rest assured that your products will be expertly prepared to meet the highest quality standards.
3.3. Simplified Inventory Management and Streamlined Logistics
Managing inventory, particularly for growing e-commerce businesses, can be challenging and time-consuming. With FBA Prep Logistics, you can simplify your Amazon inventory management process. Our user-friendly, centralized system allows you to monitor your stock levels, sales, and shipments all in one place. This makes inventory tracking more accessible and accurate, helping you prevent stockouts, overstocking, and other costly mistakes.
In addition to simplifying inventory management, we streamline your logistics by offering end-to-end solutions. Our logistics team handles everything from receiving shipments from your suppliers to delivering them to Amazon fulfillment centers. This interconnected and streamlined approach eliminates the need for multiple service providers, reducing costs and potential delays in the process.
3.4. Expertise in Managing Returns and Reverse Logistics
The Amazon return process can be daunting for sellers. With FBA Prep Logistics, you don't have to worry about managing product returns. Our experienced team is skilled in handling reverse logistics and processing returned items efficiently. This includes inspecting returned products, identifying the reason for the return, and determining whether they can be resold or require repackaging. This expertise helps improve your refund rate and minimizes potential loss from handling returns, giving you peace of mind and contributing to your bottom line.
3.5. Global Reach With Local Support
When you choose FBA Prep Logistics as your go-to Prep Center Amazon, you not only benefit from our time and cost savings, but you also get the advantage of our global network and local support. With Efficient PA Order Fulfillment Services for Your E-commerce Store and 3 Benefits of E-commerce Fulfillment on the East Coast, we can cater to a wide range of sellers across various locations. Our customer-focused approach ensures that you get personalized and attentive service tailored to your specific needs.
In conclusion, choosing FBA Prep Logistics as your Prep Center Amazon partner can lead to significant time and cost savings, improved customer satisfaction, and a more streamlined, efficient business model. Our top-quality services, expertise in compliance, and customer-centric approach make us the ideal choice for Amazon sellers looking to take their businesses to new heights.
4. FBA Prep Logistics and Amazon Compliance
Ensuring compliance with Amazon's FBA requirements is essential for sellers because failure to meet the specified guidelines can result in costly penalties, delayed shipments, and a poor customer experience. In this section, we will discuss how FBA Prep Logistics helps sell on Amazon by adhering to the necessary guidelines and ensuring compliance with Amazon's policies.
4.1 Staying Updated with Amazon's Policies
Amazon has strict policies in place to guarantee a seamless fulfillment process for the millions of third-party sellers using its platform. These requirements evolve over time, and it is vital for sellers to adapt to these changes. FBA Prep Logistics stays updated on all the latest changes in Amazon's requirements and adopts best practices to ensure your products are processed, packaged, and shipped according to the latest specifications.
4.2 Labeling and Barcoding
Correctly labeling your products is essential since non-compliance can lead to shipments being rejected or destroyed. FBA Prep Logistics has a team of experts who ensure your products are accurately labeled, including scannable barcodes, labels for expiration dates, and suffocation warnings. Our team also takes care of label placement according to the Amazon FBA requirements, ensuring every shipment is compliant.
4.3 Condition and Packaging Guidelines
Amazon has specific guidelines regarding the condition of products that can be sold on its platform. Damaged, expired, or otherwise unsellable items may result in account suspension or penalties. FBA Prep Logistics conducts thorough inspections of all products received from suppliers to ensure they are in perfect condition before being sent to Amazon fulfillment centers.
Packaging is another critical aspect of compliance, as it ensures both product protection and seamless processing within Amazon warehouses. FBA Prep Logistics provides professional packaging services tailored to meet Amazon's packaging guidelines. Our experienced team ensures items are packed securely and efficiently, while also adhering to Amazon's rules on poly bags, boxes, and packaging materials.
4.4 Hazardous Materials and Restricted Products
Amazon has a list of prohibited or restricted products that are not permitted for sale on their platform. FBA Prep Logistics thoroughly checks each shipment to ensure none of these restricted items are sent to Amazon's fulfillment centers, thus preventing potential penalties or account suspension. Additionally, our team is trained to handle and package hazardous materials according to Amazon's guidelines, ensuring compliance and safety.
4.5 Managing Returns and Reverse Logistics
Amazon's return policy is vital for ensuring a positive customer experience. Sellers must effectively manage the reverse logistics process to maintain high reputations and avoid penalties. FBA Prep Logistics offers comprehensive Amazon reverse logistics solutions to handle returns, refunds, and exchanges, making it easier for sellers to maintain compliance and focus on growing their businesses.
4.6 Amazon Storage Limitations and Inventory Management
Inventory management is crucial for sellers to operate efficiently and cost-effectively on Amazon. With Amazon imposing storage limitations, it becomes more important for sellers to efficiently manage their inventory. FBA Prep Logistics offers advanced inventory tracking and storage solutions designed to comply with Amazon's requirements. Our team works closely with sellers to optimize stock levels, reduce storage fees, and avoid long-term storage penalties.
4.7 Conclusion
FBA Prep Logistics is committed to ensuring seamless Amazon compliance for sellers, offering a range of services designed to streamline operations and safeguard against costly penalties. From labeling to packaging, managing returns, and inventory management, our team of experts keeps sellers' businesses in line with Amazon guidelines, promoting success and growth. Don't leave your seller reputation to chance, trust FBA Prep Logistics to manage your Amazon compliance and help you achieve a successful e-commerce business.
Getting Started with FBA Prep Logistics
If you're an Amazon seller looking to improve your supply chain management and boost your success on the platform, FBA Prep Logistics is the ideal partner for you. In this section, we'll show you how easy it is to onboard with us, the level of customer support you can expect, and the tailored solutions suitable for different e-commerce businesses. So, let's take you through the simple steps to get started with FBA Prep Logistics, the ultimate prep center Amazon sellers need!
Step 1: Onboarding Process
At FBA Prep Logistics, we understand that taking the plunge and outsourcing an essential aspect of your Amazon business might seem daunting at first. This is why we've made our onboarding process straightforward and user-friendly. To begin, you need to create an account on our platform by providing some essential details about your business. Next, you'll gain access to your personalized dashboard, where you can monitor your inventory and track your shipments in real-time.
Step 2: Connecting Your Amazon Seller Account
Our service is designed to provide seamless integration with your Amazon seller account. To benefit from this intuitive connection, you'll need to authorize FBA Prep Logistics as a provider on the Amazon Marketplace Web Service (MWS) portal. This integration process is easy and secured, allowing for streamlined logistics and ensuring seamless inventory updates.
Step 3: Sending Your Inventory to FBA Prep Logistics
Once you've connected your FBA seller account, you'll need to ship your products to our warehouse located in Bristol, PA. It's essential to provide us with comprehensive details of your shipment, so there's no room for errors. Our facility ensures efficient handling, storage, and processing of your inventory, thanks to our e-commerce logistics services.
Step 4: Customized Solutions & Services
We know that every e-commerce business is unique, which is why we offer tailored solutions for the needs of your specific industry. Whether you sell electronics, apparel, or home goods, we have experience in handling a wide variety of product categories. Furthermore, FBA Prep Logistics provides services such as professional quality control, enhanced packaging, and labeling according to Amazon guidelines. With us, you'll have personalized support tailored to your business requirements.
Step 5: Ongoing Support and Assistance
Our partnership doesn't end once your inventory has reached our warehouse. We offer robust customer support to ensure your ongoing success as an Amazon seller. Whether you have questions about inventory management or need assistance with a specific logistical issue, our team of experts is here to help. We understand that our success is tied to yours, which is why we are committed to providing personalized, ongoing support.
Step 6: Scaling Your Business with Confidence
By partnering with FBA Prep Logistics as your prep center Amazon vendor, you can focus on growing your business without worrying about the nitty-gritty details of inventory management and logistics. Our streamlined solutions save you time and money and help you overcome common hurdles that hinder your e-commerce business's scalability.
Choose FBA Prep Logistics as Your Amazon Prep Center
Now that you've learned how easy it is to get started with FBA Prep Logistics, there's no reason to wait any longer. Our full-service solution facilitates your Amazon selling journey and takes the headache out of supply chain management. From efficient handling and storage to maintaining Amazon compliance and providing top-notch customer support, FBA Prep Logistics is the ultimate partner to save your Amazon business. So, get in touch with our team and simplify your Amazon selling experience today!
Frequently Asked Questions</h2>
<ol>
<li><strong>What exactly is a prep center, and how does FBA Prep Logistics fit into this category?</strong><br>
A prep center is a third-party service provider that handles the logistics and preparation involved in shipping your products to Amazon fulfillment centers. FBA Prep Logistics is a specialized 3PL warehouse that offers complete prep services for Amazon sellers, ensuring products are efficiently handled, packaged, and shipped.</li>
<li><strong>How can using FBA Prep Logistics save my Amazon business money and time?</strong><br>
FBA Prep Logistics provides professional quality control, cost-effective storage solutions, and a seamless logistics process to Amazon sellers. By leveraging these services, you can focus more on growing your business and less on managing storage and shipping, ultimately saving time and resources.</li>
<li><strong>What quality control and packaging services does FBA Prep Logistics offer?</strong><br>
At FBA Prep Logistics, we have a team of experts dedicated to ensuring your products meet Amazon's stringent requirements. Our services include thorough inspections, repackaging, labeling, and kitting, all performed with precision and professionalism to protect your business from any compliance issues or penalties.</li>
<li><strong>How does FBA Prep Logistics help me maintain compliance with Amazon's FBA requirements?</strong><br>
We stay up-to-date with Amazon's ever-changing guidelines and requirements. Our team handles all aspects of compliance, including labeling, packaging, and shipping, ensuring that your products meet Amazon's FBA standards, reducing the chances of delays, penalties, and account suspensions.</li>
<li><strong>How can I start using FBA Prep Logistics to manage my Amazon inventory?</strong><br>
Getting started with FBA Prep Logistics is simple! Our user-friendly onboarding process and dedicated customer support make it easy for e-commerce businesses of all sizes to entrust us with their Amazon inventory management. Contact us today to begin a partnership that will help boost your Amazon business success.</li>
</ol>
<script type="application/ld+json">
{
"@context": "https://schema.org",
"@type": "FAQPage",
"mainEntity": [{
"@type": "Question",
"name": "What exactly is a prep center, and how does FBA Prep Logistics fit into this category?",
"acceptedAnswer": {
"@type": "Answer",
"text": "A prep center is a third-party service provider that handles the logistics and preparation involved in shipping your products to Amazon fulfillment centers. FBA Prep Logistics is a specialized 3PL warehouse that offers complete prep services for Amazon sellers, ensuring products are efficiently handled, packaged, and shipped."
}
}, {
"@type": "Question",
"name": "How can using FBA Prep Logistics save my Amazon business money and time?",
"acceptedAnswer": {
"@type": "Answer",
"text": "FBA Prep Logistics provides professional quality control, cost-effective storage solutions, and a seamless logistics process to Amazon sellers. By leveraging these services, you can focus more on growing your business and less on managing storage and shipping, ultimately saving time and resources."
}
}, {
"@type": "Question",
"name": "What quality control and packaging services does FBA Prep Logistics offer?",
"acceptedAnswer": {
"@type": "Answer",
"text": "At FBA Prep Logistics, we have a team of experts dedicated to ensuring your products meet Amazon's stringent requirements. Our services include thorough inspections, repackaging, labeling, and kitting, all performed with precision and professionalism to protect your business from any compliance issues or penalties."
}
}, {
"@type": "Question",
"name": "How does FBA Prep Logistics help me maintain compliance with Amazon's FBA requirements?",
"acceptedAnswer": {
"@type": "Answer",
"text": "We stay up-to-date with Amazon's ever-changing guidelines and requirements. Our team handles all aspects of compliance, including labeling, packaging, and shipping, ensuring that your products meet Amazon's FBA standards, reducing the chances of delays, penalties, and account suspensions."
}
}, {
"@type": "Question",
"name": "How can I start using FBA Prep Logistics to manage my Amazon inventory?",
"acceptedAnswer": {
"@type": "Answer",
"text": "Getting started with FBA Prep Logistics is simple! Our user-friendly onboarding process and dedicated customer support make it easy for e-commerce businesses of all sizes to entrust us with their Amazon inventory management. Contact us today to begin a partnership that will help boost your Amazon business success."
}
}] }
</script>