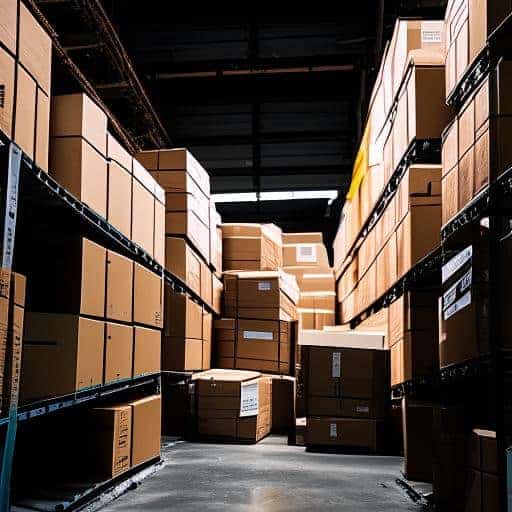 Introduction to 3PLs and Toronto's Booming E-commerce Market
Welcome to the world of e-commerce! Toronto, a bustling and rapidly growing city, has become a hub for e-commerce businesses that cater to customers both locally and internationally. The industry has experienced exponential growth in recent years, and an essential factor in this success story is the collaboration with third-party logistics providers, or 3PLs, like FBA Prep Logistics. In this article, we'll delve into how partnering with a 3PL Toronto-based company like FBA Prep Logistics can take your e-commerce business to new heights.
Toronto's E-commerce Explosion
The e-commerce landscape in Toronto is flourishing. As more and more entrepreneurs recognize the potential in online retail, the industry has become a vital part of the city's economy. As a result, customers can now enjoy a diverse range of products and services at their fingertips, which has elevated the quality of shopping experiences overall.
Besides, the rapidly growing customer base and easy access to customers in the United States have further propelled the success of Toronto-based e-commerce businesses. With such fierce competition, it's more important than ever to choose the right partners for your business.
The Role of a 3PL in an E-commerce Business
Managing an e-commerce business can be a complex endeavor, especially when it comes to logistics. Order fulfillment, inventory management, shipping, returns, and many other aspects can all consume significant time and resources. This is where 3PLs come in. By working with a dependable 3PL provider, your business can focus on what it does best—selling fantastic products and services—while leaving the logistical heavy lifting to the experts.
Why Choose FBA Prep Logistics as Your 3PL Partner?
FBA Prep Logistics specializes in providing top-notch logistics and warehouse management services, with a keen understanding of e-commerce businesses' unique needs. As a Toronto-based 3PL, we offer a strategic location that enables shorter transit times and cost-efficient shipping solutions, allowing your e-commerce business to thrive.
Our purpose-built facilities are fully equipped to handle all aspects of order fulfillment, product preparation, and storage, all with the objective of ensuring your customers receive their orders quickly and in optimal condition. Partnering with a local 3PL Toronto like FBA Prep Logistics also means you'll benefit from the local expertise and dedicated support to overcome any challenges you may face in the ever-evolving e-commerce landscape.
In the following sections, we'll discuss the benefits of partnering with FBA Prep Logistics further, addressing how our tailored solutions, expertise in Amazon FBA and supply chain management, and commitment to security and compliance can elevate your e-commerce business in the Toronto market. So, let's dive in!
2. The Benefits of Partnering with FBA Prep Logistics, a Toronto-Based 3PL
Gone are the days when you had to face multiple challenges to streamline your supply chain management. By partnering up with FBA Prep Logistics, a leading 3PL in Toronto, your e-commerce business will open the doors to an array of new opportunities. Here are some compelling reasons why FBA Prep Logistics is the perfect choice for your Toronto-based e-commerce business:
2.1 Strategic Location
Location plays a critical role in efficient supply chain management, and FBA Prep Logistics is well-aware of this necessity. As a top-tier 3PL in Toronto, our facilities are strategically located to cater to the booming e-commerce market in the city and beyond. By being close to major transportation hubs and distribution centers, we ensure quick and efficient shipping to Amazon fulfillment centers, thus meeting their strict guidelines.
2.2 Cost Efficiency
Operating a business can be expensive, especially for small and mid-sized e-commerce ventures. With our expertise in 3PL Toronto, not only do we save you the time and effort of managing logistics, but we also help trim down your operational costs. We achieve this through our streamlined processes, volume discounts, and reduced warehouse storage expenses, which all help boost your profit margins.
2.3 State-of-the-Art Technology
Fostering innovation is a core value at FBA Prep Logistics. We continually invest in the latest technology to bring robust solutions to our clients. To simplify inventory tracking, order management, and timely order fulfillment, we provide a cutting-edge software platform that seamlessly integrates with your existing business systems. These technological advancements ensure a user-friendly experience for both you and your customers.
2.4 Fast Shipping Times and Excellent Customer Service
As an e-commerce business, maintaining a high level of customer satisfaction is crucial to success. At FBA Prep Logistics, we pride ourselves on speedy delivery times through our efficient pick-and-pack services. By utilizing our 3PL expertise, you can offer your customers a memorable shopping experience with timely deliveries, proactive communication, and minimal order errors.
2.5 Expertise in International Shipping
At FBA Prep Logistics, we recognize the importance of global reach for any e-commerce business. Our team of experts provides seamless international shipping solutions to help your business conquer new markets. Our knowledge of customs regulations and international shipping requirements enables us to provide a hassle-free experience for your expansion.
2.6 Transparent Pricing
Worried about hidden charges and complex fee structures? Look no further! FBA Prep Logistics embraces a transparent pricing policy that ensures you understand the costs associated with our services. Our adaptable pricing allows you to scale your business without the worry of unexpected fees.
2.7 Dedicated Account Management
As your business grows, so does the complexity of your logistics needs. At FBA Prep Logistics, we assign a dedicated account manager to each client, providing personalized support and assistance. They work closely with you to ensure a seamless, hassle-free logistic experience tailored to your business goals.
2.8 Warehouse and Order Fulfillment Flexibility
Toronto e-commerce businesses have different requirements when it comes to storage and order fulfillment. FBA Prep Logistics offers customized warehouse solutions to accommodate varying inventory sizes and turnover rates. With our dedicated team and flexible storage options, we can quickly adapt to your changing business needs.
2.9 Advanced Data Analytics and Reporting
In this competitive market, access to accurate data is paramount for making informed decisions. FBA Prep Logistics provides advanced analytics and reporting tools that give you valuable insights into your inventory and order fulfilment processes. By harnessing this data, you can optimize your supply chain operations and streamline your business growth.
2.10 Sustainability and Eco-Friendly Solutions
Incorporating sustainable practices is not only important for the environment but also positively impacts your brand's image. FBA Prep Logistics is committed to providing eco-friendly solutions in all our processes, from warehouse management to shipping materials.
Partnering with FBA Prep Logistics, a top-notch 3PL in Toronto, brings undeniable benefits to your e-commerce business. Our strategic location, cost-efficient processes, fast shipping times, and personalized services make us the ideal choice for Toronto-based sellers. Choose FBA Prep Logistics as your 3PL partner and witness your e-commerce venture reach new heights of success.
3. Customized and Scalable Solutions for Your E-commerce Business
The world of e-commerce never stops growing, and neither should your business. At FBA Prep Logistics, a 3PL Toronto provider, we understand that flexibility is crucial for an e-commerce store's ongoing success. That's why we offer a range of solutions that can be adapted to your unique needs, from inventory management all the way to shipping options. Let's delve deeper into these customized and scalable solutions for your e-commerce business.
3.1 Personalized Inventory Management Services
A well-organized warehouse is key to a thriving e-commerce business. FBA Prep Logistics offers a suite of inventory management services designed to keep your operations running smoothly. Whether you have a small store or a booming enterprise, our system is designed to accommodate your growing inventory needs. Our services include:
Real-time visibility of your inventory levels
Integration with various e-commerce platforms, including Amazon and Shopify
Accurate forecasting for better stock replenishment
Efficient inventory tracking on Shopify[/2153/simplify-inventory-tracking-on-shopify/]
3.2 Adaptable Order Fulfillment Solutions
As a 3PL Toronto provider, FBA Prep Logistics understands that shipping is an essential part of the customer journey. Our customized order fulfillment services can cater to your specific requirements, helping you streamline all aspects of your shipping process. Some notable features include:
Quick and accurate order processing
Custom-branded packaging options
Expedited shipping for Amazon Prime customers
Variety of shipping options to suit different budgets and delivery timelines
3.3 Comprehensive E-commerce Returns Management
E-commerce returns are a natural part of doing business online, but they don't have to be a headache. FBA Prep Logistics offers hassle-free returns management across the board, including Shopify Returns in NJ[/2149/hassle-free-shopify-returns-in-nj/]. This service allows you to offer your customers a convenient returns process while minimizing your own operational stress. Our returns management system includes:
Seamless coordination with your e-commerce platform
Thorough inspection of returned items
Processing of refunds or exchanges in a timely manner
Streamlined restocking of returned items
3.4 Pick and Pack Services Tailored to Your Business Needs
An efficient pick and pack service ensures that your products reach customers in perfect condition and on time. At FBA Prep Logistics, we put a premium on providing reliable pick and pack services for Shopify Stores in NJ[/2167/how-amazon-fba-prep-services-can-help-you-scale-your-business/], resulting in satisfied returning customers and better profit margins. Our personalized pick and pack process includes:
Secure and organized item handling
Automation technology for faster order processing
Quality control checks prior to shipment
Various shipping options for flexibility and speed
3.5 Warehousing and Storage Solutions That Scale with Your Business
Growth is the ultimate goal of every e-commerce business, and FBA Prep Logistics can help you make that happen. Our Amazon FBA Warehouses in NJ offer scalable warehousing and storage solutions to accommodate changes in your inventory levels. As your business develops, we have the space and resources necessary to store, manage, and ship an increasing number of products. Our facilities are:
Easily accessible to major transportation hubs
Built with advanced security systems and climate control
Designed to optimize the storage process and minimize loss or damage
3.6 Expertise in E-commerce Technology Integration
At FBA Prep Logistics, we understand the importance of having a streamlined workflow for Amazon sellers in Pennsylvania[/2165/how-to-integrate-technology-into-your-amazon-seller-workflow-in-pennsylvania-5/]. Our e-commerce technology integration capabilities will help you automate and simplify your shipping and logistics processes, making it easier to focus on growing your business.
Seamless connection with Amazon, Shopify, and other e-commerce platforms
Integration with advanced inventory and order management systems
Advanced reporting and analytics tools to monitor your business performance
In summary, FBA Prep Logistics is committed to providing tailored and scalable solutions that address your e-commerce business's specific needs. Our range of services includes personalized inventory management, adaptable order fulfillment, comprehensive returns management, and robust warehousing and storage solutions that grow with your business. By choosing FBA Prep Logistics as your 3PL Toronto partner, you can focus on what truly matters: growing and nurturing your e-commerce store in an ever-changing market.
Expertise in Amazon FBA and Supply Chain Management
Toronto e-commerce businesses looking for the perfect 3PL partner should undoubtedly consider FBA Prep Logistics. Our expertise in Amazon FBA (Fulfillment by Amazon) and supply chain management makes us the ideal choice for helping your business thrive in this competitive industry. Here, we will discuss how our proficiency in these areas can benefit your company and why your choice of 3PL is crucial.
Navigating Amazon FBA Requirements
When it comes to selling on Amazon, FBA Prep Logistics understands what is needed to ace the game. Our team is well-versed in Amazon's specific requirements and guidelines, and we work diligently to ensure compliance when handling your inventory.
Accurate FBA Prep Services
As a 3PL Toronto provider, we take the utmost care in preparing and packaging your products. Ensuring your products are correctly prepped, labeled, and packaged according to Amazon FBA requirements is essential for seamless movement through the Amazon fulfillment network. Avoiding delays, costly penalties, and poor customer reviews is crucial for achieving success on Amazon.
Amazon FBA Labeling Services
Proper labeling is essential for efficient warehouse management and successful product listings. It allows your items to be easily identified during various stages in the fulfillment process. Our team provides accurate labeling services, which include SKU and FNSKU labeling, suffocation warning labels, and expiration date labeling to ensure compliance with Amazon's guidelines.
Account Suspension Prevention
Failure to adhere to Amazon's guidelines can result in account suspension, negatively impacting your sales performance. Our expertise and strict protocols help mitigate the risk of suspension, ensuring that your products are handled and prepped according to Amazon's strict requirements.
Comprehensive Supply Chain Management
Our team at FBA Prep Logistics will work with you to develop a tailored strategy, effectively managing every aspect of your supply chain – from receiving goods and inventory management, to order fulfillment and transportation.
Inventory Management
Efficient inventory management is essential for avoiding stock-outs and delighting your customers with consistently available products. Our advanced technological systems sync with multiple e-commerce platforms, allowing continuous monitoring and tracking of your inventory levels in real-time.
Streamlined Order Fulfillment
Our state-of-the-art warehousing facility is designed to handle a diverse range of products, ensuring organized and efficient order fulfillment. With a hands-on approach to order processing, pick-and-pack services, and consolidated shipping, our team is committed to delivering prompt and accurate order fulfilment every time.
Transportation Solutions
FBA Prep Logistics takes care of your shipping needs as well. Our close connections with various transportation providers enable us to offer cost-effective and efficient shipping options to suit your unique business requirements. By leveraging our industry partnerships, we can negotiate better rates, resulting in significant cost savings for your business.
Reverse Logistics Management
Product returns are an unavoidable part of e-commerce. But fret not – FBA Prep Logistics offers hassle-free returns management services, minimizing the impact on your business. Our team will handle product inspection, repackaging, and restocking, so you can focus on keeping your customers happy and growing your business.
Transparent Reporting and Analytics
Our technologically advanced reporting and analytics systems provide real-time insights into your business operations, offering valuable information to help you make informed decisions. You'll have access to inventory levels, order details, and other vital data – all accessible through an easy-to-use dashboard.
Top-Notch Customer Service
At FBA Prep Logistics, we believe in forging lasting relationships with our clients. Our dedicated customer service team is always available to address any questions, provide support, and ensure a seamless experience throughout your journey with us.
To sum it up, our expertise in Amazon FBA and supply chain management sets FBA Prep Logistics apart as the best 3PL Toronto option for e-commerce businesses. With an emphasis on compliance, efficiency, and customer satisfaction, our partnership will help your business thrive in the competitive Amazon marketplace. So, why wait? Make the smart choice and trust FBA Prep Logistics with your e-commerce operations.
Keeping Your E-commerce Business Secure and Compliant
As a professional 3PL Toronto, FBA Prep Logistics understands the importance of providing a secure and compliant environment for e-commerce businesses. This section outlines how FBA Prep Logistics ensures your business remains secure, compliant, and efficient, while also giving you peace of mind.
An Emphasis on Security
With an increasing number of online threats targeting the e-commerce industry, security has become a top priority for businesses. The following are some ways FBA Prep Logistics keeps your inventory and sensitive data protected:
1. Secure Warehouse Facilities
FBA Prep Logistics' warehouses are carefully designed to protect your valuable products. Whether it's preventing theft, damage, or environmental hazards, measures are always in place to ensure optimum security and safety.
2. Advanced Surveillance Systems
To monitor our facilities, FBA Prep Logistics employs state-of-the-art surveillance systems. This includes high-definition CCTV cameras and 24/7 security personnel, ensuring a watchful eye is always on your inventory.
3. Data Privacy and Protection
Personal and financial data are essential to manage and grow your e-commerce business. FBA Prep Logistics maintains strict data privacy measures to ensure the protection of sensitive information from unauthorized access or data breaches.
Staying Compliant with Industry Regulations
Compliance with industry standards and regulations is an essential aspect of any successful e-commerce business. FBA Prep Logistics constantly updates and implements new policies to keep your business compliant and minimize potential risks.
1. Adherence to Amazon FBA Guidelines
Staying compliant with Amazon FBA requirements is crucial to avoid penalties and maintain a healthy seller account. FBA Prep Logistics is well-versed in Amazon's guidelines and works diligently to ensure your shipments adhere to their specific regulations.
2. Environmental and Hazardous Materials Compliance
FBA Prep Logistics is conscious of its environmental impact and constantly upgrades its practices to minimize waste and resources consumption. They also ensure proper storage, handling, and disposal of hazardous materials as per government mandates.
3. Safety and Health Standards
The health and safety of warehouse employees are paramount in a smooth-running operation. FBA Prep Logistics adheres to all regulations and safety measures, such as providing appropriate training, safety gear, and maintaining excellent working conditions.
Continuous Quality Control for Customer Satisfaction
Fulfilling customer expectations can lead to increased sales, positive reviews, and loyal customers. FBA Prep Logistics achieves this by maintaining strict quality control procedures, which ensures the following aspects:
1. Accurate Order Picking
Accurate order picking helps eliminate discrepancies, wrong items sent, and customer dissatisfaction. FBA Prep Logistics has efficient picking processes in place, allowing businesses to separate themselves from the competition by providing top-notch service.
2. Detailed Inspections and Returns Management
 
FBA Prep Logistics performs meticulous inspections to ensure products are in perfect condition before shipping. Besides, they streamline the returns process, making it easy and hassle-free for customers.
3. Seamless Shipping and Order Tracking
A sophisticated order tracking system is provided by FBA Prep Logistics through integrations with various carriers, ensuring customers can trace their package in real-time, making order management for your e-commerce business efficient.
In conclusion, FBA Prep Logistics is devoted to keeping your e-commerce business secure and compliant while focusing on customer satisfaction. By partnering with a reliable 3PL Toronto provider like FBA Prep Logistics, you can be confident in the success and growth of your online business, as well as see improvements in your supply chain. So, why wait? Give your e-commerce business the competitive edge it deserves with the exceptional services offered by FBA Prep Logistics!
Frequently Asked Questions (FAQs)</h2>
<ul>
<li><b>What benefits does FBA Prep Logistics offer for Toronto e-commerce businesses compared to other 3PLs?</b>
<br>
FBA Prep Logistics specializes in Amazon FBA requirements, meeting the unique needs of Toronto e-commerce businesses. Some of the specific benefits include strategic location in Toronto, cost efficiency, fast delivery times, customized and scalable solutions, expertise in supply chain management, and a commitment to security and compliance.
</li>
<li><b>How will the strategic location of FBA Prep Logistics in Toronto benefit my e-commerce business?</b>
<br>
Being located in the heart of Toronto enables FBA Prep Logistics to provide faster delivery times to your customers, ensuring a better customer experience. Additionally, it allows for efficient inventory management and shipping options tailored specifically to your business needs.
</li>
<li><b>How does FBA Prep Logistics adapt their services to different business sizes?</b>
<br>
FBA Prep Logistics offers customized and scalable solutions, including personalized inventory management and shipping options, to cater to the unique requirements of e-commerce stores of all sizes. This ensures your business receives optimal support, regardless of its size.
</li>
<li><b>How does FBA Prep Logistics help with Amazon FBA and supply chain management?</b>
<br>
FBA Prep Logistics is an expert in the Amazon FBA process, allowing your Toronto-based e-commerce business to efficiently manage inventory, shipping, and fulfillment. Their proficiency in supply chain management ensures a seamless experience for your business and its customers.
</li>
<li><b>Is my e-commerce business secure and compliant when using FBA Prep Logistics?</b>
<br>
Yes, FBA Prep Logistics is dedicated to maintaining high-quality standards, secure storage facilities, and adhering to industry regulations. By partnering with them, your e-commerce business benefits from their commitment to security and compliance, ensuring your success in the market.
</li>
</ul>
<script type="application/ld+json">
{
"@context": "https://schema.org",
"@type": "FAQPage",
"mainEntity": [
{
"@type": "Question",
"name": "What benefits does FBA Prep Logistics offer for Toronto e-commerce businesses compared to other 3PLs?",
"acceptedAnswer": {
"@type": "Answer",
"text": "FBA Prep Logistics specializes in Amazon FBA requirements, meeting the unique needs of Toronto e-commerce businesses. Some of the specific benefits include strategic location in Toronto, cost efficiency, fast delivery times, customized and scalable solutions, expertise in supply chain management, and a commitment to security and compliance."
}
},
{
"@type": "Question",
"name": "How will the strategic location of FBA Prep Logistics in Toronto benefit my e-commerce business?",
"acceptedAnswer": {
"@type": "Answer",
"text": "Being located in the heart of Toronto enables FBA Prep Logistics to provide faster delivery times to your customers, ensuring a better customer experience. Additionally, it allows for efficient inventory management and shipping options tailored specifically to your business needs."
}
},
{
"@type": "Question",
"name": "How does FBA Prep Logistics adapt their services to different business sizes?",
"acceptedAnswer": {
"@type": "Answer",
"text": "FBA Prep Logistics offers customized and scalable solutions, including personalized inventory management and shipping options, to cater to the unique requirements of e-commerce stores of all sizes. This ensures your business receives optimal support, regardless of its size."
}
},
{
"@type": "Question",
"name": "How does FBA Prep Logistics help with Amazon FBA and supply chain management?",
"acceptedAnswer": {
"@type": "Answer",
"text": "FBA Prep Logistics is an expert in the Amazon FBA process, allowing your Toronto-based e-commerce business to efficiently manage inventory, shipping, and fulfillment. Their proficiency in supply chain management ensures a seamless experience for your business and its customers."
}
},
{
"@type": "Question",
"name": "Is my e-commerce business secure and compliant when using FBA Prep Logistics?",
"acceptedAnswer": {
"@type": "Answer",
"text": "Yes, FBA Prep Logistics is dedicated to maintaining high-quality standards, secure storage facilities, and adhering to industry regulations. By partnering with them, your e-commerce business benefits from their commitment to security and compliance, ensuring your success in the market."
}
}
] }
</script>