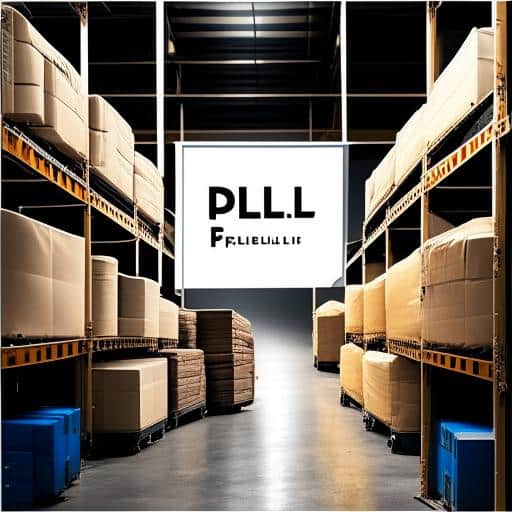 Section 1: Understanding Fulfilment 3PL Services
Every e-commerce business knows that a smooth order fulfillment process plays a vital role in customer satisfaction. This is where fulfilment 3PL (third-party logistics) services come into play. In this section, we'll explore various aspects of fulfilment 3PL services and learn how partnering with FBA Prep Logistics can make this process a breeze for your e-commerce business.
What are Fulfilment 3PL Services?
Third-party logistics (3PL) providers offer a range of services designed to streamline the fulfillment process for e-commerce businesses. These services encompass everything from receiving, storing, and shipping inventory to handling returns and managing customer service. Fulfilment 3PL services can help e-commerce businesses minimize costs, improve efficiency, and ultimately, grow their business.
Key Components of Fulfilment 3PL Services
Fulfilment 3PL services consist of several interconnected processes that ensure a seamless and efficient order fulfillment process. Here's a breakdown of these essential components:
Inventory Management: Fulfilment 3PL providers manage your inventory by keeping track of stock levels, monitoring product expiration dates, and organizing items in the warehouse. Simplify Inventory Tracking on Shopify to keep an eye on your stock levels at all times.

Order Processing: Once an order is placed, the 3PL provider picks the items from the warehouse, packs them securely, and then ships them to the customer. Keep Your Shipments Safe with Our Secure Pick and Pack Service for Shopify Stores in NJ.

Shipping and Delivery: 3PL providers handle the shipping process by selecting the most efficient and cost-effective carrier, negotiating shipping rates, and ensuring timely delivery of orders. Learn about The Benefits of Using Shopify Shipping on the East Coast.
Returns and Refunds: Efficient handling of returns and refunds is critical in maintaining a good reputation and customer satisfaction. Fulfilment 3PL providers take care of this by processing returns, inspecting returned items, and initiating refunds when necessary. See how FBA Prep Logistics offers Hassle-free Shopify Returns in NJ.

Customer Service: A good 3PL provider will have a dedicated customer service team to address any issues or concerns related to order fulfillment. They'll help resolve customer queries, handle complaints, and ensure your customers are satisfied with their shopping experience.
FBA Prep Logistics: Your Ultimate Fulfilment 3PL Solution
Partnering with FBA Prep Logistics can eliminate the stress and hassle of managing these complex tasks on your own. With our expertise and experience in handling Amazon FBA requirements and guidelines, we can ensure that your e-commerce business operates smoothly and efficiently.
Benefits of Partnering with FBA Prep Logistics
Here's why choosing FBA Prep Logistics as your fulfilment 3PL provider is a wise decision:
Amazon FBA Expertise: As a specialist in Amazon FBA requirements, FBA Prep Logistics handles everything from receiving inventory, preparing items for shipment, and managing returns. This ensures that your products reach your customers on time and in perfect condition. See How Amazon FBA Prep Services Can Help You Scale Your Business.

Flexible and Scalable Solutions: We offer customizable solutions to suit your e-commerce business's unique needs and size. Whether you're a small start-up or a large enterprise, FBA Prep Logistics can adjust our services to meet your demands.

Data-driven Inventory Management: Our smart inventory management tools provide accurate forecasting and optimization of your stock levels. This helps prevent stock-outs and overstock situations, ensuring a smooth order fulfillment process.
Efficient and Cost-effective Shipping: FBA Prep Logistics uses advanced shipping optimization algorithms to find the best carrier and shipping method for each order, leading to reduced shipping costs and faster delivery times.

Exceptional Customer Support: Our dedicated customer service team is available to answer any questions and resolve issues related to order fulfillment. This ensures a positive shopping experience for your customers and keeps them coming back for more.
In conclusion, partnering with a reliable fulfilment 3PL provider like FBA Prep Logistics can dramatically improve your e-commerce business's efficiency, reduce costs, and ensure customer satisfaction. By trusting us with your order fulfillment processes, you are free to focus on growing your business and staying ahead of the competition. Consider partnering with FBA Prep Logistics for your e-commerce business today and experience the benefits firsthand.
Section 2: Why Choose FBA Prep Logistics for Your E-Commerce Business
In the bustling world of e-commerce and global online sales, having a trusted fulfilment 3PL partner is an essential component for success. FBA Prep Logistics is the ultimate choice for e-commerce business owners who aim to increase profitability, maintain efficiency, and enjoy long-term sustainable growth. Here are the major reasons why choosing FBA Prep Logistics can bring you unparalleled benefits:
2.1 Expertise in Amazon FBA requirements and guidelines
FBA Prep Logistics possesses in-depth knowledge of Amazon FBA requirements and guidelines, enabling us to provide professional guidance to your e-commerce business. Our expert team stays continuously updated with ever-changing FBA rules and regulations, so you can be assured that your business remains fully compliant with Amazon policies. This saves you from potential operational snags, unnecessary fees, and prolonged product listing delays.
2.2 Flexible and scalable solutions
FBA Prep Logistics appreciates the dynamic nature of e-commerce businesses and offers flexible and scalable fulfilment 3PL services. By tailoring our services to your specific needs, we can accommodate the peaks and troughs of your sales cycles, ensuring optimal efficiency without hindering your growth opportunities. Whether you're a small business owner looking to scale or an established seller seeking to expand, our fulfilment solutions can be tailored to fit your evolving requirements.
2.3 Data-driven inventory management and forecasting
Accurate inventory management and demand forecasting can spell the difference between profit and loss in the e-commerce industry. Our inventory management system incorporates real-time data analysis, providing you with actionable insights to optimize stock levels, minimize storage fees, and avoid out-of-stock or overstock situations. This data-driven approach not only ensures seamless order processing but can significantly boost your business profitability.
2.4 Streamlined shipping and return processes
Effectively managing shipping and returns is a vital aspect of any successful e-commerce operation. FBA Prep Logistics ensures that your customers enjoy a smooth, hassle-free shopping experience with fast and efficient shipping. Our streamlined return process enables your customers to enjoy a seamless return experience, thereby increasing their trust in your business and maximizing the potential for repeat sales in the long run.
2.5 Dedicated customer support
Our team of dedicated customer support professionals is always on hand to provide personalized and attentive assistance. From addressing operational queries to helping you navigate the complexities of e-commerce logistics, you can count on us to deliver exceptional support for your business. Maintaining a satisfied and loyal customer base is paramount to sustainable e-commerce growth, and FBA Prep Logistics aims to provide an unparalleled level of customer service to contribute to your business's success.
2.6 Strategic East Coast location
By choosing FBA Prep Logistics, your e-commerce business will be able to take advantage of our strategic East Coast location. The East Coast is home to numerous major population centers, which means quicker delivery times for your customers. This strategic location also allows for more efficient shipping to both domestic and international markets, translating into reduced logistics costs and better customer satisfaction.
2.7 Seamless integration with e-commerce platforms
FBA Prep Logistics integrates easily with all major e-commerce platforms. This seamless integration ensures that your order fulfillment process runs smoothly and your inventory data is always updated. With hassle-free integration, you can focus on building your brand and growing your e-commerce business, while leaving the nitty-gritty of fulfilment to us.
By now, it's evident that partnering with FBA Prep Logistics as your fulfilment 3PL service provider can be a true game-changer for your e-commerce business. Our unique mix of expertise in Amazon FBA, flexible and scalable solutions, data-driven processes, and unwavering customer support will undoubtedly help you achieve your business goals, ensuring your e-commerce venture reaches new heights of success.
Section 3: FBA Prep Logistics – A Seamless Integration with Your Business Operations
A critical component of any successful e-commerce business is the seamless integration of systems, particularly when it comes to order fulfillment and inventory management. In this section, we'll explain how FBA Prep Logistics integrates effortlessly with your e-commerce operations, regardless of your current size or scale. Some key topics covered include easy onboarding, compatibility with multiple e-commerce platforms, and hassle-free communication with our team of logistics experts.
Easy Onboarding for E-Commerce Entrepreneurs
Starting with a fulfilment 3PL service can feel daunting, but FBA Prep Logistics makes it simple and stress-free. Our straightforward onboarding process begins with a consultation to understand your specific needs and requirements. We then work together to develop a customized strategy that suits your e-commerce business, ensuring a seamless transition into our fulfillment services.
Highlight: Quick and Hassle-Free Setup
Our dedicated onboarding team guides you through each step of the process, providing full transparency and support. We handle the complexities of integration, allowing you to focus on growing your e-commerce business. With FBA Prep Logistics, you can expect expedited setup and integration, minimizing disruptions and getting your orders efficiently fulfilled.
Compatibility with Various E-Commerce Platforms
FBA Prep Logistics understands the importance of compatibility and flexibility when it comes to e-commerce platforms. That's why our services are designed to work seamlessly with many popular platforms, including Amazon, eBay, Shopify, and WooCommerce, among others.
Advantage: Streamlined Order Management
By integrating with your preferred e-commerce platform, FBA Prep Logistics simplifies your order management process, resulting in reduced errors and faster shipping times. This compatibility also means that our system will continuously sync with your e-commerce platform, ensuring accurate inventory tracking and streamlined order fulfilment.
Transparent Communication and Seamless Integration
We believe that open and straightforward communication is vital for a successful partnership. Our dedicated team of logistics experts is always available to address any questions, concerns, or specific requests you may have.
Benefit: Proactive Problem Resolution
By maintaining transparent communication, we can troubleshooting any issues quickly and efficiently, helping you continue business operations without interruptions. Our experts are well-trained in e-commerce logistics and have a deep understanding of the challenges and trends faced by e-commerce businesses.
Customized Reporting and Performance Metrics
At FBA Prep Logistics, we offer comprehensive reporting and analytics, giving you insights into your e-commerce operations and overall order fulfilment processes. These custom reports and performance metrics enable you to make informed decisions and adjustments, ensuring your business continues to thrive and grow.
Key Takeaway: Informed Decision Making
With our data-driven approach to fulfilment 3PL, optimizing your inventory management, shipping strategies, and return processes becomes more manageable, leading to increased customer satisfaction and profitability.
In summary, FBA Prep Logistics is dedicated to providing a seamless integration experience with your e-commerce business, offering tailored solutions, expert support, and compatibility with various e-commerce platforms. The combination of transparent communication, easy onboarding, and custom reporting sets us apart in the fulfilment 3PL landscape. By choosing FBA Prep Logistics, you're partnering with a logistics provider that genuinely understands your unique needs as an e-commerce entrepreneur, paving the way to your business success.
Section 4: FBA Prep Logistics – A Seamless Integration with Your Business Operations
As a growing e-commerce business, it's crucial to have a fulfilment 3PL partner that smoothly integrates into your current operations without causing any disruption. FBA Prep Logistics is specifically designed to be a seamless, hassle-free solution that caters to e-commerce businesses of all sizes and scales. In this section, we will discuss the various ways in which FBA Prep Logistics can blend into your business operations, including:
Easy Onboarding Process: We understand that time is of the essence for e-commerce businesses, and that's why our onboarding process is streamlined and straightforward. Our team will work closely with you to gather all necessary information and get your store up and running with our services as quickly as possible.

Compatibility with Multiple E-commerce Platforms: FBA Prep Logistics supports integration with various e-commerce platforms such as Shopify, Amazon, WooCommerce, eBay, and many more. This flexibility allows you to utilize our fulfilment 3PL services without having to switch or modify your existing platform.

Real-time Inventory Tracking and Reporting: Our state-of-the-art inventory management system provides real-time tracking and reporting, giving you complete visibility and control over your stock levels. By integrating this system with your e-commerce store, you can ensure that your inventory is always up-to-date, minimizing the risk of stockouts or overstocking.
Automated Order Processing: Our advanced order management system automates the entire order processing flow, from receiving the order on your e-commerce platform to shipping it out from our warehouse. This streamlined process ensures that your orders are fulfilled quickly and accurately, resulting in improved customer satisfaction and reduced manual effort on your part.

Hassle-free Communication: At FBA Prep Logistics, we believe in transparent and open communication with our clients. Our dedicated logistics experts are available to assist you with any questions or concerns you may have regarding our services. We also provide regular updates on our operations and performance, ensuring that you stay informed about your business at all times.

Scalable Solutions for Growing Businesses: We understand that as your e-commerce business grows, so too do your requirements for fulfilment 3PL services. With FBA Prep Logistics, you can take advantage of our flexible and scalable solutions that can be tailored to accommodate your evolving needs. Whether you're experiencing a sudden surge in sales or expanding your product offerings, we can adjust our services accordingly to ensure a seamless fulfillment experience.
Customized Shipping Solutions: FBA Prep Logistics offers a range of shipping options, including same-day delivery, expedited shipping, and international shipping. By aligning our services with your specific business needs, we can provide a tailored logistics solution that best fits your requirements and ensures satisfied customers.

Proactive Problem Resolution: Our team of logistics professionals constantly monitors your operations and proactively addresses any issues that may arise, such as delayed shipments or damaged products. This approach not only helps in maintaining the quality of your services but also safeguards your brand reputation.

Return Management: Returns can be a challenging aspect of running an e-commerce business, but FBA Prep Logistics has got you covered. Our hassle-free return management service ensures smooth processing of returns, refunds, and exchanges, keeping your customers happy and maintaining your brand's credibility.
Data-driven Decision Making: By leveraging our advanced data analytics, you can gain valuable insights into your e-commerce business and make informed decisions that drive growth. Our reports include crucial information such as sales trends, customer behavior, and inventory performance, all of which can be instrumental in shaping your future strategies.
In conclusion, FBA Prep Logistics is committed to providing e-commerce businesses with a seamless, effective, and efficient fulfilment 3PL solution. Our services are designed to integrate with your existing operations, facilitating growth and success without any disruptions. By partnering with FBA Prep Logistics, you can confidently focus on growing your business while we take care of all your logistical needs.
Section 5: Success Stories – How FBA Prep Logistics Transformed E-Commerce Businesses
FBA Prep Logistics' commitment to helping e-commerce businesses thrive and achieve their desired goals is not just a claim; our proven track record of satisfied clients and success stories attest to our expertise and dedication. In this section, we will share some compelling real-life examples of how our comprehensive fulfilment 3PL services have directly contributed to the growth and expansion of e-commerce businesses.
1. Streamlining Operations for an E-commerce Store
One of our partners, an e-commerce store selling outdoor gear, chose us to handle their order fulfilment and inventory management. They were struggling to keep up with the rapidly increasing demand for their products.
By partnering with FBA Prep Logistics, they were able to free up valuable resources and focus on their core business. Our efficient PA order fulfilment services ensured that their customers received their orders promptly, resulting in positive reviews and repeat business.
Moreover, our data-driven inventory management and forecasting ensured that they never ran out of stock, leading to an increase in their profitability.
2. Expansion Beyond Amazon for an Amazon Seller
A successful Amazon seller came to us when they wanted to expand their business beyond Amazon and access new marketplaces. They were eager to test out the enormous potential of platforms like Shopify and WooCommerce but didn't have the time and resources to manage their order fulfilment processes across multiple channels.
FBA Prep Logistics stepped in, offering our expertise in not just Amazon reverse logistics, but also Shopify inventory control and compatibility with other platforms. We provided seamless integration and flexible services that enabled our partner to scale up their business operations and significantly increase their revenue.
3. Reducing Shipping Costs for an E-Commerce Retailer
An e-commerce retailer based on the East Coast was struggling with high shipping costs, which heavily impacted their bottom line. Partnering with FBA Prep Logistics proved to be a game-changer for them. Our location in Bristol, PA, allowed them to make the most of shipment savings on the East Coast.
Our team efficiently handled their product storage, packaging, and shipping, and as a result, they experienced a noticeable reduction in their operational expenses. This allowed the e-commerce retailer to expand their product offerings and focus on marketing, driving further growth and profitability.
4. Enhancing Customer Experience for an Online Fashion Boutique
Customer experience is crucial in the competitive world of e-commerce. A fashion boutique approached us, looking to improve their overall customer satisfaction by speeding up their order deliveries and streamlining the return process.
FBA Prep Logistics' customised fulfilment services were a perfect fit for their needs. Our secure pick and pack service ensured that all orders were shipped out quickly and accurately. Moreover, our expertise in Shopify returns allowed the boutique to make returns as painless as possible for their customers. These improvements significantly boosted their reputation and customer satisfaction levels.
Wrapping Up: Choose FBA Prep Logistics for Your E-commerce Fulfilment Needs
These success stories prove that partnering with FBA Prep Logistics can be transformative for your e-commerce business. Whether you need help with order fulfilment, inventory management, or expanding to new platforms and marketplaces, our dedicated team and comprehensive services are here to support your growth.
It's time to take your e-commerce business to the next level and unlock its full potential with FBA Prep Logistics as your fulfilment 3PL partner. Don't miss out on the chance to become our next success story!
Introduction: The Power of a Reliable Fulfilment 3PL Partner
In today's competitive e-commerce landscape, having a dependable fulfilment 3PL partner is essential for success. Partnering with the right 3PL can significantly impact your business's growth and achievements. That's why we have designed FBA Prep Logistics as the ultimate fulfilment solution for your e-commerce business.
Section 1: Understanding Fulfilment 3PL Services
Fulfilment 3PL services handle various aspects of order fulfillment and inventory management, making it easier for e-commerce businesses to focus on what they do best—selling products. By partnering with FBA Prep Logistics, you can entrust these complicated tasks to our skilled team, who will manage them efficiently and effectively.
Frequently Asked Questions
1. What are 3PL services and how can they help my e-commerce business?

Third-party logistics (3PL) services provide essential order fulfillment, inventory management, and shipping support for e-commerce businesses. By partnering with a reliable 3PL provider like FBA Prep Logistics, you can delegate these crucial tasks, allowing you to focus on expanding your product line and reaching more customers.
2. How does FBA Prep Logistics provide flexible and scalable solutions for e-commerce businesses?

At FBA Prep Logistics, we understand that each e-commerce business has unique needs. Our tailored fulfilment solutions cater to businesses of all sizes and industries, providing cost-effective and scalable services that grow as your business expands—making us the ideal 3PL partner.
3. How does FBA Prep Logistics' expertise in Amazon FBA guidelines benefit my e-commerce business?

Our in-depth knowledge of Amazon FBA requirements and guidelines ensures that your products are prepped, packed, and shipped according to Amazon's stringent standards. This helps maintain high seller metrics, avoid costly penalties, and improve your chances of winning the Buy Box, ultimately leading to increased sales and customer satisfaction.
4. Is FBA Prep Logistics compatible with different e-commerce platforms?

Yes! FBA Prep Logistics seamlessly integrates with popular e-commerce platforms such as Shopify, WooCommerce, and BigCommerce. This compatibility makes the process of managing orders, inventory, and shipping a breeze, regardless of the platform you're using to sell your products.
5. How does FBA Prep Logistics provide dedicated customer support?

Our team of logistics experts is committed to offering top-notch customer service, ensuring your queries and concerns are addressed promptly and efficiently. With FBA Prep Logistics, you can expect personalized support and guidance as we work together to grow your e-commerce business.