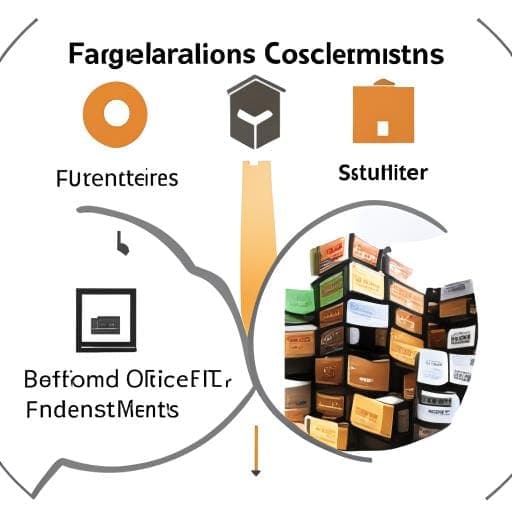 The Ultimate Guide to Integrated Fulfillment for E-commerce
1. Introduction to Integrated Fulfillment
In today's fast-paced world of e-commerce, meeting customers' demands and expectations for quick and seamless order processing is more important than ever. That's where integrated fulfillment comes into play, connecting the dots between your inventory management, order processing, and shipping, ensuring that your e-commerce business operates smoothly and efficiently. At FBA Prep Logistics, we specialize in providing streamlined and effective integrated fulfillment solutions designed specifically for online sellers, to help you stay ahead in the competitive e-commerce landscape.
Integrated fulfillment encompasses all the essential steps and services in an e-commerce business's supply chain process, such as:
Inventory management
Order processing
Packaging
Shipping
Returns handling
By combining these services under one roof, integrated fulfillment helps businesses save time, resources, and money, allowing them to focus on what matters most: their customers and product development.
At FBA Prep Logistics, a 3PL warehouse located in Bristol, PA, we understand the unique challenges faced by e-commerce sellers, particularly those who sell on Amazon.com. That's why our integrated fulfillment solutions are tailored to your specific needs and requirements, enabling you to simplify your supply chain management and grow your business. Our dedicated team of experienced professionals will work closely with you to ensure that your fulfillment process runs like clockwork, leaving you with more time to invest in other aspects of your business.
With our in-depth knowledge of Amazon FBA's requirements and access to cutting-edge fulfillment technology, FBA Prep Logistics is ideally positioned to help you optimize your e-commerce operations. So, whether you are new to supply chain management or looking for ways to improve your existing fulfillment process, our integrated fulfillment services are the perfect solution.
Stay tuned as we dive into the numerous benefits integrated fulfillment can offer your e-commerce business, and why partnering with FBA Prep Logistics is the smart choice.
Section 2: Why Your E-commerce Business Needs Integrated Fulfillment
E-commerce businesses, particularly those that sell on Amazon.com, face a myriad of challenges when it comes to managing their supply chains. From handling inventory to processing orders, packing, and shipping products directly to customers, these tasks can be overwhelming, time-consuming, and labor-intensive. That's where Integrated Fulfillment comes to the rescue.
In this section, we'll discuss the various challenges faced by e-commerce businesses like yours and explain how integrated fulfillment, offered by FBA Prep Logistics, can help address these concerns and enable you to focus on growth, customer satisfaction, and ultimately, successful sales on Amazon.
2.1 Inventory Management Challenges
As an e-commerce business owner, you're probably aware that managing inventory can be a daunting task. This includes keeping track of stock levels, forecasting product demand, managing multiple warehouses, and ensuring that you always have enough stock to meet your customers' needs.
By partnering with FBA Prep Logistics for integrated fulfillment, our sophisticated inventory tracking on Shopify, Amazon, and other platforms help you monitor stock levels in real-time, preventing out-of-stock scenarios, and minimizing stock discrepancies, ultimately freeing you up to focus on growing your online store.
2.2 Order Processing Complexities
As your e-commerce business grows, so do the complexities of managing order processing. Efficient order processing is crucial to providing a seamless customer experience. However, handling this in-house can become costly and time-consuming.
With FBA Prep Logistics' integrated fulfillment, our expert logistics team handles all aspects of order processing, including timely picking, packing, and shipping of your products. This ensures your customers receive their orders promptly, boosting customer satisfaction and generating positive reviews.
2.3 Shipping and Delivery Challenges
Maintaining an efficient and cost-effective shipping strategy is critical to the success of your e-commerce business. However, managing carriers, negotiating shipping rates, and ensuring timely deliveries can be complex and overwhelming.
Our integrated fulfillment service helps you tackle shipping challenges head-on. With our comprehensive Shopify Shipping solutions and expertise in navigating the Amazon ecosystem, FBA Prep Logistics can help you devise a cost-effective and efficient shipping strategy. We also offer reliable Shopify transportation in Pennsylvania, ensuring your shipments are handled and delivered with care.
2.4 Scaling Your Business
As your business grows, so does the need for more efficient and streamlined supply chain management. With integrated fulfillment from FBA Prep Logistics, you can be confident that your business is poised and ready to scale. Our expert team will work closely with you to develop a fulfillment strategy that best suits your needs, ensuring the highest level of customer satisfaction while minimizing growing pains.
2.5 Focus on Growth and Customer Satisfaction
With integrated fulfillment as a part of your e-commerce strategy, you're free to focus on what you do best: driving sales online and ensuring customer satisfaction. FBA Prep Logistics takes care of the crucial aspects of your supply chain management, such as inventory tracking, order processing, and shipping, while you work on marketing, product development, and strategies to scale your business.
In conclusion, integrated fulfillment is an essential component to the success of your e-commerce business, streamlining the entire supply chain process and enabling you to focus on growing your online presence and achieving your business goals. As a trusted 3PL warehouse partner, FBA Prep Logistics is equipped to manage your inventory, orders, and shipping, allowing you to focus on what truly matters: providing top-notch services to your customers.
3. Benefits of Partnering with FBA Prep Logistics for Integrated Fulfillment
When it comes to the ever-evolving e-commerce landscape, partnering with the right 3PL provider can make all the difference. FBA Prep Logistics is a top choice for integrated fulfillment, and we are committed to helping you grow and succeed in the competitive online marketplace. Here are some of the key benefits of working with our team:
3.1 In-depth Knowledge of Amazon FBA's Requirements
Our team of experts has an extensive understanding of Amazon FBA's requirements. We ensure that your inventory is well-prepared, compliant, and ready to sell on the platform. Our expertise includes labeling, packaging, and product preparation in accordance with Amazon's guidelines. With our experience and knowledge, you can focus on other aspects of your business, confident that your inventory is in good hands.
3.2 Experienced Team of Professionals
Our team comprises skilled professionals who are committed to providing top-notch integrated fulfillment services. They are familiar with the intricacies of various e-commerce platforms, including Shopify and Amazon. This allows us to offer the best possible service, tailored to your business needs. Our team is constantly learning and staying up-to-date with the latest industry trends and best practices, ensuring you receive the best possible support.
3.3 State-of-the-art Fulfillment Technology
FBA Prep Logistics employs cutting-edge e-commerce logistics technology to streamline every aspect of your supply chain, from inventory management and order processing to shipping and returns. By leveraging advanced tools and systems, we are able to provide efficient, fast, and accurate services that keep your customers satisfied and improve your bottom line.
3.4 Customized Fulfillment Solutions
At FBA Prep Logistics, we understand that each business is unique and has its own set of challenges and requirements. That's why we offer customized fulfillment solutions that cater to your specific needs. Whether you're a small business just starting or a well-established online seller looking to optimize your operations, our tailored services will ensure that your unique needs are met.
3.5 Strategic Location
Our 3PL warehouse is located in Bristol, PA, which positions us strategically close to major transportation hubs. This ensures faster shipping times for your orders, ultimately helping you to keep your customers happy and encourage repeat business. By choosing FBA Prep Logistics, you can leverage our strategic location to your advantage and deliver a seamless customer experience.
3.6 Transparent Pricing and Scalability
At FBA Prep Logistics, we believe in providing transparent and competitive pricing to our clients. This means you'll always know the exact cost of our services without any hidden fees. As your business grows, so do our services. Our flexible pricing structure can easily accommodate the ever-changing demands of your e-commerce business, ensuring a scalable and cost-effective partnership.
3.7 Dedicated Customer Support
Customer satisfaction is at the heart of our operations, and we strive to provide exceptional service and support to our clients. Our dedicated customer support team is available to address any questions, concerns, or issues that may arise. Whether you need assistance with a specific order or have a general inquiry about our services, you can trust our team to provide timely and helpful support.
3.8 Data Security and Privacy
We take data security and privacy very seriously, implementing robust measures to ensure the safety and confidentiality of our clients' information. When you entrust us with your inventory and customer data, you can rest assured we will handle them with the utmost care and security.
In conclusion, partnering with FBA Prep Logistics brings a multitude of benefits to your e-commerce business. By choosing us as your integrated fulfillment provider, you can focus on growing your business while we take care of the logistics, ensuring a smooth and efficient customer experience. Our team's expertise, state-of-the-art technology, and dedication to customer satisfaction make FBA Prep Logistics the ideal partner for your e-commerce success.
How FBA Prep Logistics Simplifies Your Supply Chain Management
E-commerce businesses often face challenges managing their supply chains as complexity increases with growing sales and expanding product lines. This is precisely where FBA Prep Logistics steps in to streamline your entire supply chain management process. By working with FBA Prep Logistics, your e-commerce business can benefit from simplified logistics and better overall efficiency. In this section, let's discuss how our expertise in integrated fulfillment helps e-commerce businesses optimize their supply chain operations.
Seamless Handling of Goods from Suppliers
The first stage of the supply chain is procuring goods from suppliers, and FBA Prep Logistics ensures a smooth process from start to finish. Our team will work closely with your suppliers to efficiently handle product shipments, so you can focus on other aspects of your business. With FBA Prep Logistics managing your supplier relationships, you can count on a reliable and timely flow of inventory.
Expert Inventory Preparation and Tracking
Managing your inventory efficiently is crucial for any e-commerce business. FBA Prep Logistics handles the complex task of inventory preparation and tracking for you. We have developed a streamlined system to manage your inventory quickly and accurately. By utilizing advanced technology, we ensure that your products are always in stock and ready to ship to your customers.
Stay Compliant with Amazon FBA Requirements
Amazon has stringent requirements for FBA sellers, and FBA Prep Logistics is well-versed in these guidelines. We will meticulously prepare your inventory according to Amazon's standards, ensuring your products are eligible for Prime shipping and offering an excellent customer experience. This will boost your chances of maintaining a high seller rating on Amazon and help you avoid any potential penalties or delays.
Real-time Inventory Updates and Reporting
Staying on top of your inventory levels is essential to make informed business decisions and prevent stockouts or overstocking. Our state-of-the-art inventory management system provides real-time updates and reports, so you always have a clear picture of your inventory status. Armed with this valuable information, you can proactively make crucial inventory management decisions to meet customer demand and avoid unnecessary expenses.
Fast and Accurate Order Processing
Order processing is a critical component of your e-commerce supply chain, and FBA Prep Logistics excels at it. We use our advanced order management technology to ensure rapid, error-free handling of customer orders. Our team of professionals will pick, pack, and label products with precision and speed, allowing you to meet your shipping deadlines and keep your customers satisfied.
Manage Returns Effectively & Efficiently
Handling returns can be a complex and time-consuming process for e-commerce businesses. FBA Prep Logistics offers a hassle-free returns management service, allowing your business to handle returns quickly and cost-effectively. This helps you maintain a positive relationship with your customers, which is essential for building trust and repeat business.
Automate Multi-channel Order Fulfillment
In today's competitive e-commerce landscape, selling on multiple channels is vital for reaching a broader audience and increasing sales. We understand the nuances and complexities of multi-channel order fulfillment and can integrate with your sales channels to automate order processing. This ensures a seamless experience for you and your customers, regardless of the platform they choose for shopping.
Direct-to-Customer Shipping Solutions
With FBA Prep Logistics e-commerce fulfillment services, your business can leverage our vast shipping network and strategic location on the East Coast. This helps you offer faster delivery times and lower shipping costs for your customers, giving you a competitive edge in the market. Our direct-to-customer shipping solutions ensure that your products reach your customers safely and on time.
Proactive Support and Dedicated Account Managers
At FBA Prep Logistics, we believe that strong partnerships are built on trust and open communication. Therefore, we assign a dedicated account manager to each of our clients. Your account manager will proactively address any issues and provide support throughout your partnership with FBA Prep Logistics. This ensures a smooth, hassle-free experience and builds a lasting, mutually beneficial relationship.
In conclusion, FBA Prep Logistics simplifies your supply chain management by taking care of all aspects, from inventory procurement to customer shipping. With our expertise in integrated fulfillment and cutting-edge technology, we help e-commerce businesses excel in a competitive market. Partnering with FBA Prep Logistics means that your business can focus on growth and customer satisfaction, while we handle the complex logistics operations.
Section 5: Getting Started with FBA Prep Logistics and Growing Your E-commerce Business
Step 1: Reach Out to FBA Prep Logistics
The first step in partnering with FBA Prep Logistics is to reach out to us. We'll discuss your specific needs, such as order volume, product types, or any other specialized requirements you might have for your e-commerce business. Our team always strives to find the best solutions that cater to your unique circumstances in order to provide the most efficient integrated fulfillment services.
Step 2: Assess How FBA Prep Logistics Integrates with Your Current E-commerce Platform
Whether you're using Shopify or Amazon FBA as your e-commerce platform, FBA Prep Logistics seamlessly integrates with your existing systems. Our extensive experience and expertise in handling various shopping carts and marketplaces, alongside our comprehensive understanding of their requirements, ensure a smooth onboarding process.
Step 3: Establish Communication and Syncing of Inventory
After determining the right solutions and integrating our system with your e-commerce platform, we'll work on setting up inventory syncing to prevent stockouts and ensure a seamless order fulfillment process. Our technology-driven approach helps keep your inventory data up-to-date and accurate, which is crucial for maintaining a successful e-commerce business.
Step 4: Send Your Inventory to Our Warehouse
Now that you've set up communication between your e-commerce platform and FBA Prep Logistics, it's time to ship your inventory to our state-of-the-art warehouse in Bristol, PA. We'll handle the entire inventory intake process, ensuring that your products are carefully stored and organized according to industry best practices.
Step 5: Start Enjoying the Benefits of Integrated Fulfillment
As soon as your inventory arrives at our warehouse, we'll take over all aspects related to order fulfillment, such as picking, packing, and shipping. FBA Prep Logistics also takes care of returns management, allowing you to focus on other vital areas of your business. Our commitment to providing top-notch integrated fulfillment services can help you scale and expand your online presence, making it easier to achieve your e-commerce goals.
Step 6: Expand Your Market Reach and Grow Your Business
By partnering with FBA Prep Logistics for integrated fulfillment, you'll not only save time and resources but also tap into new markets and opportunities. Our vast network allows you to offer faster shipping times, which can greatly impact your competitiveness in the online marketplace. Moreover, FBA Prep Logistics enables you to grow your e-commerce business by providing cost-effective, scalable, and efficient solutions that cater specifically to your evolving needs.
Step 7: Monitor and Optimize Your E-commerce Fulfillment Processes
To ensure your e-commerce business remains successful, it's essential to continually monitor and optimize your fulfillment processes. Regular evaluations of performance data and customer feedback will help you identify areas for improvement, and FBA Prep Logistics is always here to support you in implementing these changes. Our collaborative approach and commitment to excellence make our partnership a winning formula for your business growth.
The Path to E-commerce Success with FBA Prep Logistics
In conclusion, partnering with FBA Prep Logistics for integrated fulfillment is a strategic move that can help e-commerce businesses overcome challenges related to inventory management, order processing, and shipping. Our team of professionals, extensive experience, and cutting-edge technology enable us to provide efficient, scalable solutions that save both time and money.
By choosing FBA Prep Logistics, you'll be laying a solid foundation to build a successful e-commerce business and capitalize on the ever-growing online marketplace. Don't miss out on the opportunity to transform your operational processes and bring your e-commerce dreams to life. Reach out to us today and let's work together to achieve your business goals.


  <h1>The Ultimate Guide to Integrated Fulfillment for E-commerce</h1>

  <h2>Frequently Asked Questions</h2>

  <h3>1. What is integrated fulfillment and how does it help my e-commerce business?</h3>
  <p>Integrated fulfillment is a system that combines inventory management, order processing, and shipping into a cohesive and smooth process. By partnering with <a href="https://www.fbapreplogistics.com">FBA Prep Logistics</a>, your e-commerce business can efficiently handle all aspects of order fulfillment, allowing you to focus on growth and customer satisfaction.</p>

  <h3>2. What challenges can integrated fulfillment address for my online store?</h3>
  <p>Integrated fulfillment helps e-commerce businesses overcome common challenges such as inventory management, order processing, shipping, and meeting Amazon FBA's stringent requirements. This streamlines your operations and improves overall efficiency for greater business success.</p>

  <h3>3. Why should I choose FBA Prep Logistics for my integrated fulfillment needs?</h3>
  <p>FBA Prep Logistics offers a wealth of advantages, including in-depth knowledge of Amazon FBA requirements, an experienced team of professionals, and access to the latest fulfillment technology. By partnering with us, you can rest assured that your e-commerce business will have a streamlined and effective fulfillment process.</p>

  <h3>4. How will FBA Prep Logistics simplify my supply chain management?</h3>
  <p>We manage all aspects of your supply chain, from receiving goods from suppliers to preparing inventory and shipping orders directly to customers. Our expert logistics team ensures smooth and efficient operations, saving you time and money while maintaining high levels of customer satisfaction.</p>

  <h3>5. How can I get started with FBA Prep Logistics and grow my e-commerce business?</h3>
  <p>By connecting with FBA Prep Logistics and integrating our services into your e-commerce business, you can benefit from our expertise and resources. This partnership allows your business to scale and expand its reach in the competitive online marketplace, helping you achieve greater success.</p>

  <script type="application/ld+json">
  {
    "@context": "https://schema.org",
    "@type": "FAQPage",
    "mainEntity": [
      {
        "@type": "Question",
        "name": "What is integrated fulfillment and how does it help my e-commerce business?",
        "acceptedAnswer": {
          "@type": "Answer",
          "text": "Integrated fulfillment is a system that combines inventory management, order processing, and shipping into a cohesive and smooth process. By partnering with FBA Prep Logistics, your e-commerce business can efficiently handle all aspects of order fulfillment, allowing you to focus on growth and customer satisfaction."
        }
      },
      {
        "@type": "Question",
        "name": "What challenges can integrated fulfillment address for my online store?",
        "acceptedAnswer": {
          "@type": "Answer",
          "text": "Integrated fulfillment helps e-commerce businesses overcome common challenges such as inventory management, order processing, shipping, and meeting Amazon FBA's stringent requirements. This streamlines your operations and improves overall efficiency for greater business success."
        }
      },
      {
        "@type": "Question",
        "name": "Why should I choose FBA Prep Logistics for my integrated fulfillment needs?",
        "acceptedAnswer": {
          "@type": "Answer",
          "text": "FBA Prep Logistics offers a wealth of advantages, including in-depth knowledge of Amazon FBA requirements, an experienced team of professionals, and access to the latest fulfillment technology. By partnering with us, you can rest assured that your e-commerce business will have a streamlined and effective fulfillment process."
        }
      },
      {
        "@type": "Question",
        "name": "How will FBA Prep Logistics simplify my supply chain management?",
        "acceptedAnswer": {
          "@type": "Answer",
          "text": "We manage all aspects of your supply chain, from receiving goods from suppliers to preparing inventory and shipping orders directly to customers. Our expert logistics team ensures smooth and efficient operations, saving you time and money while maintaining high levels of customer satisfaction."
        }
      },
      {
        "@type": "Question",
        "name": "How can I get started with FBA Prep Logistics and grow my e-commerce business?",
        "acceptedAnswer": {
          "@type": "Answer",
          "text": "By connecting with FBA Prep Logistics and integrating our services into your e-commerce business, you can benefit from our expertise and resources. This partnership allows your business to scale and expand its reach in the competitive online marketplace, helping you achieve greater success."
        }
      }
    ]
  }
  </script>
</body>