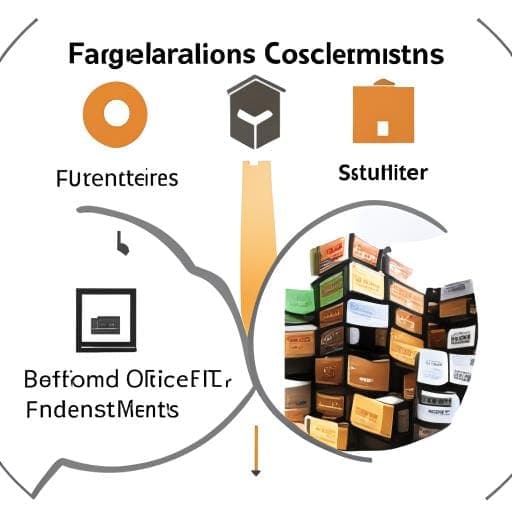 The Ultimate Guide to Integrated Fulfillment for E-commerce
Section 1: Introduction to Integrated Fulfillment
Any e-commerce business owner knows that fulfilling customer orders efficiently and reliably is a crucial aspect of ensuring customer satisfaction and the overall success of the store. That's where integrated fulfillment comes into the picture. Integrated fulfillment is the process of managing and automating the entire order fulfillment cycle, from warehouse management and inventory control to order processing and shipping. By streamlining these operations, businesses can enjoy increased efficiency and cost savings, resulting in more happy customers and increased brand loyalty.
FBA Prep Logistics offers top-of-the-line integrated fulfillment services, specifically designed to cater to the needs of e-commerce businesses selling on Amazon.com. By leveraging our expertise in supply chain management, we can take the complexities of fulfillment off your hands, allowing you to focus on growing your business.
In this guide, we will discuss the numerous benefits that integrated fulfillment can bring to your e-commerce business, along with the core components of an effective integrated fulfillment service. We will also discuss the steps that FBA Prep Logistics takes to ensure that our integrated fulfillment process runs seamlessly for our clients, and share tips on choosing the right provider (hint: it's us!) for your business.
Section 2: Benefits of Integrated Fulfillment for Your E-commerce Business
As an e-commerce business owner, you likely understand the importance of providing a seamless and convenient shopping experience for your customers. However, you may not be aware of the numerous benefits that integrated fulfillment can offer to achieve this goal. In this section, we will explore the many advantages that integrated fulfillment solutions, such as FBA Prep Logistics, can bring to your e-commerce business and discuss why it is essential to consider implementing them.
2.1 Improved Efficiency
One of the most significant benefits of integrated fulfillment is the increased efficiency it provides. By consolidating various supply chain elements, such as inventory management, warehousing, order processing, and shipping, into a single platform, businesses can streamline their operations and eliminate any unnecessary steps. This streamlined approach can lead to faster turnaround times for order fulfillment and ultimately lead to happier customers.
Moreover, partnering with FBA Prep Logistics means that you can leverage their expertise in supply chain management and take advantage of their finely tuned processes. This will free up time for you to focus on growing your e-commerce business while knowing that your fulfillment needs are in good hands.
2.2 Cost Savings and Scalability
Integrated fulfillment solutions can help to reduce costs associated with inventory management, storage, and shipping. By consolidating these processes, businesses can minimize inefficiencies and maximize cost savings. Additionally, partnering with FBA Prep Logistics gives you access to their comprehensive network of warehouses and shipping partners, allowing you to obtain favorable rates due to economies of scale.
Furthermore, integrated fulfillment solutions are highly scalable, which means they can easily adapt to your e-commerce business's growth. As your business expands, FBA Prep Logistics will provide you with the necessary infrastructure and resources to handle increased order volumes, ensuring your business continues to run smoothly as it grows.
2.3 Better Customer Satisfaction
A significant advantage of utilizing an integrated fulfillment solution is the ability to offer a more seamless and enjoyable shopping experience for your customers. With efficient inventory management, timely order processing, and fast shipping times, your customers will appreciate the convenience and reliability of your e-commerce store.
FBA Prep Logistics understands the importance of customer satisfaction and places a high priority on ensuring that fulfillment processes run smoothly. By partnering with them, you can be confident that your customers will enjoy the benefits of integrated fulfillment, leading to increased repeat business and positive word-of-mouth referrals.
2.4 Enhanced Visibility and Control
Implementing integrated fulfillment allows you to have better visibility and control over your e-commerce business's supply chain processes. By centralizing key fulfillment components, you can access real-time information regarding inventory levels, order statuses, and shipping updates. This access allows you to make informed decisions, ensuring that you can proactively address any potential issues before they become problematic.
FBA Prep Logistics' advanced technology platform and easy-to-use dashboards ensure visibility over your fulfillment operations, allowing you to stay informed and make data-driven decisions to optimize your e-commerce business's performance.
2.5 Simplified Returns Management
Managing returns can be a complex and time-consuming process for e-commerce businesses. An integrated fulfillment solution simplifies this process by allowing you to centralize the management of returns within a single platform. This streamlined process enables you to handle return requests more efficiently and improve the overall customer experience.
FBA Prep Logistics' tailored solutions for return management make it easy for you to process returns, ensuring customer satisfaction and minimizing the impact of returns on your bottom line.
2.6 Outsourced Expertise
By partnering with FBA Prep Logistics, you are tapping into an extensive pool of expertise in supply chain management and e-commerce fulfillment. Their team of professionals has in-depth knowledge and experience in managing complex fulfillment processes, which can help you optimize your operations and drive improved results for your e-commerce business.
Leveraging this level of expertise allows you to benefit from best practices and industry insights, ensuring that your business stays ahead of the competition and is better equipped for success.
In conclusion, integrated fulfillment offers numerous advantages to e-commerce businesses, including improved efficiency, cost savings, better customer satisfaction, and enhanced visibility and control. By choosing FBA Prep Logistics as your integrated fulfillment provider, you can benefit from their expertise, advanced technology, and customer-centric approach to help transform your e-commerce business. Contact FBA Prep Logistics today to find out more about their integrated fulfillment services and how they can support your business' growth and success.
Core Components of Integrated Fulfillment Services
Integrated fulfillment is an essential aspect of modern e-commerce, helping businesses maintain a seamless customer experience while focusing on their core competencies. In this section, we will examine the core components of integrated fulfillment services and how FBA Prep Logistics provides tailored solutions for e-commerce businesses, especially those selling on Amazon.com.
1. Inventory Management
Effective inventory management is the backbone of any successful e-commerce operation. It involves tracking inventory levels, ensuring items are replenished in time, and preventing stockouts or overstocking. FBA Prep Logistics offers integrated fulfillment services that help businesses efficiently manage their inventory, ensuring products are always available for customers.
1.1 Real-time Inventory Updates
With FBA Prep Logistics, e-commerce businesses receive real-time updates on inventory levels, providing accurate and up-to-date information. This feature helps businesses predict demand, preventing stockouts and overstocking, ultimately improving customer satisfaction.
1.2 SKU Management
As your business grows, managing a growing number of SKUs can be challenging. FBA Prep Logistics ensures all SKUs are accurately cataloged, tracked, and mapped to the relevant channels, preventing errors and costly overselling.
2. Warehousing and Storage
A critical element of integrated fulfillment is providing safe and efficient warehousing solutions to store products. FBA Prep Logistics provides comprehensive warehousing services, ensuring that e-commerce businesses can store their inventory safely, securely, and cost-effectively.
2.1 Secure Storage Space
FBA Prep Logistics offers secure storage spaces, ensuring your valuable inventory remains safe from theft, damage or other potential hazards. Our warehouse is equipped with up-to-date security systems and on-site staff, providing a secure environment for your products.
2.2 Climate-Controlled Facilities
Certain products, such as electronics, cosmetics, and perishables, require specific storage conditions to maintain quality. FBA Prep Logistics offers climate-controlled facilities, helping e-commerce businesses store their products in optimal conditions, ensuring high-quality products for their customers.
3. Order Processing
Efficient order processing is essential for providing a seamless customer experience, from order placement to delivery. FBA Prep Logistics offers solutions that streamline the entire order processing journey, helping businesses grow and scale their operations while keeping customers satisfied.
3.1 Order Consolidation
FBA Prep Logistics helps e-commerce businesses consolidate orders from multiple channels, streamlining processes and minimizing errors. This service also helps businesses save time by reducing duplicate work and focusing on order fulfillment.
3.2 Automated Pick-and-Pack
Automated pick-and-pack services from FBA Prep Logistics help reduce errors and ensure efficient order fulfillment. With an optimized workflow, staff members are guided through the warehouse, ensuring accurate and timely order completion.
4. Shipping and Tracking
Shipping and tracking are essential aspects of integrated fulfillment, as they provide the final touchpoint between your business and the customer. FBA Prep Logistics offers reliable shipping solutions and real-time tracking, ensuring customer satisfaction.
4.1 Shipping Carrier Integration
FBA Prep Logistics integrates with various shipping carriers, helping businesses choose the most cost-effective and efficient option for their needs. This feature enables businesses to have more control over shipping expenses while still providing exceptional service for their customers.
4.2 Real-time Tracking
FBA Prep Logistics provides real-time tracking, keeping businesses and customers informed every step of the way. This transparency helps build trust and ensures a smooth customer experience.
In conclusion, integrated fulfillment services from FBA Prep Logistics encompass all the essential elements needed to run a successful e-commerce operation: inventory management, warehousing, order processing, and shipping. By choosing FBA Prep Logistics, your e-commerce business can benefit from a tailored, end-to-end solution that streamlines processes, helps cut costs and improves customer satisfaction.
Section 4: How FBA Prep Logistics Streamlines the Integrated Fulfillment Process
As a top-notch 3PL warehouse, FBA Prep Logistics is committed to providing an excellent integrated fulfillment experience for your e-commerce business. We understand the challenges e-commerce sellers face and have developed a system that streamlines the fulfillment process, ensuring your business runs smoothly and efficiently. In this section, we'll discuss the steps FBA Prep Logistics takes to deliver seamless integration across all aspects of fulfillment, from receiving inventory to shipping orders, for their clients.
4.1 Inventory Receiving and Storage
FBA Prep Logistics begins the integrated fulfillment process by efficiently receiving and storing your inventory in our state-of-the-art warehouse located in Bristol, PA. We ensure that all your products are safely stored, organized, and easily accessible for smooth order processing. Additionally, our real-time inventory management system keeps track of your stock levels, preventing overselling and ensuring you don't run out of popular items.
4.2 Order Processing and Automation
The next step in our streamlined integrated fulfillment process is order processing. At FBA Prep Logistics, we understand the importance of accurate and prompt order processing in driving customer satisfaction. Our team uses the latest technology and automation tools to efficiently process your orders and ensure they are packed and shipped accurately. Moreover, we offer a seamless integration with popular e-commerce platforms like Shopify, making it easy for you to manage orders and inventory.
4.3 Pick and Pack Services
Our streamlined fulfillment process includes top-notch pick and pack services. Our expert team is committed to ensuring that your orders are picked accurately and packed securely, minimizing the risk of damage during shipping. We continuously optimize our pick and pack processes to increase efficiency, ultimately saving you both time and money.
4.4 Shipping Optimization and Carrier Selection
At FBA Prep Logistics, we recognize that shipping makes a significant impact on your customers' overall experience. Hence, we go the extra mile to optimize shipping processes and select the best carriers for your orders. Our shipping optimization strategy aims at developing the most cost-effective and timely shipping solutions, ensuring your products reach their destinations safely and on time. Our relationships with various carriers enable us to offer competitive shipping rates, further improving your e-commerce store's profitability.
4.5 Seamless Amazon.com Integration
Given that your business primarily sells on Amazon.com, we've designed our integrated fulfillment services to work seamlessly with Amazon's platform. Our systems integrate with Amazon's FBA services, enabling you to efficiently manage your inventory and orders while taking advantage of the Amazon Prime program and other value-added services that come with FBA.
4.6 Returns Management
An often-overlooked aspect of the fulfillment process is handling returns. FBA Prep Logistics offers hassle-free returns management, ensuring your customers have a smooth and positive experience. Our team inspects all returned items, processes refunds or exchanges and manages restocking items in accordance with Amazon's guidelines.
4.7 Customized Fulfillment Solutions
At FBA Prep Logistics, we understand that every e-commerce business is unique, and a one-size-fits-all approach may not work for you. Therefore, we offer tailored integrated fulfillment solutions that cater to your specific needs. From unique packaging requirements to specialized shipping options, we design our solutions to meet your business's priorities and objectives.
4.8 Proven Success Stories
FBA Prep Logistics isn't just a concept; we have real-life success stories that demonstrate our expertise in integrated fulfillment. Our unwavering commitment to optimizing the fulfillment process has helped numerous e-commerce businesses achieve better efficiency and customer satisfaction. You can learn more about those success stories by exploring our case studies.
With FBA Prep Logistics's integrative approach, we streamline your e-commerce business's fulfillment process, allowing you to focus on what really matters: growing your business. Our expertise in supply chain management, combined with our tailored solutions, not only improves your efficiency but also increases customer satisfaction, setting you up for long-term success. Now, you're ready to take the leap and partner with FBA Prep Logistics to transform your e-commerce fulfillment operations.
Section 5: Tips for Choosing the Right Integrated Fulfillment Provider
In the competitive world of e-commerce, partnering with the right integrated fulfillment provider can make all the difference in the success of your business. Let's dive into some key factors to consider when selecting the perfect partner for your e-commerce venture, and learn why FBA Prep Logistics stands out among the rest!
1. Experience in E-commerce Fulfillment
When searching for an integrated fulfillment provider, one of the most important factors to consider is their experience and track record in the industry. A company with a proven history of success is more equipped to handle the unique challenges of e-commerce fulfillment and navigate changes in the market. FBA Prep Logistics has extensive experience in providing efficient fulfillment services, particularly for businesses operating on Amazon.com. Our understanding of the Amazon marketplace allows us to tailor our services to your specific needs, setting your business up for success.
2. Exceptional Customer Service
E-commerce businesses require attentive and responsive customer support to address any concerns or issues that may arise during the fulfillment process. That's where FBA Prep Logistics shines! Our customer-focused approach ensures that you receive personalized attention and prompt responses, keeping your operation running smoothly.
3. Competitive Pricing and Cost Savings
The cost of integrated fulfillment is a crucial aspect to consider when choosing a provider. FBA Prep Logistics offers competitive pricing and various cost-saving measures to help you maximize your e-commerce profits. By streamlining and optimizing various aspects of the fulfillment process, your business can benefit from reduced overhead costs and increased efficiency.
4. Scalability and Flexibility
As your e-commerce business grows, it's essential to have a fulfillment partner that can grow with you. FBA Prep Logistics offers scalable and flexible solutions to support your expansion, ensuring that your operations can smoothly handle increased order volumes, new product lines, and additional sales channels. Partnering with FBA Prep Logistics allows your business to adapt to market changes and scale without losing momentum.
5. Localization and Global Reach
For e-commerce sellers targeting a global audience, partnering with a fulfillment provider that has a local presence and extensive knowledge of international markets can be invaluable. FBA Prep Logistics, with its strategic location in Bristol, PA, has excellent access to major distribution centers on the East Coast, such as Efficient PA Order Fulfillment Services for Your E-commerce Store and 3 Benefits of E-commerce Fulfillment on the East Coast. This not only enables faster order processing and delivery times but also allows for smoother international shipping and expansion into new markets.
6. Integration with E-commerce Platforms
An integrated fulfillment provider must be able to seamlessly integrate with your e-commerce platform for a hassle-free experience. FBA Prep Logistics offers easy integration with popular platforms like Amazon and Shopify, allowing for real-time updates on inventory levels, order processing, and shipping – which can be viewed in Simplify Inventory Tracking on Shopify.
7. Commitment to Continuous Improvement
The e-commerce landscape is constantly evolving, and your integrated fulfillment provider should be no exception. FBA Prep Logistics is dedicated to staying ahead of the curve and implementing innovative technologies and industry best practices to ensure the highest levels of efficiency and customer satisfaction.
Partner with FBA Prep Logistics for Your Integrated Fulfillment Needs
By considering the factors listed above, you'll be well-equipped to find the perfect integrated fulfillment partner for your e-commerce business. With its extensive experience, customer-focused approach, competitive pricing, scalability, and proven track record, FBA Prep Logistics has established itself as a leading provider of integrated fulfillment services. So, why wait? Contact FBA Prep Logistics today to learn how we can transform your e-commerce operation and propel your business toward growth and success.
The Ultimate Guide to Integrated Fulfillment for E-commerce</h1>
<h2>Section 1: Introduction to Integrated Fulfillment</h2>
<p>Integrated fulfillment is essential for e-commerce businesses to provide a seamless experience for their customers. <a href="https://www.fbapreplogistics.com">FBA Prep Logistics</a> offers tailored integrated fulfillment services, catering to the needs of selling on Amazon.com.</p>
<h2>Section 2: Benefits of Integrated Fulfillment for Your E-commerce Business</h2>
<p>Implementing integrated fulfillment leads to improved efficiency, cost savings, and enhanced customer satisfaction. FBA Prep Logistics helps businesses achieve these benefits through their expertise in supply chain management.</p>
<h2>Section 3: Core Components of Integrated Fulfillment Services</h2>
<p>Integrated fulfillment includes inventory management, warehousing, order processing, and shipping. FBA Prep Logistics is proficient in each area, catering to the unique requirements of e-commerce businesses.</p>
<h2>Section 4: How FBA Prep Logistics Streamlines the Integrated Fulfillment Process</h2>
<p>FBA Prep Logistics ensures seamless integration of all fulfillment aspects, from receiving inventory to shipping orders for their clients. Their services have helped e-commerce businesses optimize their supply chain operations.</p>
<h2>Section 5: Tips for Choosing the Right Integrated Fulfillment Provider</h2>
<p>Consider factors such as experience, customer service, and scalability when selecting your provider. Contact FBA Prep Logistics to find out how their integrated fulfillment services can transform your e-commerce business.</p>
<h3>FAQ:</h3>
<dl>
<dt>What is integrated fulfillment and why is it important for e-commerce?</dt>
<dd>Integrated fulfillment combines inventory management, warehousing, order processing, and shipping to offer a seamless experience for customers. It's crucial for e-commerce businesses to meet customer expectations and maintain efficient operations.</dd>
<dt>How can FBA Prep Logistics help my e-commerce business with integrated fulfillment?</dt>
<dd>FBA Prep Logistics provides tailored integrated fulfillment services and expertise in supply chain management. Their services lead to improved efficiency, cost savings, and better customer satisfaction for your e-commerce business.</dd>
<dt>What are the core components of integrated fulfillment services?</dt>
<dd>The essential elements of integrated fulfillment services include inventory management, warehousing, order processing, and shipping, ensuring a seamless and efficient system for your e-commerce business.</dd>
<dt>What steps does FBA Prep Logistics take to streamline the integrated fulfillment process?</dt>
<dd>FBA Prep Logistics takes care of all fulfillment aspects, from receiving inventory to shipping orders, ensuring seamless integration for e-commerce businesses. Their flexible and scalable approach enables an optimized supply chain operation.</dd>
<dt>How do I choose the right integrated fulfillment provider for my e-commerce business?</dt>
<dd>Consider factors such as experience, customer service, and scalability when selecting a provider. FBA Prep Logistics stands out for its tailored solutions and expertise. Contact them to explore how their services can transform your business.</dd>
</dl>
<script type="application/ld+json">
{
"@context": "https://schema.org",
"@type": "FAQPage",
"mainEntity": [
{
"@type": "Question",
"name": "What is integrated fulfillment and why is it important for e-commerce?",
"acceptedAnswer": {
"@type": "Answer",
"text": "Integrated fulfillment combines inventory management, warehousing, order processing, and shipping to offer a seamless experience for customers. It's crucial for e-commerce businesses to meet customer expectations and maintain efficient operations."
}
},
{
"@type": "Question",
"name": "How can FBA Prep Logistics help my e-commerce business with integrated fulfillment?",
"acceptedAnswer": {
"@type": "Answer",
"text": "FBA Prep Logistics provides tailored integrated fulfillment services and expertise in supply chain management. Their services lead to improved efficiency, cost savings, and better customer satisfaction for your e-commerce business."
}
},
{
"@type": "Question",
"name": "What are the core components of integrated fulfillment services?",
"acceptedAnswer": {
"@type": "Answer",
"text": "The essential elements of integrated fulfillment services include inventory management, warehousing, order processing, and shipping, ensuring a seamless and efficient system for your e-commerce business."
}
},
{
"@type": "Question",
"name": "What steps does FBA Prep Logistics take to streamline the integrated fulfillment process?",
"acceptedAnswer": {
"@type": "Answer",
"text": "FBA Prep Logistics takes care of all fulfillment aspects, from receiving inventory to shipping orders, ensuring seamless integration for e-commerce businesses. Their flexible and scalable approach enables an optimized supply chain operation."
}
},
{
"@type": "Question",
"name": "How do I choose the right integrated fulfillment provider for my e-commerce business?",
"acceptedAnswer": {
"@type": "Answer",
"text": "Consider factors such as experience, customer service, and scalability when selecting a provider. FBA Prep Logistics stands out for its tailored solutions and expertise. Contact them to explore how their services can transform your business."
}
}
] }
</script>