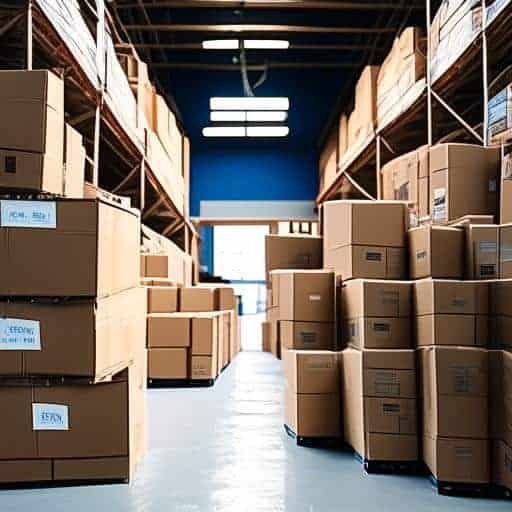 Introduction: The Importance of an Efficient Prep Center Amazon
Welcome to the world of e-commerce on Amazon, where competition is fierce and success depends on maximizing efficiency and minimizing costs. One of the critical aspects of running a successful Amazon business is finding the right prep center to handle your inventory and fulfillment processes. In this section, we'll introduce you to the concept of a prep center Amazon and explain why partnering with FBA Prep Logistics is the perfect solution for your Amazon business needs.
Why Do You Need a Prep Center in Your Amazon Business?
A prep center plays an integral role in streamlining your Amazon business, taking care of time-consuming tasks such as receiving, storage, labeling, and shipping. By outsourcing these responsibilities, you can focus on growing your Amazon store and increasing sales without the stress of dealing with the nitty-gritty of supply chain management. Moreover, an efficient prep center ensures high levels of accuracy in all aspects of their work, thereby minimizing errors that could lead to delays, penalties, or even lost sales.
How A Top-Notch Prep Center Can Elevate Your Amazon Business
Expertise: Partnering with a reliable prep center like FBA Prep Logistics means you're working with a team of experienced professionals who understand the complex, ever-changing landscape of Amazon's regulations and guidelines.

Increased Efficiency: Streamlining your supply chain with a prep center eliminates bottlenecks and optimizes the flow of inventory, ultimately leading to faster order processing and improved customer satisfaction.

Cost Reduction: By outsourcing inventory and fulfillment processes, you can save on labor costs, warehouse rent, and other overhead expenses associated with handling these tasks in-house.
Scalability: As your Amazon store grows, a robust prep center with the necessary infrastructure can readily adapt to your increasing inventory and fulfillment needs, allowing you to scale your business with ease.

Quality Control: An effective prep center ensures your products meet Amazon's stringent quality standards, thus reducing the chances of incurring penalties and fees due to non-compliance.
FBA Prep Logistics: Your Trusted Partner for Amazon Success
With a comprehensive suite of services designed to enhance your Amazon business's efficiency, FBA Prep Logistics is your trusted partner in building a thriving store on the platform. We are a 3PL warehouse located in Bristol, PA, and our mission is to streamline your Amazon supply chain process to give your business a significant edge over the competition.
Stay tuned for the next sections, where we'll delve even deeper into the benefits of partnering with FBA Prep Logistics and how our top-of-the-line services can propel your Amazon business to new heights.
2. Streamline Your Supply Chain with FBA Prep Logistics
2.1 The Key to Excelling in the Amazon Marketplace
In today's highly competitive e-commerce landscape, efficient supply chain management can make or break your business. One of the primary reasons more and more Amazon sellers are turning to third-party logistics providers like FBA Prep Logistics is to streamline their supply chain management and thrive in the marketplace.
2.2 Say Goodbye to Complex Supply Chain Challenges
Being a median-sized e-commerce business owner, the complexities of supply chain management can be overwhelming. By partnering with FBA Prep Logistics, a specialized Prep Center Amazon warehouse, you can finally stop worrying about the tedious tasks and focus on what you do best – growing your profitable e-commerce business.
2.3 Key Elements of Streamlined Supply Chain Management
2.3.1 Real-time Inventory Visibility
FBA Prep Logistics effectively implements real-time inventory tracking, enabling you to have complete control and visibility of your stock at all times. This not only helps you better manage your inventory but also prevents stockouts and overstocking situations. Check out our blog to learn how we simplify inventory tracking.
2.3.2 Reliable Order Processing and Fulfillment
FBA Prep Logistics ensures that your orders are promptly and accurately processed, packed, and shipped to your customers. Our team follows industry best practices to provide you with efficient order fulfillment services tailored to your unique business needs. Learn more about efficient PA order fulfillment services.
2.3.3 Faster Delivery and Strategically Located Warehouse
Our 3PL warehouse is conveniently located in Bristol, PA, which means your products can quickly reach the majority of the US population. The strategic location on the East Coast reduces your shipping costs and transit times, ensuring customer satisfaction and loyalty. Discover the 3 benefits of e-commerce fulfillment on the East Coast.
2.4 Scalability and Flexibility to Meet Growing Demands
As your e-commerce business grows, it's crucial to have the ability to scale up your operations effortlessly. With FBA Prep Logistics, you can easily scale up your storage space and order fulfillment capabilities, ensuring your business growth remains unhindered.
2.5 Advanced Technology Integration
Leveraging technology is a game-changer for supply chain management. FBA Prep Logistics integrates advanced technologies into your Amazon seller workflow, streamlining the entire process from start to finish. This integration leads to improved efficiency, time savings, and better decision-making. Check out how to integrate technology into your Amazon seller workflow for more information.
2.6 Reduced Risk of Costly Errors
Partnering with a Prep Center Amazon expert like FBA Prep Logistics significantly reduces the risk of costly errors. Our team of professionals adheres to strict quality control measures, ensuring your business remains compliant with Amazon's guidelines. As a result, this minimizes the likelihood of penalties, fees, and negative customer reviews, boosting your seller reputation.
In conclusion, streamlining your supply chain management is essential for your Amazon business's success. FBA Prep Logistics is the perfect partner to help you achieve that goal. By entrusting us with your supply chain management tasks, you are setting your e-commerce business up for success, reducing costs, and giving yourself more time to focus on managing and growing your Amazon business.
3. FBA Prep Logistics: Saving Time and Reducing Cost
In today's fast-paced world of e-commerce, time is money. The more time you can save on your product handling and distribution processes, the more cost-effective your business will be in the long run.
3.1. Streamlined Receiving Process
At FBA Prep Logistics, we understand that efficiency is the key to success. Our prep center Amazon service is designed to streamline your receiving process, with a team of experts ready to unload and sort your inventory as soon as it arrives at our warehouse. This service ensures that your products are quickly prepared for storage and, ultimately, fulfillment.
3.2. Comprehensive Inventory Management System
Prep Center Amazon services at FBA Prep Logistics include the use of a state-of-the-art inventory management system. This system allows you to keep track of your stock levels in real-time, enabling you to stay informed and make adjustments to your supply chain as needed. With this efficient management system in place, you can prevent overstocking and minimize the risk of stockouts, hence reducing storage fees and ensuring that you have the right inventory on hand at the right time.
3.3. Expert Product Prepping and Packaging
When handling Amazon business requirements, it's essential to comply with Amazon's strict guidelines. Our prep center Amazon experts are well-trained in these guidelines, enabling them to prepare and package your products to stringent standards. With FBA Prep Logistics handling the essential tasks of labeling, bundling, and other Amazon FBA-specific tasks, you can be confident that your shipments will arrive on time and in the best condition possible, reducing the risk of issues such as damaged goods or delayed shipments.
3.4. Efficient Picking and Packing Processes
FBA Prep Logistics employs an efficient and organized picking and packing process that enhances both accuracy and speed. By leveraging our pick and pack service, your orders are prepared swiftly and accurately, ensuring your customers' satisfaction. A timely and precise fulfillment process is crucial for positive customer experience, and our expertise in this area helps you stay ahead of the competition.
3.5. Fast and Reliable Shipping Solutions
Another pillar of FBA Prep Logistics' strategy to save time and costs for your Amazon business is our robust shipping solutions. Our efficient PA order fulfillment services guarantee that your goods reach your customers quickly, which is essential in today's e-commerce market. We've built relationships with reliable carriers that provide prompt delivery at competitive rates, ensuring that your business maintains its positive reputation in the Amazon marketplace.
3.6. Consolidating Shipments
FBA Prep Logistics also offers shipment consolidation, whereby your goods can be consolidated with other sellers' products to reduce shipping fees. Our team will expertly optimize shipping costs, packaging, and logistics, further reducing your overhead and boosting profitability.
3.7. Reverse Logistics Support
Our expertise extends to Amazon reverse logistics, meaning that if you need to manage customer returns, we can handle the process seamlessly. By managing returns effectively, you can minimize losses and ensure that your Amazon business continues to run smoothly.
3.8. Scalability Based on Your Needs
One of the most significant advantages FBA Prep Logistics offers is the ability to scale according to your business's requirements. Whether you're expanding your selection or preparing for peak season, our flexible and agile practices can accommodate any changes to keep up with your business growth.
To sum it up, FBA Prep Logistics' prep center Amazon services are designed to save your business both time and money by streamlining your supply chain. From efficient receiving processes and inventory management to expert product prepping and reliable shipping, our team prioritizes your success and ensures that your Amazon business thrives in the competitive e-commerce market.
Top-notch Quality Control: Ensuring Your Products Meet Amazon's Standards
When selling on Amazon, maintaining a high product quality is crucial for the success and growth of your business. Amazon has strict guidelines and requirements to ensure the products on its platform meet a certain standard of quality. As a business, you must abide by these rules to avoid incurring additional fees and penalties. Here at FBA Prep Logistics, we take product quality very seriously and have implemented a rigorous quality control process to ensure your products meet the expectations set by Amazon. In this section, we'll explore the different aspects of our quality control process and how it can benefit your Amazon business.
The Importance of Meeting Amazon's Standards
Complying with Amazon's standards is essential for several reasons:
Amazon aims to build a reliable and trustworthy marketplace where customers feel confident in their purchases.
Meeting Amazon's requirements can help you maintain a high product ranking, which in turn leads to increased sales and visibility on the platform.
Failure to meet product standards may result in suspension or termination of your seller account.
With the competitive nature of Amazon's marketplace, ensuring your products meet their standards is the key to maintaining a reputable presence on the platform.
FBA Prep Logistics Quality Control Process
Our top-notch quality control process at FBA Prep Logistics is comprehensive and thorough. It ensures that every product that passes through our 3PL warehouse is compliant with Amazon's requirements. Here is an overview of the various steps our team takes as part of the quality control process:
Product Inspection and Verification
Upon receiving your inventory at our warehouse, the first step in our quality control process is the thorough inspection of each product. Our experienced team closely examines each item to ensure it meets Amazon's requirements and has no visible defects or damage. This step helps identify any issues early in the process, so you can address them before sending your products to Amazon.
Labeling, Packaging, and Prep Compliance
Our team strictly adheres to Amazon's labeling and packaging guidelines. We make sure every product is labeled accurately with scannable barcodes, and we use the appropriate packaging materials to ensure your items are protected during transportation and handling. We also ensure that all products requiring prep work, such as bundling or poly-bagging, are prepared according to Amazon's specifications.
Storage and Organization
Your inventory is stored in our clean, secure, and organized warehouse, where it is protected from damage, theft, and loss. Our team keeps track of your stock through modern inventory management systems, ensuring every shipment to Amazon's fulfillment centers is accurate and complete.
Final Quality Control Check
As a final step in our quality control process, our team conducts a thorough inspection right before shipping your products to Amazon. This ensures that any last-minute changes, like canceled orders or new inventory, are included in the shipment accurately, meeting Amazon's requirements.
Avoiding Additional Fees and Penalties
By partnering with FBA Prep Logistics and utilizing our quality control process, your business can avoid the unnecessary fees and penalties associated with non-compliance. Our stringent quality control measures mean your products are always in line with Amazon's requirements, helping you maintain a healthy seller reputation without the added worry of meeting their strict guidelines.
The Result: Boosted Business Reputation and Customer Satisfaction
Our top-notch quality control process at FBA Prep Logistics not only ensures that your products comply with Amazon's standards but also helps you build a reputation for high-quality products within the marketplace. This directly translates into increased customer satisfaction and drives more sales and growth for your business.
Moreover, our rigorous quality control process eliminates the need for you to constantly worry about meeting Amazon's requirements. This frees up valuable resources that you can invest in growing your business and expanding your product line.
In conclusion, by partnering with FBA Prep Logistics, your Amazon business benefits from our comprehensive quality control process, ensuring your products meet Amazon's requirements and boosting your business reputation. Leave it to us to help you navigate the complex world of Amazon compliance, so you can focus on what you do best: growing your business and driving sales.
Partnering with FBA Prep Logistics: Your Key to Success in Amazon's Marketplace
Making the Right Decision for Your Amazon Business
Choosing the right Prep Center Amazon partner is crucial for your business's success in the highly competitive Amazon.com marketplace. FBA Prep Logistics is a 3PL warehouse headquartered in Bristol, PA, which is strategically located to ensure your products reach Amazon's fulfillment centers efficiently and quickly. Our years of experience in supply chain management, along with our commitment to providing top-notch services and technology, make us the perfect partner for your growing Amazon business.
Seamless Integration: Streamlining Your Amazon Workflow
With FBA Prep Logistics, you can expect a seamless integration process when collaborating with our professional team of experts. Our systems are designed to easily connect with your Amazon Seller Central account, resulting in a streamlined workflow that helps you manage your inventory more effectively. Moreover, our efficient PA order fulfillment services for your e-commerce store guarantee timely shipments and satisfied customers who are likely to leave positive reviews, thereby increasing your Amazon sales.
Enjoying the Benefits of East Coast Fulfillment
Bristol, PA, being positioned in the East Coast means partnering with FBA Prep Logistics leverages the benefits of e-commerce fulfillment on the East Coast. Our strategic location guarantees faster shipping times to Amazon fulfillment centers and subsequently, quicker deliveries to your customers. This advantage not only boosts your presence on Amazon but also improves your business's overall credibility and competitiveness within the e-commerce landscape.
Accessing Advanced E-commerce Logistics Solutions
At FBA Prep Logistics, we offer much more than just a standard prep center for Amazon. Our comprehensive services include access to advanced e-commerce logistics in the East Coast. We use cutting-edge technology to efficiently manage inventory, track shipments, and identify opportunities for growth. By partnering with us, you'll have a team of dedicated experts working alongside you to help your Amazon business thrive.
Effortless Collaboration for a Growing Amazon Business
Our team at FBA Prep Logistics understands the importance of smooth collaboration for your growing Amazon business. We prioritize open communication and transparency, ensuring that you always have a clear understanding of your inventory status and any ongoing logistical tasks. Additionally, our user-friendly client portal simplifies the process of submitting new orders and tracking shipments, all while keeping you updated on your product's journey from our warehouse to Amazon fulfillment centers.
Scaling Your Amazon Business with Confidence
One of the primary challenges for median-sized Amazon businesses is handling the complex logistics involved in scaling up. Our expertise gained through streamlining many other clients' supply chains puts us in a unique position to support your growth effectively. By partnering with FBA Prep Logistics, you can focus on expanding your product range and driving sales, while leaving the intricate logistics to our team of professionals. Our Amazon FBA prep services have been proven to help businesses scale efficiently and confidently.
A Trusted and Reliable Partner on Your Path to Success
FBA Prep Logistics has successfully worked with numerous Amazon sellers over the years. Our proven track record highlights our dedication to delivering the highest quality of service. As a valued partner, you can rely on us to navigate the challenges in Amazon's marketplace, keeping your business ahead of the curve. The collaboration with FBA Prep Logistics is a decision that will ultimately propel your e-commerce business to new heights and drive long-term success.
In conclusion, partnering with FBA Prep Logistics provides your Amazon business with an undeniable competitive advantage. Our expert team, cutting-edge technology, and commitment to outstanding service ensure a successful collaboration that leads to growth, efficiency, and higher profits. With FBA Prep Logistics, you can pursue your Amazon business goals with confidence, knowing that you have a strong, reliable partner by your side.
Frequently Asked Questions
Why is an efficient prep center crucial for success on Amazon?

Efficient prep centers, like FBA Prep Logistics, are essential for your success on Amazon.com, as they streamline your supply chain management. This allows you to focus on sales and growth, while your inventory is managed efficiently, saving you time, money, and minimizing errors.

How can FBA Prep Logistics streamline my supply chain management?

FBA Prep Logistics offers a variety of services, including receiving, storage, fulfillment, and shipping, all under one roof. With their expertise in managing logistics, they ensure a smooth process from start to finish, making your Amazon business more efficient.

What benefits can I expect when partnering with FBA Prep Logistics?

By outsourcing your inventory management to FBA Prep Logistics, you'll benefit from reduced costs, efficient operations, and top-notch quality control. Our team will handle these critical tasks, allowing you to focus on growing your Amazon business, increasing sales, and achieving success.

How important is quality control when using a 3PL warehouse like FBA Prep Logistics?

Quality control is crucial to avoid Amazon penalties or delays. FBA Prep Logistics follows stringent quality control processes, ensuring your products meet Amazon's standards and arrive at their fulfillment centers in a timely manner, free of defects.

What is the process for partnering with FBA Prep Logistics?

Partnering with FBA Prep Logistics is a straightforward process. Simply reach out to our team, discuss your specific requirements, and start utilizing our expertise. Our collaboration will help take your Amazon business to new heights, giving you peace of mind knowing your supply chain is in capable hands.