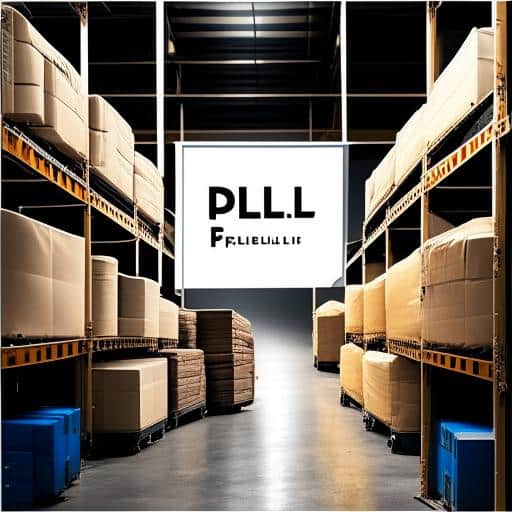 Introduction: Setting the Stage for Your E-Commerce Growth
Welcome to the exciting world of e-commerce! In the rapidly growing and highly competitive online marketplace, success doesn't come easy. To thrive and stay ahead of the competition, it's crucial to have a reliable partner that specializes in managing the often-complex logistics of order fulfillment and supply chain management.
Have you ever imagined partnering with a reliable Fulfilment 3PL company that understands the ins and outs of selling on Amazon.com? Look no further! At FBA Prep Logistics, we pride ourselves in offering top-notch services tailored specifically for medium-sized e-commerce businesses like yours.
In this article, we'll take a deep dive into:
The importance of having a dependable 3PL partner for growing and sustaining a successful e-commerce business.
How FBA Prep Logistics specializes in providing exceptional services tailored to the unique needs of online sellers.
So, buckle up as we take you on a journey to explore the world of Fulfilment 3PL and how our expertise in this field can propel your e-commerce business to new heights!
The Importance of Having a Reliable 3PL Partner
If you want your e-commerce business to reach its full potential, you can't ignore the importance of efficient and smooth order fulfillment that exceeds customer expectations. An experienced and skilled 3PL partner like FBA Prep Logistics can help you ensure that your customers receive their orders quickly, accurately, and in excellent condition. This not only guarantees repeat business but also builds your brand's reputation, ultimately leading to increased sales and profits.
Here are some key benefits of partnering with a reliable 3PL partner like us:
Streamlined order fulfillment process, leading to faster deliveries and improved customer satisfaction.
Reduced operational costs thanks to our expertise in supply chain management and logistics.
The ability to scale your business without hiring additional staff or investing in expensive warehouse infrastructure.
FBA Prep Logistics: Your Trusted Ally in E-Commerce Success
At FBA Prep Logistics, we are committed to helping you create a solid foundation for your e-commerce business by offering a comprehensive suite of services specifically designed for online sellers.
Our state-of-the-art Bristol PA warehouse is equipped with the latest technology and a highly skilled workforce, ensuring a seamless and efficient fulfillment process for your Amazon.com orders. As a specialized Fulfilment 3PL provider, we offer a range of services that cater to the unique needs of medium-sized e-commerce businesses, such as Efficient PA Order Fulfillment Services for Your E-commerce Store and 3 Benefits of E-commerce Fulfillment on the East Coast.
We're not just another 3PL provider – we see ourselves as your trusted partner in growing your e-commerce business successfully! With a proven track record of serving e-commerce clients, you can rest easy knowing that we've got your back when it comes to helping your business achieve its goals.
As you venture further into this world of online selling, remember that a reliable and experienced 3PL partner is an invaluable asset for your e-commerce success. Keep reading to discover how FBA Prep Logistics can help you take your business to the next level through our specialized Fulfilment 3PL services designed for Amazon.com sellers like you!
2. Understanding Fulfillment 3PL: An Overview
As a business owner, you must have come across the term "Fulfillment 3PL" quite a few times. So, what does it actually mean? Fulfillment 3PL, also known as Third-Party Logistics, is a service provided by external companies like ours that specialize in handling different aspects of your e-commerce operations. These range from storage and inventory management to order processing, packaging, and shipping. In this section, we will delve into the key components, processes, and how Fulfillment 3PL can impact the customer experience and your e-commerce business' reputation and profits.
2.1 What are the Key Components of Fulfillment 3PL?
There are several essential components that make up Fulfillment 3PL:
Warehousing: This is where your products are stored before they are shipped to customers. An efficient warehouse ensures that items are readily available as soon as an order is placed.

Inventory Management: This involves keeping track of your stock levels, replenishing items as needed, and making sure everything is organized accurately. With a reliable 3PL partner on your side, you can keep your inventory under control, avoiding costly overstock or stock-out situations.

Order Processing: After an order is placed, the 3PL service provider picks, packs, and prepares the product(s) for shipment. This also includes processing returns, which is a crucial part of maintaining a positive customer experience.
Shipping: The 3PL partner takes care of delivering your orders to customers in a timely, efficient manner, working closely with carriers to ensure smooth logistics.

Customer Support: Finally, your fulfilment partner is also responsible for providing customer support related to orders, addressing inquiries, and handling potential issues.
2.2 What is the Fulfillment 3PL Process?
To give you a better understanding of how Fulfillment 3PL works, let's break down the process step by step:
Receiving Inventory: First, the 3PL service provider receives your products and stores them in their warehouse.

Stock Organization: Next, they organize your inventory so it's easy to locate, pick, and ship out the products when required.

Order Integration: The 3PL partner integrates their system with your e-commerce store so they can automatically receive orders as soon as they're placed.
Picking and Packing: Once an order is received, the provider picks the right product(s) and packs them securely for shipping.

Shipping and Delivery: After packing, the product is shipped to the customer using a reliable carrier. The 3PL company tracks the shipment to ensure a successful delivery.

Handling Returns: If a customer needs to return a product, the 3PL partner is responsible for processing and managing the return, coordinating with the customer, and ensuring they are satisfied with the resolution.
Reporting and Analytics: Finally, your 3PL partner will provide you with reports and analytics on your inventory, sales, and other important metrics to help your e-commerce business grow and succeed.
2.3 How Does Fulfillment 3PL Impact Customer Experience and E-Commerce Business Reputation and Profits?
Fulfillment 3PL can have a significant impact on your e-commerce business in several ways:
Seamless and Fast Shipping: With efficient fulfillment operations and strategic warehouse locations like our East Coast warehouse for example, your 3PL partner ensures that orders are shipped and delivered quickly, thus boosting customer satisfaction.
Error Reduction: With experienced professionals managing your inventory and order processing, the chances of errors, such as shipping the wrong product or incorrect quantity, are minimized, leading to fewer returns and happier customers.
Cost Savings: Partnering with a reliable Fulfillment 3PL provider helps reduce overhead expenses like warehouse rental, labor costs, and shipping rates, aiding in overall profitability.
Scalability: A flexible 3PL partner allows you to scale your e-commerce business effortlessly, accommodating seasonal fluctuations, promotional campaigns, or unforeseen changes in demand.
In summary, effective Fulfillment 3PL services not only contribute to happy, returning customers but also contribute to a stronger e-commerce business reputation and increased profits.
Now that you have a concrete understanding of what Fulfillment 3PL entails and how it can benefit your e-commerce business, let's examine how FBA Prep Logistics sets itself apart from the competition and makes supply chain management much simpler for you as a business owner.
3. How FBA Prep Logistics Stands Out from the Rest
When it comes to finding the perfect Fulfillment 3PL partner tailored to medium-sized e-commerce businesses selling primarily on Amazon.com, FBA Prep Logistics is a name you can trust. With a plethora of 3PL providers available in the market, we understand just how overwhelming it can be to pick the right one that suits your needs. In this section, we'll dive deep into the unique selling points of FBA Prep Logistics and why we stand out from the rest.
3.1. State-of-the-Art Warehouse in Bristol, PA
One of the significant factors contributing to our strong market position is our modern warehouse facility in Bristol, PA. This strategic location enables efficient shipping times to online shoppers all over the East Coast, enhancing your business's ability to deliver top-notch customer experiences. Our warehouse is equipped with the latest technology and infrastructure, ensuring optimal inventory management, order accuracy, and fast turnarounds, all critical elements for running a successful e-commerce venture.
3.2. Highly Skilled Workforce
At FBA Prep Logistics, we take immense pride in our team of dedicated, experienced, and knowledgeable experts. Our staff's commitment to excellence guarantees that your business's fulfillment operations are in safe hands, allowing you to focus on other crucial aspects of your enterprise, like marketing and product development. From supply chain management pros to order processing and inventory management gurus, our team has the skills required to streamline your e-commerce operations and amplify your success.
3.3. Proven Track Record
As a business owner, you want to work with a partner who has a strong understanding of the intricacies of online selling and can demonstrate a history of successful collaborations with companies similar to yours. FBA Prep Logistics has an established track record of working with medium-sized Amazon.com sellers, simplifying their supply chain operations, and delivering cost-effective and efficient solutions. Our reputation reflects a commitment to ongoing improvement and a dedication to delivering outstanding results.
3.4. Tailored Services for E-Commerce Businesses
At FBA Prep Logistics, we recognize that every e-commerce business is unique, and its specific needs vary. That's why we've developed a range of specialized services suited to online sellers, including order fulfillment, inventory management, returns management, cross-docking, and so much more. We aim to provide a tailored package that addresses your distinctive business requirements, translating to a seamless and stress-free experience from start to finish.
3.5. Expert Guidance on Supply Chain Management
With many e-commerce businesses lacking comprehensive experience in supply chain management, FBA Prep Logistics offers invaluable guidance throughout the entire process. Our skilled team is well-versed in simplifying complex concepts and streamlining fulfillment operations, leaving no stone unturned. We work closely with our clients to understand their goals, identify opportunities, and implement effective strategies to ensure a top-tier customer experience while keeping costs in check.
3.6. Unwavering Commitment to Flexibility and Support
Customer service is at the heart of everything we do at FBA Prep Logistics. We strive to provide an unmatched level of flexibility, personalization, and ongoing support. Our team is always available to answer questions, address concerns, and offer recommendations to help you make informed decisions about your e-commerce operations. When you choose FBA Prep Logistics, you're not merely picking a service provider; you're selecting a steadfast business partner dedicated to your brand's success.
3.7. Simplified Amazon FBA Prep Services
As a reliable Fulfillment 3PL partner for Amazon sellers, we understand the immense value of optimized FBA prep services. Our comprehensive Amazon FBA Prep Services are tailored to enhance your selling experience on the platform, ensuring a smoother journey and shorter lead times. With FBA Prep Logistics taking care of your Amazon FBA needs, you'll be able to concentrate on your e-commerce business's growth while providing your customers with an exceptional experience.
In conclusion, when it comes to choosing a reputed Fulfillment 3PL partner, FBA Prep Logistics checks all the boxes. By opting for our services, you're signing up for unrivaled expertise, support, and competitive edge. Partnering with FBA Prep Logistics means benefiting from cost-effective, efficient, and customer-focused logistics solutions ideal for propelling your e-commerce business to new heights.
Making Supply Chain Management Simpler for Your E-Commerce Business
If you're a new or seasoned online seller with limited experience in supply chain management, choosing FBA Prep Logistics as your fulfilment 3PL partner can unlock several benefits and make the entire process much simpler. Here's how:
4.1 Expert Guidance
Our team of seasoned professionals has a comprehensive understanding of the e-commerce landscape, specifically Amazon.com. We can take the guesswork out of supply chain management and help you make informed decisions at every stage of the process, from inventory management to order fulfilment and shipping. This expertise helps you avoid costly mistakes and allows you to focus on growing your business.
4.2 Flexible Solutions
As a leading fulfilment 3PL warehouse, FBA Prep Logistics understands that every e-commerce business has unique requirements. That's why we offer a range of flexible and scalable services catering to your business's specific needs. Whether it's developing customized return center strategies for your Shopify store or providing efficient PA order fulfilment services, we tailor our solutions to ensure your business thrives.
4.3 Real-time Inventory Management
Keeping track of your inventory is crucial to ensure customer satisfaction and maintain a healthy cash flow. At FBA Prep Logistics, we simplify inventory tracking by providing a user-friendly platform that offers real-time data on stock levels, reorder points, and order status. Learn more about how we can help you simplify inventory tracking on Shopify.
4.4 Cost-effective Shipping Solutions
Shipping costs can have a significant impact on your e-commerce business's bottom line. That's why we use cutting-edge technology and analytics to find the most efficient shipping solutions for our clients. Plus, our strategic location on the East Coast allows us to offer quick and affordable shipping services.
4.5 Streamlining Returns Management
Returns are an inevitable part of the e-commerce world, and having a reliable strategy in place can save your business both time and money. FBA Prep Logistics offers hassle-free Shopify returns in NJ and other comprehensive return management services that allow you to focus on what you do best – growing your online business.
4.6 Leveraging Advanced Technology
From warehouse management systems to integration with popular e-commerce platforms, FBA Prep Logistics ensures seamless technology integration that enhances the supply chain management experience. Read more about integrating technology into your Amazon seller workflow in Pennsylvania.
4.7 Ongoing Support
As your fulfilment 3PL partner, FBA Prep Logistics is here to support you 24/7 through every step of your e-commerce journey. Our dedicated and knowledgeable staff is always ready to address your concerns, provide insights, and ensure your overall satisfaction with our services.
In summary, FBA Prep Logistics makes supply chain management simpler for e-commerce businesses by offering expert guidance, flexible solutions, real-time inventory management, cost-effective shipping options, streamlined returns, advanced technology integration, and ongoing support. By choosing us as your 3PL partner, dealing with supply chain management will no longer be a daunting task, allowing you to focus more on expanding your e-commerce business.
Section 5: Why FBA Prep Logistics Is Your Ideal 3PL Partner
Choosing the right Fulfilment 3PL partner is a crucial decision for your e-commerce business, especially when selling on amazon.com. With many 3PL warehouses out there, what makes FBA Prep Logistics your ideal choice? As an experienced and proficient warehouse located in Bristol, PA, we have crafted a strong reputation for providing distinctive services to medium-sized e-commerce businesses. Here are several reasons why you should partner with us for your e-commerce fulfillment needs:
5.1: Emphasis on E-Commerce and Amazon Experience
At FBA Prep Logistics, our specialization is on e-commerce fulfillment, and our services are exclusively designed for online sellers targeting the Amazon marketplace. Our vast experience in dealing with Amazon's unique requirements means we fully understand the challenges you may face, and we're well-equipped to manage them effectively.
5.2: Customer-Centric Approach
Our primary focus is on your success and satisfaction, making us an ideal Fulfilment 3PL partner. We're committed to providing personalized, flexible, and adaptable solutions tailored to your specific needs, addressing potential issues proactively, and ensuring a seamless fulfillment experience.
5.3: State-of-the-Art Warehouse Facilities
Our cutting-edge Bristol, PA warehouse is strategically situated, allowing us to streamline our services efficiently, and offer efficient PA order fulfillment services for your e-commerce store, resulting in reduced shipping times and operational costs.
5.4: Comprehensive Services
As a comprehensive Fulfilment 3PL provider, we offer a range of services tailored to e-commerce sellers, which include order fulfillment, inventory management, Amazon FBA prep, and hassle-free Shopify returns in NJ, among others. Our holistic approach ensures that you can manage all your logistics requirements under one roof, thus simplifying your business operations.
5.5: Expert Team and Support
Our skilled and proficient team is dedicated to providing exceptional execution and customer support. We not only manage your logistics requirements effectively but also offer valuable advice and guidance on streamlining your supply chain and enhancing your business efficiency.
5.6: Constant Communication and Transparency
We understand the importance of clear communication, and we prioritize staying in touch with you throughout the entire process. By using advanced tech solutions and providing real-time updates on your orders, inventory levels, and shipment tracking, we ensure complete transparency and peace of mind.
5.7: Competitive Pricing
Our commitment to providing affordable and competitive pricing without compromising on service quality makes us an attractive choice for your e-commerce business. By collaborating with us, you can significantly reduce your overall operational costs while improving efficiency and profitability.
5.8: Security and Reliability
With rigorous security measures in place at our facilities, we safeguard your inventory and shipments while ensuring reliable service delivery. Our secure pick and pack service for Shopify stores in NJ and strict adherence to compliance requirements reflect our dedication to maintaining the highest standards of security.
5.9: Scalability
As your e-commerce business grows, so do your logistics and fulfillment needs. FBA Prep Logistics is equipped to scale with your business, offering flexible fulfillment solutions that can seamlessly adapt to increasing demands and changing requirements.
5.10: Focused on Your Success
At FBA Prep Logistics, we adopt a partnership approach in which your success is our success. By helping you streamline your fulfillment process, minimize costs, and enhance customer satisfaction, we contribute to the growth and prosperity of your e-commerce venture.
In conclusion, FBA Prep Logistics is a trustworthy and dependable choice for your e-commerce business's Fulfilment 3PL partner. With our unrivaled experience, comprehensive services, customer-focused approach, and state-of-the-art warehouse facilities, we can help you take your business to new heights. So, what are you waiting for? Partner with FBA Prep Logistics and take the first step towards a successful, flourishing, and stress-free e-commerce fulfillment journey.
Frequently Asked Questions
1. How does FBA Prep Logistics assist with my e-commerce growth?

We provide a solid foundation allowing for efficient shipping and order handling, excellent customer service, and cost-effective solutions that ultimately help grow your business and boost your reputation on Amazon.com.

2. What does fulfillment 3PL mean, and how does it relate to my e-commerce business?

Fulfillment 3PL refers to a third-party logistics provider specializing in the end-to-end process of receiving, storing, packing, and shipping orders for e-commerce businesses. A reliable 3PL like FBA Prep Logistics ensures smooth and efficient operations, leading to an improved buyer experience and increased profits.

3. What differentiates FBA Prep Logistics from other 3PL warehouses?

Our state-of-the-art warehouse in Bristol PA, highly skilled workforce, specialized services tailored to online sellers, and a proven track record of customer satisfaction make us the ideal choice for your e-commerce business growth.

4. How can FBA Prep Logistics simplify supply chain management for my e-commerce business?

We offer expert guidance, flexible solutions, and dedicated support to help you navigate through supply chain management. Our team will handle all aspects of your process, giving you more time to focus on growing your business and keeping your customers happy.

5. Why should I choose FBA Prep Logistics as my 3PL partner?

Choosing FBA Prep Logistics ensures a seamless experience, higher efficiency, reduced operational costs, and better results, allowing you to focus on your core business functions while we handle your fulfillment needs with utmost professionalism.