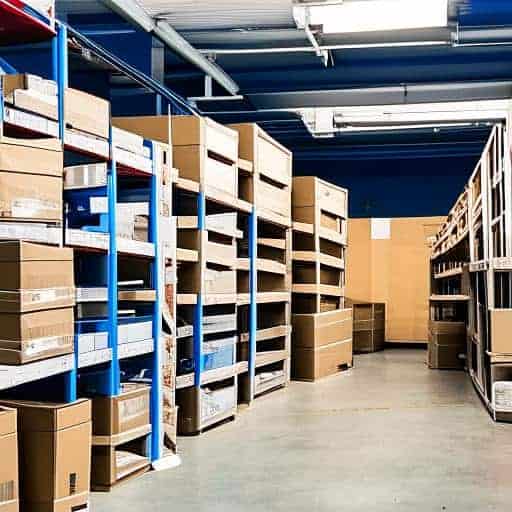 Introduction: The Growing Importance of FBA Prep Centers for Amazon Sellers
In the ever-evolving world of e-commerce, there's no denying that Amazon has emerged as the industry's uncontested giant. As an Amazon seller, keeping up with the competition involves not just offering quality products but also ensuring efficient order fulfillment and customer satisfaction. That's where FBA Prep Centers come in. In recent years, FBA (Fulfillment by Amazon) Prep Centers have gained immense popularity among Amazon sellers for their ability to streamline the supply chain process, making it hassle-free and efficient. In this guide, we'll introduce you to the concept of FBA Prep Centers and the range of services they offer for Amazon sellers, with a special focus on FBA Prep Logistics – a leading 3PL warehouse located in Bristol, PA.
FBA Prep Centers act as intermediaries between Amazon sellers and the Amazon fulfillment center. They take care of all the necessary tasks that need to be completed before sending products to Amazon warehouses, including labeling, packaging, palletizing, and inventory management. By handling these time-consuming and often challenging processes, FBA Prep Centers give sellers the opportunity to focus on what they do best – growing their business and selling more products.
Choosing the right partner for your Amazon business is crucial. FBA Prep Logistics, a 3PL warehouse, has established itself as one of the top choices among Amazon sellers of all sizes. Our comprehensive services and customer-centric approach have significantly contributed to the success and growth of numerous e-commerce businesses. This guide will delve into the benefits of partnering with FBA Prep Logistics, how we tailor solutions for each client, and the steps to get started with our services.
Ready to discover how FBA Prep Logistics can improve your overall e-commerce strategy, streamline your supply chain, and help your Amazon business flourish? Read on!
II. Understanding FBA Prep Services
FBA Prep Centers, like our 3PL warehouse at FBA Prep Logistics, offer a wide array of services to help Amazon sellers thrive in the ever-competitive e-commerce marketplace. By providing end-to-end logistical support, these centers allow businesses to focus on what they do best: creating and marketing their products. In this section, we'll dive into the key services that FBA Prep Logistics offers and how they can be a game-changer for your Amazon business.
A. Labeling and Barcoding
Labeling and barcoding are essential steps in the supply chain management process. FBA Prep Logistics uses state-of-the-art equipment to ensure that your products have the proper labels and barcodes in compliance with Amazon's guidelines. This includes, but is not limited to, FNSKU labels, UPC barcodes, and shipping labels. Furthermore, our team of experts diligently checks each label to guarantee its accuracy, ensuring there are no hiccups when your products reach Amazon fulfillment centers.
B. Packaging
First impressions count. That's why FBA Prep Logistics takes great care in packaging your products professionally and securely. With a variety of packaging options available, we can accommodate any product type – be it fragile items or oversized products. Moreover, our team can handle bundling, multi-packs, and custom packaging, which not only meets Amazon's stringent requirements but also helps your products stand out from the competition.
C. Palletizing and Shipment Consolidation
Efficient palletizing and shipment consolidation are critical components of a cost-effective supply chain. Our warehouse staff at FBA Prep Logistics are trained in optimizing pallets to maximize space utilization, thereby reducing shipping costs for your business. Additionally, we can expertly consolidate multiple shipments headed to the same Fulfillment Center, further streamlining the shipping process and driving down costs.
D. Inventory Management
Keeping track of inventory is crucial to the success of any e-commerce business. At FBA Prep Logistics, our advanced warehouse management system (WMS) enables you to have real-time access to your inventory levels, sales data, and shipping information. Our system seamlessly integrates with the most popular e-commerce platforms like Shopify, allowing you to track and manage your stock with ease.
E. Inspection and Quality Control
No one wants to receive negative reviews on Amazon because of poor product quality or damaged items. FBA Prep Logistics knows this all too well, which is why we have implemented rigorous inspection and quality control processes. Our team meticulously examines each item to identify potential issues, such as damaged packaging or manufacturing defects, allowing you to proactively address problems before they negatively impact your seller rating.
F. Returns Management
Returns are an inevitable part of the e-commerce business. FBA Prep Logistics can handle the entire returns process on your behalf, freeing up valuable time so you can focus on growing your business. We assess returned items based on Amazon's guidelines, distinguish between sellable and unsellable products, and relabel and repackage eligible items for future sales. By partnering with us, the headache of managing returns becomes a thing of the past.
G. International Shipping Support
Expanding your Amazon business to international markets can be an exciting yet daunting endeavor. With FBA Prep Logistics by your side, you can rest easy knowing that we have the knowledge and experience to navigate the complexities of cross-border shipping. Our team will handle all required paperwork, customs clearance, and communication with carriers, giving you the peace of mind that your products will arrive at their destination promptly.
In conclusion, FBA Prep Logistics serves as a one-stop-shop for Amazon sellers, offering an extensive range of services designed to streamline your supply chain and strengthen your overall e-commerce strategy. With FBA Prep Logistics, you gain access to a host of tailored solutions and a commitment to customer service that is second to none. So why wait? Tap into the power of FBA Prep Logistics and propel your Amazon business to new heights.
III. The Benefits of Partnering with FBA Prep Logistics
As an Amazon seller, you're constantly looking for ways to improve your business and remain competitive. Partnering with a trusted FBA prep center like FBA Prep Logistics can provide numerous benefits that will help you save time, reduce costs, and optimize your e-commerce operations. In this section, we'll highlight the key advantages of collaborating with FBA Prep Logistics and share real-world examples of how our services have positively impacted the businesses we work with.
3.1 Time Savings
One of the most significant benefits of partnering with FBA Prep Logistics is the considerable time savings it offers. Our team completes all the necessary FBA tasks, such as labeling, packaging, and palletizing, so you can focus on growing your business.
By utilizing our services, our partners have reported an average time savings of 30-40%, freeing them up to address other essential aspects of their e-commerce enterprises.
3.2 Cost Reduction
Managing your supply chain can be costly and time-consuming, especially if you're handling each aspect in-house. FBA Prep Logistics helps you save money by streamlining your operations and providing cost-effective solutions. For example, our clients enjoy competitive pricing on shipping and storage, making us an attractive partner to help increase your profit margins.
Additionally, by consolidating your supply chain needs with FBA Prep Logistics, you can avoid the need for multiple vendors, leading to reduced costs and simplified logistics.
3.3 Improved Product Quality
At FBA Prep Logistics, we have a team of experienced professionals who are well-versed in Amazon's complex FBA requirements. As a result, we can help ensure your products meet Amazon's strict quality standards, thereby avoiding costly mistakes and enhancing your customers' experience.
3.4 Enhanced Order Accuracy
Accuracy is essential to provide excellent service to your customers. FBA Prep Logistics employs advanced inventory management systems and quality control processes to ensure your orders are accurately processed and fulfilled, resulting in reduced returns and increased customer satisfaction.
3.5 Seller Peace of Mind
Entrusting your e-commerce operations to a capable 3PL provider like FBA Prep Logistics allows you to focus on running your business without the added stress of managing your supply chain. Rest easy knowing that your fulfillment needs are in the hands of experienced, dedicated professionals who are committed to helping your Amazon business succeed.
3.6 Real-World Examples and Testimonials
FBA Prep Logistics not only offers top-notch services, but we're proud to have successfully helped numerous businesses expand their presence on Amazon. Here are a few testimonials from our satisfied partners:
"Since we partnered with FBA Prep Logistics, our conversion rate on Amazon has improved considerably. Their attention to detail and efficient service has helped us reduce costs and gain a competitive edge on the marketplace." — Sarah, a home goods store owner

"FBA Prep Logistics has truly been a game-changer for my business. Their cost-effective solutions, personalized approach, and outstanding customer service make them an invaluable partner." — Steve, an electronics seller on Amazon

"As a small business owner, I'm always looking for ways to save time and money. FBA Prep Logistics has allowed me to do just that, giving me the support I need to focus on growing my business. I would highly recommend their services to other Amazon sellers." — Emily, a health and wellness product seller
As we can see, FBA Prep Logistics has made a significant impact on the businesses we work with, offering unmatched expertise and tailored solutions to help our partners excel on Amazon. Partnering with FBA Prep Logistics is a smart choice to enhance your e-commerce operation and improve your bottom line.
IV. How FBA Prep Logistics Tailors Solutions for Each Business
A Personalized Approach to Streamlining Your Amazon Business
At FBA Prep Logistics, we understand that every Amazon seller's needs are unique, so we take a customized approach to develop the perfect solution for each client. We work closely with you to understand your specific requirements, challenges, and goals; and collaborate throughout the entire process to create tailored solutions that will streamline your supply chain and help your Amazon business thrive.
1. Client Onboarding and Needs Assessment
We start by getting to know you and your business. By understanding your products, sales, and Amazon presence, we can gain valuable insights into your specific needs. Through a thorough assessment and careful analysis, we can identify areas in which FBA Prep Centers can save you time, money, and stress.
2. Customization and Adaptability
FBA Prep Logistics caters to a diverse range of businesses across various industries, sizes, and goals. As a result, the FBA Prep Center services we provide are highly adaptable. We offer custom packaging, labeling solutions, and inventory management that caters to your unique needs. We constantly monitor and evolve our processes to ensure we always meet the changing demands of the e-commerce landscape.
####3. Expert Consultation and Support
Our team of industry veterans and Amazon experts is always ready to provide guidance, advice, and support to help you excel in the competitive world of Amazon selling. We're not just a logistics provider; we're a strategic partner with an unwavering commitment to your success. By staying informed on Amazon's ever-evolving rules and regulations, we can help you navigate the complexities of selling on the platform and avoid any potential pitfalls.
4. Ongoing Collaboration for Long-Term Success
We don't believe in one-size-fits-all solutions. Instead, we recognize the importance of constantly evolving to meet the needs of our clients. Our commitment to continuous improvement means that our services are always expanding and optimizing to better serve your business. By maintaining a strong line of communication, we can work together to stay ahead of the curve and help your Amazon business grow.
5. Seamless Integration with Amazon and Other Platforms
FBA Prep Logistics employs advanced technology and robust integration with Amazon FBA, ensuring a smooth and efficient process from start to finish. In addition to Amazon, we're also able to seamlessly integrate our services with other e-commerce platforms like Shopify (Simplify Inventory Tracking on Shopify). This compatibility means that no matter where and how you sell, FBA Prep Logistics can provide the logistic support you need.
Fostering Lasting Partnerships and Proven Success
Our tailored solutions and personalized approach have helped countless businesses throughout the years. By taking the time to truly understand their unique needs, we've been able to deliver exceptional results and forge lasting partnerships with our clients. Don't take our word for it, read through some of the testimonials from satisfied clients who've experienced the benefits of partnering with FBA Prep Logistics.
Leveraging the Power of FBA Prep Centers
By partnering with FBA Prep Logistics, you're not only collaborating with a top-notch 3PL provider but also gaining a strategic partner dedicated to your long-term success in the Amazon marketplace. If you're ready to experience the tailored solutions and dedicated support that FBA Prep Logistics can offer, don't hesitate to reach out to get started. Let us show you why we're the go-to FBA Prep Center for countless Amazon sellers, and how we can help maximize your business's efficiency and growth.
V. Taking the Next Step: Getting Started with FBA Prep Logistics
As an Amazon seller, you understand the importance of efficient supply chain management and the various challenges that come with it. Partnering with FBA Prep Logistics can make a significant difference in your e-commerce journey. We're confident that our tailored solutions will give you an edge and help your business reach its full potential.
To get started with FBA Prep Logistics and begin experiencing the numerous benefits of our expert services, follow these simple steps:
Reach Out to Us: Begin by contacting our team to discuss your Amazon business's specific needs. We're here to listen, understand your requirements, and provide valuable guidance on the services that will best serve you.

Discover Our Range of Services: Familiarize yourself with the wide range of FBA Prep Logistics services we offer, from labeling and packaging to inventory management and palletizing. Check out some of our resources, like the Ultimate Guide to E-commerce Logistics in the East Coast to better understand how our services can streamline your supply chain.

Get a Customized Quote: Based on your unique needs, we'll provide a transparent, customized pricing quote for our FBA prep services, ensuring you get cost-effective solutions without any surprises.
Onboard with Ease: Our onboarding process is designed to be seamless and straightforward. We'll walk you through every step, helping you understand how our systems work and how to effectively integrate your Amazon seller account with our platform.

Experience Dedicated Support: Enjoy the peace of mind that comes with having a reliable 3PL partner. From ongoing customer support to troubleshooting and Amazon FBA optimization, you can trust our team to help your business excel on Amazon.

Monitor Your Progress: Keep tabs on your inventory and fulfillment progress through our user-friendly portal. Stay informed about your products' statuses and receive timely updates to make informed decisions for your business.
Grow Your Business: With FBA Prep Logistics as your expert partner, you can now focus on increasing sales, expanding your product range, and making a greater impact on Amazon's marketplace. Look into strategies like The Definitive Guide to Amazon PPC Advertising for NJ Sellers to boost your growth even further.
In conclusion, teaming up with FBA Prep Logistics means entrusting your Amazon e-commerce business to a dedicated partner with a proven track record of success. Our tailored solutions, cost-effective services, and commitment to customer satisfaction make us the ideal choice for Amazon sellers who want to elevate their game. Don't wait—take the next step and contact FBA Prep Logistics today to see how we can empower your e-commerce ambitions!
FAQs on FBA Prep Logistics for Amazon Sellers
Q1. What are FBA prep centers and how do they help Amazon sellers?

A1. FBA prep centers, like FBA Prep Logistics, are specialized third-party logistics (3PL) warehouses that handle a wide range of services, such as labeling, packaging, palletizing, and inventory management for Amazon sellers. They play an increasingly essential role in helping sellers streamline their supply chain, save time, reduce costs, and improve their overall e-commerce strategy.
Q2. What kind of services can I expect from FBA Prep Logistics?

A2. FBA Prep Logistics offers a comprehensive suite of services designed to cater to Amazon sellers' various needs. These services include product labeling, packaging, bundling, palletizing, inventory management, and much more. By partnering with FBA Prep Logistics, you get a one-stop-shop solution for your Amazon FBA preparation needs.
Q3. How can partnering with FBA Prep Logistics benefit my Amazon business?

A3. Choosing FBA Prep Logistics can provide numerous benefits to your Amazon business. Some of the key advantages include time savings, cost reduction, improved product quality, enhanced order accuracy, and peace of mind for sellers. With its expertise and commitment to customer service, FBA Prep Logistics has helped many businesses optimize their e-commerce journey.
Q4. How does FBA Prep Logistics customize its services to cater to individual businesses?

A4. At FBA Prep Logistics, we understand that each e-commerce business comes with unique needs and goals. Our team works closely with clients to develop tailored solutions that align with their Amazon endeavors. By communicating with you and understanding your business, we provide personalized support and services that help you succeed on the platform.
Q5. What is the process to get started with FBA Prep Logistics?

A5. Getting started with FBA Prep Logistics is easy and straightforward. To begin, simply visit our website and contact our team. We'll guide you through the process of assessing your needs and provide a customized solution that suits your business requirements. With FBA Prep Logistics by your side, you'll increase your chances of achieving e-commerce success on Amazon.