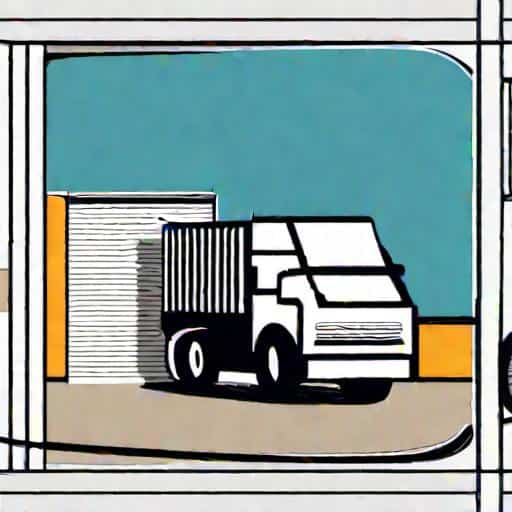 Introduction: The Growing Importance of Logistics Service in E-commerce
In today's dynamic and rapidly-evolving marketplace, the success of an e-commerce business hinges on efficient and reliable logistics service. As customer expectations for fast and accurate delivery continue to soar, businesses must adapt and optimize their supply chain operations to meet these demands. That's where FBA Prep Logistics comes into play. As experts in the field, we understand the unique challenges faced by e-commerce businesses, and we are committed to providing tailored solutions that address those needs.
The Vital Role of Logistics in E-commerce Success
When it comes to e-commerce, the customer experience doesn't end the moment they click the "buy" button. The process of delivering the ordered product to the customer's doorstep is an equally crucial part of their online shopping journey. This is why efficient logistics service should be at the core of any e-commerce business strategy. Poor logistics management can result in order delays, shipping errors, and damaged goods, all of which can tarnish the reputation of your brand and lead to lost sales.
FBA Prep Logistics: Understanding Your Unique Needs
At FBA Prep Logistics, we recognize that no two e-commerce businesses are the same, and that's why we take a personalized approach to our logistics services. We have experience working with a wide range of e-commerce platforms, including Amazon, Shopify, and others. Our team will work closely with you to understand your specific requirements and develop a customized logistics plan to help you achieve your business objectives.
The Benefits of a Data-Driven Approach to Logistics
Our expertise in logistics service extends beyond mere warehousing and order fulfillment. We are also constantly analyzing the latest industry trends and leveraging cutting-edge technology to enhance our service offerings. Through data-driven optimization, we have been able to streamline our processes, reduce costs, and ultimately provide a better experience for our clients and their customers. In fact, many of our e-commerce partners have seen significant improvements in both their operational efficiency and bottom line after partnering with FBA Prep Logistics.
Our Commitment to Your E-commerce Business Growth
As your dedicated logistics service partner, FBA Prep Logistics is committed to helping you grow your e-commerce business. We understand that your success is our success, and that's why we strive to go above and beyond in every aspect of our service. Whether you're a small business owner just starting out or a seasoned e-commerce veteran, you can count on FBA Prep Logistics to provide the support, resources, and expertise you need to thrive in the competitive online marketplace.
In conclusion, choosing FBA Prep Logistics as your trusted logistics service provider is a smart investment in the future of your e-commerce business. Our experience, customization, and commitment to quality are just a few of the reasons why we have become the go-to logistics partner for a growing number of successful online retailers. By partnering with us, you can rest assured that your business is primed for sustained growth and success.
2. Why Outsource Supply Chain Management to a 3PL Warehouse?
Outsourcing your supply chain management to a third-party logistics (3PL) warehouse like FBA Prep Logistics offers numerous advantages and can significantly improve the efficiency and profitability of your e-commerce business. In this section, we explore the top reasons why a median-size e-commerce company, like our avatar, should choose a 3PL warehouse, particularly when venturing into the world of supply chain management for the first time.
2.1. Cost Savings
First and foremost, outsourcing to a 3PL warehouse can lead to substantial cost savings for your e-commerce business. By leveraging their expertise, infrastructure, and economies of scale, FBA Prep Logistics can help you reduce overhead expenses such as warehouse rent, utilities, equipment, and staff training. Additionally, our logistic services in efficient PA order fulfillment can cut transportation costs and overall shipping expenses, improving your bottom line and freeing up valuable resources for other business investments.
2.2. Efficiency and Productivity
Partnering with a 3PL warehouse enables you to focus on your core business functions while leaving logistics management to the experts. FBA Prep Logistics takes care of mundane and time-consuming tasks like receiving, sorting, inventory management, shipping, and returns, which can increase productivity and efficiency across your operations. Plus, our well-established processes, technologies, and systems drastically reduce the risk of errors or delays in your supply chain, providing a high-quality, reliable service for your e-commerce customers.
2.3. Scalability and Flexibility
As your e-commerce business grows and fluctuates, so do your supply chain management needs. By working with a trusted 3PL warehouse like FBA Prep Logistics, you can quickly scale your operations up or down based on seasonal demand, new product launches, or business expansion. This flexibility allows you to adapt to changing market conditions without the hassle of managing additional resources, warehouse space, or staff.
Furthermore, FBA Prep Logistics offers customized logistics service solutions tailored specifically for your unique e-commerce business. With our experienced team and a wide range of services, we ensure you have the right tools and support to succeed in any stage of your business journey. Whether it's expanding your product range or venturing into new markets, we'll adapt our services to meet your evolving needs.
2.4. Access to Advanced Technology
Another key advantage of outsourcing your supply chain management to FBA Prep Logistics is access to cutting-edge technology and systems. Our sophisticated warehouse management software (WMS) and transportation management systems (TMS) help streamline your supply chain, providing greater visibility and control over inventory levels, shipping times, and overall performance. By leveraging advanced analytics and real-time data, you'll be better equipped to make informed decisions and set your e-commerce business up for long-term success.
2.5. Expertise and Experience
As an e-commerce business owner, you may not have the time and resources to become an expert in supply chain management and logistics. However, outsourcing to a 3PL warehouse like FBA Prep Logistics grants you access to a team of seasoned professionals with extensive experience in the field. Our industry knowledge and proven strategies in e-commerce logistics on the East Coast enable us to optimize your supply chain, delivering a high level of service that both you and your customers can rely on.
2.6. Improved Customer Service & Satisfaction
Lastly, partnering with a reputable 3PL warehouse provider like FBA Prep Logistics can significantly enhance customer service and satisfaction levels in your e-commerce business. By offering fast, efficient, and accurate order fulfillment, along with easy and hassle-free returns processes, you can build trust and loyalty among your customer base. As our primary focus is on providing exceptional logistic services at every stage of the supply chain, you can concentrate on delivering excellent products and customer experiences, ultimately boosting your business's reputation and growth potential.
In conclusion, outsourcing your supply chain management to a 3PL warehouse like FBA Prep Logistics offers numerous benefits, from cost savings and increased efficiency to scalability and access to industry expertise. By choosing a trusted partner like us, you'll be well-equipped to navigate the complexities of e-commerce logistics and set your business on the path to success. Don't hesitate to reach out and learn more about how our tailored logistics service solutions can support your e-commerce journey.
3. FBA Prep Logistics: Tailored Solutions for Your E-Commerce Business
As a leading logistics service provider, FBA Prep Logistics understands that each e-commerce business is unique, requiring personalized attention and customized solutions to tackle diverse challenges. With our vast experience and expertise in the industry, we are committed to offering specialized services designed to cater to your individual business needs, ensuring the utmost customer satisfaction. Here is a comprehensive look at the range of our services:
3.1 Product Handling
Our top-notch product handling services ensure that your items are treated with the utmost care and professionalism from the moment they arrive at our warehouse until they reach your customers. We take care of every aspect of product handling, including:
Receiving shipments from suppliers
Inspecting products for quality and accuracy
Labeling and barcoding items for easy identification
Storing items systematically in our secure warehouse
Rest assured, your products are in safe hands with FBA Prep Logistics.
3.2 Kitting and Assembly
E-commerce businesses often face the challenge of bundling, assembling, or creating product sets as part of their sales strategy. FBA Prep Logistics offers efficient kitting and assembly solutions, maximizing your opportunity for increased sales and customer satisfaction. Our kitting services include:
Creating product bundles with multiple items
Assembling components into a finished product
Preparing promotional packages and sales kits
Wrapping and packaging products attractively
With our logistics service, you can focus on growing your business while we take care of these time-consuming tasks.
3.3 Warehousing and Storage
FBA Prep Logistics features state-of-the-art warehousing facilities to store your inventory, ensuring the highest levels of security and proper product maintenance. Besides ample storage space, we offer various warehousing services to effectively manage your inventory, such as:
Real-time inventory tracking and reporting
Climate-controlled storage options for sensitive products
Compliant storage of hazardous materials
FIFO order management for perishable items
By partnering with FBA Prep Logistics, you can rest easy knowing that your inventory is managed professionally and efficiently.
3.4 Order Fulfillment
Quick and accurate order fulfillment is the key to customer satisfaction and the growth of your e-commerce business. FBA Prep Logistics provides reliable and scalable order fulfillment solutions, which include:
Picking and packing products as per customer orders
Shipping packages using the most efficient and cost-effective carriers
Real-time tracking of shipments for full transparency
Managing returns and exchanges as needed
Our seamless integration with popular e-commerce platforms like Amazon and Shopify ensures your orders are fulfilled with minimal delays and glitches.
3.5 Expertise and Commitment to Quality Service
FBA Prep Logistics prides itself on its team of seasoned professionals with vast experience in e-commerce logistics and supply chain management. Our commitment to quality service translates into several advantages for our clients, such as:
Reduced shipping costs and improved delivery times
Increased customer satisfaction through accurate order fulfillment
Streamlined inventory management and handling processes
Continuous process improvement initiatives
By partnering with FBA Prep Logistics, you can leverage our expertise and commitment to quality service to optimize your supply chain and grow your e-commerce business.
In conclusion, FBA Prep Logistics offers tailored solutions for your e-commerce business, covering every aspect of product handling, kitting, warehousing, and order fulfillment. Our commitment to efficiency and customer satisfaction, combined with our seamless integration with major e-commerce platforms, ensures that your business thrives in today's competitive marketplace. Contact us today to learn more about how our logistics service can benefit your business and set you on the path to success.
4. Seamless Integration with Amazon and Other E-Commerce Platforms
In today's fast-paced world of e-commerce, having smooth and efficient processes in place is a critical factor in ensuring customer satisfaction and business success. Fortunately, our logistics service at FBA Prep Logistics is proficient at integrating with the most popular online marketplaces, such as Amazon, to enable effective order fulfillment and seamless warehouse management. This section will discuss the benefits of our integration capabilities with Amazon and other e-commerce platforms.
4.1 Swift Order Processing with Integrated Platforms
One of the primary advantages of our logistics service is the ability to quickly process orders directly from the marketplace platform. Integration with platforms like Amazon enables us to receive orders in real-time, ensuring that we can start processing them without delay. This not only expedites shipping times but also allows for greater accuracy in fulfilling each order.
4.2 Centralized Inventory Management
By connecting our logistics service directly with your e-commerce platform, you can benefit from centralized inventory management. This feature helps you keep track of your products' stock levels without the need to manually update each platform every time an order is fulfilled. This ultimately saves you time and reduces the risk of overselling.
4.3 Streamlined Amazon FBA Services
With our seamless integration capabilities, we can directly connect your Amazon FBA account for a more streamlined method of order fulfillment. In other words, our logistics service acts as an extension of your Amazon FBA workflow, providing you with complete access to Amazon's suite of services such as Prime eligibility, expedited shipping, and multi-channel fulfillment.
4.4 Real-Time Order Tracking
Connecting your e-commerce platform to our logistics service allows you and your customers to access real-time order tracking information. This ensures complete transparency throughout the entire fulfillment process, from the time an order is placed until it reaches the customer's doorstep. Better tracking information leads to a more satisfied customer base and ultimately boosts your reputation as a trustworthy online seller.
4.5 Greater Scalability for E-Commerce Businesses
As your e-commerce business grows, so do your logistical needs. Utilizing an integrated logistics service like ours at FBA Prep Logistics enables you to efficiently scale your operations without having to worry about managing multiple warehouses or distribution centers. Our integration capabilities allow you to streamline and automate various processes, ensuring that your supply chain will be more than capable of handling increased order volumes.
4.6 Improved Return Management
Handling returns can be a challenging task, especially for businesses operating across multiple e-commerce platforms. With the seamless integration of our logistics service, processing returns becomes much more manageable, enabling you to efficiently update inventory levels and refund customers in a timely manner. This, in turn, contributes to better customer satisfaction and overall business success.
4.7 Simplified Reporting and Analytics
With access to centralized data and inventory management, you can easily generate reports and analyze your business performance. This information is invaluable for making data-driven decisions that can optimize your e-commerce operations and drive growth.
4.8 Constant System Updates
Lastly, at FBA Prep Logistics, we continually monitor and update our integration capabilities with popular e-commerce platforms, ensuring that our logistics service maintains compatibility and functionality despite any changes or updates on the platform's end.
In conclusion, seamless integration with Amazon and other e-commerce platforms is an essential feature of our logistics service at FBA Prep Logistics. Our comprehensive range of integration capabilities enables e-commerce businesses to streamline their order fulfillment processes and effectively manage their inventory. By partnering with FBA Prep Logistics, you can ensure smooth and efficient operations that will support your e-commerce business's growth and success in today's competitive marketplace.
5. How to Get Started with FBA Prep Logistics: A Step-by-Step Guide
Embarking on your partnership journey with FBA Prep Logistics is made easy and hassle-free by following our clear and efficient step-by-step guide. From initial inquiry to full-scale order fulfillment, this section provides insights into what to expect and the actionable steps necessary to make your collaboration with us a successful one.
5.1. Initial Inquiry and Research
To kick start the process, head over to our website and read through our offerings and informative articles, such as Efficient PA Order Fulfillment Services for Your E-commerce Store, The Ultimate Guide to E-commerce Logistics in East Coast, and The Benefits of Using Shopify Shipping on the East Coast. This will help you gain a better understanding of our expertise and commitment to providing top-notch logistics service for e-commerce businesses.
5.2. Get in Touch with Our Team
Once you have familiarized yourself with our services, reach out to us via email or phone. Our team of logistics professionals will be eager to help you and answer any questions that you may have. They'll take the time to listen to your unique e-commerce business needs and suggest tailored solutions that align with your goals.
5.3. Submit Required Information and Documentation
After the initial conversation, we will require specific information and documents from you to set up your account. These may include business registration, product catalog, shipping methods, and other pertinent details about your products and operations. We will also assess the compatibility of FBA Prep Logistics with your e-commerce platform and guide you through any necessary integrations.
5.4. Test Our Logistics Service Capabilities
One great way to ensure that our logistics service meets your expectations is to run a pilot program. By starting with a small batch of products for us to store, pick, pack, and ship, you can assess our performance before fully committing to our services. During this test run, our team will work closely with you to identify any areas for improvement and to optimize the process for long-term success.
5.5. Scale Up and Optimize Your Operations
After vetting our services through the pilot program, you can confidently up your game and entrust us with larger volumes as your business grows. As your 3PL partner, we greatly value our collaboration and will continually work towards optimizing your supply chain operations to remain competitive in the market.
5.6. Periodic Review and Collaboration
A successful partnership requires ongoing communication, cooperation, and evaluation. We recommend scheduling periodic reviews with your account manager to discuss your order fulfillment performance, address any concerns, and explore possible process improvements. Our team will be attentive to your feedback and open to implementing necessary adjustments for sustained success.
5.7. Leverage Our Expertise to Expand Your Business
As you scale up your e-commerce business, you can explore additional services and solutions from FBA Prep Logistics to further streamline and optimize your operations. This could include Simplify Inventory Tracking on Shopify, How to Integrate Technology into Your Amazon Seller Workflow in Pennsylvania, and The Definitive Guide to Amazon PPC Advertising for NJ Sellers.
In conclusion, partnering with FBA Prep Logistics is a strategic decision that can save you time and resources while future-proofing your e-commerce business. By following this step-by-step process, you'll be well on your way to experiencing the FBA Prep Logistics advantage and driving your online sales through greater efficiency, scalability, and top-notch logistics service.
Frequently Asked Questions
1. What makes FBA Prep Logistics stand out from other 3PL warehouses?

FBA Prep Logistics understands the unique needs of e-commerce businesses and provides tailored logistics solutions with a focus on cost savings, efficiency, and scalability. Our seamless integration with Amazon and other e-commerce platforms sets us apart from competitors, ensuring smooth and accurate order fulfillment.

2. How does outsourcing supply chain management to a 3PL warehouse save e-commerce businesses money?

Outsourcing supply chain management to a 3PL warehouse like FBA Prep Logistics reduces overhead costs, such as warehouse rental and staff salaries, while also providing access to advanced tools and technologies that streamline operations. This allows e-commerce businesses to focus on their core activities and invest in growth strategies.

3. Can FBA Prep Logistics support my business as it scales?

Absolutely! FBA Prep Logistics has the necessary infrastructure and expertise to handle increased volume and complexity as your e-commerce business grows. Our scalable services adapt to your needs, ensuring that you can seamlessly maintain and expand your operations.

4. How does FBA Prep Logistics integrate with Amazon and other e-commerce platforms?

FBA Prep Logistics has built partnerships with Amazon and various e-commerce platforms to provide seamless integration for order processing, tracking, and fulfillment. This means you can trust us to ensure smooth, timely, and accurate deliveries to your customers.

5. How can my business get started with FBA Prep Logistics?

Getting started with FBA Prep Logistics is easy and hassle-free. Reach out to us with an initial inquiry, and our team will guide you through the process, from discussing your specific requirements to finalizing the partnership and kicking off full-scale order fulfillment for your e-commerce business.