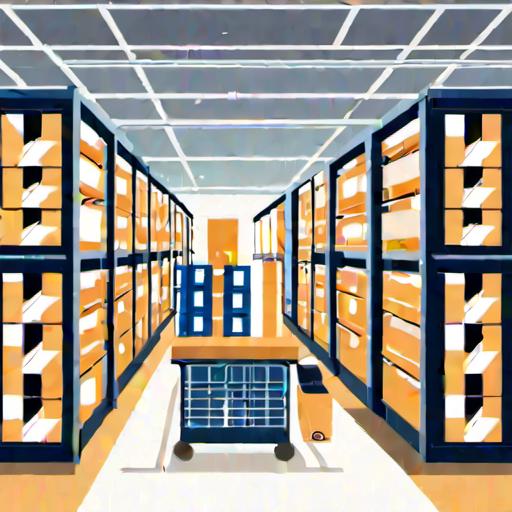 Introduction to E-commerce Order Fulfillment: Crucial Element to Your Online Store's Success
If you're running an online store, you're probably aware of the importance of order fulfillment. But have you ever taken a step back to understand what e-commerce fulfillment truly entails? It's a process that plays a vital role in your business's success, especially if you are selling on Amazon. Let's dive into what e-commerce order fulfillment is and why it's crucial for your online store's growth and profitability.
Unveiling the E-commerce Fulfillment Process
E-commerce fulfillment is the process of receiving, storing, packing, and shipping online orders to customers. This process is essential because it ensures that products are safely delivered to their destinations on time, impacting customer satisfaction and your brand reputation. Ultimately, e-commerce order fulfillment can either make or break your e-commerce business.
E-commerce Fulfillment for Amazon Sellers
For Amazon sellers, e-commerce fulfillment is even more crucial, since Amazon is widely known for its fast, reliable deliveries and a seamless shopping experience. With the vast number of sellers on Amazon, staying competitive in terms of product delivery and customer satisfaction becomes increasingly important. This is why so many businesses seek out partners like us – FBA Prep Logistics – to provide comprehensive e-commerce fulfillment services that cater specifically to Amazon sellers.
Outsourcing Order Fulfillment: Why it Matters?
Managing your e-commerce fulfillment process can be a daunting task, especially when your online store starts to gain more traction. From product storage to inventory management, e-commerce businesses have to face several challenges to ensure a smooth order fulfillment process. This often leads to a considerable time, money, and resource investment, which is why more and more businesses are beginning to outsource their e-commerce fulfillment needs to a reliable third-party logistics (3PL) provider like FBA Prep Logistics.
Outsourcing e-commerce fulfillment to FBA Prep Logistics has multiple benefits for your business:
Expertise: We have proven expertise in efficiently handling the entire e-commerce fulfillment process for a wide range of businesses.
Scalability: Our services cater to businesses of all sizes and can easily adapt to fluctuations in sales volume or seasonal factors.
Cost-Effective: Outsourcing to a 3PL warehouse enables you to save on investments in warehouse space, equipment, and manpower.
Focus on Core Competencies: By delegating e-commerce fulfillment to us, you can concentrate on other aspects of your business, like product development, marketing, and customer engagement.
Conclusion: Choose a Trusted Partner for E-commerce Fulfillment
In conclusion, e-commerce fulfillment is a critical aspect of your online store's success, particularly if you're selling on Amazon. A streamlined and efficient order fulfillment process directly influences customer satisfaction, growth, and profitability of your business.
By outsourcing your e-commerce fulfillment needs to a trusted 3PL provider like FBA Prep Logistics, you can take advantage of our expertise, scalable services, cost-effectiveness, and a single-minded focus on helping your business grow. In the next sections, we'll explore the importance of efficient e-commerce fulfillment for your business, how to choose the right 3PL warehouse, and discuss real-life success stories of businesses that have trusted FBA Prep Logistics for their e-commerce order fulfillment needs. Stay tuned!
2. The Importance of Efficient and Reliable Order Fulfillment for Your E-commerce Business
In today's highly competitive e-commerce environment, businesses must provide their customers with an excellent shopping experience. A critical component of that experience is the E-commerce Fulfillment process. When the order fulfillment process is efficient and reliable, it directly impacts customer satisfaction, growth, and profitability. In this section, we'll discuss the many benefits of having a streamlined order fulfillment process and how FBA Prep Logistics, a 3PL warehouse in Bristol, PA, can help e-commerce businesses achieve that.
2.1 Customer Satisfaction: The Key to Success
Customer satisfaction plays a vital role in the success of any e-commerce business. By providing efficient and reliable order fulfillment services, businesses can exceed customer expectations and ensure a positive shopping experience. This includes fast shipping times, accurate order picking, and a hassle-free returns process. Happy customers are more likely to make repeat purchases, recommend your business to others, and leave positive reviews, leading to increased brand trust and long-term success.
2.2 Scale Your Business with E-commerce Fulfillment
Partnering with FBA Prep Logistics enables you to easily scale your e-commerce business, providing the resources and support needed to expand and maintain consistent delivery times. When your order fulfillment process runs smoothly, it frees up time and resources, allowing you to focus on growing your business. You can confidently add new products, offer discounts or promotions, and enter new markets, knowing that your 3PL partner is handling the increased volume.
2.3 Streamline Operations for Maximum Efficiency
Our advanced order fulfillment process, powered by modern technology and driven by a skilled team of professionals, helps streamline your e-commerce business's operations. FBA Prep Logistics handles everything from storing inventory to packing and shipping orders, ensuring that your products reach your customers on time and in great condition. This efficient system allows you to save time and reduce costs over the long term.
2.4 Maintain a Competitive Advantage with FBA Prep Logistics
One of the key challenges that e-commerce businesses face is staying competitive in an ever-evolving market. By partnering with FBA Prep Logistics for your e-commerce order fulfillment needs, you gain a crucial competitive advantage. We offer cost-effective, comprehensive solutions tailored to your specific business needs, enabling you to save on shipping costs, reduce operational expenses, and improve overall efficiency.
FBA Prep Logistics offers Efficient PA Order Fulfillment Services for Your E-commerce Store and contributes to the success of businesses located on the East Coast. To learn more about the benefits of e-commerce fulfillment on the East Coast, check out our blog post, 3 Benefits of E-commerce Fulfillment on the East Coast.
2.5 Reduced Order Error Rates and Improved Inventory Accuracy
By trusting FBA Prep Logistics to handle your e-commerce order fulfillment, you can significantly reduce the risk of order errors and improve inventory accuracy. Our expert team utilizes advanced technology to ensure accurate order picking and real-time inventory tracking. As a result, customers receive the correct products every time, and you can make informed decisions related to product re-stocking, sales forecasting, and operational strategies.
2.6 Enhanced Customer Support Services
Providing exceptional customer support is another critical factor in growing your e-commerce business. When you partner with FBA Prep Logistics, you'll have access to a dedicated team of professionals who can quickly and effectively handle customer inquiries and resolve issues related to order fulfillment. With our top-notch customer support services, you can build and maintain strong relationships with your customers, further contributing to their satisfaction and your business's success.
2.7 Access to Cutting-Edge Technology and Industry Expertise
FBA Prep Logistics stays ahead of the curve when it comes to the latest technology and industry trends. By partnering with us, you'll benefit from our investment in cutting-edge systems, resulting in a more efficient and reliable order fulfillment process. Our team of industry experts is continually learning and adapting to changes in the e-commerce fulfillment landscape, ensuring that we remain at the forefront of technological advancements and best practices.
In summary, efficient and reliable e-commerce fulfillment plays a pivotal role in the success of your e-commerce business. By partnering with FBA Prep Logistics, you'll reap the benefits of an efficient order fulfillment process, unparalleled customer support, and industry expertise – contributing to improved customer satisfaction, better business growth, and increased profitability.
3. Choosing the Right 3PL Warehouse for Your E-commerce Business
Partnering with the right 3PL warehouse can make all the difference in the success of your e-commerce business. Take the time to consider the specific needs of your company and choose a 3PL partner you can truly rely on. Here, we provide a comprehensive guide to selecting the best 3PL warehouse for your e-commerce order fulfillment needs. Furthermore, we will explain the unique advantages offered by partnering with FBA Prep Logistics in Bristol, PA.
3.1 Analyze Your Business Size and Requirements
First, assess the size and needs of your e-commerce business. Consider factors such as the number of orders you receive daily, the nature of your products (fragile, perishable, high value), and your shipping requirements, including domestic and international destinations. Understanding your business's unique needs will help you find a warehouse that can support your specific e-commerce order fulfillment requirements.
3.2 Research on Warehouse Location and Facilities
The location of your 3PL warehouse plays a significant role in the efficiency of your e-commerce fulfillment operations. Strategically located warehouses can contribute to faster delivery and lower shipping costs. FBA Prep Logistics is ideally situated in Bristol, PA, on the East Coast, giving your e-commerce business access to key shipping routes and major metropolitan areas.
3.3 Consider Technology and Automation Capabilities
In today's fast-paced e-commerce landscape, having access to cutting-edge technology and automation is crucial. Look for a 3PL that provides you with real-time data tracking and reporting, seamless integration with your e-commerce platform, and automated inventory and order management systems.
3.4 Evaluate Warehouse Scalability
As your business grows, it's essential to partner with a 3PL warehouse that can easily scale to accommodate your expanding order fulfillment needs. FBA Prep Logistics prides itself on providing flexible solutions to help e-commerce businesses of all sizes thrive.
3.5 Look for Customizable and Personalized Services
A one-size-fits-all approach rarely works in business, particularly when it comes to e-commerce fulfillment. A 3PL warehouse should offer customizable solutions tailored to your unique business needs. FBA Prep Logistics specializes in providing personalized services that cater to the specific requirements of each e-commerce retailer we partner with.
3.6 Assess the Cost and Value of Services
While cost is an important factor when choosing a 3PL warehouse, be sure to weigh it against the value of services provided. It's essential to consider not just the basic fees but also other variables, such as shipping rates and any additional services you may require. FBA Prep Logistics offers competitive pricing without compromising on the quality of service.
3.7 Check the Warehouse's Customer Service and Responsiveness
The ability to communicate effectively and respond promptly to queries and concerns is a crucial aspect of a successful 3PL partnership. FBA Prep Logistics offers exceptional customer service, ensuring that all issues are addressed quickly and efficiently.
3.8 Look for Industry Experience and Expertise
Choose a 3PL warehouse with a proven track record in the e-commerce industry, particularly if your company is new to supply chain management. With FBA Prep Logistics, your business can take advantage of our industry expertise and years of e-commerce fulfillment experience to streamline your operations.
3.9 Ask for References and Testimonials
Don't hesitate to ask a potential 3PL warehouse for references and testimonials from their existing clients. This will help you gauge their capability and level of service. Check out FBA Prep Logistics' success stories to learn how we have helped numerous e-commerce businesses succeed in their markets.
3.10 Prioritize Security and Compliance
Finally, ensure the 3PL warehouse you choose prioritizes the security and compliance of your inventory and shipments. FBA Prep Logistics' advanced security measures and adherence to regulatory guidelines offer peace of mind to our e-commerce partners.
By considering all these factors, you will undoubtedly make an informed decision when choosing the best 3PL warehouse to meet your e-commerce order fulfillment needs. As countless satisfied customers can attest, partnering with FBA Prep Logistics in Bristol, PA offers a wealth of unique advantages that can help propel your e-commerce business to new heights.
Understanding the Fulfillment Process with FBA Prep Logistics
As a new e-commerce business owner, successfully managing the order fulfillment process can be a daunting task, especially if you're new to supply chain management. But worry no more—FBA Prep Logistics has got your back! In this section, we'll give you a detailed breakdown of the services offered by our Bristol, PA-based 3PL warehouse, guiding you through each stage of the process. So let's dive in!
4.1 Inventory Receiving and Storage
The first step in our e-commerce fulfillment process involves receiving and storing your inventory. Once your products arrive at our warehouse, our expert team will carefully inspect and verify each item, ensuring that everything is in tip-top shape. Additionally, we'll handle all the necessary paperwork and align our system with yours for seamless inventory management.
4.1.1 Product Inspection
Our meticulous inspection process involves checking for damages and discrepancies in your products. We understand how crucial it is to maintain the quality of your products, and we'll notify you immediately if we find any potential issues.
4.1.2 Secure Storage
Your inventory's safekeeping is our top priority at FBA Prep Logistics. We offer a secure and climate-controlled storage environment to maintain the integrity of your products until they're ready to be shipped to your customers.
4.2 Pick and Pack Services
When an order comes in, we'll swiftly pick the items from our storage facility and carefully pack them, following Amazon's or other e-commerce platforms' specific requirements. Our pick and pack service is designed to provide fast and accurate preparation of your products—no more worries about shipping off the wrong item or packaging errors.
4.2.1 Custom Packing Solutions
Do your products need special packaging or inserts? No problem! Our team is equipped to handle custom packing requests, ensuring your items are presented professionally and according to your unique specifications.
4.2.2 Shipping Label Preparation
To further streamline the shipping process, we'll generate and print shipping labels that accurately reflect the customer's address and chosen shipping method. This step helps to avoid any delivery errors or delays.
4.3 Shipping and Delivery
After your products are expertly packed and labeled, we'll deliver them to their intended destinations using your preferred shipping carriers. We work closely with various shipping companies to ensure your orders reach their destinations promptly and cost-effectively.
4.3.1 Expedited Shipping Options
Looking to improve customer satisfaction with faster shipping times? FBA Prep Logistics will work with you to select the best expedited shipping methods, keeping your costs manageable while impressing your customers with speedy delivery.
4.3.2 Shipping to Amazon FBA
If your e-commerce store operates through Amazon, then our services as an Amazon-focused 3PL warehouse will definitely come in handy. We're well-versed in Amazon FBA requirements, ensuring smooth and accurate shipment of your inventory to Amazon's fulfillment centers.
4.4 Returns Management
Returns can be a real headache for e-commerce businesses, but FBA Prep Logistics helps to alleviate that pain by handling returns on your behalf. Our returns management process includes inspection, quarantine, and product disposal or repackaging, as needed. This way, you'll have more time to focus on growing your business while we handle the nitty-gritty details of returns.
4.4.1 Inspecting Returned Items
Every returned item undergoes a thorough inspection to determine its condition and the appropriate course of action.
4.4.2 Repair, Repackaging, or Disposal
Depending on the condition of the returned item, we'll either repair, repackage, or dispose of it in accordance with your guidelines.
4.4.3 Seamless Returns Integration
Our returns management system integrates seamlessly with your e-commerce store, ensuring transparent and efficient handling of returns that consistently meets your customers' expectations.
4.5 Supporting Businesses New to Supply Chain Management
If you're new to supply chain management, FBA Prep Logistics is here to help you at every stage—from understanding the e-commerce logistics process to ultimately optimizing and scaling your operations. Our dedicated experts will be more than happy to guide and support you, ensuring a smooth transition as you embark on your e-commerce journey.
In conclusion, FBA Prep Logistics' comprehensive e-commerce fulfillment services cater to businesses of all sizes, with particular emphasis on supporting those just starting out. Our team of experts is committed to providing exceptional service that streamlines your entire supply chain management process and drives your business forward. Don't hesitate to partner with us today for the best 3PL experience around!
Success Stories and Testimonials: Trusting FBA Prep Logistics for Your E-commerce Fulfillment Needs
When it comes to choosing the best 3PL partner for your e-commerce business, actions definitely speak louder than words. In this section, we have compiled various success stories and testimonials from businesses that have trusted FBA Prep Logistics for their e-commerce fulfillment needs. These examples showcase our commitment to quality, efficient service, and ultimately, the success and growth of our clients' businesses.
Making the Switch: Streamlining Fulfillment for a Growing e-Commerce Business
Meet Josh, a successful online entrepreneur who had been managing his own e-commerce order fulfillment within his business for the past two years. Despite his best efforts, he faced mounting challenges and decided to partner with FBA Prep Logistics. Here's how we helped his business succeed.
H2: Improved Efficiency and Reduced Costs
Before deciding to work with FBA Prep Logistics, Josh spent countless hours processing orders and managing shipping, which often led to errors and increased shipping costs. By partnering with FBA Prep Logistics, he was able to considerably improve the efficiency of his fulfillment process, resulting in time savings and reduced shipping costs. Through our efficient PA order fulfillment services, Josh could finally focus on growing his business and generating more sales.
H2: Streamlined Returns Management
Returns are an unavoidable part of the e-commerce world. But, thanks to our hassle-free Shopify returns process in NJ, Josh is now able to manage returns with ease, ensuring customer satisfaction and maintaining a healthy profit margin.
From Local to Global: Expanding Marketplace Reach with FBA Prep Logistics
Meet Sarah, a small business owner who started selling her handmade jewelry on Etsy but soon realized the need to reach a wider audience. She decided to partner with FBA Prep Logistics to make the transition to other online marketplaces, such as Amazon, a reality.
H2: Expansion Made Easy
With FBA Prep Logistics standing firmly by her side, Sarah was able to seamlessly expand her presence on Amazon and other online platforms. Our team guided her through the Amazon FBA Prep services that enabled her business to scale and sustain her customer base.
H2: Simplified Cross-Border Fulfillment
Selling internationally opens up enormous opportunities for growth. Our experts at FBA Prep Logistics expertly supported Sarah with navigating the complexities of international shipping, allowing her to confidently deliver her products to customers around the world. This level of support would have been difficult for Sarah to achieve on her own, but our top-notch e-commerce fulfillment services put her concerns to rest.
From Skeptic to Advocate: Trusting FBA Prep Logistics for Seamless Fulfillment
Anthony, an e-commerce store owner, had been cautious about outsourcing his order fulfillment due to previous negative experiences. Through the trust and partnerships FBA Prep Logistics built with him, Anthony soon became one of our biggest advocates.
H2: Enhanced Inventory Management
Inventory management was a significant pain point for Anthony, but FBA Prep Logistics provided a solution through our Shopify inventory control services. This helped him balance stock levels with demand, leading to a decrease in storage fees and more accurate order fulfillment.
H2: Better Customer Experiences
Unsatisfied customers were taking their toll on Anthony's business. With FBA Prep Logistics on his side, ongoing issues with order accuracy and shipping times were resolved, resulting in more satisfied customers and positive reviews. Our reliable order fulfillment for Shopify stores boosted Anthony's confidence in outsourcing fulfillment and turned him into one of our biggest fans.
The Bottom Line: Building Strong Partnerships to Achieve Success
These real-world success stories demonstrate the exceptional service FBA Prep Logistics consistently provides to our clients. Our dedication to efficient and reliable e-commerce fulfillment ensures that working with us leads to smooth operations and ultimately, growth and success for your business. So don't hesitate – take your e-commerce business to the next level by partnering with FBA Prep Logistics today!
Frequently Asked Questions
1. Why should I choose FBA Prep Logistics over other 3PL warehouses?
At FBA Prep Logistics, we focus on providing tailored, efficient, and reliable order fulfillment services for e-commerce businesses, particularly those selling on Amazon. Our experienced team understands the unique challenges and opportunities faced by online sellers, and we're committed to delivering top-notch service and support to help your business thrive.
2. How does FBA Prep Logistics ensure the efficient fulfillment of e-commerce orders?
Our cutting-edge warehouse facilities, industry-leading technology, and skilled workforce enable us to handle every aspect of the order fulfillment process, from receiving inventory to pick and pack services, shipping, and returns management. We continuously work to streamline and optimize our fulfillment processes to ensure speed, accuracy, and customer satisfaction.
3. I'm new to supply chain management. Can FBA Prep Logistics help me navigate the process?
Absolutely! We understand that supply chain management can be overwhelming for newcomers, and our team is here to support and guide you every step of the way. We can help you understand the requirements, make informed decisions, and implement best practices in your order fulfillment processes. Our goal is to make your transition into e-commerce as seamless as possible.
4. What specific services does FBA Prep Logistics offer for e-commerce businesses?
We offer a comprehensive suite of services tailored to e-commerce businesses, including inventory management, pick and pack services, shipping and delivery, and returns processing. Our skilled team ensures that each order is processed accurately and efficiently, and we continuously work to optimize our processes to deliver top-notch service and keep your customers satisfied.
5. Can FBA Prep Logistics handle an increasing volume of orders as my e-commerce business grows?
Yes, FBA Prep Logistics is well-equipped to scale with your e-commerce business as it grows. Our state-of-the-art warehouse facilities, advanced technology solutions, and experienced team can handle increasing order volumes, enabling you to focus on growing your brand and expanding your online presence while we take care of your order fulfillment needs.