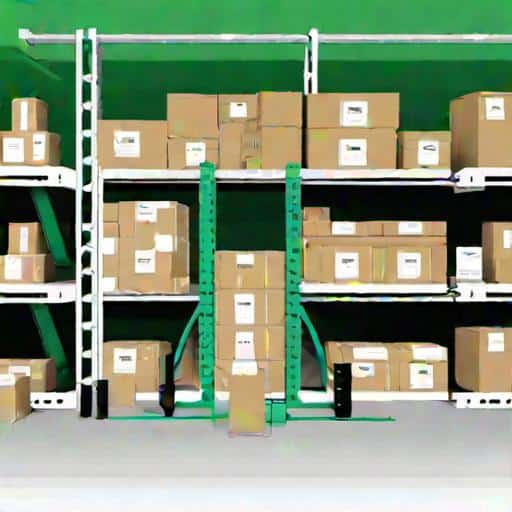 Streamline Your Amazon Business with an FBA Prep Center
1. Introduction to FBA Prep Centers
If you're an Amazon seller looking to optimize your supply chain process and grow your business, then an FBA Prep center is what you need. FBA Prep centers, also known as third-party logistics (3PL) warehouses, are industry experts who specialize in preparing and shipping products on behalf of e-commerce sellers. By partnering with an FBA Prep center, you can streamline your operations, reduce overheads, and focus more on growing your business.
FBA Prep centers offer several key benefits for Amazon sellers:
Inventory management and storage
Order fulfillment and shipping
Compliance with Amazon FBA requirements
Scalable services to support your e-commerce growth
Efficient returns management
In this article, we will dive deep into why partnering with an FBA Prep center like FBA Prep Logistics can be a game-changer for your Amazon business. From inventory management to order fulfillment and business growth, we will cover it all. So strap in and let the journey begin.
2. Why FBA Prep Logistics is the Ideal 3PL Partner for E-commerce Businesses
When you're operating an online business, it's essential to have a reliable and efficient partner to handle your supply chain management. By choosing FBA Prep Logistics as your trusted FBA Prep Center, you can streamline your Amazon business, leaving you with more time to focus on other aspects of your operations.
2.1. Comprehensive Range of Services
At FBA Prep Logistics, we offer a complete suite of services to cater to the diverse needs of various e-commerce businesses. As a full-service FBA Prep Center, we specialize in a range of services such as:
Product inspection and quality control
Labeling and barcoding
Kitting and bundling
Shipment receiving and inventory management
Order picking, packing, and fulfillment
Support for maintaining Amazon compliance
Our extensive experience in supply chain management and Amazon FBA guidelines ensures that we deliver top-quality service to all our clients.
2.2. Expert Knowledge of Amazon FBA Requirements
FBA Prep Logistics has a team of experts who are well-versed with Amazon's FBA requirements and guidelines. Our knowledgeable staff can help you navigate these complex processes, ensuring that your products are prepared, packed, and shipped to Amazon's strict standards. This minimizes the risk of any delays or penalties that may arise due to non-compliance.
2.3. Cost-effective Solutions for E-commerce Businesses
FBA Prep Logistics is committed to offering affordable and competitive pricing, making it the ideal choice for e-commerce businesses, especially those new to supply chain management. By leveraging our cost-effective services, sellers can focus on expanding their product lines and reaching new markets, without experiencing the logistical challenges.
2.4. Customized Solutions for Your Business Needs
We understand that every e-commerce business is unique, with a wide range of products and individual requirements. As a result, FBA Prep Logistics strives to offer tailored solutions tailored to your specific business needs, ensuring seamless integration with your existing operations and strategies.
2.5. Scalable Services to Match Your Business Growth
As your e-commerce business grows, you need an FBA Prep Center that can grow with you. FBA Prep Logistics offers a range of scalable services, adapting and expanding to accommodate your evolving requirements. This flexibility enables you to scale your business without the stress of having to switch to a different 3PL provider.
2.6. Transparent Communication and Real-time Updates
FBA Prep Logistics prioritizes open and transparent communication, keeping you up-to-date on your inventory and order status. Through our user-friendly platform, we provide real-time updates, giving you complete visibility and control over your supply chain operations.
2.7. Strategic Location Offering Faster Transit Times
Located in Bristol, PA, FBA Prep Logistics is strategically positioned to ensure quick and efficient transit times for your shipments. By establishing an FBA Prep Center at the heart of major transportation hubs, we can deliver your products to the Amazon fulfillment centers with impressive speed.
To learn more about how FBA Prep Logistics can benefit your e-commerce business, check out our Ultimate Guide to E-commerce Order Fulfillment.
In conclusion, FBA Prep Logistics is the go-to FBA Prep Center for e-commerce businesses looking to streamline their supply chain management and grow their Amazon business. With a comprehensive range of services, a deep understanding of FBA requirements, and a commitment to offering tailored and scalable solutions, FBA Prep Logistics has everything you need to succeed in the competitive world of e-commerce.
Simplifying Inventory Management with FBA Prep Logistics
As an Amazon seller, keeping track of your inventory can become a cumbersome task, especially when you're trying to focus on other crucial aspects of your business. That's where FBA Prep Logistics comes in, offering a comprehensive solution to simplify inventory management. Let's explore how partnering with this FBA Prep Center can help you maintain better inventory control and streamline your supply chain.
Accurate Shipment Receiving and Inspection
When you choose FBA Prep Logistics as your go-to FBA prep center, you will ensure your shipments are accurately received and inspected. Our experienced team will verify all incoming shipments against the packing list to ensure every item is accounted for. Additionally, we conduct a thorough inspection to identify and address any potential issues before they develop into costly mistakes, such as damaged or misplaced products. With FBA Prep Logistics' shipment receiving services, you'll have peace of mind knowing your inventory is in good hands.
Real-time Inventory Tracking and Updates
One of the primary challenges faced by Amazon sellers is keeping track of inventory levels. FBA Prep Logistics utilizes advanced technology to provide real-time inventory tracking and updates through our online portal. This feature allows you to monitor your inventory levels and make informed decisions on when to replenish stock or make adjustments to avoid potential stockouts.
For instance, access to real-time inventory data is critical when planning promotions or reacting to sudden spikes in demand. By having this information at your fingertips, you're able to respond swiftly to market trends, ensuring optimal inventory levels and avoiding lost sales or dissatisfied customers.
Organized Storage Solutions
For a growing e-commerce business, maintaining an organized storage area is crucial for efficient operations. FBA Prep Logistics' modern warehouse facilities are equipped with well-organized storage solutions, ensuring your products are readily accessible and maintained in optimal conditions. Our storage system guarantees easy retrieval of items during the order fulfillment process, resulting in quick and accurate shipping of orders to your customers.
With FBA Prep Logistics on your side, say goodbye to the headache of storage limitations or disorganized spaces. Our scalable storage solutions adapt to your growing needs, giving you the flexibility to expand your product range without the worry of running out of space.
Quality Control and Compliance Checks
Why risk costly sanctions or customer dissatisfaction due to compliance issues? FBA Prep Logistics takes the burden off your shoulders by conducting strict quality control and compliance checks on your inventory. This ensures adherence to Amazon's stringent FBA prep and packaging guidelines, avoiding possible penalties and negative feedback from customers.
Amazon sellers face many challenges when dealing with inventory management: inefficient storage, unreliable stock tracking, and time-consuming inspection processes. FBA Prep Logistics offers a simple and effective solution to overcoming these hurdles, allowing sellers to focus on what they do best – growing their businesses and delighting their customers. It's time to optimize your e-commerce business with FBA Prep Logistics – your partner in simplifying inventory management and boosting your success on Amazon.
Streamlining Order Fulfillment for Your Amazon Business
As an Amazon seller, ensuring that your customers receive their orders in a timely and efficient manner is crucial to scaling your business and maintaining a positive reputation. FBA Prep Logistics offers a streamlined order fulfillment process that allows you to focus on other aspects of your business, all while providing top-notch services to meet your and your customers' needs. Let's explore some key advantages of partnering with FBA Prep Logistics to manage your order fulfillment.
Meeting Amazon's Shipping Label Requirements
One of the primary responsibilities of an FBA Prep Center is ensuring that each package adheres to Amazon's shipping label requirements. FBA Prep Logistics, with its expertise and know-how, consistently meets these stringent criteria.
As a result of this attention to detail, you can be confident that your products will arrive at Amazon's fulfillment centers hassle-free. This commitment to accuracy minimizes delays and helps you maintain a stellar seller rating.
Efficient Packaging and Kitting Services
Apart from ensuring compliance, FBA Prep Logistics also excels at efficient packaging and kitting services that cater to your customers' preferences. Presentation matters, and you want to ensure that your products reach their destination in the best condition possible. With careful handling and professional packaging, you can trust FBA Prep Logistics to impress both new and recurring customers.
Moreover, if your business offers bundled products or subscriptions that require kitting, FBA Prep Logistics has you covered with expert kitting services to save you time and effort.
Faster Processing Times with FBA Prep Logistics
In the fast-paced world of e-commerce, speed is of the essence. As an Amazon seller, you need to deliver your products to your customers as quickly as possible, and FBA Prep Logistics can help you achieve that goal.
With an experienced team and a strategically located warehouse in Bristol, PA, FBA Prep Logistics ensures that your orders are processed faster. Quick processing times translate to shorter delivery durations, resulting in happier customers and increased repeat business.
Accurate Inventory Tracking and Shipment Updates
Efficient order fulfillment depends on accurate inventory management (as discussed here). With FBA Prep Logistics' cutting-edge inventory tracking system, you can stay informed about your stock levels and shipments in real-time.
This transparency in inventory management not only helps in streamlining order fulfillment but also provides valuable data for your business to make informed decisions about reordering and product offerings.
Handling Complex and High Volume Orders
Growing an Amazon business often goes hand in hand with an increase in order complexity and volume. FBA Prep Logistics' highly accommodating infrastructure is designed to support your business expansion.
Whether you're dealing with high-volume sale events or the launch of new products, you can rely on FBA Prep Logistics to handle your orders with ease. This flexibility ensures that your customers continue to receive uninterrupted, top-quality service.
Final Thoughts
By partnering with FBA Prep Logistics for your order fulfillment processes, you'll save valuable time and energy that can be better spent on developing and promoting your products. Their reliable services, attention to detail, and fast processing times make them an ideal partner to streamline your Amazon business. Focus on growing your e-commerce venture and leave the fulfillment to the experts at FBA Prep Logistics.
Expanding Your E-commerce Business with FBA Prep Logistics
Growing your Amazon business may seem daunting, especially with the many challenges that come with managing your supply chain, handling inventory, and fulfilling orders. Thankfully, FBA Prep Logistics is here to help you reach new heights in the Amazon marketplace. Partnering with our FBA Prep Center provides you with scalable services, expert support, and a strategic location that will contribute to the growth and success of your e-commerce business. Here's how:
5.1 Scalable Services for Your Business Growth
As your Amazon business grows, so do your warehousing and fulfilment needs. With FBA Prep Logistics, you can easily scale your services, ensuring your infrastructure keeps up with your expanding operations. Our 3PL fulfillment service is designed to accommodate varying inventory volumes, order quantities, and shipping demands, allowing you to focus on growing your business while we handle the rest.
5.2 Expert Support from a Dedicated Team
One of the biggest challenges of expanding an e-commerce business on Amazon is navigating the multitude of rules, regulations, and requirements. We at FBA Prep Logistics pride ourselves on our in-depth understanding of Amazon's requirements, which allows us to provide expert support tailored to your business. Our knowledgeable staff will help you avoid costly mistakes, fines, or account suspensions so your business can grow seamlessly, without any setbacks.
5.3 Strategic Location for Faster Shipping and Lower Costs
FBA Prep Logistics is ideally located in Bristol, PA, in close proximity to major transportation hubs. This strategic location ensures faster shipping times, reaching the majority of the US population within a day or two. As a result, not only will your order fulfillment times improve, but you'll also benefit from lower transportation costs. With such competitive advantages, your business can grow more efficiently and better serve your customers.
5.4 Expanding Your Product Offerings with Kitting and Bundling Services
Diversifying your product offerings can be a key growth engine for your Amazon business. With FBA Prep Logistics, you can take advantage of our kitting and bundling services to create new product combinations and increase your product catalog. This not only attracts new customers but also encourages repeat purchases from existing ones, resulting in increased sales and the overall success of your e-commerce business.
5.5 Access to Valuable Insights and Reporting
As a seller, you need valuable insights into your inventory and order fulfillment processes to make informed decisions for your business. FBA Prep Logistics provides comprehensive reporting that enables you to optimize your supply chain management. By leveraging real-time data and detailed analytics, you can further streamline your operations, improve your decision-making, and support the growth of your Amazon business.
5.6 Enhancing Customer Satisfaction by Leveraging Our Expertise
We understand how important positive customer reviews and high seller ratings are for your Amazon business's growth. As your 3PL partner, FBA Prep Logistics places a strong emphasis on accuracy and efficiency when packing and shipping your orders. With our meticulous attention to detail and commitment to quality, you can expect fewer returns and better feedback from your customers, contributing to your business's growth and long-term success.
In conclusion, partnering with FBA Prep Logistics can significantly contribute to your Amazon business's growth and success. Our scalable services, expert support, strategic location, and commitment to customer satisfaction will enable you to streamline your operations, attract new customers, and retain loyal ones. So why wait? Reach out to us today and let us help you take your e-commerce business to new heights!
Frequently Asked Questions
What is an FBA Prep Center and how can it help Amazon sellers?

FBA Prep Centers, like FBA Prep Logistics, are third-party logistics (3PL) companies that specialize in handling product preparation, inventory management, and order fulfillment for Amazon sellers. By outsourcing these tasks to a professional 3PL, sellers can optimize their supply chain processes, save time, and focus on growing their e-commerce businesses.

Why should I choose FBA Prep Logistics over other 3PL warehouses?

FBA Prep Logistics sets itself apart by offering a comprehensive range of services tailored specifically for Amazon sellers. With their expertise in handling FBA requirements, efficient inventory management, streamlined order fulfillment, and scalable solutions, partnering with FBA Prep Logistics can significantly improve your e-commerce operations and help your business grow.

How does FBA Prep Logistics handle inventory management?

FBA Prep Logistics efficiently manages inventory by receiving shipments, tracking inventory levels, and maintaining organized storage spaces. This allows sellers to have full visibility of their inventory and ensures that products are stored safely and prepared for shipment when required.

What are the advantages of using FBA Prep Logistics for order fulfillment?

By partnering with FBA Prep Logistics, Amazon sellers can benefit from their expertise in shipping label requirements, packaging, and kitting services. They also offer faster processing times, ensuring that orders are fulfilled quickly and accurately, contributing to a positive customer experience.

Can FBA Prep Logistics help me grow my Amazon business?

Yes, partnering with FBA Prep Logistics can provide Amazon sellers with the resources to scale their e-commerce business. By offering scalable services, expert support, and a strategic location near major transportation hubs, FBA Prep Logistics enables businesses to expand and reach more customers with ease.
The Right Choice for Your Amazon Business Growth
By choosing FBA Prep Logistics as your 3PL partner, you can streamline your Amazon operations and focus on expanding your e-commerce presence. Partner with FBA Prep Logistics to experience efficient inventory management, expert order fulfillment, and the support you need to take your Amazon business to new heights.