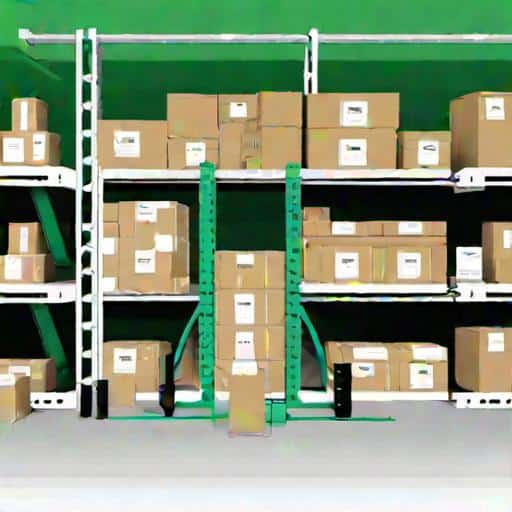 Introduction to FBA Prep Centers
FBA Prep Centers have been gaining immense popularity among e-commerce businesses, making their presence indispensable in today's highly competitive market. But what exactly is an FBA Prep Center, and how does it help businesses on Amazon? Let's delve deeper into this topic!
What is an FBA Prep Center?
An FBA (Fulfillment by Amazon) Prep Center is a third-party logistics (3PL) provider that specializes in preparing products for Amazon FBA sellers before sending them to Amazon fulfillment warehouses. They take care of everything from receiving, inspecting, and organizing products to labeling, packaging, and shipping them to Amazon's warehouses.
Simply put, an FBA Prep Center makes it easier for e-commerce businesses to streamline their operations by handling the entire order fulfillment process. This way, sellers can focus on marketing and customer engagement, while the prep center takes care of the nitty-gritty details.
Fulfilling Amazon's Stringent Requirements
Amazon is known for its stringent requirements when it comes to product preparation and packaging. For instance, Amazon has strict guidelines for labeling, barcoding, and packaging that must be followed by every seller.
This is where FBA Prep Centers come in handy. They're already well-versed in Amazon's rules and regulations, ensuring that your products are prepped, packaged, and labeled according to Amazon's guidelines. This ultimately prevents potential shipment delays and Amazon's refusal to accept your products.
What is an Amazon Prep Center? A Comprehensive Guide
Catering to the Needs of Newbie and Experienced Retailers
FBA Prep Centers cater to a wide range of e-commerce retailers, from newbies to seasoned players looking to optimize their supply chain management. New businesses often lack the resources, experience, or workforce to handle the different processes involved in order fulfillment.
That's where an FBA Prep Center comes through, helping these businesses prepare their products efficiently, ensuring they adhere to Amazon's guidelines. In contrast, experienced sellers exploit the convenience, scalability, and cost-effectiveness of using a dedicated prep center to expand their businesses.
Partnering with a 3PL for your E-commerce Business
If you're a seller on Amazon and want to streamline your order fulfillment process, partnering with a 3PL like FBA Prep Logistics can be the perfect solution. This way, you can focus on growing your business whilst letting the experts handle all the supply chain management intricacies.
So now that you have a clear understanding of what an FBA Prep Center is, let's talk about the numerous benefits of using one and how FBA Prep Logistics, a 3PL warehouse located in Bristol, PA, can support your Amazon e-commerce business!
The Benefits of Using an FBA Prep Center
As an e-commerce retailer, especially one that mainly sells on Amazon, taking advantage of an FBA prep center can bring a plethora of advantages and improvements to your business. In this section, we will discuss the various benefits of using an FBA prep center, such as:
Reducing Operational Costs: One of the most significant benefits of utilizing a fulfillment center for your Amazon FBA business is the reduction in operational expenses. By outsourcing your inventory management and fulfillment process to an FBA prep center, you can eliminate the need for additional warehouse space, labor, and equipment. This, in turn, helps you save on both fixed and variable costs associated with running your own warehouse.

Efficient Inventory Management: FBA prep centers are well-versed in inventory management and provide a streamlined process for your e-commerce business. With their help, you can ensure a smooth inventory flow, avoiding issues like overstocking or running out of stock. In addition, FBA prep centers can track and manage your inventory more effectively, enabling better forecasting and planning ahead for peak sales seasons.

Seamless Order Fulfillment: Outsourcing your order fulfillment to an FBA prep center takes the hassle out of managing and shipping your products to customers. FBA prep centers have the expertise and resources to pack and ship orders quickly, reducing the likelihood of delays and ensuring optimal customer satisfaction.
Product Inspection and Quality Control: FBA prep centers can help you maintain a high level of quality control for your e-commerce products before they are shipped to customers. This process involves inspecting your products for any defects, ensuring that no damaged goods are shipped out, and providing your customers with a premium shopping experience.

Increased Focus on Core Business Activities: By outsourcing the logistics of your e-commerce business to an FBA prep center, you can devote more time and resources to managing other aspects of your business, such as marketing, sales, and product research. This increased focus on your core business activities will enable you to grow and scale your operation more effectively.

Enhanced Customer Satisfaction: Prompt delivery and accurate order fulfillment are essential for maintaining a high level of customer satisfaction. FBA prep centers are known for their efficiency and quick turnaround times, ensuring your customers receive their orders on time and meeting their expectations.
Expert Guidance: FBA prep centers are staffed by experienced professionals who can provide insight and guidance on best practices for shipping and packaging your products. This expertise helps you avoid costly mistakes, improve your shipping processes, and ultimately deliver value to your customers.

Scalability: FBA prep centers can scale up their services as your business needs grow. This flexibility allows you to maintain optimal efficiency during peak sales periods or sales slumps without worrying about the limitations of in-house warehouse capacity.

Integration with Amazon's Shipping Network: Amazon FBA prep centers are designed to work seamlessly with Amazon's shipping network. This integration ensures a smoother logistics process, enhancing your business's overall efficiency.
Compliance with Amazon's Requirements: Utilizing an FBA prep center ensures that your products and shipments meet Amazon's strict fulfillment guidelines. This compliance reduces the chances of complications or delays caused by non-compliance with Amazon's rules and requirements.

Access to Advanced Technology: FBA prep centers typically offer access to advanced warehousing and logistics software, which improves tracking, reporting, and overall management of your inventory.

Customized Services: A reliable FBA prep center tailors its services to meet your specific e-commerce needs, personalizing the experience and ensuring that your business runs smoothly.
By choosing to work with an FBA prep center, you can leverage these numerous benefits and substantially increase the efficiency and profitability of your e-commerce business. In the following sections, we will delve deeper into how FBA Prep Logistics can support your online retail endeavors, especially if you are new to supply chain management.
3. The Role of FBA Prep Logistics in your Amazon Business
3.1. Bridging the Gap when You're New to Supply Chain Management
Running a successful e-commerce business on Amazon requires efficient supply chain management, and if you are new to it, FBA Prep Logistics is here to help. As a 3PL warehouse, FBA Prep Logistics takes the stress out of supply chain management by managing product storage, packaging, and shipping on your behalf. This way, you can focus on growing your online empire on Amazon without worrying about logistical hassles.
3.2. Helping Businesses Keep Up with Amazon's Strict Policies
Amazon has stringent rules and regulations for its sellers. When you work with an FBA Prep Center like FBA Prep Logistics, you'll have peace of mind knowing your inventory is being prepped and shipped according to Amazon's requirements. Our dedicated team of professionals is well-versed with Amazon's guidelines, ensuring your business remains compliant with every rule and avoiding any potential penalties.
3.3. Ensuring Efficient Inventory Management
FBA Prep Logistics holds expertise in managing your inventory effectively and keeping accurate documentation. Through centralized inventory management, FBA Prep Logistics allows e-commerce retailers to view the status of their inventory in real-time. By partnering with us, you'll no longer worry about running out of stock or expensive long-term storage fees.
3.4. Speedy and Accurate Order Processing
Thanks to our quick and dependable order fulfillment system, FBA Prep Logistics helps your business keep up with the fast-paced e-commerce environment. Our state-of-the-art warehouse facility in Bristol, PA, ensures that your orders are meticulously picked, packed, and shipped on time, resulting in an impeccable customer experience. This not just serves to boost your sales and reputation on Amazon but also builds long-lasting customer relationships.
3.5. Customized Solutions Tailored to Your Business Needs
Every business is unique, and so are its logistics requirements. At FBA Prep Logistics, we pride ourselves on offering customized solutions to cater to your specific needs. From kitting and bundling services to detailed order tracking – our team of experts is committed to providing top-notch logistics services that work for your business.
3.6. Streamlining Returns Management
Handling customer returns is as important as fulfilling orders. FBA Prep Logistics takes charge of the entire returns management process, from receiving the returned products to processing and updating you on return status. Our efficient returns management system minimizes the time and stress involved, allowing you to concentrate on other aspects of your business.
3.7. Simplifying International Shipping
Navigating customs and import/export regulations can be daunting, especially when selling internationally. FBA Prep Logistics offers expert guidance and support throughout the entire process. Our global shipping solutions are designed to simplify the complex process of moving your products across borders, letting your business flourish in the global marketplace.
3.8. Keeping Costs in Check
Partnering with FBA Prep Logistics helps e-commerce retailers keep their logistics expenditures in check. Our competitive pricing for various services such as storage, packaging, and shipping ensures that your business won't suffer from unexpected expenses. As your 3PL partner, FBA Prep Logistics allows you to experience financial savings while maintaining high-quality logistics services.
3.9. Scaling Your Business with Confidence
Growth can pose new challenges for your e-commerce business, especially when it comes to handling increased order volumes. FBA Prep Logistics has the infrastructure, expertise, and flexibility to grow with your business and offer additional support when needed. Be it a sudden spike in sales or a seasonal demand – we are your logistics partner for seamless supply chain management and future growth.
3.10. Letting You Focus on Core Business Tasks
Perhaps the most significant advantage of working with FBA Prep Logistics is that it allows you to focus on your core business activities and improve your bottom line. While we handle the logistics like a well-oiled machine, you can concentrate on marketing, product development, and customer service, ultimately resulting in accelerated business growth.
In conclusion, FBA Prep Logistics offers a comprehensive suite of logistics services that are tailored to meet your Amazon business's specific needs. By taking care of everything from inventory management to international shipping and returns, we make it easy for you to focus on growing your e-commerce empire on Amazon. FBA Prep Logistics is the go-to partner to ensure your Amazon business stays competitive and thriving.
4. Why Choose FBA Prep Logistics as Your Preferred FBA Prep Center
Now that you understand the importance of an FBA Prep Center and how FBA Prep Logistics can play a significant role in your Amazon business, let's dive into the reasons why you should choose us as your go-to partner.
4.1 Industry-Leading Expertise and Support
One of the main reasons to choose FBA Prep Logistics is our industry-leading expertise. Our team consists of experienced professionals in the field of supply chain management and e-commerce, guaranteeing that you'll be partnering with a knowledgeable and highly efficient team. Additionally, we offer exceptional support to our clients, ensuring that all your questions and concerns are addressed promptly.
4.2 Quick Turnaround Times
In the world of e-commerce, time is of the essence. Recognizing this, FBA Prep Logistics takes pride in providing quick turnaround times, ensuring that your products are prepared, packed, and shipped to Amazon's fulfillment centers as swiftly as possible. This way, you can have your products listed on Amazon and ready for purchase in no time.
4.3 Secure and Spacious Storage Solutions
At FBA Prep Logistics, we understand the importance of secure and well-organized storage for your inventory. Our warehouse in Bristol, PA, is equipped with top-of-the-line security systems and ample space to accommodate your products, no matter the size or volume.
4.4 Cost-Effective Services
We know that managing costs is critical for businesses, especially for those new to supply chain management. FBA Prep Logistics offers competitive pricing for our services, allowing you to reduce operational costs and increase your profit margins. Remember to evaluate the impact of 3PL costs on your sales to make better decisions for your business.
4.5 Flexible and Scalable Solutions
Our services are designed to be flexible and scalable, accommodating the needs of businesses of all sizes. Whether you're a small e-commerce retailer or a large, well-established enterprise, FBA Prep Logistics' solutions can be customized to fit your unique requirements.
4.6 Personalized Service and Attention to detail
FBA Prep Logistics stands out in the industry due to our dedication to providing personalized service and paying close attention to detail. We take the time to understand your business and its specific needs, allowing us to offer tailored solutions that propel your e-commerce operations to new heights.
4.7 Streamlined Order Management Processes
Efficient order management is vital for any e-commerce business. With FBA Prep Logistics, you can rest assured that your orders are handled effectively through our streamlined processes. From receiving inventory to coordinating shipments to Amazon fulfillment centers, every step of the supply chain is managed seamlessly.
4.8 Compliance with Amazon's Requirements
Amazon has stringent requirements regarding product preparation, packaging, and shipping. Our experts are well-versed in these guidelines, ensuring that all your products comply with Amazon's standards to avoid any potential issues with your inventory.
4.9 A Cohesive Partnership for Growth
Choosing FBA Prep Logistics as your FBA Prep Center means you're entering into a partnership with a company dedicated to helping you achieve success. We firmly believe in fostering long-lasting relationships with our clients, functioning as a valuable extension of your e-commerce team.
4.10 Access to Valuable Insights and Resources
When you partner with FBA Prep Logistics, you gain access to a wealth of industry knowledge, insights, and resources. We are here to help you navigate the complexities of e-commerce and supply chain management, providing crucial information to ensure your business thrives.
The Perfect Partner for Your E-Commerce Journey
By choosing FBA Prep Logistics as your preferred FBA Prep Center, you're taking a big step towards elevating your Amazon business. With our range of comprehensive services, industry expertise, and unwavering commitment to your success, FBA Prep Logistics sets itself apart as the ideal partner for any e-commerce retailer.
Prepare to offer your customers an unforgettable online shopping experience and watch your business flourish with the support of FBA Prep Logistics. Don't miss out on the opportunity to partner with the best – let our experts handle the logistics so you can focus on growing your e-commerce empire.
5. Getting Started with FBA Prep Logistics: A Step-By-Step Guide
Embarking on your journey with FBA Prep Logistics can be seamless and stress-free by following this easy step-by-step guide. Here, we'll explain how to sign up and start working with FBA Prep Logistics, effectively optimizing your Amazon selling experience.
5.1. Visit the FBA Prep Logistics Website
First and foremost, head to our official FBA Prep Logistics website. Here, you'll find information about our services, frequently asked questions, and testimonials to help you understand how our FBA Prep Center operates.
5.2. Register for a New Account
Once you're on our website, click on the "Register" or "Get Started" button. This will guide you through a simple process, gathering essential details about you and your e-commerce business, creating your FBA Prep Logistics account.
5.3. Set Up Your Amazon Seller Account Integration
To ensure seamless integration between your Amazon seller account and FBA Prep Logistics, follow the instructions provided during the registration process. Proper integration facilitates efficient and accurate order management and fulfillment.
5.4. Send Us Your Inventory
After setting up your account, arrange for the shipment of your inventory to our warehouse. It's crucial to provide accurate information about your inventory, such as product dimensions, weight, and storage requirements, for effective handling and storage. We recommend reading our article "How Amazon FBA Prep Center Near You Can Save You Time and Boost Your Sales" for handy tips on optimizing your shipping process.
5.5. Specify Prep and Shipping Requirements
Fulfilling Amazon's FBA requirements can be daunting for new e-commerce sellers. Share with us your product preparation requirements, such as labeling, bundling, and packing, and our FBA Prep Center team will handle the rest.
5.6. Monitor Your Inventory and Sales Dashboard
Once your items are prepped and stored at our warehouse, use our user-friendly dashboard to monitor your inventory levels and sales performance. The dashboard will provide real-time updates and insights into your inventory, enabling you to make informed decisions.
5.7. Let Us Handle Order Fulfillment
After a sale is made on your Amazon store, our team will automatically pick, pack, and ship the order to your customer, ensuring a smooth and professional experience.
5.8. Access Customer Support
If any questions or concerns arise, you can always rely on our dedicated customer support team. They're available through various channels such as live chat, email, and phone, ready to resolve any issues or provide assistance.
5.9. Analyze and Optimize Your Supply Chain
With FBA Prep Logistics streamlining your supply chain operations, you can now focus on analyzing your performance and optimizing your e-commerce business to increase profitability. We recommend referring to our informative article "The Impact of 3PL Costs on Your Sales" for tips on supply chain cost management.
Let's Get Started!
By following this step-by-step guide, you'll pave the way for an efficient and stress-free experience while working with FBA Prep Logistics. We're dedicated to helping you improve your e-commerce business operations and provide personalized services that cater to your needs. Now, you can focus on growing your business and enjoying the fruits of your labor!
Frequently Asked Questions
What are FBA Prep Centers, and how do they help e-commerce businesses?

FBA Prep Centers are third-party logistics (3PL) warehouses that provide essential services to e-commerce businesses selling on Amazon. They help in streamlining various processes, including receiving, storing, prepping, and shipping products to Amazon fulfillment centers, saving businesses time and effort.

Why should I use a 3PL warehouse like FBA Prep Logistics for my Amazon business?

Using a 3PL warehouse like FBA Prep Logistics can greatly enhance the efficiency of your Amazon business. They take care of essential tasks such as inventory management, order fulfillment, and shipping. This allows you to focus more on other crucial aspects of your e-commerce operations, like marketing, product sourcing, and customer relations.

How can FBA Prep Logistics improve my supply chain management?

As a leading 3PL warehouse, FBA Prep Logistics can take charge of your Amazon supply chain management, handling everything from inventory control to shipping. With their expertise, you can minimize operational costs, ensure timely deliveries, and maintain optimal inventory levels, ultimately leading to better customer satisfaction and higher sales.

What sets FBA Prep Logistics apart from other FBA Prep Centers?

FBA Prep Logistics offers unique features such as quick turnaround times, secure storage facilities, and personalized services tailored to your business needs. Their transparent pricing, combined with a dedicated team of professionals, has earned them a reputation for being a reliable and trustworthy FBA Prep Center partner.

How do I get started with FBA Prep Logistics?

Getting started with FBA Prep Logistics is a seamless process. Visit their website and sign up to create an account. Once your account is set up, you can start sending your inventory to their warehouse. FBA Prep Logistics will then handle all aspects of order fulfillment and shipping to Amazon fulfillment centers, making your Amazon selling experience more efficient and hassle-free.